The Best Vegan Cornbread Stuffing
A vegan cornbread stuffing that is super flavorful and legit the best vegan Thanksgiving side dish ever! Super easy, great to make ahead and healthy too!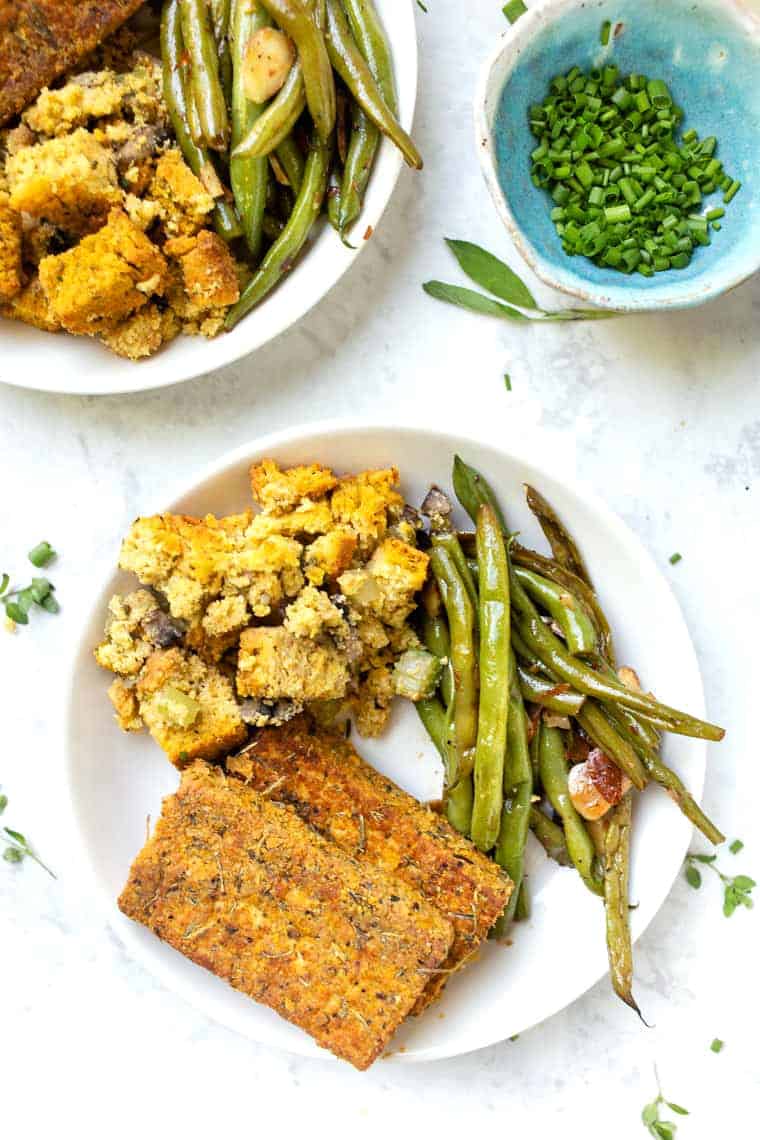 Last year for Thanksgiving I was out in Colorado with Matt's family and his sister and I cooked up a storm! She's vegetarian and we both decided that we wanted to do a primarily plant-based meal. Luckily no one else in the family is a big cook, so she and I had pretty much complete control over what was being made ????
We cooked a ton of the classics but also created some of our own recipes which I made sure to write down so I could recreate them for you this year. It was one of the best Thanksgiving meals I've had since eating mostly vegan and today's dish was the star of the meal!
I'm going to show you how to make the BEST vegan cornbread stuffing of your life. It's flavorful, it's healthy, it's easy to make and it's downright delicious. It's sure to be a hit at your meal – whether you have plant-based eater or not!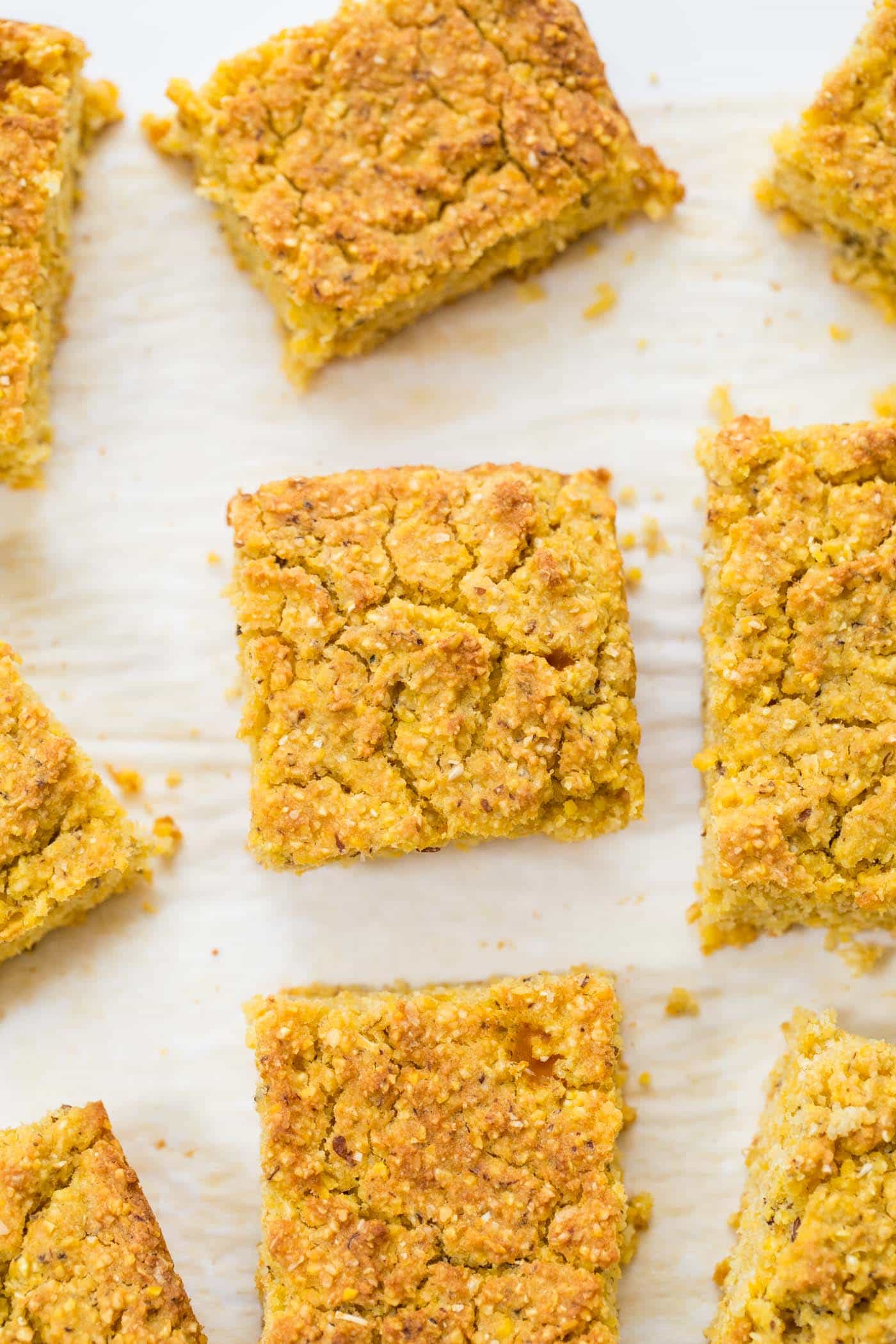 The Ultimate Vegan Cornbread
The first step to making your vegan stuffing is to make your cornbread. I'd recommend making this the day before you make your stuffing so that you can really be sure it's cooled and ready to be rebaked.
You can absolutely use whatever cornbread recipe you'd like, but I have two on the site that I think would be perfect for this stuffing. I've used both and they both work super well!
They work because they've got a little extra flavor, they're not too sweet, and they're easy to double so you could make one batch of cornbread to turn into breakfast (hello, Cornbread French Toast!), and one to make you vegan cornbread stuffing!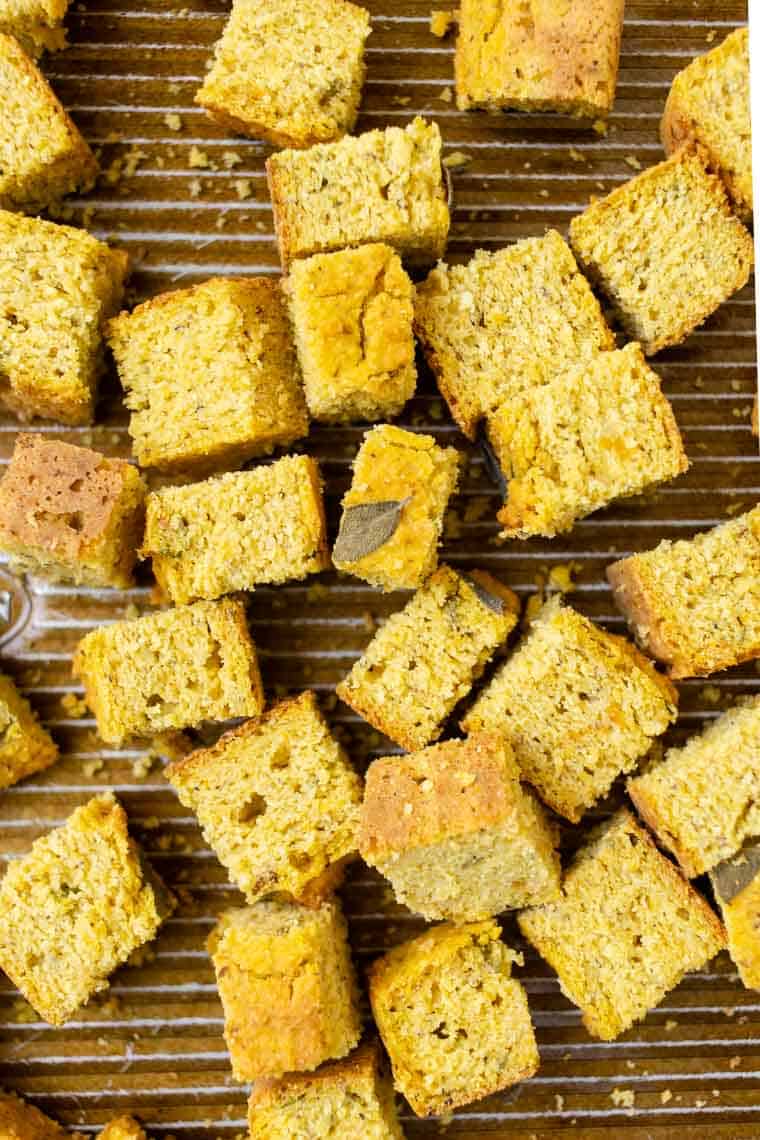 How to Make Cornbread Croutons
Once you've picked out your cornbread recipe and you've let it cool overnight, it's time to make your croutons. Traditional stuffing is made with staled cubes of bread and that's exactly what we're doing to make this stuffing too. Except this time we're going to make our own croutons.
To make cornbread croutons at home you just need to:
cut your cornbread into 1″ cubes
place the cubes on a baking sheet
bake the cubes for 30 – 40 minutes until they're golden brown
let the cubes dry out in the oven for another hour or so
And that's it! They're the perfect little bites of cornbread and make the stuffing just the right texture.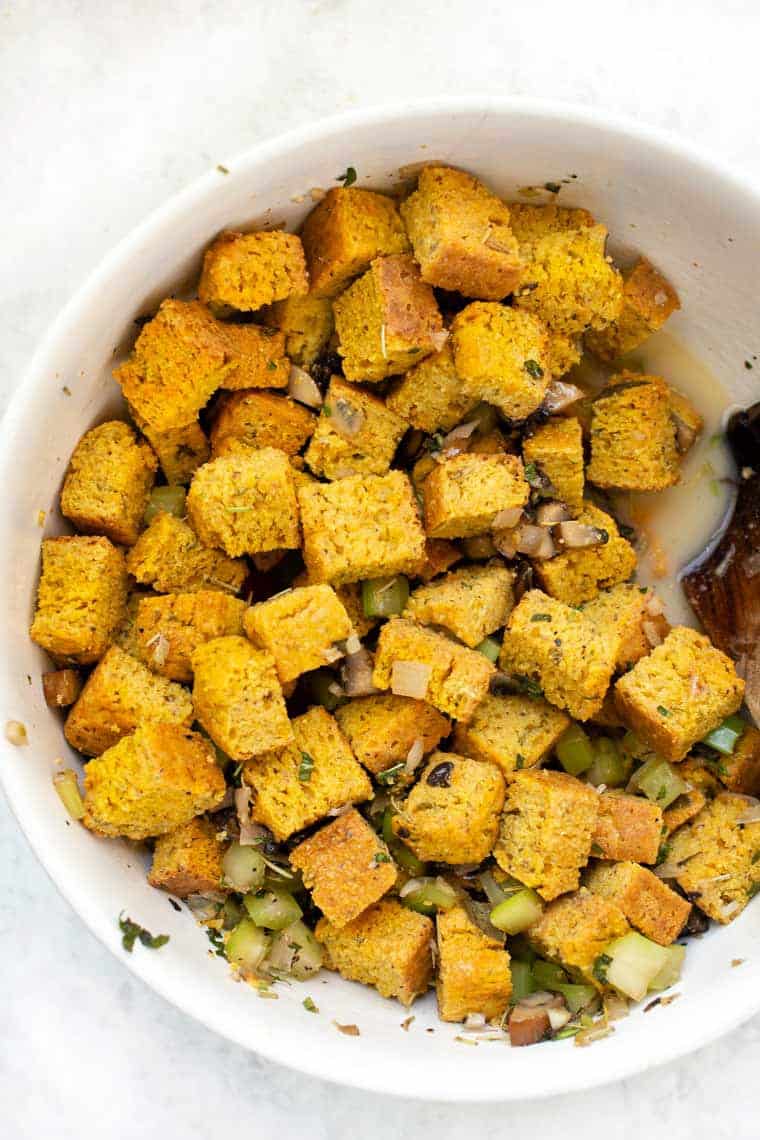 How to Make Vegan Cornbread Stuffing
Once you've got your croutons ready to go, it's time to make your stuffing! We start by sauteing some veggies together – I went with celery, mushrooms, onion and garlic, as well as a TON of herbs. This is for flavor, but also for texture and it adds something a little more interesting.
Then we combine the cooked veggies with our croutons, add in some almond milk and veggie broth, stir it all together, bake it up and you're ready to go!
How to Store Cornbread Stuffing
Whether you're hosting Thanksgiving and want to get ahead or you're bringing the stuffing to the party, our vegan cornbread stuffing can totally be made ahead.
As I said earlier, you're going to need to bake in two days to make it (gotta make your cornbread first!), but otherwise, you can either:
Refrigerate it: keep the cornbread in the baking dish and cover it tightly with aluminum foil. When ready to reheat it, keep it covered and pop it in the oven at 300ºF until it's warmed through.
Freeze it: now I haven't personally tested this frozen, but I do think it would work! I would recommend baking your cornbread stuffing in a dish that has a secured lid so you could just pop the whole thing in the freezer. Once you're ready to reheat it, I would recommend letting it sit out for an hour or two, and then popping it in the oven at 300ºF until it's cooked through. I would lightly tent it with aluminum foil so that some of the steam can evaporate and it doesn't get too soggy.
Again, I haven't tried freezing it since I've been making this and then eating it within a day or two, but I do think it will work!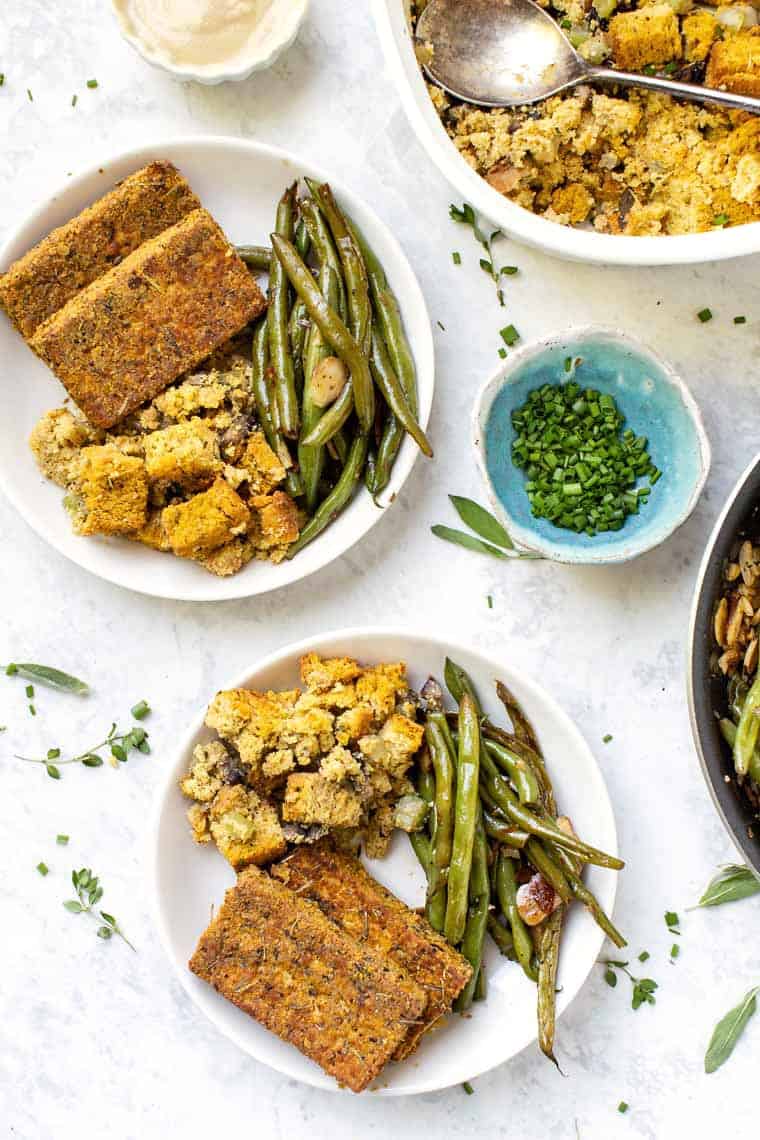 Ways to Make Thanksgiving Vegan-Friendly
And that's pretty much all you need to know about making vegan cornbread stuffing! The last thing I want to share some tips for making Thanksgiving more vegan-friendly. I don't think my family will ever have a fully vegan Thanksgiving, but as more and more people choose to eat plant-based I do think there are ways to make it easier for them to also enjoy the meal.
Here are some ways to make Thanksgiving more vegan-friendly:
Use margarine or vegan butter. Since regular butter and vegan butter taste pretty much the same, you can use them in your mashed potatoes and even your pie crusts.
Assess your sides. Making vegan-friendly sides is so simple – whether it's simple sauteed green beans, roasted veggies or even a quinoa salad – having just 2- 3 sides that are vegan-friendly can be super helpful for your vegan friends.
Share the vegan apps. Not sure if your family does pre-dinner snacks but ours does and usually it's mixed nuts, hummus, veggies, and other vegan-friendly things!
When in doubt, salad. Salads are so simple to put together and I've actually found that they usually get gobbled up by everyone. It would be nice to also have some beans set out that your vegan friends could use for protein.
Vegan treats all the way. Whether you're making a vegan-friendly dessert, or just pick one up at the store, it's a thoughtful touch to have something that is vegan-friendly. And guess what? It can be as simple as a pint of ice cream!
Do you have any other vegan Thanksgiving tips? I'd love to know in the comments!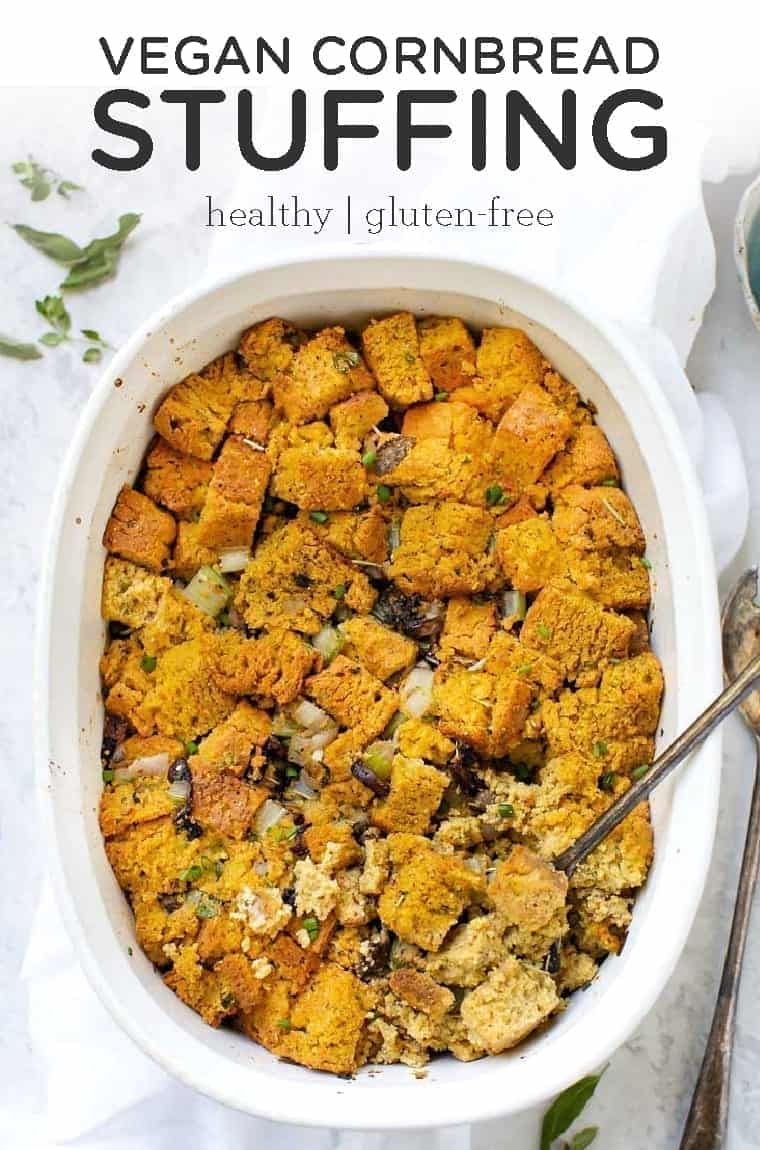 More Vegan Thanksgiving Recipes:
The Best Vegan Cornbread Stuffing
A vegan cornbread stuffing that is super flavorful and legit the best vegan Thanksgiving side dish ever! Super easy, healthy and delicious!
Servings 8 servings
Calories 268kcal
Ingredients
for the stuffing:
1 batch vegan cornbread
2 tablespoons olive oil
4 celery ribs , diced
1 small shallot , diced
4 garlic cloves , diced
1 cup finely chopped mushrooms
1 tablespoon fresh sage , chopped
2 teaspoons fresh thyme
2 teaspoons fresh rosemary , chopped
Salt & pepper to taste
1 cup unsweetened almond milk
1 cup vegetable broth
Instructions
Prepare the cornbread:
Preheat the oven to 425ºF and line an 8x8 baking pan with parchment paper. Beat together the flaxseed meal and water and set aside for 5 minutes to gel. In a large mixing bowl, whisk together the dry ingredients. Add the milk, flax egg, pumpkin, syrup and olive oil and stir to combine. Transfer batter to the prepared baking pan. Bake for 23 - 25 minutes until golden brown and a cake tester inserted into the center comes out clean. Remove from the oven and let cool in the pan for 5 minutes. Transfer to a wire rack and allow to sit overnight.
Prepare the stuffing:
Slice the cooled and semi-dried out cornbread into small 1" cubes. Add them to a bowl and set aside.

Heat the oil in a large skillet over medium heat. Add the celery, shallots, and garlic and saute until the garlic is fragrant. Add the mushrooms, herbs and season with salt and pepper. Continue to cook until the mushrooms are completely soft, about 6 - 7 minutes.

Add the vegetables to the bowl with the cornbread, along with the milk and broth. Stir to combine. Transfer the contents of the bowl to a 9x13 baking dish. Spread the stuffing evenly out in the dish then pop back in the oven and cook for about 15 - 20 minutes until the top is golden brown.

Reheat as needed and enjoy!
Nutrition
Serving: 1piece | Calories: 268kcal | Carbohydrates: 32g | Protein: 6g | Fat: 14g | Saturated Fat: 2g | Sodium: 366mg | Potassium: 337mg | Fiber: 5g | Sugar: 5g | Vitamin A: 1382IU | Vitamin C: 2mg | Calcium: 186mg | Iron: 2mg
share what you make
Tag #simplyquinoa on Instagram with your creations! We love sharing what you make with the community. We can't wait to see!

follow on instagram