This easy vegan spinach artichoke dip is made with less than 10 ingredients, cooks in just about 30 minutes and tastes just like the traditional recipe!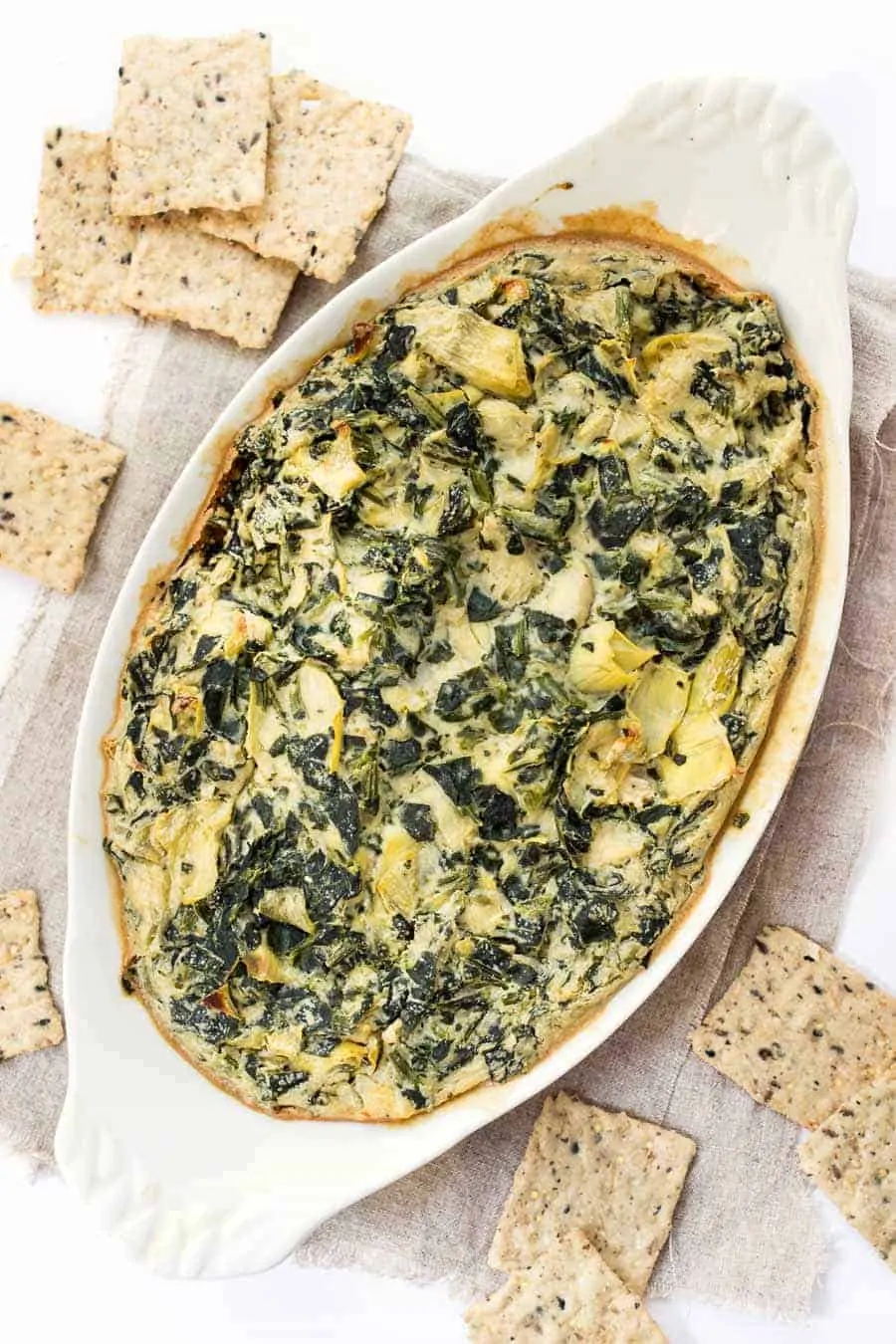 And another one bites the dust, my friends! Another comfort recipe that is!
I've been on a mission ever since starting my blog to give you healthy spins on classically unhealthy recipes. We've done a ton, some of my faves being my quinoa pizza crust, my baked vegan mac and cheese and vegetarian lentil + quinoa meatloaf, and today we're throwing down again and making a deliciously nutritious version of an incredible (unhealthy) appetizer.
We're making vegan spinach artichoke dip and you are going to L-O-V-E it!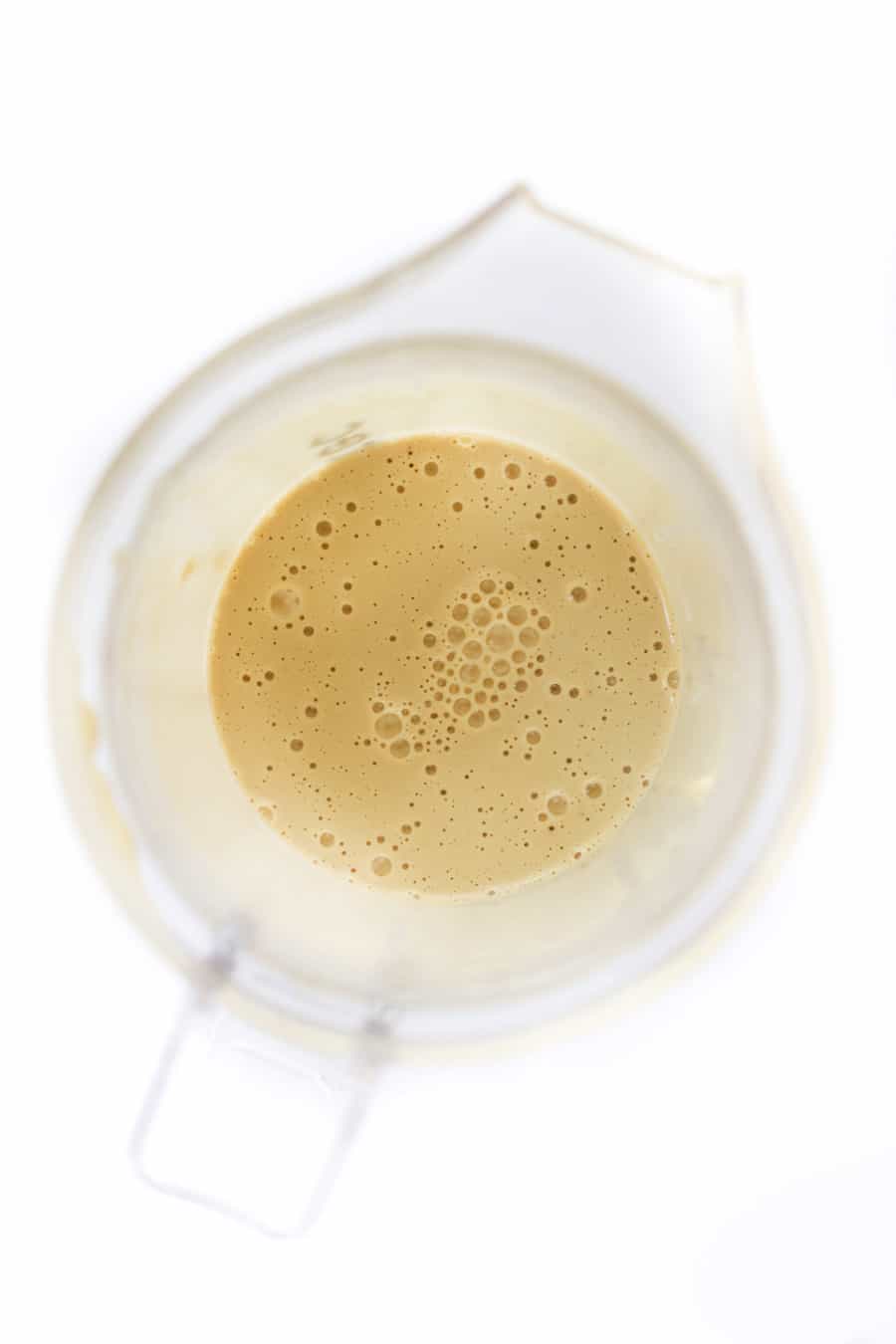 What makes classic spinach artichoke dip so amazing is the creamy filling. Typically, that involves cheese (and lots of it), but since we're DF around these parts, cheese ain't an option.
So instead, I took my vegan kimchi queso dip as the base and turned it into the creamy sauce for our vegan spinach artichoke dip.
We only need 6 ingredients and a blender to whip up this sensational cream sauce, and my guess is that you already have them all on hand!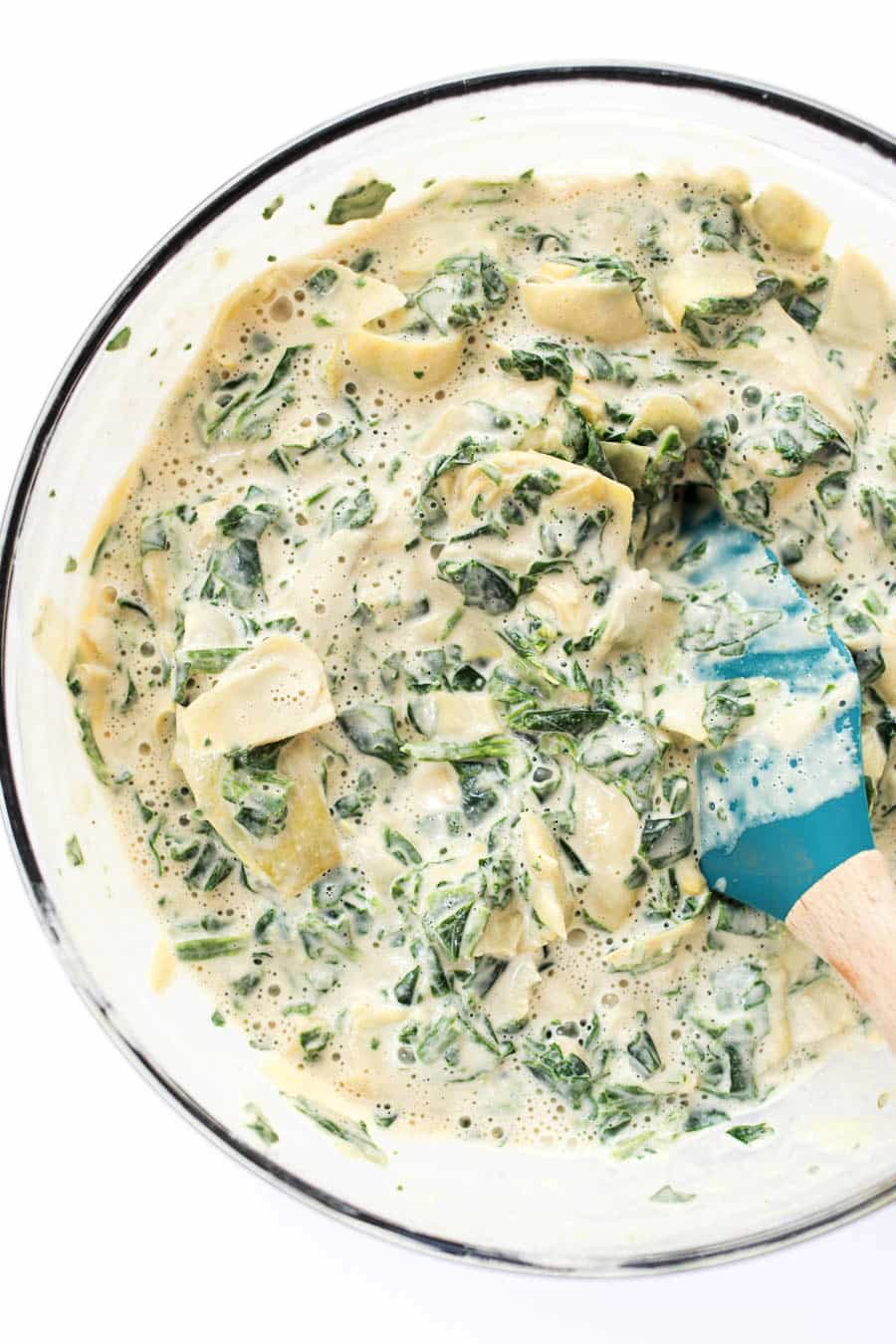 Once we have the sauce squared away, it's onto the filling. And guess what we need? Yep, just spinach + artichokes.
I went with frozen spinach that I thawed since you get the most bang for your buck (and can save time while doing it), plus canned artichokes that have been in water (not oil). I like to chop up my artichokes before tossing them into the dip so that way I can get little pieces of that briny deliciousness into every bite!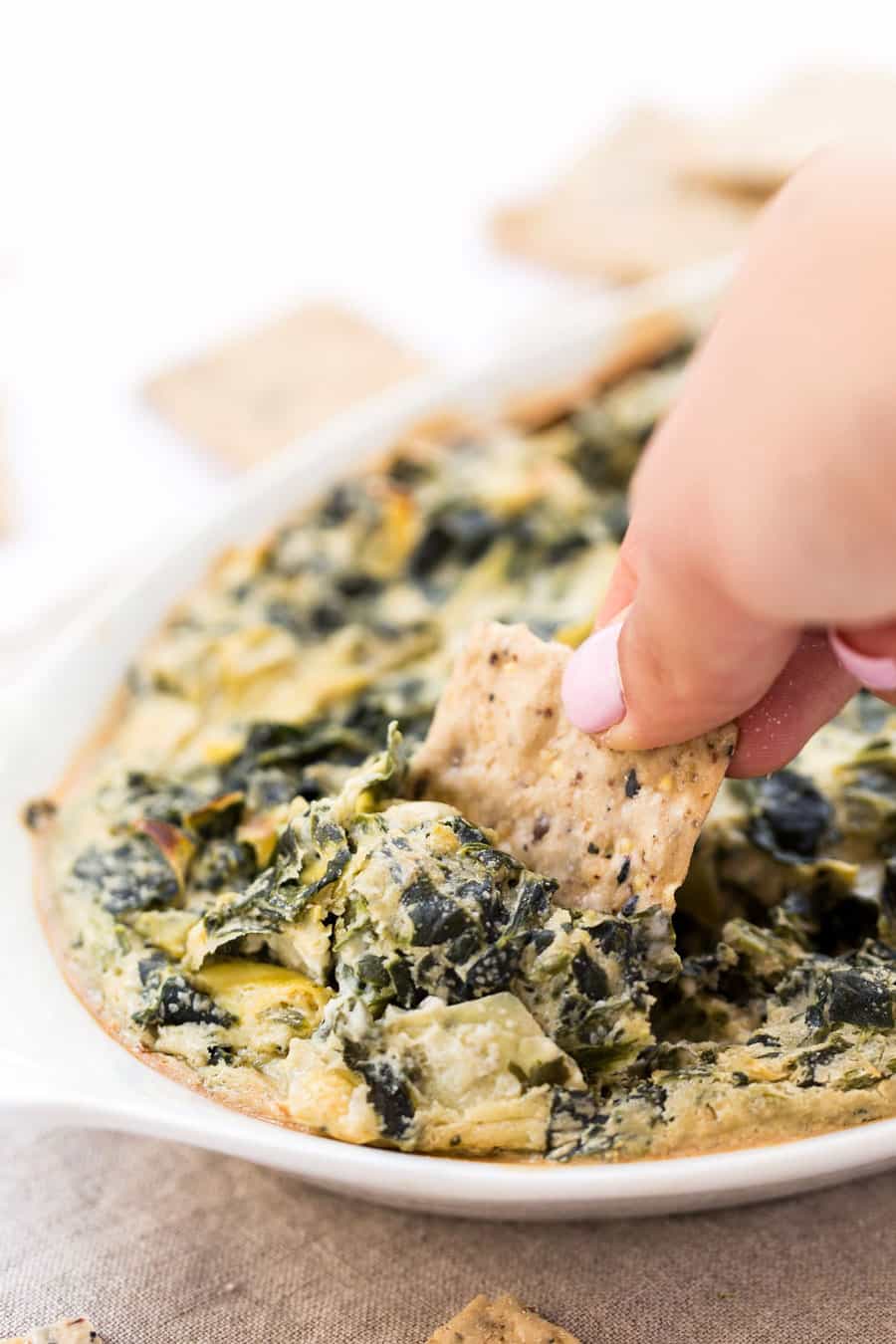 The dip couldn't be easier to make. We just stir the spinach, artichokes, and sauce together in a bowl, then transfer it to a baking dish and bake for about 30 minutes. Then you can just pull it out of the oven and dive headfirst into a hot, bubbling tray of the creamy baked dip!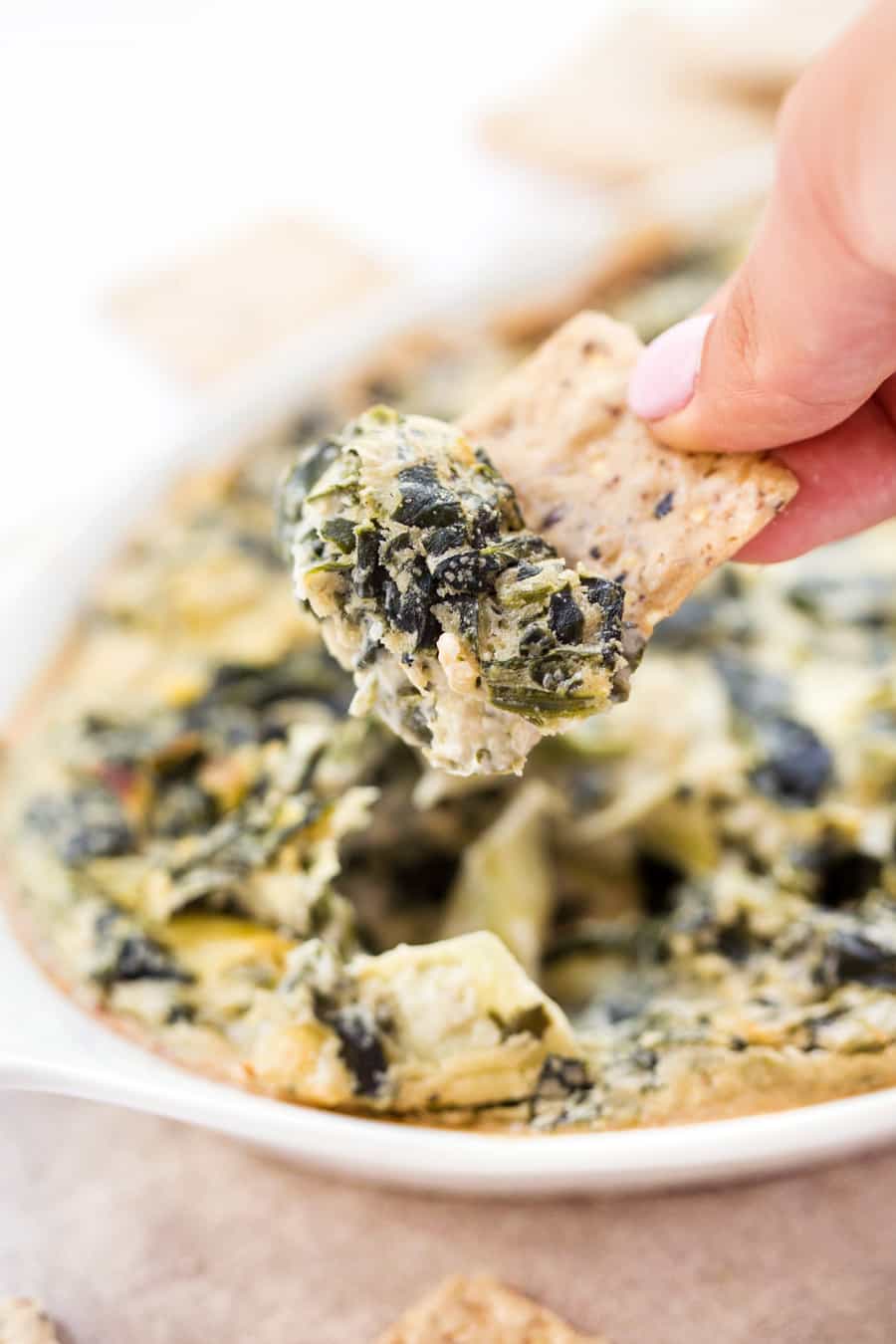 The trick for getting the sauce to be nice and thick is the tapioca starch. As the tapioca heats up, it starts to thicken the rest of the sauce and makes it ultra-creamy and also a little stretchy. And since there's no flavor to tapioca, you'd never even know it was there!
To serve, I highly suggest crackers, but I've also been known to throw some of this on a slice of toast, dip with sliced zucchini or carrots, or honestly…just eating it straight from the pan. It's THAT good.
Can't wait to hear how much you ❤️ this dip! Make sure to tag me on Instagram if you snap a pic using #simplyquinoa or @simplyquinoa!
More Delectable Dips to Serve This Summer:
Vegan Spinach Artichoke Dip
This easy vegan spinach artichoke dip is made with less than 10 ingredients, cooks in just about 30 minutes and tastes just like the traditional recipe!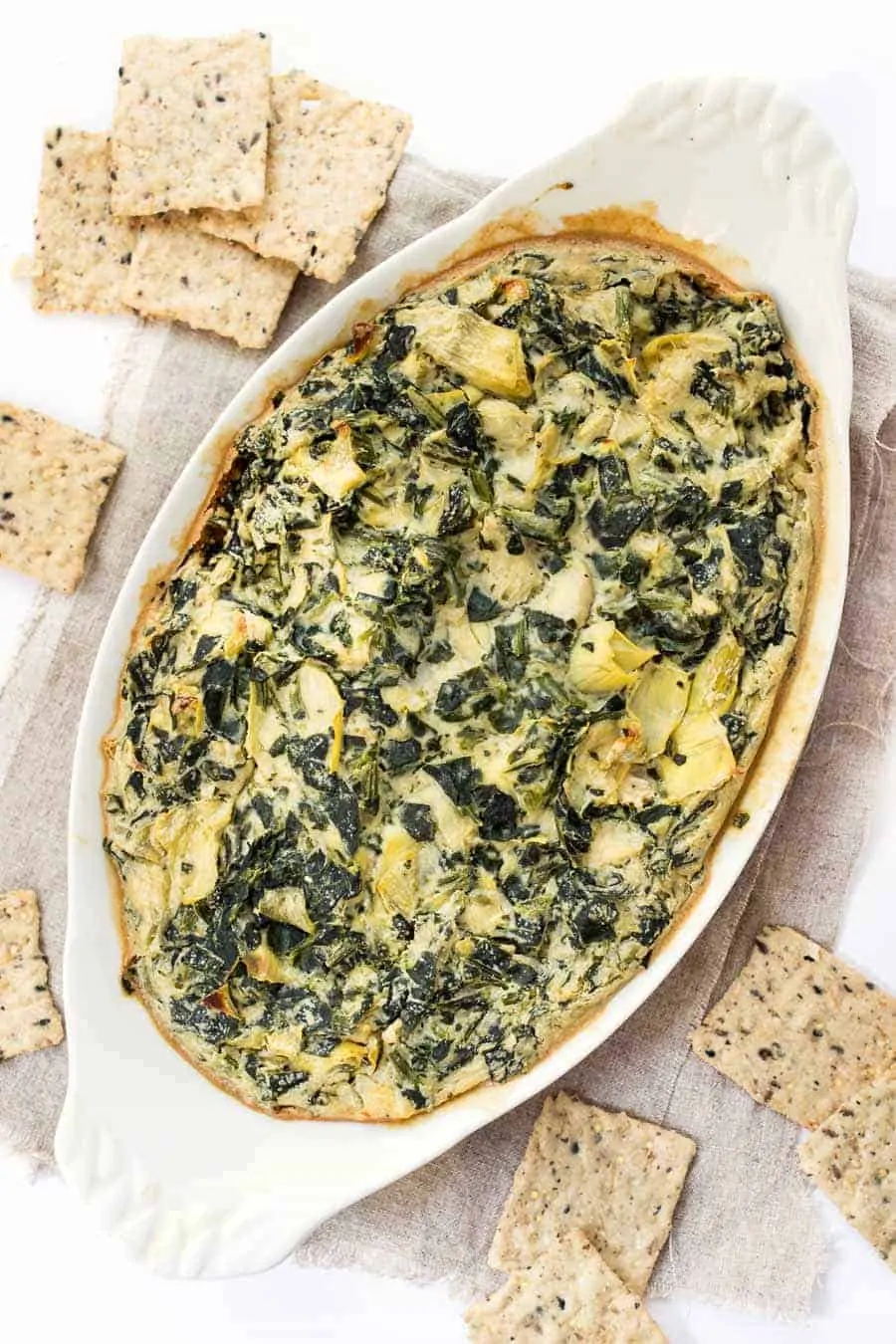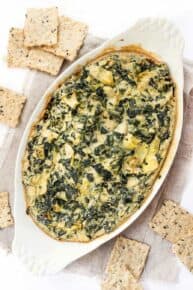 Instructions
Preheat the oven to 375ºF. Spray a baking dish with cooking spray and set aside.

In a blender, combine the cashews, milk, nutritional yeast, lemon juice, tapioca and spices. Blend on high until smooth and creamy. Set aside.

In a mixing bowl, combine spinach, artichokes and sauce and stir to combine. Transfer this mixture to the baking dish and bake on the center rack for 25 - 30 minutes, until dip is bubbling and mostly set.

Remove and serve immediately with your choice of crackers, chopped veggies or toast!
Nutrition
Calories:
218
kcal
|
Carbohydrates:
17
g
|
Protein:
14
g
|
Fat:
13
g
|
Saturated Fat:
2
g
|
Sodium:
232
mg
|
Fiber:
6
g
|
Sugar:
3
g
Filed Under: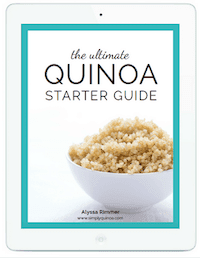 New to cooking quinoa? Grab your FREE Quinoa Starter Guide!
Become part of the Simply Quinoa community and receive weekly emails with exclusive content that I only share in email, as well as my in-depth guide to starting your quinoa journey.