This easy blended vegan baked oatmeal is made with banana, chocolate chips, almond butter and maple syrup. It's a healthy breakfast idea that tastes incredibly decadent and makes you feel like you're eating cake. This is our vegan version of that viral tik tok baked oats recipe!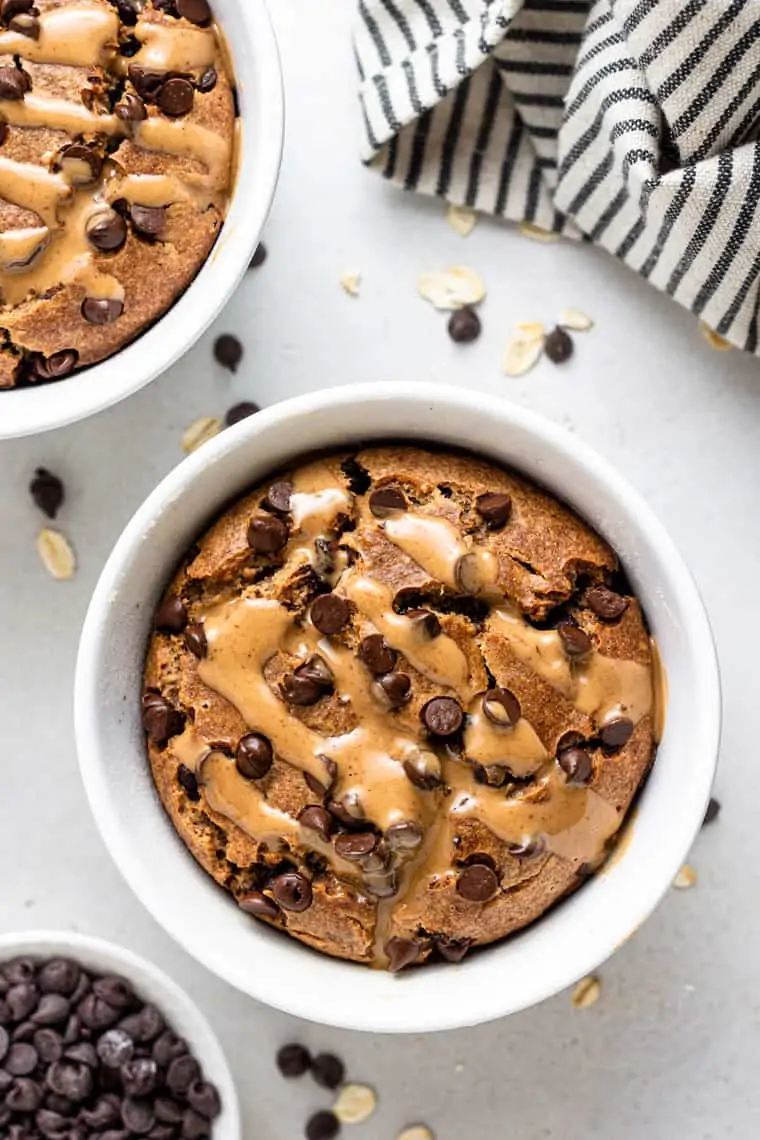 When I first saw the blended baked oats recipes circulating on Instagram, I was skeptical. Everyone was talking about how good it was, but I just wasn't sold.
It seemed silly to me.
That was…until I tried it. I can honestly tell you, this is 100% worth the hype! It's so easy to make, tastes absolutely incredible and it makes you feel like you're eating cake for breakfast. I knew I wanted to create my own version – and one that many of you would like as well – so we went with an egg-free version that is still every bit as light and fluffy as the traditional recipe!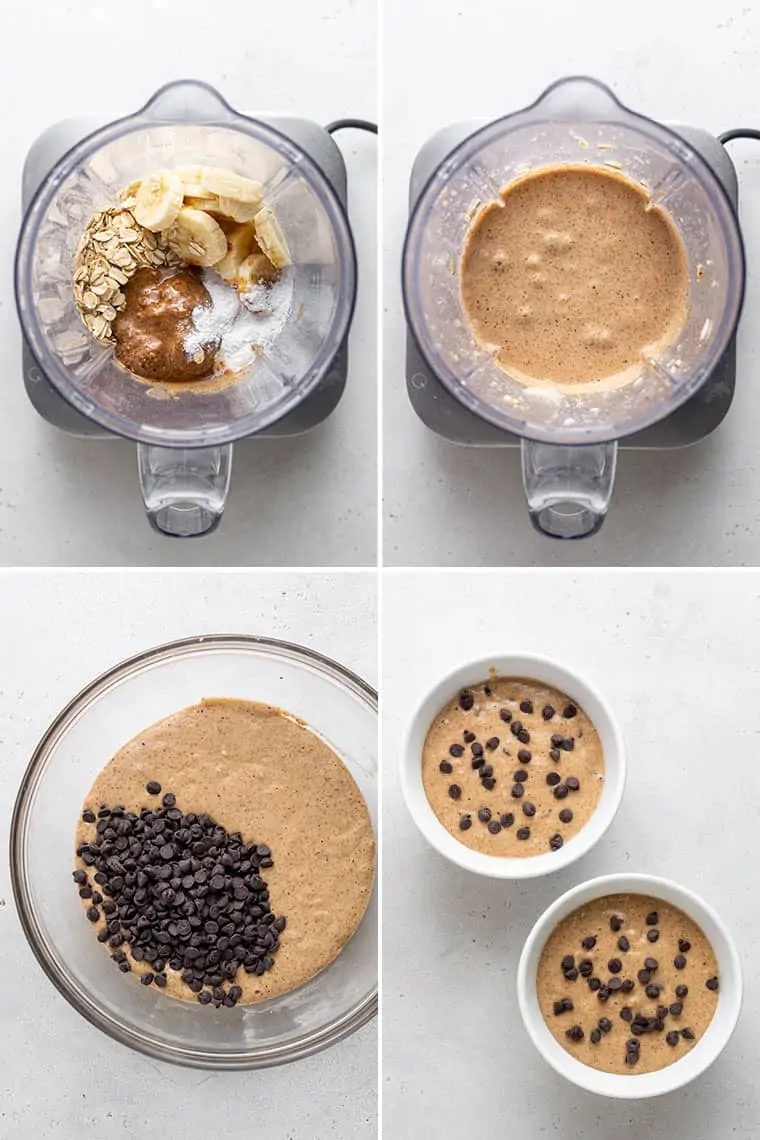 How to Make Vegan Baked Oatmeal with a Blender
Similar to how you might make traditional vegan baked oatmeal, these blended baked oats are essentially just all the same ingredients, blended up! Then you'll pour them into ramekins and bake them up!
For the ingredients, you'll need:
Rolled oats: you'll want to use either quick cooking or regular rolled oats. Steel cut won't blend well enough and makes the cake a little too thick.
Banana: for lightness, sweetness and fluff factor, the banana is definitely prominent, but not overpowering.
Almond milk: we just use a little liquid to blend it up and you can feel free to use any milk you'd like.
Almond butter: nut butter adds a bit of healthy fat, as well as flavor. I love that almond butter also amps up the protein a little bit!
Maple syrup: you don't necessarily *need* more sweetness, but the maple really does round out the flavor.
Baking powder: since we're not using eggs, the baking powder will help make the blended baked oats nice and fluffy
Sea salt: and finally just a pinch of salt helps to boost the flavor and make the whole recipe taste amazing!
You'll also see that I used chocolate chips! More on the mix-ins in a second 😉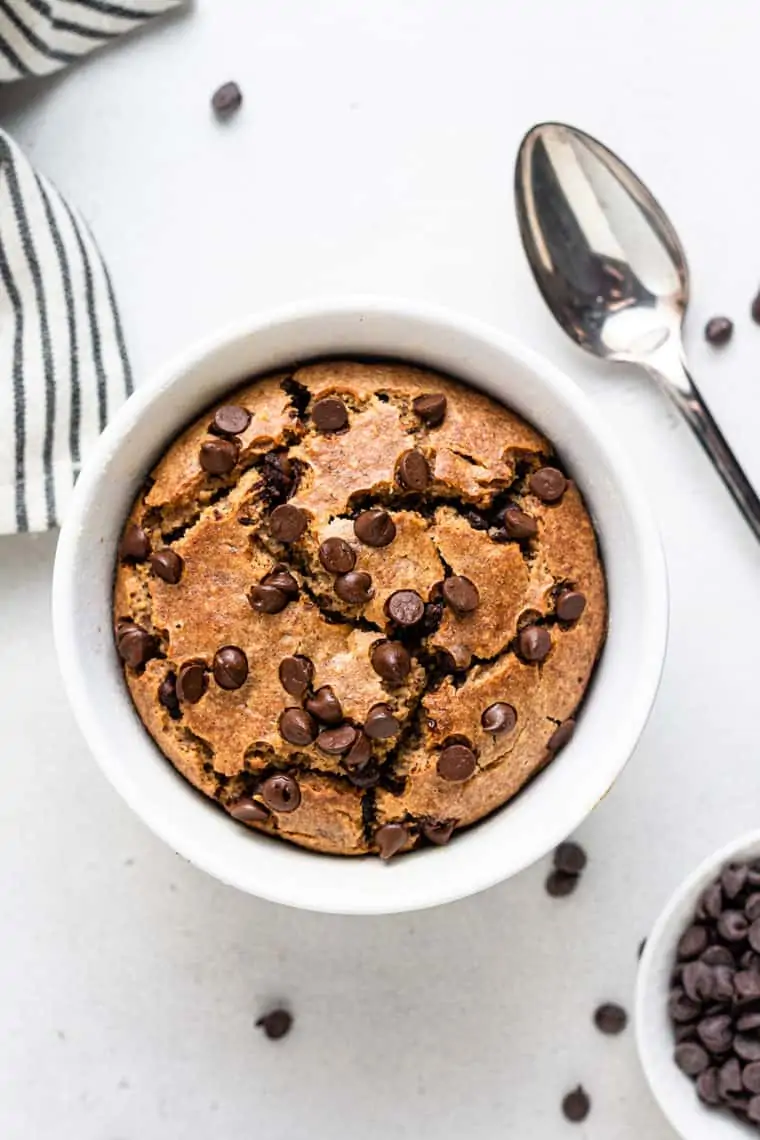 Mix-In Ideas for a Breakfast Casserole
Want to make your vegan baked oatmeal a bit more interesting? That's what the mix-ins are for! If you want to a different mix-in that we've used here, just use the same amount and you can use them as a 1:1 swap.
Here are some of my favorite mix-ins:
chocolate chips
blueberries
chopped strawberries
grated apple
chopped walnuts
chopped dates
dried raisins/cranberries
grated carrot
grated zucchini
Basically anything you might add into a muffin or quick bread, you can do that with these vegan baked oats!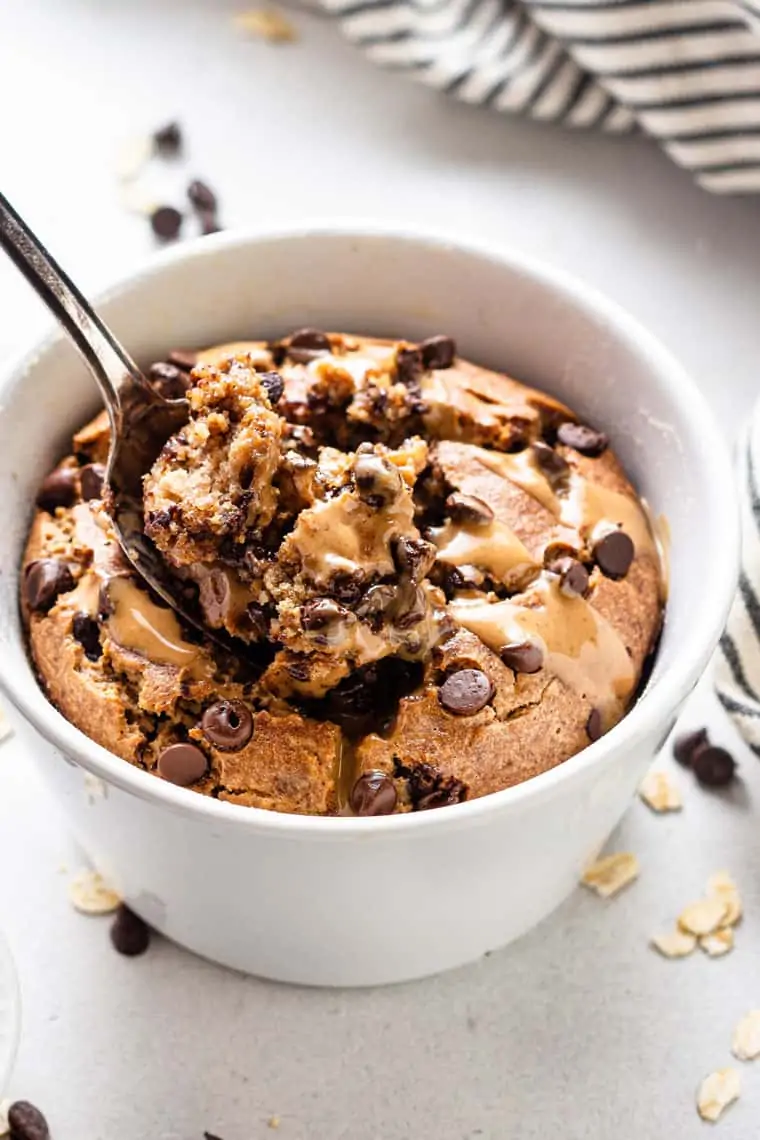 Tips & Substitutions
If there are some items on this list that don't work for you, here are some of my tips for making swaps in the recipe:
Oats: if you can't do oats, quinoa flakes also work well!
Almond butter: any nut or seed butter will work
Banana: 1/4 cup of applesauce can be used
Almond milk: any milk can be used, including flavored!
Maple syrup: honey or any other liquid sweetener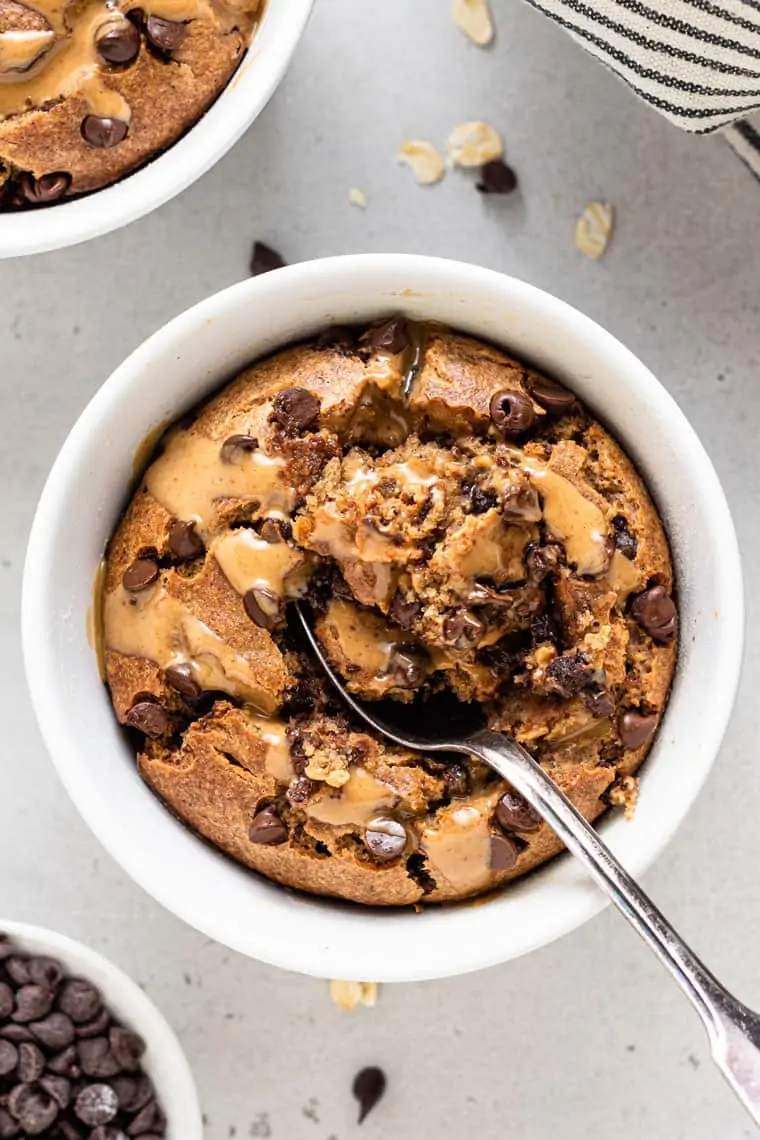 Can I Make Baked Oatmeal Ahead of Time?
Baked oatmeal is great for meal prep! You can either store it in the fridge and reheat it, OR you can store it in the freezer!
For the fridge
Allow the oatmeal to cool completely. Pop a cover/seal onto the container and place in the fridge for 4 – 5 days. To reheat, simply pop it in the microwave for 30 – 45 seconds or back in the oven at 250ºF for 15(ish) minutes.
For the freezer
If you want to freeze your vegan baked oats, again allow it to cool completely. Cover it and pop it in the freezer. For reheating, remove it from the freezer and pop it in the microwave for 60(ish) seconds until hot. Or you can put it back in the oven (from frozen) and heat it on 300ºF for 15 – 20 minutes.
More Vegan Oatmeal Recipes
Vegan Blended Baked Oatmeal
This easy vegan baked oatmeal with banana, chocolate chips, almond butter and maple syrup is naturally sweetened and made in a blender!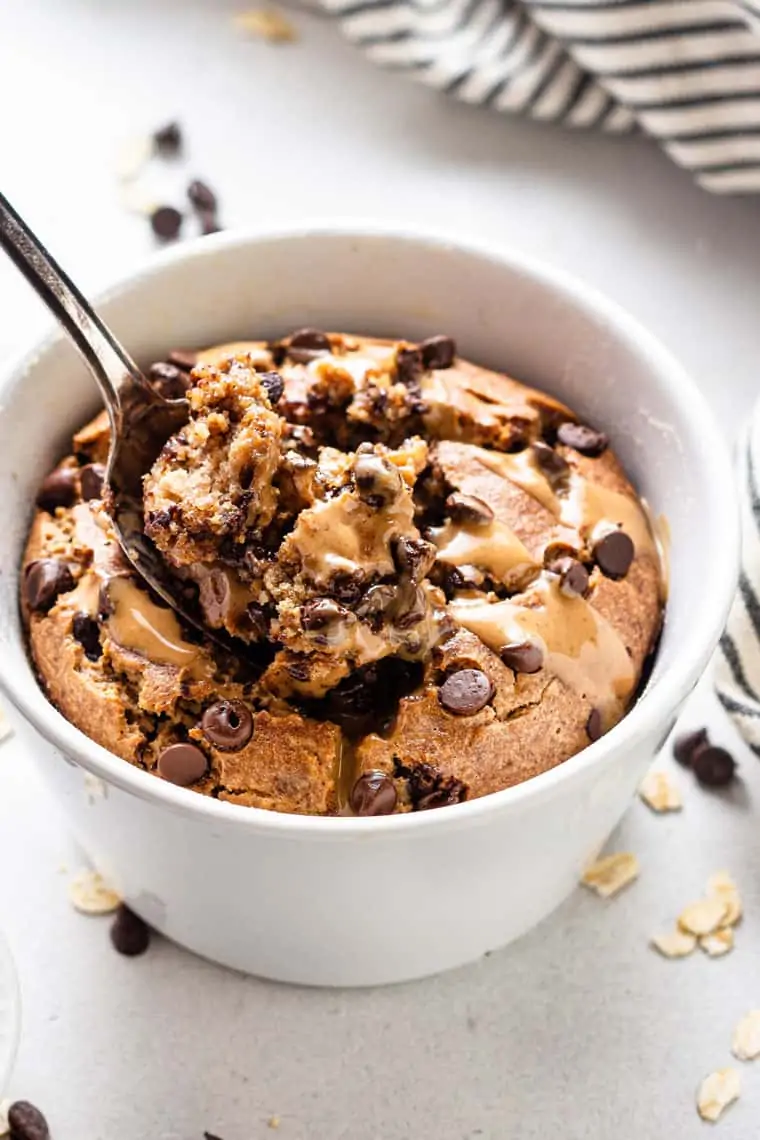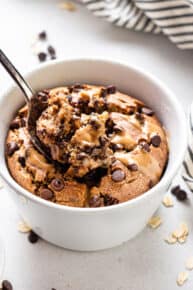 Instructions
For the blended baked oatmeal base
Add the oats, banana, almond milk, almond butter, syrup, baking powder, extract, and salt into a blender. Blend on high until smooth and creamy. Fold in the chocolate chips.

Spray two ramekins with cooking spray. Pour the contents of the blender into the ramekins. Top with a few extra chocolate chips if desired.
To cook in the oven
Preheat the oven to 350ºF. Bake for 23 -25 minutes until the top is golden and the cake feels mostly firm to the touch. Remove and let cool slightly. Top with almond butter and enjoy.
To cook in the microwave
Place both ramekins in the microwave. Cook on high for 2 - 3 minutes. Remove, let cool slightly and top with almond butter.
Nutrition
Serving:
1
cake
|
Calories:
235
kcal
|
Carbohydrates:
31
g
|
Protein:
6
g
|
Fat:
11
g
|
Saturated Fat:
1
g
|
Sodium:
45
mg
|
Potassium:
423
mg
|
Fiber:
5
g
|
Sugar:
11
g
|
Vitamin A:
19
IU
|
Vitamin C:
3
mg
|
Calcium:
159
mg
|
Iron:
2
mg