This chocolate protein oatmeal is one of my new favorite healthy plant-based, high-protein breakfast recipes! There's nothing better than starting your day with a big bowl of chocolate oats.
I packed these bowls full of fiber, protein, and antioxidants with dark chocolate, fresh berries, and oats! We've got two forms of protein too – adding both hemp hearts and a vegan chocolate protein powder.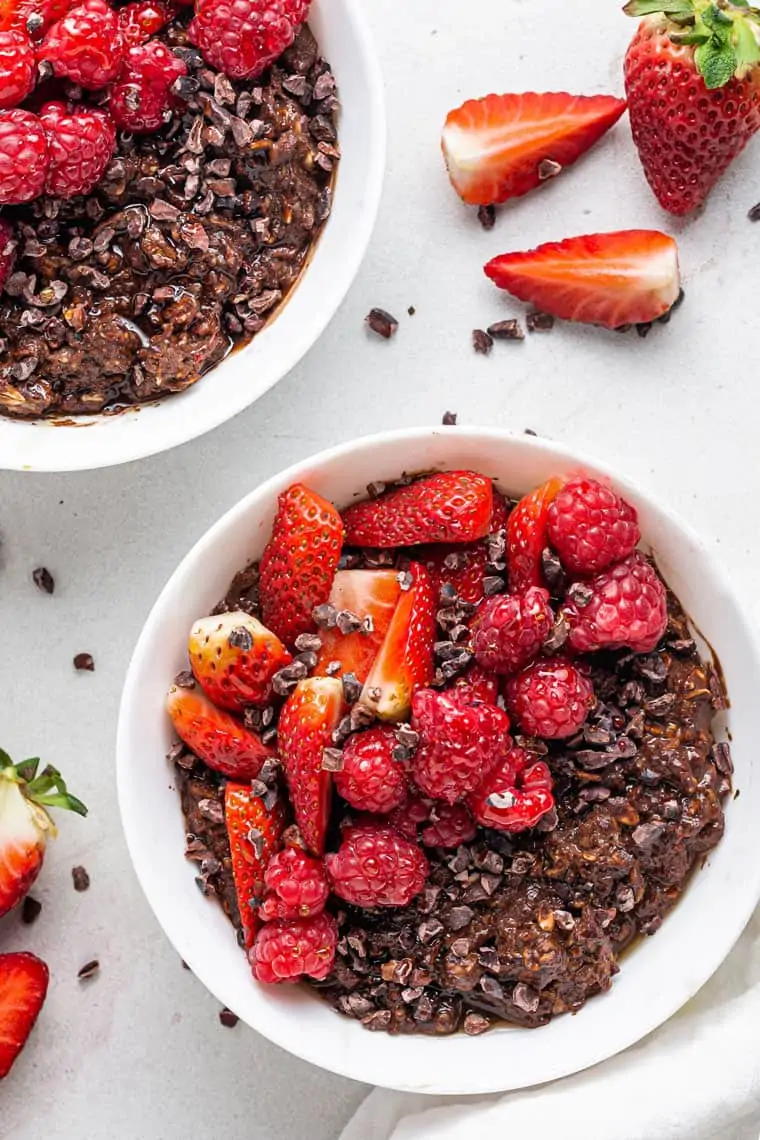 I used to be all about chocolate smoothie bowls for breakfast, but now I'm all about oatmeal. It's cozy, it's comforting, it's easy on the digestive system and it's still easy to pack in a ton of nutrition.
This is the combo I've been making for the past few months and if you're a chocolate lover, this is sure to become you're new go-to brekkie!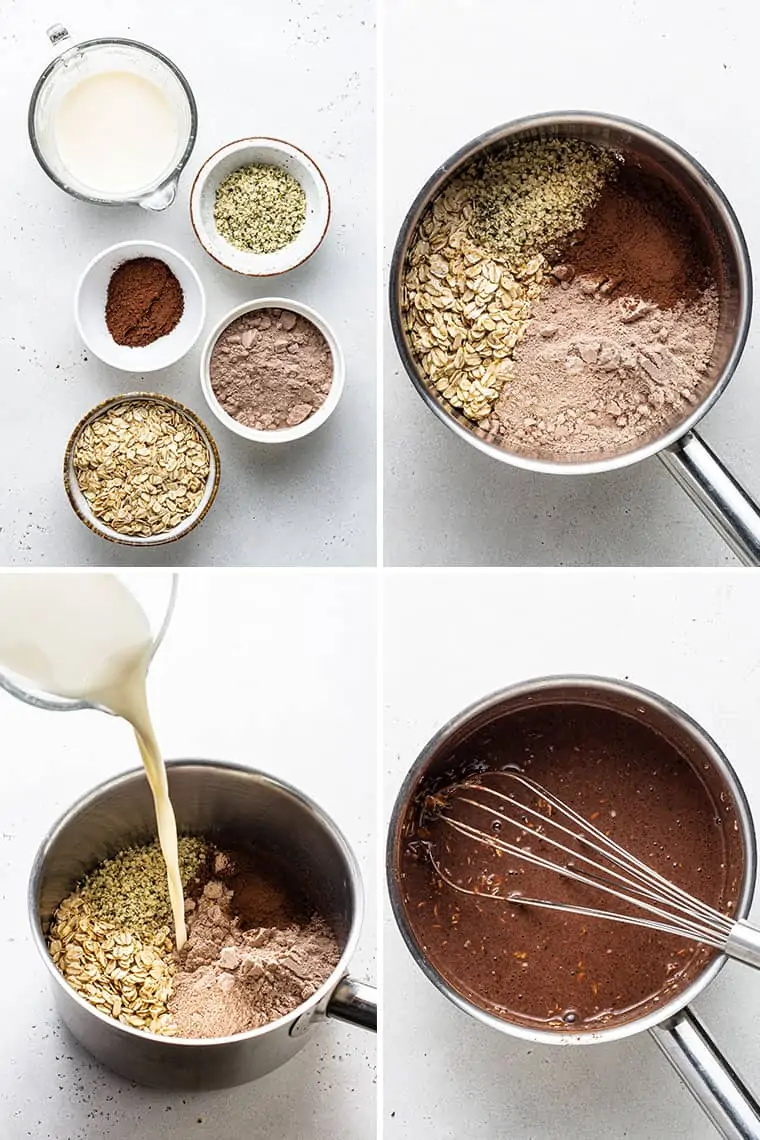 How to Make High-Protein Chocolate Oatmeal
This protein oatmeal is a cinch to make and uses just 5 ingredients!
Oats: you can use any type of oats for this recipe, but I like regular rolled oats the best. It's got a nice texture and cooks in about 2 – 3 minutes!
Chocolate protein powder: feel free to use any type of chocolate protein you'd like – I go for plant-based, but whatever you enjoy.
Hemp seeds: a simple way to sneak in some extra fat and protein, hemp seeds also have a little crunch texture!
Cacao powder: for a little extra chocolate flavor, stirring in some cacao powder makes it way more decadent!
Almond milk: the liquid I like is almond milk, but it's also awesome with coconut water or whatever type of milk/liquid you'd like.
And to make it? Just add all the ingredients together, bring the oatmeal to a boil, then reduce it to a simmer. Cook for a few minutes until it's thickened and then top it with your favorite berries!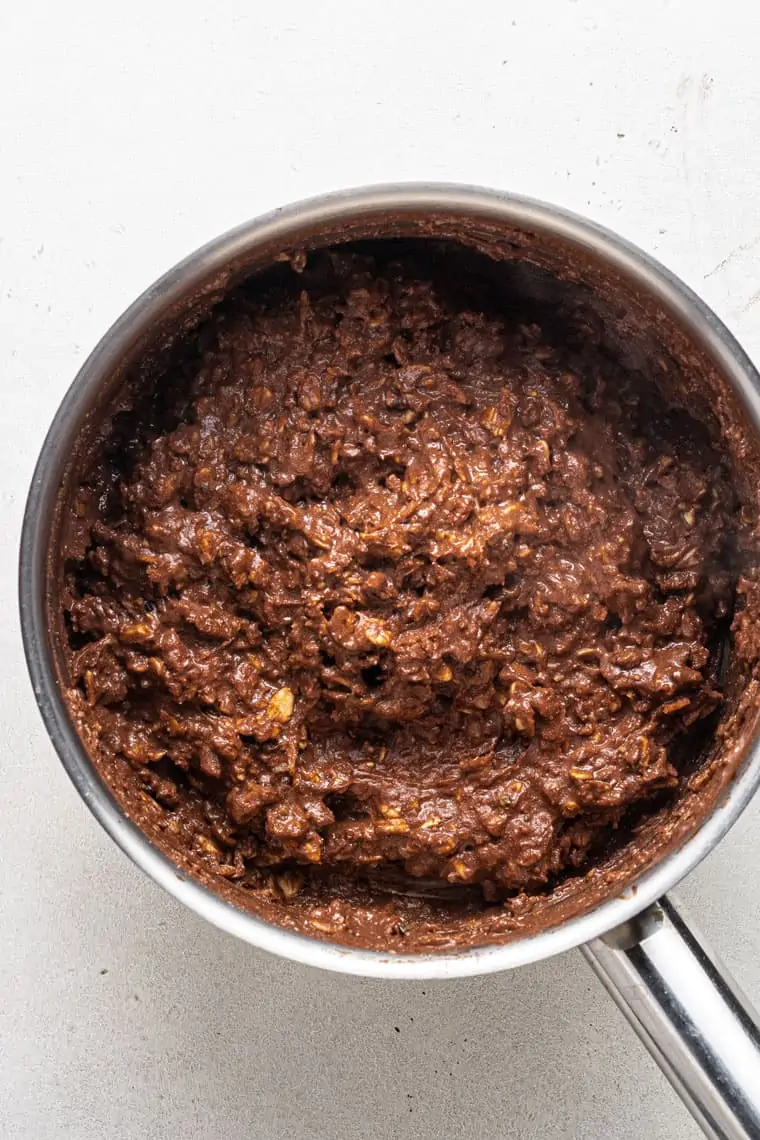 How Much Protein is in Chocolate Oats?
It depends on the protein powder you use, but this chocolate protein oatmeal can have between 15 – 30g of protein PER serving!
Are Protein Oats Gluten-Free?
Oats are naturally gluten-free, but if you are super sensitive to gluten or have Celiac disease, you'll need to make sure you use certified gluten-free oats! I like Bob's Red Mill, but any brand you can find that is certified GF, will make sure they're gluten-free.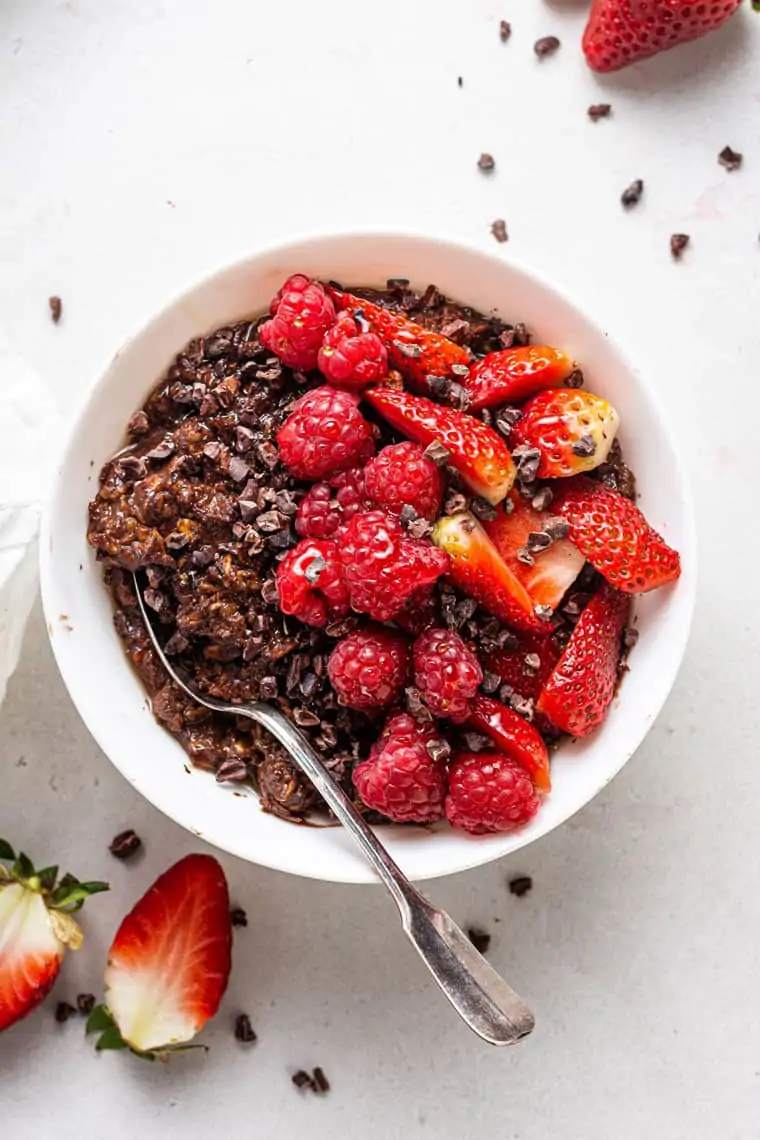 How to Store Oatmeal for Meal Prep
Oatmeal is a great option for meal prep! To store this oatmeal for meal prep, you'll want to:
allow it to cool completely
divide into servings in separate containers
store in the fridge for 4 – 5 days
reheat it on the stove or in the microwave with a splash of milk
Best Toppings for Chocolate Protein Oatmeal
Lastly, let's chat about toppings! I love fresh fruit on top of my oatmeal and since we went with a chocolate base, this is what I would recommend:
Strawberries and/or raspberries
Sliced banana
Cacao nibs
Almond/peanut butter
Honey/maple syrup
But truly, you can use whatever toppings you enjoy! I can't wait to hear what you think of this recipe – it's a game-changer in the morning and it tastes absolutely incredible!
More Healthy, Creamy Oatmeal Recipes
Chocolate Protein Oatmeal
Chocolate protein oatmeal is a healthy plant-based, high-protein breakfast recipe with your favorite fresh and crunchy toppings.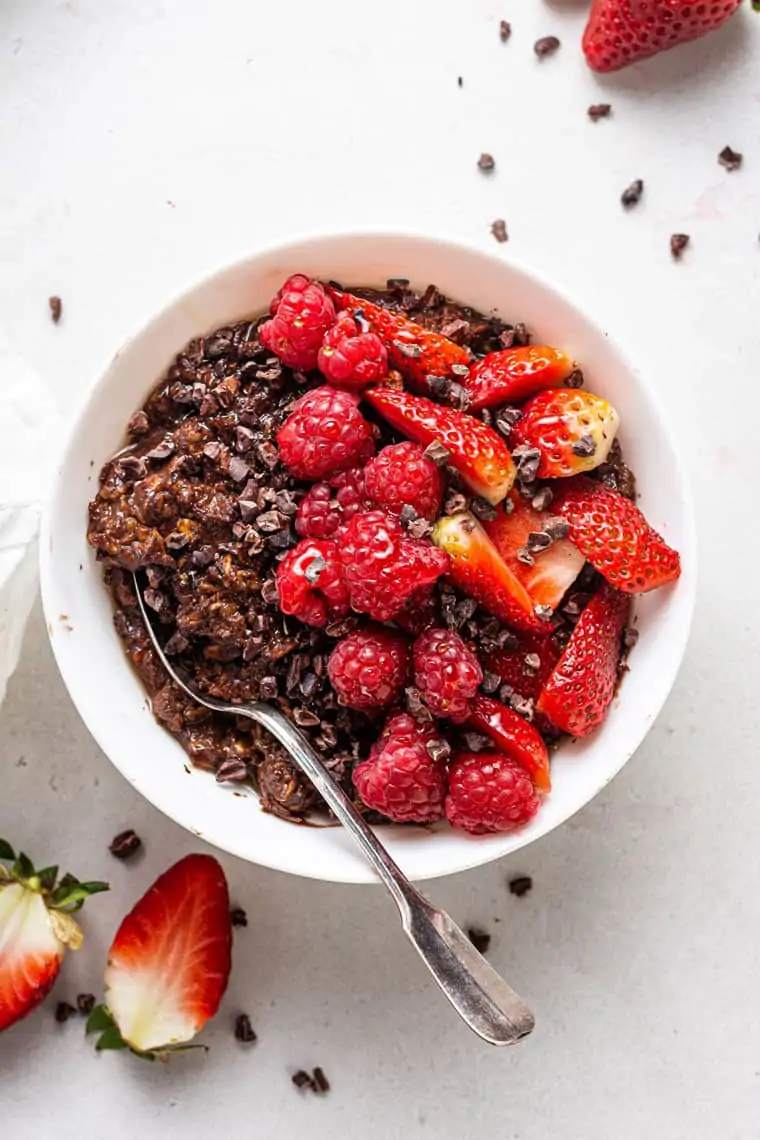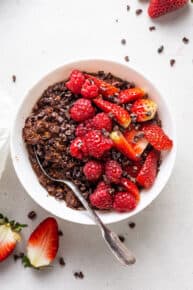 Ingredients
2/3

cup

rolled oats

2

scoops of chocolate protein powder

2

tablespoons

hemp seeds

1

tablespoon

cacao powder/unsweetened cocoa powder

1

cup

almond milk

(or coconut water)
Instructions
Add all the ingredients into a small pot. Bring the liquid to a boil, then reduce to simmer and cook for 1 - 2 minutes until thickened. Top with desired toppings and enjoy!
Nutrition
Serving:
1
bowl
|
Calories:
310
kcal
|
Carbohydrates:
28
g
|
Protein:
28
g
|
Fat:
12
g
|
Saturated Fat:
2
g
|
Cholesterol:
35
mg
|
Sodium:
288
mg
|
Potassium:
365
mg
|
Fiber:
9
g
|
Sugar:
1
g
|
Vitamin A:
78
IU
|
Calcium:
391
mg
|
Iron:
4
mg
Filed Under: