These amazing buffalo tempeh salad bowls are the ultimate meal. They're full of flavor, packed with protein and full of veggies. Easy to make, great for meal, and vegan too!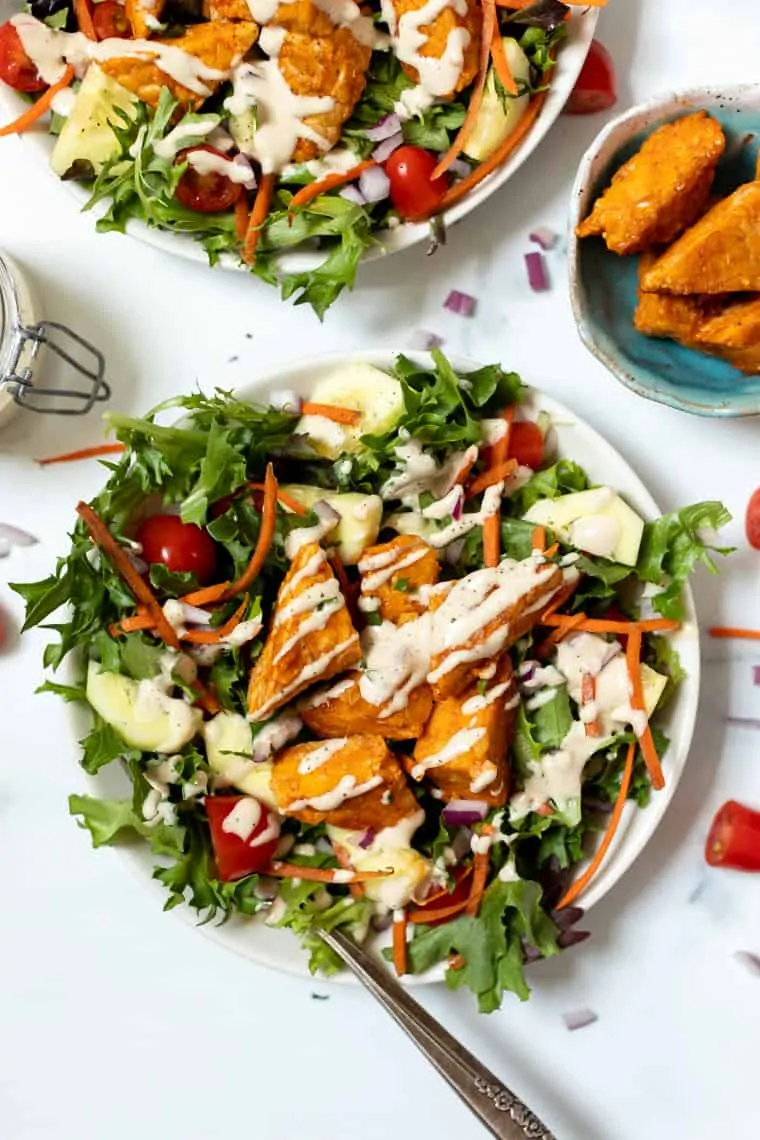 One of the things that I eat a lot but doesn't make many appearances on the blog is tempeh. And today we're going to change that!
Tempeh is made from fermented soybeans that are pressed into a block. It's kind of like tofu but has a thicker, denser texture and kind of a meatier flavor. I can be used in most applications that extra-firm tofu would be used, but I think it's a little bit healthier since it's fermented.
I love tempeh and I'm definitely going to start sharing more ways to use it, but for now let's start with this: delicious, semi-spicy Buffalo Tempeh Salad Bowls that are full of veggies and topped in a creamy tahini dressing. They also only take about 15 minutes to make!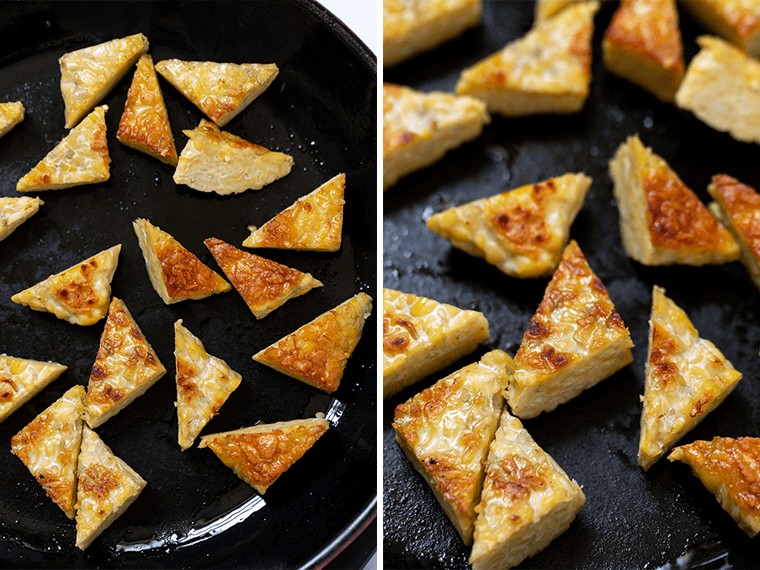 How to Make Buffalo Tempeh
Initially, I thought I wanted to bake the tempeh in buffalo sauce, but after testing that method it wasn't saucy enough. It also took longer then I wanted.
So I resorted to searing the tempeh, then adding the sauce directly into the pan. It was perfect. Kind of crispy on the outside, but still totally saucy and delicious.
Best of all? It only takes about 6 minutes.
Here's what you'll do:
Heat a skillet over medium heat
Sear the tempeh on both sides until golden brown
Add the buffalo sauce and toss to coat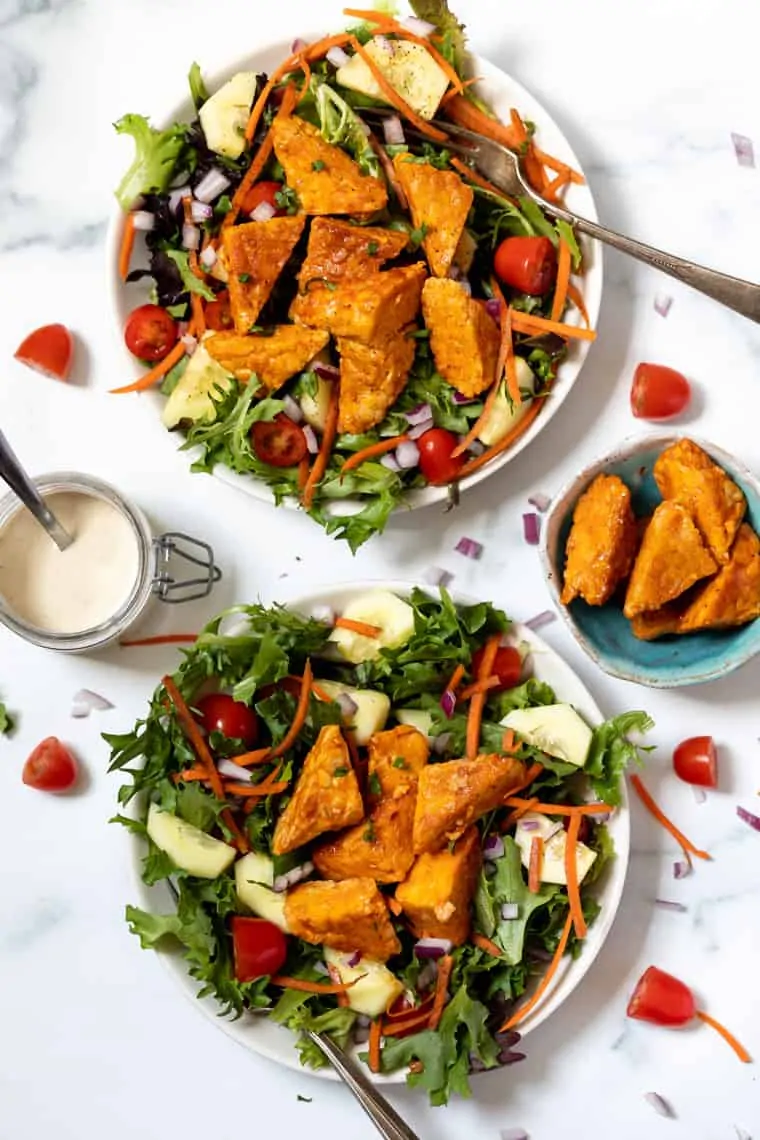 What's In Buffalo Sauce?
What's great about buffalo sauce is that it actually has pretty straight forward ingredients. It's basically just:
peppers
vinegar
butter (or oil)
salt & pepper
You can probably make it at home, but it's one of those things that once you find a brand that's good and healthy, why bother? The brand I currently am loving is called Noble Made (formerly The New Primal) and they carry a line of paleo, gluten-free and dairy-free friendly sauces.
I found their buffalo sauce at Whole Foods and have started buying it in both medium and hot!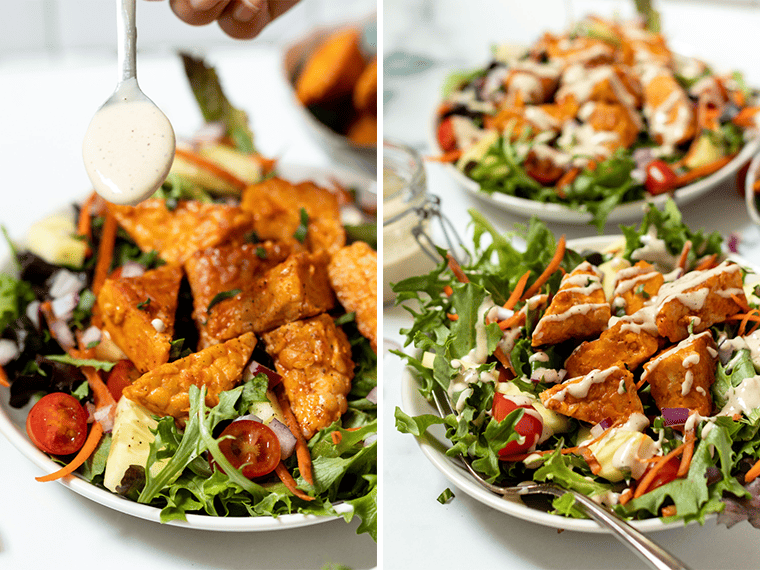 What's Inside these Buffalo Tempeh Bowls
Okay so let's talk about these bowls! Since it's summer while I'm making this, we went with salad, but you could also totally turn this into a more hearty grain bowl if you wanted.
I chose to put ingredients you'd classically find with this flavor:
carrots
tomatoes
onion
cucumber
And I put it on top of a bed of mixed greens!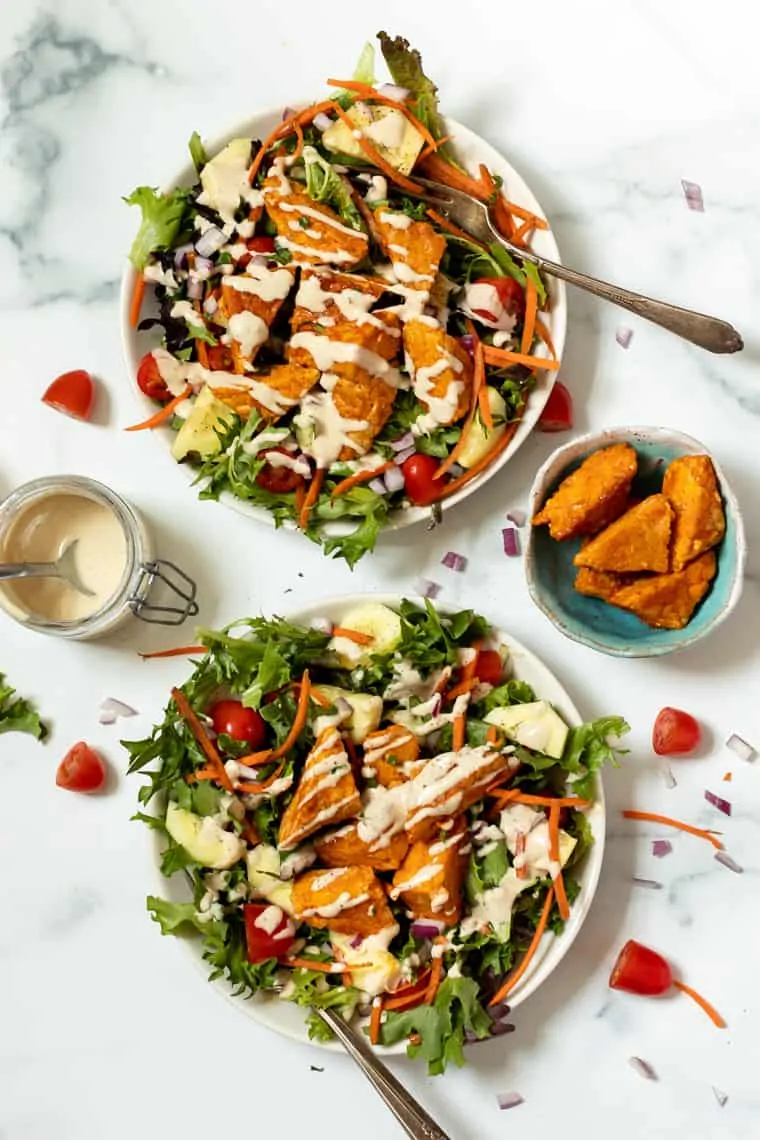 Other Ways to Use Buffalo Tempeh
Now if you're not really craving a salad, or you find this recipe in the dead of winter, there are so many other ways you can use this tempeh!
Here are some ideas:
Grain bowl: I think it would be awesome with some brown rice, maybe some roasted cauliflower or broccoli and a little bit of sauteed kale. Just if you're feeling.
Sandwich: toast up some of your favorite bread, then do a layer of vegan mayo, the tempeh, and some veggies.
Vegan tacos: Cut the tempeh into cubes, then serve it with some fresh cabbage, romaine and some guac!
And of course, it's delicious on all sorts of greens! Just pick your fave 😊 I hope you enjoy these bowls and I can't wait to see your recreations!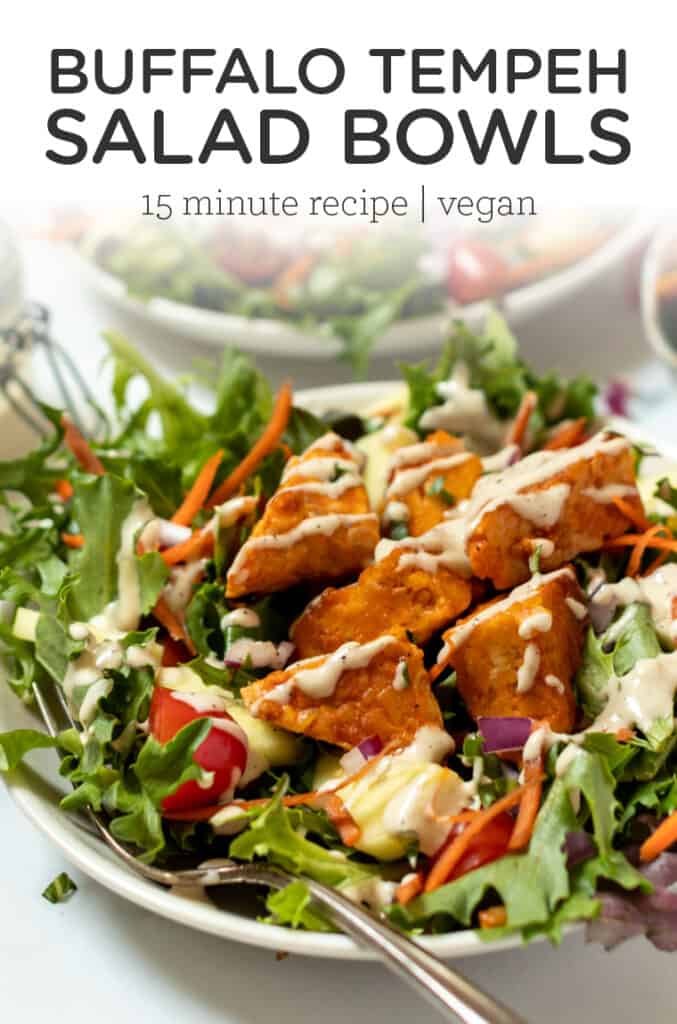 More Recipes That Use Tempeh
Buffalo Tempeh Salad Bowls
These amazing buffalo tempeh salad bowls are the ultimate meal. They're full of flavor, packed with protein and full of veggies. Easy to make, great for meal, and vegan too!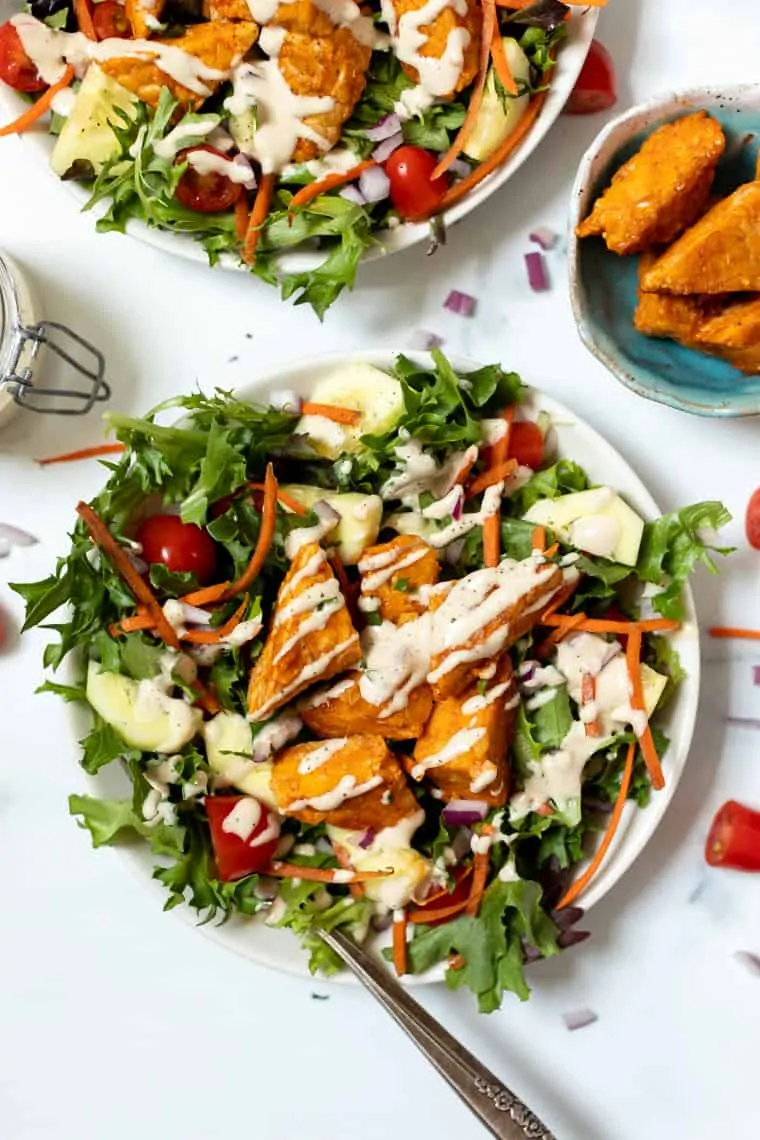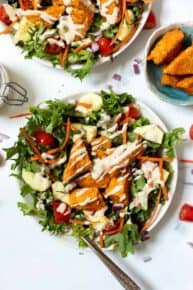 Ingredients
for the salad:
1

block tempeh (about 6 oz)

Cooking spray

(or olive oil)

1/3

cup

buffalo sauce

4

cups

greens

1

cup

chopped cherry tomatoes

1/2

a cucumber

, sliced

1/4

cup

diced onion

1/2

cup

shredded carrots
for the dressing:
2

tablespoon

tahini

Juice of 1/2 a lemon

(about 1 tablespoon)

1/4

teaspoon

garlic powder

Salt and pepper to taste

Water to thin

(I used about 1/4 cup)
Instructions
Heat a skillet over medium heat. Once hot, spray with cooking spray.

Cut the tempeh into whatever shapes you want. I went with triangles, but you could also do strips or cubes.

Add the tempeh into the pan and cook until browned on one side, about 2 minutes. Flip and cook for another 2 minutes until browned on the other side.

Add the buffalo sauce and stir together. Cook for another minute until the buffalo sauce has fully coated the tempeh. Set aside.

Assemble the salads. Place half of the greens into two bowls. Top with half of the remaining ingredients and finish with half of the tempeh.

Whisk together the dressing ingredients until smooth. Drizzle over the salads and enjoy!
Nutrition
Serving:
1
salad
|
Calories:
311
kcal
|
Carbohydrates:
24
g
|
Protein:
21
g
|
Fat:
17
g
|
Saturated Fat:
3
g
|
Sodium:
1293
mg
|
Potassium:
953
mg
|
Fiber:
3
g
|
Sugar:
5
g
|
Vitamin A:
6673
IU
|
Vitamin C:
42
mg
|
Calcium:
155
mg
|
Iron:
4
mg