Healthy cashew quinoa cookies studded with dark chocolate chips and topped with flaked sea salt, are the ultimate sweet treat! No butter, eggs or flour!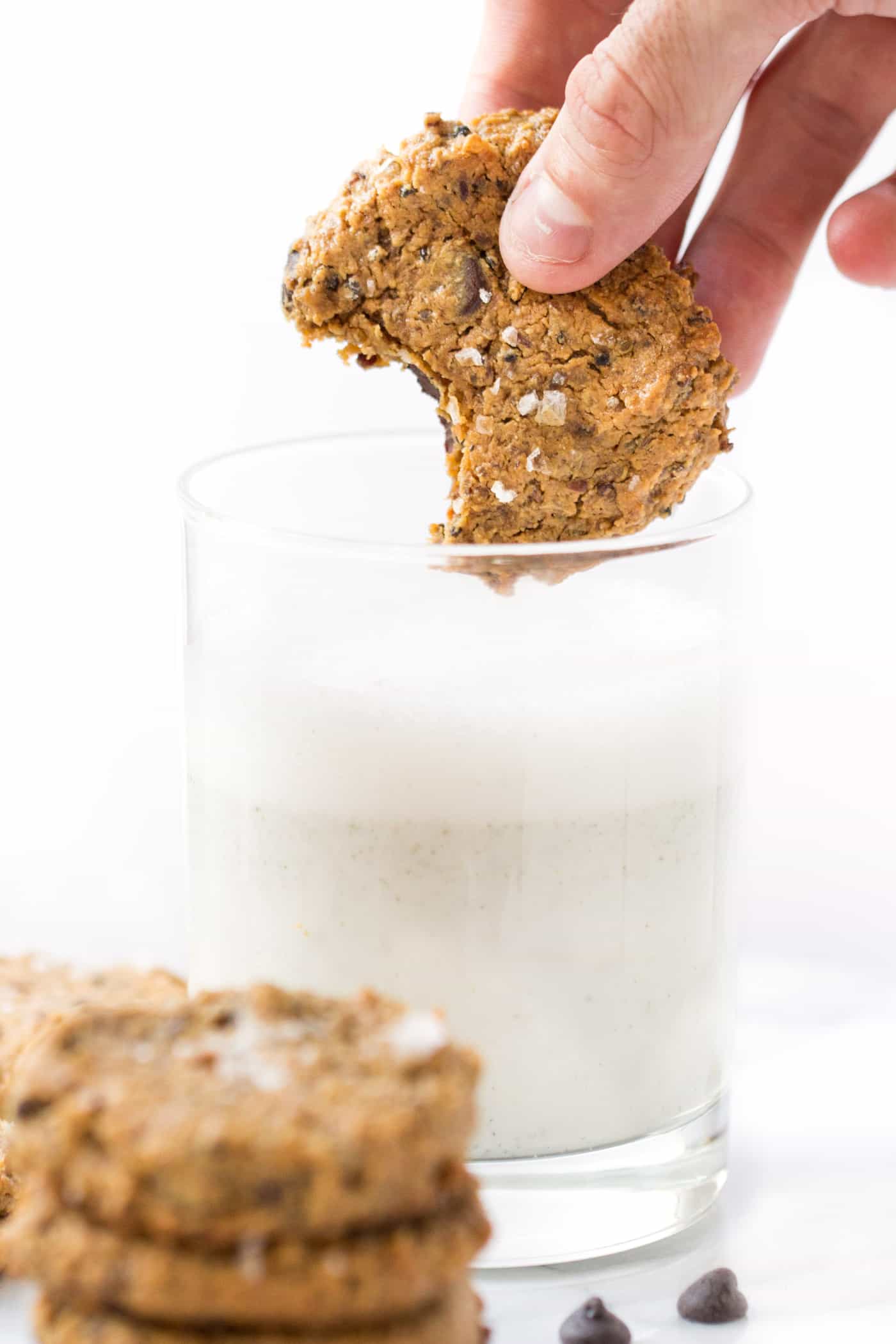 When I'm craving something sweet I almost always reach for cookies. They're a satisfying, simple treat that comes in tons of different flavors and are fairly easy to find (or make). But most cookies, gluten-free or not, really aren't that healthy.
Today I'm mashing up two of my favorite cookies and giving you a recipe that is not only nutritious, but it's also sweet, decadent and makes the perfect little sweet treat.
Those two cookies? Peanut butter and chocolate chip.
Now if you've ever made standard peanut butter cookies before, then you probably know the proportions: 1 cup peanut butter, 1 cup sugar, 1 egg. Chocolate chip cookies on the other hand? You could go pretty much any which way you want. Tack on that you want to make them gluten-free and healthy? It gets trickier.
So rather than reformulating a classic chocolate chip cookie, I took similar proportions to the peanut butter cookies, using healthier alternatives, to create these epic cashew quinoa cookies.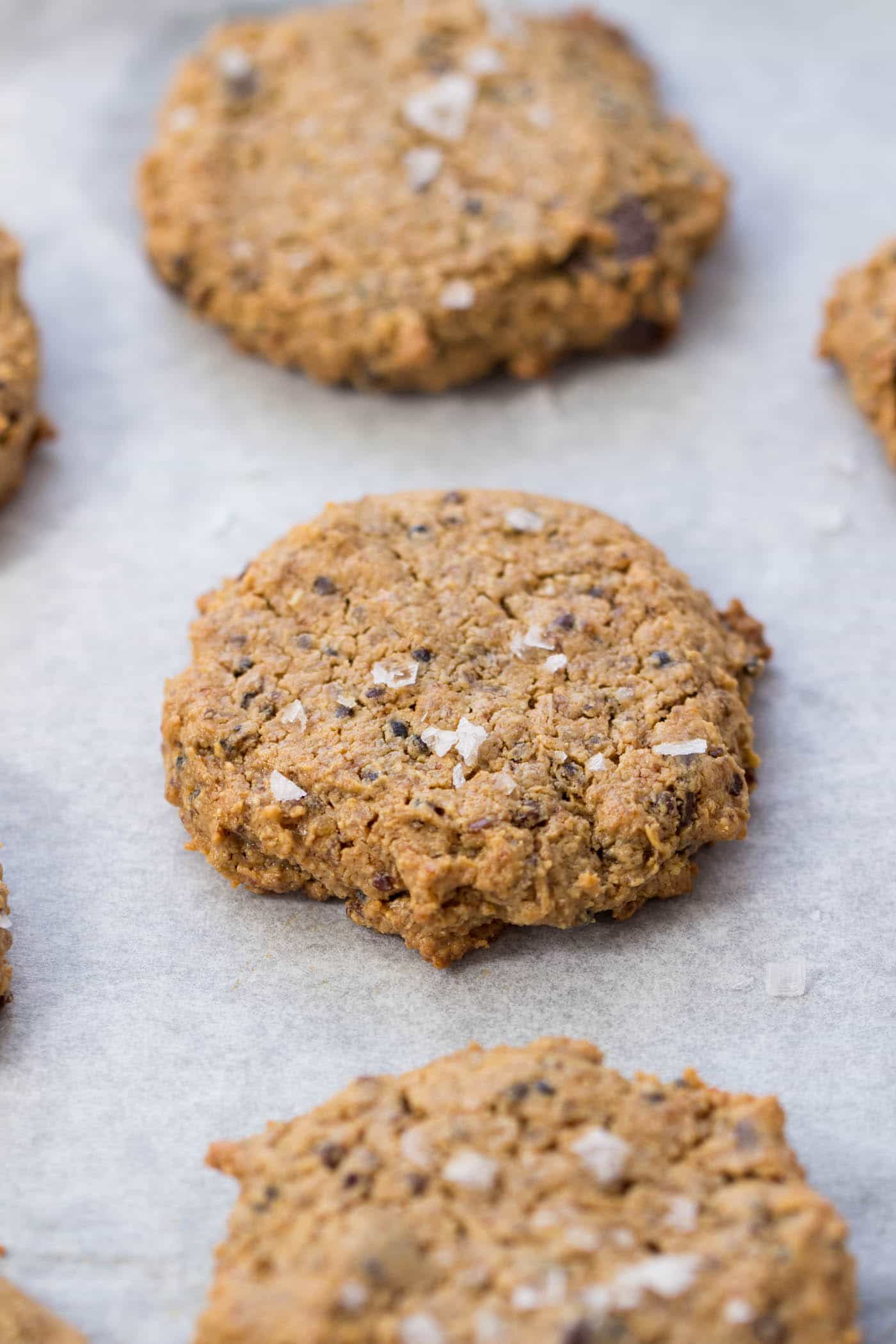 The base of these cookies is creamy cashew butter. What I love about using cashew butter here is that it isn't as strong as peanut butter, so it really ends up just taking on the flavor of the sugar, chocolate chips, and vanilla.
By now you probably know that I avoid refined cane sugar, so I swapped in my go-to granulated sugar: coconut palm sugar. Since it's lower on the glycemic index, the cookies aren't quite as sweet, but they also won't spike your blood sugar and send you on that crazy sugar high.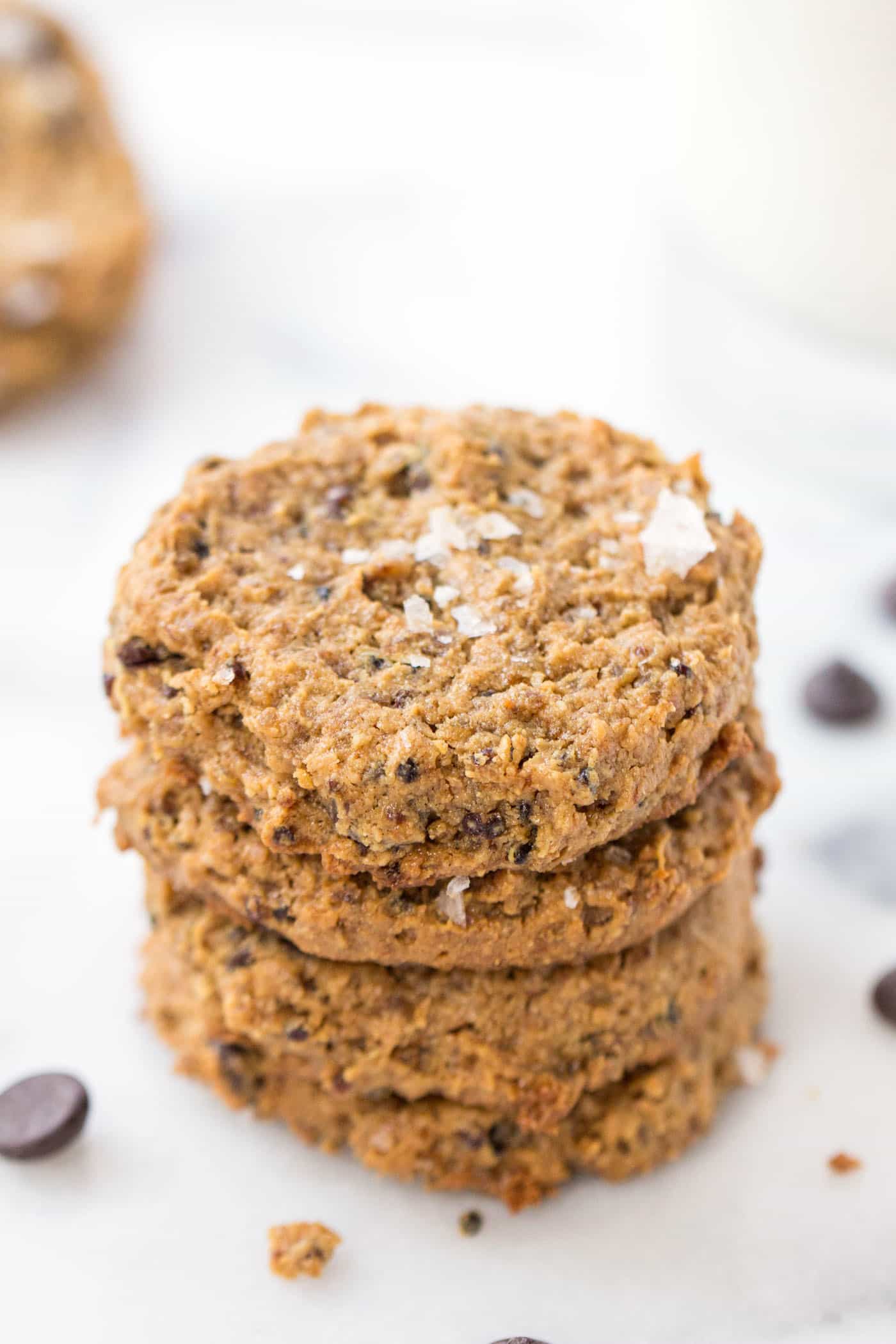 I chose to make these cookies vegan to make them accessible for all types of diets and swapped the standard egg for a flaxseed egg. But if you aren't vegan, you could totally use a real egg for this recipe.
One thing I do like about using the flaxseed meal is that you're getting the added benefits of the flax. Even if it's just a tablespoon, the cookies get a boost of omega-3 fatty acids, fiber, and protein.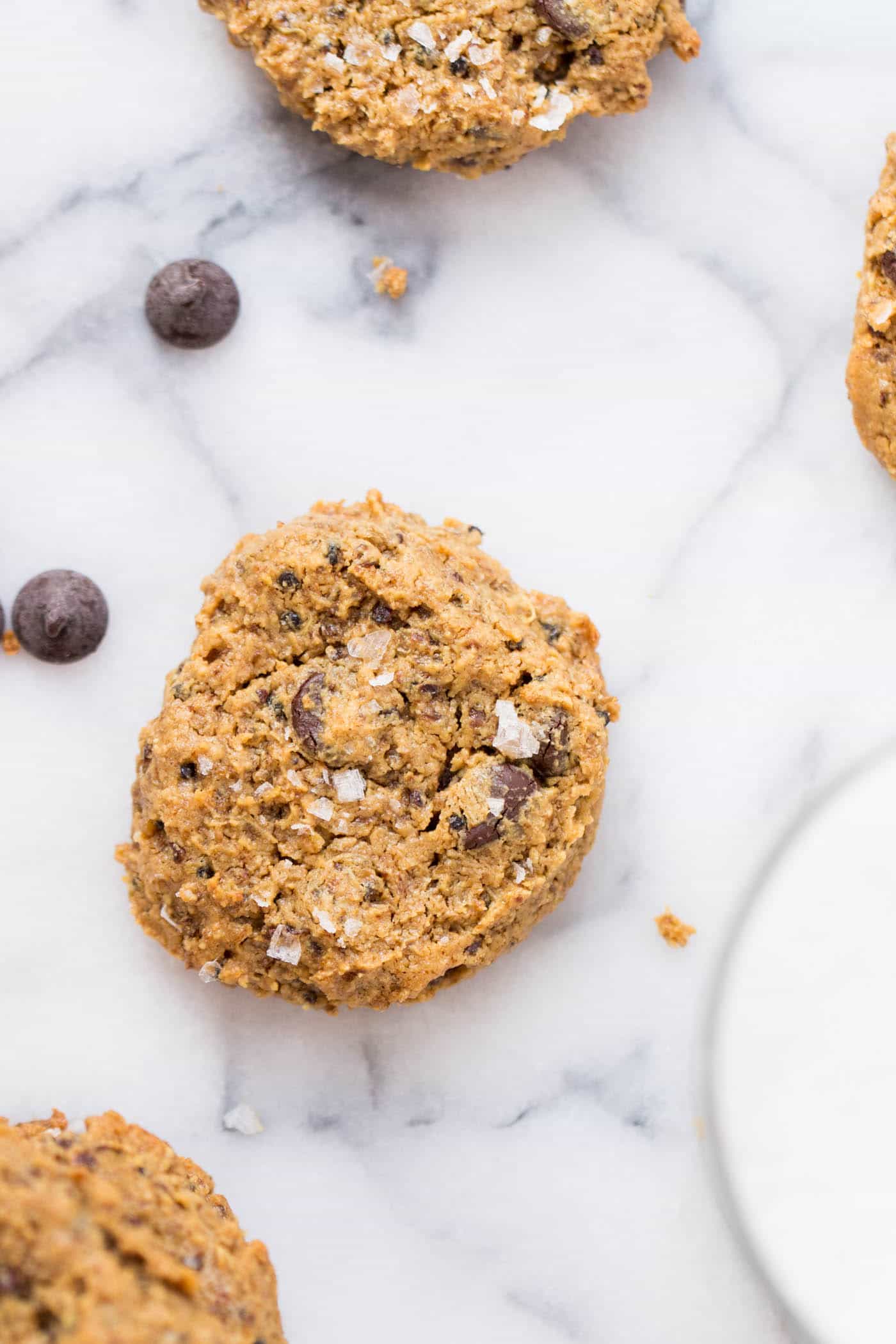 Of course, I also stirred some quinoa into the batter, which I find gives the cookies a nice texture, a little crunch, and even more protein.
And for the add-ins? Just simple dairy-free chocolate chips.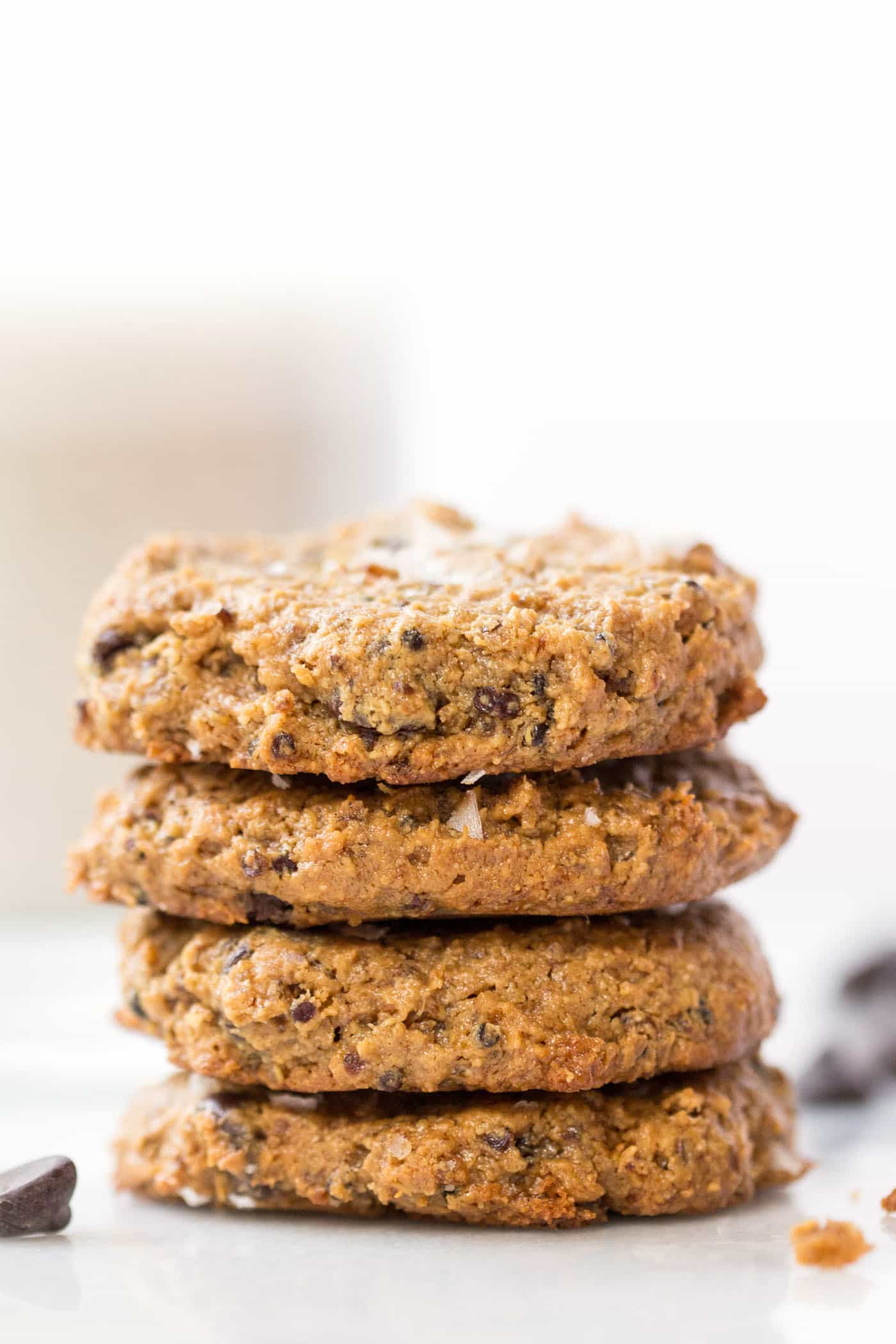 The final step to these cashew quinoa cookies is to top them with flaked sea salt. I find the sea salt really enhances the flavor of the cookies, but if you're not a fan of the salty-sweet combo, feel free to leave it off (or top them with a few extra chocolate chips!).
What I think you'll love about these cookies is that they're…
naturally gluten-free
low on the glycemic index
packed with protein
made in just one bowl
less than 10 ingredients
….and they taste like REAL chocolate chip cookies!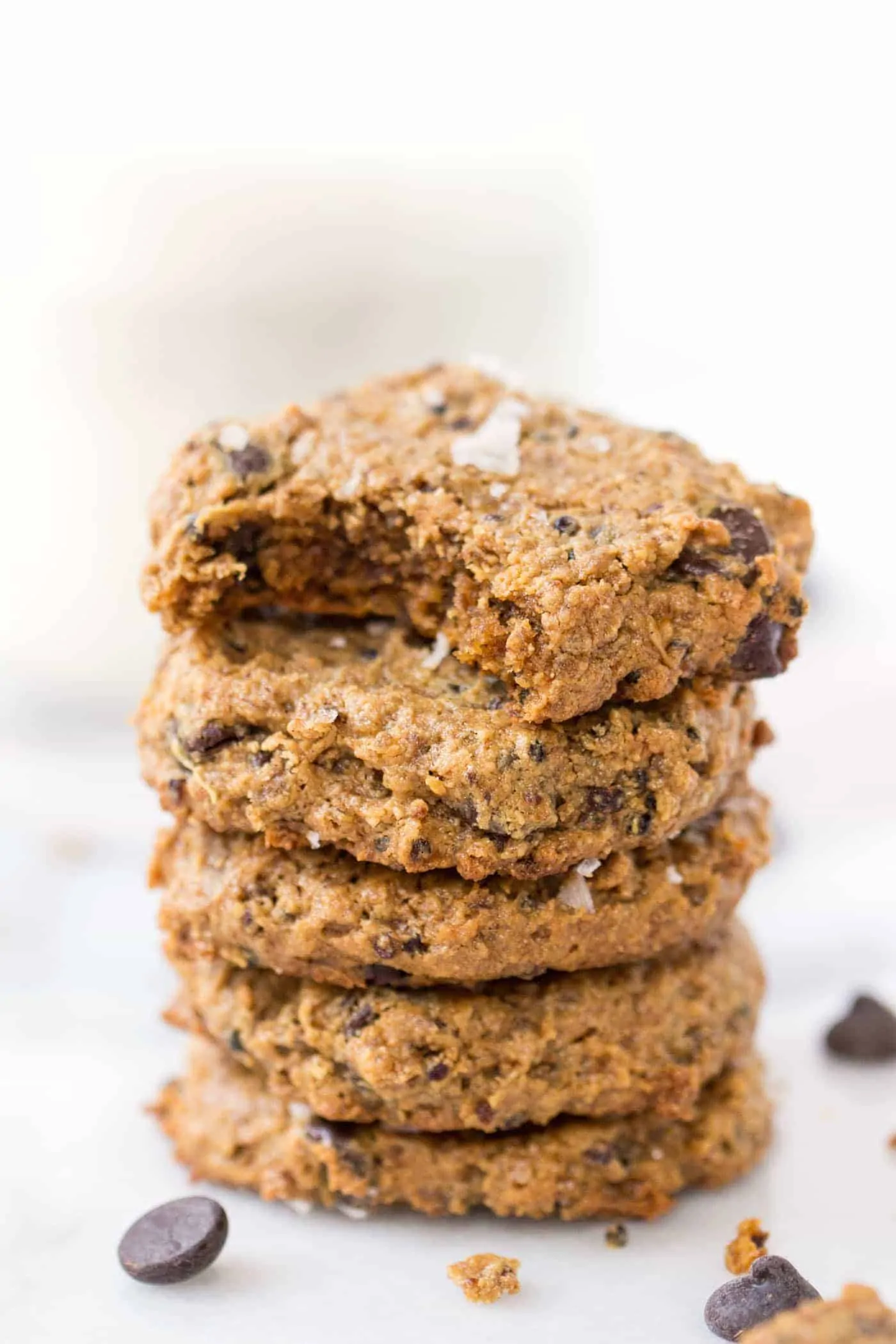 Your turn!
What is your favorite way to satisfy your sweet tooth? For me, it's either cookies or dark chocolate, but I know tons of others who love their ice creams, cakes, cupcakes, you name it. Let me know yours in the comments below and perhaps I'll try to recreate it with a healthy twist!
And if you end up trying this recipe, I'd love for you to share a picture with me. You can tag @simplyquinoa or use #simplyquinoa, and that way I can find your post and give it some love 🙂
xo Alyssa
More Healthy Cookie Recipes
Cashew Quinoa Cookies
Today I'm mashing up two of my favorite cookies and giving you a recipe that is not only nutritious, but it's also sweet, decadent and makes the perfect little sweet treat.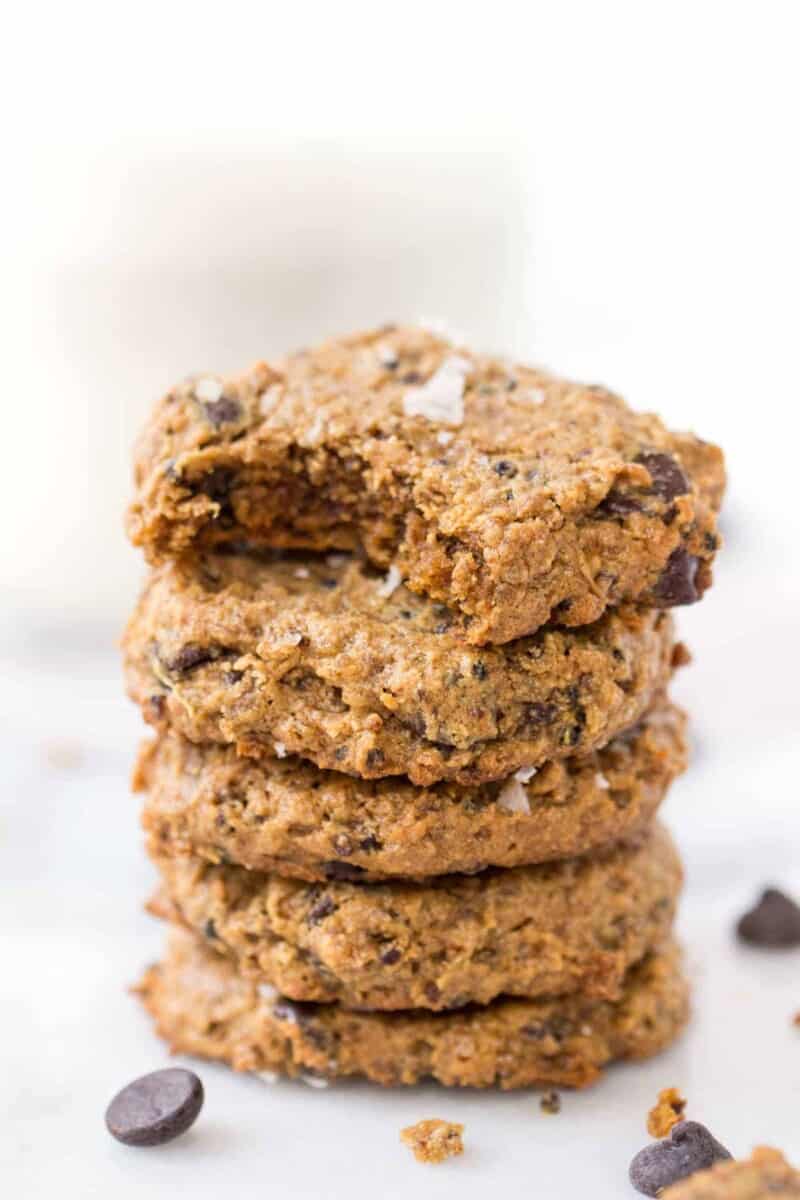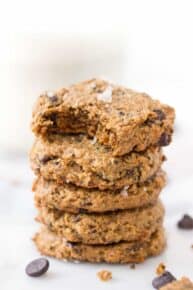 Instructions
Preheat the oven to 350ºF. Line a baking sheet with parchment paper and set it aside.

In large bowl, whisk together flaxseed meal and water. Set aside to gel for 5 minutes.

To the bowl, add the remaining ingredients, minus the chocolate chips and flaked sea salt. Stir together until it forms a cohesive dough (I like using a rubber spatula). Fold in chocolate chips.

Scoop about 1 - 2 tablespoons of dough onto the cookie sheet. Using wet hands, gently flatten the cookies and then sprinkle them with sea salt flakes (if using).

Bake for 12 - 15 minutes until the cookies are golden brown. Remove and let cool on the pan for 15 minutes, then transfer to a wire rack to cool completely.
Notes
*for crispy cookies use 1 cup, for chewier cookies use 3/4 cup
**Nutrition is based on 3/4 cup of coconut sugar and 1/4 cup chocolate chips
Nutrition
Calories:
172
kcal
|
Carbohydrates:
11
g
|
Protein:
4
g
|
Fat:
13
g
|
Saturated Fat:
3
g
|
Sodium:
146
mg
|
Potassium:
129
mg
|
Fiber:
1
g
|
Sugar:
3
g
|
Calcium:
21
mg
|
Iron:
1.7
mg
Filed Under: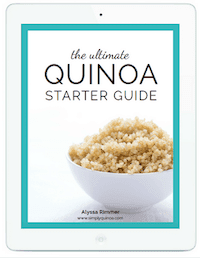 New to cooking quinoa? Grab your FREE Quinoa Starter Guide!
Become part of the Simply Quinoa community and receive weekly emails with exclusive content that I only share in email, as well as my in-depth guide to starting your quinoa journey.
Want more quinoa dinner recipes?
Follow my board on Pinterest!