Start your day with these tasty chocolate peanut butter quinoa breakfast cookies! They're gluten-free, vegan, naturally sweetened and actually good for you!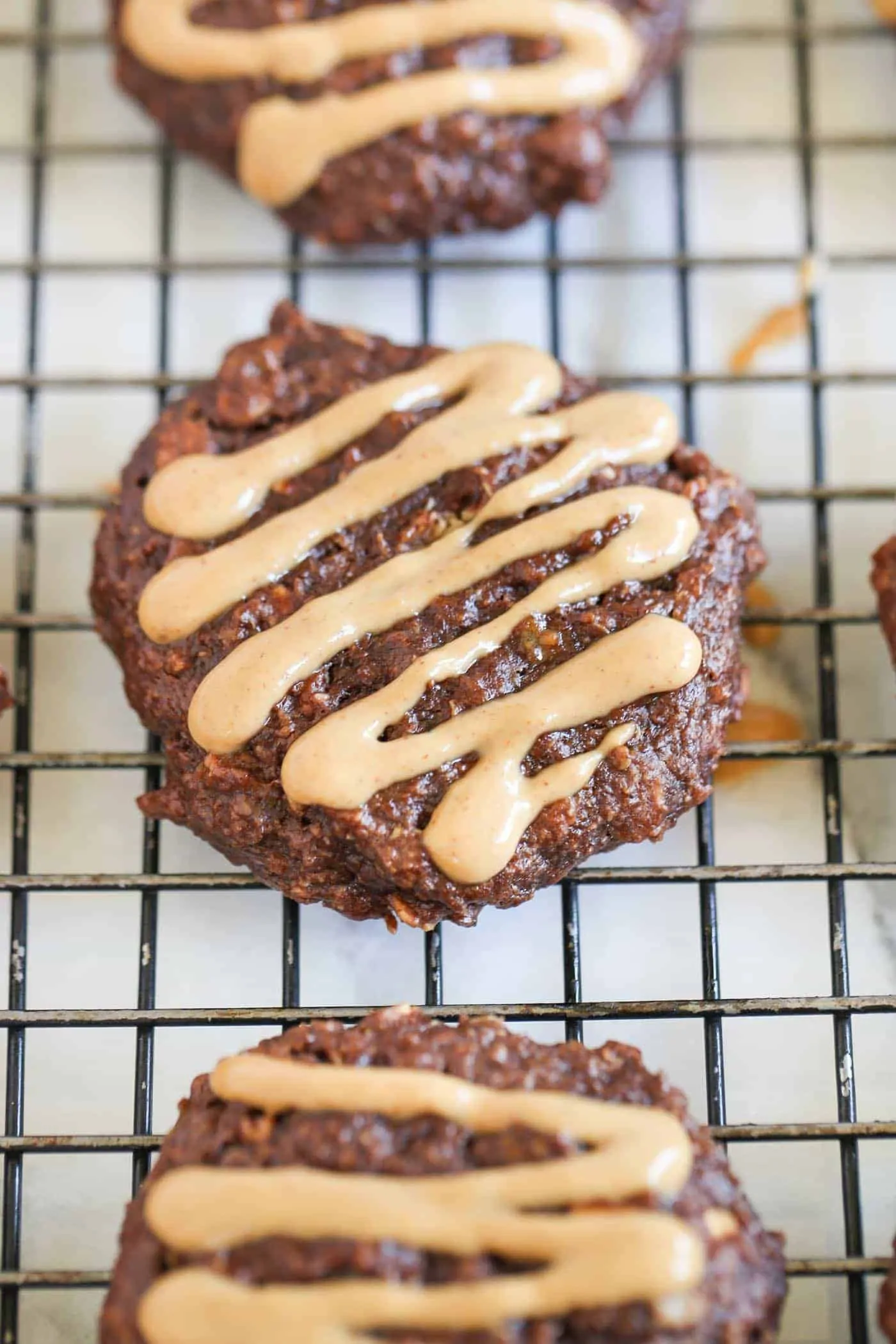 Wow friends, we're more than halfway throughout quinoa breakfast cookie marathon and I have seriously LOVED seeing all your creations. And I've had a ton of fun creating all the flavors.
Most of them have been on the fruitier side of things (like the Blueberry Muffin Quinoa Breakfast Cookies and Carrot Cake Quinoa Breakfast Cookies), but today we're headed into breakfast-for-dessert territory. And you know what? This is hands down the best flavor combo on the planet.
CHOCOLATE PEANUT BUTTER. Yep, we're making some healthy peanut butter quinoa breakfast cookies WITH chocolate. (and yes, it deserves all caps because…it's chocolate + peanut butter)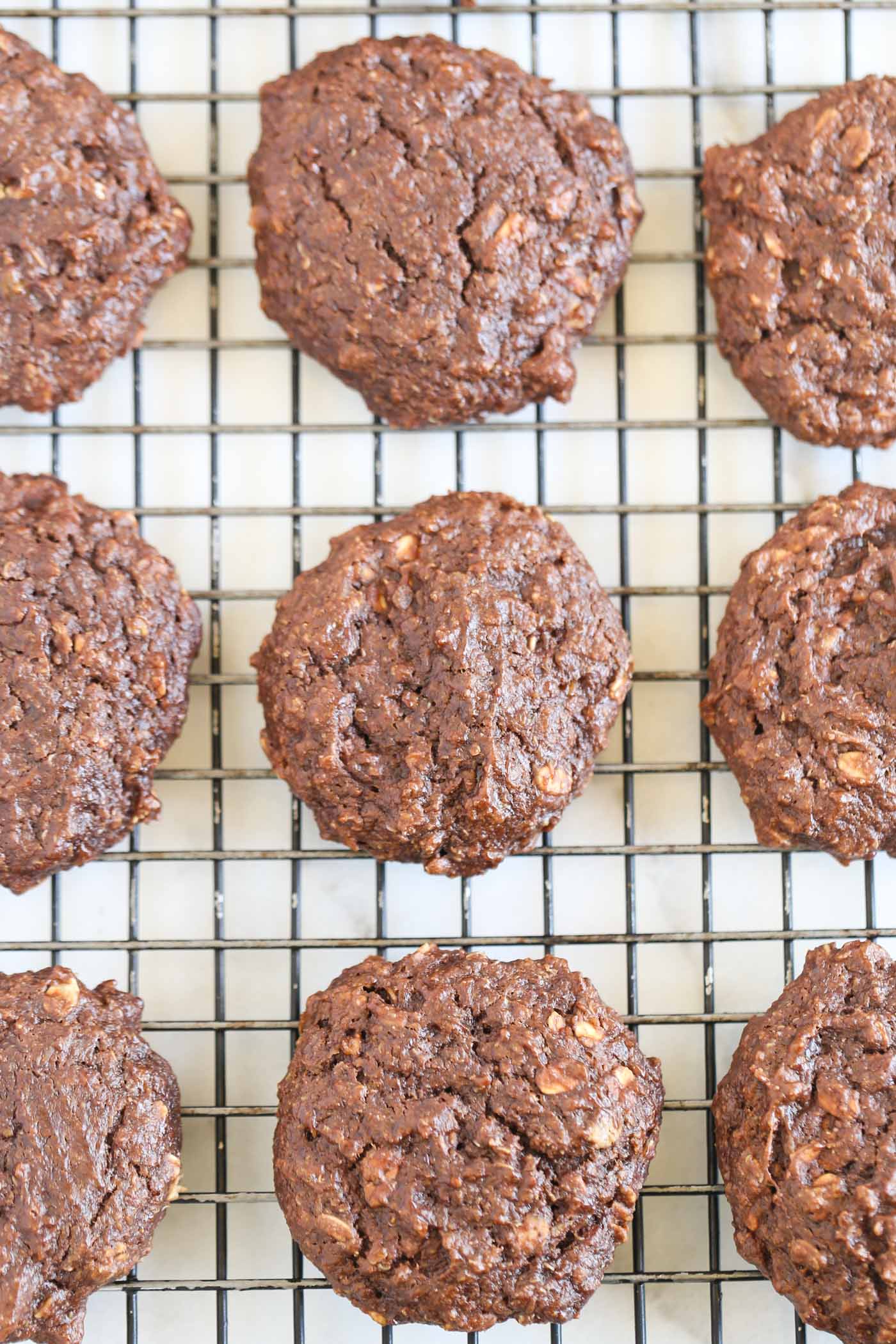 The Ultimate Breakfast Cookie Recipe
I was waffling between flavors this month, leaning towards the Raspberry Lemon ones that I've mentioned before, but realized that I was a bit late in the game for that summery flavor, so I went with your other top pick and you guys…it's worth it.
So very worth it.
These cookies taste like a cross between a fudgy brownie and a peanut butter cookie, but just like the other varieties are totally nutritious. No oils, no eggs, no dairy and no flours. But ALL the flavor.
And here's what's inside that make them perfect for breakfast:
dietary fiber to keep you feeling full
complex carbohydrates which digest slowly
plant-based protein to keep your energized and fueled
healthy fats to keep you full and satisfied
natural sugars only to minimize blood sugar spikes and the afternoon crash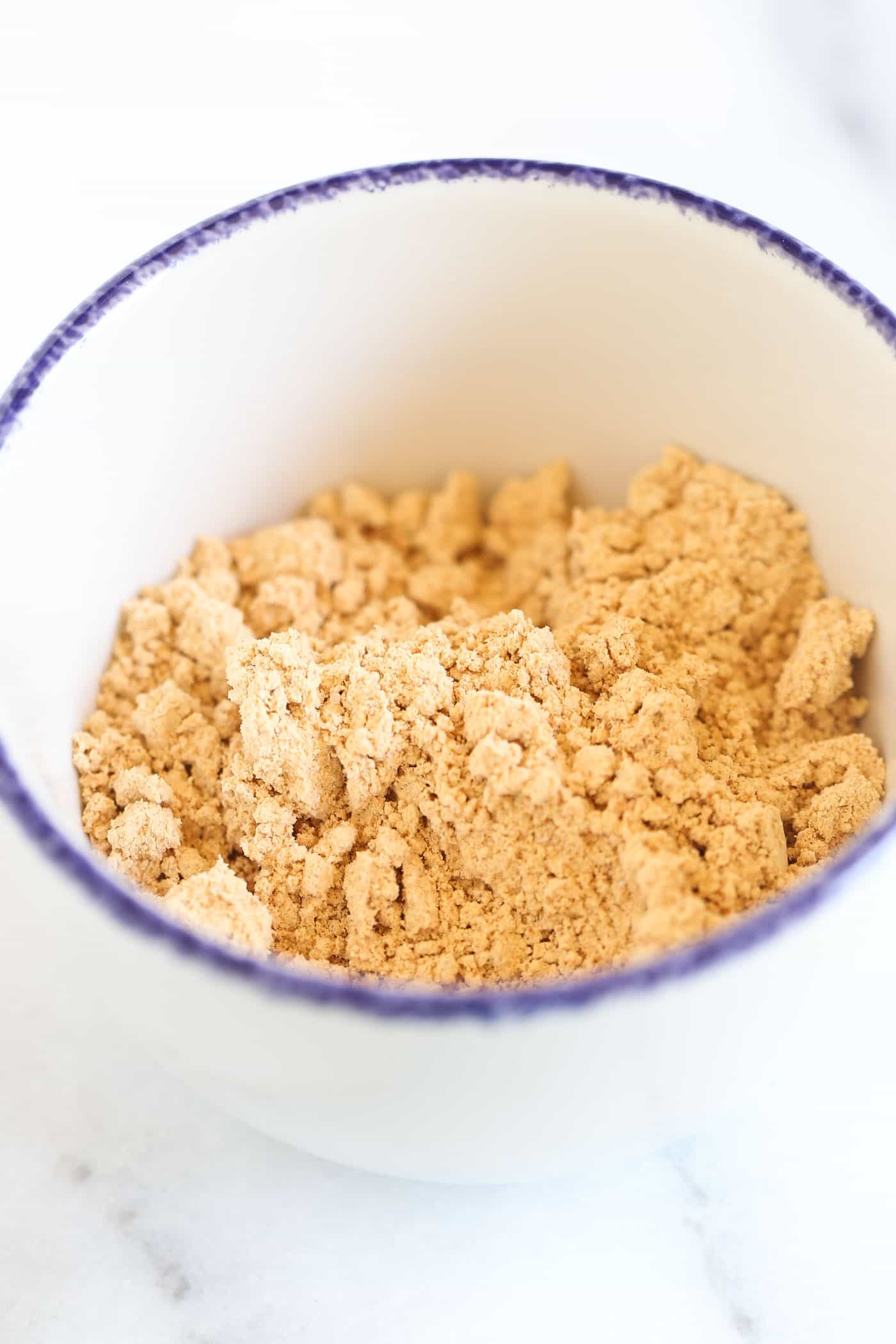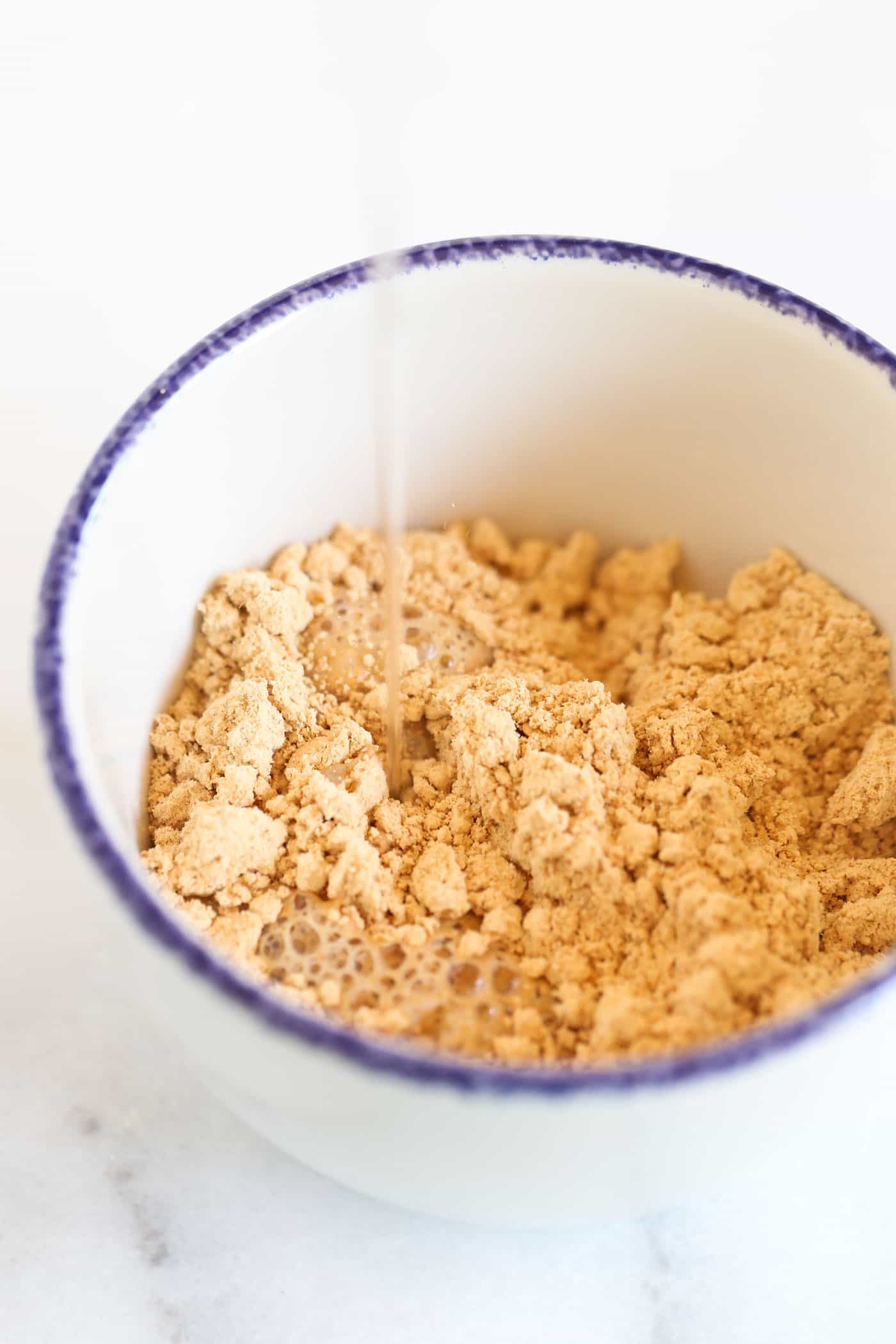 How to make Healthy Peanut Butter Sauce
One thing that really sends these cookies over the top is that peanut butter drizzle on top.
It's made with powdered peanut butter which I found on Amazon and have seriously fallen in love with. It's made from organic peanuts, where the fats have been removed and then sweetened ever so slightly with coconut sugar. All you have to do is add water and it turns into either a spreadable peanut butter OR you can make this drizzle!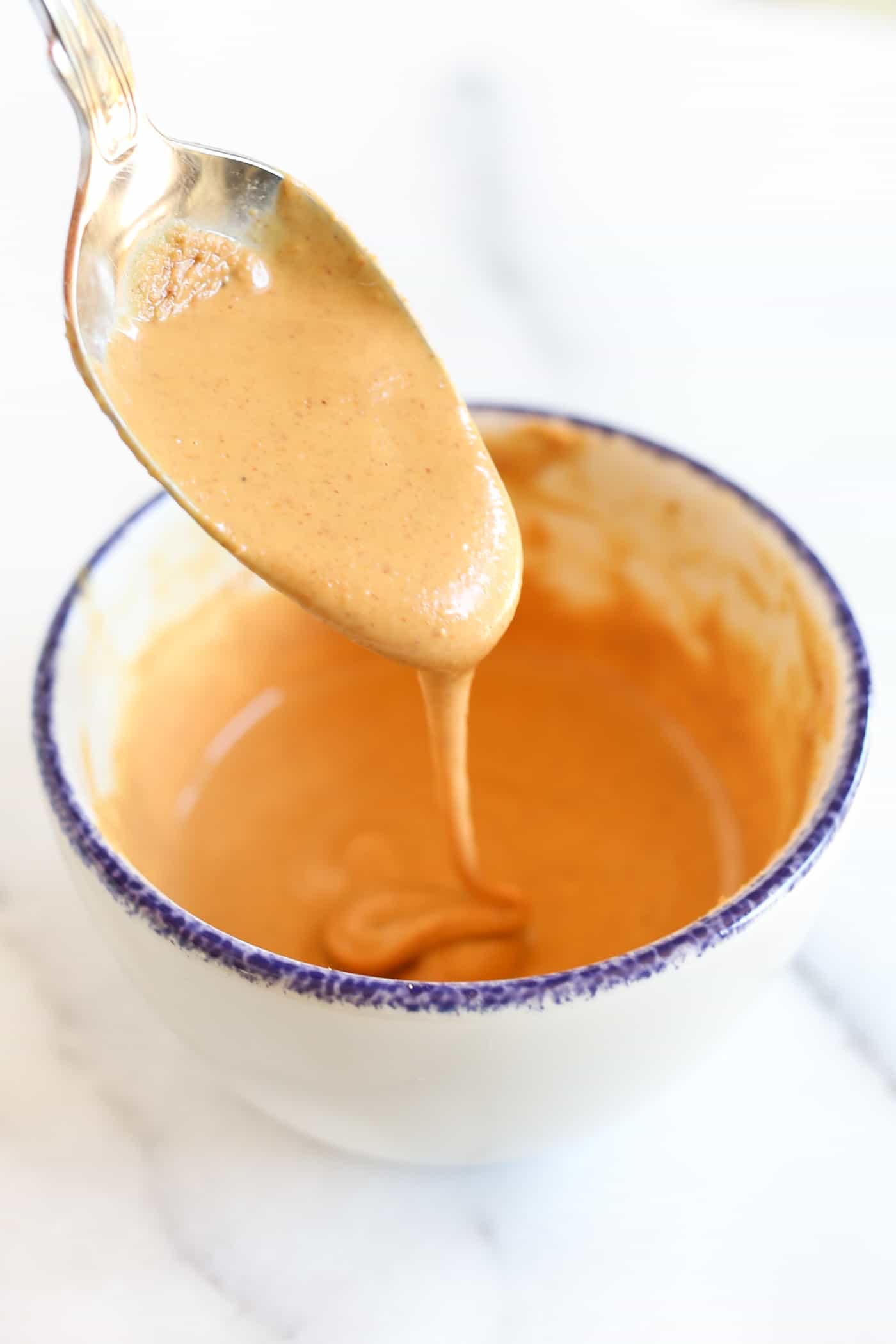 Chocolate & Peanut Butter Quinoa Breakfast Cookies
The drizzle can be used on top of cookies (yes!), smoothie bowls, oatmeal, brownies, ice cream, you name it. And it's got way fewer calories and fat than regular peanut butter, but tastes the exact same. It's really amazing! (here's the one I used)
For these chocolate peanut butter quinoa breakfast cookies, I did have to change up the standard recipe ever so slightly to accommodate the cacao powder, but it's a teeny tiny change; just a little less oats and quinoa flakes. But the upside is you're getting the antioxidants from the cacao AND they're super fluffy.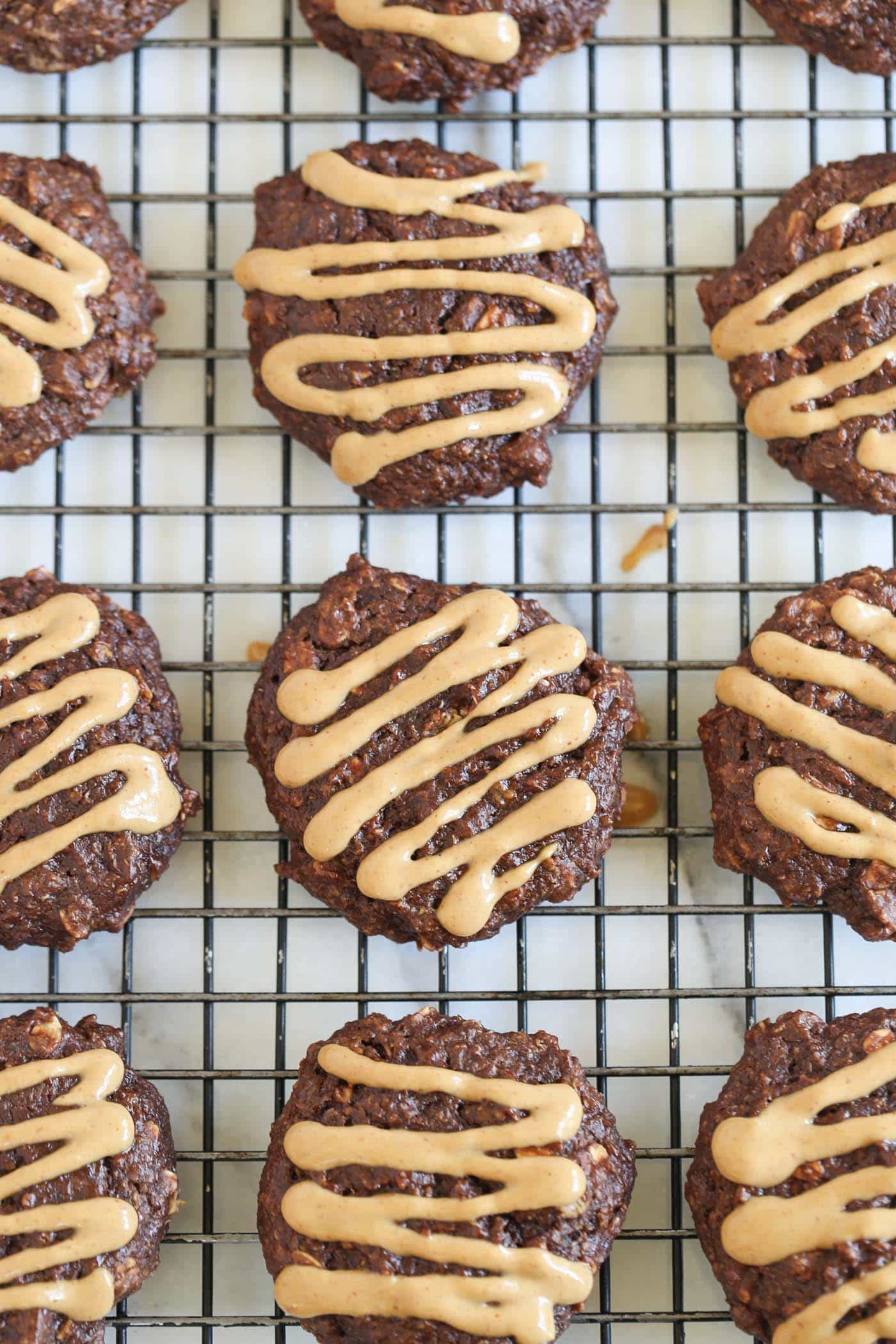 Healthy Breakfast Cookie Flavors to come…
And that's it my friends! We have four more cookie flavors left in the year and me kind of have them planned out already, but if you have ideas or thoughts, let me know in the comments! Here's what I'm thinking for the next few months:
September: Mocha Chocolate Chip
October: Toasted Pecan + Coconut
November: Apple Cinnamon
December: Cranberry Orange
Don't forget to snap a pic and share it on social if you make these beauties. You can tag @simplyquinoa or use #simplyquinoa OR quinoabreakfastcookies in your post, and I'll be sure to find it and give you some love in return. Love, love, LOVE seeing your pictures!
xx Alyssa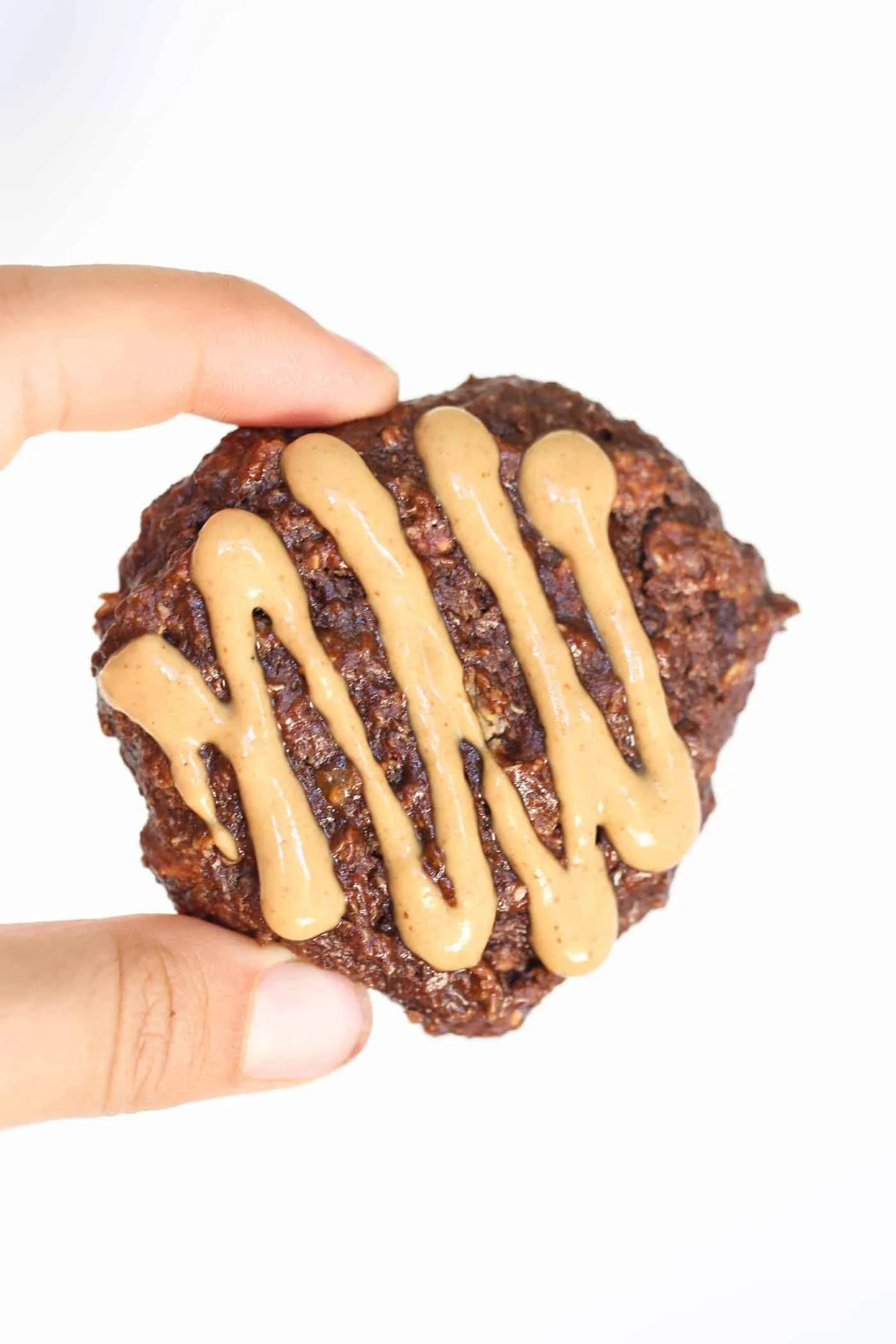 More Healthy Breakfast Cookies To Try:
Chocolate Peanut Butter Quinoa Breakfast Cookies
Start your day with these healthy chocolate peanut butter breakfast cookies! They taste like dessert, but are packed with healthy + nutritious ingredients.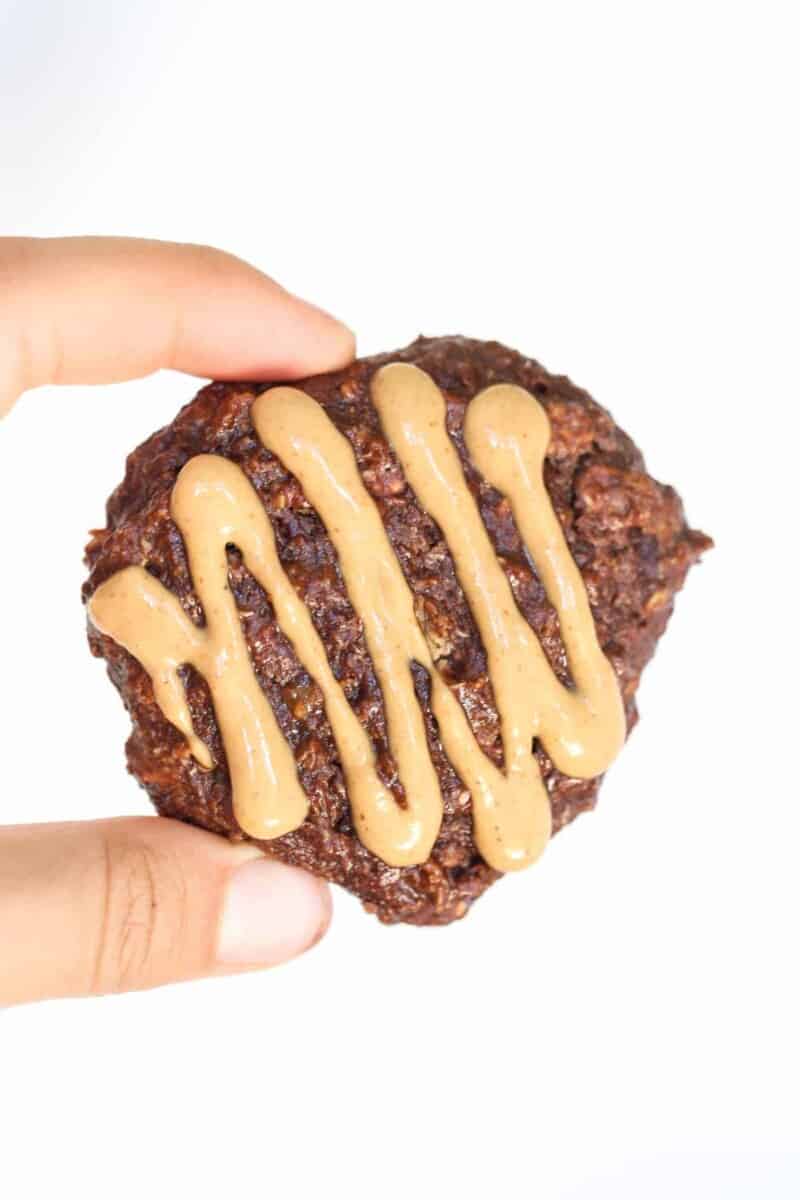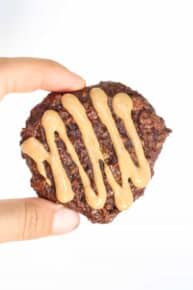 Instructions
Preheat oven to 350 degrees F. Line a baking sheet with parchment paper and set aside.

Whisk together the flaxseed meal and water, and set aside.

Beat together peanut butter, syrup, banana and vanilla in a large bowl. Add flax egg and mix to combine.

Pour in oats, quinoa flakes, cacao powder, baking powder, salt to the bowl and stir together.

Drop 2 tablespoons of dough onto the baking sheet and repeat until no dough remains. Flatten them gently with the back of a spoon or spatula.

Bake cookies on center rack for 13 - 15 minutes until edges are golden brown. Remove and let cool on the pan for 5 minutes then transfer to a wire rack and cool completely.

For the drizzle, stir together the peanut butter powder and water, starting with 3 tablespoons water and adding more from there. You want it to be thinner than traditional peanut butter. Drizzle on to the cookies (or use a plastic squeeze bottle).

Enjoy the cookies at room temp or slightly reheated in a microwave.
Nutrition
Calories:
101
kcal
|
Carbohydrates:
11
g
|
Protein:
3
g
|
Fat:
5
g
|
Saturated Fat:
1
g
|
Sodium:
131
mg
|
Potassium:
156
mg
|
Fiber:
1
g
|
Sugar:
5
g
|
Vitamin A:
10
IU
|
Vitamin C:
0.7
mg
|
Calcium:
27
mg
|
Iron:
0.6
mg
Filed Under: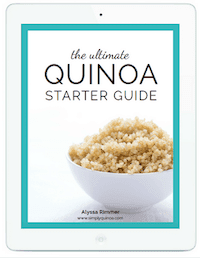 New to cooking quinoa? Grab your FREE Quinoa Starter Guide!
Become part of the Simply Quinoa community and receive weekly emails with exclusive content that I only share in email, as well as my in-depth guide to starting your quinoa journey.