These healthy oatmeal chocolate chip cookies are made without gluten, dairy, sugar or oil, but are packed with fiber! Great for breakfast or a snack!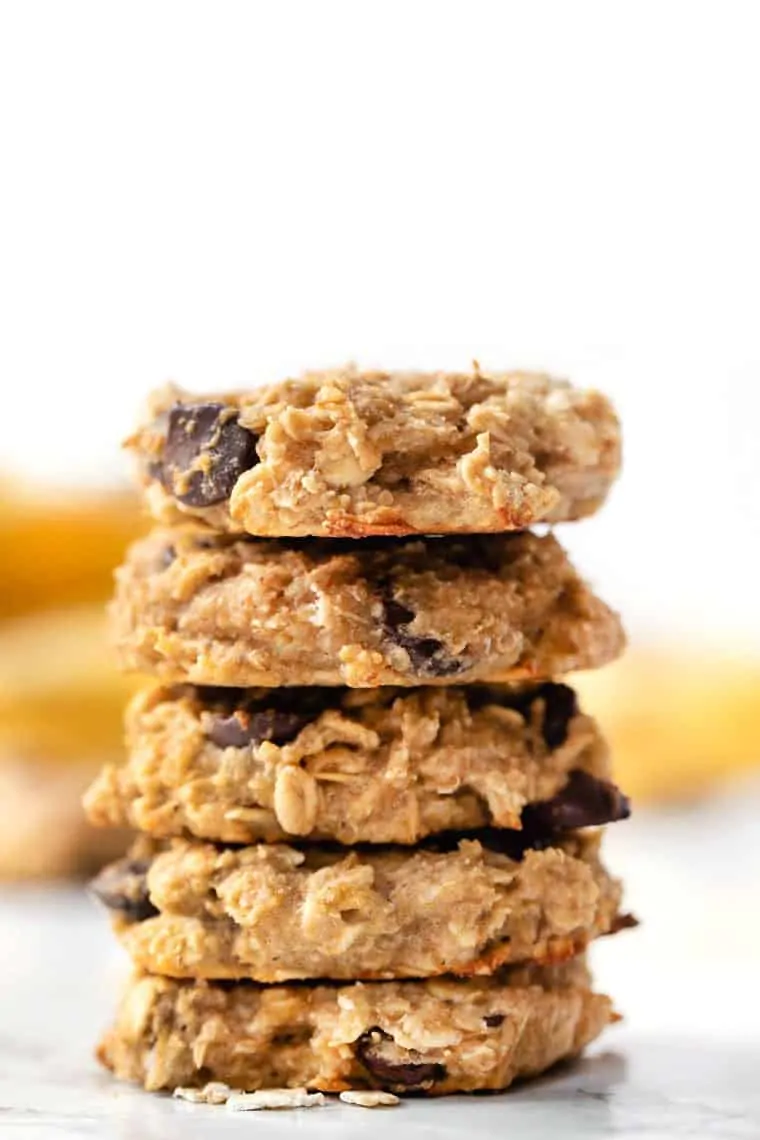 I've confessed it before, but I love baking cookies. Especially ones like these Healthy Banana Oatmeal Chocolate Chip ones. They just make me so happy!
Not only are cookies like the easiest thing to make ever, but they're also comforting. Your house smells like freshly baked chocolate chip cookies, each warm cookie oozes with melty chocolate. It's pure heaven if you ask me!
And luckily for us, it's just a bonus that these cookies are equally delicious as they are super healthy. And I mean super healthy!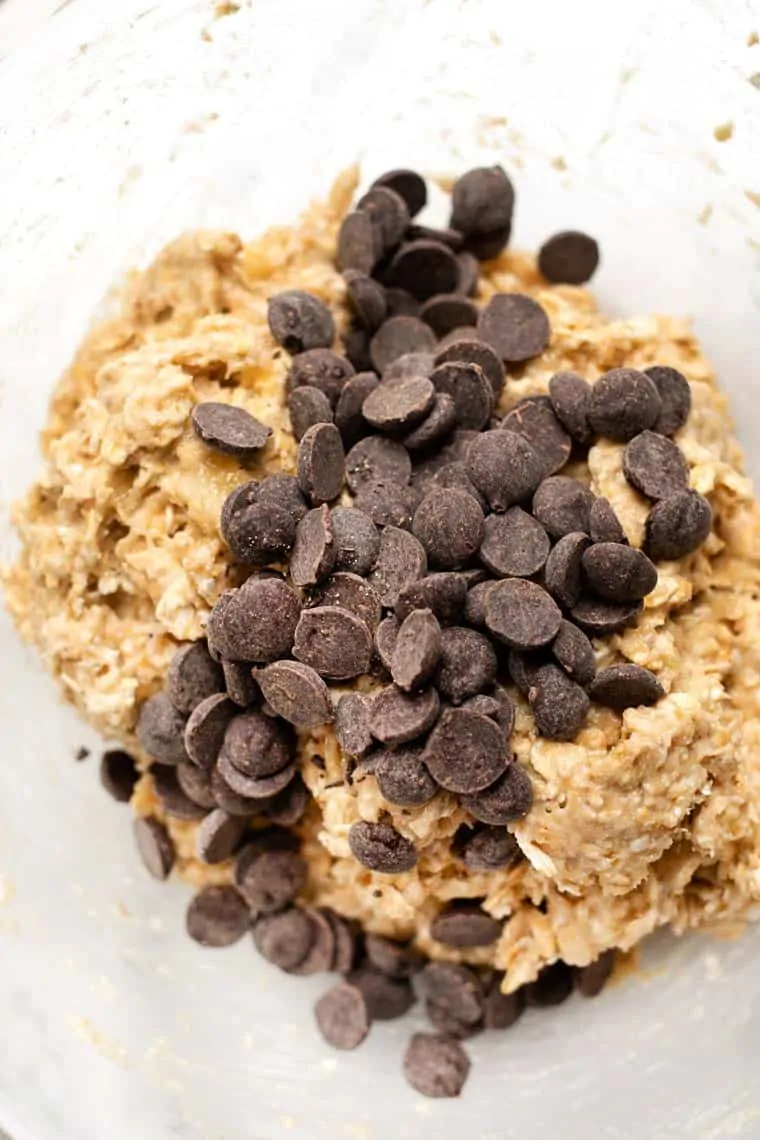 How are these Banana Oatmeal Cookies to Healthy?!
First off, these cookies aren't your "standard" cookie. They're more like a blend of baked oatmeal and a cookie. A breakfast cookie if you will. But nevertheless, they are definitely healthy.
These Healthy Banana Oatmeal Chocolate Chip Cookies are free from:
gluten
dairy
sugar
eggs
oil
Yeah…I know. Sounds like they're not going to be very good! But trust me, they are ????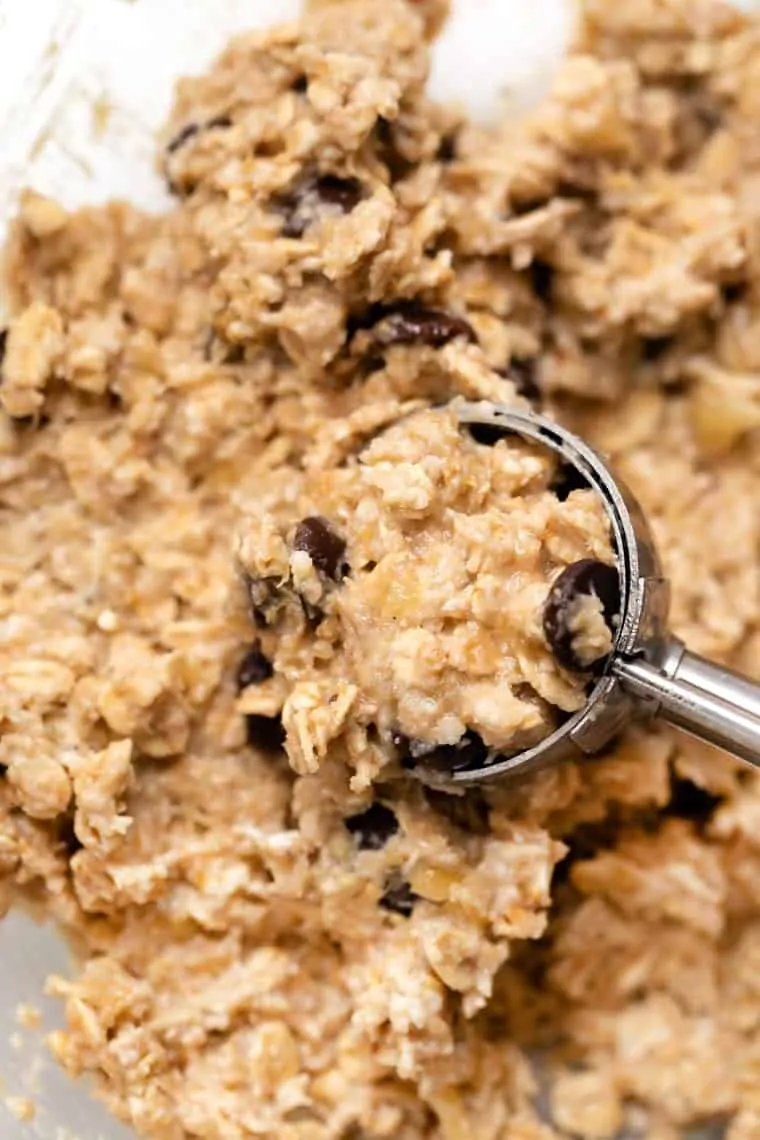 Easy Oatmeal Cookies Without Sugar!
How do we skip out on the sugar you might wonder? We're using bananas!
While yes, technically bananas have sugar, it's good sugar. It's 100% natural, it won't spike your blood sugar too much and it tastes delicious. If you're a banana fan, you're going to LOVE these cookies!
If you're allergic to banana  – which I know a lot of people are – I'm not sure the best substitution honestly. You could try doing a blend of applesauce and nut butter, but I'm not sure if you'd get the same texture. If you do end up trying it though, definitely let me know.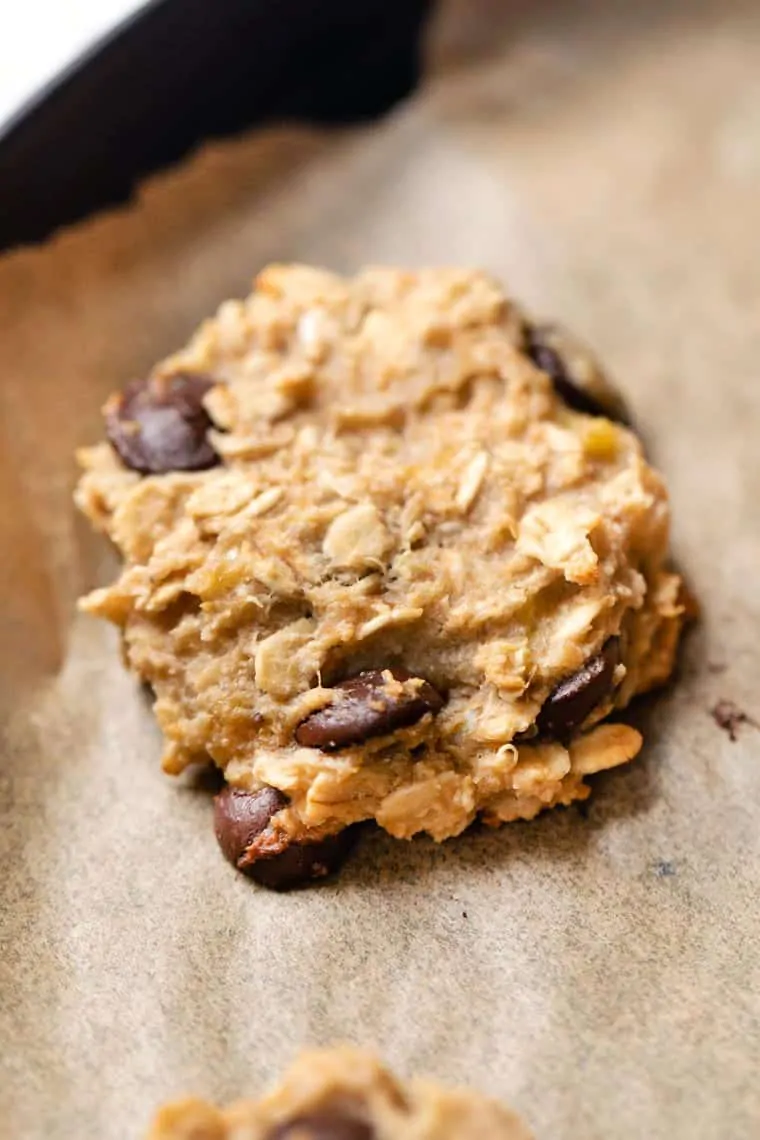 Healthy Banana Breakfast Cookies
We've made quite a few breakfast cookies here on the blog and these are a bit different from our other ones. For starters, we're not using a nut butter (but I do recommend slathering them with nut butter afterward).
Second, we are using fewer ingredients. Only 6 ingredients to be exact! These cookies are simply bananas, a flax egg, oats, almond flour, quinoa flakes, and chocolate chips.
And yet they're still definitely breakfast-worthy. I love heating them up in the toaster oven, slathering them with a little peanut butter and sprinkling them with some hemp seeds. It's the ultimate treat. Sweet, satisfying, balanced and healthy.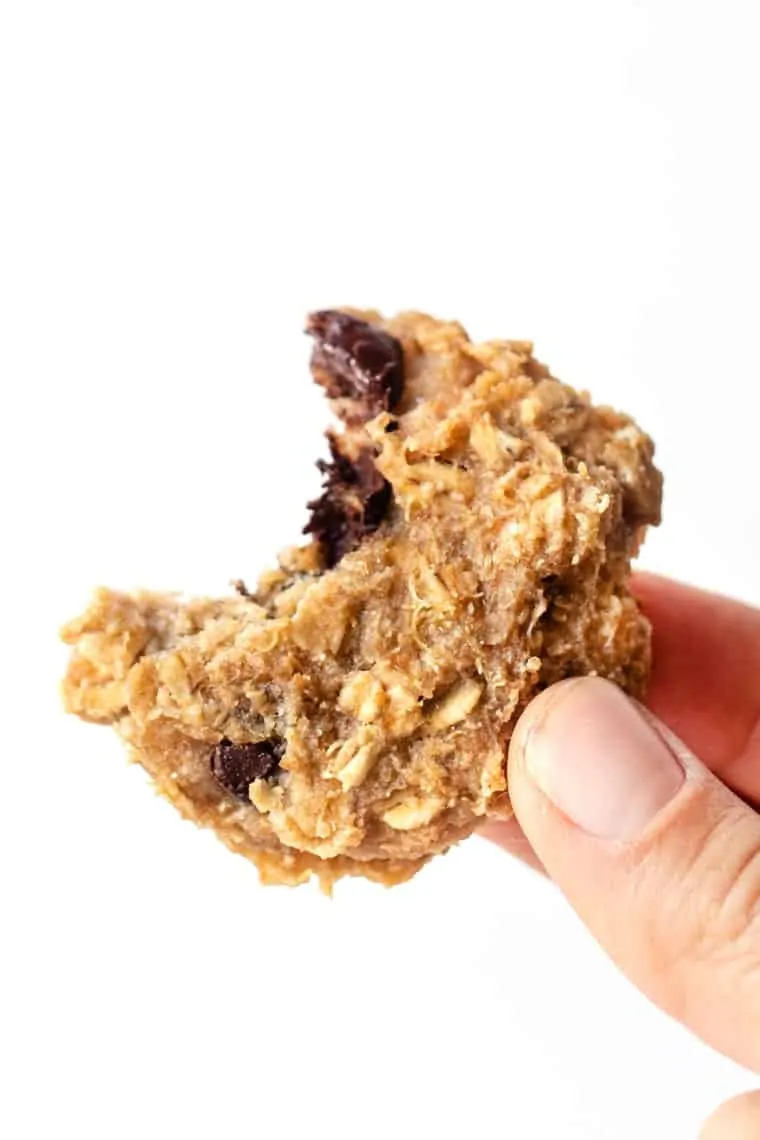 You Need These Banana Oatmeal Chocolate Chip Cookies
If you've been looking for a quick breakfast idea you can grab on your way out of the house, these are it. Or maybe you want something to snack on before your workout. Again, these are it. Or maybe it's just that you're craving a cookie after dinner but you want something super healthy.
These healthy banana oatmeal chocolate chip cookies check those boxes and more!
They're a cinch to make, they'll last at least a few days (if not longer) in the fridge and they're great for adults and kiddos alike. So cheers, my cookie-loving friends! Here's to many more cookie adventures together ❤️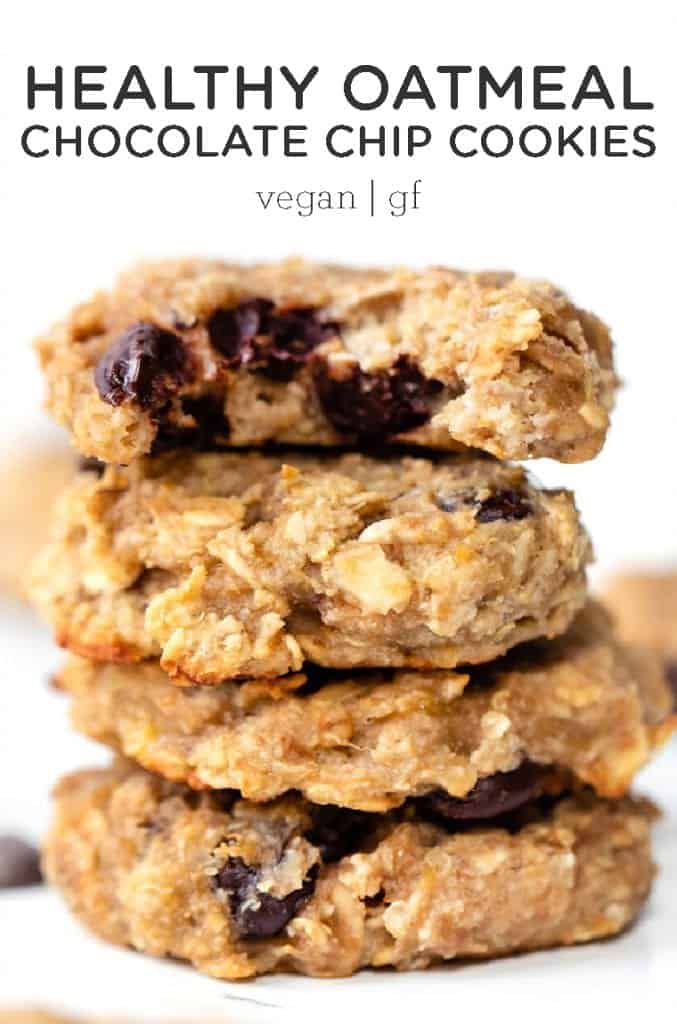 Craving More? Other Breakfast Cookie Recipes to try:
Super Healthy Oatmeal Chocolate Chip Cookies
These healthy oatmeal chocolate chip cookies are made without gluten, dairy, sugar or oil, but are packed with fiber! Great for breakfast or a snack!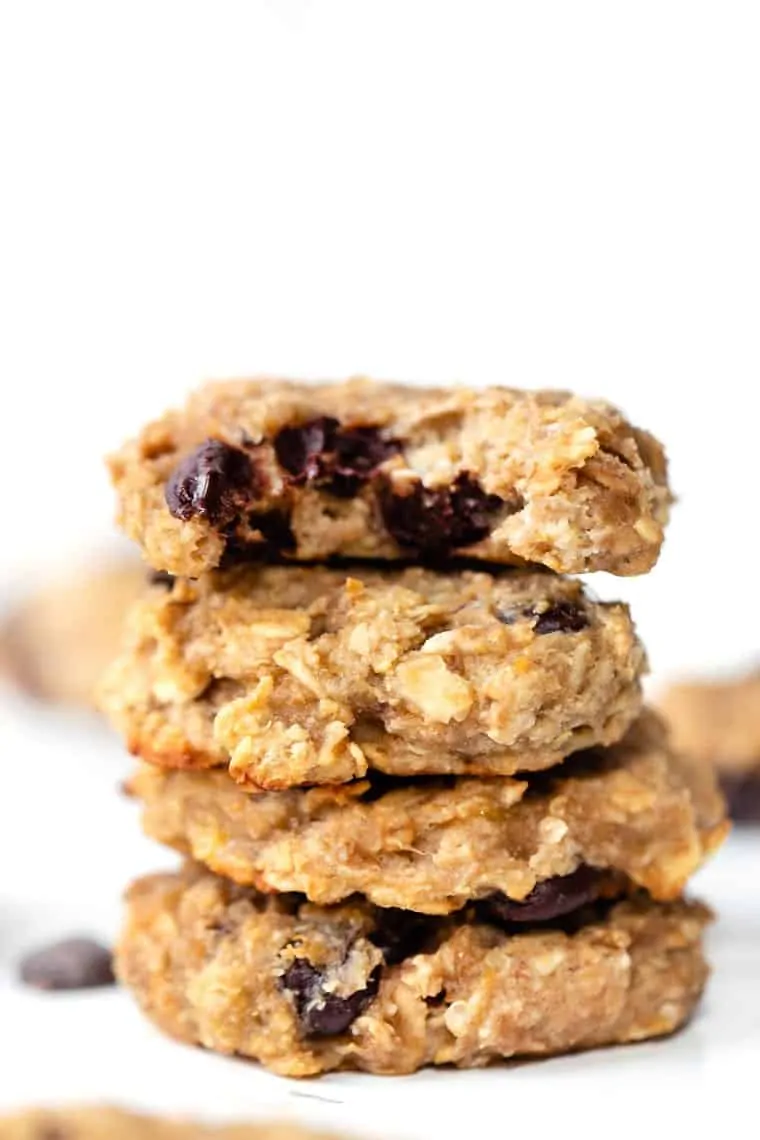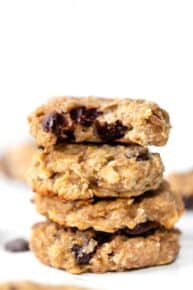 Instructions
Preheat the oven to 350 degrees F and grease a cookie sheet with non-stick cooking spray.

In a small mixing bowl, completely mash the banana. Stir in the flax egg.

Add the remaining ingredients and mix until fully combined.

Spoon the cookie dough on the cookie sheet, and gently flatten with the back of a spoon.

Bake 13 - 15 minutes, until browned and only slightly tender to the touch. Remove from oven, transfer to a wire rack and cool.

Store in a covered container for 2 – 3 days (if they last that long!).
Nutrition
Serving:
1
cookie
|
Calories:
91
kcal
|
Carbohydrates:
11
g
|
Protein:
3
g
|
Fat:
5
g
|
Saturated Fat:
1
g
|
Cholesterol:
1
mg
|
Sodium:
21
mg
|
Potassium:
109
mg
|
Fiber:
2
g
|
Sugar:
4
g
|
Vitamin A:
16
IU
|
Vitamin C:
1
mg
|
Calcium:
16
mg
|
Iron:
1
mg
Filed Under: