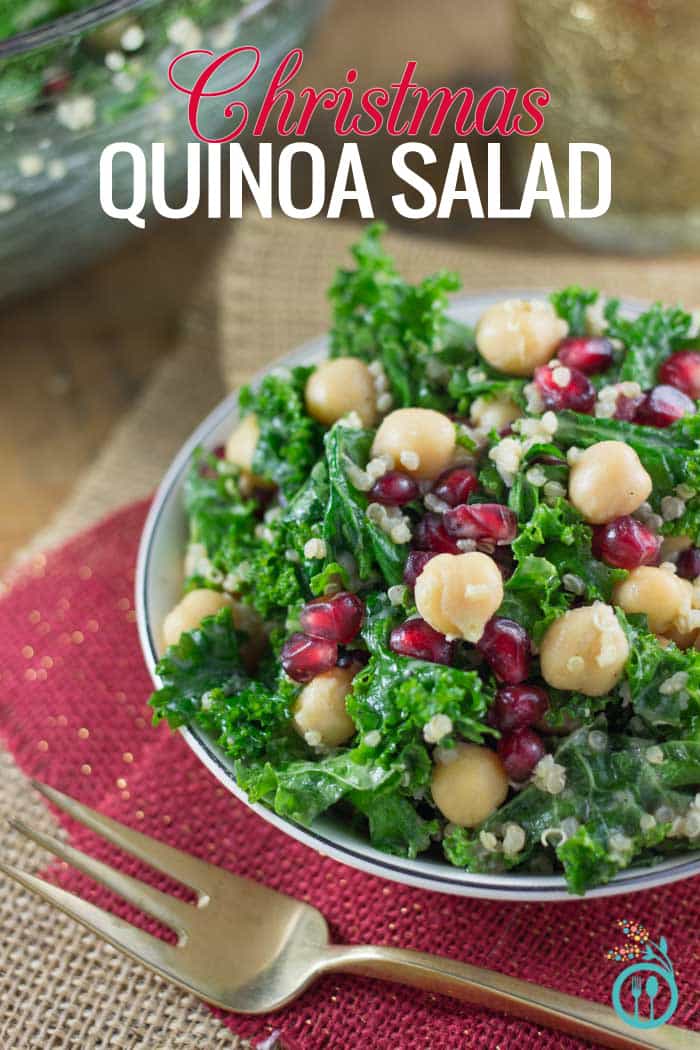 Today I'm going to let you in on a little secret. A secret that I just discovered that has really helped me. And I think it might help you too! 
First, let me ask you: do you struggle with maintaining your healthy diet during the holidays? I know I do! For me, it's a constant battle of satisfying my sugar cravings with the latest batch of cookies that I've made or drinking a green juice. I know which one I should be reaching for, but in all honesty, more often than not that cookie is going to win. 
And it's been like this for years with me.
I eat super healthy leading up to the holidays, get myself in a good routine, but then have a few "bad" days and I'm back to where I started. I let my eating go, starting exercising less and before I know it, I'm feeling sluggish, bloated and upset with myself. It's totally unproductive, but it's a really hard cycle to break.
But this year, I think I may have found something that actually works for me. Something that helps me stay on track.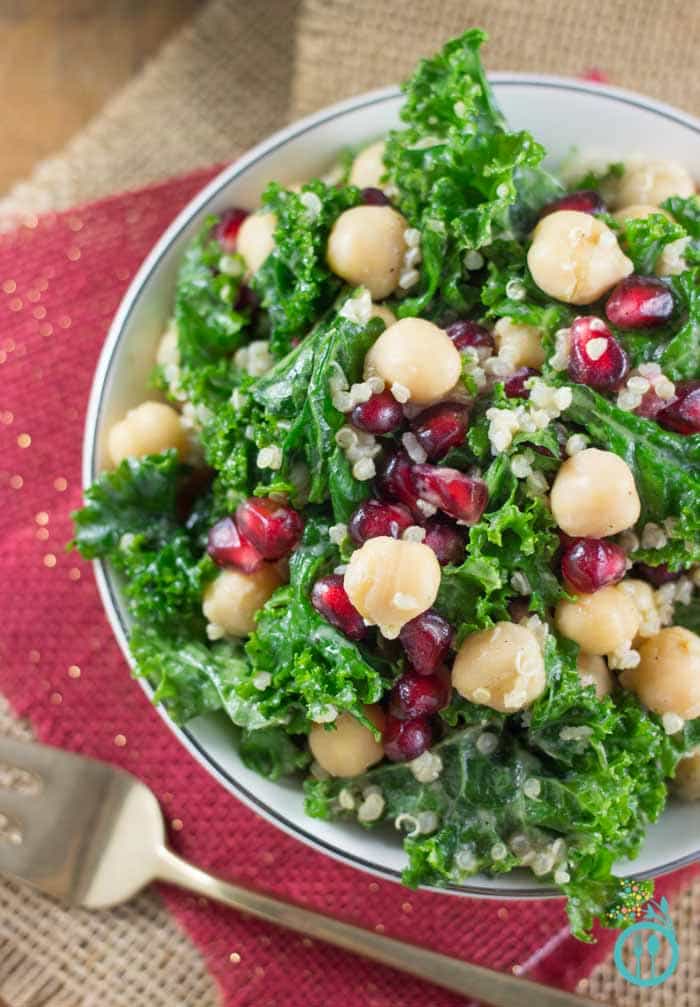 Now before we get into it, let me just say, I've only "tested" this theory on myself (once). Of course, I can't say that it will work for everyone, and I'm not saying this is the only way to stay healthy during the holidays, but it's working for me. So far I'm feeling great. 
And here's the thing that I've realized: I'm not listening to my body.
It probably sounds so simple to you, but when I actually thought about it and started to pay attention to what my body was telling me, I saw that the way I was eating was negatively impacting my health – in more ways than one.
Not only was I feeling bad about myself and about how I looked, but my digestion was totally out of whack, my skin was going bonkers (like I literally can't even tell you – last week I had the worst breakout I have since high school!!!), and I was TIREEEED all the time. 
So I made a change. Monday through Friday of last week, I kickstarted my holiday health plan by doing a liquid cleanse. I didn't follow any specific program, I just made it up on my own, and had only liquid meals. Breakfast was a huge green juice, lunch was a huge green smoothie and dinner was a veggie packed, vegan creamed soup. I didn't have a bite of solid food all week. No chewing, no nothing.
Oh and I also drank tons and tons of tea (and hot water with lemon), took daily supplements, went for long walks and did yoga. 
Basically I just gave my whole system a vacation. And boy did it need one.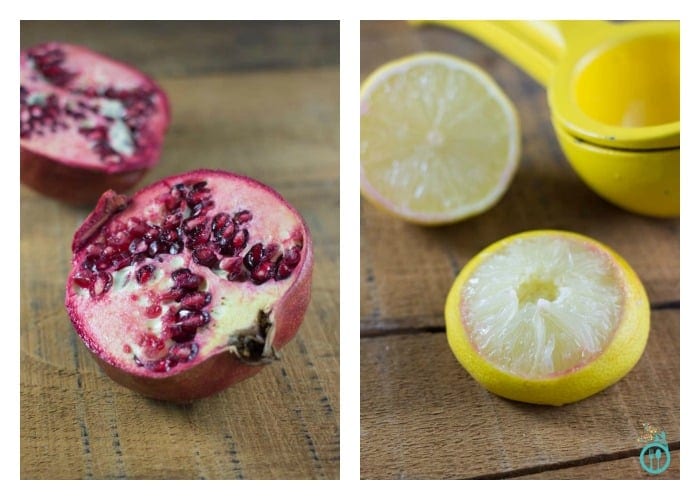 You're probably curious as to how I'm feeling, right? I feel freaking fantastic! 
My digestion is back to normal, my skin is clearing up (those pesky zits take forever to go away!), I'm happy with how my body is looking and I feel energized. I feel like me again.
Actually no, I feel like an even healthier me.
Yesterday was my first day back on "solid" food. I had a juice when I woke up, went to yoga, came home and had my favorite new breakfast, had some nuts and broccoli soup (with a few pieces of raw, vegan chocolate snuck in there) for lunch and dinner was this festive kale quinoa salad. I kept it light, veggie packed and clean. And I'm still feeling great!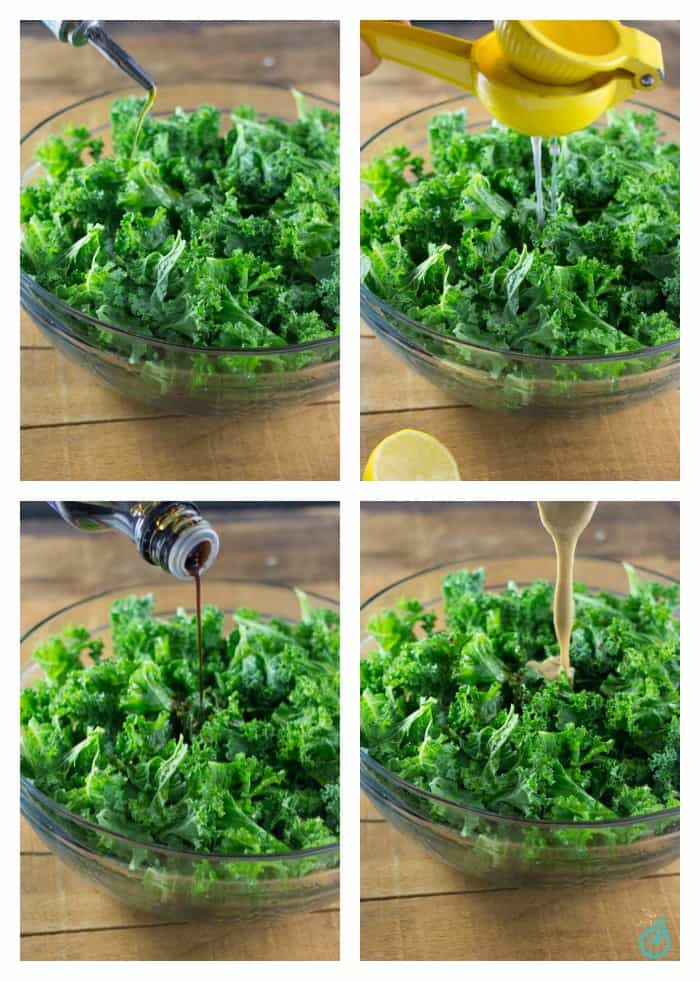 Oh you guys, this salad! It was so good and SO easy to make. Hello, yumminess.
It started with organic green kale, then I added in some olive oil, lemon juice, wheat-free tamari and raw tahini. Messaged the heck out of it until the kale softened, added some pomegranate seeds, chickpeas and quinoa and tossed it all together.
It's delightful. It's fun. It's flavorful. It's easy. It's healthy. It's vegan. It's perfect for Christmas.
But most importantly it's GREEN. Green, green, green.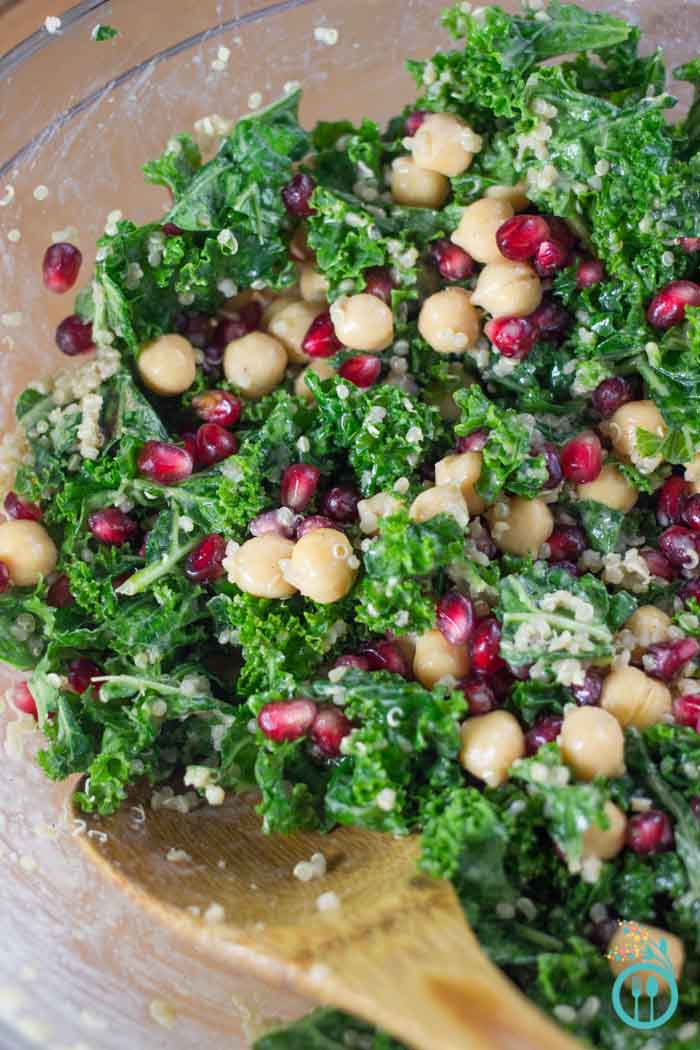 I'm seeing now that greens are the key to my holiday health. And I think they can be for you also. While I don't want to tell you what to eat, because I believe that you should eat what makes you feel good, here's what I'm going to be doing over the next few weeks (while we're still in holiday mode) to stay on track:
Drinking a fresh green juice every morning
Drinking lots of green tea + water with lemon
Taking daily supplements: probiotics, vitamin D, omega-3s, oregano oil, digestive enzymes + chlorella (some for digestive, some just for overall health)
Drinking a green smoothie or vegetable soup for lunch each day
Making sure that the base of my dinner is a green vegetable – that can be salads, a spiralized meal, or even a stir fry (but it's got to be green!)
Daily walks with my pup
Yoga (as daily as I can)
And here's what I hope to gain: radiance.
I want to feel radiant this holiday season. So radiant that other people ask me what my secret is. So radiant that it seeps into other all the other areas of my life.
But I'm sure you're wondering, what about the treats that are sure to tempt us? Sure, I'll be enjoying those (how can I not!?), but I'm just going to be more mindful. Maybe just one cookie instead of two. Or having just one glass of wine when I go out to dinner with friends rather than two (or sometimes three). We'll see how it goes, but so far I think this is working for me.
I'd love to hear your thoughts on staying healthy during the holidays – any secrets that you want to share? Please let us know in the comments below!
xo Alyssa
Christmas Kale & Quinoa Salad
It's delightful. It's fun. It's flavorful. It's easy. It's healthy. It's vegan. This Kale Quinoa Salad is perfect for Christmas.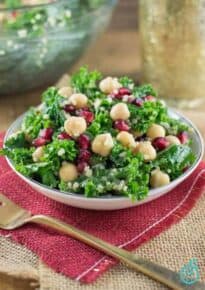 Instructions
Wash you kale, the tear the leaves from the stem and add them into a large mixing bowl. You want the pieces to be bite sized.

Add olive oil, lemon juice, tamari and tahini to the bowl with the kale. Message kale with your hands until it begins to soften or wilt, about 1 - 2 minutes. (Don't be afraid to use your muscles!)

Add pomegranate seeds, chickpeas and quinoa and toss to combine.

Season with salt and pepper (if desired) and serve immediately.
Nutrition
Calories:
296
kcal
|
Carbohydrates:
24
g
|
Protein:
6
g
|
Fat:
20
g
|
Saturated Fat:
2
g
|
Sodium:
292
mg
|
Potassium:
333
mg
|
Fiber:
2
g
|
Sugar:
1
g
|
Vitamin A:
2845
IU
|
Vitamin C:
36.1
mg
|
Calcium:
69
mg
|
Iron:
2.1
mg
Filed Under: