This chunky vegan potato soup is so delicious! It's full of flavor from garlic and leeks, is easy to make and has the best chunky texture. My favorite potato soup yet!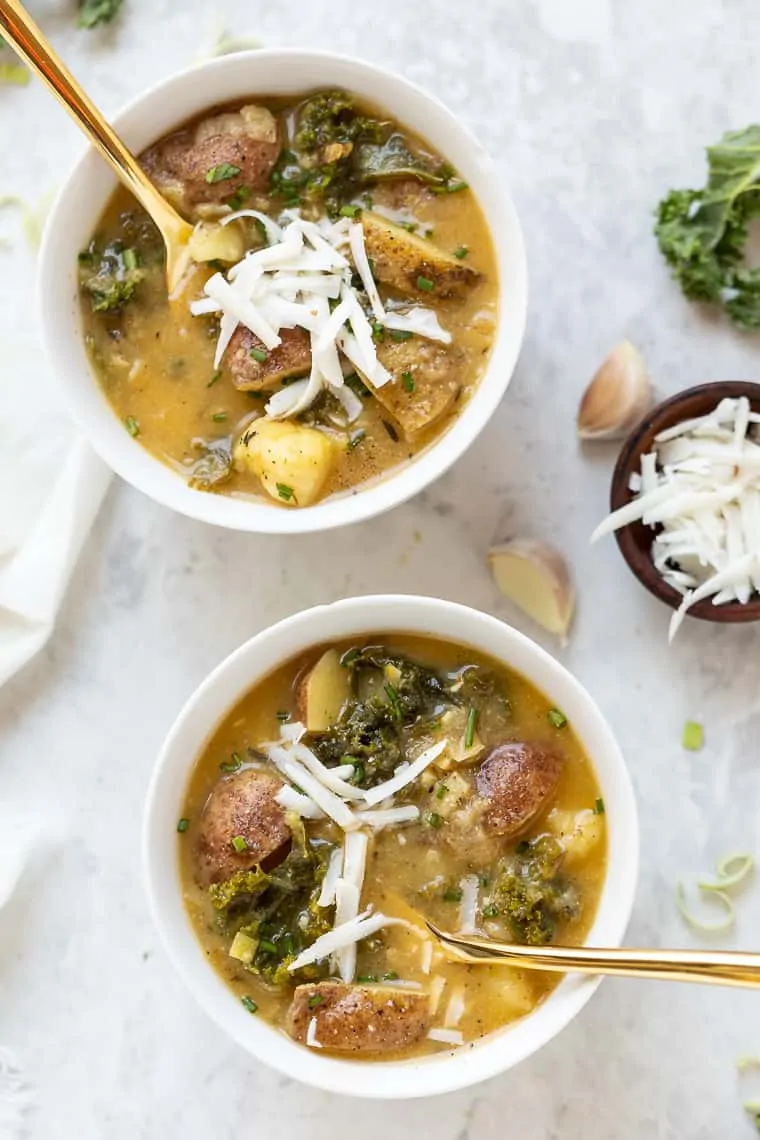 I've always been on team creamy soup. Matt has always been on team chunky/brothy. It's this thing we have to trade-off every time we want to make soup. Sometimes it goes my way, sometimes it goes his.
But almost never does it meet in the middle.
Until now. This vegan potato soup is our compromise. It's got a creamy broth base, creamy potatoes, but it's still chunky. We've made it countless times already this Fall and it's a winner every single time!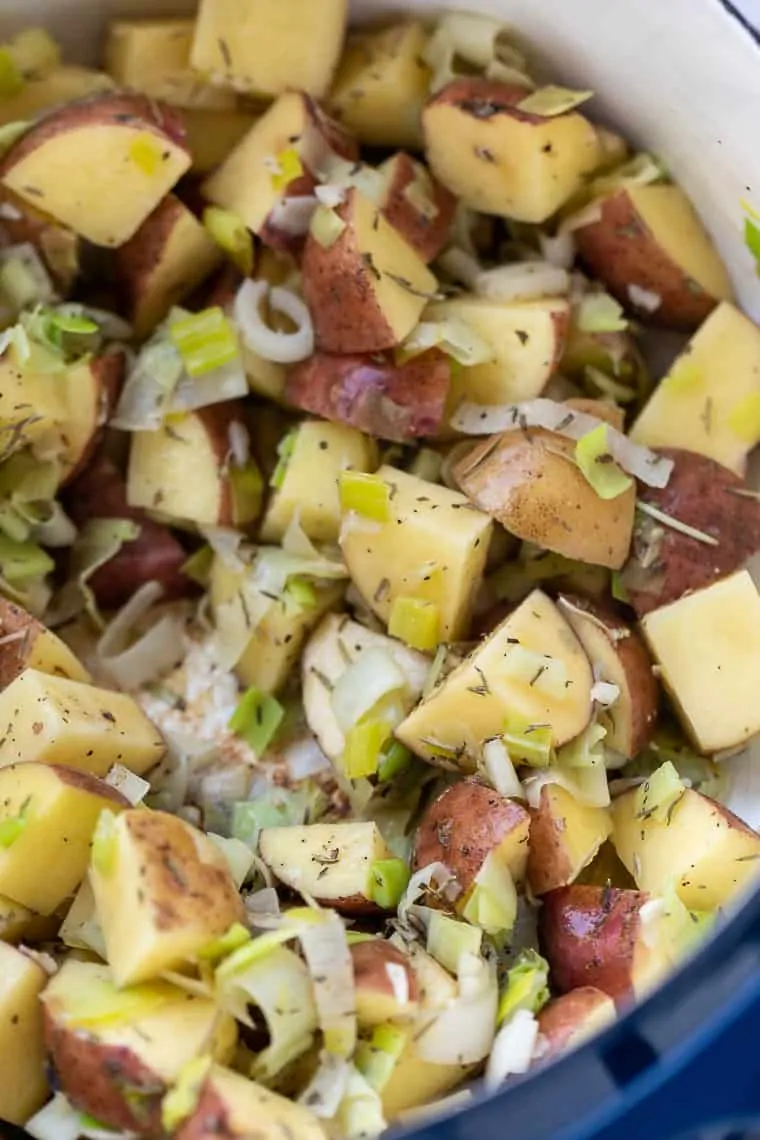 What You Need to Make This Recipe
There's nothing special about the ingredient list. It's short and sweet. But it packs a punch in the flavor department!
Leeks: I find that leeks have a milder flavor than onions and they pair perfectly with potatoes. We're using a bunch here, and I also really like the texture they bring to the soup.
Garlic: the recipe calls for 4 cloves which is kind of a lot, but I'm a garlic lover. If you aren't, I'd suggest doing just 2 or 3.
Potatoes: I like using white potatoes in this soup, but red or purple potatoes could also work. My favorite variety is Yukon gold!
Italian seasoning: this is pretty much my go-to blend for everything – it's got basil, oregano, parsley, and thyme.
Veggie broth: I like to use veggie broth to add just a touch more flavor, but you could swap that out with water or chicken broth if you wanted. Homemade broth would be even better!
Nutritional yeast: a simple way for me to sneak in some creaminess to the broth while also adding flavor. I personally think this adds a lot to the soup, but if it's not your thing/you don't have it, you can skip it!
Kale: and lastly, some greens. I almost also stir greens into my soups and I love kale with this one. If you're out of kale/not a fan, spinach, collards, swiss chard, etc. would all work.
And then I finish it off with some salt and pepper. That's all you need and it's honestly SO good!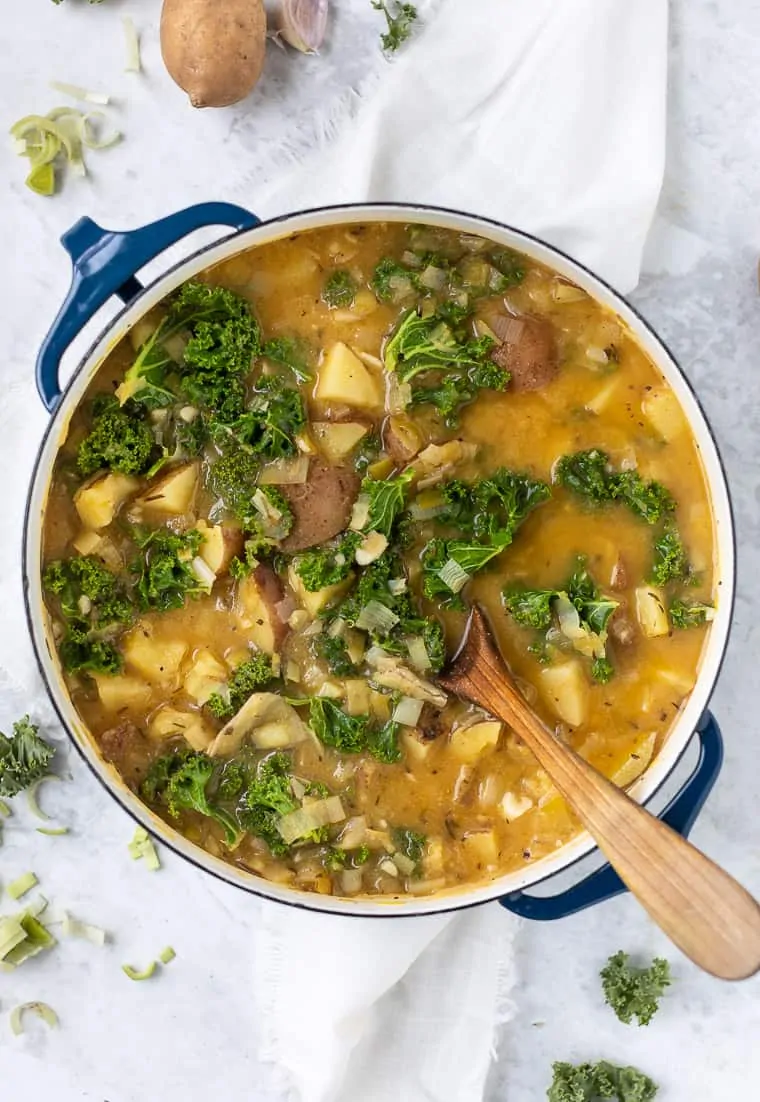 How to Make Vegan Potato Soup
In addition to the short ingredient list, this soup is also crazy simple to make. The hardest task? Slice the potatoes and leeks!
STEP ONE: Prep
First, we need to prep the veggies. You'll mince the garlic and set that aside. Next are the leeks. Cut both ends off the leeks and then slice them in half, lengthwise. Clean them under cold water, making sure to wash between the layers. Leeks can get pretty dirty, so give them a good scrub. Then thinly slice them. And finally, chop the potatoes into bite-sized pieces.
STEP TWO: Saute
The second step is to saute everything. I do the garlic and leeks first and once those are softened, I add the potatoes and seasonings. I give that a quick saute then add the broth.
STEP THREE: Simmer
Once you've got the broth in there, you're just going to let the soup simmer until the potatoes are softened. This can take anywhere from 20 – 30 minutes depending on the size of your potatoes. Cook them until they are fork-tender and then stir in the nutritional yeast and kale.
STEP FOUR: Serve
And lastly, serve it up! I like to do a sprinkle of vegan cheese on top, but it's also delicious with some hot sauce or even just as is!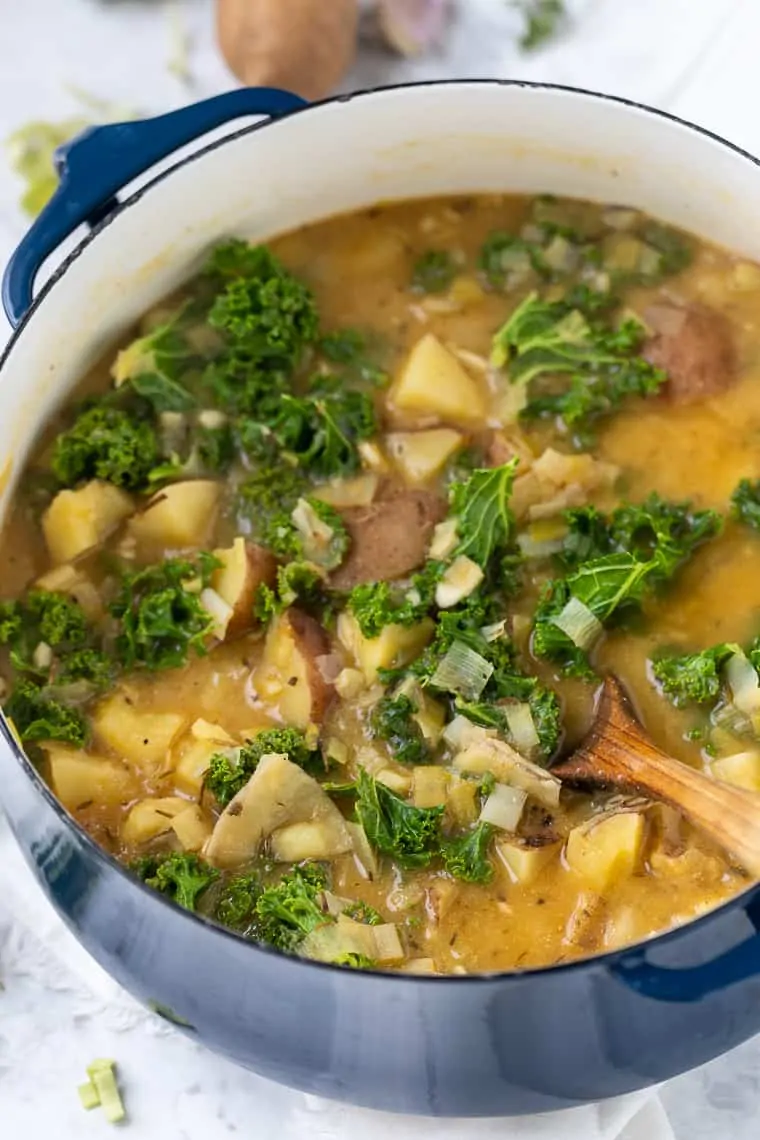 What to Serve with Potato Soup
I think potato soup can stand pretty well on its own, but since it doesn't have protein, I sometimes like to serve it as a side. Because of the potatoes, I don't honestly think it needs bread. If I wanted a protein, I might do it with some:
or maybe even a vegan burger!
Can you Freeze Soup?
Potota soup – and most other soups – can totally be frozen. Allow it to cool fully before you seal the lid and pop in the freezer. For thawing, I like to let it thaw most of the way at room temperature and then finish on the stovetop.
Why You'll Love this Vegan Potato Soup
Regardless of your soup consistency preference, you are going to love this soup! It's…
creamy + chunky at the same time
vegan
gluten-free
customizable
full of greens
flavorful + cheesy
great for meal prep
easy to make
And if you're still not convinced to try team chunky, then you'll love my creamy vegan potato leek soup recipe!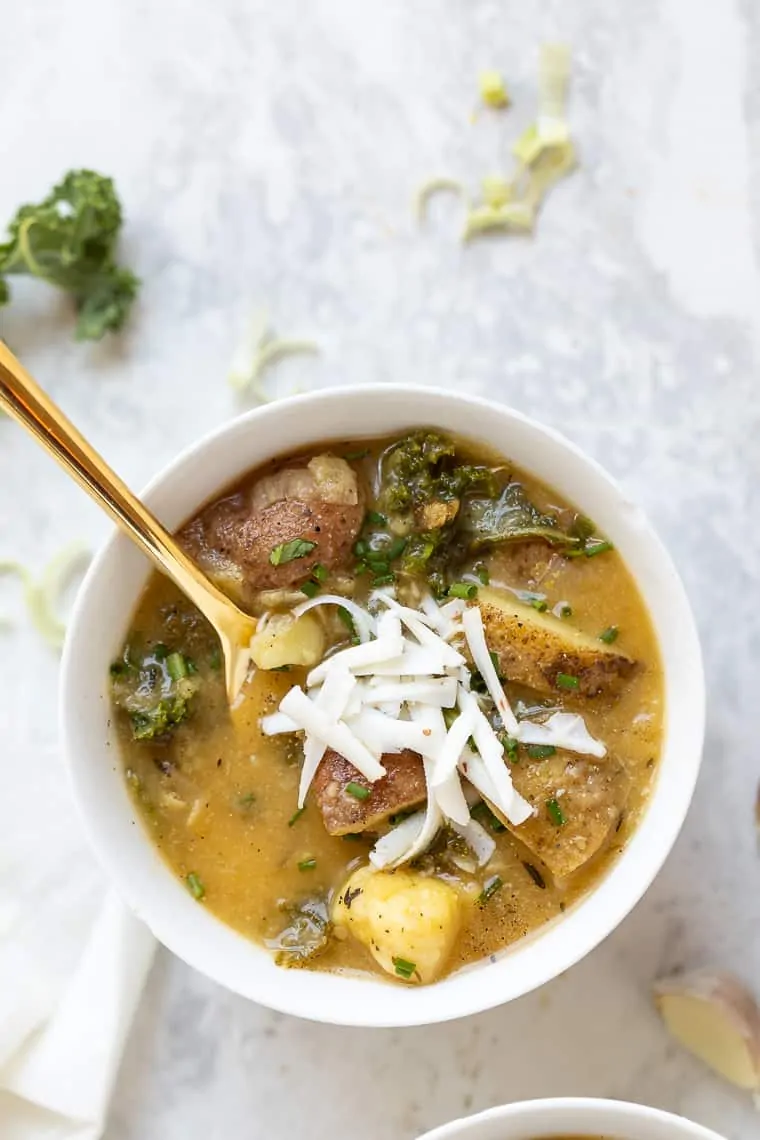 More Cozy Vegan Soup Recipes to try:
Chunky Vegan Potato Soup
This chunky vegan potato soup is so delicious! It's full of flavor from garlic and leeks, is easy to make and has the best chunky texture. My favorite potato soup yet!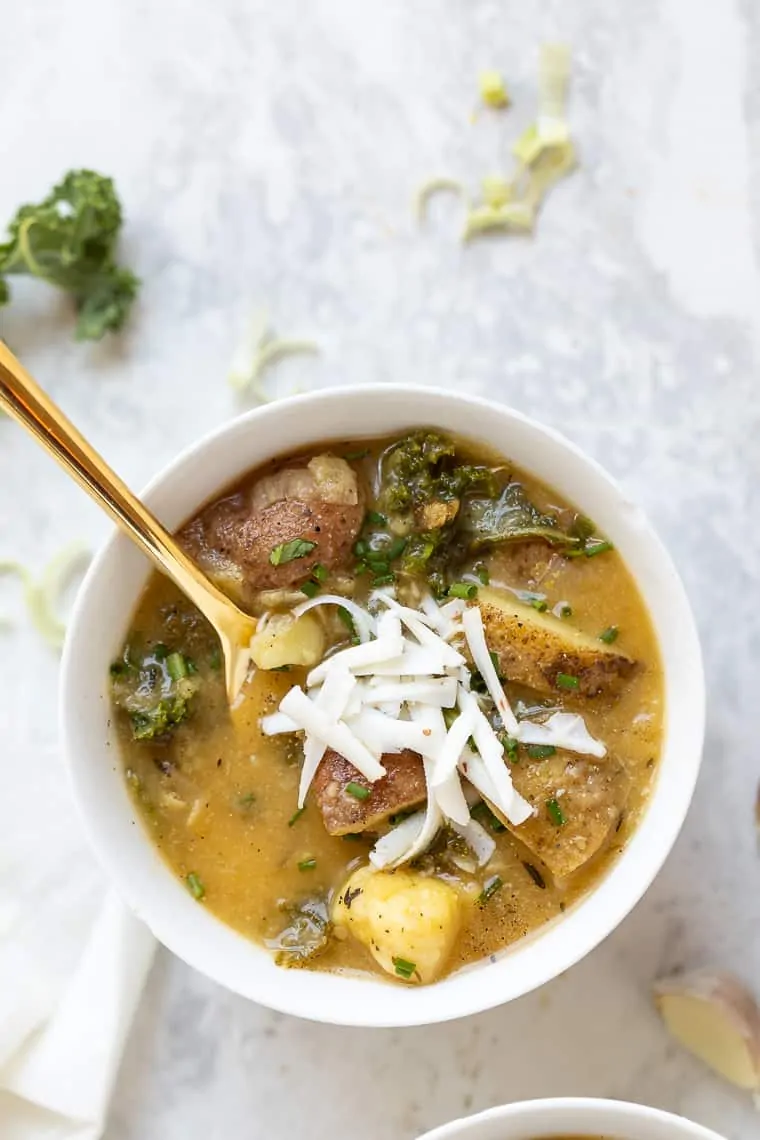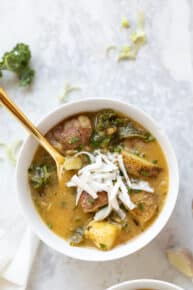 Instructions
Cut the ends off the leeks and then cut them in half lengthwise. Wash them under the faucet and be sure you get under the layers since leeks can be pretty dirty. Finely mince the garlic.

Heat the oil in a large stock pot. Add the leeks and garlic. Cook for 2 - 3 minutes until the leeks have softened.

While the leeks are cooking, cube the potatoes. No need to peel them!

Add the potatoes, seasoning, pepper flakes and salt. Cook for 1 - 2 minutes, then add the broth.

Bring the soup to a boil, cover and reduce to a simmer. Cook for 20 - 30 minutes until the potatoes are tender.

Stir in the nutritional yeast and kale and cook until the kale wilts. Taste and add a bit more salt or seasonings if you need.

Serve immediately and enjoy!
Nutrition
Serving:
1.5
cups
|
Calories:
218
kcal
|
Carbohydrates:
44
g
|
Protein:
7
g
|
Fat:
3
g
|
Saturated Fat:
1
g
|
Sodium:
1293
mg
|
Potassium:
970
mg
|
Fiber:
5
g
|
Sugar:
6
g
|
Vitamin A:
5116
IU
|
Vitamin C:
78
mg
|
Calcium:
120
mg
|
Iron:
3
mg