Curried Cauliflower & Squash Soup
This Curried Cauliflower and Squash Soup is super creamy, packed with veggies, and tastes delicious! It's also naturally vegan and freezes well too!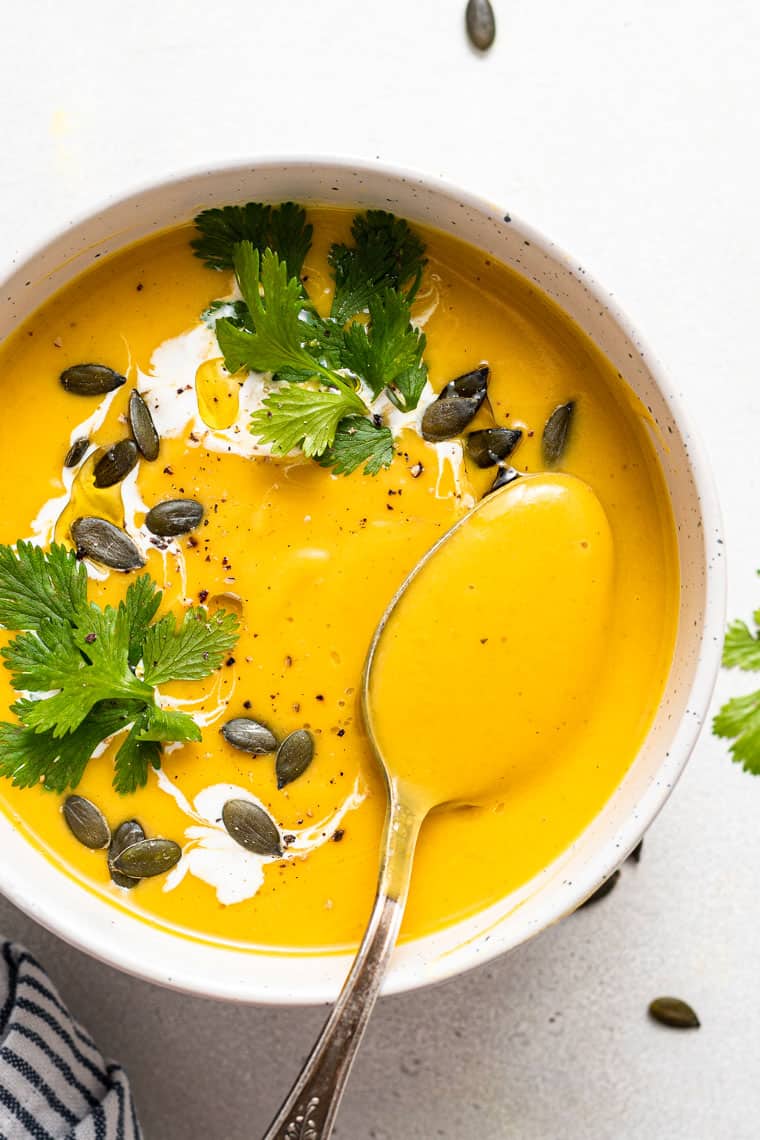 I love all kinds of creamy soups, from X to X. And this curried cauliflower and squash recipe is one of my all-time favorites. I make it every fall when acorn squash is in season and it always warms me right up.
This is a great soup to make for meal prep, entertaining or just a chill night in. It takes about 45 minutes, and you'll need a blender (immersion or regular), baking sheet, and a big pot.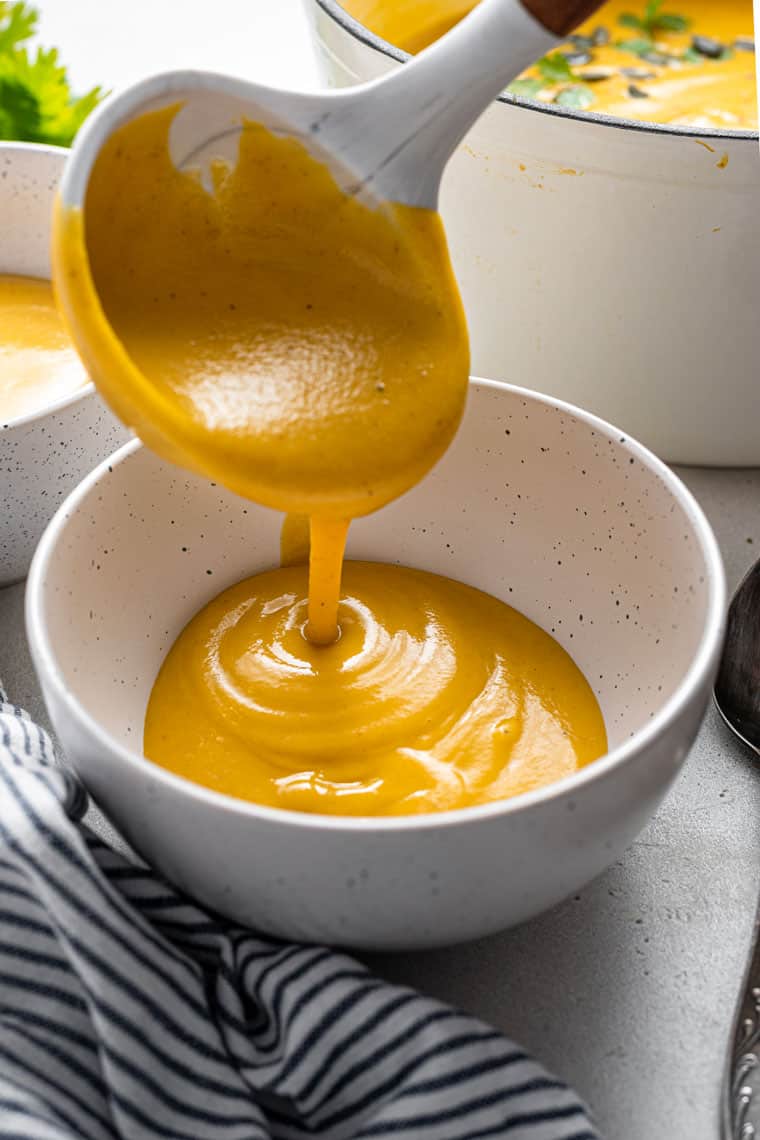 Why You'll Love This Recipe
This soup is light, creamy, incredibly flavorful, and has the most gorgeous curry-yellow color. It makes you feel healthy just looking at it 🙂
Not to mention, it's packed with vitamins, minerals, protein, and fiber. And you don't need any hard-to-find ingredients to build this super flavorful dish.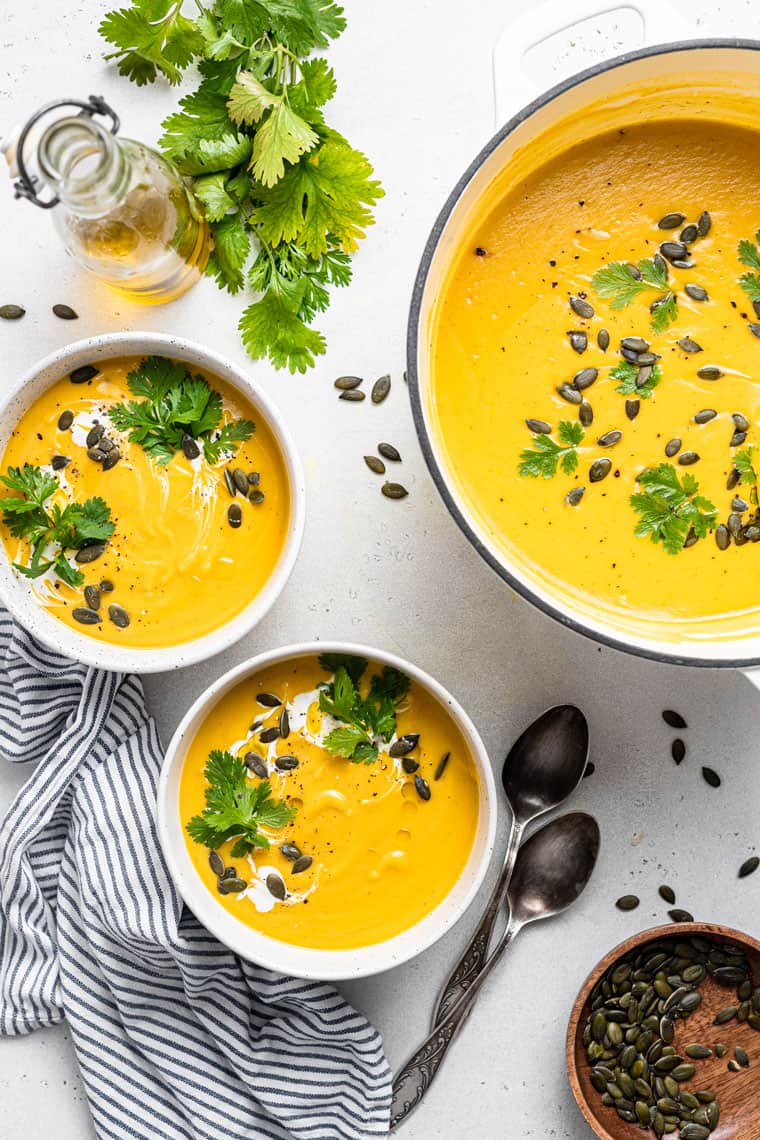 How to Make Curried Cauliflower Squash Soup
I love using my high-powered blender to make the creamiest, silky-smooth soup.
If you don't have one, no worries! You can always use an immersion blender (and skip having to wash the blender).
You can get a great immersion blender for around $25 and with a little elbow grease, it will still give you a velvety smooth texture. Here's the one that I like.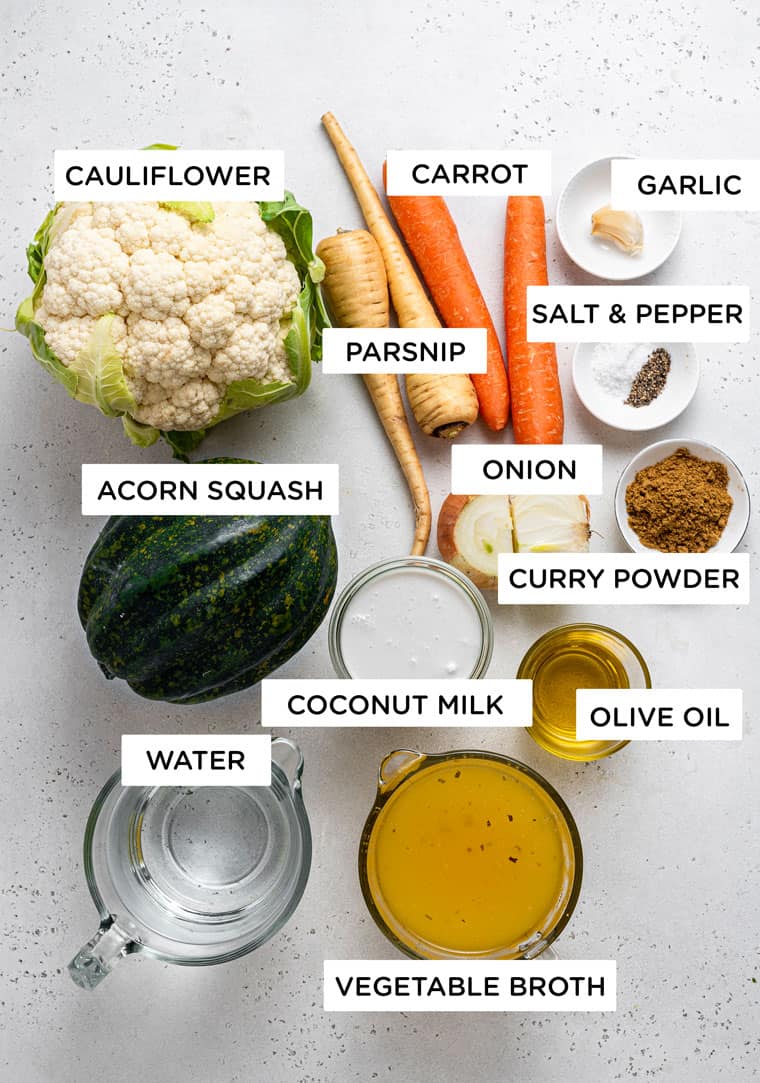 Ingredients
Here's what you need to make this creamy cauliflower curry soup:
Acorn squash. This adds a delicate, sweet flavor. You can use butternut or delicata if you prefer.
Cauliflower. Don't worry about cutting equal pieces, the cauliflower will all get blended smooth.
Onion. I use white, but yellow will also work.
Carrots. For sweetness
Parsnip. An underrated veggie that packs delicious sweet flavor.
Garlic
Vegetable broth. Make your own or use low-sodium store-bought broth.
Coconut milk. I recommend using full-fat coconut milk for the best texture.
Curry powder. This packs a wonderfully warming flavor into the soup.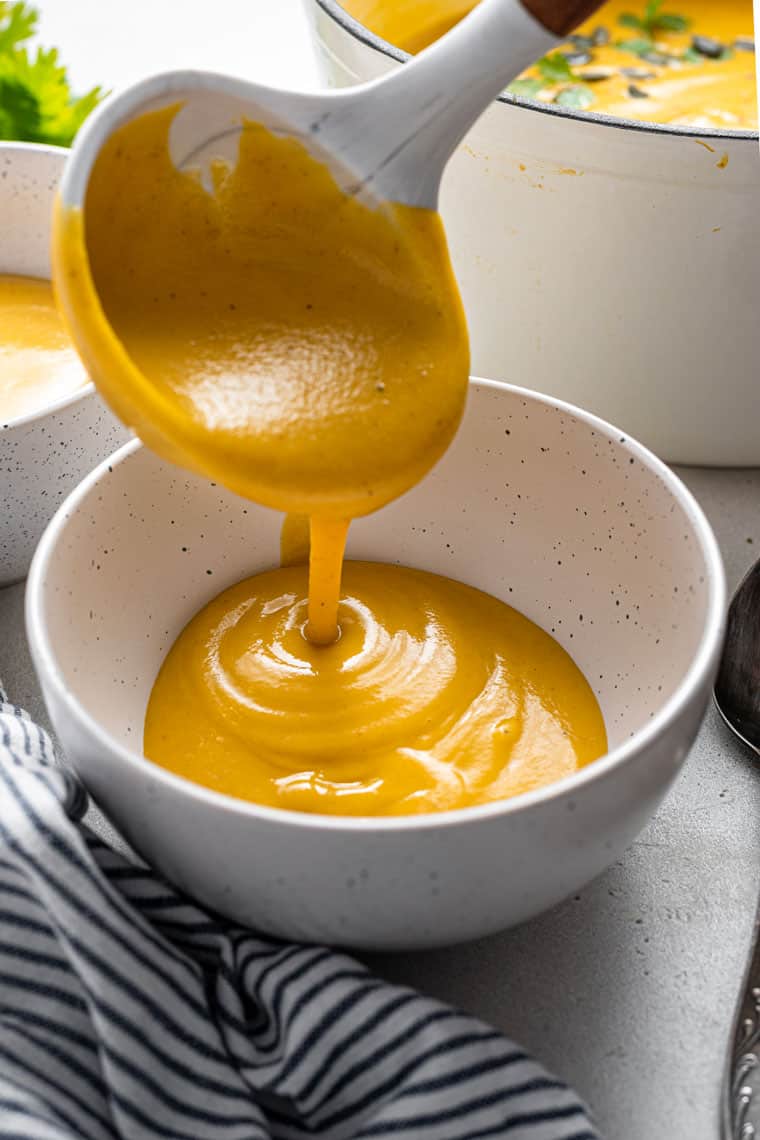 Topping Ideas
I'm all about the toppings for creamy soups. I find that having something a little different keeps me interested in the bowl in front of me.
I serve curried cauliflower soup bowls with a giant dollop of coconut yogurt on top. Plus some red pepper flakes, fresh cilantro, and a drizzle of olive oil. I also think pumpkin seeds, hemp seeds, fried garlic, parsley or even coconut cream would be equally delicious!
If you like more crunch or protein, add:
Crispy chickpeas
Crispy baked tofu
Toasted pecans or hazelnuts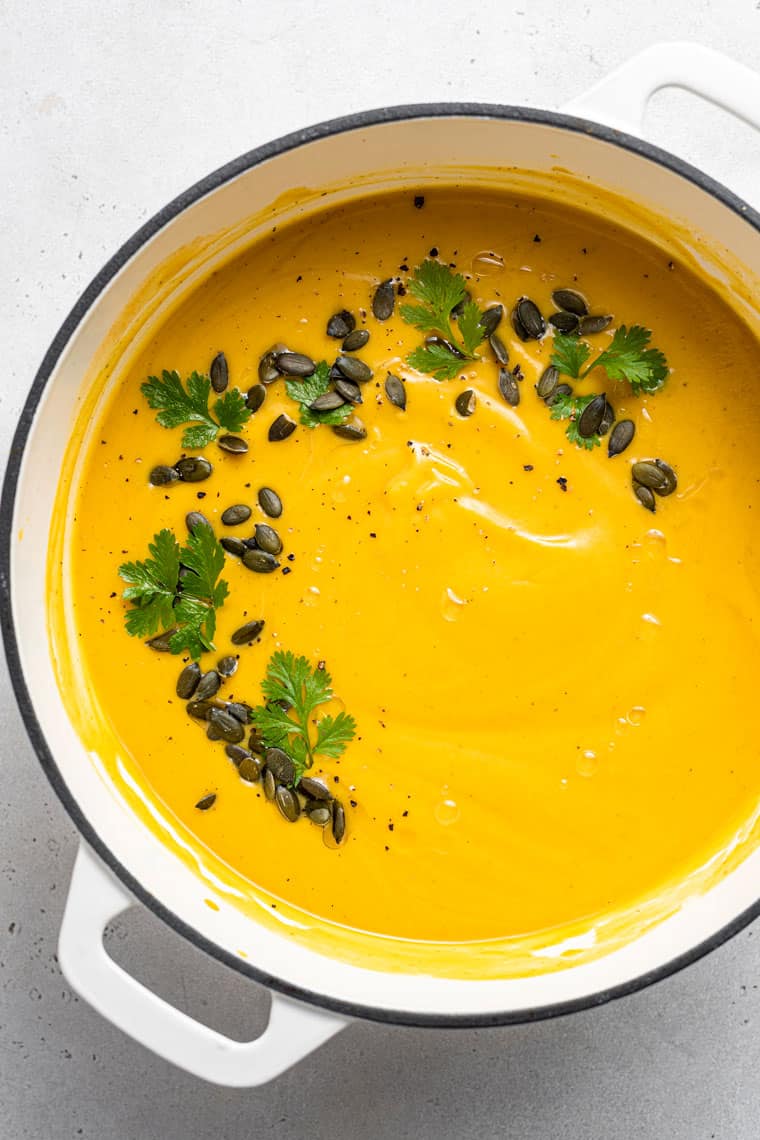 Make-Ahead Cauliflower Soup
This is a great healthy recipe for vegan meal prep. You can store the soup in an airtight container in the fridge for up to four days. Or, for longer storage, freeze the soup for up to three months. Defrost the soup in the fridge overnight and reheat it on the stove.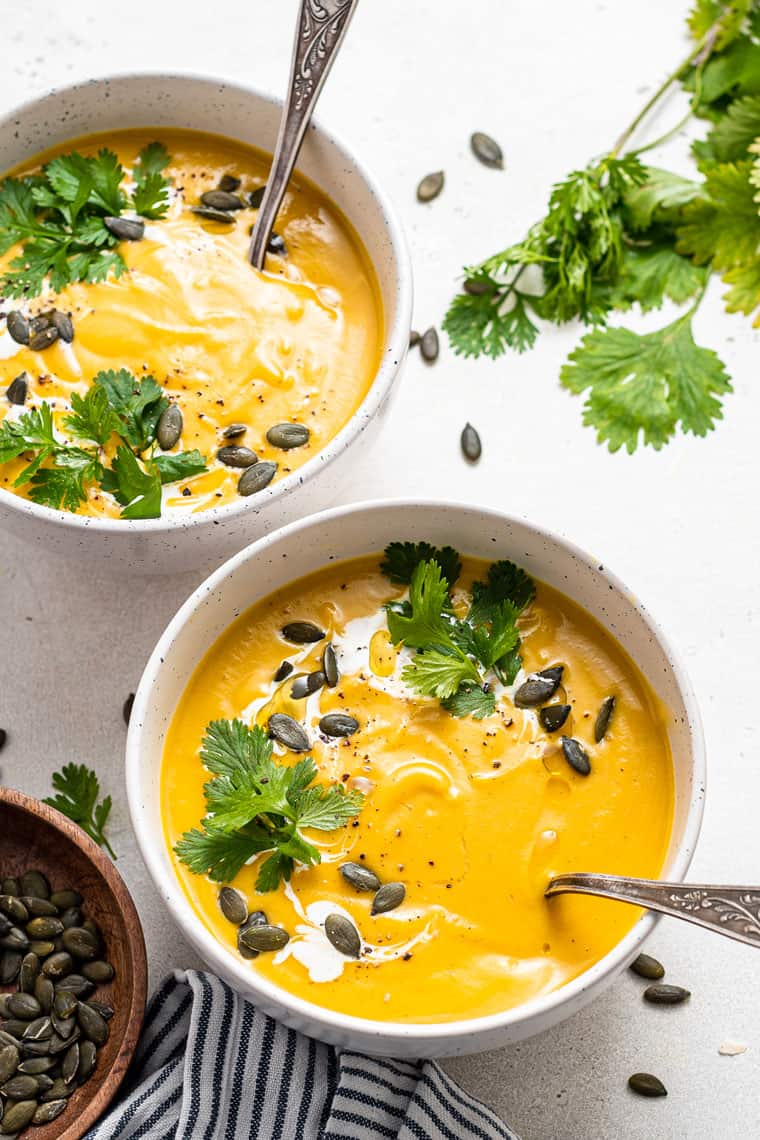 More Delicious Soup Recipes To Try:
If you make this Curried Cauliflower & Squash Soup, be sure to let me know with a comment below!
Curried Cauliflower & Squash Soup with Quinoa Flatbread
This Curried Cauliflower and Squash Soup is the perfect creamy texture, packed with veggies and tastes delicious! It's also naturally vegan and freezes well too!

Servings 6 Servings
Calories 218kcal
Ingredients
1 acorn squash halved with the seeds removed
1 head of cauliflower chopped into florets (about 6 cups)
1 cup white onion diced
1 cup carrot diced
1 cup parsnip diced
1 garlic cloves crushed
2 cups vegetable broth
2 cups filtered water
1 cup full-fat coconut milk
2 tablespoons curry powder
2 tablespoons olive oil
Salt and pepper to taste
Instructions
Preheat the oven to 400ºF.In a shallow baking dish, add 1/4 inch of water and place the two squash halved face down. Place in the center of the oven for 20 - 30 minutes.

While the squash is cooking, toss the cauliflower with 1 tablespoon olive oil and 1 tablespoon curry powder. Add salt and pepper to taste. Place on a baking sheet and roast in the oven for 20 - 25 minutes, turning halfway through.

On the stovetop, heat the remaining tablespoon of oil in a large saucepan (or dutch oven) and sauté the onions, carrots, parsnips and garlic together until the onions are translucent and the carrots have begun to soften. Add the cauliflower when it is done roasting, and sauté for another few minutes.

When the squash is done, scoop the flesh out of the skins and add it to the pot. Add the vegetable broth, water, coconut milk, salt, pepper and the remaining curry powder (add more of any if you'd like) and bring the soup to a boil. Turn it down to medium-low and let it simmer for another 10 - 15 minutes.

Take the soup off the heat and with an immersion blender, or in a high powered blender, puree it until it's smooth and creamy.

Serve hot and garnish with a touch of coconut milk (or yogurt) if you so choose. Enjoy and stay warm!
Nutrition
Calories: 218kcal | Carbohydrates: 24g | Protein: 4g | Fat: 13g | Saturated Fat: 7g | Sodium: 424mg | Potassium: 873mg | Fiber: 6g | Sugar: 5g | Vitamin A: 4015IU | Vitamin C: 67.2mg | Calcium: 87mg | Iron: 3mg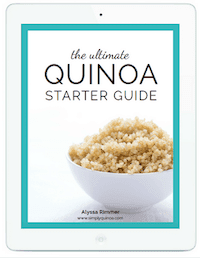 New to cooking quinoa? Grab your FREE Quinoa Starter Guide!
Become part of the Simply Quinoa community and receive weekly emails with exclusive content that I only share in email, as well as my in-depth guide to starting your quinoa journey.
share what you make
Tag #simplyquinoa on Instagram with your creations! We love sharing what you make with the community. We can't wait to see!

follow on instagram