This amazing Green Coconut Curry Lentil Soup is an easy vegan dinner idea that makes amazing leftovers. Great for meal prep, healthy, hearty and so tasty!
I'm a sucker for a good lentil soup! And so far I've made them in like 5 different flavors. We've got a chili, a Moroccan-inspired soup, a red lentil curry and now we've got this:
Green Coconut Curry Lentil Soup!
This soup is a cinch to make, is packed with flavor and is just the coziest meal ever. Lentil soup is also packed with plant-based protein and fiber – each serving has 10g of protein and 15g of fiber! So that means one bowl is filling, hearty and will help give you lasting energy. You can't get better than that!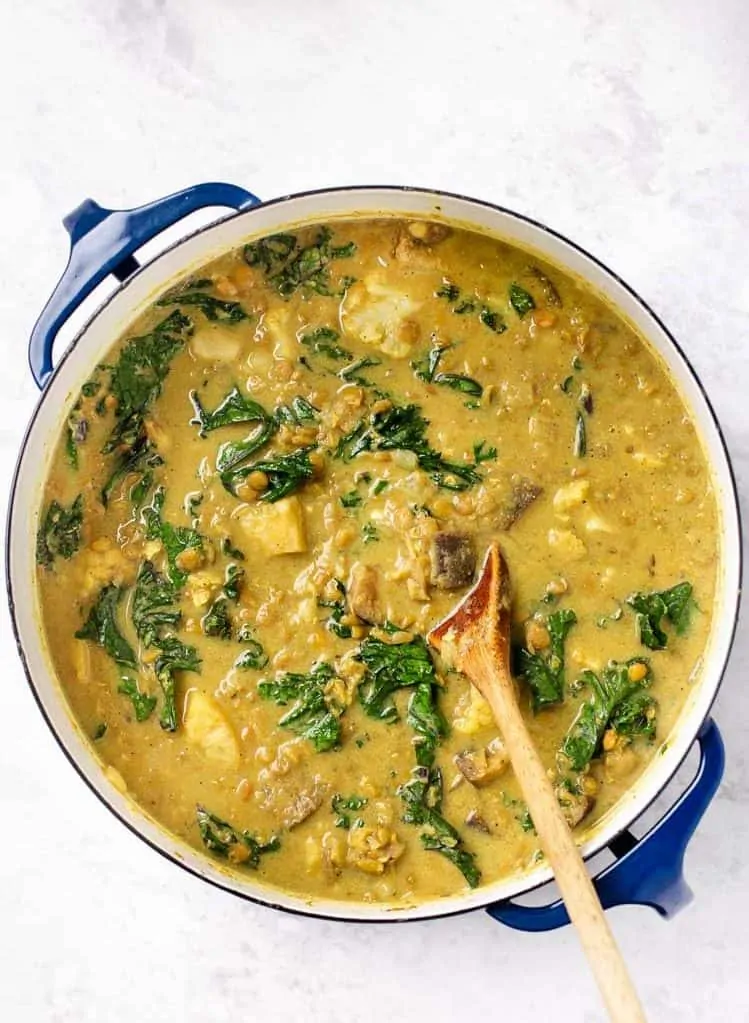 Ingredients for Green Coconut Curry Lentil Soup
Curries are amazing because the vegetables can be very swapped in and out based on what you have on hand. I'll share what I used in this recipe but will also give you some substitution ideas a bit later on in this post.
But for now, here's what we used to make this tasty coconut curry lentil soup:
Onion: sauté onions are so darn delicious!
Garlic: and garlic too! if you're on the FODMAP diet, you can just leave these two ingredients out!
Sweet Potato: this is controversial in my house, but I absolutely adore sweet potato in my curries. Matt not so much, but I think they add a really nice texture and I love the sweetness they bring!
Cauliflower: cauliflower works super well in this soup and adds not only fiber, but all the other health benefits of cruciferous veggies. You could also use frozen cauliflower if you have that on hand as well!
Eggplant: eggplant is another thing that I see in a lot of Thai curries and I just love it. I think it's beautiful and I love how it absorbs all the flavors. If you're not an eggplant fan, you can swap it with another veggie!
Green Curry Paste: the easiest way to get that green curry flavor (or red curry for that matter) is to use a store-bought paste. I like this one from Thai Kitchen, but you could also make your own!
Fresh turmeric: they had fresh turmeric at Whole Foods, so I picked some up! If you can't find it, you can sub for ground turmeric. Turmeric is great for the flavor as well as the anti-inflammatory properties!
Fresh ginger: ginger and curry are a match made in heaven and the flavor that fresh ginger brings is just delicious!
Green Lentils: we're using green lentils in this recipe because they cook relatively quickly, but you could also use brown if that's what you have on hand.
Coconut milk: my liquid of choice in this any curry because it's rich and flavorful. To make this coconut curry lentil soup a little lighter, I opted for one can of full-fat coconut milk and one can of lite coconut milk.
Greens: if you've made any of my other soups before you know I love adding greens at the end! For this recipe, you can use any greens you want – spinach, kale, chard, collards, etc.!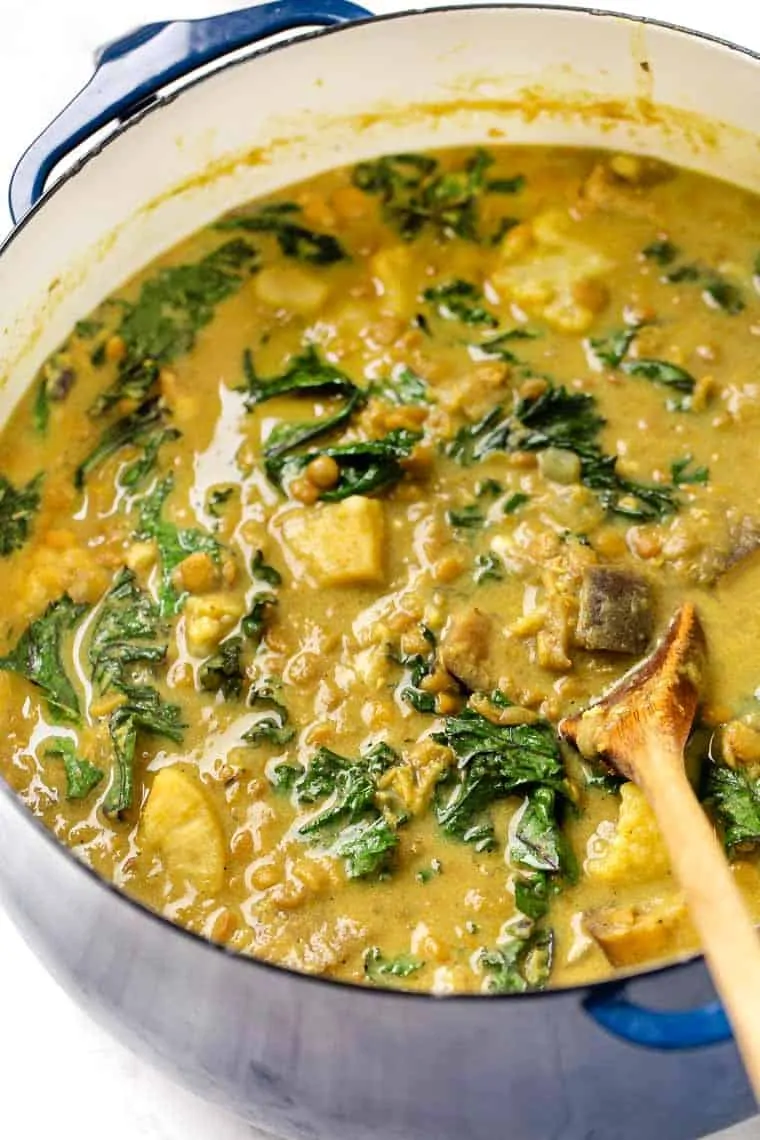 How to Make Coconut Curry Lentil Soup
Soup is one of my favorite meals to make because it's so easy. We start by sauteeing the onion and garlic so it gets nice and flavorful. Then add the rest of your veggies and saute it for a bit more time.
Next, add the spices. Cook this for a bit so the spices can release your flavors and add the rest of your ingredients.
Simmer the soup for about 30 – 40 minutes until the lentils are cooked and the sweet potatoes are fork-tender. The last step is to stir in the greens and cook them down until they're wilted.
Serve it up with a dollop of coconut yogurt, hot peppers, and cilantro. Such a yummy combo!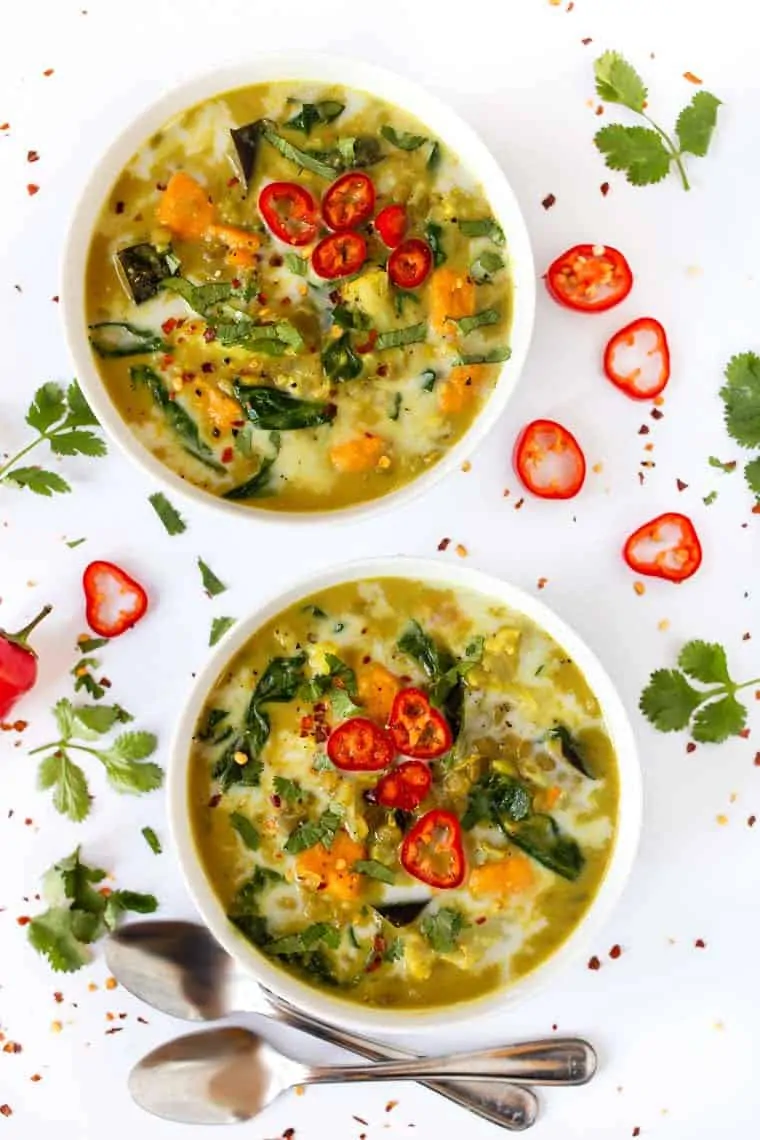 Everything You Need to Know About Lentil Soup
Now before we dive into actually making this coconut curry lentil soup, let me answer a few questions about using and making lentils. These are the most common questions I get, so now we have them all in one place!
Do you have to soak lentils before cooking them?
Nope! Lentils are one of the only beans that you actually don't need to soak before cooking. Cooking times will vary based on the type of lentil you're using, but usually, it's about 30 – 40 minutes for green and brown, 35 – 45 for black and about 10 for red!
Do you cook lentils before adding to soup?
You do not need to cook your lentils before adding them to your soup as they'll be cooking in the broth. You'll just need to be sure that you have plenty of liquid for them to cook in or your soup will be too thick. In general, you'll want a 2:1 ratio of liquid to lentils (so 2 cups water/broth to 1 cup lentils).
Can you overcook lentils?
You can overcook your lentils, but in my opinion, they're still tasty. Lentils get a little mushy if they get overcooked, but you can't really tell in a soup!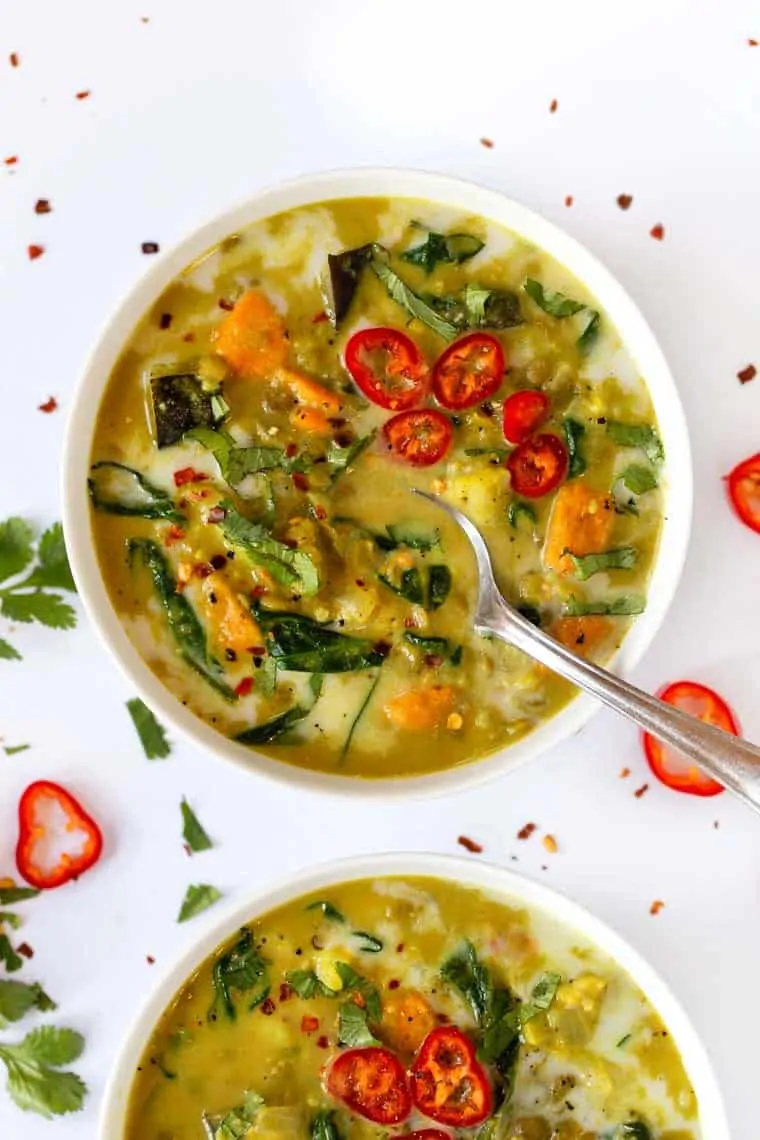 Substitution Ideas for Coconut Curry Lentil Soup
And the final thing I want to share with you is some substitution ideas for the soup:
Vegetables: you can use any combination of veggies you want. Just make sure to use the same proportions (so a total of 6 cups) for the whole soup.
Coconut milk: I personally think this is what makes this soup flavorful, but you can substitute it with almond or cashew milk if you have a problem with coconut.
Oil: feel free to saute in water!
Fresh spices: you can replace the fresh spices with ground spices, use 2 teaspoons instead.
And if you have any other substitution ideas, let me know in the comments!
I hope you love this soup as much as we do. I made it twice and I served it to Matt's whole family – who aren't plant-based eaters – and they all loved it!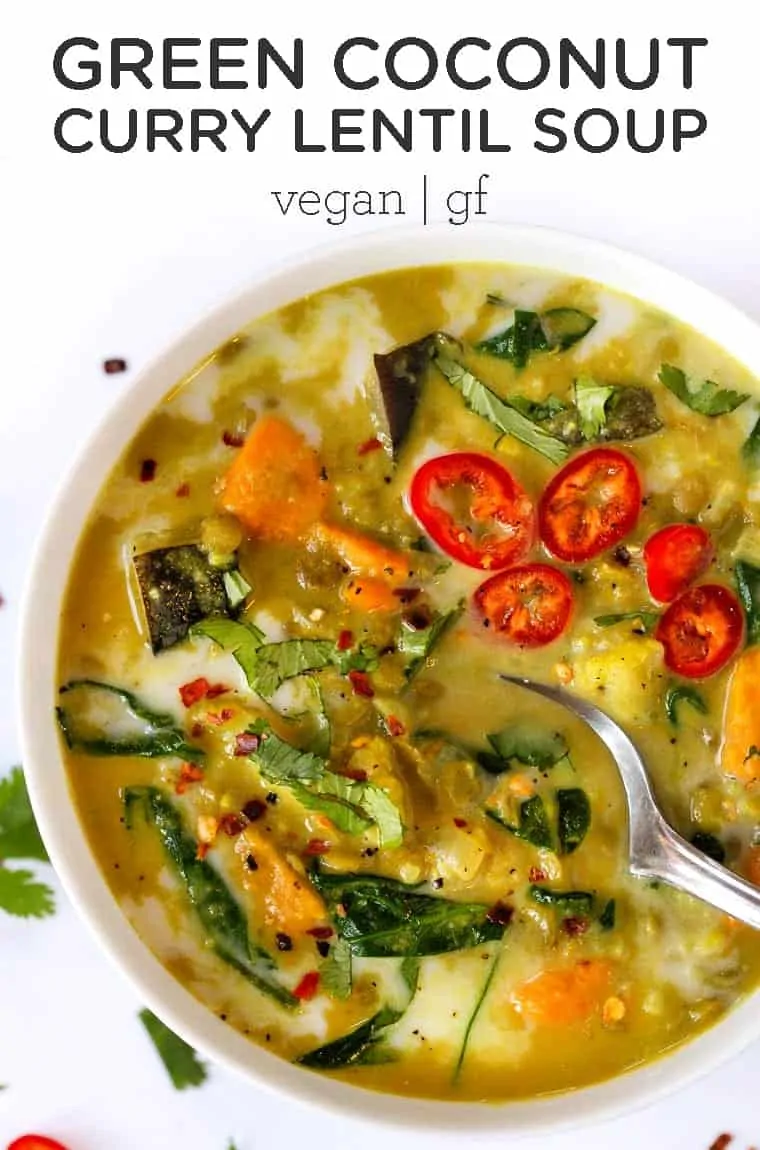 More Amazing Recipes with Lentils
Green Coconut Curry Lentil Soup
This amazing Green Coconut Curry Lentil Soup is an easy vegan dinner idea that makes amazing leftovers. Great for meal prep, healthy, hearty and so tasty!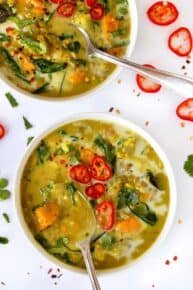 Ingredients
1

tablespoon

olive oil

½

an onion

, diced

2

garlic cloves

, minced

2

cups

cauliflower florets

2

cups

cubed sweet potato

(about 1 large)

2

cups

cubed eggplant

(about 1 small)

1

tablespoon

fresh ginger

, grated

1

tablespoon

fresh turmeric

, grated

Pinch

of salt & pepper

3

tablespoons

green curry paste

1

cup

green lentils

1

can lite coconut milk

(or full-fat)

2

cups

water + more as needed

2 - 3

cups

spinach or green kale

Cilantro + hot peppers to garnish
Instructions
Heat the oil in a large stockpot or dutch oven. Add the onions and garlic and saute until just starting to soften, 3 - 5 minutes.

Add the cauliflower, sweet potato, and eggplant and saute for another few minutes. Add the spices, curry paste, salt, pepper and lentils and stir to combine. Cook for 1 - 2 minutes.

Add all of the liquid into the pot and stir to combine. Bring the soup to a boil, then cover and reduce to simmer. Cook for 30 - 40 minutes until the lentils have cooked and the sweet potato is fork tender. Add more water if needed.

Remove from the heat and stir in the greens. Continue stirring until the greens have wilted. Serve immediately with your choice of toppings!
Nutrition
Serving:
1.5
cups
|
Calories:
199
kcal
|
Carbohydrates:
33
g
|
Protein:
10
g
|
Fat:
4
g
|
Saturated Fat:
1
g
|
Cholesterol:
1
mg
|
Sodium:
50
mg
|
Potassium:
711
mg
|
Fiber:
13
g
|
Sugar:
5
g
|
Vitamin A:
8889
IU
|
Vitamin C:
25
mg
|
Calcium:
69
mg
|
Iron:
4
mg