This cranberry quinoa banana bread is made with only healthy ingredients and is free from gluten, dairy, refined sugar and uses only one tablespoon of oil!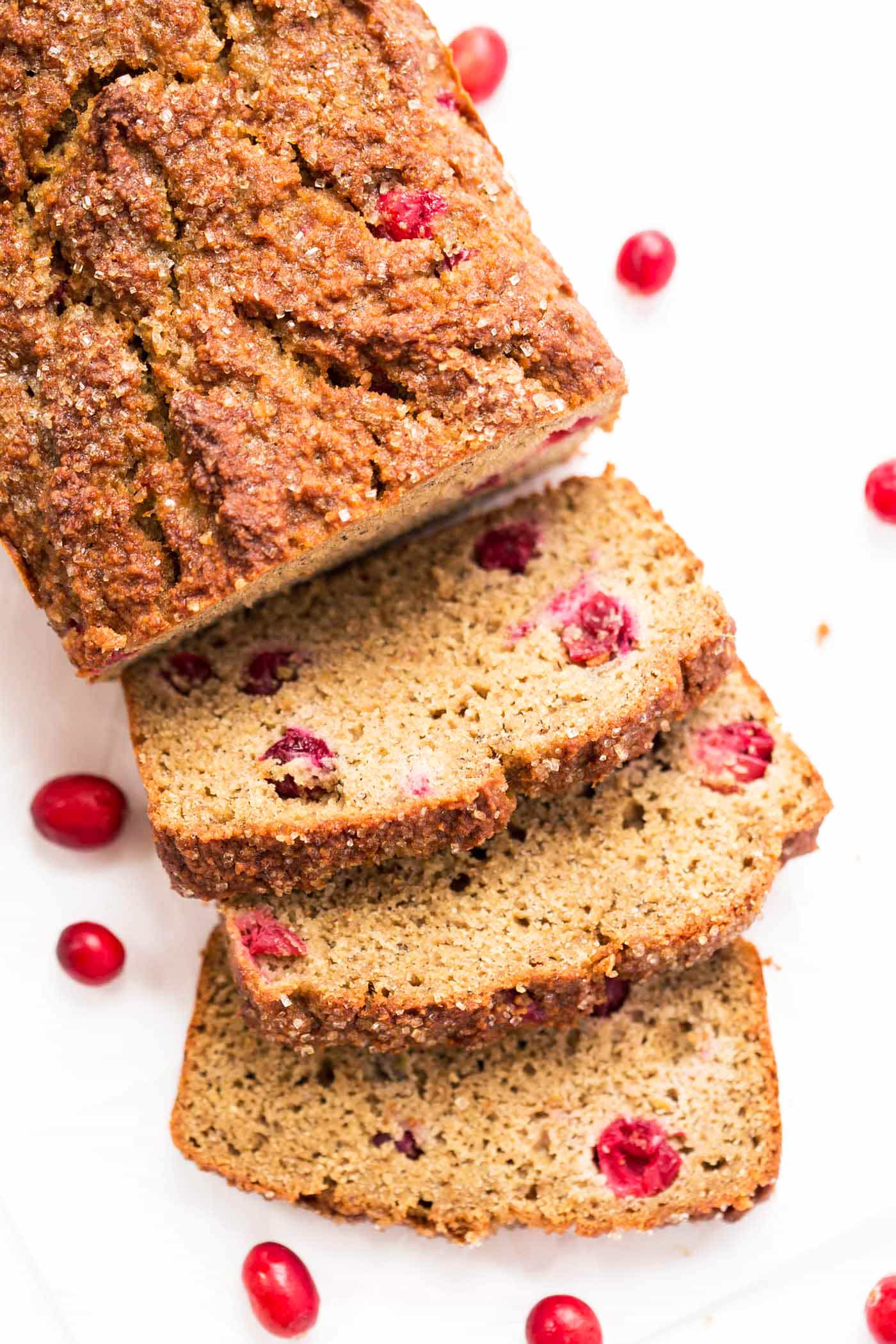 In the past few weeks I have two realizations about myself: 1) I've never baked with fresh cranberries and 2) I'm a sucker for a daily routine. Now it might seem like those two don't go hand-in-hand, but stick with me just a sec and I'll explain.
First, the routine. You see, I'm a major creature of habit. Like big time. Especially when it comes to food. When I find a meal that I enjoy (breakfast in particular), I literally make it over and over and over again until I finally find something new. Over the summer it was chocolate smoothie bowls, then it was avocado toast and now? It's my pumpkin spice matcha latte with two slices of a quinoa bread, slathered in peanut butter and sprinkled with hemp seeds.
Most recently, I've been munching on my Vegan Gingerbread Loaf, but with my new found discovery of fresh cranberries…it's cranberry quinoa banana bread errryday.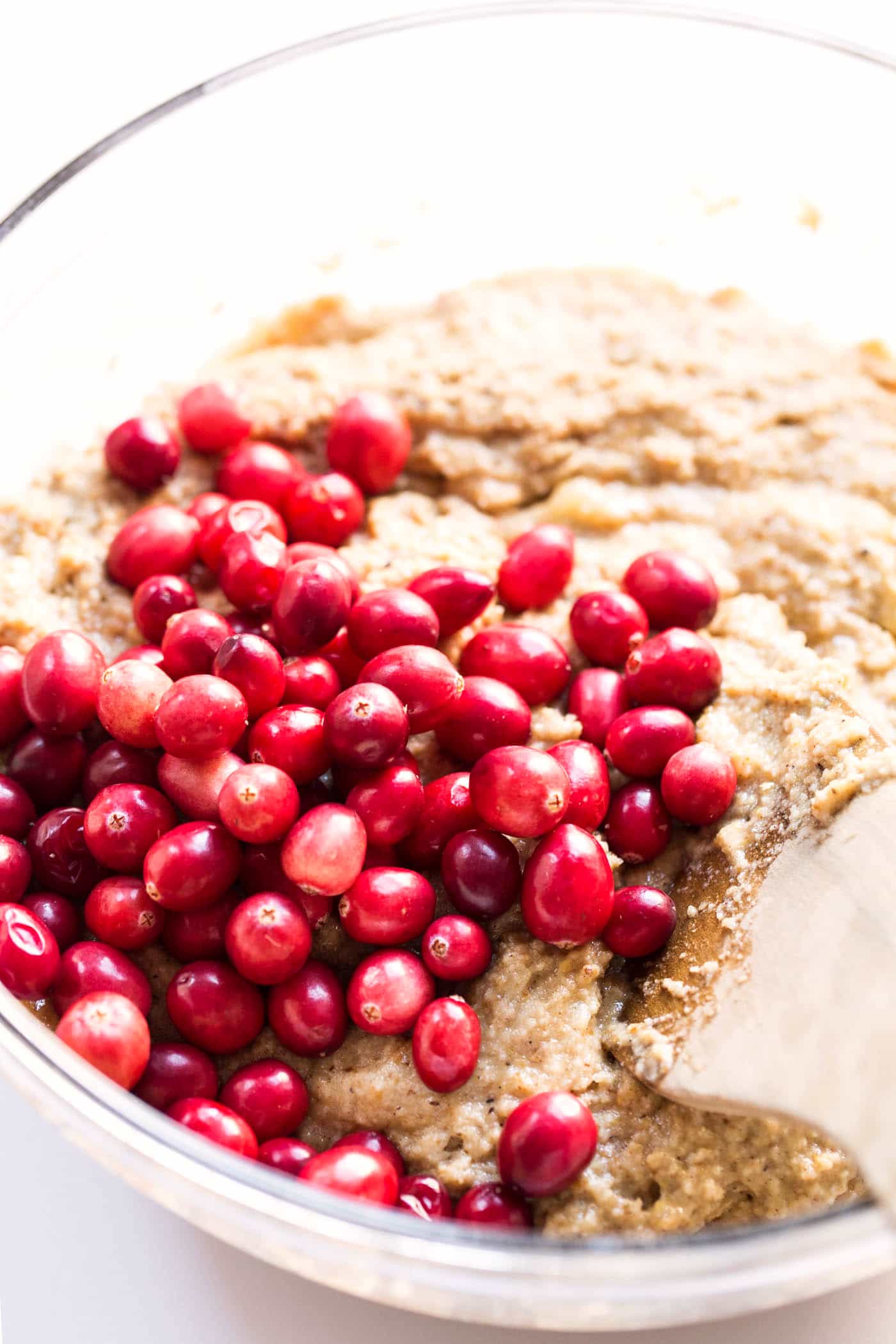 Yes, this is the first time I have ever put fresh cranberries in a baked good. Like ever. Why the heck has it taken me this long you may wonder? Um, yeah, no idea. But I'm totally digging it.
Especially when these little red berries are paired with bananas and honey. We're talking next level right here.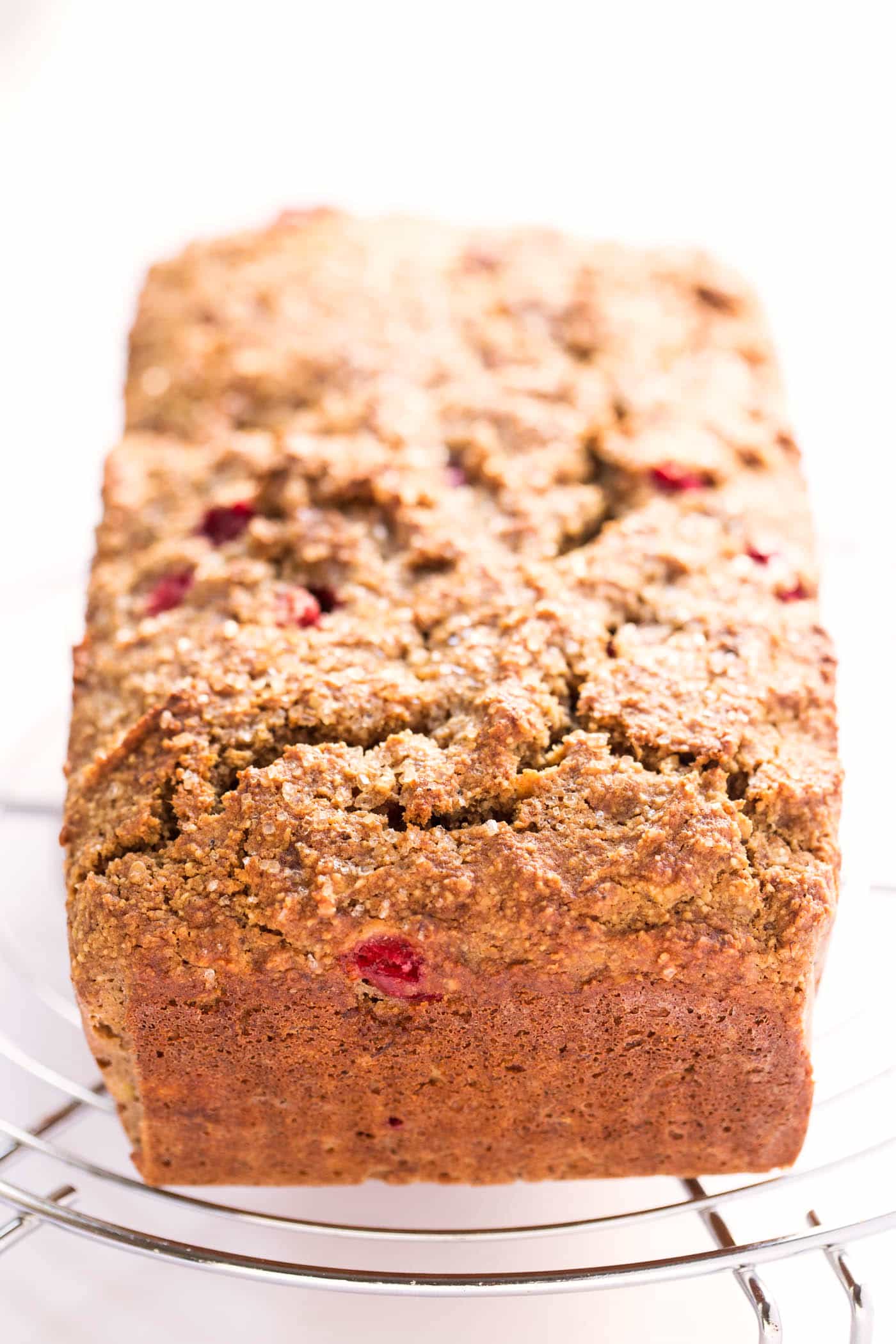 If you've been a longtime reader of SQ, and have made any of my quick bread recipes before, then you might recognize the base recipe we're working with. When I find something that works, I run with it.
Kind of like my quinoa breakfast cookie series, these quinoa bread recipes all start with a similar base, but then with just a few simple tweaks, we can turn them into something new entirely.
Last month, I shared a recipe for quinoa pumpkin bread. If you compare this recipe to that one, you'll see what I'm talking about. We…
Swapped the fruit puree
Changed the liquid sweetener
Added different spices
and stirred in cranberries
Similar yes, but completely different in terms of flavor and appearance.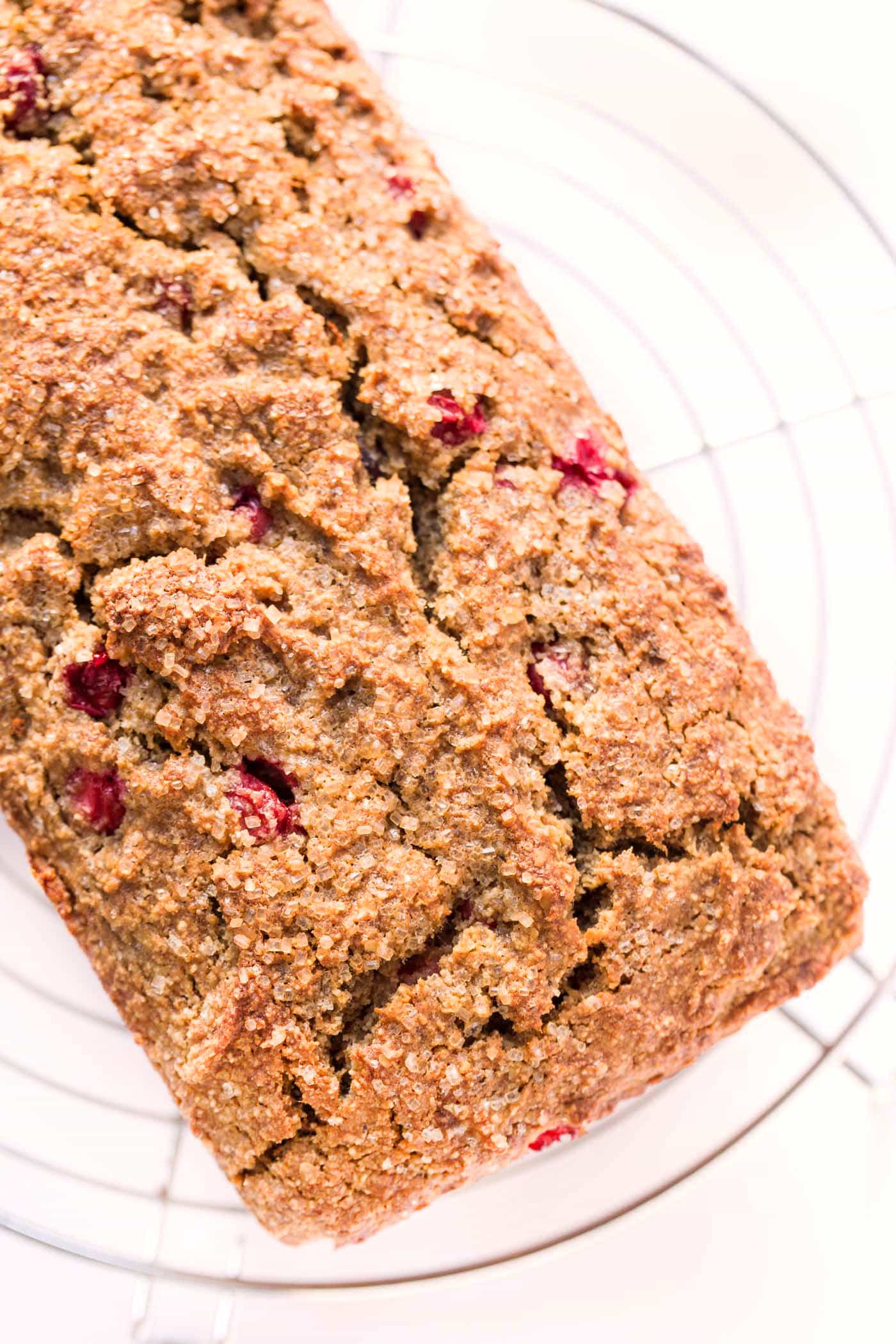 This bread is a little sweeter thanks to the combination of coconut sugar, honey, and banana, but the cranberries add just a slight tang which makes it perfect for breakfast. It also toasts up beautifully and will make your house smell incredible every single morning.
What I like to do is make the loaf, then slice it up and freeze the individual slices. That way it's super fresh and all I have to do is toast it until golden. Oh yeah, and then peanut butter. Seems I can't properly start my day without some form of nut butter!
And on that note, I'm signing off for the next few days to spend Christmas with my family. I'll be bringing a loaf or two of this with me, but there won't be any new posts up in the next week or so.
Wishing you all a very happy holiday!!
xo Alyssa
More Bread Recipes to try:
Cranberry Quinoa Banana Bread
When these little red berries are paired with bananas and honey. We're talking next level right here.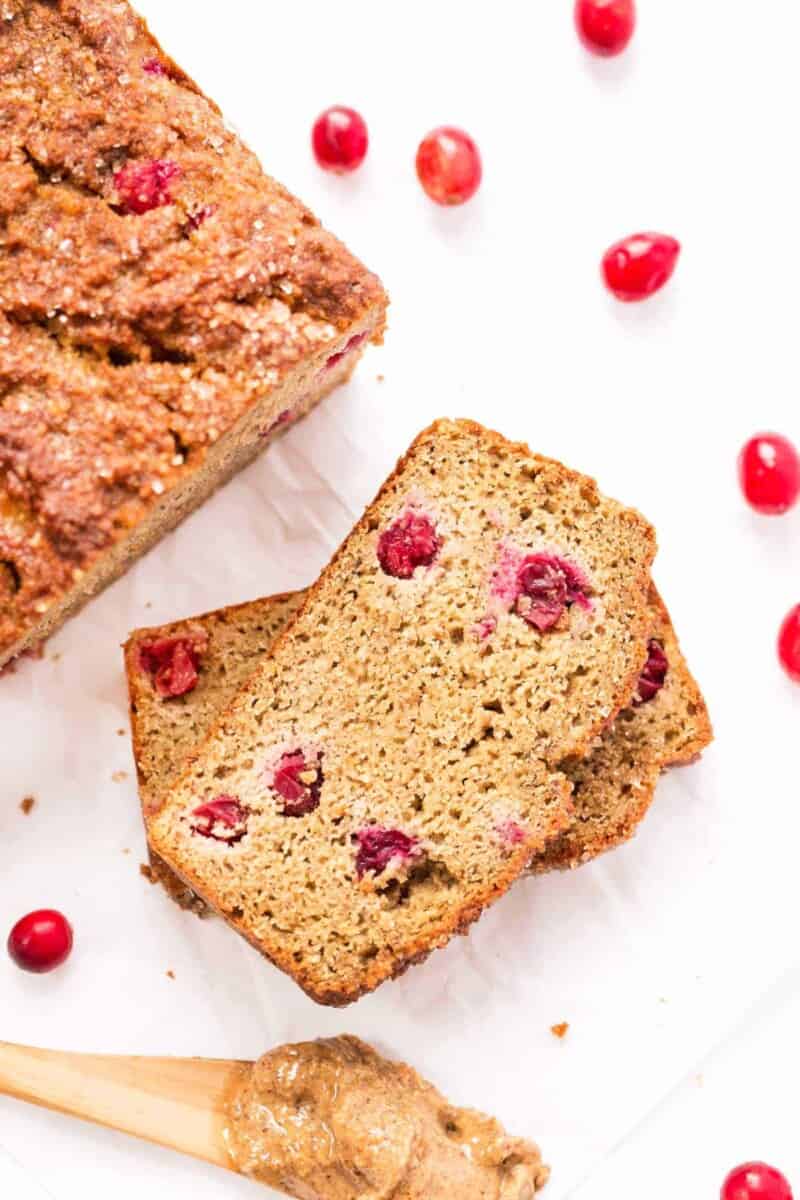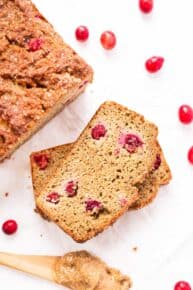 Instructions
Preheat the oven to 350ºF. Line a loaf pan with parchment paper and set aside.

Add the dry ingredients to the bowl and whisk to combine. Add eggs, banana, oil, honey and vinegar and beat until smooth. Fold in cranberries.

Transfer batter to prepared loaf tin, sprinkle with sugar and bake on the center rack for 40 - 45 minutes (mine took 45) until the top has turned golden brown and a cake tester inserted into the center comes out clean.

Cool in the pan for 10 minutes then transfer to a wire rack and cool completely before slicing.
Nutrition
Serving:
1
g
|
Calories:
250
kcal
|
Carbohydrates:
23
g
|
Protein:
8
g
|
Fat:
15
g
|
Saturated Fat:
1
g
|
Cholesterol:
61
mg
|
Sodium:
210
mg
|
Potassium:
94
mg
|
Fiber:
4
g
|
Sugar:
9
g
|
Vitamin A:
100
IU
|
Vitamin C:
2.3
mg
|
Calcium:
63
mg
|
Iron:
1.6
mg
Filed Under: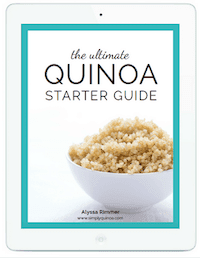 New to cooking quinoa? Grab your FREE Quinoa Starter Guide!
Become part of the Simply Quinoa community and receive weekly emails with exclusive content that I only share in email, as well as my in-depth guide to starting your quinoa journey.
Want more quinoa dinner recipes?
Follow my board on Pinterest!