Healthy Blueberry Banana Bread {gluten-free}
Brought to you in partnership with Bob's Red Mill
This healthy blueberry banana bread recipe is the perfect summer treat! Naturally gluten-free, sweetened without refined sugar and made with high protein flours.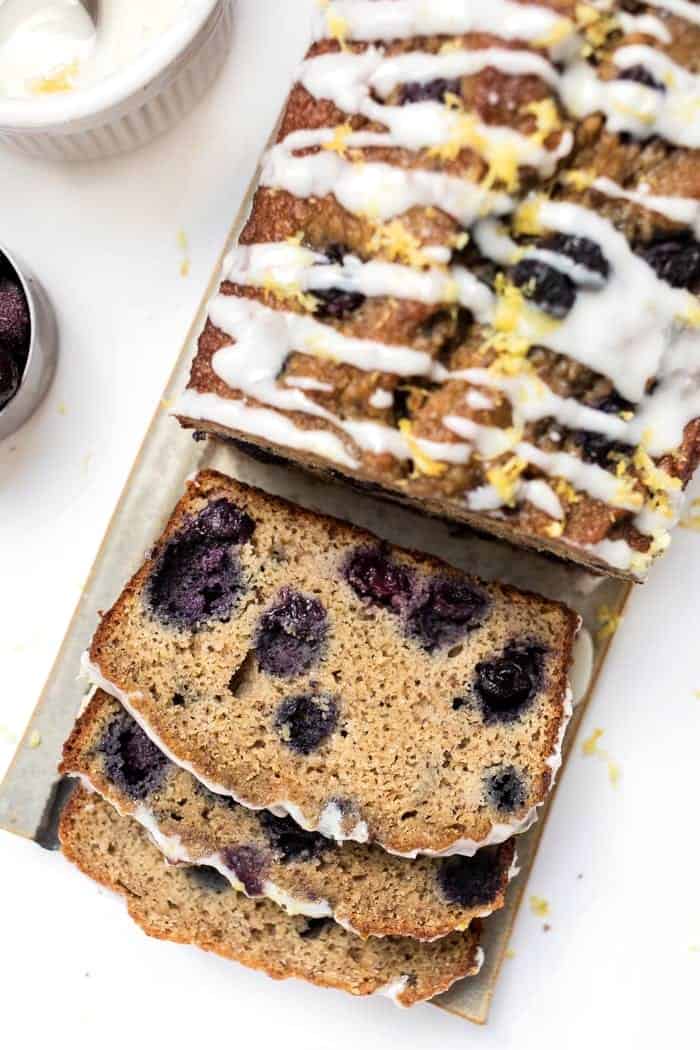 So we're making a healthy banana bread recipe today and guess what? It's inspired by one of you!
I put out a call for summer recipes on Instagram a few weeks ago and someone wrote back saying they wanted a blueberry banana bread. That is what they call "recipe gold" right there. Pure genius! Why I haven't thought of this combo before is lost on me, but be prepared to get blown away.
And friends, this flavor combo is epic! It's also the perfect summertime treat; it's healthy, gluten-free, high protein and naturally sweetened!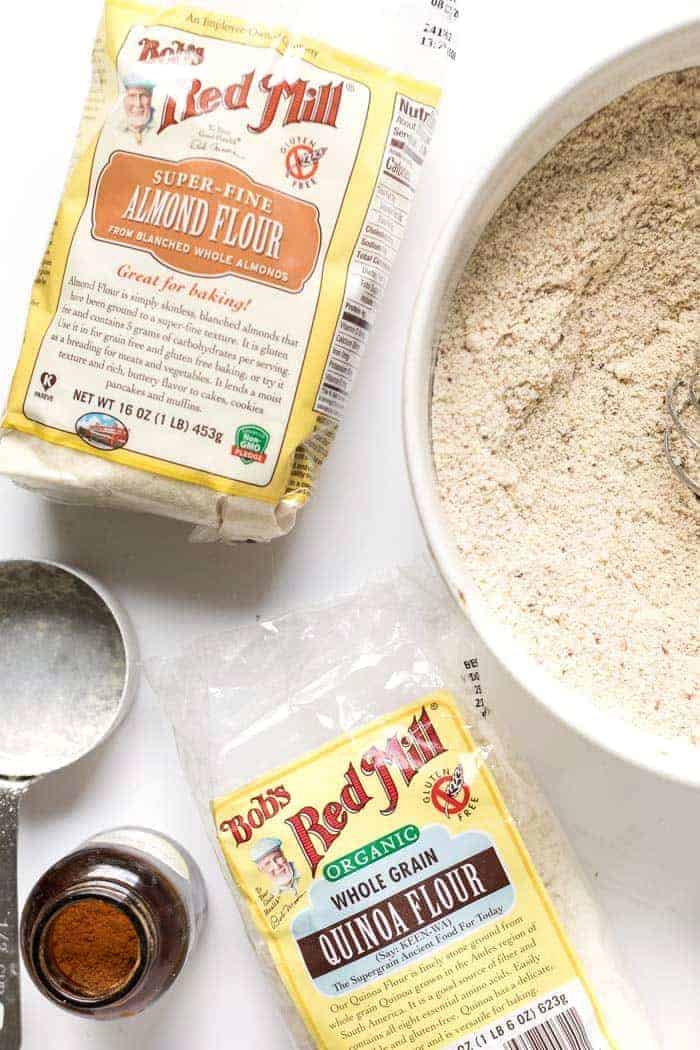 The base of our healthy blueberry banana is a blend of almond flour and quinoa flour which is my favorite combination for quick breads. As evidence from the multiple recipes I already have on the site, this combination yields the most amazing texture AND both flours are nutrient-rich.
Almond Flour. It's super important to use superfine, blanched almond flour in these recipes since that has the finest texture and a mellow color. My favorite brand on the planet is Bob's Red Mill and their almond flour is top notch. It has a natural sweetness, doesn't overpower with an almond flavor and it comes in big bags (which is def a cost saving).
Quinoa Flour. This is a great flour to add to your gluten-free baking because it's high in protein and helps with structure. While quinoa flour can have a strong flavor, I don't find that I can taste it when it's combined with other ingredients like in this recipe.
And then to really ensure the texture of this bread is spot on, we're using some of Bob's Red Mill flaxseed meal, coconut flour and arrowroot starch! (<– guys, they really do have the BEST selection of gluten-free baking essentials!)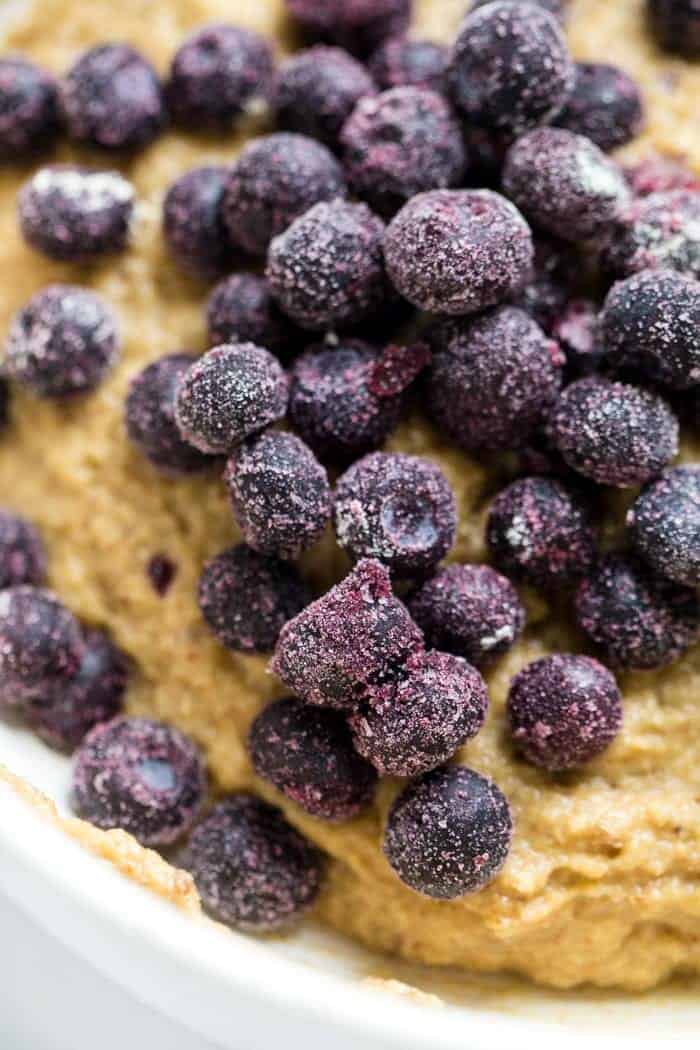 How to make our Blueberry Banana Bread
This is easily a one bowl recipe and comes together in about 10 minutes. If you want to save on dishes, I recommend starting with your wet ingredients actually and then folding in the dry ingredients afterward.  You can just mash the banana in the bowl, whisk in your eggs, and the other ingredients, and then add the flours.
Another secret to this recipe is actually the combination of apple cider vinegar and baking soda. When the two ingredients interact, they create this gaseous mixture which helps give this bread its lift and height!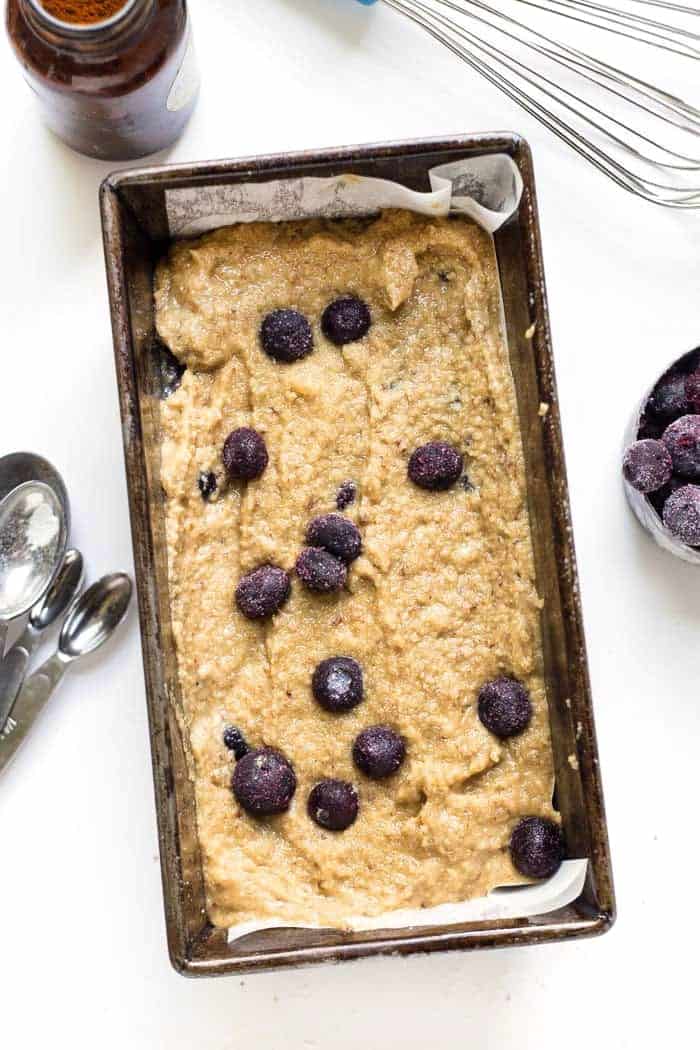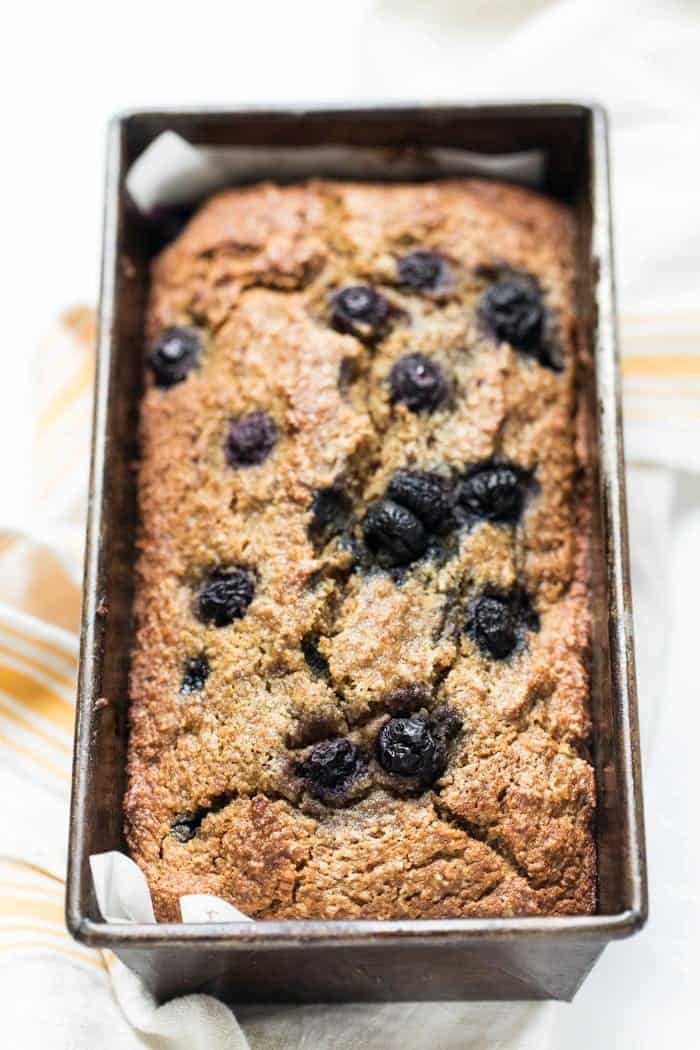 Can you make this recipe egg-free?
This is one of the most common questions I get about my almond flour quick breads and I'll be honest and tell you that I haven't found a good solution for an egg-free version.
The benefit that eggs provide here, aside from the binding properties, it's that they also help the bride rise and stay risen.
And the times I've tried with flax eggs, the bread is either too dense, doesn't rise and/or doesn't bake through.
SO…if you do end up figuring out how to make this recipe egg-free, please share with us below! And I promise that I'll continue to test until I can find something that works ❤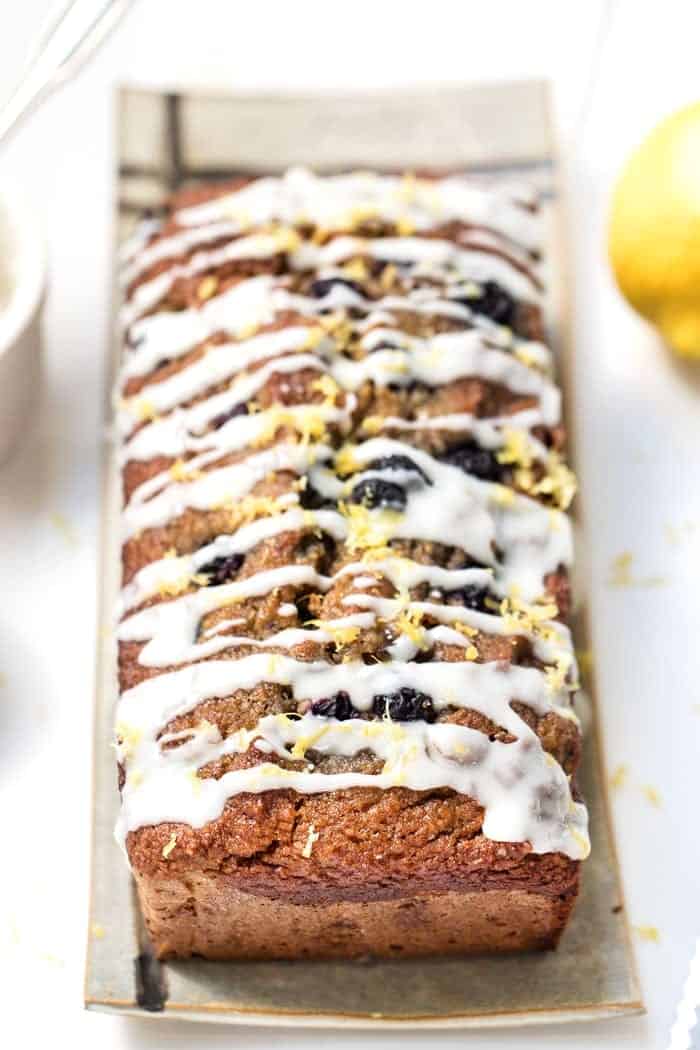 Now, before I let you get to baking, I'm sure you're wondering about that drizzle on top?
It's actually just plain old coconut butter!
You know that I love using coconut butter in my matcha lattes, and as I was putting this post together I realized it would do so much better with a drizzle on top. I didn't want to use confectioner's sugar since that kind of defeats our purpose (making something healthy), so I just melted a little coconut butter in the microwave (adding a tiny splash of coconut oil) and drizzled it on top.
It's pure heaven!
(p.s. the bread would also be delicious with this coconut butter icing)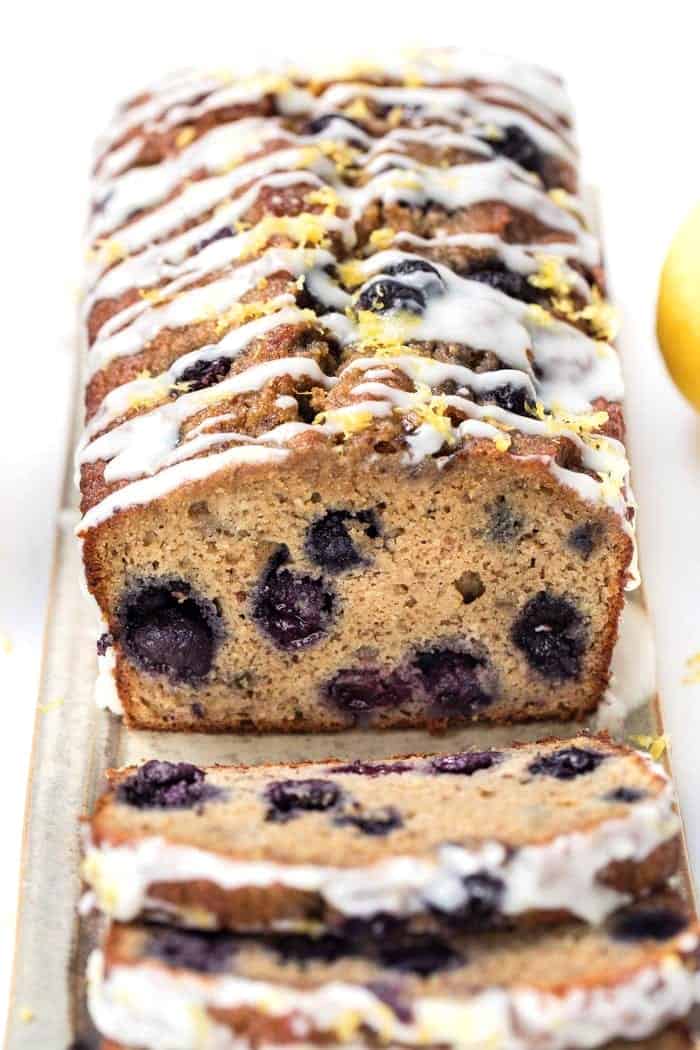 What's the best way to enjoy this bread you wonder?
You really can't go wrong, but I love giving it a light toast in the toaster oven and spreading it with some homemade chia jam. It's filling and comforting, but still light and refreshing.
Honestly, I think this might just be my favorite banana bread recipe to date!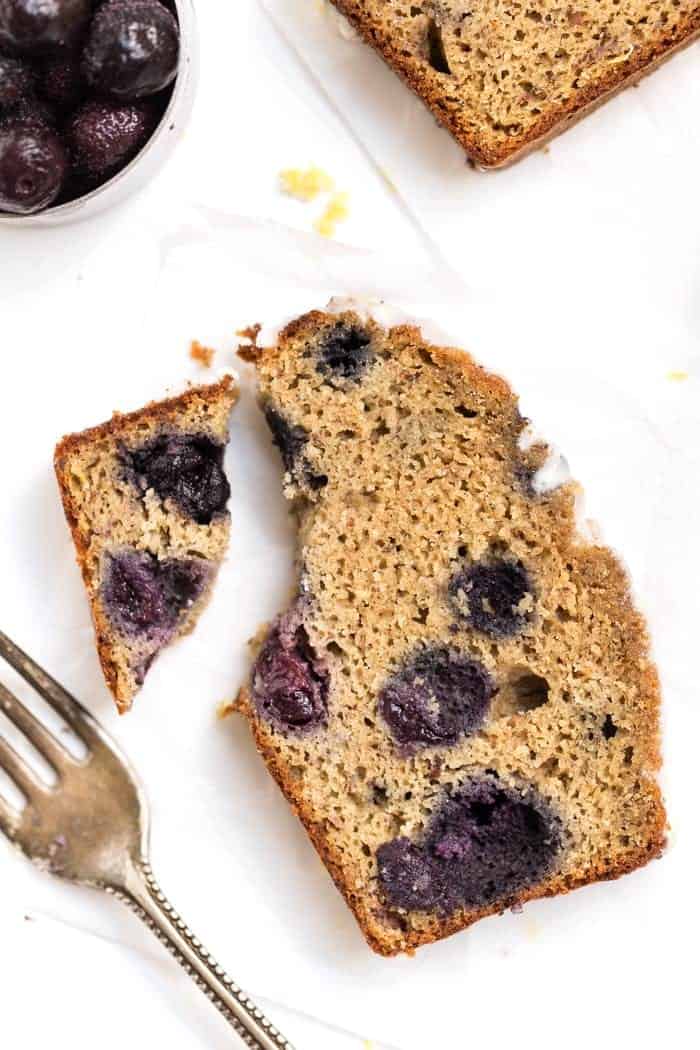 More Almond Flour Dessert Recipes To Try!
Healthy Blueberry Banana Bread
This is the healthiest Blueberry Banana Bread recipe you'll find. Made with almond flour and quinoa flour so it's high protein, naturally gluten-free and makes a delicious breakfast treat!

Servings 16 slices
Calories 130kcal
Instructions
Preheat the oven to 350ºF. Line a loaf pan with parchment paper and set aside.

Add the dry ingredients to the bowl and whisk to combine. In a separate bowl, beat together the eggs, mashed banana, oil, syrup and vinegar and beat until smooth.

Pour the wet ingredients into the dry and fold together. Once combined, fold in the blueberries.

Transfer batter to the prepared loaf tin, sprinkle with turbinado sugar (if using). Bake on the center rack for 45 - 50 minutes until the top has turned golden brown and a cake tester inserted into the center comes out clean.

Cool in the pan for 1 hour then transfer to a wire rack and cool completely before slicing.
Nutrition
Serving: 1slice | Calories: 130kcal | Carbohydrates: 13g | Protein: 4g | Fat: 7g | Cholesterol: 30mg | Sodium: 88mg | Potassium: 55mg | Fiber: 2g | Sugar: 5g | Vitamin A: 50IU | Vitamin C: 1.1mg | Calcium: 36mg | Iron: 0.8mg
This recipe is brought to you in partnership with Bob's Red Mill. As always, all opinions are my own. I only share companies I love and trust, so thank you for continuing to support Simply Quinoa!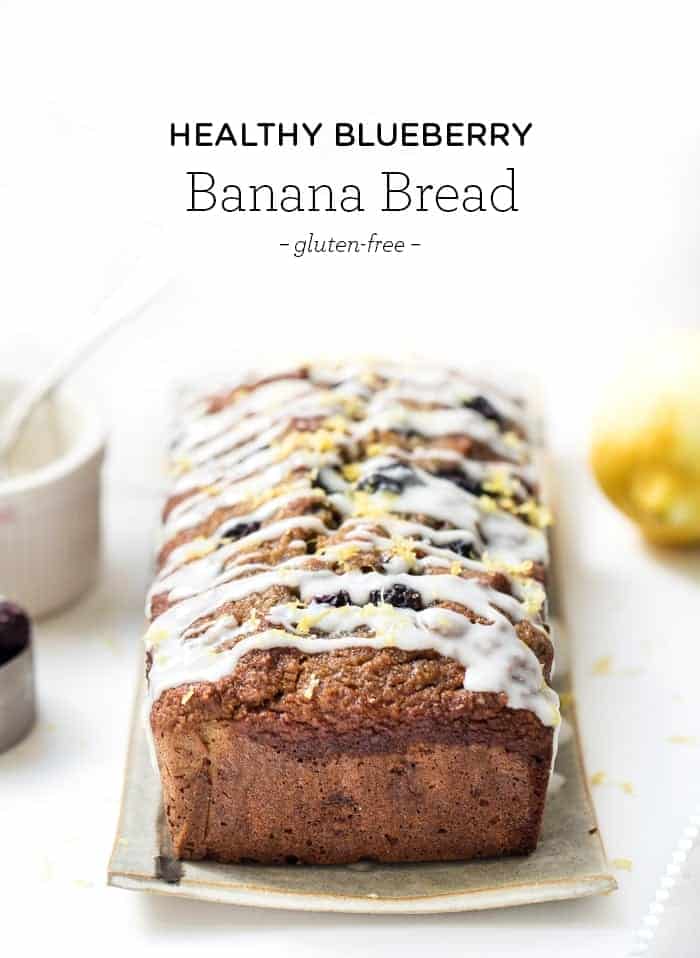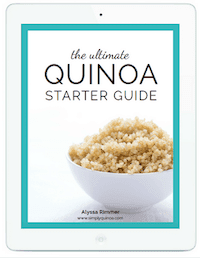 New to cooking quinoa? Grab your FREE Quinoa Starter Guide!
Become part of the Simply Quinoa community and receive weekly emails with exclusive content that I only share in email, as well as my in-depth guide to starting your quinoa journey.
share what you make
Tag #simplyquinoa on Instagram with your creations! We love sharing what you make with the community. We can't wait to see!

follow on instagram