Easy chana dal recipe with curry powder, turmeric, garam masala & fluffy quinoa coconut flatbreads on the side makes a healthy vegan dinner.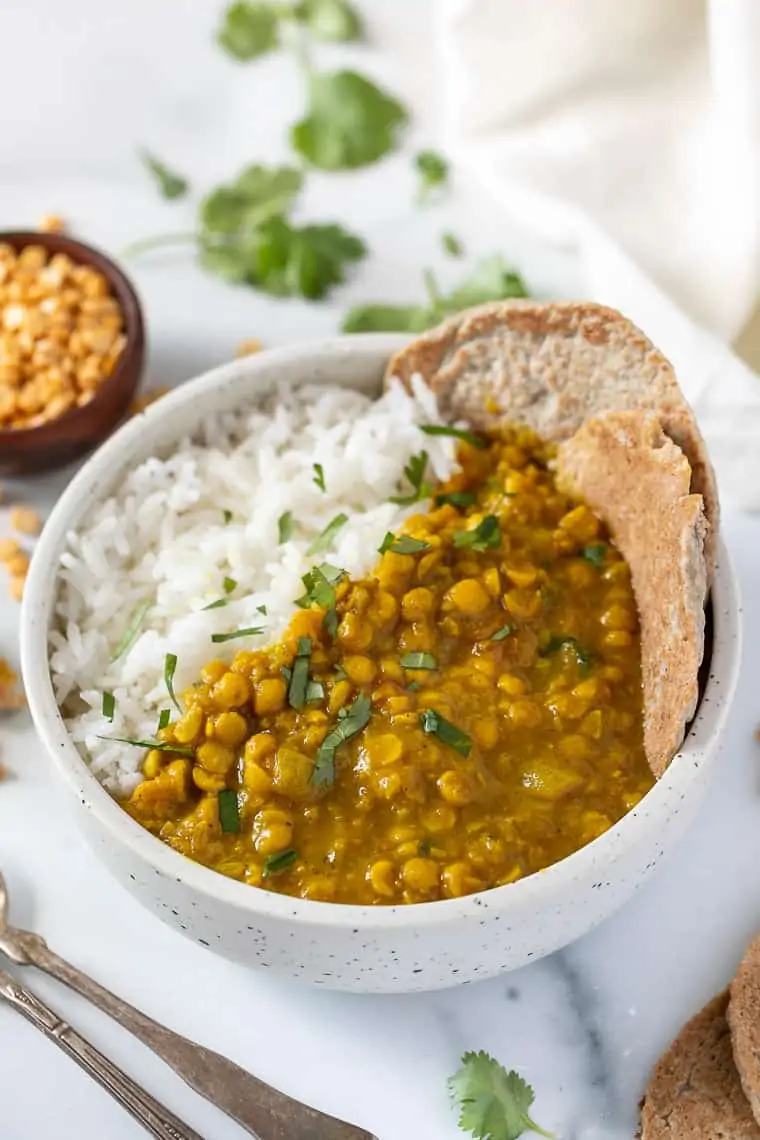 Ever heard someone say, "vegan food is bland" or "vegan food has no flavor"? That couldn't be farther from the truth!
And today's recipe is here to make your tastebuds sing. We're talking aromatic spices, soupy beans, all scooped up with homemade flatbreads. It's a plant-based feast that's easy to make and INCREDIBLY delicious.
We're making a simple chana dal and serving it with simple quinoa flatbreads. This recipe tastes amazing, takes about 40 minutes to make, and is something everyone who loves Indian flavors will adore.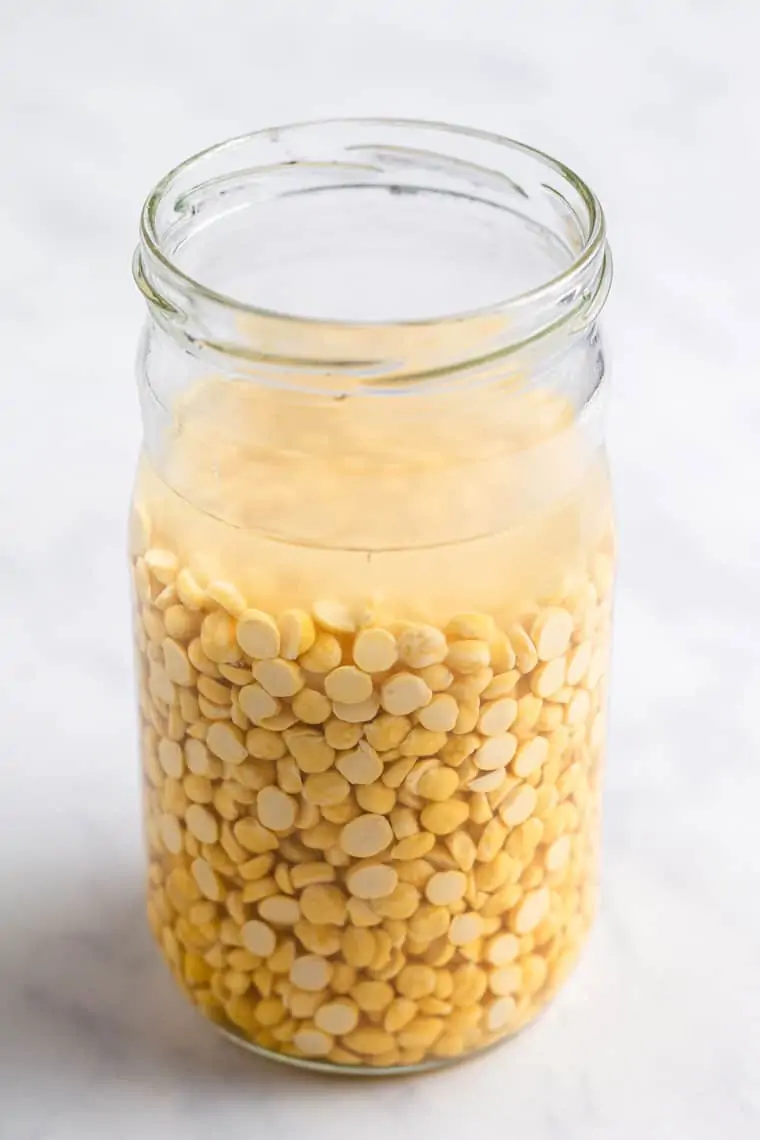 What is Chana Dal?
Translated into English, "chana dal" means split chickpeas. "Chana" means chickpea and "dal" refers to any split pulse. But chana dal is also a type of food. Cooked and simmered split chickpeas, that are then flavored with a delicious tomato-spice mixture that transforms them into this incredible curry-style dish.
Chana dal beans might sometimes be tricky to find, so if you can't find them, you can use split red lentils in their place. Just skip the soaking and cook for a little less time.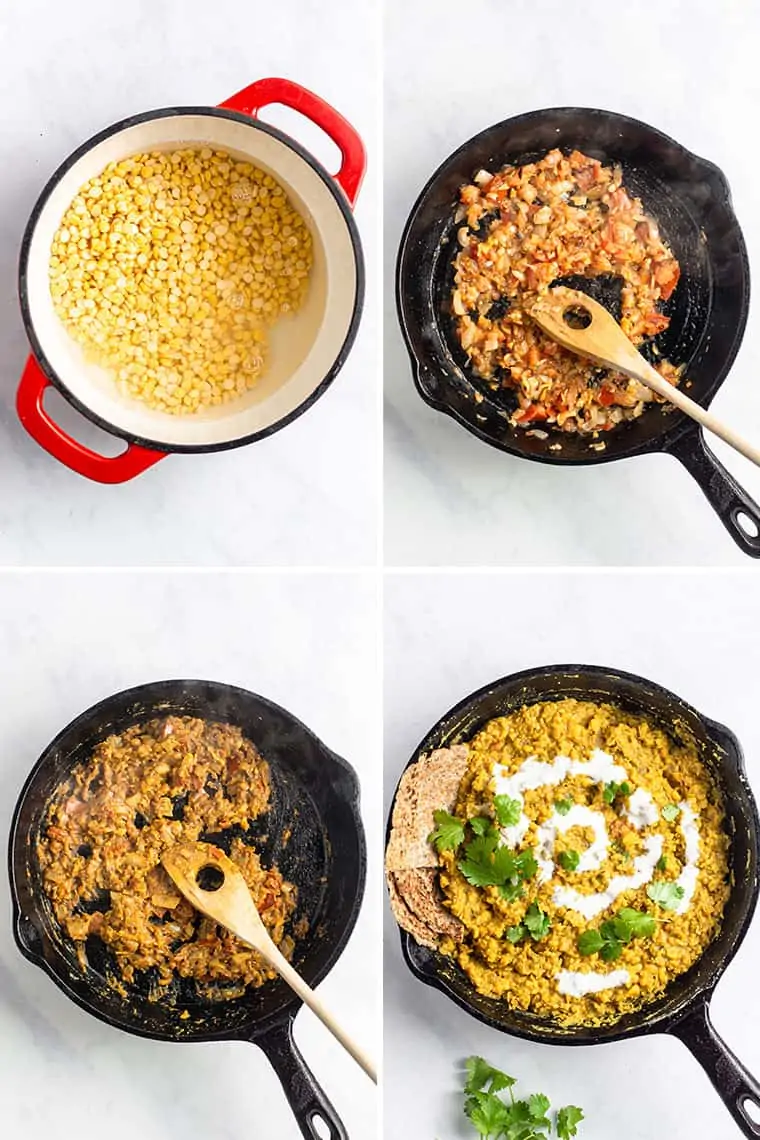 How to Cook Chana Dal
There are essentially four steps to making chana dal: soak the beans, cook the beans, cook the tomato-spice mixture, stir everything together. Start to finish, it should take you about 40 minutes of cooking time plus another 30 for soaking (if you want).
To make this quick chana dal recipe, here's what you'll need:
Chana dal: again, these are split chickpeas and can be found on Amazon if you can't find them locally
Olive oil: traditionally, you'll see ghee or butter used, but since I wanted to make this recipe vegan, we're using oil. Use whichever you prefer!
Garlic: I like to crush my garlic using a garlic press so that it evenly distributes throughout the meal.
Onion: I recommend a red onion just for the flavor, but you can use any type (or shallot if you want!)
Ginger: freshly grated ginger adds a really lovely zing to the dish that I think elevates the flavor to a whole other level!
Tomato: the tomato adds flavor, juiciness, and a touch of sweetness to the "sauce" which I think is absolutely amazing!
Spices: we're using a fair amount – curry powder, garam masala, turmeric, cardamom, coriander, salt + pepper
And of course, you'll cook the beans in some water!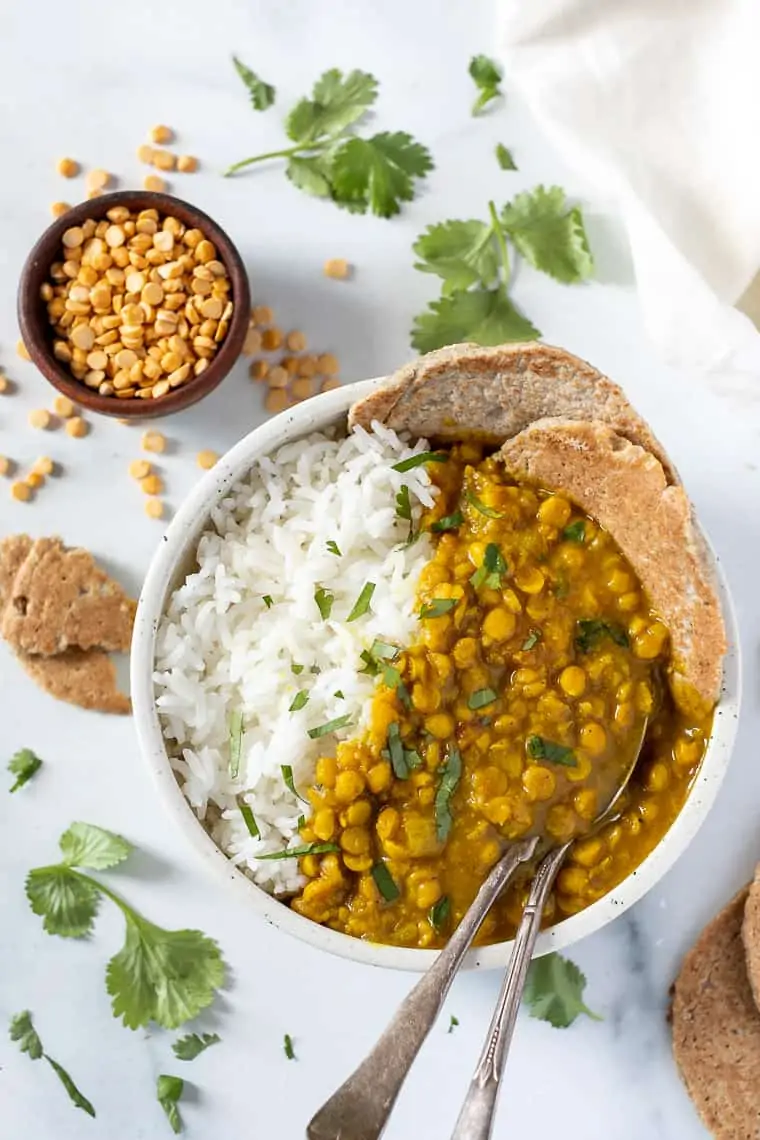 What to Serve with Chana Dal
Chana dal can be served as a side dish, or it can be the main attraction! Since I follow a primarily plant-based diet, I like to have it as my main dish and serve it up with some sides.
Most often, I'll serve chana dal with:
White jasmine or basmati rice
Flatbreads (these quinoa flatbreads are awesome or you can try my gluten-free naan)
Cilantro
Side salad
And that's dinner! So simple to make, SO flavorful and all can be made ahead if you want to meal prep it. I think you're going to absolutely love this easy chana dal recipe and I can't wait to hear what you think!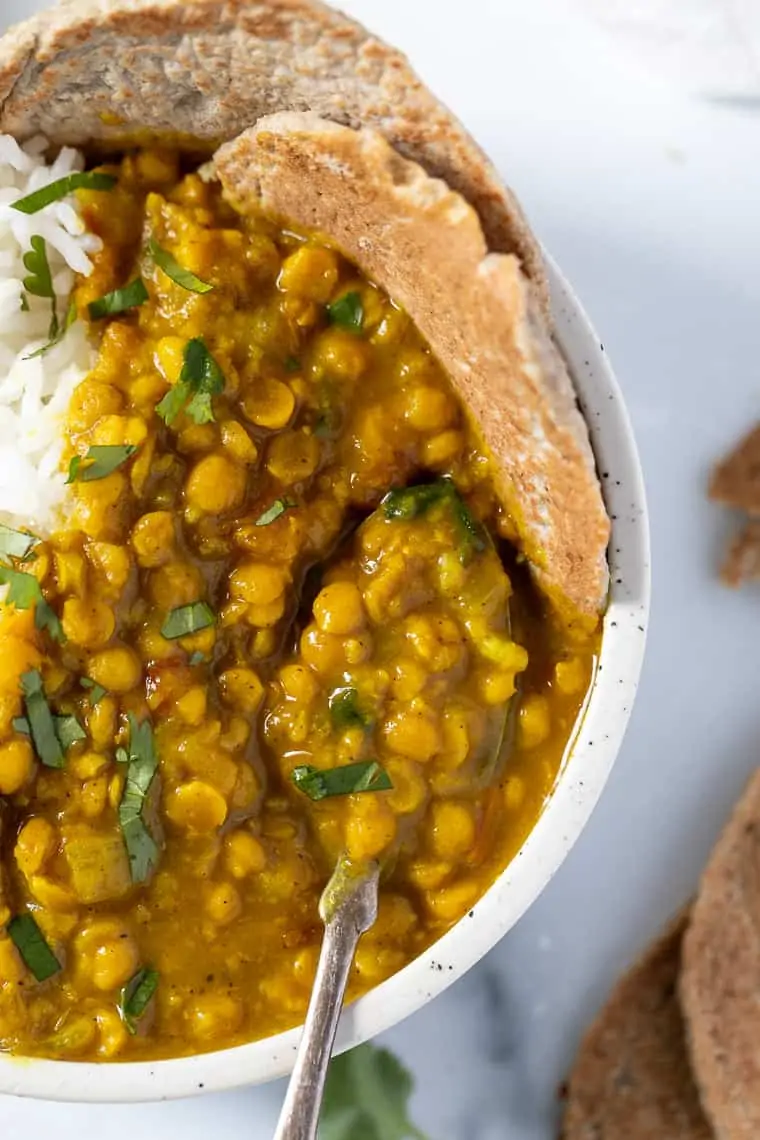 More Curry Inspired Recipes to Try:
Easy Chana Dal with Coconut Quinoa Flatbreads
Easy chana dal recipe in under 40 minutes and uses flavorful spices. Serve this chana dal with white rice and gluten-free quinoa flatbreads.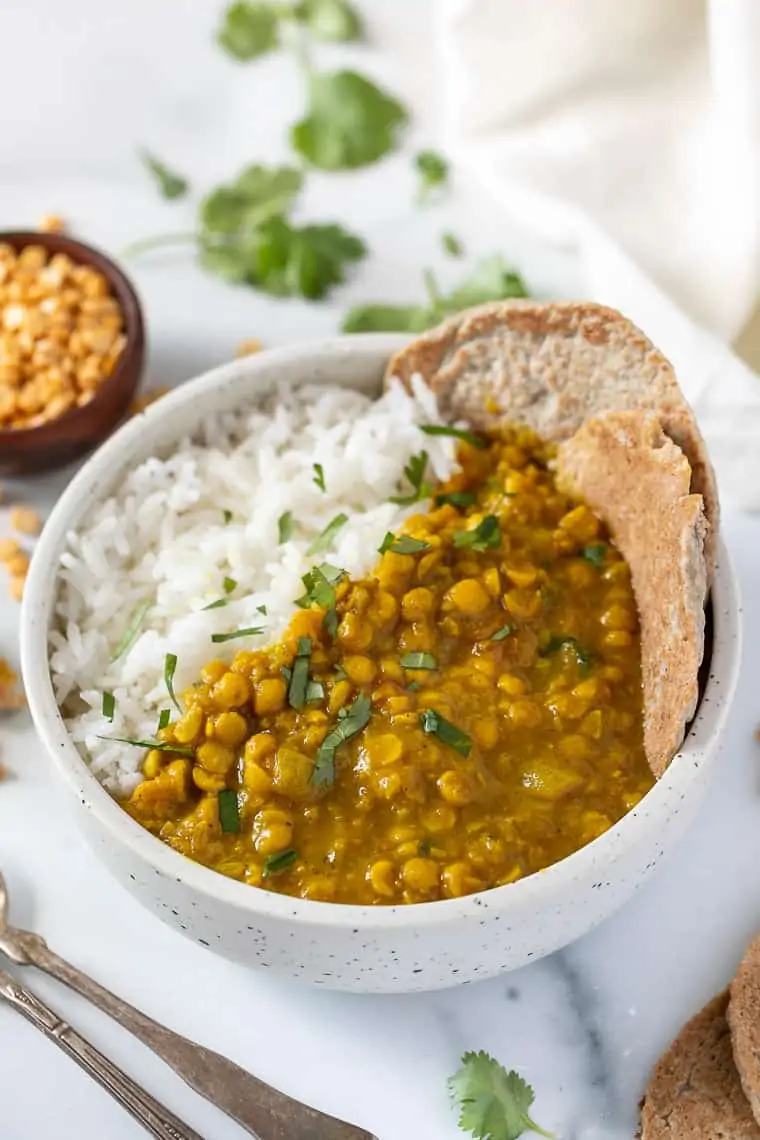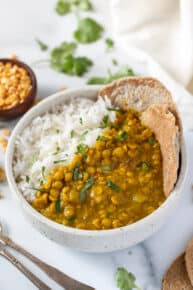 Ingredients
for the dal:
1

cup

chana dal beans

2 1/2

cups

water

1

tablespoon

olive oil

2

garlic cloves

, grated/minced

1

small onion

, diced (about 1/2 cup)

1

" piece of fresh ginger

, grated

1

small tomato

, chopped

1

teaspoon

curry powder

1/2

teaspoon

garam masala

1/2

teaspoon

turmeric

1/2

teaspoon

cardamom

1/2

teaspoon

coriander

Salt & pepper

1/4

cup

cilantro
Instructions
Soak the chana dal beans for at least 1 hour. Rinse and add to a pot along with the water. Bring to a boil, cover and reduce to simmer for 30 - 40 minutes until the beans are tender and the liquid is almost absorbed.

While the dal is cooking, heat the oil over medium heat in a pan. Once hot, add the garlic and onion and saute for 2 - 3 minutes until the onion is almost translucent. Add the ginger and tomato and cook another minute. Finally, add all the spices and cook for one to two additional minutes, until the mixture is fragrant and golden brown.

Next, make the crepes. Add all ingredients into a high powered blender and blend on high until smooth. Spoon 2 tablespoons of batter onto a lightly greased pan and swirl with the back of a spoon until they are thin and round. Cook for 1 minute then flip and cook for another 30 seconds. Repeat until no batter remains.

Remove from dal from the heat and gently mash a few of the cooked beans (this will make it thick and creamy). Stir in the spice mixture as well as the cilantro.

Serve dal with crepes (and some white rice if you want!) and enjoy.
Nutrition
Serving:
0.75
cup chana dal + 3 flatbreads
|
Calories:
421
kcal
|
Carbohydrates:
56
g
|
Protein:
14
g
|
Fat:
16
g
|
Saturated Fat:
7
g
|
Sodium:
29
mg
|
Potassium:
201
mg
|
Fiber:
18
g
|
Sugar:
4
g
|
Vitamin A:
324
IU
|
Vitamin C:
7
mg
|
Calcium:
151
mg
|
Iron:
4
mg
Filed Under: