These espresso cookies are chewy, moist, and packed with flavor. They're also dairy free, and only take about 20 minutes to make.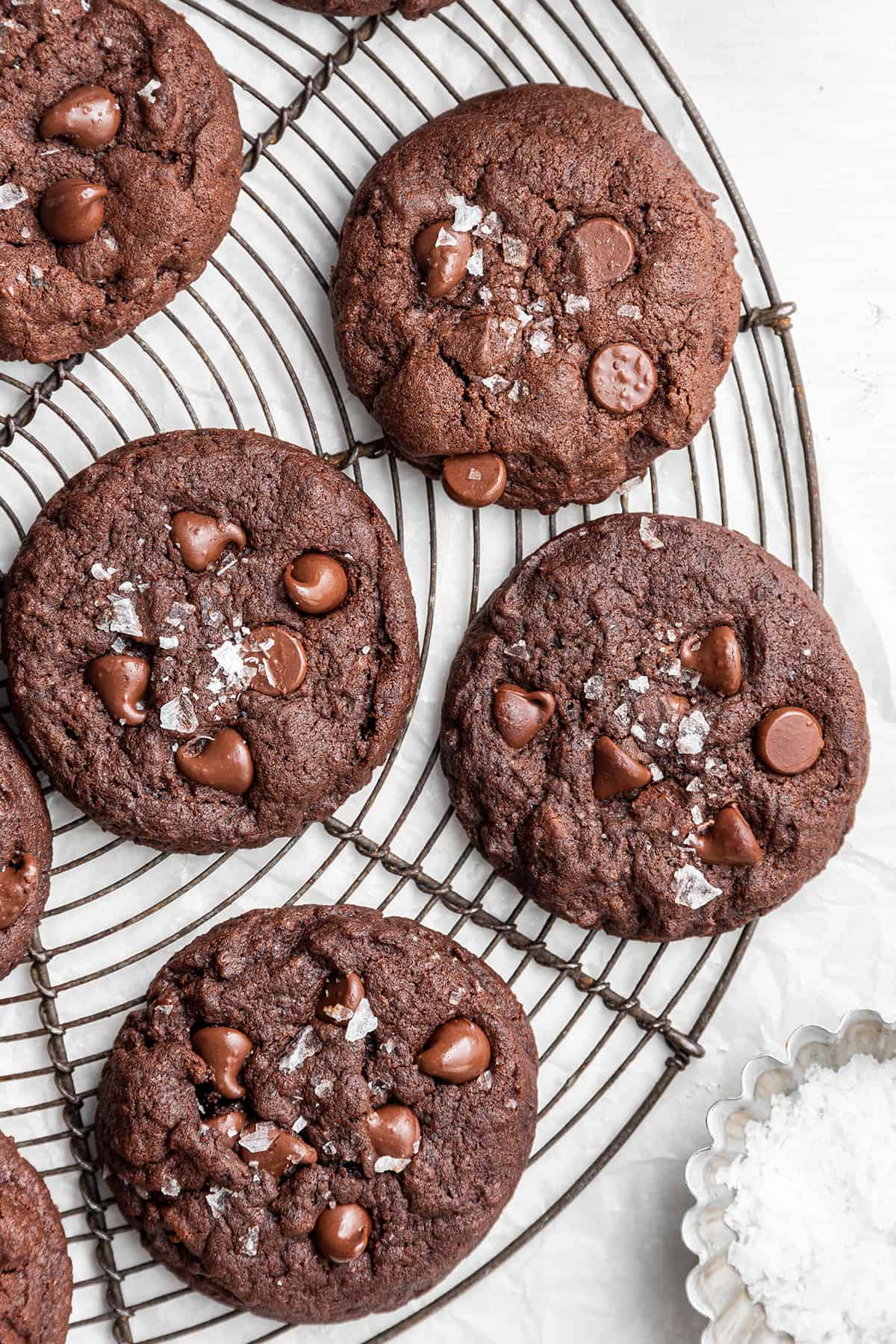 In my opinion, there aren't many flavor pairings that are better than chocolate and coffee. That's why this espresso cookie recipe is one of my favorite sweet treats. These cookies have two types of chocolate, with cocoa powder and bittersweet chocolate chips. They also have instant espresso powder, which gives the cookies just the right amount of bitterness to counter the sugar and the chocolate. And for a final burst of flavor, the cookies are topped with flaky salt.
Not only are these espresso cookies bursting with flavor, but they're gooey, soft, and chewy. They don't have any dairy, and they only take 20 minutes to make. In other words, this cookie recipe is basically flawless.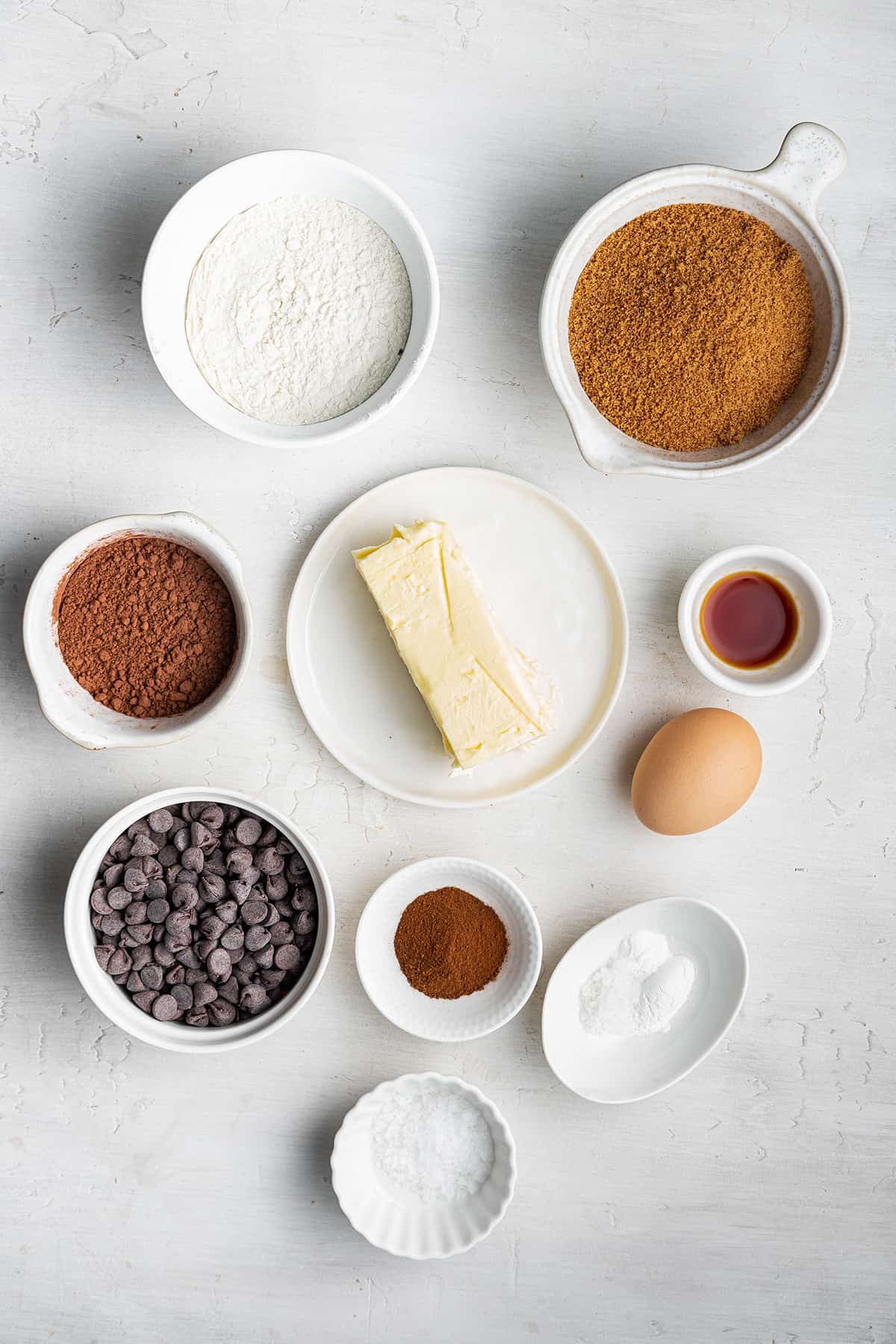 What You'll Need
Here are all the ingredients that you need for these espresso cookies. Make sure to check out the recipe card at the bottom of the article for all the exact quantities.
Vegan butter – Make sure that the butter is at room temperature.
Coconut sugar
Egg
Vanilla extract – Be sure to use pure vanilla extract, and not something with artificial flavors.
All-purpose flour – You can also use gluten-free flour if you're trying to make gluten-free cookies.
Cocoa powder – Make sure that you use unsweetened cocoa powder.
Instant espresso powder
Baking powder
Baking soda
Kosher salt
Bittersweet chocolate chips
Flaky sea salt
What is Coconut Sugar?
Coconut sugar is a natural sugar made from the sap of coconut trees. It has a fairly golden brown color, and a mild caramel flavor. It's a common baking alternative to granulated sugar.
How to Make Espresso Cookies
Here's how to make these chewy, melt in your mouth cookies.
Prep. Preheat the oven to 350F. Line a sheet pan with a silpat or parchment paper.
Cream the butter. Add the butter and sugar to a mixing bowl and beat until the mixture is fluffy.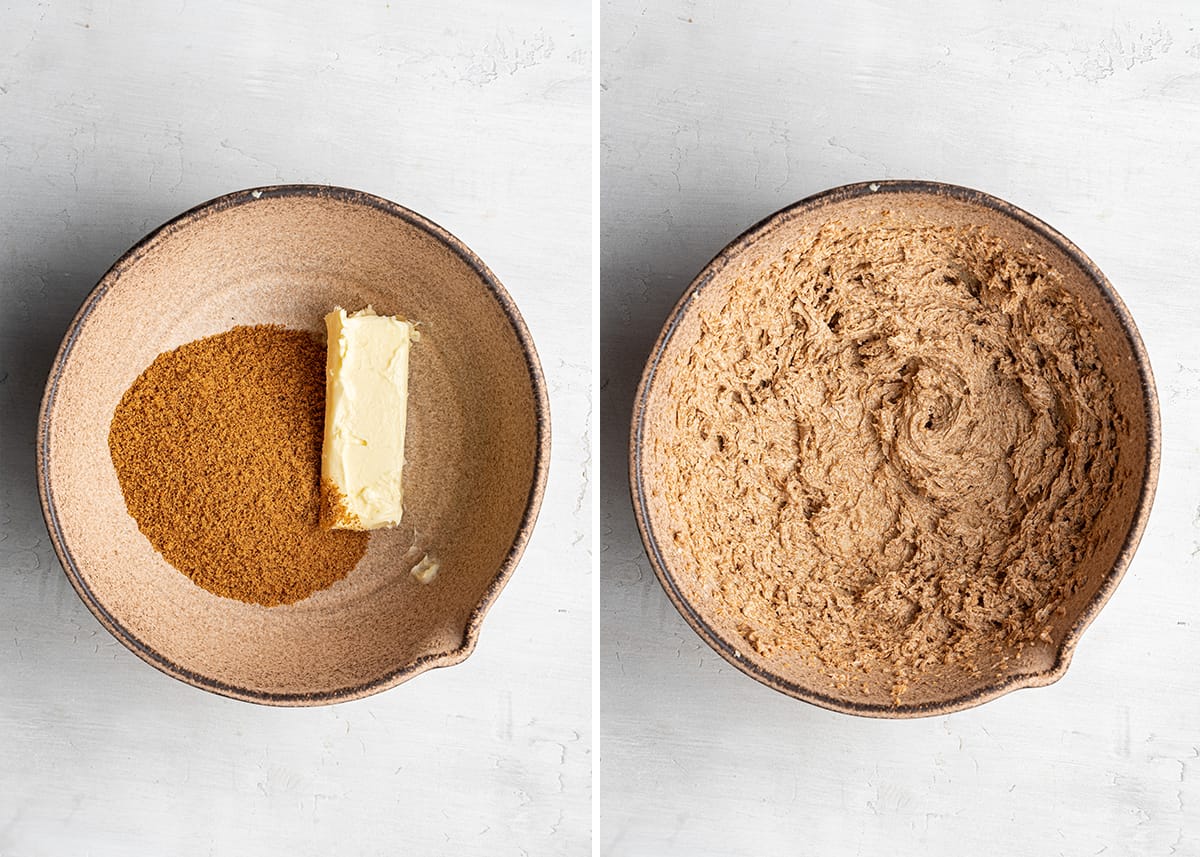 Add the egg. Put the egg in the bowl with the butter mixture, then add the vanilla. Beat until the mixture is smooth.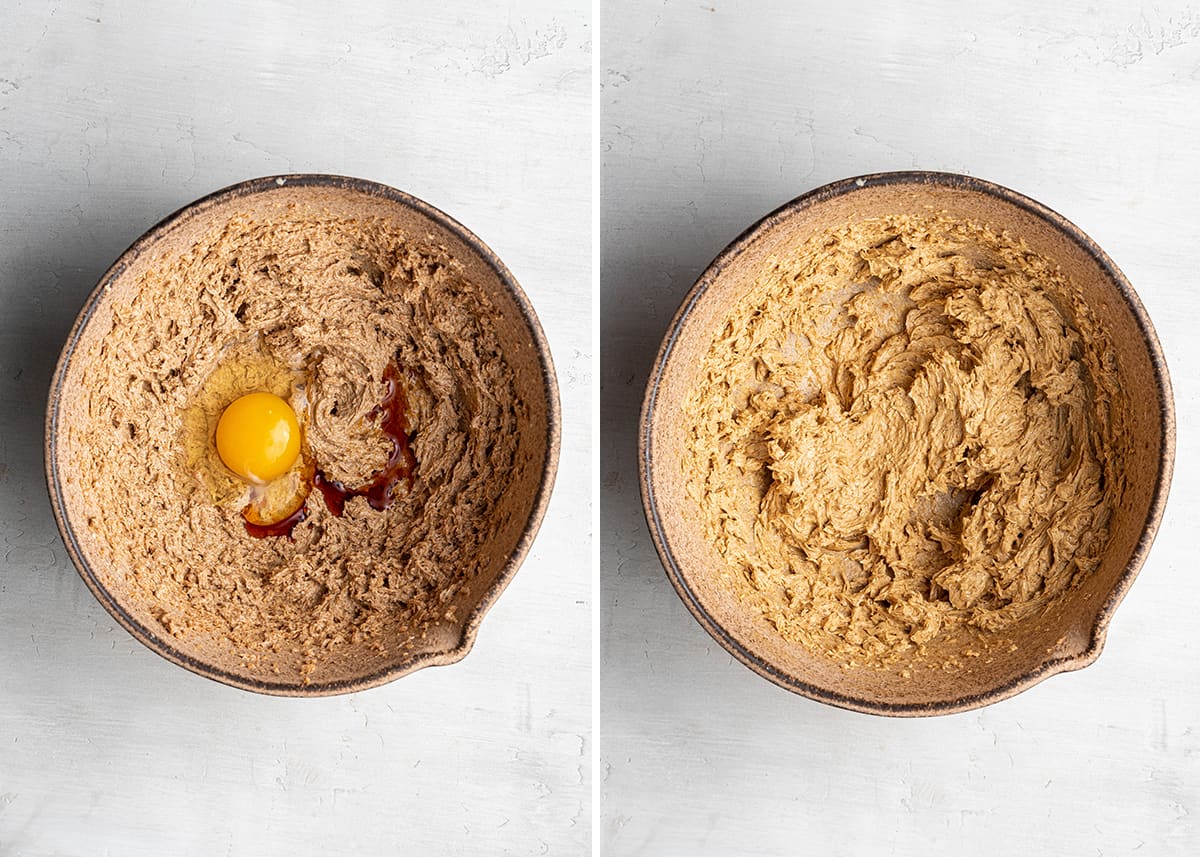 Mix the dry ingredients. In a different mixing bowl, add the flour, cocoa powder, espresso powder, baking powder, baking soda, and salt. Mix until everything is combined.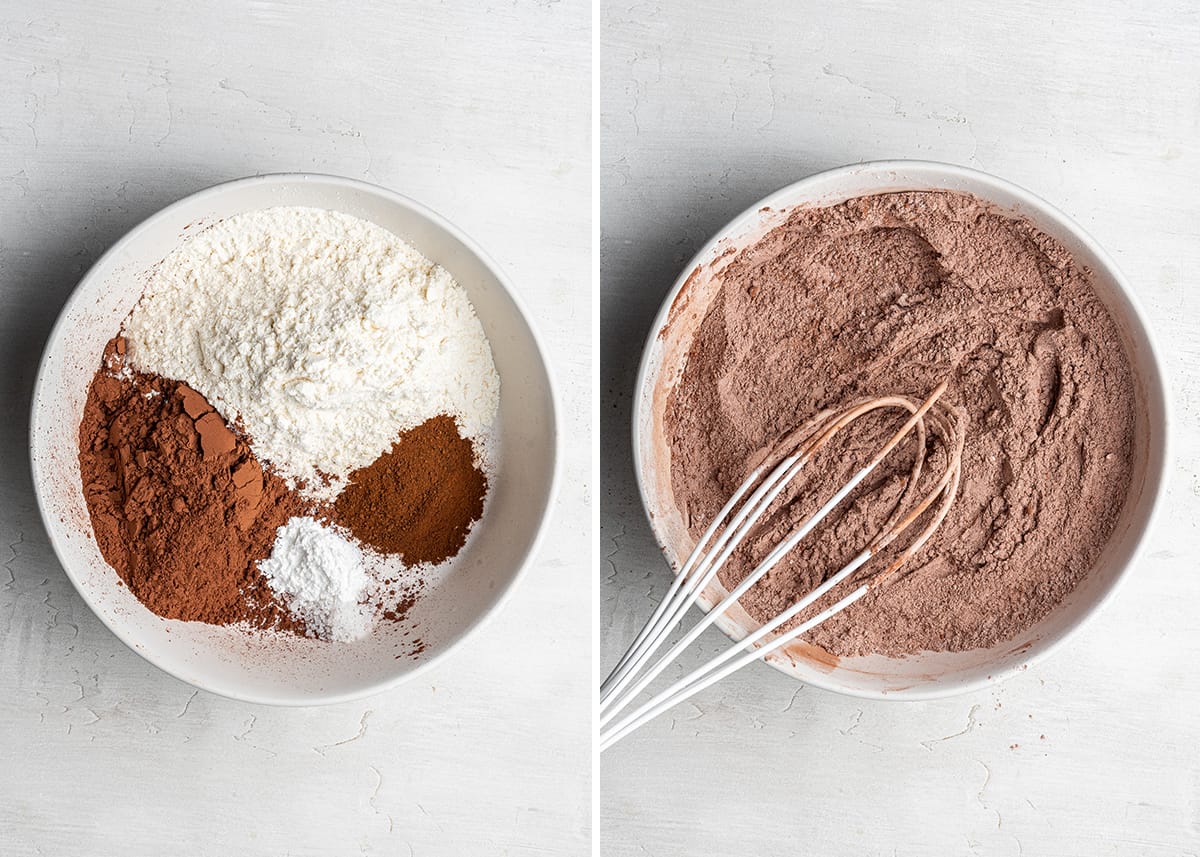 Combine the wet and dry ingredients. Add a third of the dry ingredients to the mixing bowl with the wet ingredients, and mix until combined. Repeat twice more until all of the ingredients are mixed together.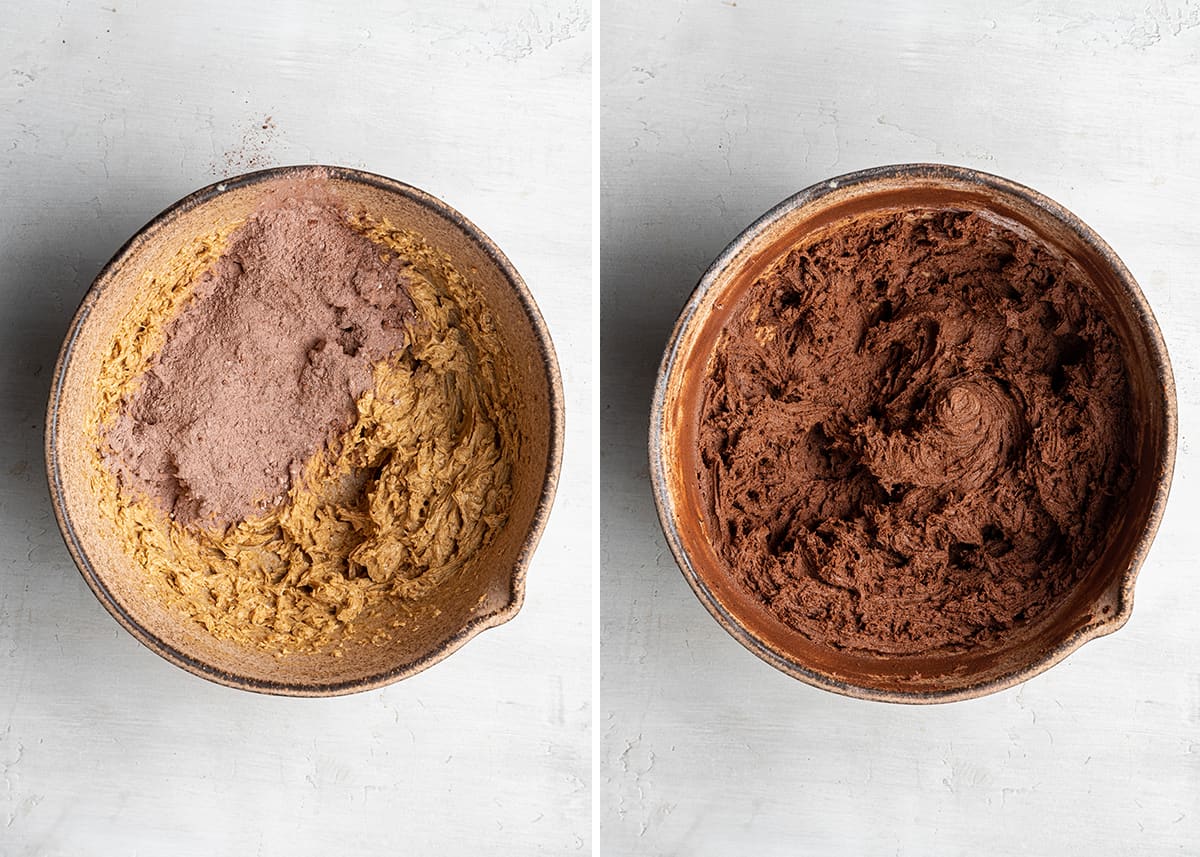 Add the chocolate chips. Carefully fold the chocolate chips into the cookie dough.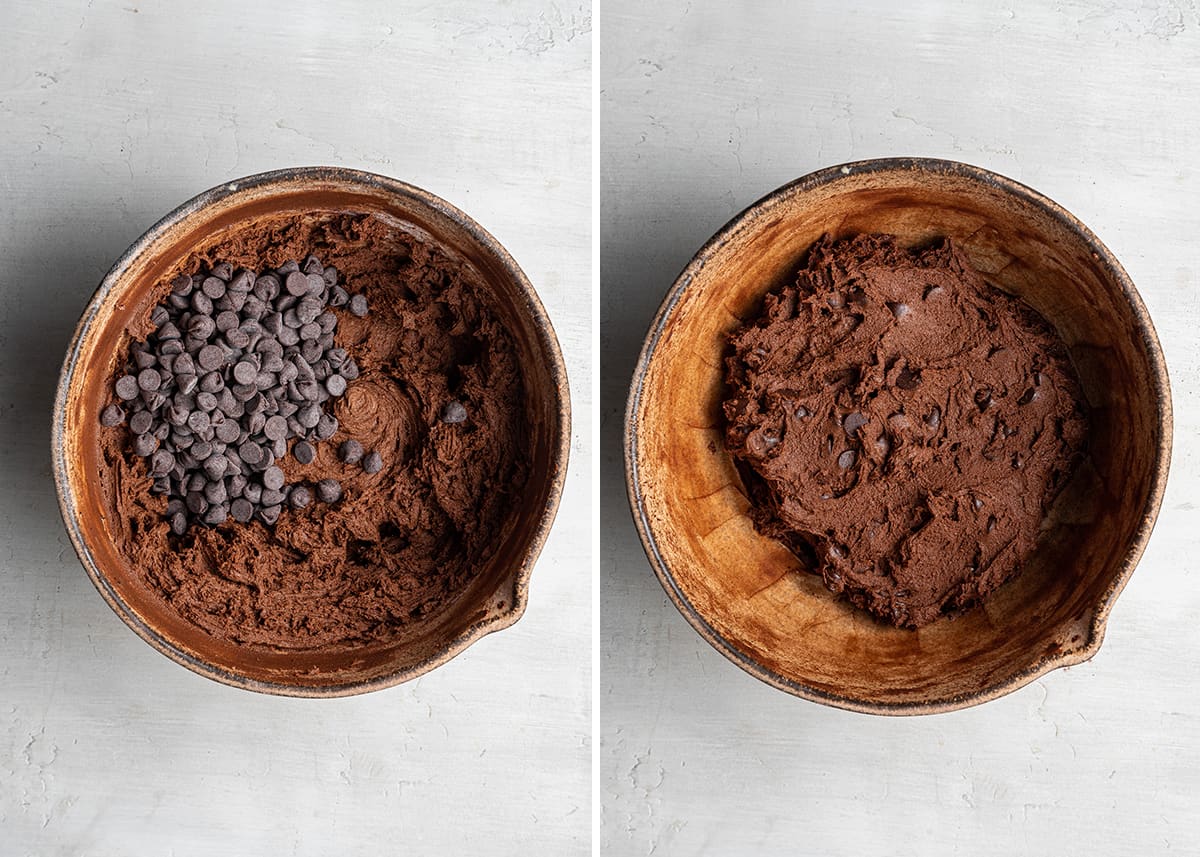 Shape. Using your hands, shape the cookie dough into 1.5-inch balls. Place the dough balls on the prepared baking sheet, leaving space between them.
Salt. Sprinkle flaky salt over the top of the cookies. Press the cookies down slightly, so they're mildly flattened.
Bake. Bake the cookies in the oven until the edges are set, which should take 8-9 minutes.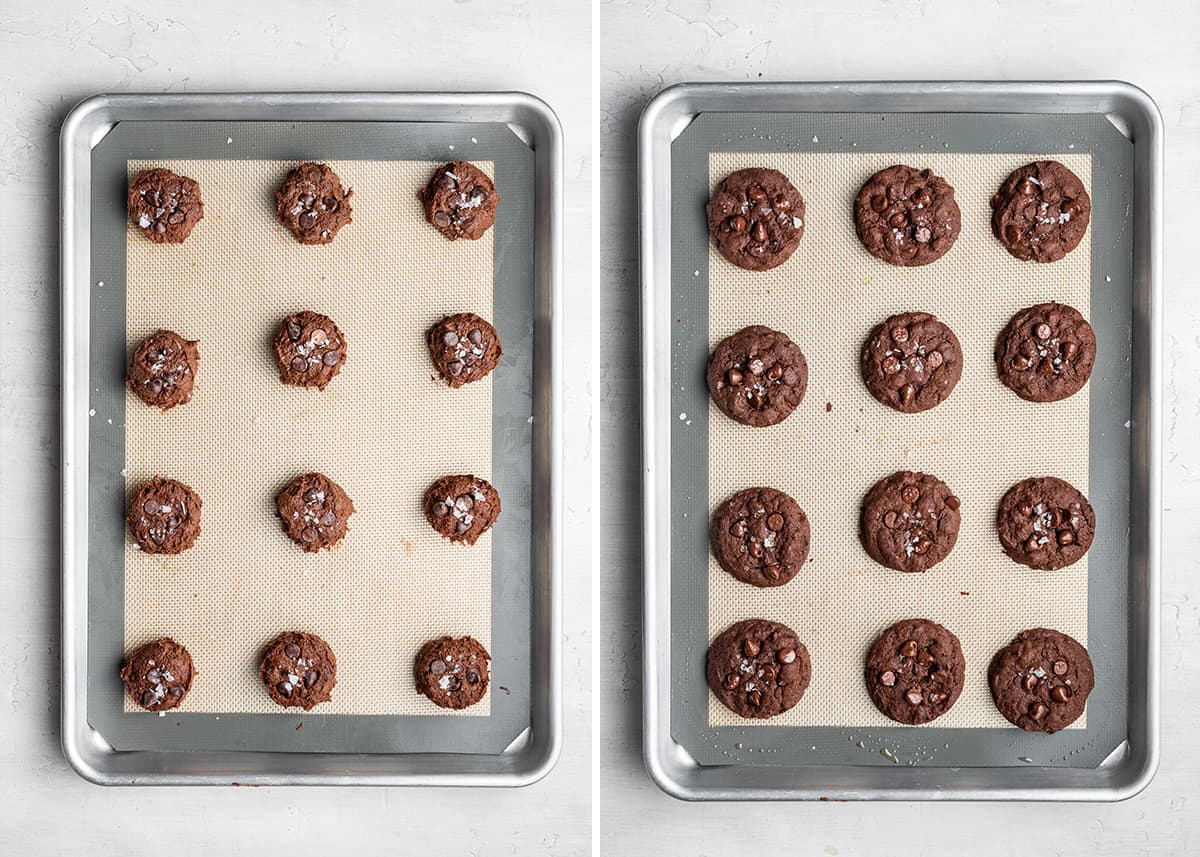 Cool. Let the cookies cool for 3-4 minutes, then transfer them to a wire rack to cool fully.
Tips for Success
Here are a few things you can do to make sure that you're making the best espresso cookies.
Use butter that's the right temperature. One of the most important parts of this recipe is the softened vegan butter. If the butter is too cold, it won't fully mix with the rest of the ingredients. But if it's too warm, it will start to break down and separate when mixed with the rest of the cookie dough. Make sure you use vegan butter that is soft enough that you can easily mix it, but not so soft that it's melting or losing its shape.
Don't over mix. One common mistake when making cookies is over mixing. If you over mix the dough, then you can end up overworking the gluten, which will make the cookies dense, rather than soft. When combining the wet and dry ingredients, only mix until the mixture is just combined.
Let them rest. These are some of the best smelling cookies you'll ever bake. When you take them out of the oven, you'll want to devour them instantly. For the best results, be a little patient, and let them cool before eating. This allows the cookies to firm up a little bit, giving them a chewy texture.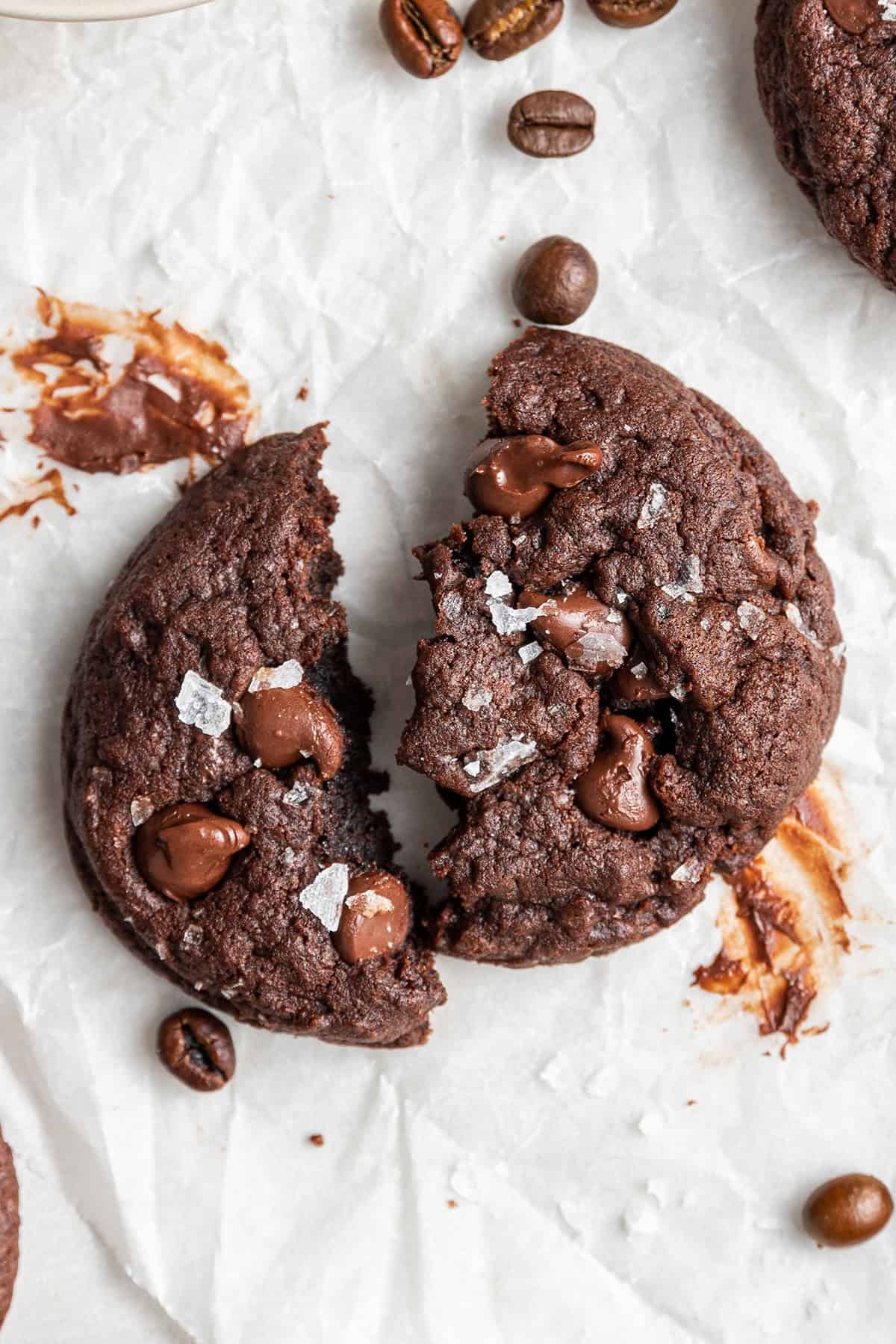 Can You Make the Dough Ahead of Time?
Yes! You can prepare these cookies well in advance. Make the dough, and store it in an airtight container for up to 3 days in the fridge, or for up to 3 months in the freezer. You can store the dough in one large piece, or portion it out and shape it before storing it in the fridge or freezer.
When you're ready to bake the cookies, place them on the prepared baking sheet, and follow the recipe from there. You'll likely need to tack on a few minutes to the baking time since the dough will be cold when you start baking the cookies.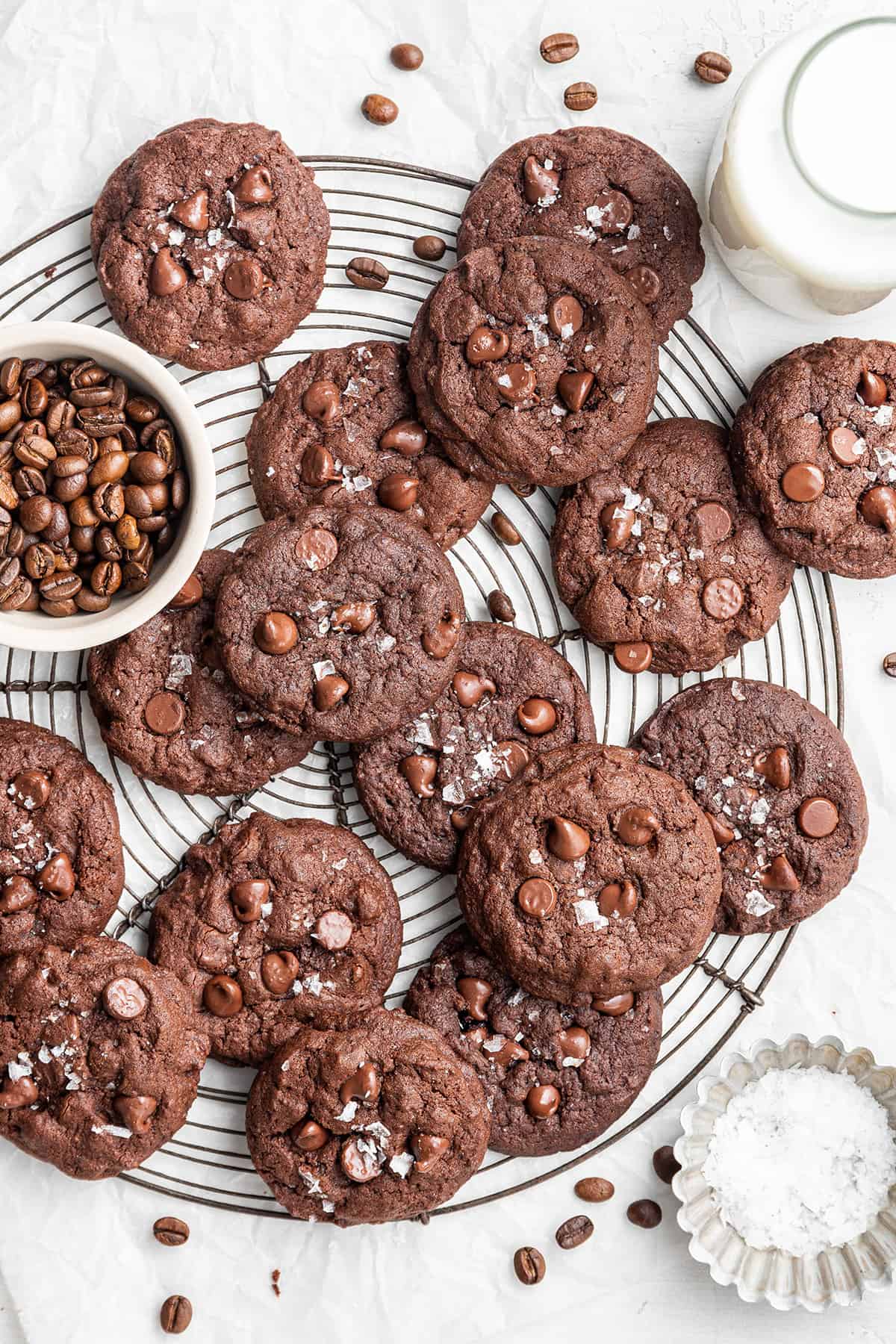 How to Store Leftover Espresso Cookies
You can store these cookies in an airtight container for up to 3 days at room temperature. You can also store them in an airtight container in the fridge for up to 1 week.
Can You Freeze This Recipe?
You sure can! Freeze these cookies in an airtight container for up to 6 months. You can thaw the cookies to room temperature, or you can reheat them in the oven. If you want to reheat them, place them on a baking sheet in a 325F oven for a few minutes.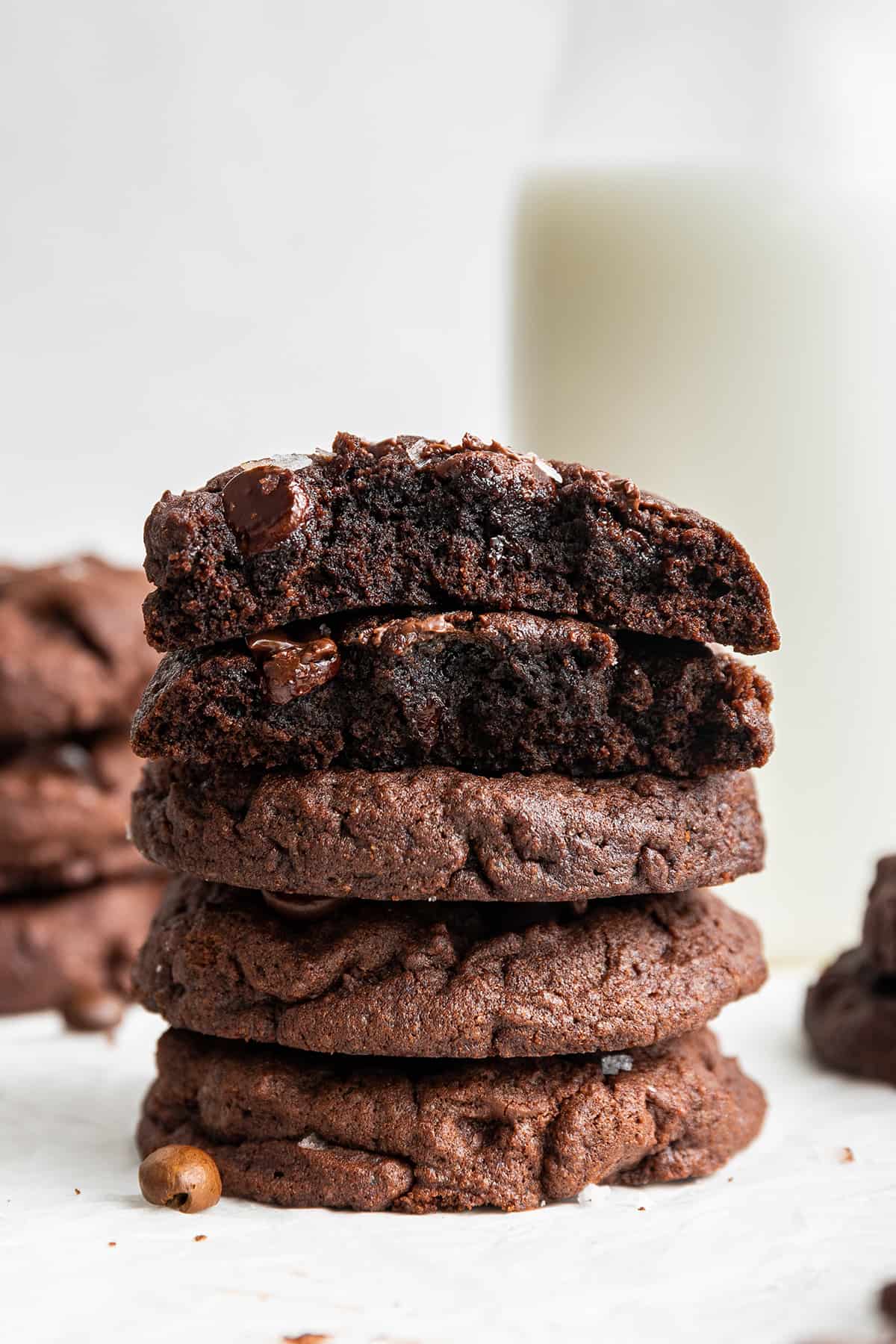 More Cookie Recipes to Try
I hope you loved these espresso cookies as much as I do. If you did, then check out a few of my other favorite cookie recipes.
Espresso Cookies
These espresso cookies are the perfect mixture of chocolate and coffee. Plus, they're dairy free, and only take 20 minutes to make.
Servings 20 cookies
Calories 123kcal
Ingredients
½ cup vegan butter , at room temperature
¾ cup coconut sugar
1 egg
1 teaspoon vanilla extract
¾ cup all-purpose flour (gluten-free if necessary)
¼ cup unsweetened regular cocoa powder
1 tablespoon instant espresso powder
½ teaspoon baking powder
¼ teaspoon baking soda
½ teaspoon kosher salt
1 cup bittersweet chocolate chips
Flaky sea salt
Instructions
Preheat the oven to 350°F. Put a silpat or parchment paper on a baking sheet.

In a medium mixing bowl or the bowl of an electric mixer, beat together the butter and sugar until light and fluffy. Add the egg and vanilla and beat until smooth and uniform.

In a separate bowl, combine the flour, cocoa powder, espresso powder, baking powder, baking soda and salt.

Add the dry ingredients to the wet ingredients in 3 increments, mixing until just combined. Fold in the chocolate chips.

Shape the dough into 1.5-inch balls and arrange on the prepared baking sheet, leaving an inch of space between each cookie. Sprinkle with flaky salt and press gently to flatten slightly.

Bake for 8-9 minutes, until set on the edges. Cool on the baking sheet for 3-4 minutes, until firm, then transfer to a wire rack to cool completely.
Notes
Store cookies in an airtight container at room temperature for 3 days, or in the fridge for 1 week, or in the freezer for 6 months.
Nutrition
Serving: 1cookie | Calories: 123kcal | Carbohydrates: 14g | Protein: 2g | Fat: 7g | Saturated Fat: 4g | Polyunsaturated Fat: 1g | Monounsaturated Fat: 2g | Trans Fat: 0.03g | Cholesterol: 8mg | Sodium: 133mg | Potassium: 97mg | Fiber: 1g | Sugar: 7g | Vitamin A: 229IU | Vitamin C: 0.04mg | Calcium: 38mg | Iron: 0.5mg
share what you make
Tag #simplyquinoa on Instagram with your creations! We love sharing what you make with the community. We can't wait to see!

follow on instagram