These dairy free hot chocolate cookies are delicious, easy to make, and healthy! They're the perfect healthy Christmas treats. Everyone loves a good hot cocoa cookie!
Today's new recipe is all about those times when you're craving a cup of vegan hot chocolate, but also a cookie. Those times when chocolate is all you can think about. When I saw a traditional version of these hot cocoa cookies, I knew I had to make my own version. And you know…give them a little SQ magic to make them healthy, gluten-free, and vegan.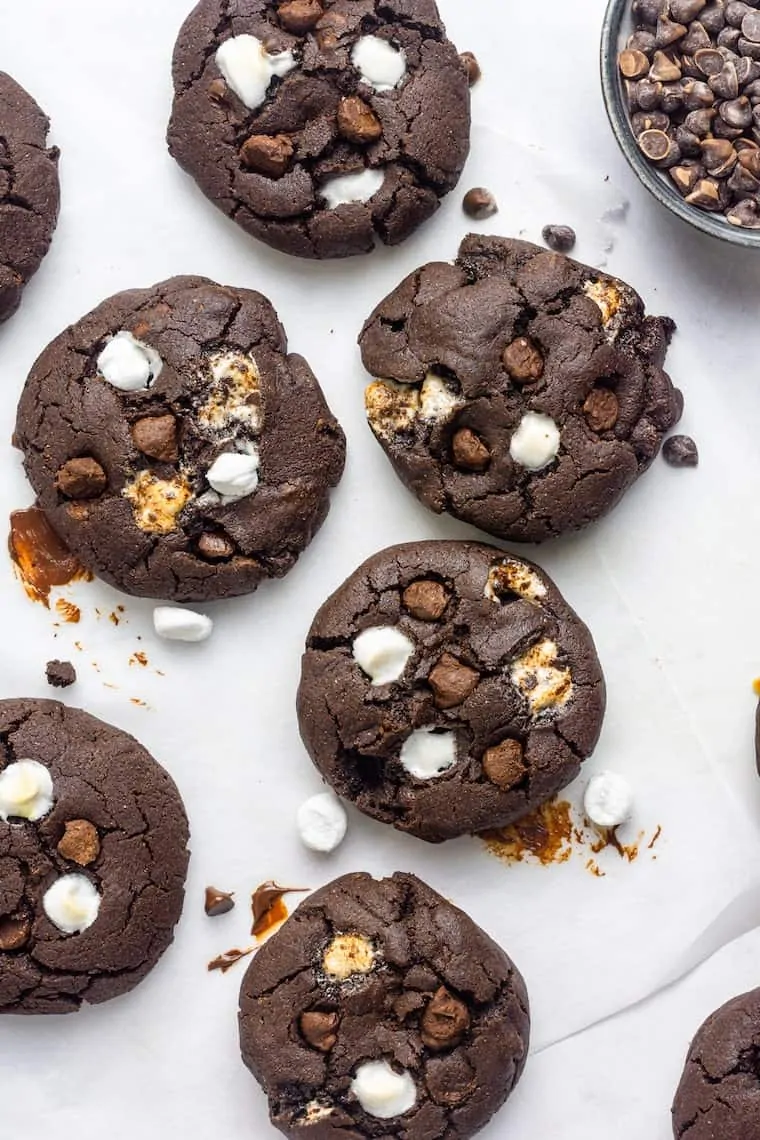 And that's exactly what we did!
We made the most delicious dairy free hot chocolate cookies with a chewy chocolate base, dark chocolate chips, and mini vegan marshmallows. They're literally perfect for the holidays! We're combining everyone's love of chocolate (i.e. the chocolate and marshmallow combo), with a tasty gluten-free chocolate cookie base.
Is there anything better?!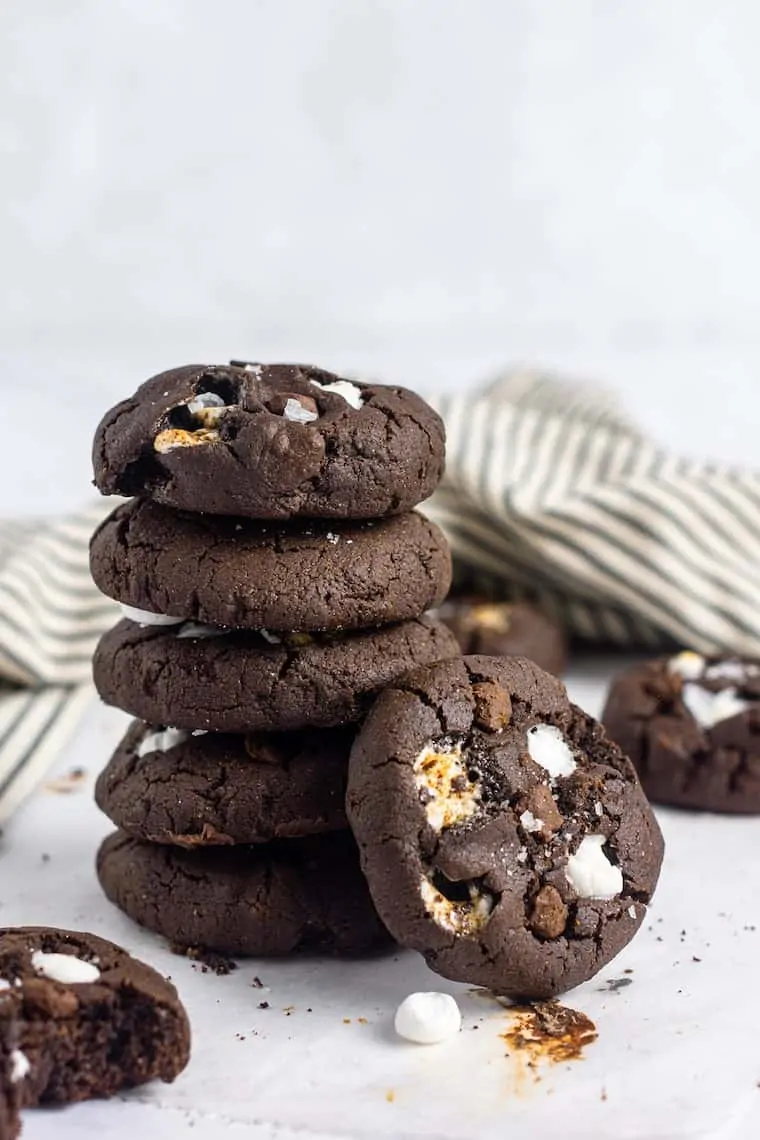 Why You'll Love these Dairy Free Hot Chocolate Cookies!
If you're looking for the ultimate healthy holiday treat, these are it. And there are so many reasons you're going to fall in love with this recipe! They obviously follow my traditional recipe criteria (gluten-free, dairy-free, refined sugar-free), but on top of all that, these cookies are:
ready in one bowl
have double chocolate (base + chips)
use a wholesome blend of flours
have a soft, chewy texture
make an amazing holiday gift
Not to mention, they only use one bowl!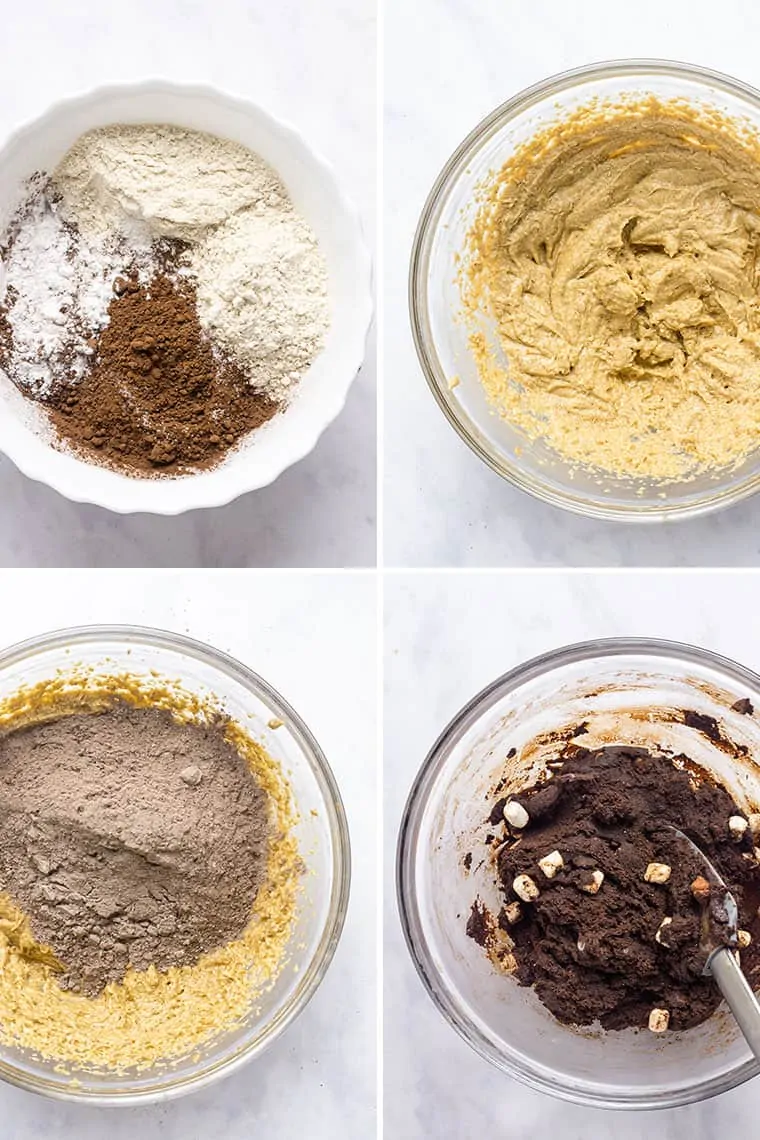 How to Make Hot Chocolate Cookies
Just like other traditional cookie recipes, we're keeping things fairly straightforward with these ones. We start by beating together the sugar and butter, then add in our egg and beat it all until smooth. Finally we beat in our dry ingredients and fold in our mix-ins, and then we're ready to bake!
Some of the ingredients you're going to love in these hot cocoa cookies are:
Sorghum flour: a light and healthy gluten-free flour, I love the texture this flour brings!
Quinoa flour: I'm sure there's no surprise that I've snuck in some quinoa flour as well – hello extra protein!
Cacao powder: you can really use any type of cocoa powder you want – I love raw cacao because it has more nutritional benefits and it's a bit mellower in flavor
Vegan butter: since these are cookies after all, I decided to use traditional vegan butter. I love the flavor and texture it adds!
Coconut sugar + maple syrup: my two favorite sweeteners combined to make one perfect refined sugar-free treat!
Egg: I haven't actually tested these cookies vegan, but I think with a flax egg, you'd be fine!
Mix-ins: and then of course we have our dark chocolate chips and mini marshmallows to finish it off!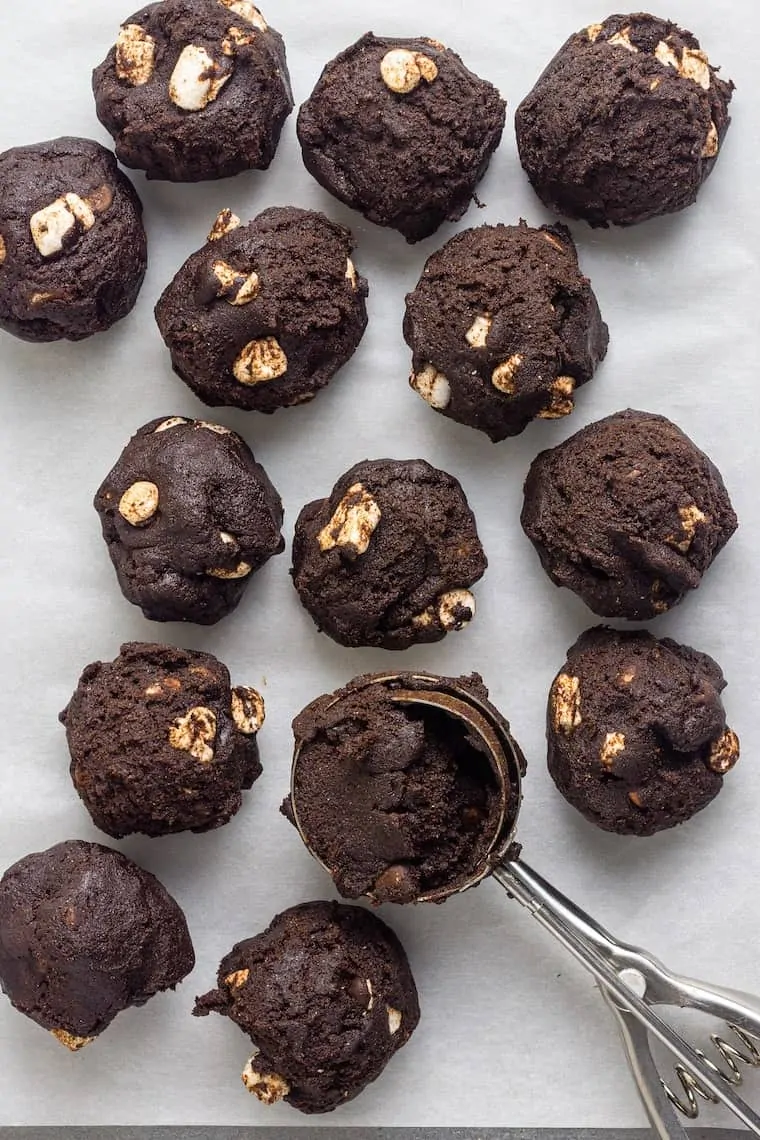 What is Sorghum Flour?
I don't use sorghum flour all that often in my recipes, so I wanted to give you a quick overview. Sorghum flour is a gluten-free flour that's made from sorghum grain. The grains (or technically seeds) are milled to create a light, fluffy flour that is great for gluten-free baking. I love using sorghum in my baking because it's not as grainy as brown rice flour, but it still has that light texture and flavor. If you can't find sorghum flour, you could swap it with additional quinoa flour in the recipe (although I would recommend toasting your quinoa flour to remove some of the bitterness).
Making Swaps in Dairy Free Christmas Cookies
In case you need to make some changes to this recipe, here are some tips:
vegan butter → regular butter, margarine, or softened coconut oil. I think you could also use nut butter here, but haven't tested it!
sorgum flour → more quinoa flour should be fine
quinoa flour → more sorghum or potentially oat flour will work
tapioca → I don't think you necessarily need this, but if you have cornstarch or potato starch, that would be best!
egg → as I said, I think you could make these fully vegan by using a flax egg
Any other swap requests? Let me know what questions you have in the comments and I'll get back to you!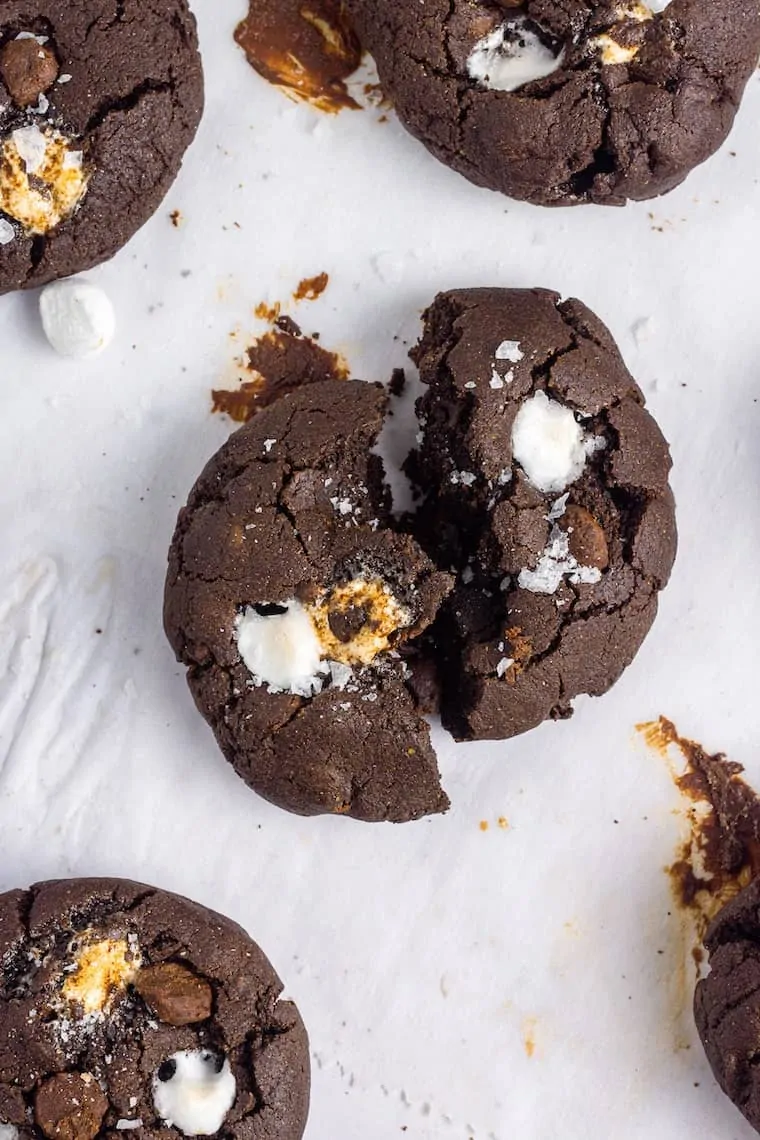 Make-Ahead Healthy Christmas Cookies
Now I know you're just drooling to dive into these cookies, but let me quickly give you a few tips on making them ahead/storing them.
Can You Freeze Cookie Dough?
First up, yes! Cookie dough can absolutely be frozen. I suggest freezing your cookie dough in scoops (see two photos above ↑) and then baking them up. You can bake from frozen, by using a lower temp (325ºF) and baking them for 2 – 3 minutes longer. Or you could let your dough thaw and then bake them as normal.
How to Store Hot Chocolate Cookies
The best way to store any cookie is either on the counter in a sealed container or frozen. And really it depends on how quickly you plan on eating them. If you'll eat them in a day or two, the counter is fine. Any longer and I'd say freeze them!
How Long Can Cookies be Kept on the Counter?
Gluten-free baked goods do tend to dry out rather quickly and these are no exception. I think they're good for about a day or two, but I would freeze any extras beyond that point. If you do end up leaving them out too long, you can salvage them by quickly popping them in the microwave for 15 – 20 seconds. They'll turn all nice and gooey again!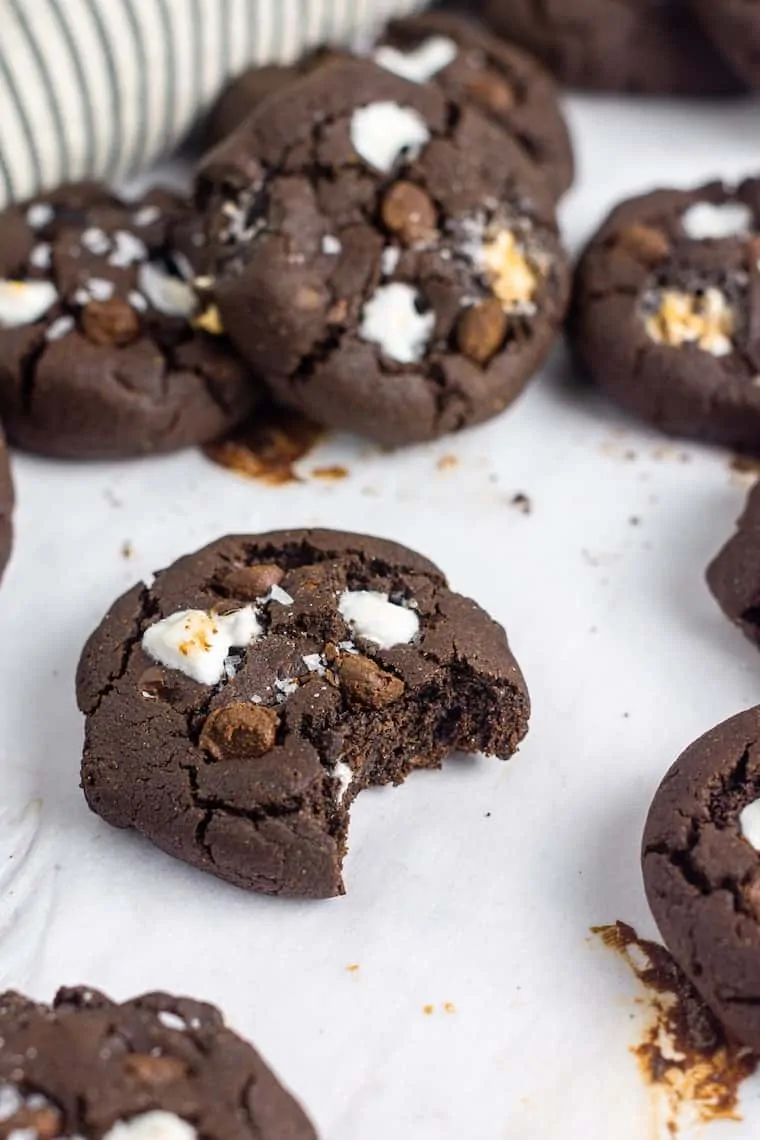 And there you have it! The perfect gluten free dairy free Christmas cookie ❤️ I can't wait to hear what you think of these! When you end up making them, let me know what you think by coming back to this post and leaving a rating!
More Healthy Christmas Treats to try
Vegan Hot Chocolate Cookies
These vegan hot chocolate cookies are delicious, easy to make, and healthy! They're the perfect healthy Christmas treats. Everyone loves a good hot cocoa cookie!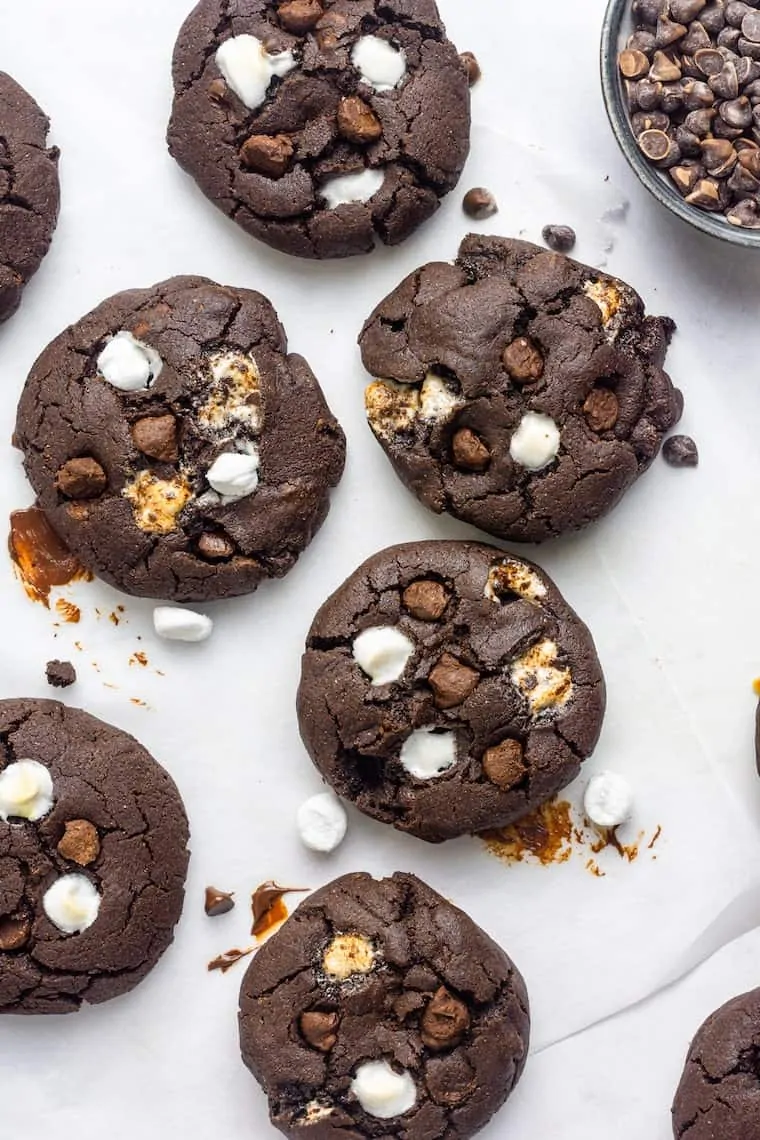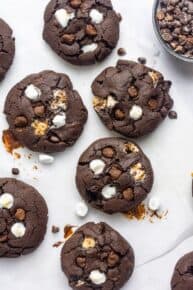 Instructions
Preheat oven to 350ºF and line a baking sheet with parchment paper.

Whisk together the flours, cocoa powder, and other dry ingredients (minus the sugar) in a medium mixing bowl and set aside.

Beat together the butter and sugar until fluffy. Beat in remaining wet ingredients.

Add half of the dry ingredients into the wet ingredients and beat together until combined. Add in the rest of the dry ingredients and continue to mix until you have a thick, cookie-like dough. Fold in the chocolate chips and marshmallows.

Scoop the dough onto the baking sheet and gently flatten with your hands (this is optional, but make the cookies more uniform in shape).

Bake in the center of a warm oven for 12 minutes, until the edges are lightly browned and the top of the cookies is still slightly tender to the touch.

Cool on a wire rack for 5 - 10 minutes and enjoy!

Dunk these babies in a glass of almond milk (or regular milk if you so choose) and relish in the chocolatey goodness that you just created.
Nutrition
Serving:
1
cookie
|
Calories:
167
kcal
|
Carbohydrates:
25
g
|
Protein:
3
g
|
Fat:
7
g
|
Saturated Fat:
3
g
|
Cholesterol:
12
mg
|
Sodium:
184
mg
|
Potassium:
130
mg
|
Fiber:
2
g
|
Sugar:
11
g
|
Vitamin A:
222
IU
|
Calcium:
35
mg
|
Iron:
1
mg
Filed Under: