These vegan espresso brownies are a unique twist on the traditional brownie, using way healthier ingredients. They're gooey, use just one bowl and taste amazing!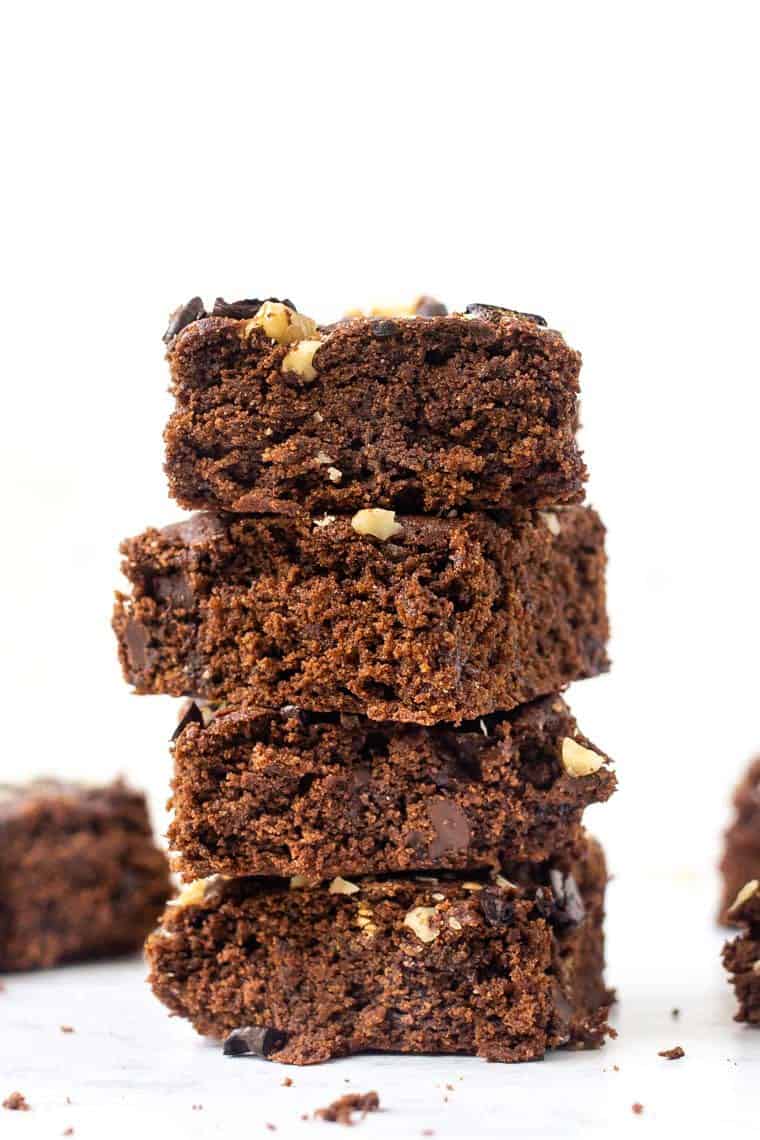 For the longest time, I've avoided coffee. Not for any particular reason, more just that about 6 years ago I did this cleanse and it cut out coffee and I just honestly got out of the habit.
And now with matcha, I just don't really need it in my day-to-day routine.
But coffee is one of those flavors that I simply adore. I love when Matt makes coffee in the morning and our whole house smells like it. I love what it tastes like. And I especially love coffee-flavored treats. Mocha overnight oats? I'm in. Coffee ice cream? Heck yea! But these vegan espresso brownies? Holy moly, out of this world delicious!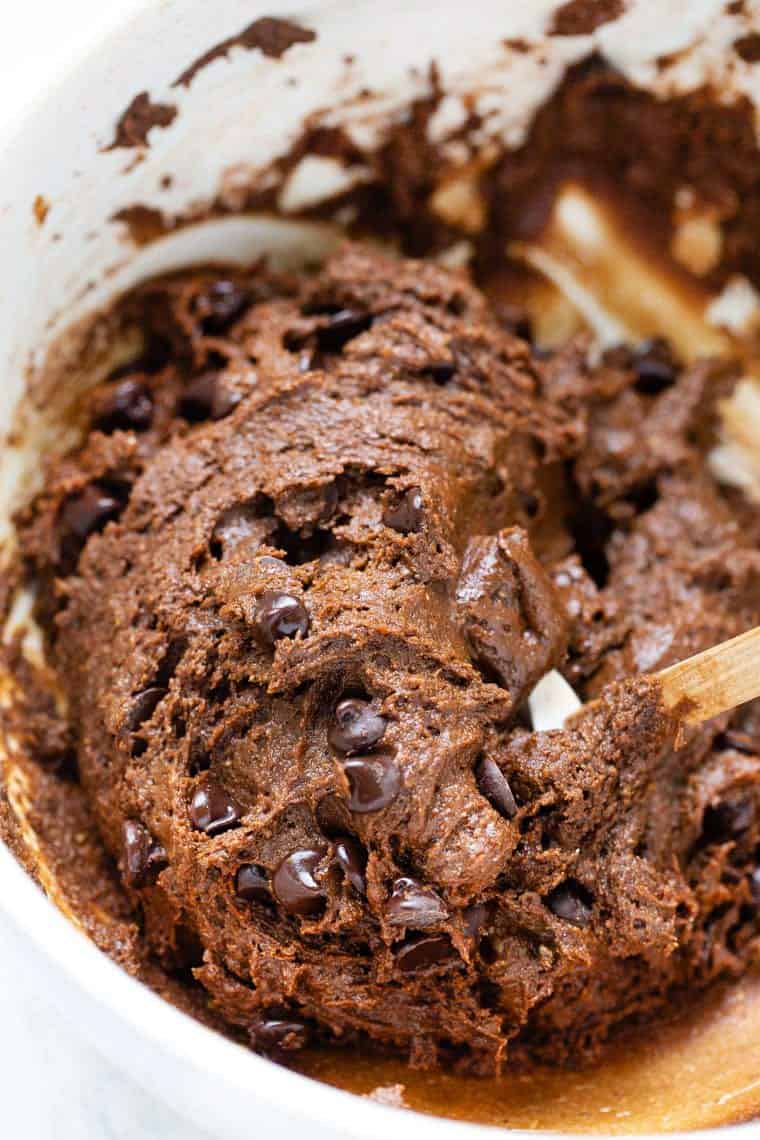 Ingredients for Vegan Espresso Brownies
I've made a version of these brownies a few times before, but today we're changing things up just a bit. We're keeping them oil-free, vegan, gluten-free and yet still totally decadent and delicious.
Here are the ingredients we're using:
Cashew butter: I love using cashew butter as a base for my desserts because it doesn't have a strong flavor. Unlike almond butter, peanut butter or even tahini, cashew butter is mellow and doesn't overpower the rest of the recipe. It also helps make them extra fudgy without added oil!
Pumpkin puree: I often use fruit puree as an oil/butter replacement in my recipes, and today it's pumpkin. I decided on pumpkin instead of banana because a) banana is a strong flavor and b) I've realized a lot of people are allergic to banana. Pumpkin you can't taste at all and it also helps add fiber and moisture.
Flax eggs: my go-to vegan egg replacement and they work so well in brownies!
Coconut sugar: my go-to granulated sugar for almost all of the recipes on this site!
Quinoa flour: again a go-to in my recipes! Quinoa flour is high protein and great for gluten-free baking. And if quinoa flour is a bit overpowering for you, you can try toasting it. Here's a tutorial for how to toast quinoa flour if you've never tried!
Cacao powder: a brownie wouldn't be a brownie without chocolate!
Espresso powder: the final touch that gives us that delectable coffee flavor!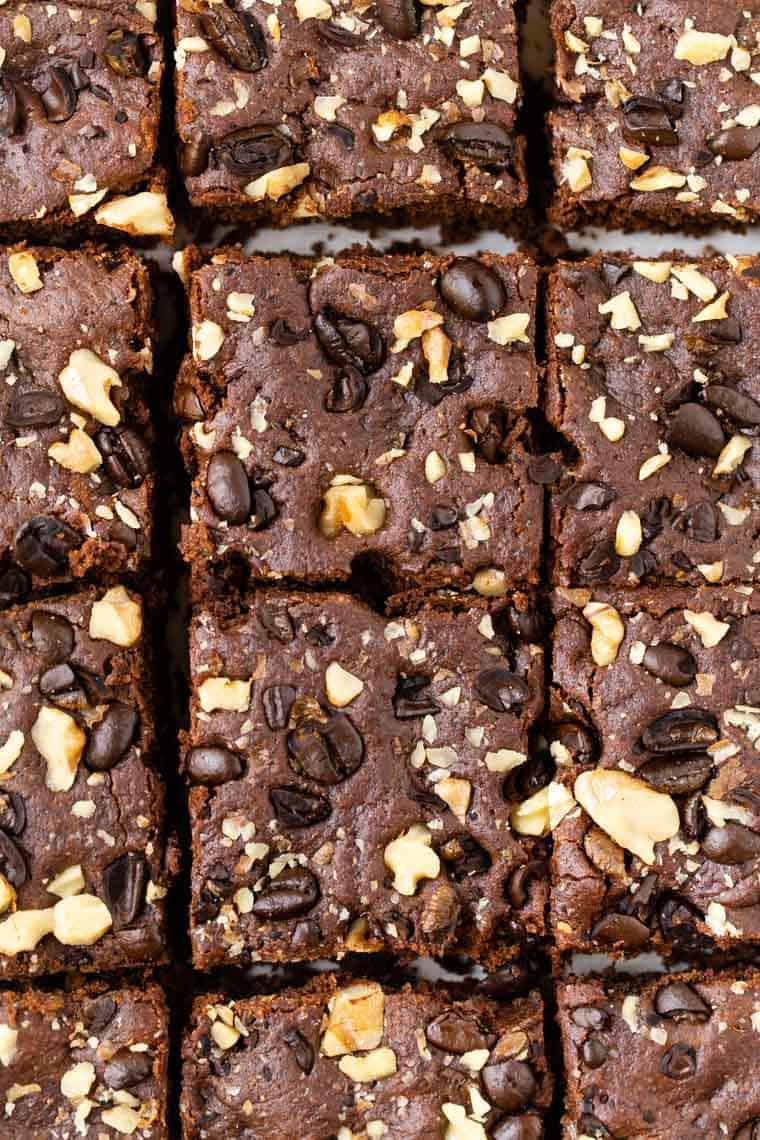 Easy One Bowl Vegan Brownies
Of the things, I love about brownies is the fact that they're a one-bowl recipe! We start by beating the wet ingredients together so they get smooth and easily incorporated.
Once that's smooth you can add in your dry ingredients. Beat it up until you have a thick(ish) dough, fold in your chocolate chips and you're on your way.
A few things to note about these vegan espresso brownies:
This batter is thicker than a traditional brownie batter (more like a dough). Once you transfer it into your pan, use your hands to push it into the corners and evenly spread it out. If it gets a little stick, lightly wet your hands.
Chocolate chips are optional but obviously delicious!
Toppings are also an option, but if you do want to use them, just make sure to press them into the batter a bit before baking. That will keep them from falling off as it bakes.
For fudgier brownies, take them out at 21 or 22 minutes. For cakier brownies, cook all the way through.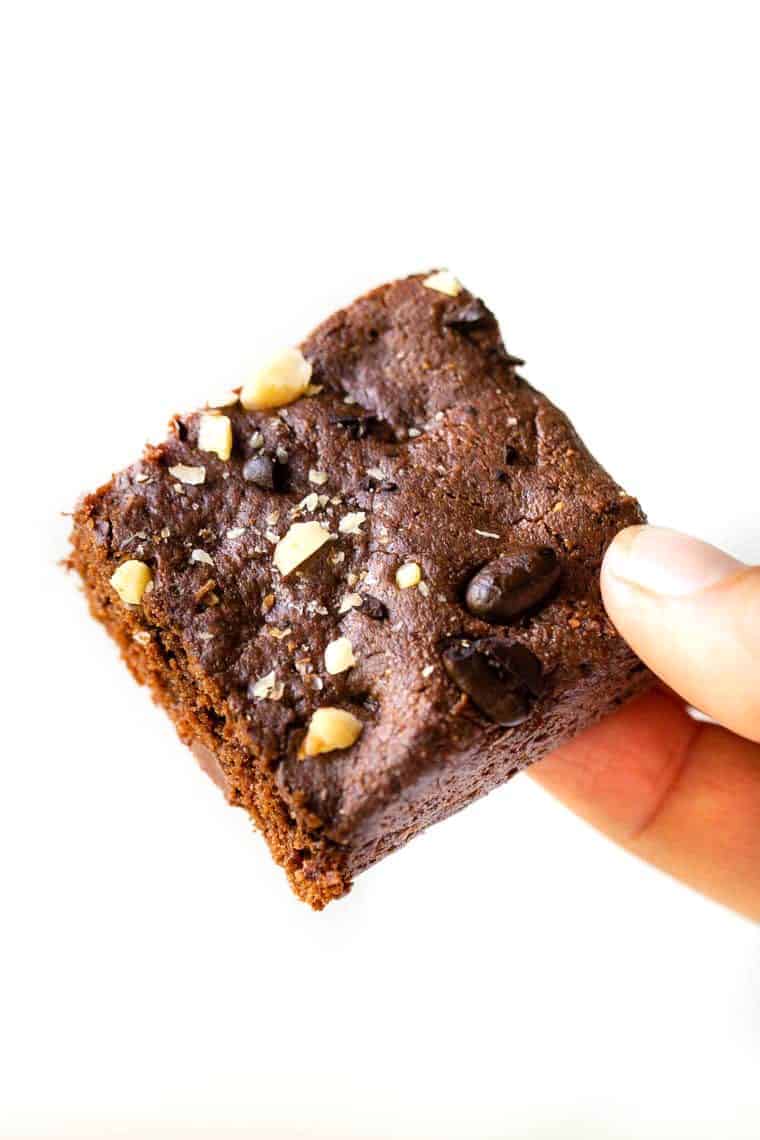 How to Make Healthy Brownies
While a brownie is still a brownie and not something we can necessarily consider a "health food", they're definitely a few things you can do to make them healthier. Here are my tips for making healthy brownies:
Swap out the oil for a mix of nut butter or fruit puree. You're still getting the fat from the nuts (but you're also getting protein), and you're getting the moisture from the fruit.
Use a healthier sweetener like coconut sugar or maple syrup. Sugar is still sugar, but those two options are less refined and lower on the glycemic index.
Use a healthier flour like oat flour, quinoa flour, or almond flour. You can still achieve the same result, but with those flours, you're getting fiber and protein in as well!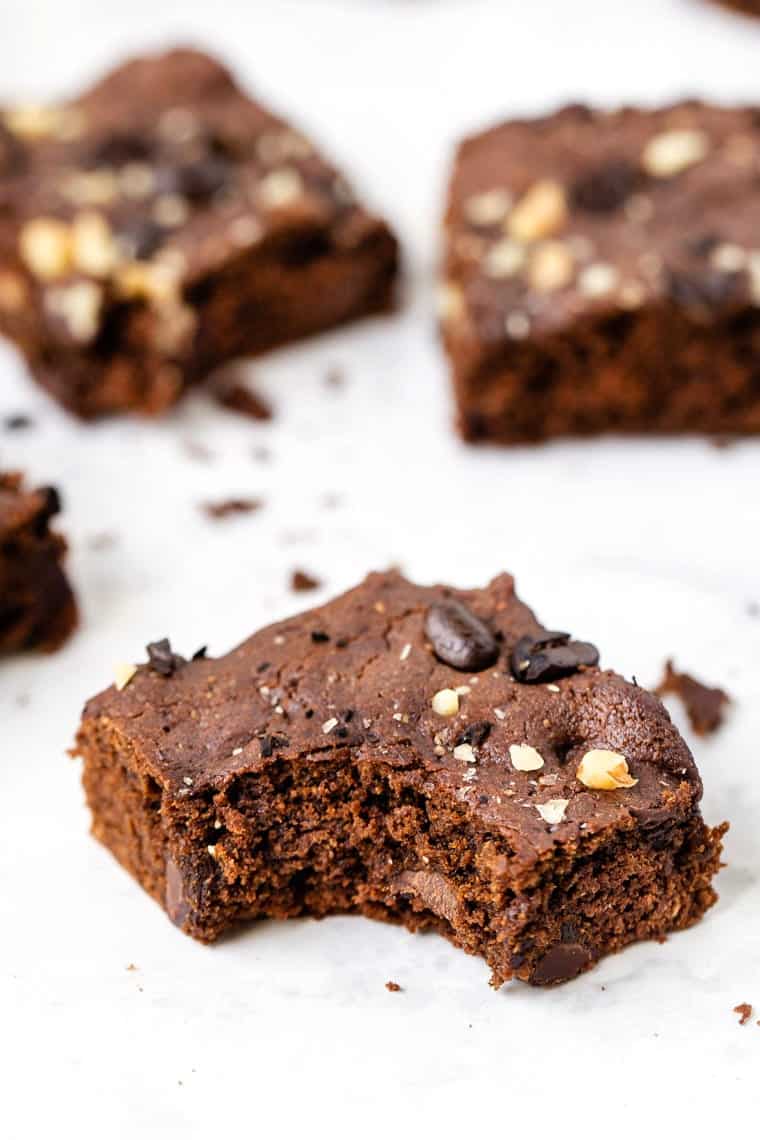 Substitution Ideas for Vegan Espresso Brownies
Now before we dive into the recipe, I always like to give you some ideas for tweaking them to fit your dietary needs or what you have on hand. Here are some swaps you can make for the brownies:
Cashew butter: use any nut or seed butter that you like:
Pumpkin: any fruit puree should work (banana, applesauce, avocado, etc.)
Coconut sugar: another granulated sugar will work and if you want to use liquid sweetener (like maple syrup), use half the amount.
Quinoa flour: I haven't tested this with another flour, but I think oat, sorghum or chickpea flour would work well.
Cacao powder: unsweetened cocoa powder will totally work
Espresso powder: there isn't a great sub for this, so you can just leave it out
Of course, if you have any other ingredients you want to swap out, just ask in the comments!
Now it's time for me to let you go ahead and make them. As you'll find, these brownies are the ultimate texture, have just the right amount of sweetness, they're a cinch and they can even be frozen for later.
Not to mention they make one heck of an epic brownie sundae when you top them with a scoop of vegan coffee ice cream!! ❤️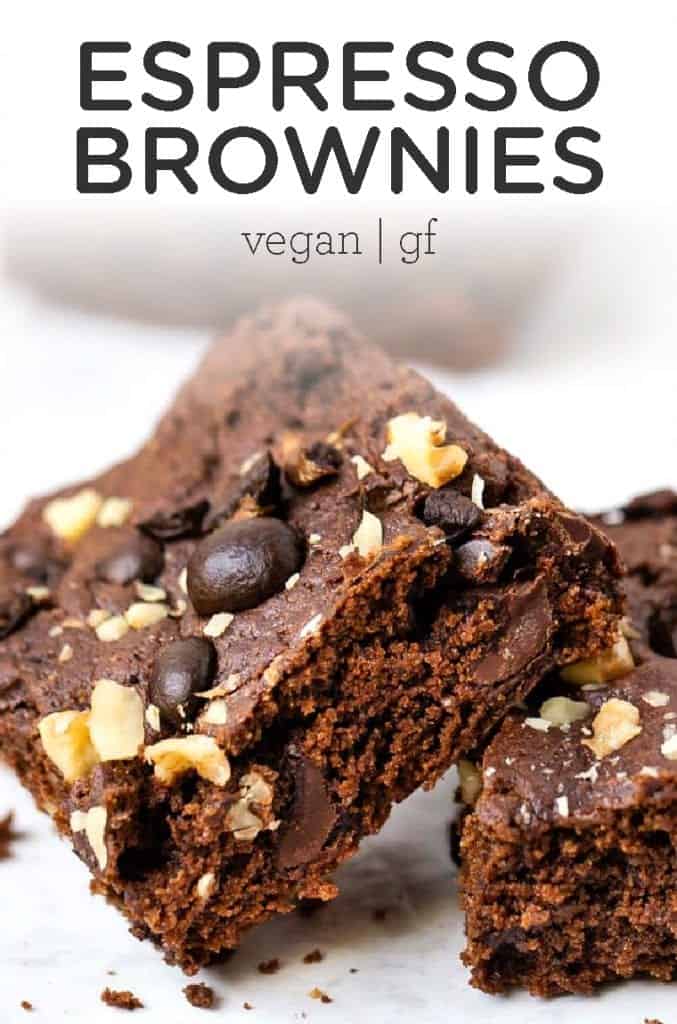 More Gluten-Free Vegan Brownie Recipes:
Vegan Espresso Brownies
These vegan espresso brownies are a unique twist on the traditional brownie, using way healthier ingredients. They're gooey, use just one bowl and taste amazing!
Servings 16 brownies
Calories 165kcal
Instructions
Preheat oven to 350 degrees F. Line an 8 x 8 baking pan with parchment and set aside.

Beat together the cashew butter, pumpkin, sugar, and flax eggs.

Once combined, add the dry ingredients (minus the chocolate chips and toppings). Beat until a thick(ish) dough forms. Fold in chocolate chips.

Transfer batter to the prepared baking pan and use your hands to press it into the pan. Sprinkle with the coffee beans and walnuts and press them into the dough (this will make them stick). Bake on the center rack for 22 - 25 minutes.

Let cool in pan completely before cutting into squares.
Nutrition
Serving: 1brownies | Calories: 165kcal | Carbohydrates: 19g | Protein: 4g | Fat: 10g | Saturated Fat: 3g | Sodium: 48mg | Potassium: 120mg | Fiber: 2g | Sugar: 9g | Vitamin A: 1192IU | Vitamin C: 1mg | Calcium: 30mg | Iron: 2mg
share what you make
Tag #simplyquinoa on Instagram with your creations! We love sharing what you make with the community. We can't wait to see!

follow on instagram