This creamy turmeric cauliflower soup is anti-inflammatory, healing for the gut and so delicious. It's also naturally vegan, packed with protein and simple to make!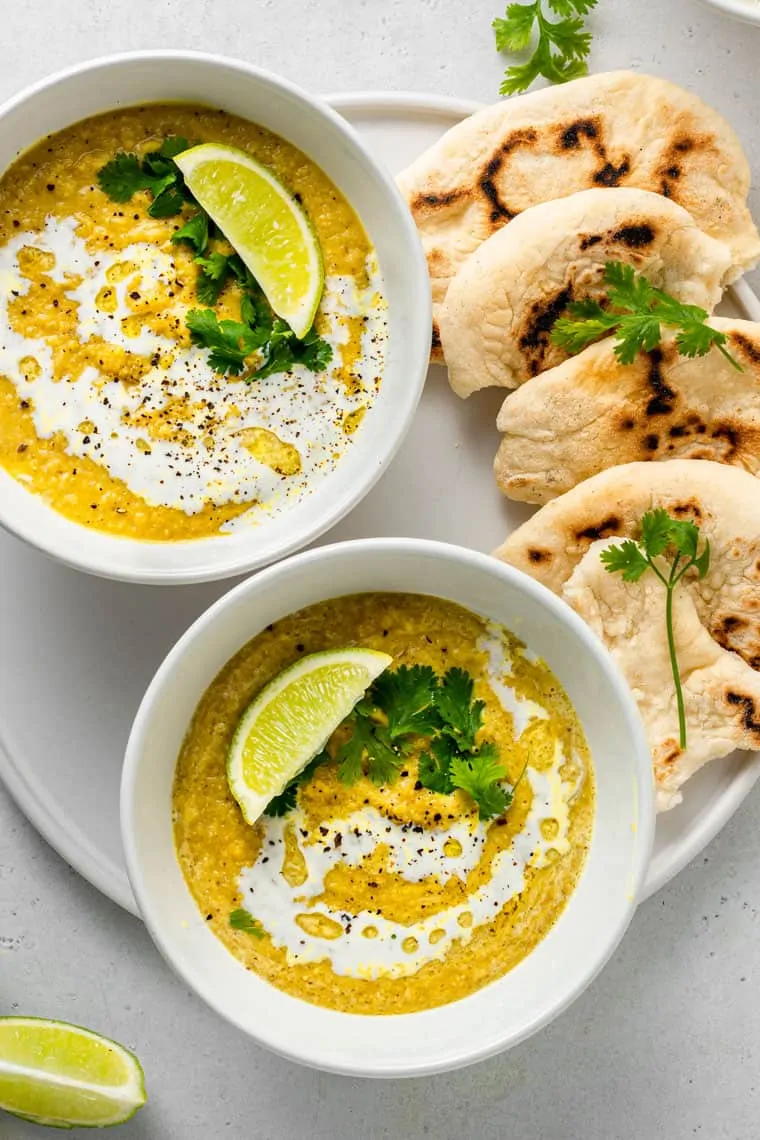 In case you can't tell from my recent recipes, but I'm head over heels for turmeric these days! I add it to almost everything and I am seriously loving every minute of it.
Turmeric is an incredible spice that not only adds flavor and color but also has healing properties. The active ingredient in turmeric is curcumin which has been shown to fight inflammatory, as well as promoting joint, heart, and lung health. It's been used in Eastern medicine practices for thousands of years!
And that's exactly why I'm calling this a healing turmeric cauliflower soup. Because it's good for your body and your soul!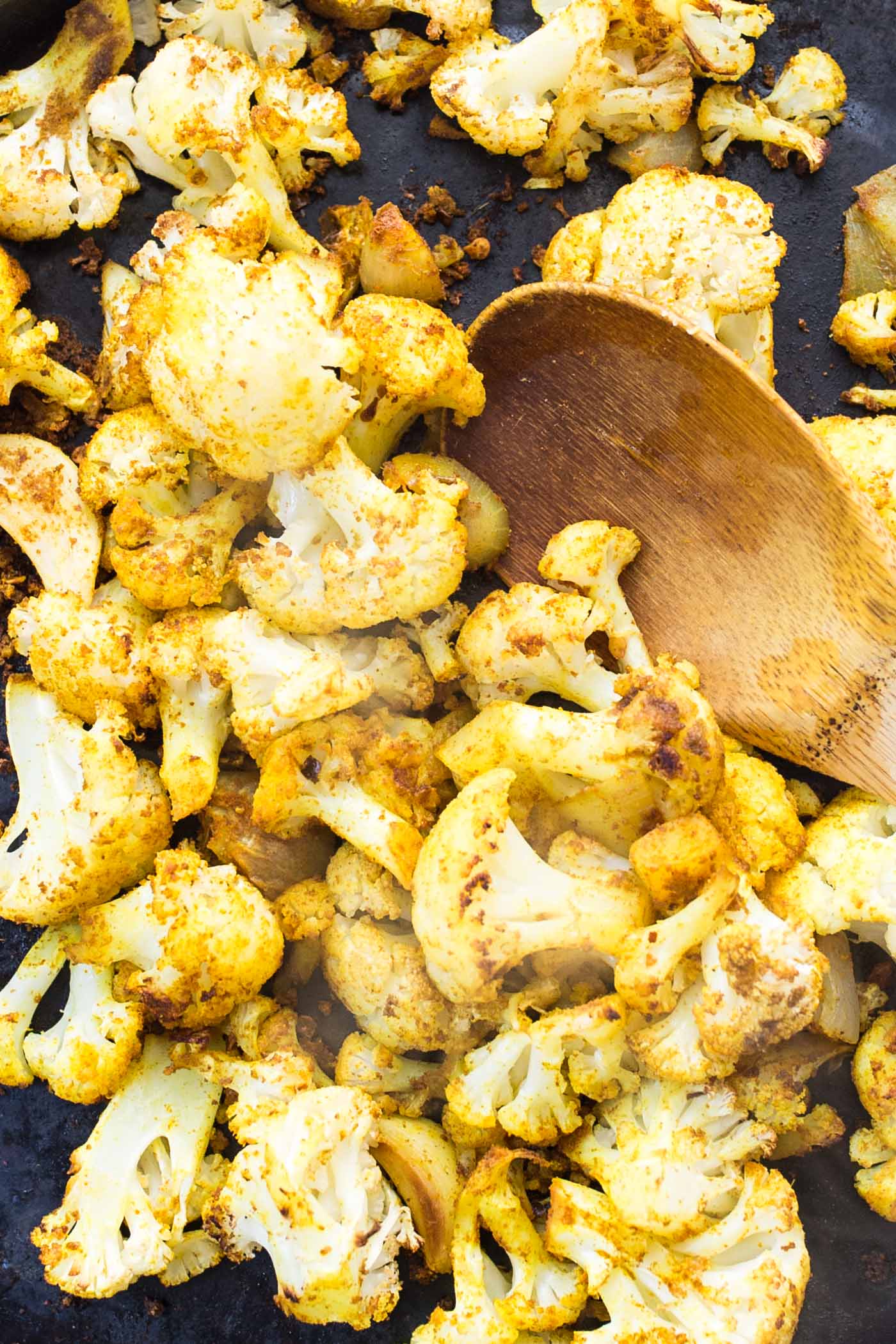 What You'll Need to Make This Cauliflower Soup
The base of this soup is mostly veggies which I absolutely love. It helps make this soup really high fiber and since we're also adding in some lentils, we get a bit of protein too.
Here's what you'll need:
Cauliflower: that you'll want to chop into florets
Shallot: that can be quartered since we're roasting it
Garlic: left whole as that is also getting roasted!
Turmeric: we're giving our veggies a heavy dose of turmeric which will give the soup its gorgeous color and unique flavor
Cumin: I love pairing cumin with turmeric – it adds something a little unique and is so delicious!
Red lentils: I chose red lentils since they cook quickly, but you could also use canned beans if you wanted.
Vegetable broth: just because it's more flavorful than water and we need liquid to blend our soup
Unsweetened almond milk: a little hint of creaminess! Almond milk isn't rich like coconut milk and doesn't really have a flavor, so it's great in soups. But if you want something that's a bit more full bodied, swap the almond milk with coconut milk!
And then of course we've got some salt and pepper to round out the flavors!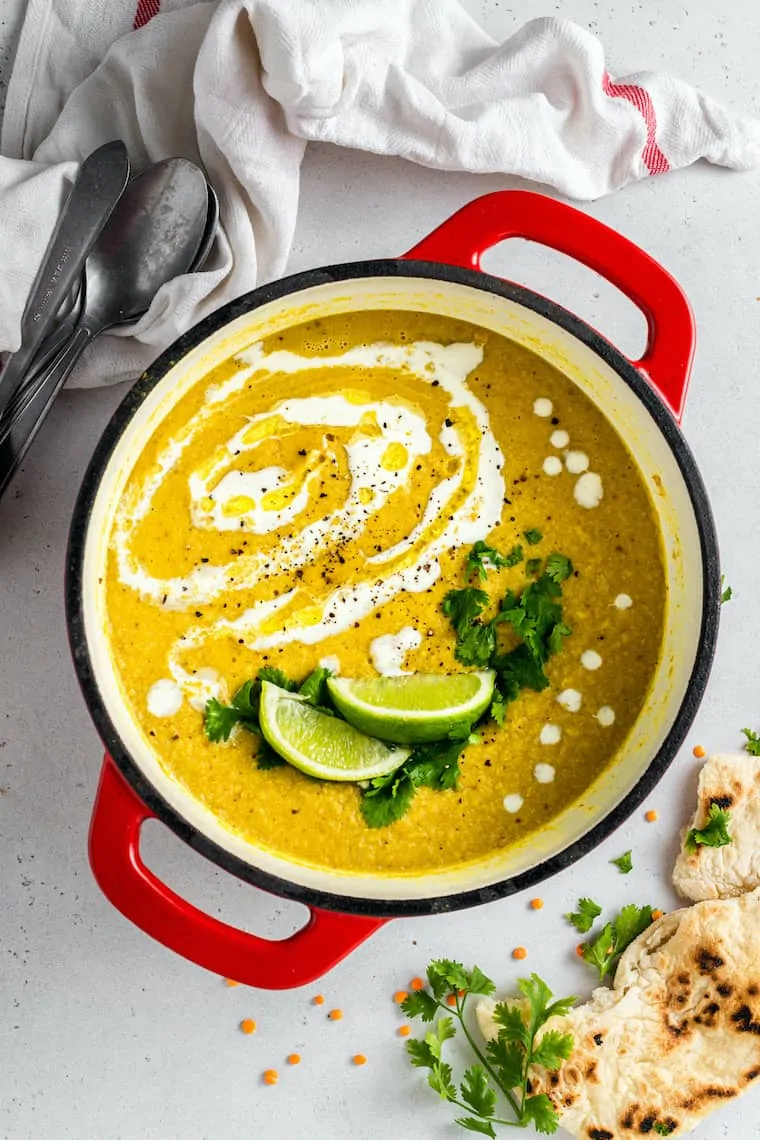 How to Make Turmeric Cauliflower Soup
Making this soup is really easy. You just need one pot – I love my dutch oven for soups – and a little bit of time to let it simmer.
Roast the veggies: we start by roasting the cauliflower with some garlic, shallots, oil, and spices. This gives the soup a smokier flavor, while also meaningless hands-on time for you. Just chop, toss and roast!
Let it simmer. Once your veggies are roasted, we start to assemble the soup. Your veggies, red lentils, broth, and non-dairy milk will simmer away until the red lentils are tender.
Blend it up! I used an immersion blender for this one, but you could totally use your blender or food processor to get a smooth texture.
And in all honesty, you could also just leave it as is if you like chunky, brothier soups. Either way, it would be delicious!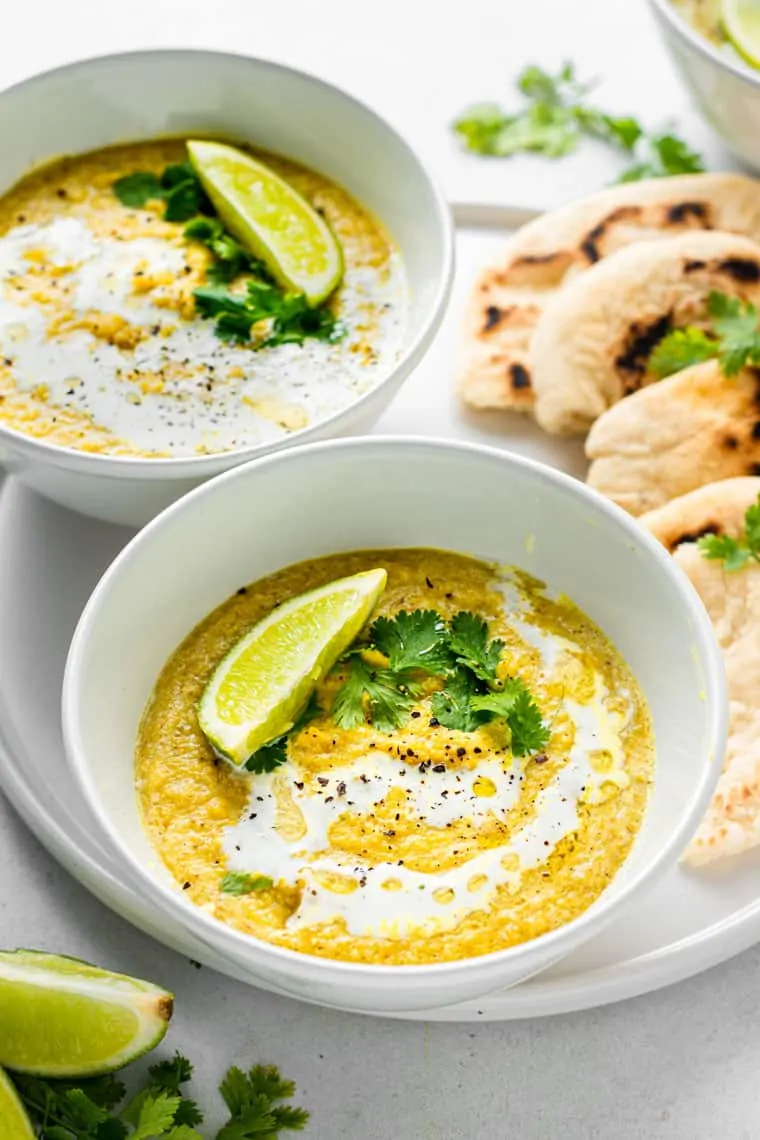 What to Serve with Soup
Pureed soups are my favorite for toppings. I find they need something a little extra on top to make me feel satisfied.
So this time I topped mine with some fresh herbs, some cracked pepper, a spritz of lime, and a drizzle of coconut milk or yogurt.  Then I toasted up a slice of my favorite quinoa bread for dunking and ahhh…just delicious!
I've had it for two days straight and am already planning on making another batch this weekend. It's one of those soups that I know I'll keep coming back to because it makes me feel good from the inside out.
My belly is happy, my mind is happy and my soul is happy. Yep, it really is a healing soup!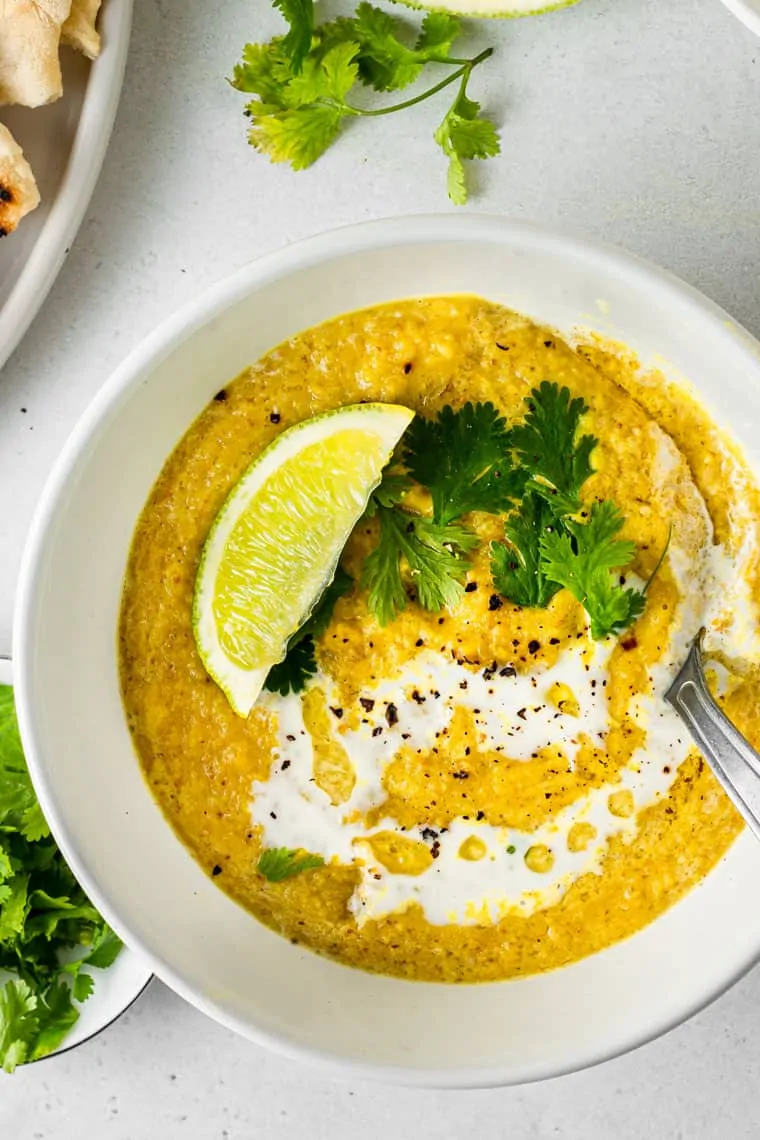 More Vegan Soup Recipes to Try:
Healing Turmeric Cauliflower Soup
This creamy turmeric cauliflower soup is anti-inflammatory, healing for the gut and so delicious. It's also naturally vegan, packed with protein and simple to make!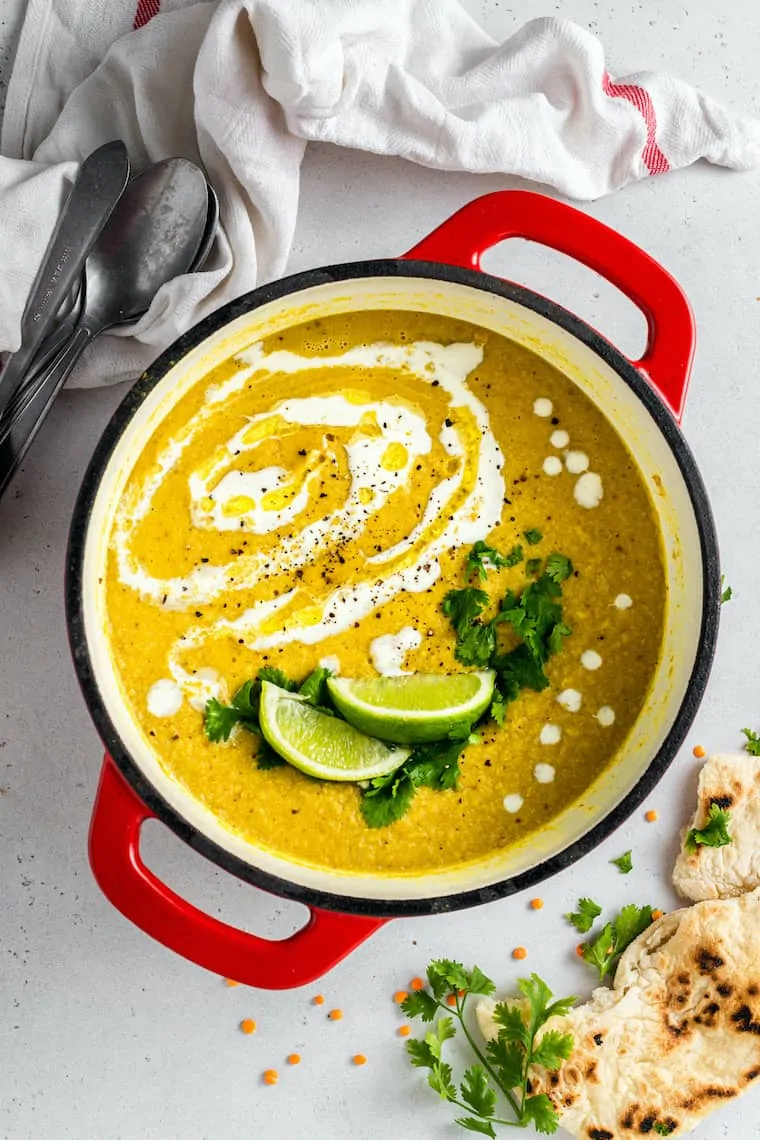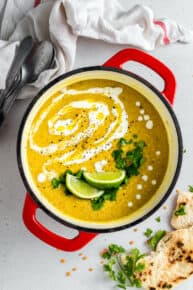 Instructions
Preheat the oven to 425ºF.

Add the cauliflower, shallots and garlic to a large mixing bowl. Drizzle with olive oil and spices and toss to combine. Transfer veggies to a baking sheet and roast for 30 minutes, flipping halfway through.

Once roasted, transfer veggies to a saucepan. Add lentils, broth, and 2 cups of milk, and stir to combine. Bring the mixture to a boil, then cover and reduce to simmer for 20 minutes.

Remove from heat and blend until smooth. Stir in remaining milk.

Serve immediately and top with desired garnishes.
Nutrition
Calories:
187
kcal
|
Carbohydrates:
19
g
|
Protein:
7
g
|
Fat:
9
g
|
Saturated Fat:
1
g
|
Sodium:
975
mg
|
Potassium:
346
mg
|
Fiber:
8
g
|
Sugar:
2
g
|
Vitamin A:
320
IU
|
Vitamin C:
15.3
mg
|
Calcium:
215
mg
|
Iron:
2.4
mg
Filed Under: