This almond joy smoothie is an energizing breakfast shake that tastes like a decadent dessert but is filled with nutritious and delicious ingredients!
By now you've probably realized something about me… I love having dessert for breakfast! Whether it's apple pie overnight quinoa or chunky monkey breakfast cookies (or really any other crazy combo I can come up with), I'm happiest when I start with a sweet and healthy breakfast.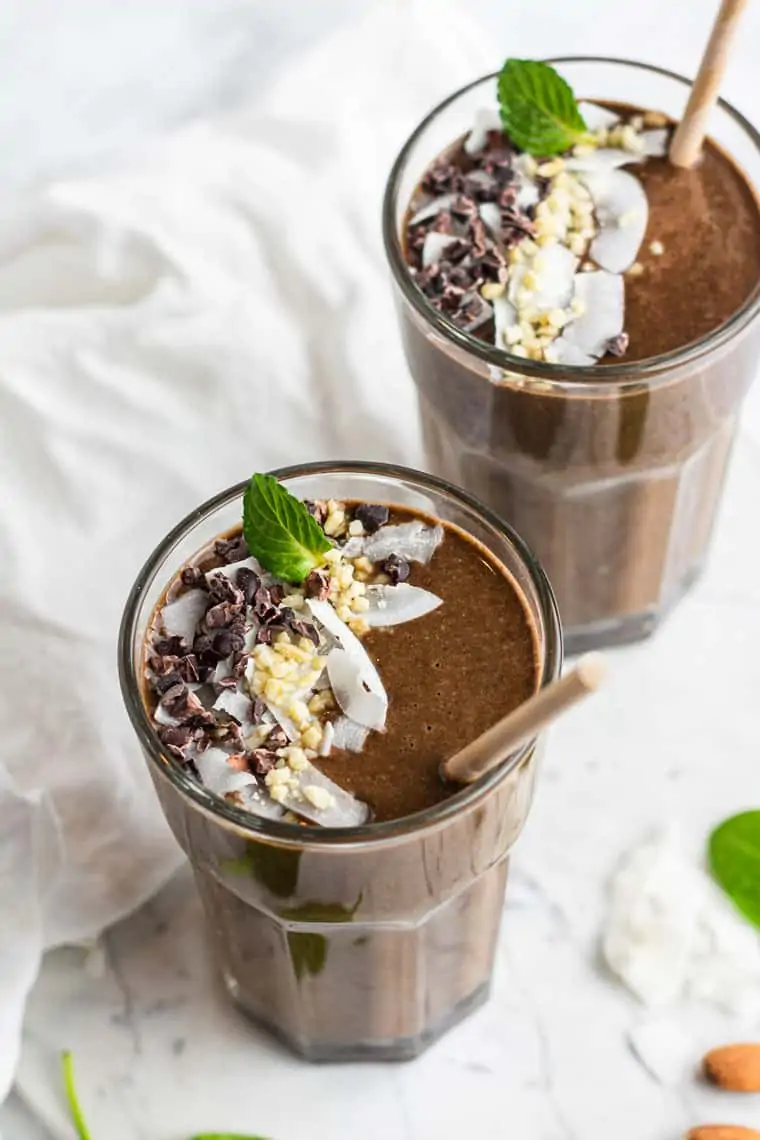 Especially when it involves chocolate. Because when you can wake up and eat chocolate for breakfast, you know it's going to be a good day. So today…we're having almond joy smoothies.
We wouldn't want to wake up and eat a chocolate bar for breakfast, but adding some cacao powder to things like oatmeal, overnight oats, chia pudding or smoothies is a great way to get a nice kick of antioxidants, minerals, AND an energy boost. Plus…when you sweeten it naturally, it tastes like "real" chocolate!
Which brings us to our almond joy smoothie. (I know, you're thinking "FINALLY lady, let's get to it!")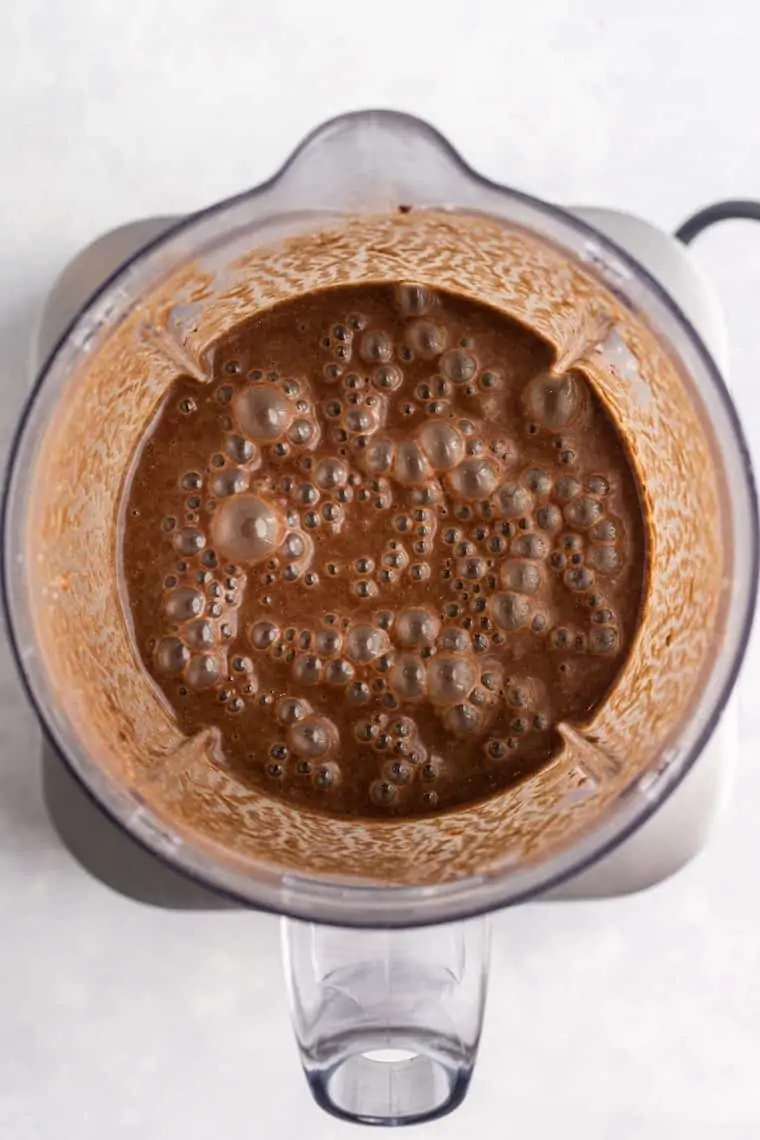 How to Make an Almond Joy Smoothie
This smoothie has an incredibly rich chocolate flavor, is sweetened naturally with banana, has all the goodness from raw cacao, is silky smooth, AND has an added energy booster which I've snuck into the ice cubes!
And of course, just like any other smoothie, it couldn't be easier to make!
Is this Chocolate Banana Smoothie Healthy?
While this smoothie might *taste* super decadent/like a candy bar, it's definitely healthy. We're using ingredients that are energizing, filling, fiber-rich and even sneaking in some protein and healthy fats.
Coconut milk + coconut water: to amp up the coconut flavor, we're adding both coconut milk and coconut water. I like to use lite coconut milk and then the coconut water adds tons of electrolytes
Spinach: always looking to add greens to my smoothies, spinach also adds fiber and tons of nutrients
Almond butter: this adds in some almond flavor as well as healthy fats and protein
Raw cacao: our deep chocolate flavor comes here, but we're also getting tons of antioxidants and nutrients
Maca powder: maca is added for it's amazing energizing properties!
Banana: if you like your smoothies nice and thick, make sure to use frozen! This is also how we're getting our smoothie to be nice and sweet
Protein: and finally, protein! you can either do this by adding in some cooked quinoa or some chocolate protein powder – it's your choice
And if you like your smoothie super thick, blend it up with some ice!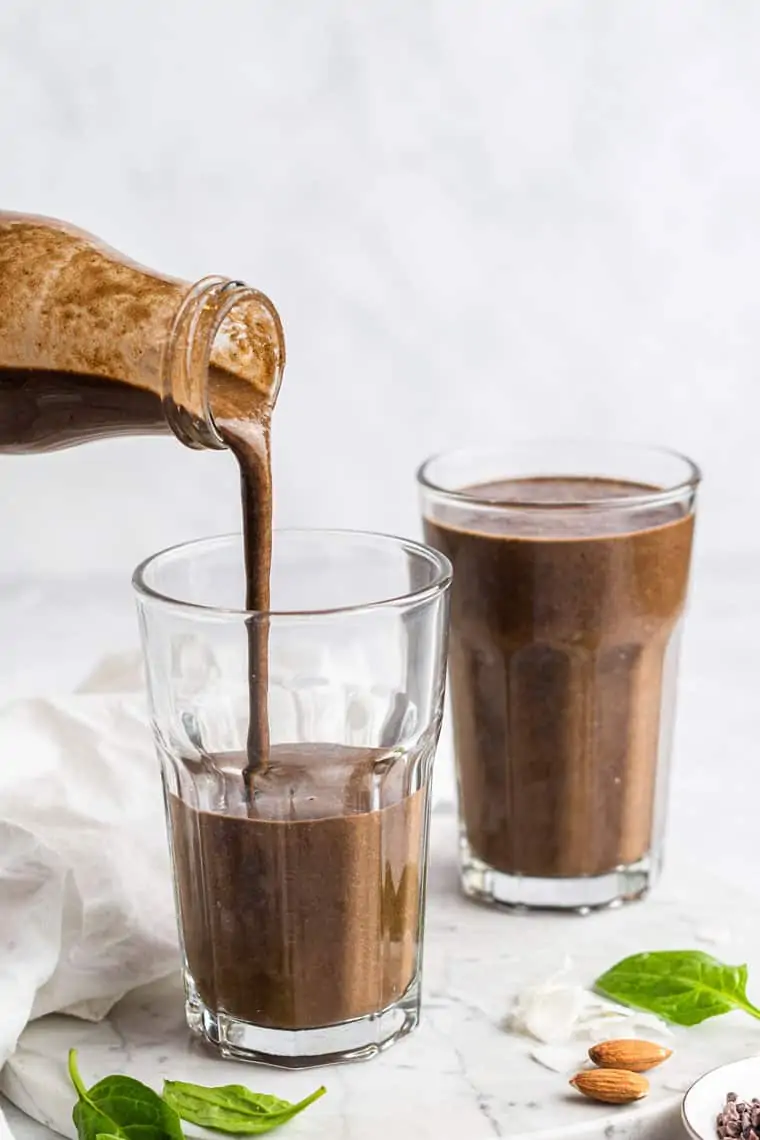 What is Raw Cacao Powder?
In order to get our almond joy smoothie nice and chocolatey, we need chocolate. But we're not just talking any kind of chocolate. We're talking about raw cacao powder here.
So what exactly is raw cacao powder? And is it different from the cocoa powder you can buy at the supermarket? YES!
Raw cacao powder is made by cold-pressing raw cocoa beans (similar to cold pressing oils) which helps keep the living enzymes unharmed but removes the fat. Cacao is basically the purest form of chocolate that we consume and contains tons of amazing nutrients and antioxidants. Cacao is actually one of the highest sources of magnesium, which is important for bone health, keeping blood pressure normal, good for muscle strength and so much more. It's also really energizing!
Cocoa powder on the other hand has been processed and heated at a higher temperate, but luckily it still retains a lot of it's antioxidants and is still quite good for us. It's also less expensive than raw cacao which is certainly a plus.
I think you can use either, but my preference is always raw cacao!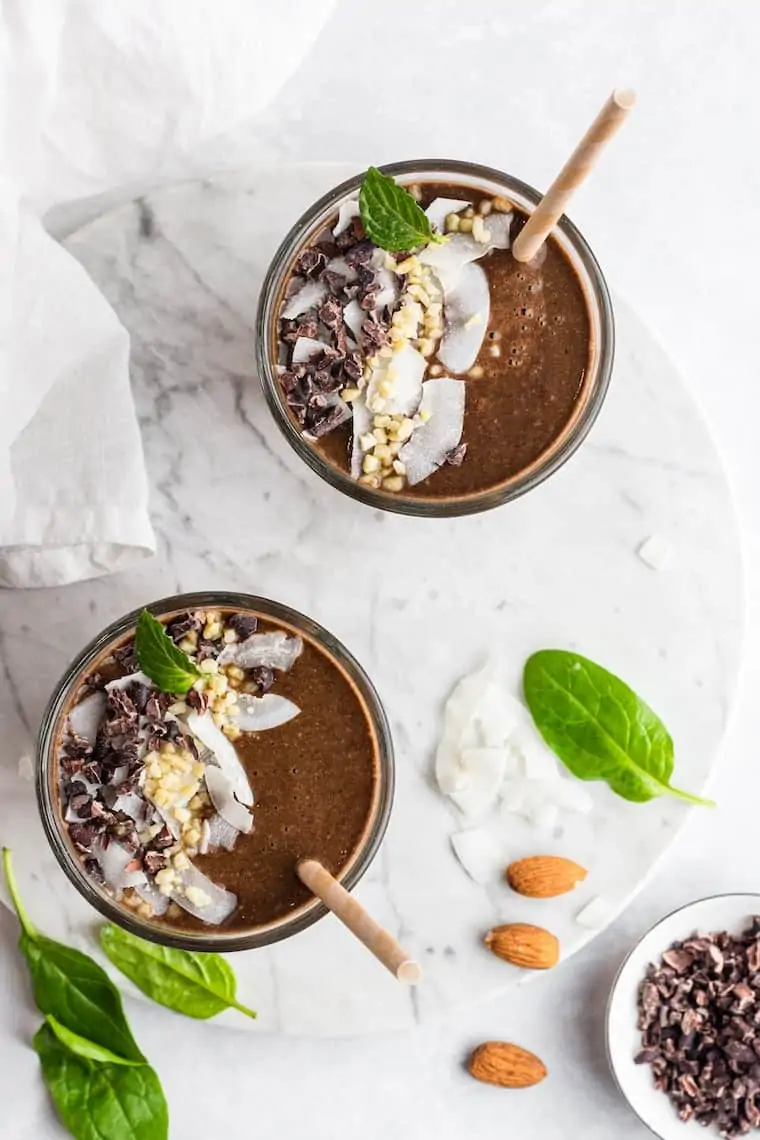 How to Add Protein to a Smoothie
One of the best ways to make a smoothie more filling is to add protein. Protein not only fills you up, but it also gives you long-lasting energy. Sone of my favorite ways to add protein to a smoothie include:
Vegan protein powder: I like to keep a few flavors on hand so I can rotate them based on what flavor smoothie I'm making
Hemp seeds: with 10g of protein per serving, hemp seeds are a great way to add protein and healthy fats to your smoothie
Nuts/nut butter: I almost always add almond butter or peanut butter to my smoothies to add a bit of protein as well as healthy fat
Quinoa: another simple way to add protein is quinoa! Even just 1/4 cup will add a few extra grams of protein and fiber without affecting the flavor at all!
How to Store a Smoothie
If you want to make your smoothie ahead of time – which is totally fine – you can store it two ways:
Frigdge: transfer your smoothie to a mason jar and seal it. When you're ready to eat it, give it a shake and drink up!
Freezer: again, transfer your smoothie to a mason jar and seal it (make sure to leave some room on the top). Pop it in the freezer and you're good. When you're ready to eat it, thaw it at room temp for a few hours or leave it in the fridge overnight!
But my guess is you'll be ready to gobble this up right away! Enjoy this delicious and energizing almond joy smoothie – it's one that I think will be in constant rotation!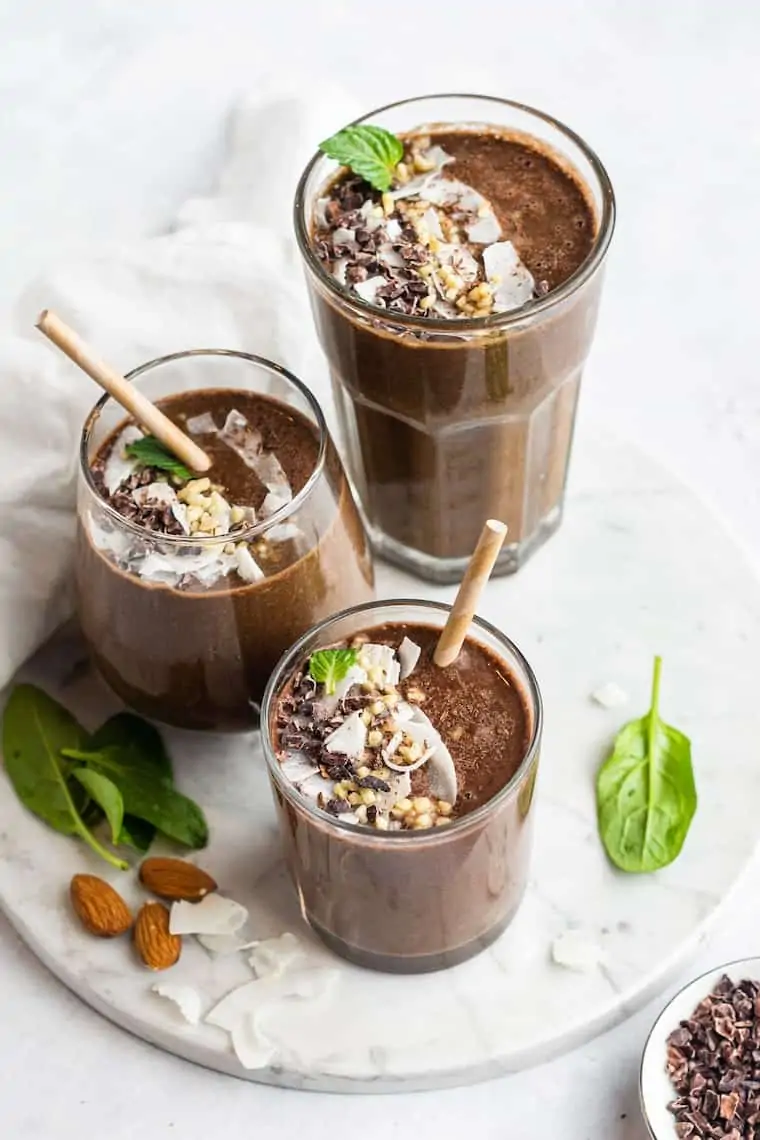 More Healthy Smoothie Recipes to try:
Energizing Almond Joy Smoothie
That's right a smoothie that tastes like a candy bar but is actually loaded with good-for-you ingredients, that will fill you up and give you tons of energy.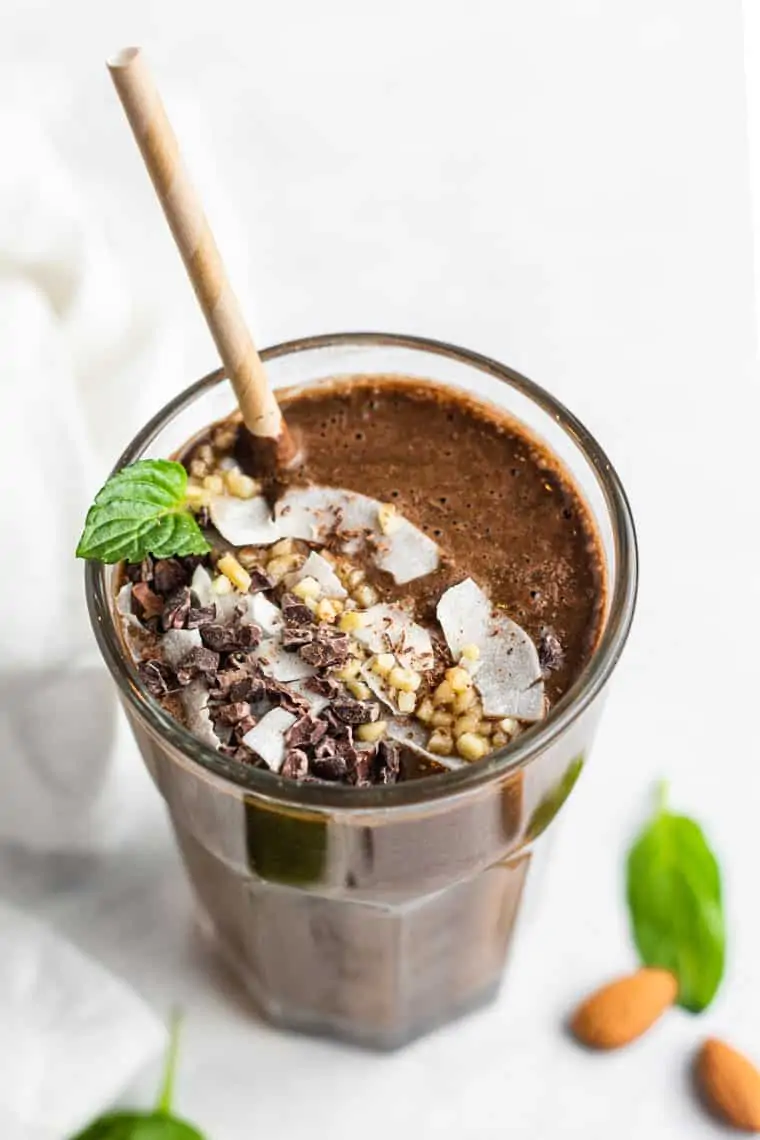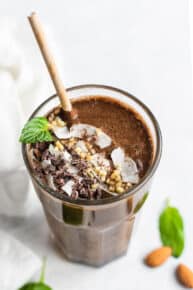 Instructions
Add all ingredients in the order listed (minus toppings) to a blender. Blend on high until smooth and creamy.

Pour into glasses, garnish with coconut flakes and cacao nibs if desired. Enjoy!
Nutrition
Serving:
1
smoothie
|
Calories:
554
kcal
|
Carbohydrates:
59
g
|
Protein:
14
g
|
Fat:
36
g
|
Saturated Fat:
23
g
|
Sodium:
172
mg
|
Potassium:
1570
mg
|
Fiber:
13
g
|
Sugar:
20
g
|
Vitamin A:
2889
IU
|
Vitamin C:
24
mg
|
Calcium:
187
mg
|
Iron:
8
mg
Filed Under: