This easy and healthy Slow Cooker Vegan Split Pea Soup is a must-try winter dinner that's totally hands off and packed with fiber, protein and flavor. Made with quinoa, mushroom and vegetable broth for added heartiness.
Pulling out the slow cooker on a Monday morning is pretty much my favorite thing. Especially in the dead of winter when all I want for dinner is something warm and comforting. It helps that the recipes you tend to make in slow cookers are just that: warm and comforting.
Like this vegan split pea soup. Why will you love it?
It's soothing. It's nourishing. Ultimately, it's everything that you want a slow cooker meal to be.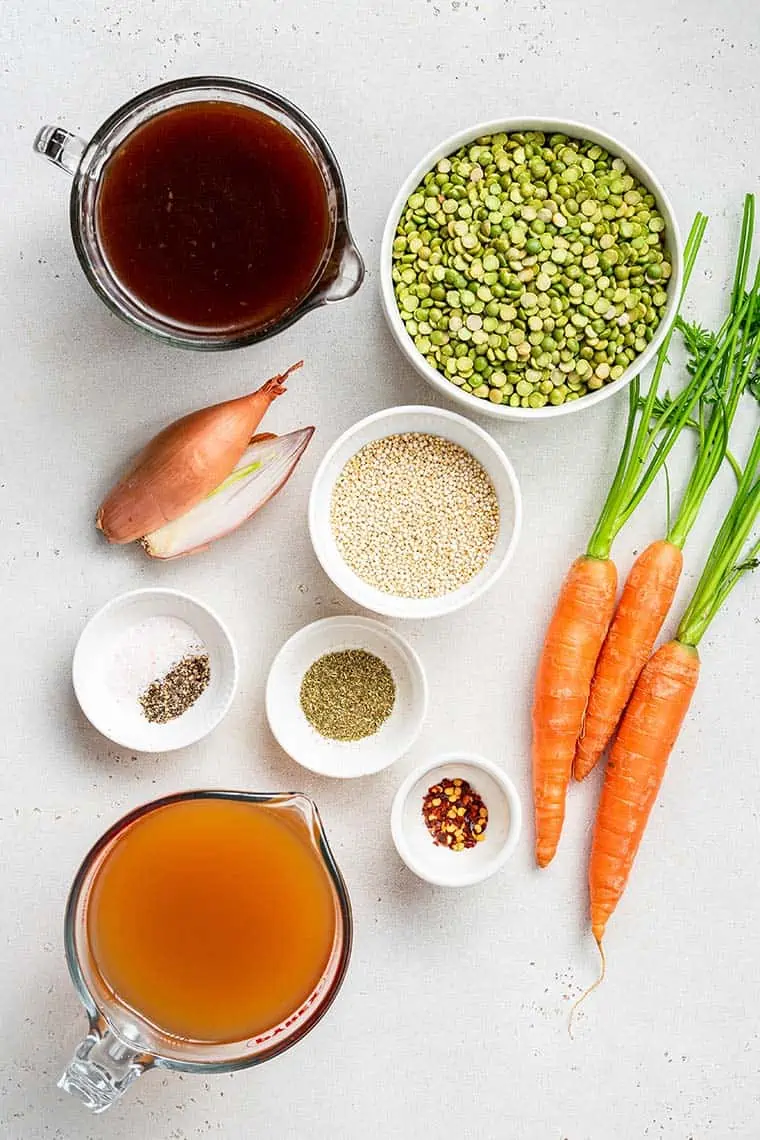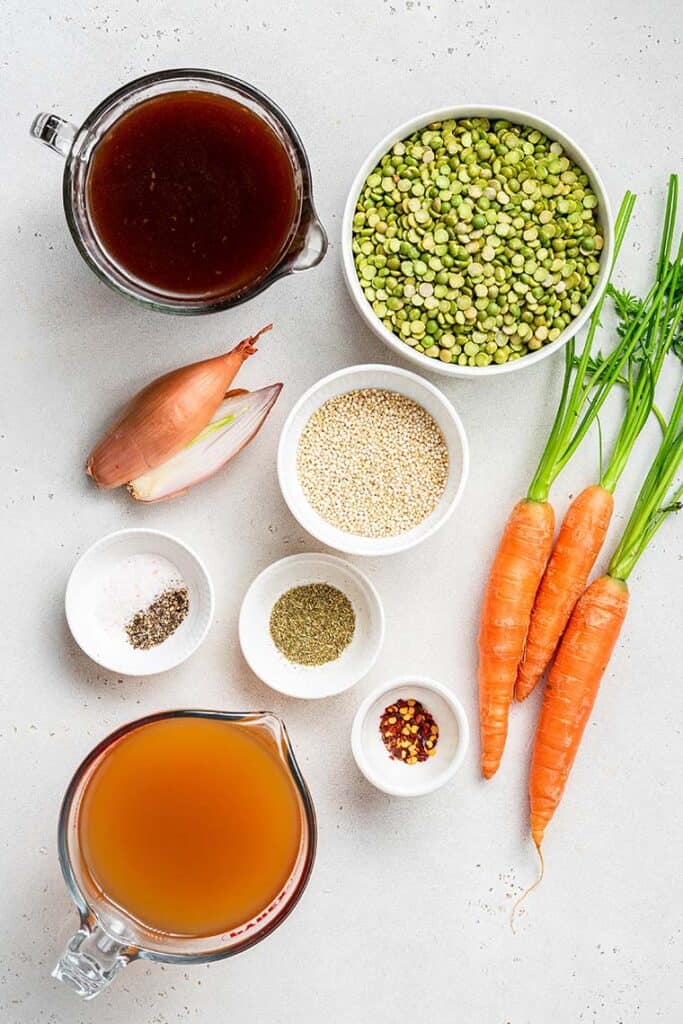 Ingredients for Vegan Split Pea Soup
Despite its many layers of flavor, the ingredient list for this soup is short and sweet. Here's what you need to make split pea soup in the slow cooker:
Split peas. I like Bob's Red Mill Split Peas, which are easy to find in the grocery store.
Carrots. These add a subtle sweetness and extra nutrients.
Shallot. You could also use an onion if you prefer.
Quinoa. For heartiness and heft!
vegetable broth. You can use store-bought or make your own.
Mushroom broth. This is optional, but I highly recommend it for added umami and depth of flavor. Otherwise, use 100% vegetable broth.
Italian herbs. You can use all one herb (like oregano or basil), or use a blend.
Red pepper flakes. These are optional, depending on your preercene for spice.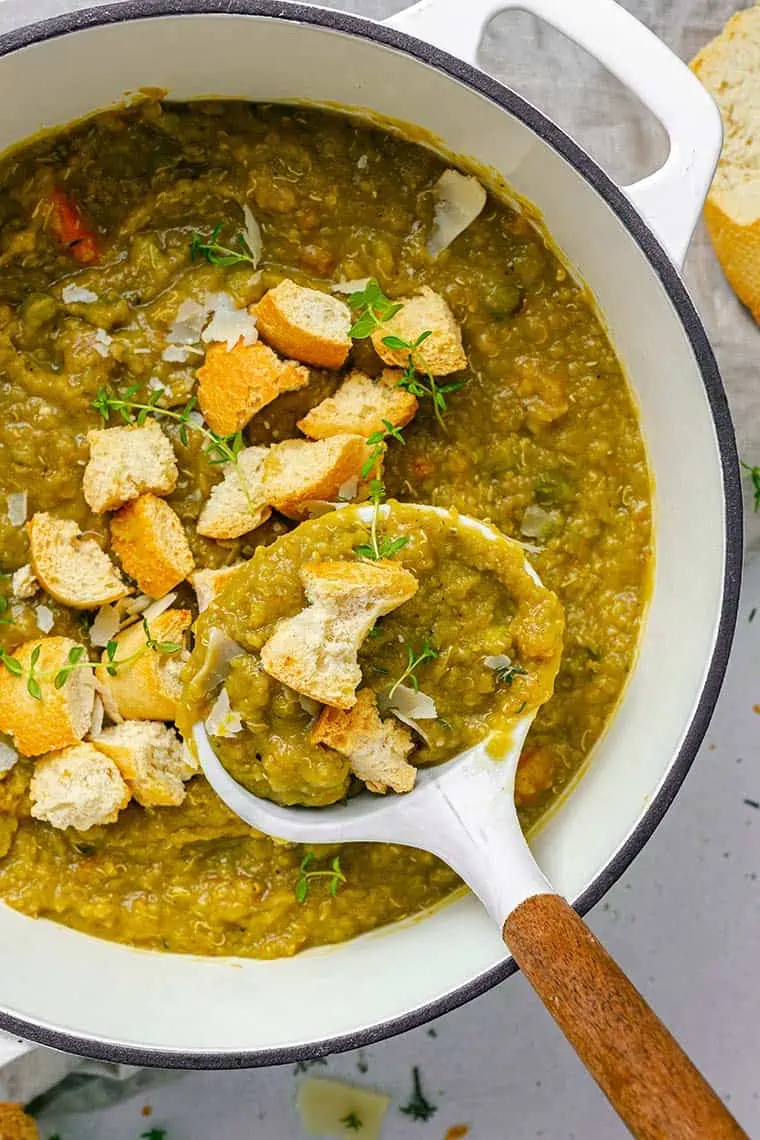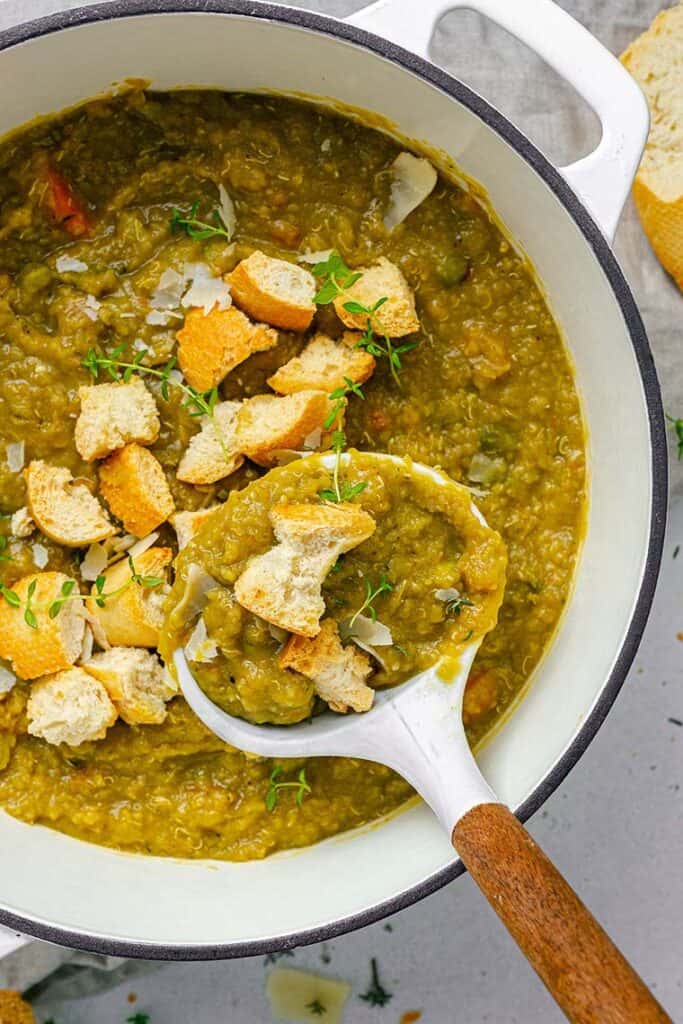 What are Split Peas?
Interestingly, split peas are actually part of the legume family – like beans! They are peas that have been harvested, dried, and then split. Splitting makes the peas easier and faster to cook.
Unlike many beans, split peas are super easy and quick to make at home. So if you don't have time for a slow cooker meal, you can make this soup on the stove in a fraction of the time.
Split peas are really high in fiber, have a good amount of protein, and also contain some good B vitamins and iron. Essentially, they're an all-around awesome ingredient! And what's even better is that you can find them in almost any grocery store – either in the bulk section or in a package like the ones that Bob's Red Mill sells.
And as many dried beans, they're friendly on the wallet!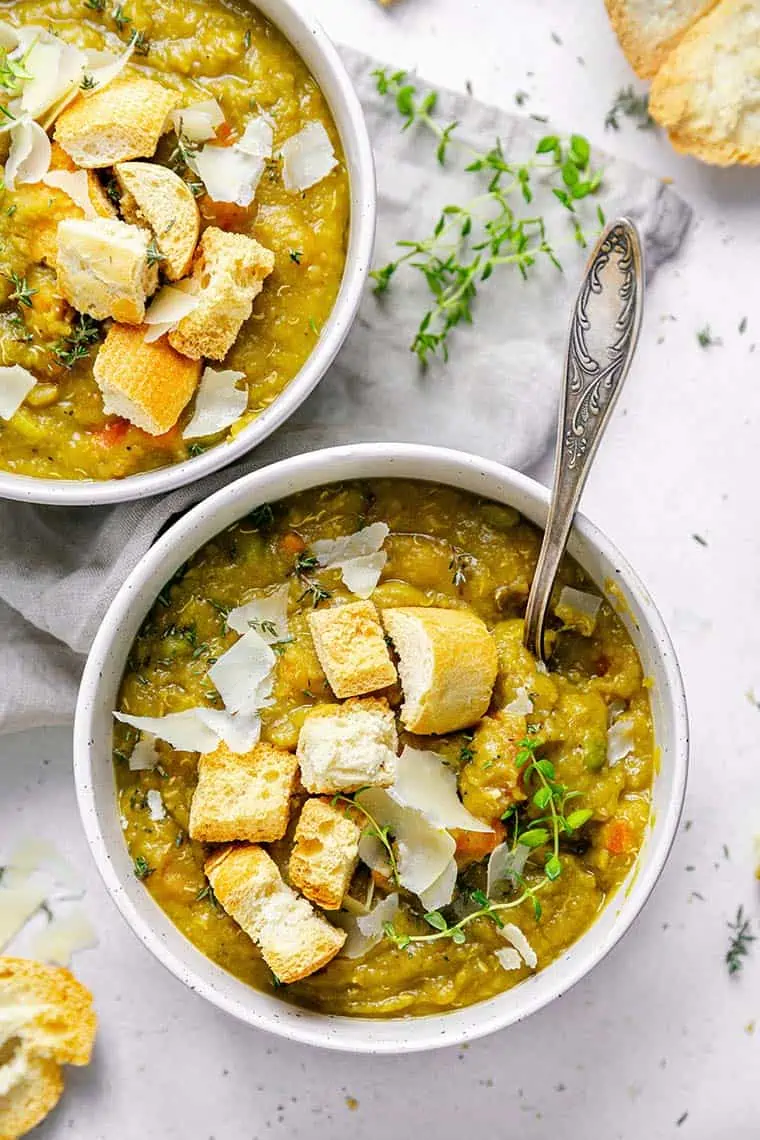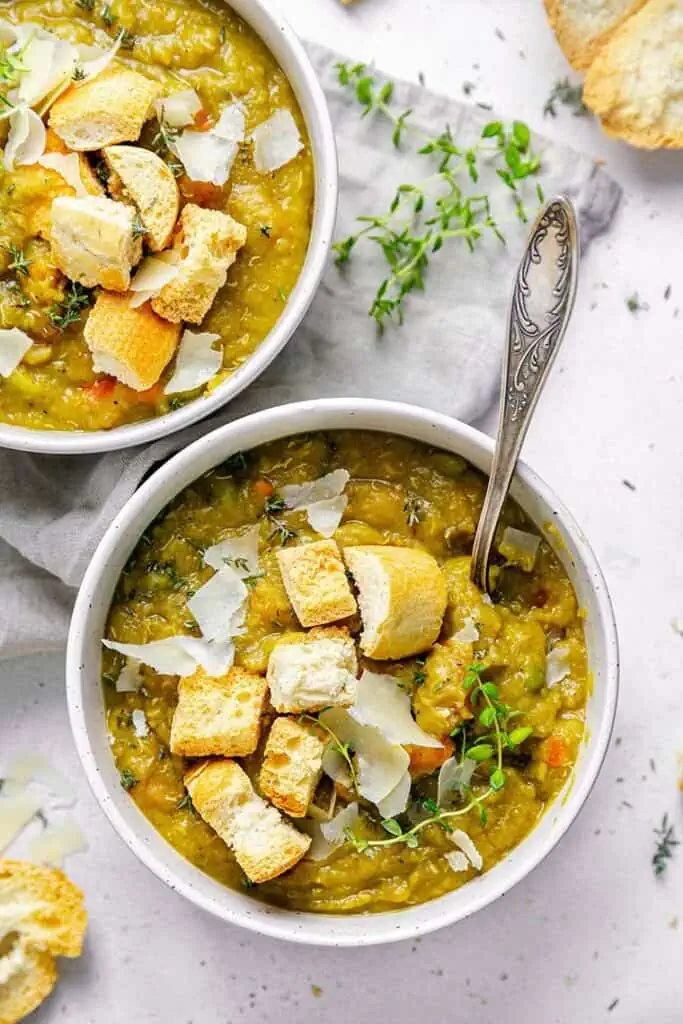 Can I Make the Soup on the Stove?
Of course! If you don't have a slow cooker, make this soup on the stove in about half an hour.
Is Split Pea Soup Vegetarian?
Traditionally, split pea soup is not vegetarian. In fact, more often than not you'll find it loaded with meat like ham, bacon and cooked with chicken broth.
To replace the meaty flavor in this soup, I love mushroom broth.
Mushrooms, whether they're fresh, dried or in broth form, are very flavorful and lend a meat-like quality to any dish. For vegetarian soups, like this split pea version, using a blend of vegetable and mushroom broths makes skipping the meat totally worth it.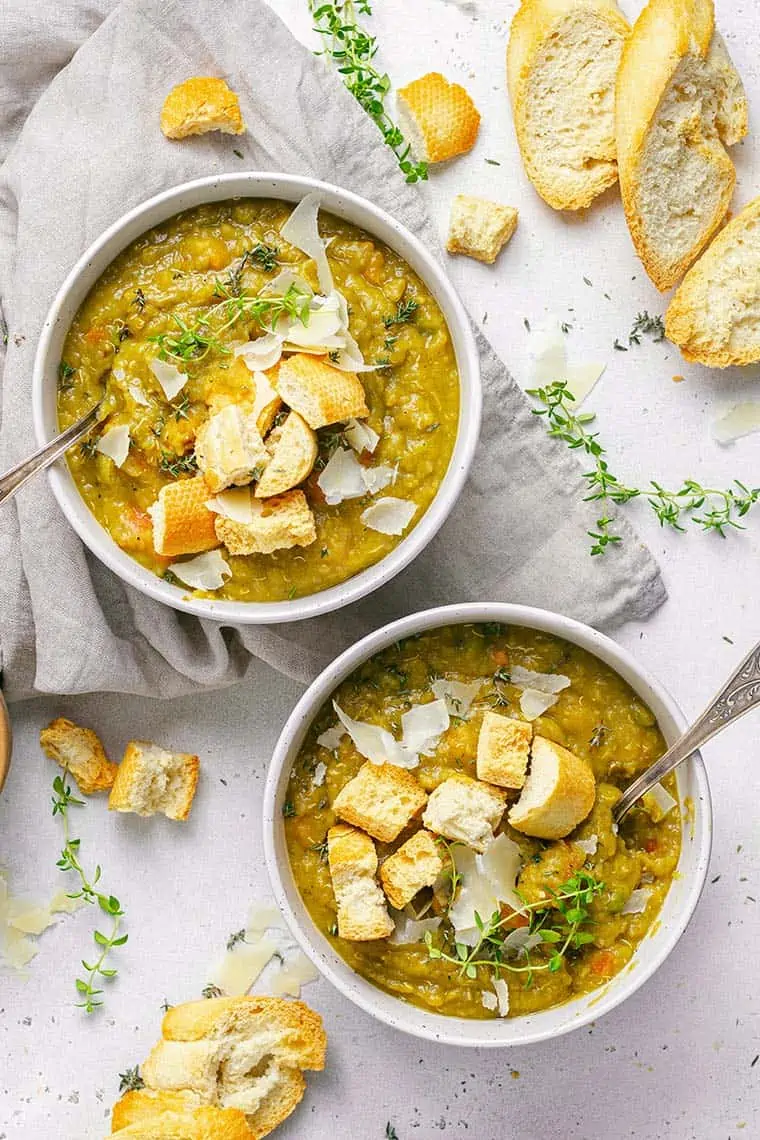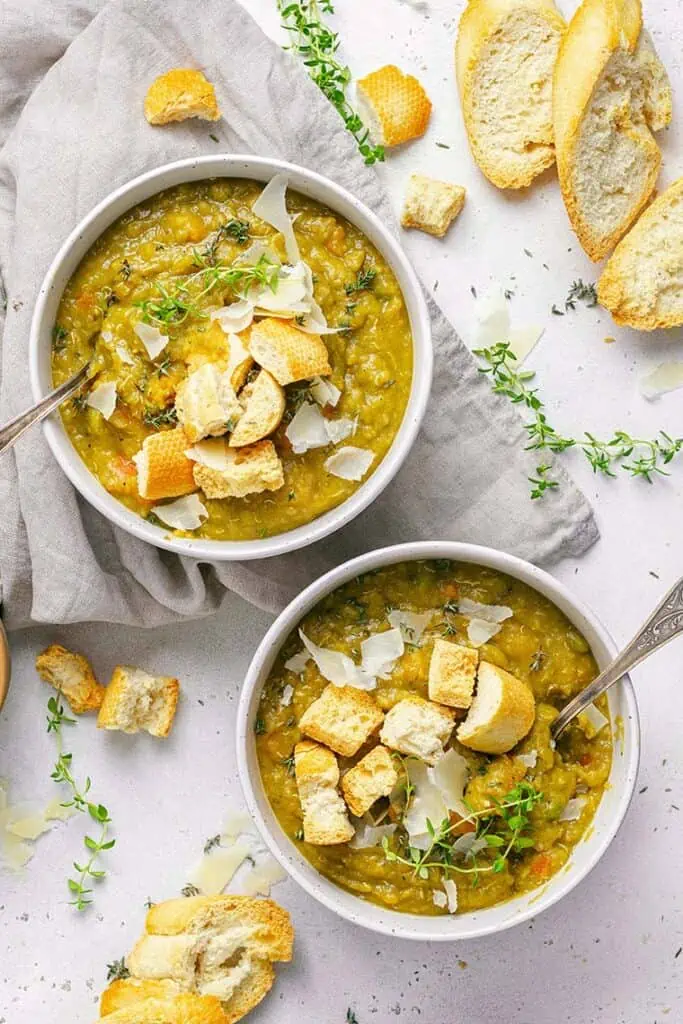 How to Make Slow Cooker Split Pea Soup
There is literally ONE step in making this recipe. Simply dump everything into your slow cooker, give it a stir, and let it cook itself.
After about six hours, a big bowl of soup will warm your bones and fill your tummy with vegetarian goodness.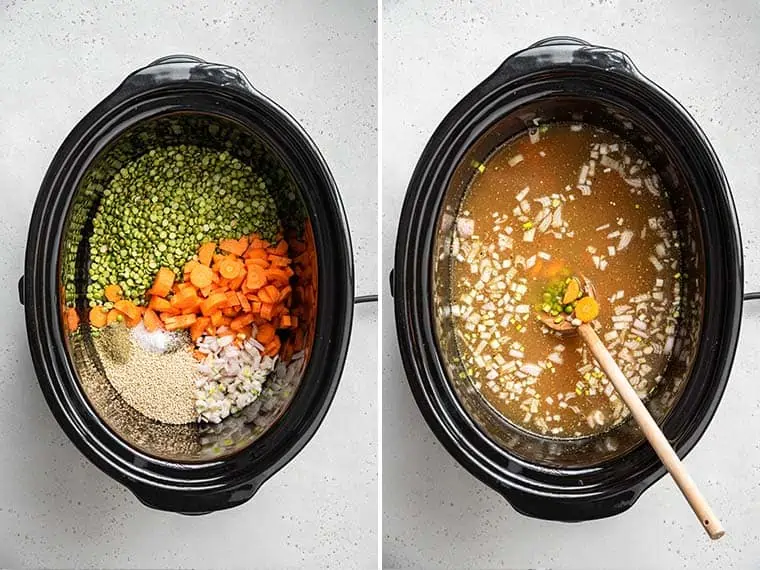 More Vegan Soup Recipes
If you make this healthy Slow Cooker Split Pea Soup, be sure to let me know what you think with a comment below!
Slow Cooker Vegan Split Pea Soup
It's soothing. It's nourishing. This healthy vegan split pea soup is a one-pot, hands-off meal perfect for winter.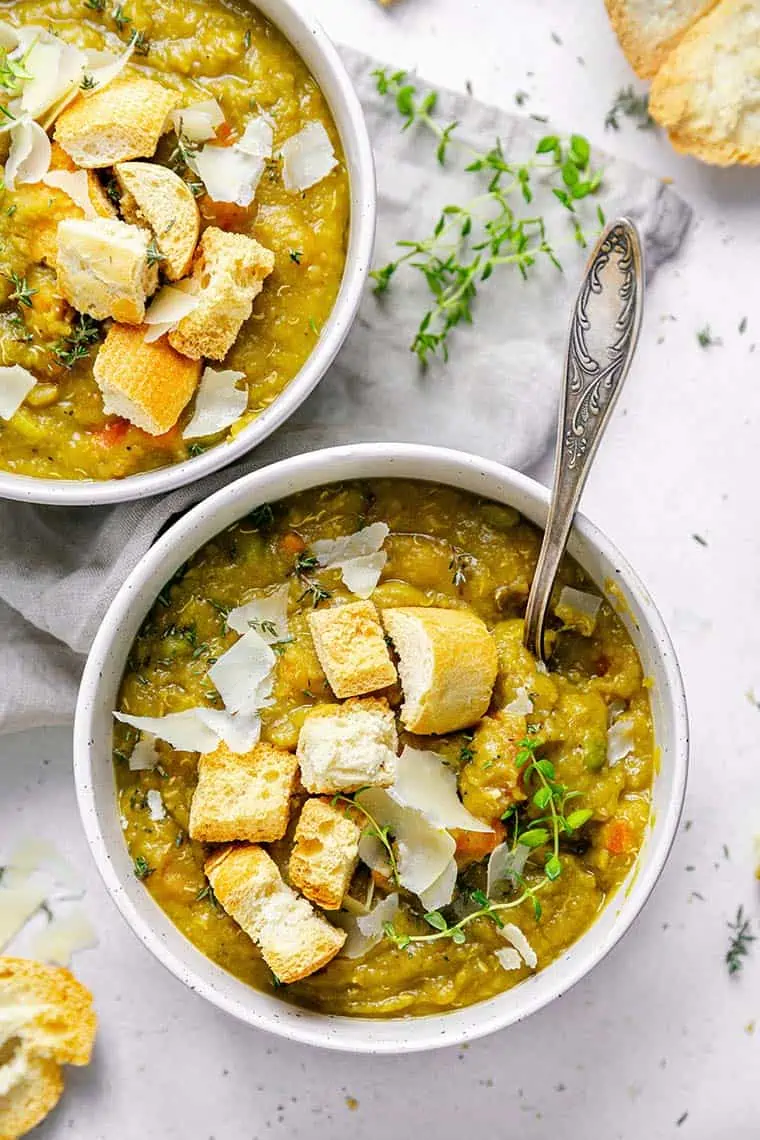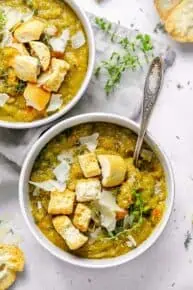 Instructions
Add all ingredients into a slow cooker in the order listed and stir to combine.

Cook on high for 4 – 6 hours or on low for 6 – 8.

Serve with a slice of toasted bread or your favorite salad.
Notes
If you don't have time to cook this in your slow cooker, simply saute the vegetables until soft then add peas, broth and spices, bring to a boil then reduce to simmer for 30 – 40 minutes until the peas are starting to break down and are soft.
Nutrition
Serving:
1
g
|
Calories:
203
kcal
|
Carbohydrates:
37
g
|
Protein:
13
g
|
Sodium:
205
mg
|
Potassium:
580
mg
|
Fiber:
13
g
|
Sugar:
5
g
|
Vitamin A:
3005
IU
|
Vitamin C:
2.1
mg
|
Calcium:
43
mg
|
Iron:
2.7
mg
Filed Under:

This post was sponsored by the awesome folks over at Bob's Red Mill. Thanks for supporting the companies and brands that promote the healthy, sustainable lifestyle that I believe in and share on SQ!