Healthy Cake Batter Energy Bites
These cake batter energy bites are vegan, gluten-free and made without refined sugar. They're easy to make and are a healthy sweet treat everyone will love!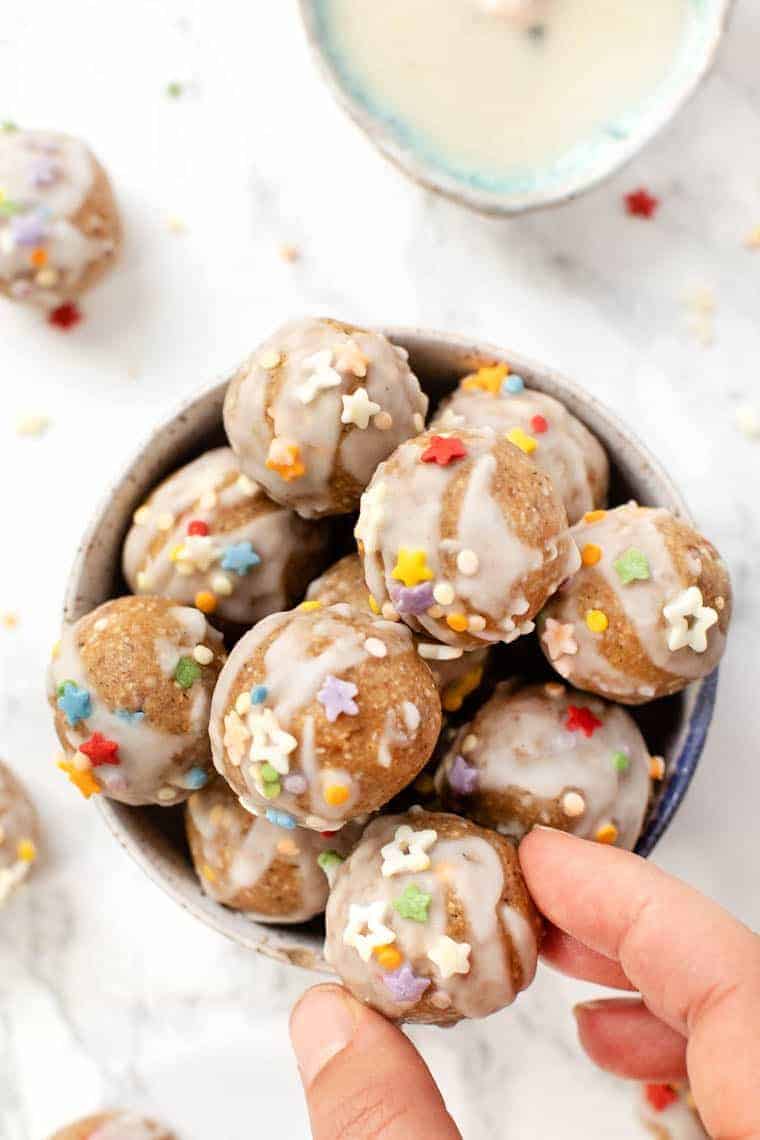 My energy ball addiction is back and coming at you in full force today. We're changing up my standard chocolate or fruity base and making something so fabulous that you might just never look back.
When I first made these cake batter energy bites, I felt like it was too good to be true. They taste like vanilla cake, have icing on top, and even are studded with sprinkles.
And the best part? They don't require any baking, have only 9 ingredients and are ready in about 15 minutes!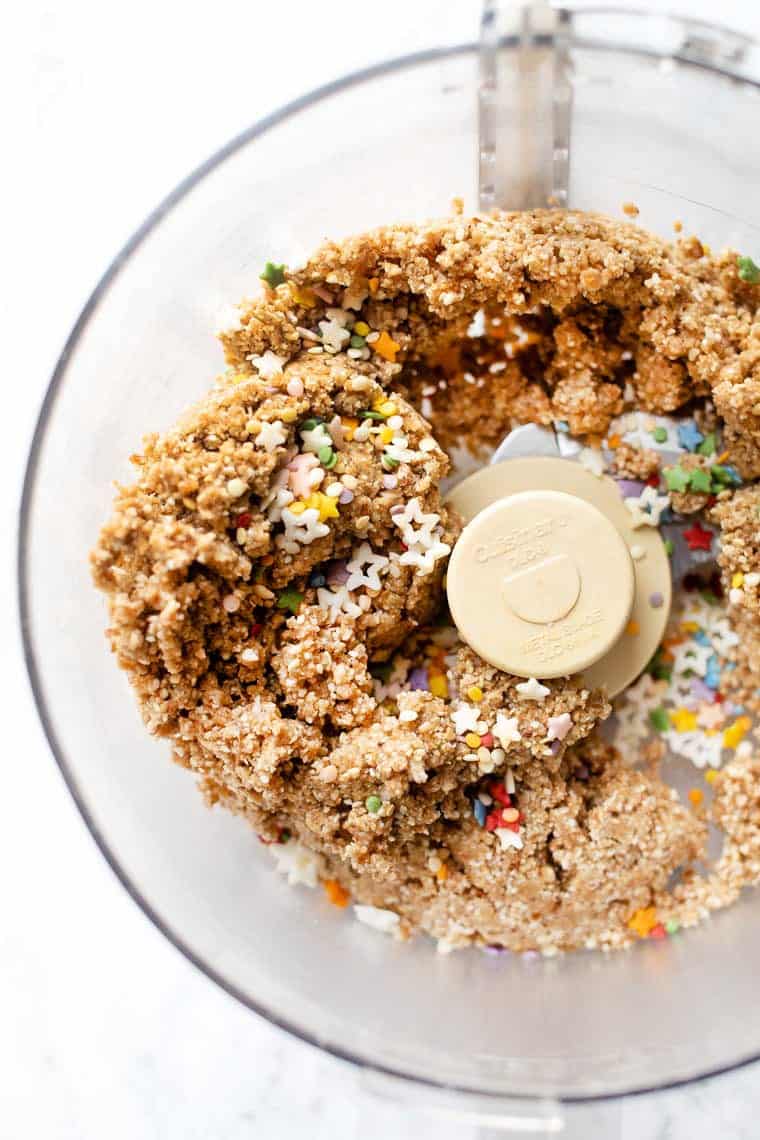 How to Make Cake Batter Energy Bites
Just like my other energy bite recipes, you're going to need a food processor to make these cake batter energy bites.
We start by adding our base ingredients: cashews, coconut, oats, and dates. Blend that up until you get a sandy texture. This combination gives you a really nice "plain" base for your cake. The coconut adds a little sweetness and the oats give it a really soft texture.
Then you'll add your flavorings: vanilla extract, cashew butter, and maple syrup. The cashew butter helps bind the dough together and has a really subtle flavor. The maple syrup is our sweetener and the vanilla is our flavor. Together this forms the perfect base for our energy bites.
The final thing we want to do is pulse in some sprinkles. I like these natural sprinkles!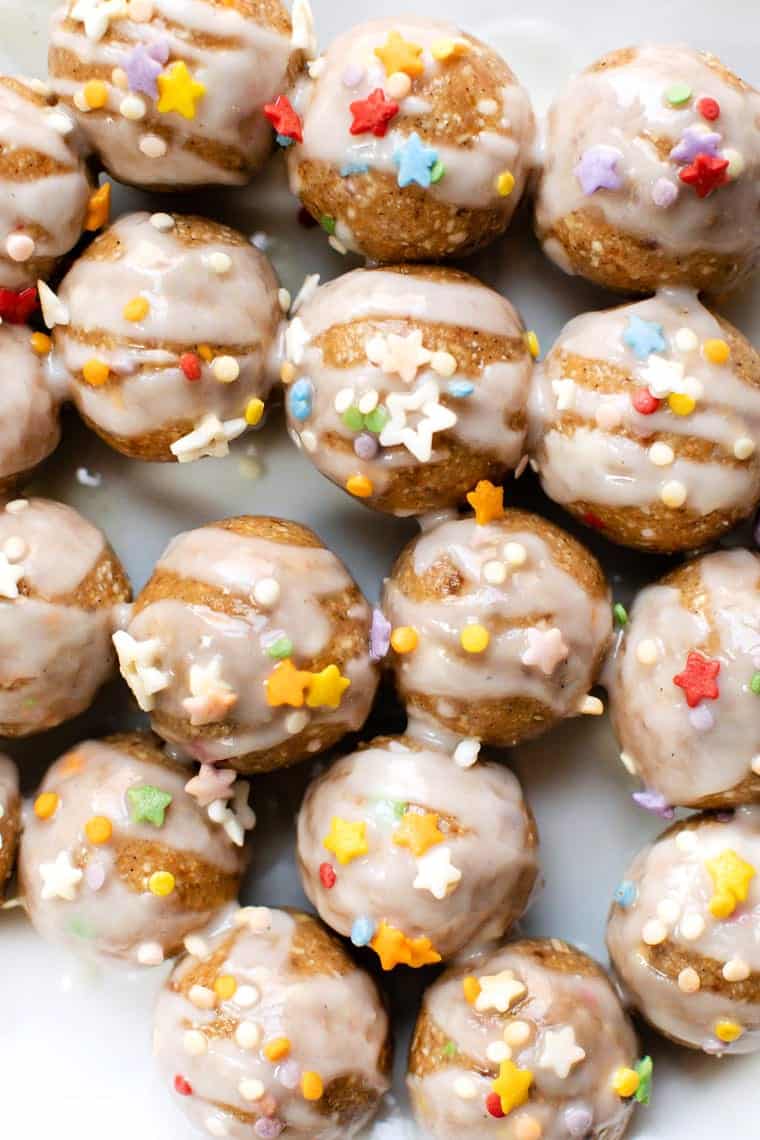 The Perfect Vegan Cake Icing
What would a cake batter energy bite be without a little some healthy icing, right?
I've used coconut butter as icing on all sorts of things. All I do is melt it and drizzle it on everything. I've used coconut butter icing on recipes like my Healthy Quinoa Carrot Cake, Healthy Blueberry Muffins, and even Pumpkin Spice Truffles.
What's fabulous about coconut butter is its natural sweetness. Coconut is something that inherently has a little sugar in it, so when you melt it, you really don't need to add anything else. You can totally stir in a little vanilla extract, but for this recipe, it's just plain old coconut butter.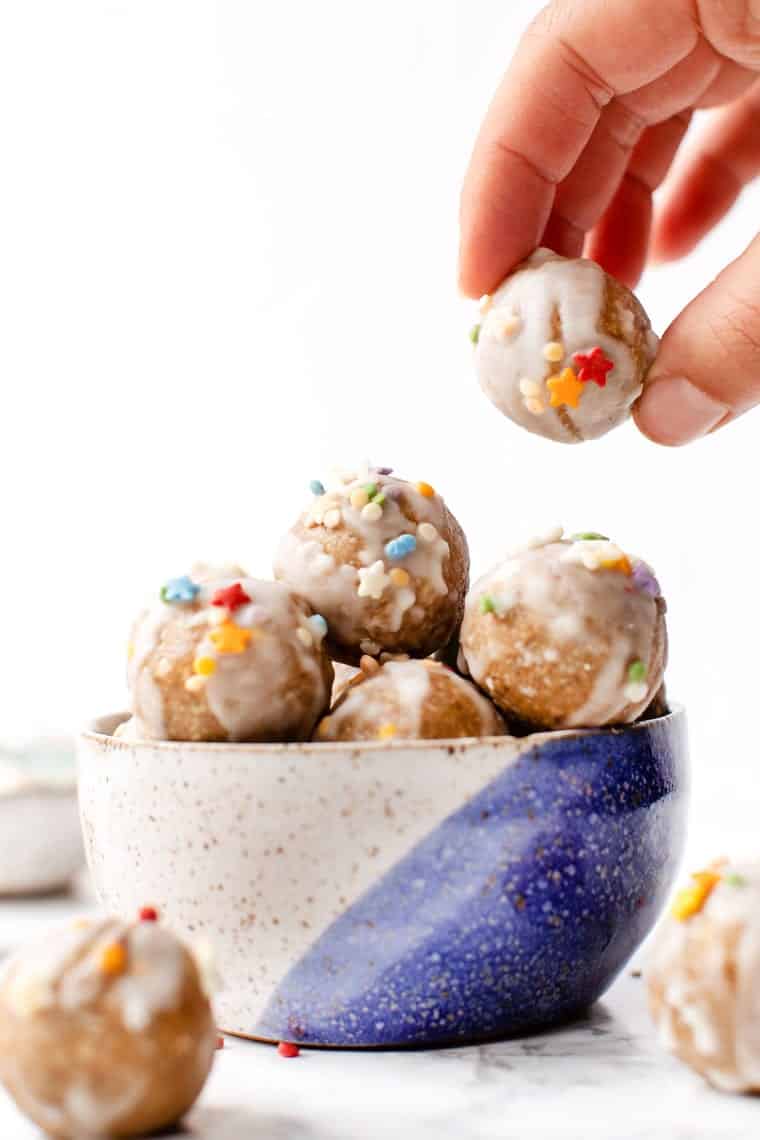 A Quick & Easy No Bake Snack
I've shared before about how much I love having a stockpile of energy bites on hand for a quick and easy snack. What's great about energy bites is that they're portable. I'll grab one on my way out the door as I head to yoga, but also bring them when I travel.
To help make my energy bites last longer, I keep them in the freezer. You can store them for at least 6 months. But if you're traveling, for example, you can also keep them in the fridge (like your hotel mini fridge!). Some recipes – like these cake batter energy bites – can also be stored at room temperature.
Either way, they are ready in about 10 minutes, don't require any baking, are packed with fiber, healthy fats and some protein, and honestly just make the best little snack ever.
No Bake Cake in Bite-Sized Form
I like to think of these cake batter energy bites as the healthiest way to eat a slice of cake! While they don't have the same texture as something like a cake pop (which is made with cake batter), they do honestly taste like a slice of vanilla cake.
Not to mention our natural sprinkles that help give them a funfetti flavor.
These are really one of my new favorite no-bake dessert recipes. I've always loved vanilla cake and now I can have it – icing and all – in bite-sized form!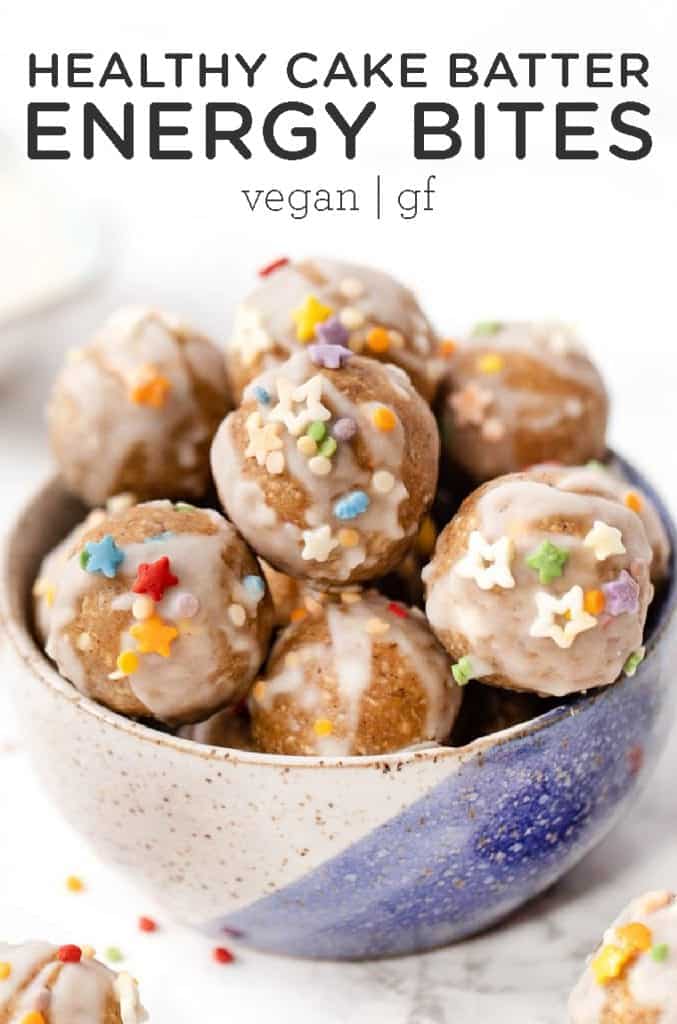 Other Energy Bite Recipes to try:
No-Bake Healthy Cake Batter Energy Bites
These cake batter energy bites are vegan, gluten-free and made without refined sugar. They're a healthy sweet treat everyone will love!
Servings 16 balls
Calories 85kcal
Instructions
Add cashews, coconut, oats, and dates into a food processor. Process on high until crumbly.

Add in cashew butter, syrup and vanilla and blend again until a dough starts to come together. If that's not happening, stream in water one tablespoon at a time until a sticky dough forms. Pulse in the sprinkles.

Remove the lid and form the mixture into balls.

Transfer to a plate, and drizzle with coconut butter. Top with sprinkles to finish. Enjoy immediately, or for an even better texture, cool in the fridge for at least 30 minutes.
Nutrition
Calories: 85kcal | Carbohydrates: 10g | Protein: 2g | Fat: 4g | Saturated Fat: 1g | Sodium: 4mg | Potassium: 75mg | Sugar: 4g | Vitamin C: 0.1mg | Calcium: 5mg | Iron: 0.7mg
share what you make
Tag #simplyquinoa on Instagram with your creations! We love sharing what you make with the community. We can't wait to see!

follow on instagram