These easy key lime pie energy bites taste like a slice of key lime pie, but are a healthy little snack! These energy bites are also vegan, gluten-free, and use just 5 ingredients!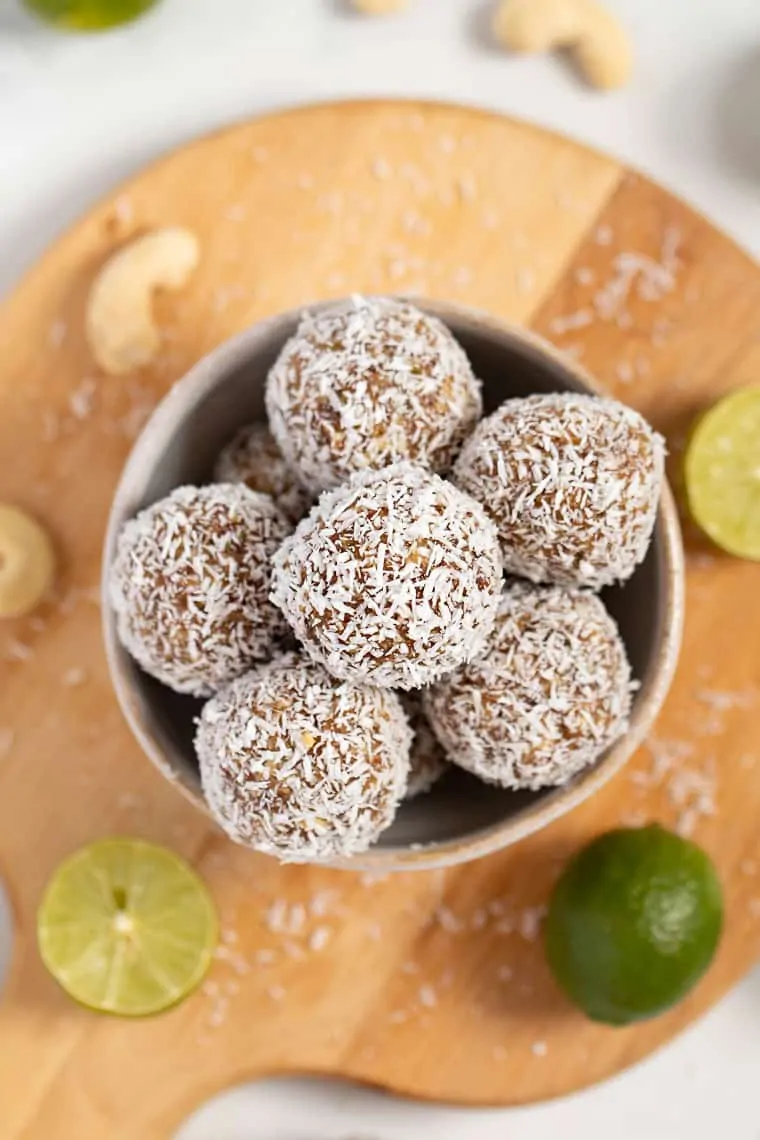 Guys, we're back. Back in the energy ball game. And I for one am psyched to be here.
Just when I think I've run out of ideas for energy ball flavors, another one pops into my head. Today's was actually inspired by a simple stroll through the produce section at Whole Foods. I saw key limes, picked up a bag, and was like, "Hey, these would make amazing energy bites!"
So I did just that. Threw some of my classic energy ball ingredients into my food processor, whizzed them up and these stunners came out. Key Lime Pie Energy Bites that taste like a little slice of the tropics!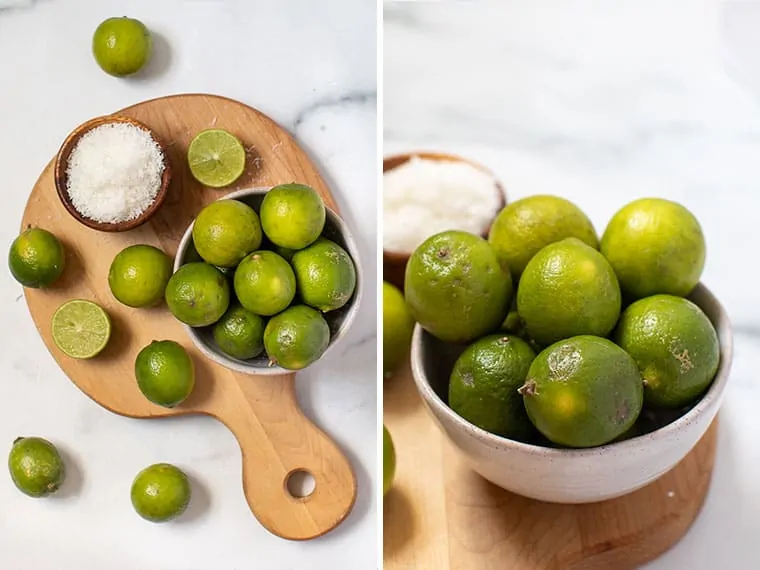 What are Key Limes?
First, let's talk about key limes. Key limes are actually a citrus hybrid, and, unlike the traditional limes we're used to seeing, key limes are teeny. About the size of a golf ball.
A few other differences:
they're more acidic
they have more seeds & less juice
they're most well known for key lime pie
they have a thinner rind
They're super aromatic, but definitely don't have quite the same sweetness that our regular limes have (which goes against logic because key limes = dessert in most peoples' brains). I made a margarita with them the other day and it was quite tart!
What You Need for Key Lime Pie Energy Bites
In addition to our key limes, we're only using 4 other ingredients in these little bites:
Medjool dates: the stickiness that holds them all together! They're also super sweet and make these bites taste like a slice of pie.
Cashews: I went with cashews because they're not super flavorful or nutty
Coconut: since key lime pie + coconut go hand in hand
Maple syrup: this is optional, but does give them an even bigger boost of sweetness (i.e. more dessert-like). If you're sensitive to sugar or looking to cut back, feel free to leave this out.
And that's all you need!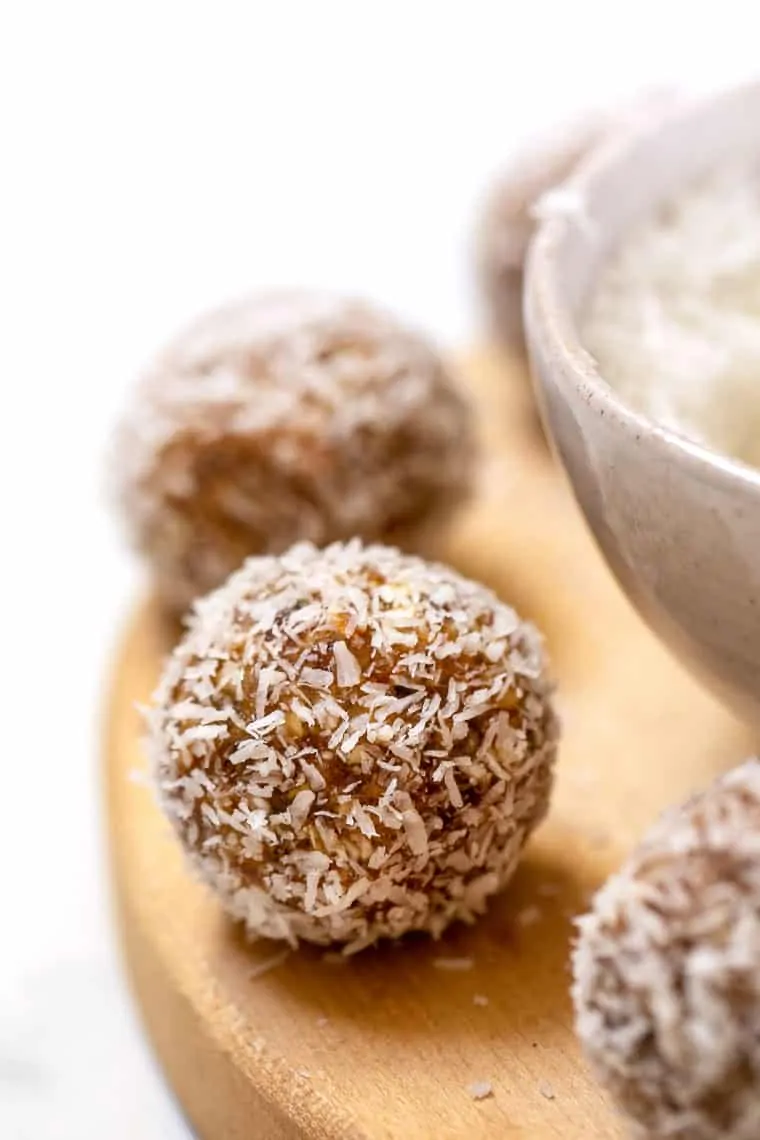 How to Make Key Lime Pie Bites
I know I've shared this a bunch of times before – and if you've seen my Ultimate Guide to Energy Balls then you can skip this section – but let's quickly run over how to make energy balls.
STEP 1: Blend
First, we need to blend everything together. I like to use a food processor because it still leaves some texture to the bites and doesn't cause them to be too squishy.
STEP 2: Roll
Once we have the dough blended, it's time to roll. Just scoop a bit of the dough out with your hands and shape it into a small ball (I usually go golf ball-sized).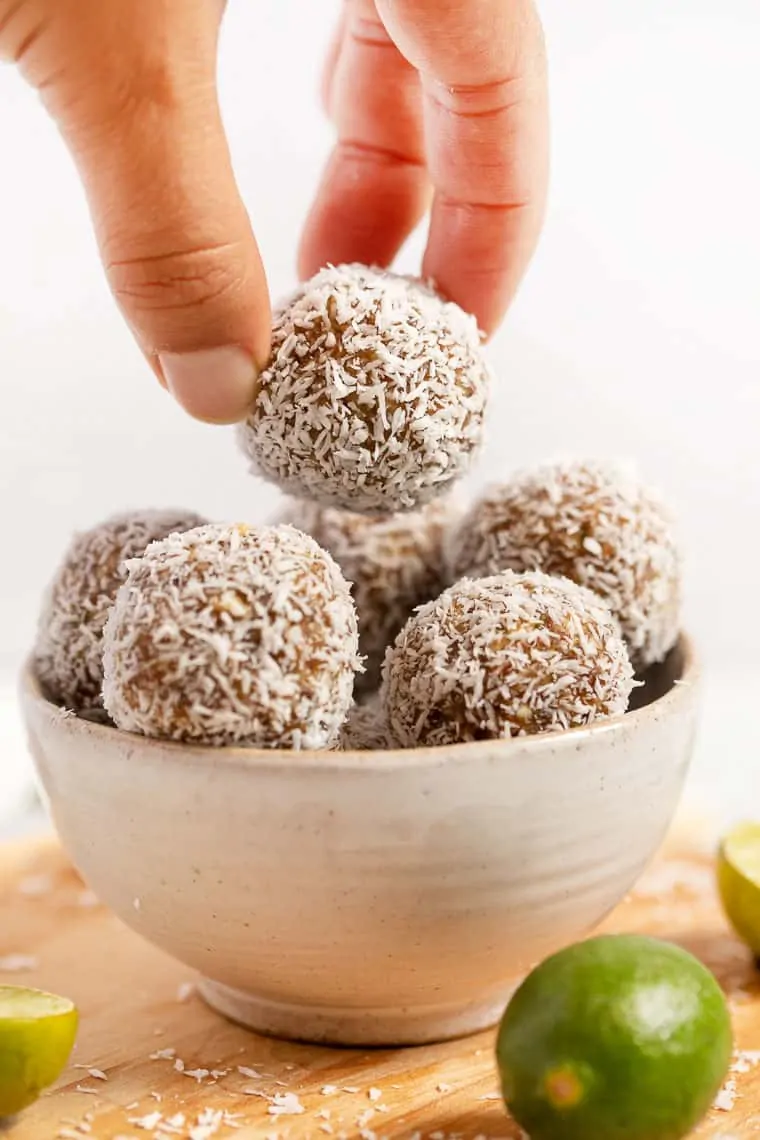 Can You Make Energy Balls without a Food Processor?
This is one of the biggest questions I get and the answer is yes, but I don't recommend it.
I've seen people use a blender before, but I for one have not had that work. The difference between a blender and a food processor is that a blender is designed to puree, whereas a food processor is designed to chop. If you over blend – which tends to happen with a food processor – you'll end up with something that too sticky.
Alternatively, you can also make energy balls that don't require a food processor at all!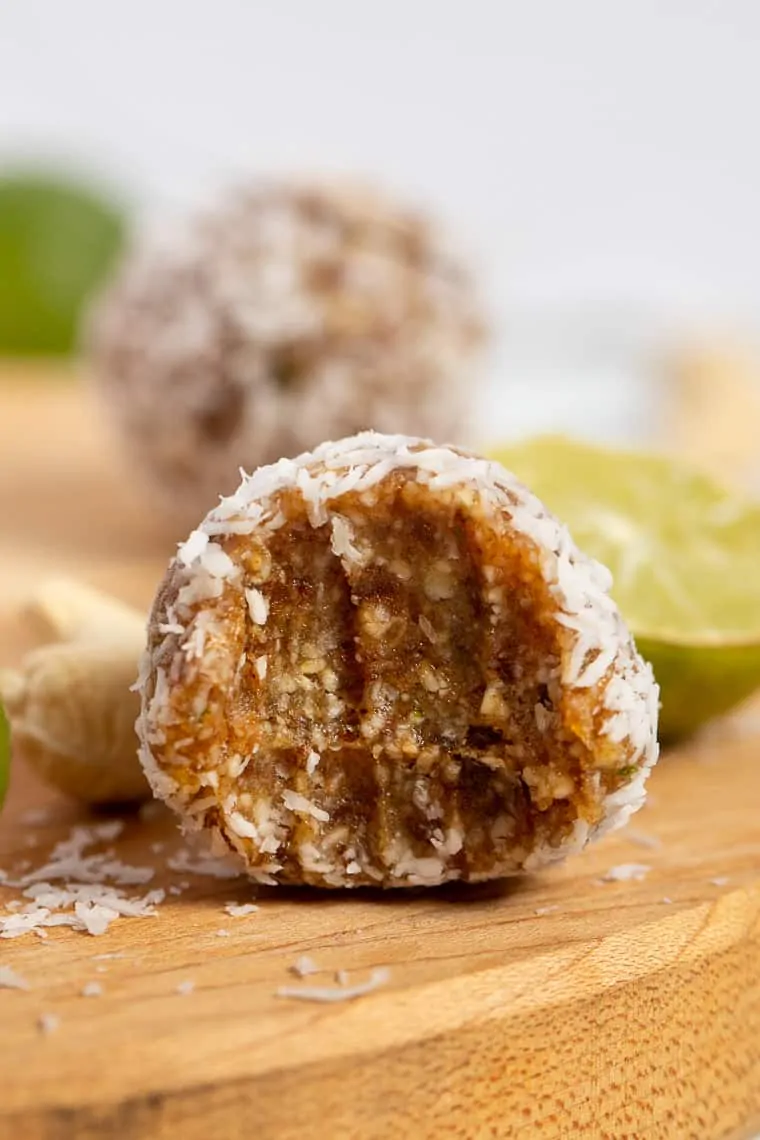 Are Energy Balls a Healthy Snack?
To me, energy balls are the ultimate healthy snack. When I'm looking for a snack, I not only want something that will satisfy my sweet tooth, but I also want something that contains a good blend of macros.
And energy balls do just that! They've got:
healthy fats: from the cashews and coconut which helps to provide lasting energy to your brain
plant-based protein: usually from nuts/nut butter which digests more slowly and keeps you fuller for longer
carbohydrates: from the dates and syrup, which is sugar and provides a quick boost in energy
So not only are these key lime pie energy bites delicious, but they're also healthy!! Dessert for a snack? I'm in!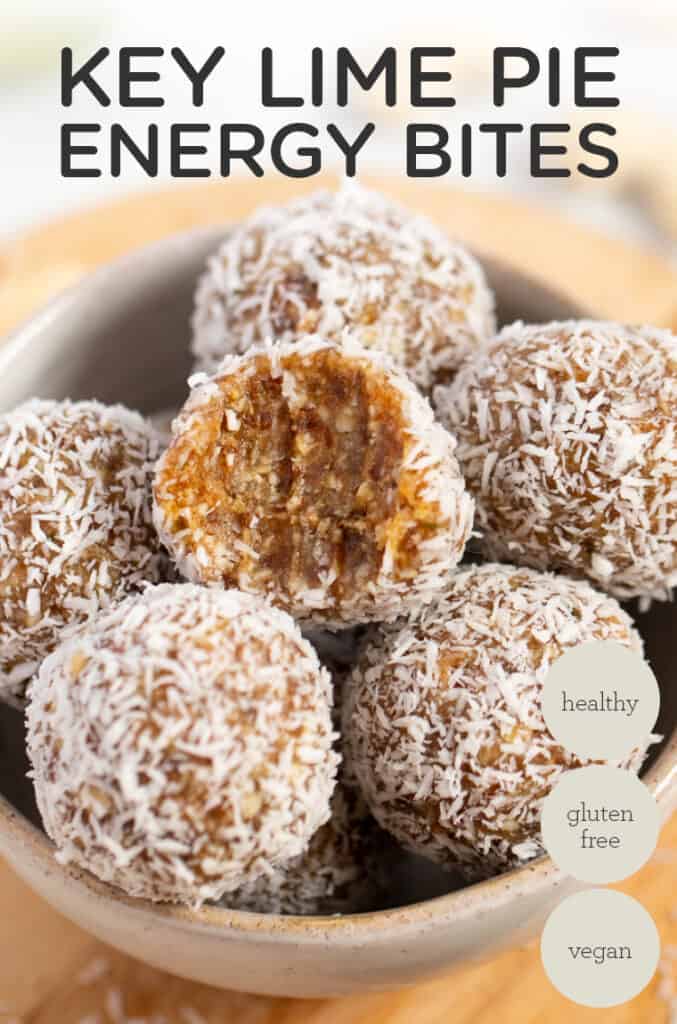 More Energy Ball Recipes to try:
Key Lime Pie Energy Bites
These easy key lime pie energy bites taste like a slice of key lime pie, but are a healthy little snack! These energy bites are also vegan, gluten-free, and use just 5 ingredients!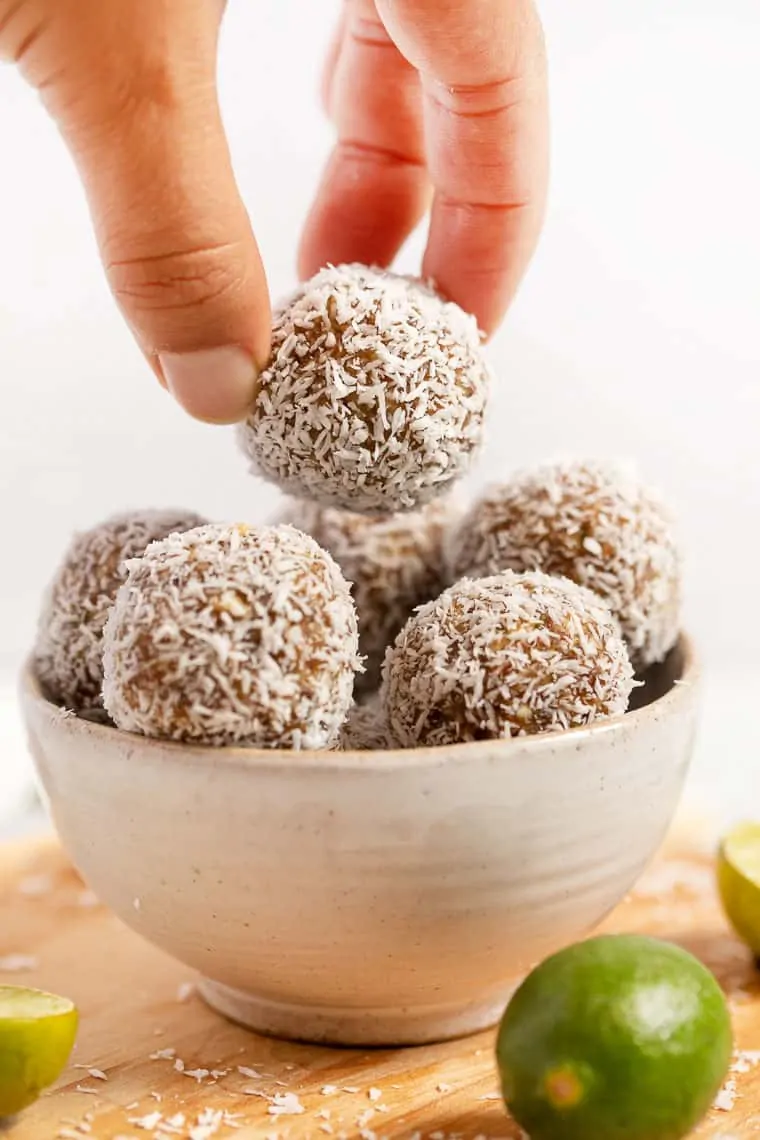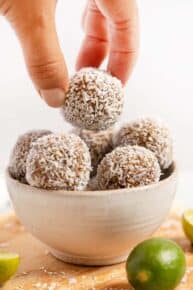 Instructions
In the bowl of a food processor combine the dates and cashews. Process until they resemble coarse sand.

Add the coconut, zest and juice of the key limes, and maple syrup, and process until a dough forms. If the dough does not come together, add some water, 1 tablespoon at a time until the dough sticks together when you press it between your fingers.

Form 1" balls with your hands and roll them in some shredded coconut (if desired). Place on a parchment-lined plate. If you like the energy balls on the softer side, enjoy immediately. If you like them a bit more "firm", then freeze for at least 60 minutes and then enjoy.

Keep in a covered container in the freezer for best results, but they will also keep in the fridge.
Notes
* if you're using regular limes, just use 1!
Nutrition
Serving:
1
bite
|
Calories:
73
kcal
|
Carbohydrates:
8
g
|
Protein:
1
g
|
Fat:
4
g
|
Saturated Fat:
2
g
|
Sodium:
2
mg
|
Potassium:
104
mg
|
Fiber:
1
g
|
Sugar:
6
g
|
Vitamin A:
11
IU
|
Calcium:
8
mg
|
Iron:
1
mg
Filed Under: