These easy mint chocolate energy balls taste like a peppermint patty, but are a healthy little snack! These energy bites are also vegan, gluten-free, and use just 7 ingredients!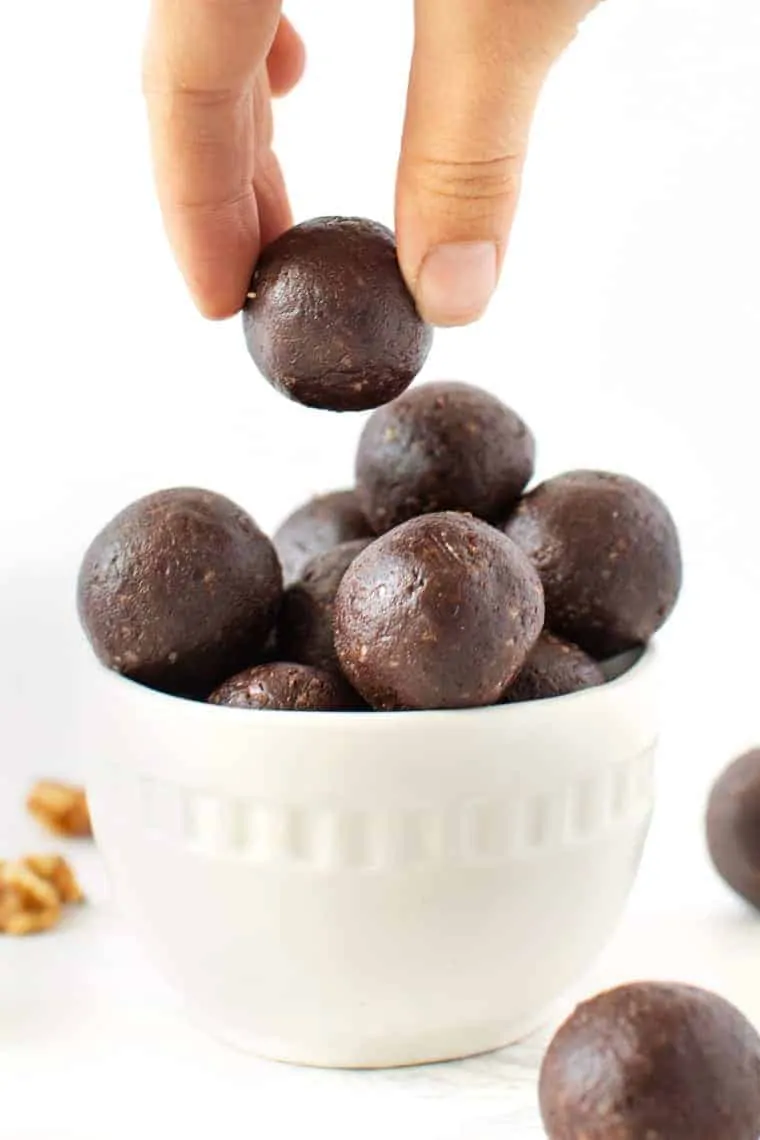 I used to not like chocolate. I was a plain vanilla kind of girl. Didn't even like pasta sauce!
Now? I'm all about flavor. Mixing things up. Trying new things. And chocolate? Oh heck yes! Eat it every single day.
One of my latest obsessions is anything mint chocolate. Whether it's a smoothie, a protein bar, or a cookie, I'm down. I just love it! This is why I'm so excited to share my latest snack creation: Mint Chocolate Energy Balls!! They use just 7 ingredients, are chocolatey and minty at the same time, and honestly are just the best little sweet treat ever!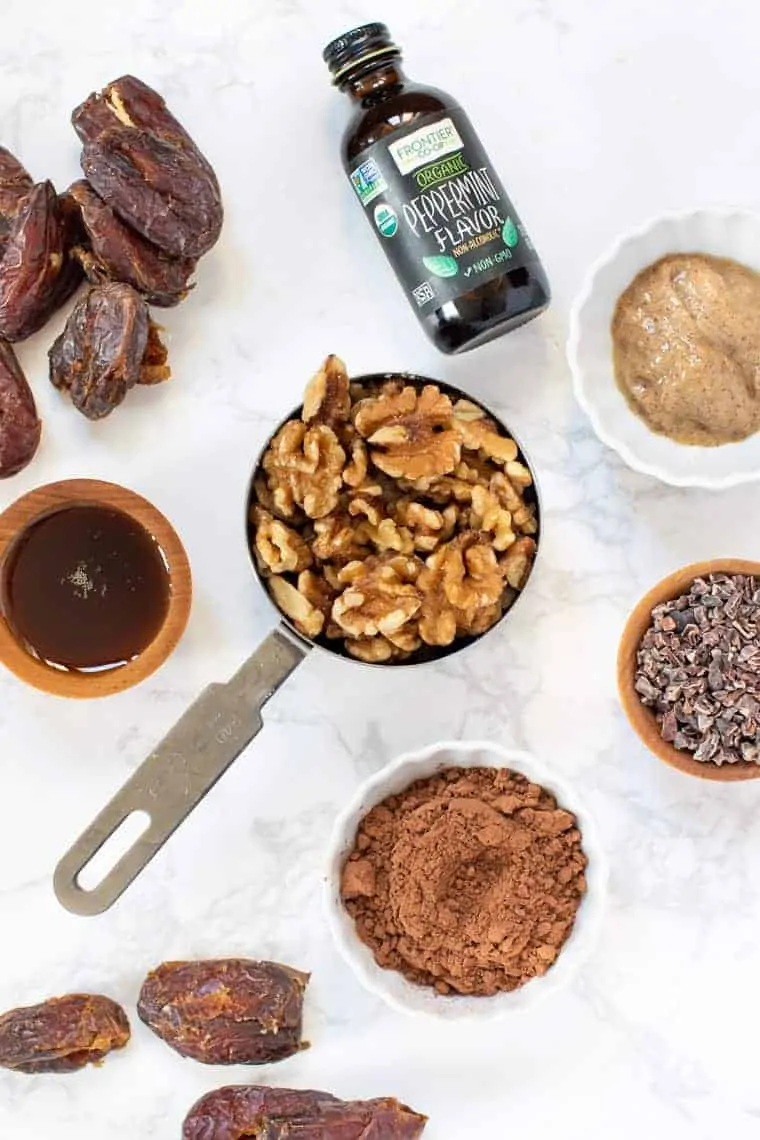 Ingredients for Mint Chocolate Energy Balls
What's great about energy balls – if you've never made them before – is that you really don't need much. Essentially it's just dates, nuts, and any sort of mix-ins you want. We're keeping things as simple as possible around here – especially now when we have limited access to grocery stores – so all you need are 7 easy ingredients.
Dates: the secret to energy balls are Medjool dates! They're sticky, sweet, and just delightful.
Walnuts: I went with walnuts because they're a great combo with chocolate, but feel free to use any other nut you'd like.
Cacao powder: I prefer cacao powder because it's raw and isn't quite as bitter, but regular cocoa powder works totally fine as well!
Almond butter: this helps everything come together, but can be replaced with any nut/seed butter that you'd like!
Maple Syrup: just to add a touch more sweetness! If you want to cut down on sugar, replace with water or more almond butter.
Mint extract: this is what gives us our minty flavor – I love this organic peppermint extract!
Cacao nibs: they add a little crunch but are totally optional. Alternatively, you could also do mini chocolate chips!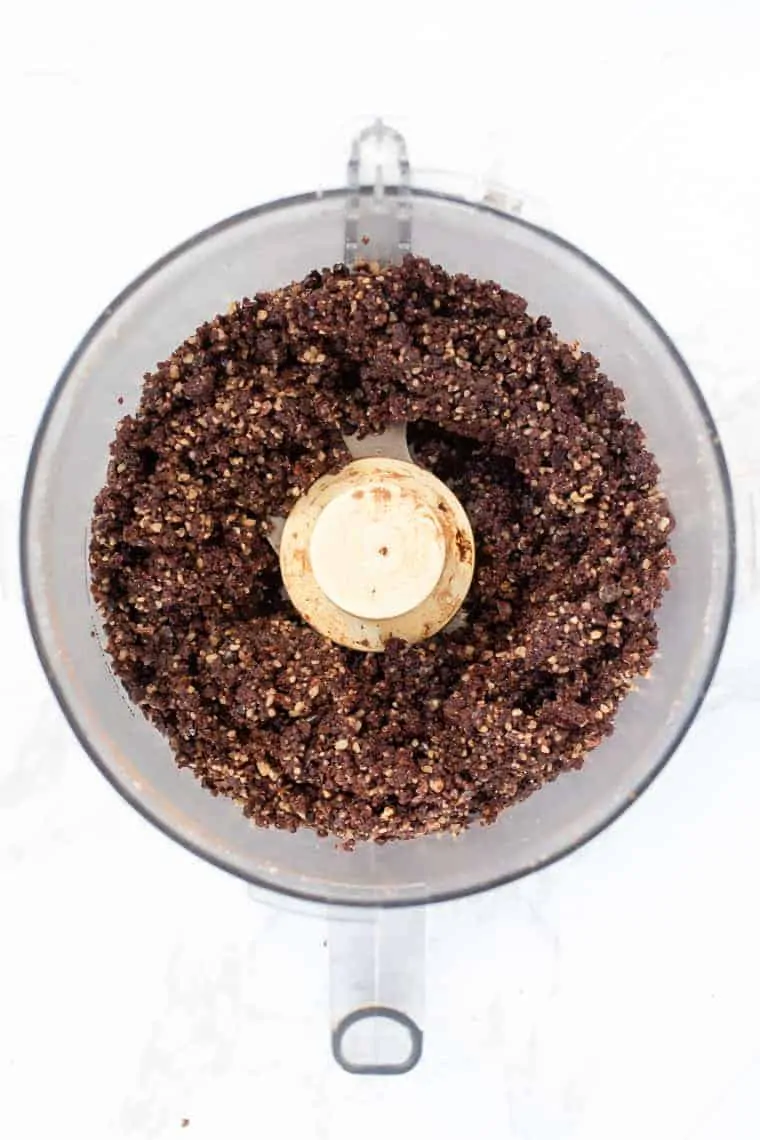 How to Make Energy Balls
First and foremost, if you've never made energy balls before, then I highly recommend you check out my Ultimate Guide to Energy Balls post. This post details exactly how to make energy balls step-by-step and even includes a "formula" you can follow to create your own flavors.
So to get started, you'll need to grab your food processor. Luckily that's the only thing you're going to need! I have this 11-cup one from Cuisinart and I love it.
From there, we'll blitz together our dates and nuts. You're looking for a sandy texture where everything is chopped up into little pieces (see above photo for reference). Once you've got that, you can add in the rest of your ingredients and blend them back up until a dough forms.
The dough should be pretty sticky so that when you grab some with your hands and pinch it together, it sticks.
Last step? Roll the dough into balls!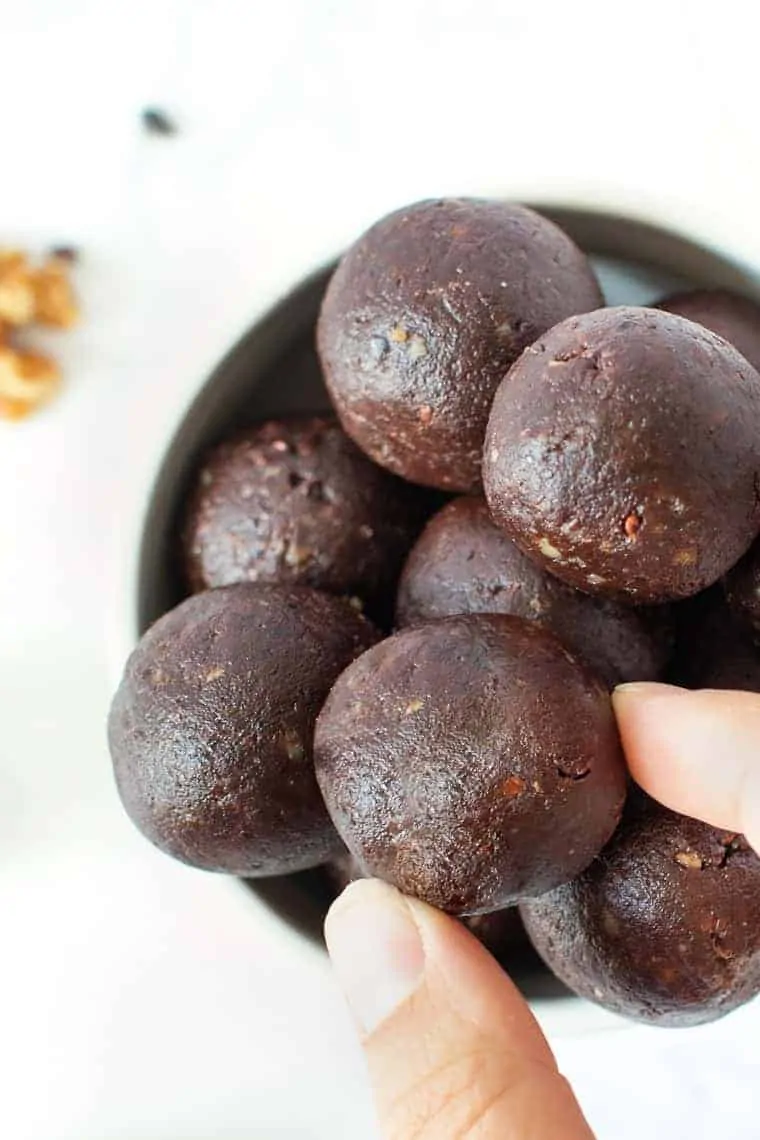 Can You Make Energy Balls in a Blender?
A big question I get asked whenever I share energy ball recipes is if you can make energy balls without a food processor/can you make energy balls in the blender. The answer is yes you can make energy balls without a food processor, but I'm really not sure if a blender can do it correctly. I'll admit, I haven't personally tried, but the shape of the jar and how it blends leads me to believe it would be quite difficult. The only way it might work is if your blender has a pulse setting.
That being said, if you've successfully make energy balls in the blender before, let us know how you do it!
No to make energy balls sans food processor, you're going to have to follow a recipe that doesn't use dates as the base. You want something that uses oats and a nut butter so that you can stir it together. I don't have many options on my site, but these Muesli Energy Bites should do the trick!
How to Store Energy Balls
These mint chocolate energy balls – and really any energy ball in general – can either be stored at:
room temperature
in the fridge
in the freezer
I personally keep mine in the freezer because a) they last longer and b) I like the texture better!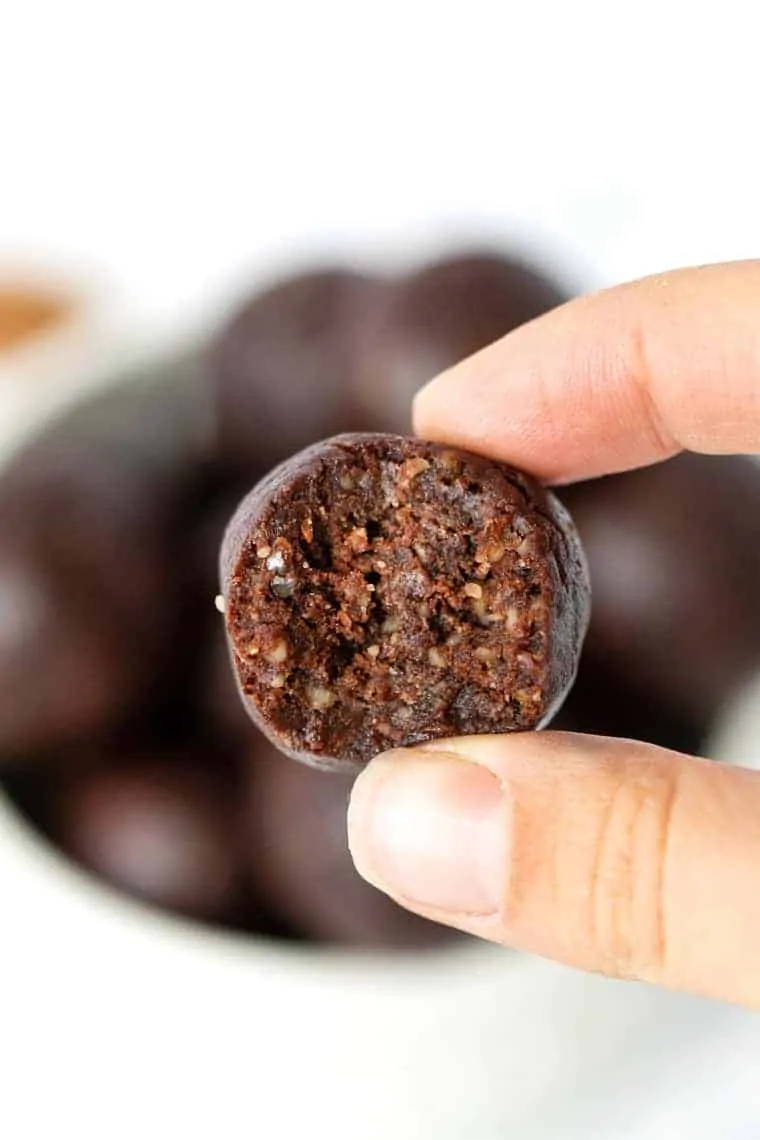 Why Energy Balls are a Healthy Snack
Finally, let's chat about why energy balls are so great to begin with. I personally love energy balls as either a pre-workout snack, a post-lunch snack, or a sweet treat after dinner. So for me, they serve many purposes and can be made with basically whatever ingredients you have on hand.
The other reason why I love energy balls is that they're actually a pretty balanced snack. If you check out the nutrition label below the recipe, you'll see that energy balls have the main three macros:
carbohydrates
healthy fats
protein
You always want to make sure that you're snacking on things that have a blend of macros. This means that they'll help to keep you fuller for longer and give you longer lasting energy!
I hope you enjoy this new flavor of energy balls! If you're a mint chocolate anything lover, you're going to L-O-V-E these!!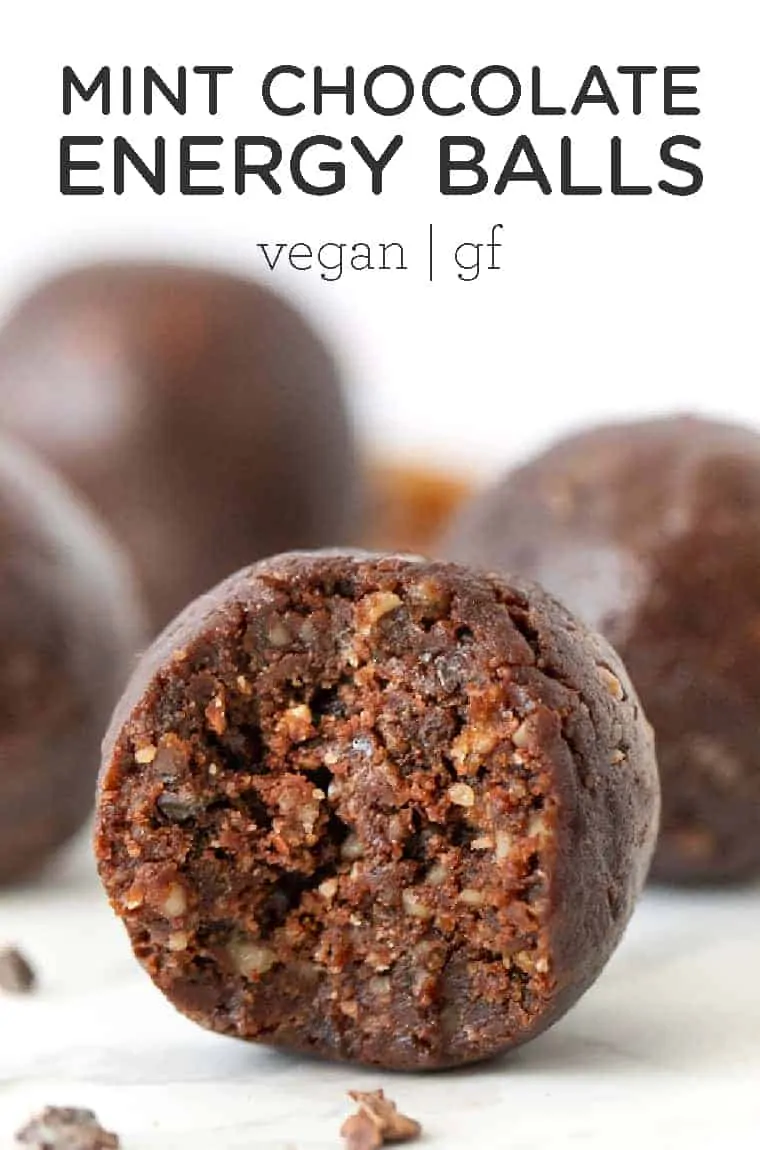 More Energy Ball Recipe to try:
Mint Chocolate Energy Balls
These easy mint chocolate energy balls taste like a peppermint patty, but are a healthy little snack! These energy bites are also vegan, gluten-free and use just 7 ingredients!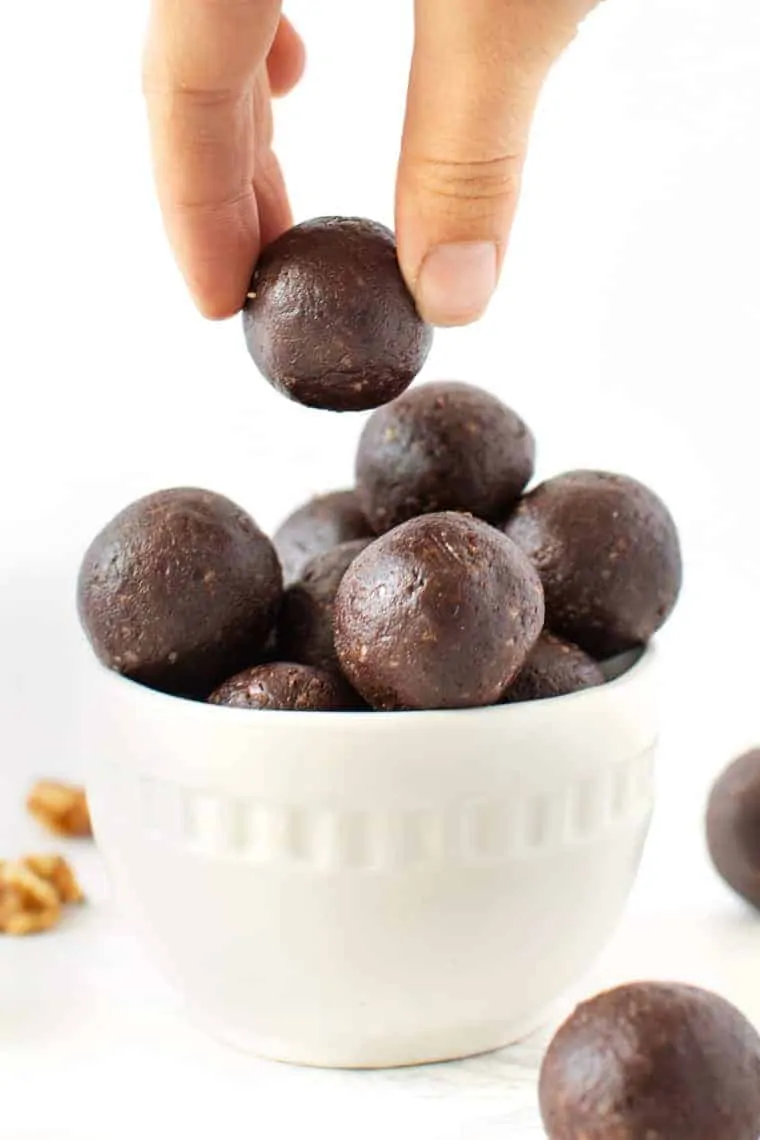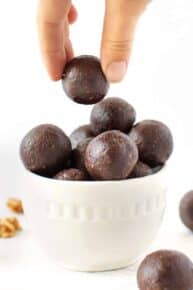 Instructions
In the bowl of a food processor combine the dates and walnuts. Process until they resemble coarse sand.

Add the cacao powder, almond butter, syrup and extract, and process until a dough forms. If the dough does not come together, add some water, 1 tablespoon at a time until the dough sticks together when you press it between your fingers. Pulse in the cacao nibs.

Form 1" balls with your hands and place on a parchment-lined plate. If you like the energy balls on the softer side, enjoy immediately. If you like them a bit more "firm", then freeze for at least 60 minutes and then enjoy.

Keep in a covered container in the freezer for best results, but they will also keep in the fridge.
Nutrition
Serving:
1
ball
|
Calories:
103
kcal
|
Carbohydrates:
11
g
|
Protein:
2
g
|
Fat:
7
g
|
Saturated Fat:
1
g
|
Sodium:
1
mg
|
Potassium:
138
mg
|
Fiber:
2
g
|
Sugar:
8
g
|
Vitamin A:
16
IU
|
Vitamin C:
1
mg
|
Calcium:
22
mg
|
Iron:
1
mg
Filed Under: