These tasty lemon blueberry energy balls use just 5 ingredients and are a cinch to whip up. They make the best healthy snack or afternoon sweet treat!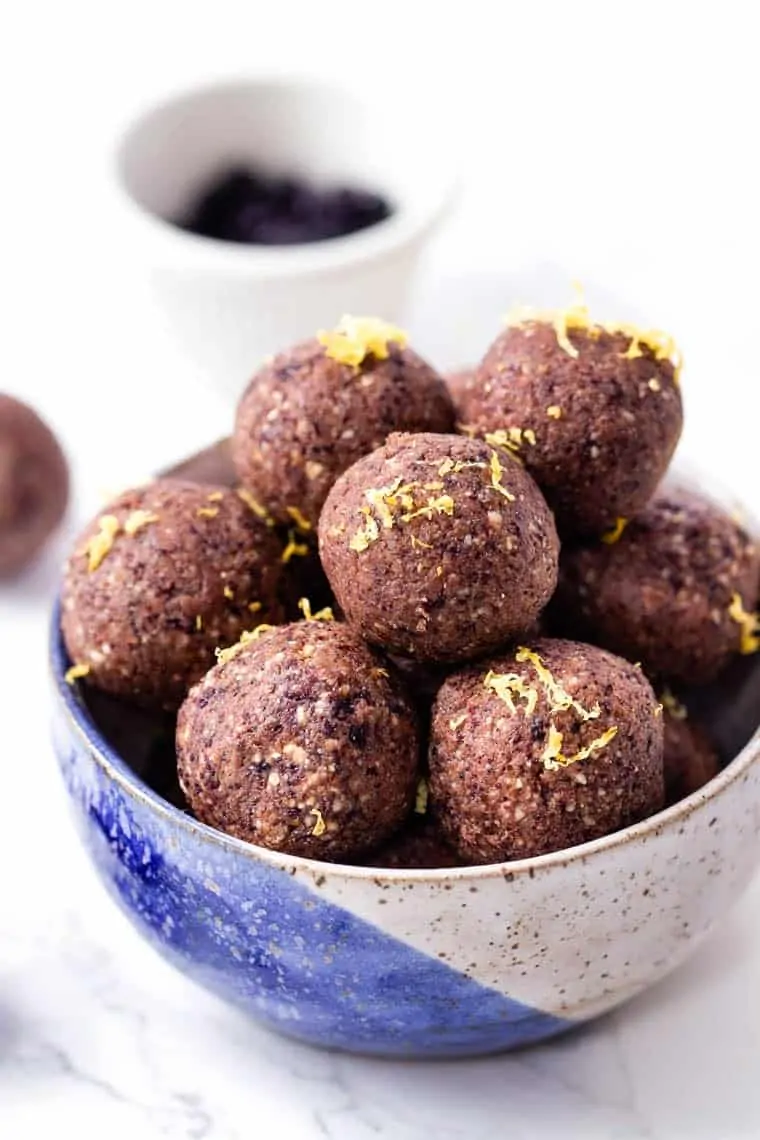 I first discovered the world of energy balls about 8 years ago. I saw someone on YouTube make them and realized it would be the perfect snack when I was going to the office every day.
Back then, I was struggling with snacks at that point – bars were often more than I needed, but I was sick of eating hummus and carrots. Energy balls seemed like the perfect solution.
Fast forward 8 years and we've got at least a dozen flavor varieties on the site, and there is a constant supply in my freezer. They're my go-to snack but also double as a nice sweet treat if I'm out of chocolate. This time around we're using one of my newest discoveries: dried blueberries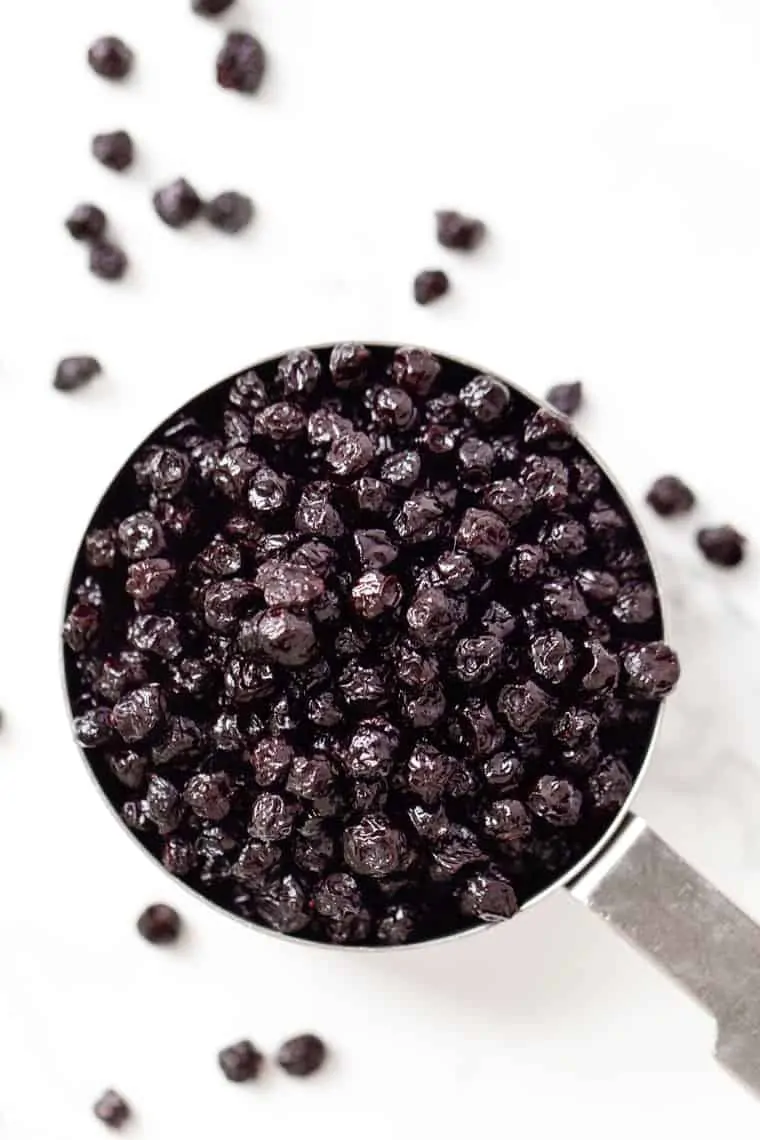 What Are The Benefits of Dried Blueberries?
To make energy balls you need something sticky to help hold them together. I usually use dates, but you can really use any dried fruit. To make these energy balls bright and cheery, we're using dried blueberries!
The benefit of dried blueberries over something like cranberries is that they're much stickier, helping you get a better consistency with your balls. Dried blueberries also have amazing flavor, are high in antioxidants and have an incredible color!
Are they a substitute for fresh? They certainly can be! And they can also be rehydrated if you want to use them in something like pancakes or muffins.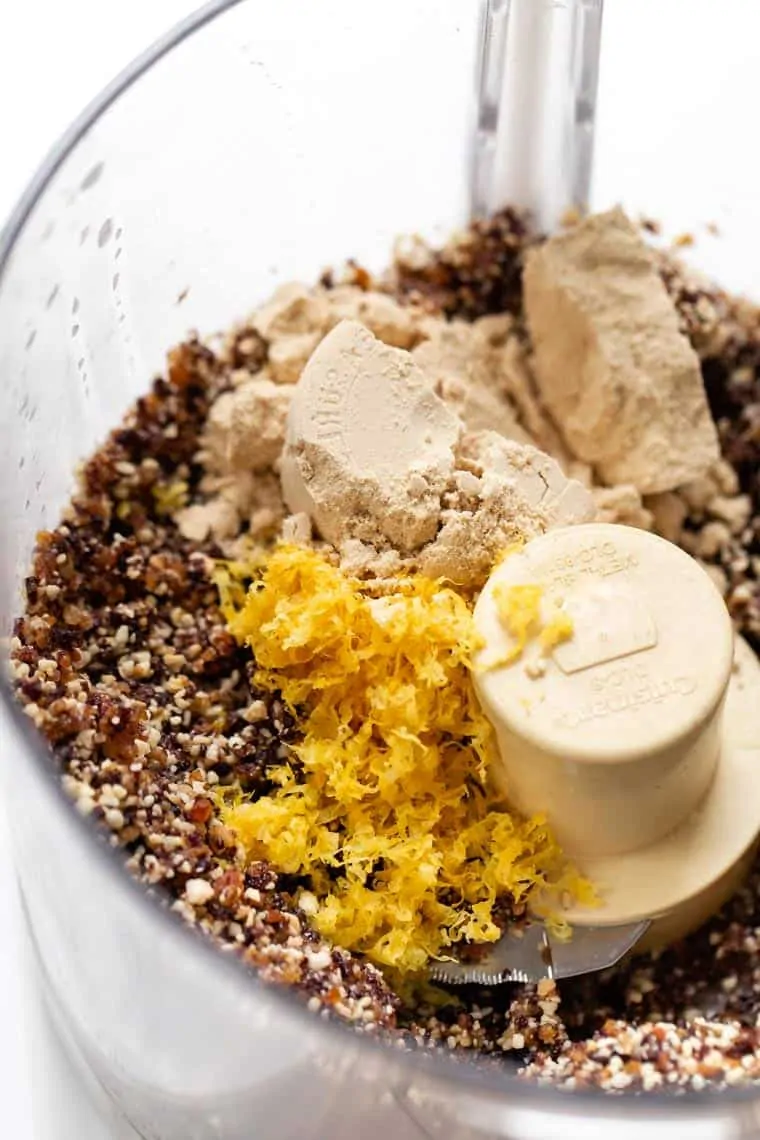 How to Make Energy Balls At Home
A few months ago I shared my Ultimate Guide to Making Energy Balls and in that guide, we talk all about the things you need. It's actually quite easy to make energy balls at home!
All you need is:
Food processor
Dried fruit
Nuts
And mixins
And from there you can pretty much create any combination you want!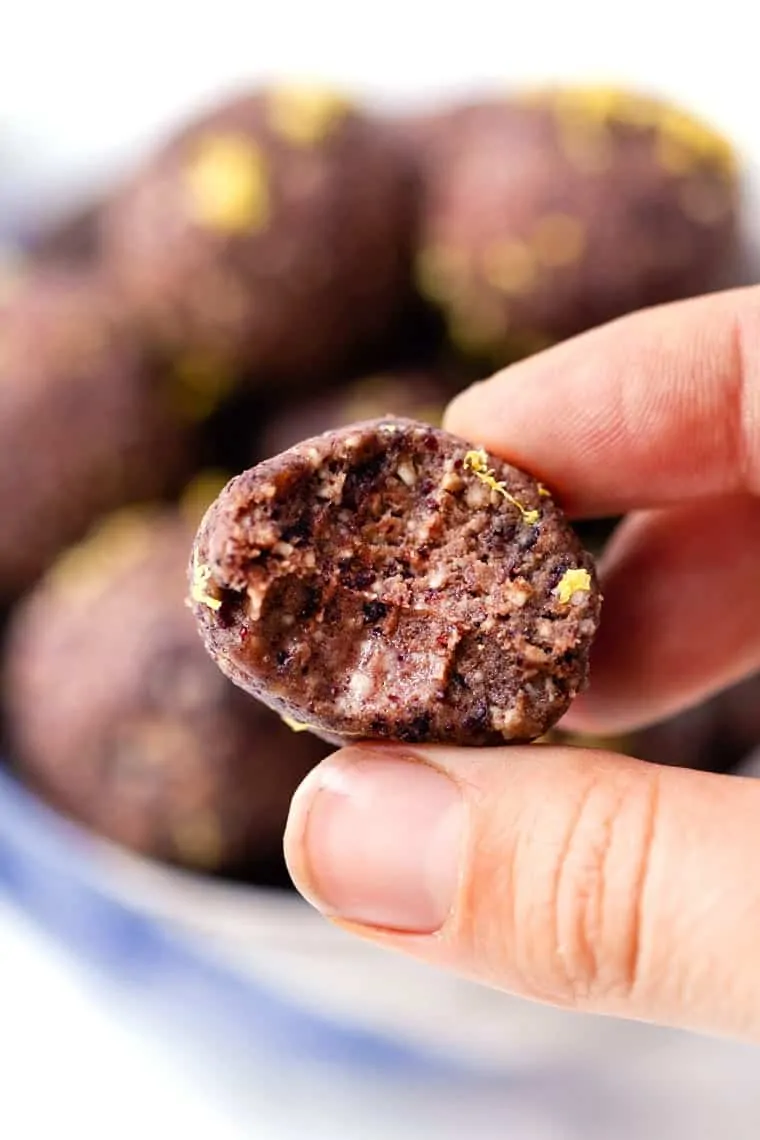 We're Loving These Lemon Blueberry Energy Balls!
Since I'm typically a chocolate or peanut butter girl, I thought today we'd change things up and go in the fruity direction.
These lemon blueberry energy balls are the perfect solution! They use just 5 ingredients, are packed with flavor and can be customized a little based on what you have on hand.
For example, don't have cashews? Swap with whatever kind of nut or seed you want!
Don't want to use protein powder? Oats will totally work.
Not feeling the lemon? Lime would also be scrumptious!
Basically, the moral of the story is this…
Energy balls are awesome. They make the absolute perfect snack. They're filling and sweet, without being too much. And they're fun to make. So have fun and experiment with combinations that you enjoy. And keep a stockpile on rotation at ALL times!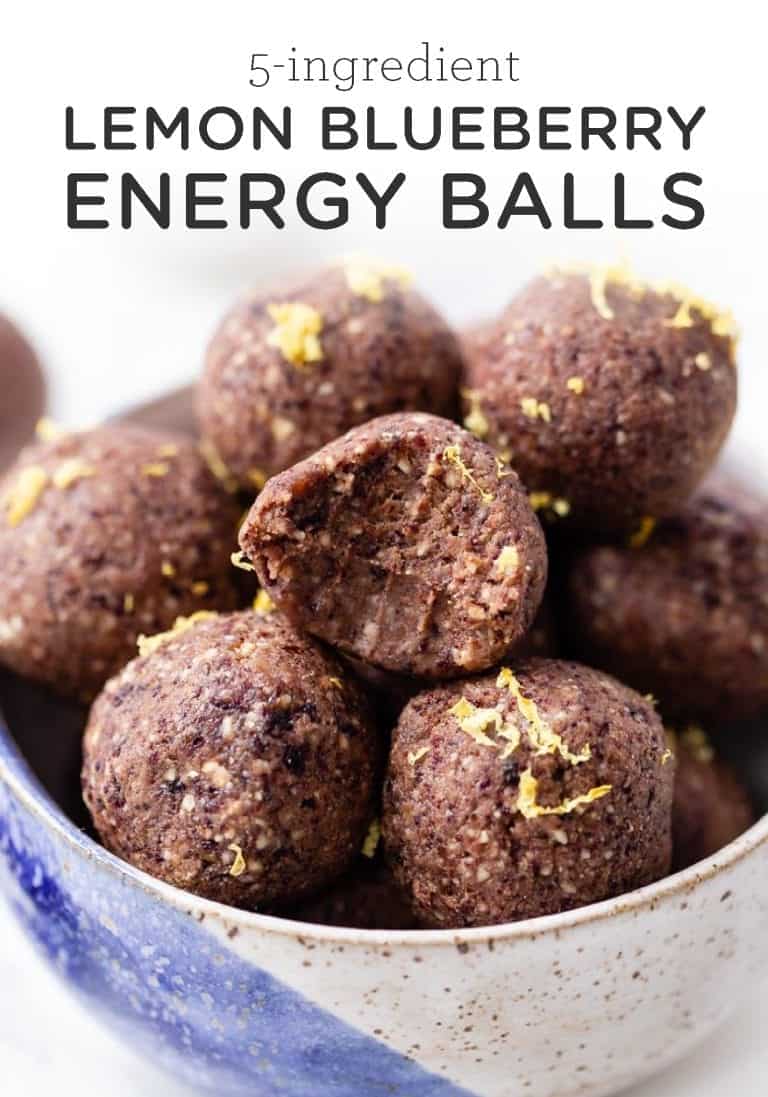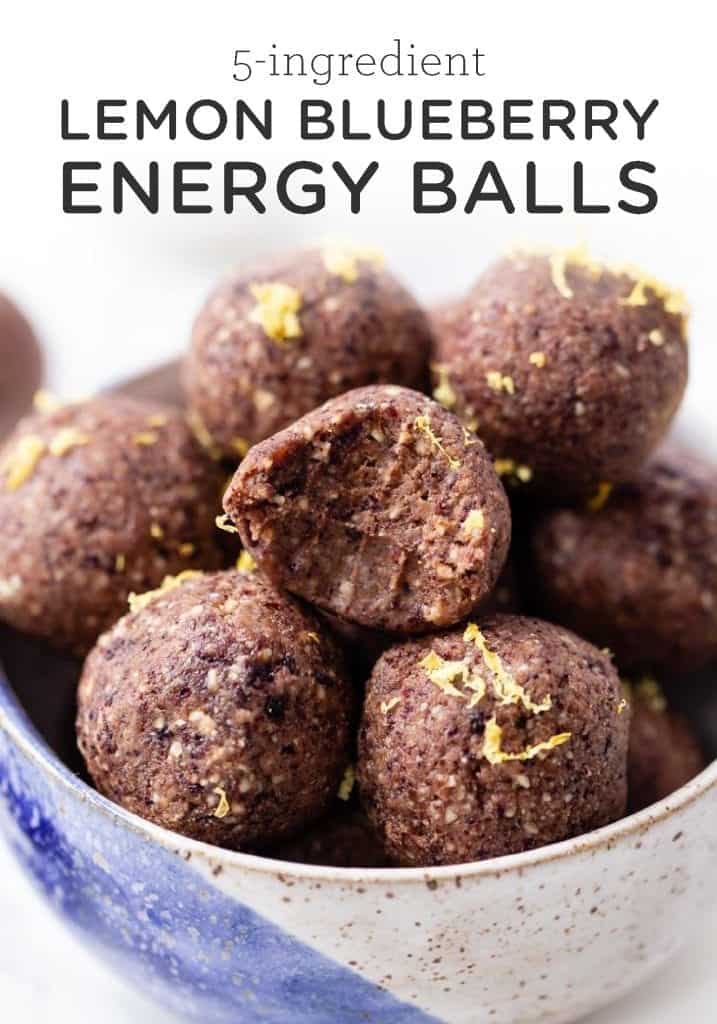 Other Energy Ball Recipes to Try:
Lemon Blueberry Energy Balls
These tasty lemon blueberry energy balls use just 5 ingredients and are a cinch to whip up. They make the best healthy snack or afternoon sweet treat!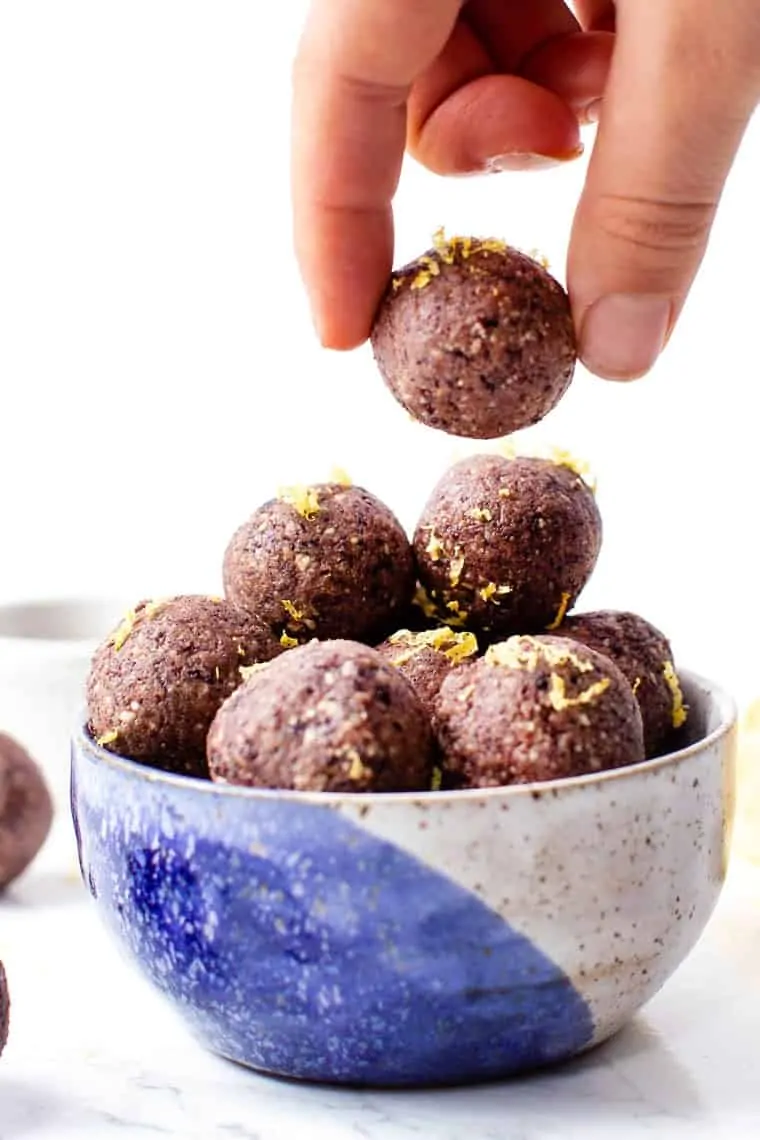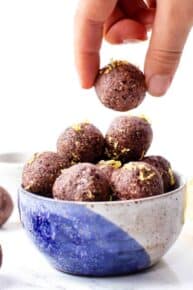 Instructions
Add the dates, blueberries, and cashews to a food processor and process on high until a sandy texture forms, about 30 seconds. Remove the lid and add the remaining ingredients. Process again until a dough starts to form.

Form the dough into tablespoon-sized balls and place on a plate. Repeat until all the dough has been used. Place the plate in the fridge or freezer to set.

Store in the fridge or freezer for best results.
Notes
* swap the protein powder with 1/3 cup rolled oats. process the oats with the fruit and nuts!
Nutrition
Calories:
89
kcal
|
Carbohydrates:
10
g
|
Protein:
4
g
|
Fat:
3
g
|
Cholesterol:
7
mg
|
Sodium:
11
mg
|
Potassium:
138
mg
|
Fiber:
1
g
|
Sugar:
6
g
|
Vitamin A:
5
IU
|
Vitamin C:
0.3
mg
|
Calcium:
28
mg
|
Iron:
0.7
mg
Filed Under: