Homemade London Fog with Oat Milk
This is my favorite London fog recipe! It's a creamy plant-based London fog latte made with foamy oat milk, earl grey tea, vanilla extract, and maple syrup for a bit of sweetness.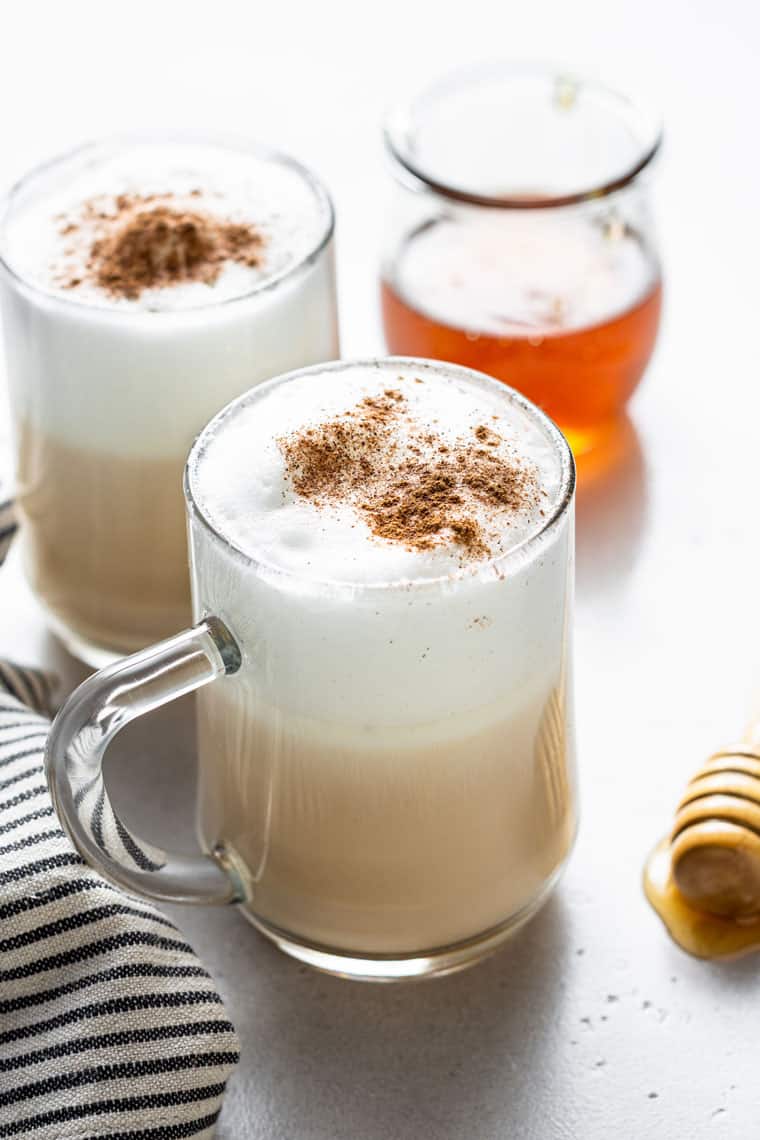 Are you looking for a new morning drink that isn't coffee or matcha? This easy tea latte recipe is the perfect treat!
This is my version of a London Fog and it's made with a base of earl grey tea, sweetened with maple syrup (or honey), and topped with warm, frothy oat milk.
This recipe a cinch to make, it tastes amazing, and it's a delicious way to switch up your morning routine!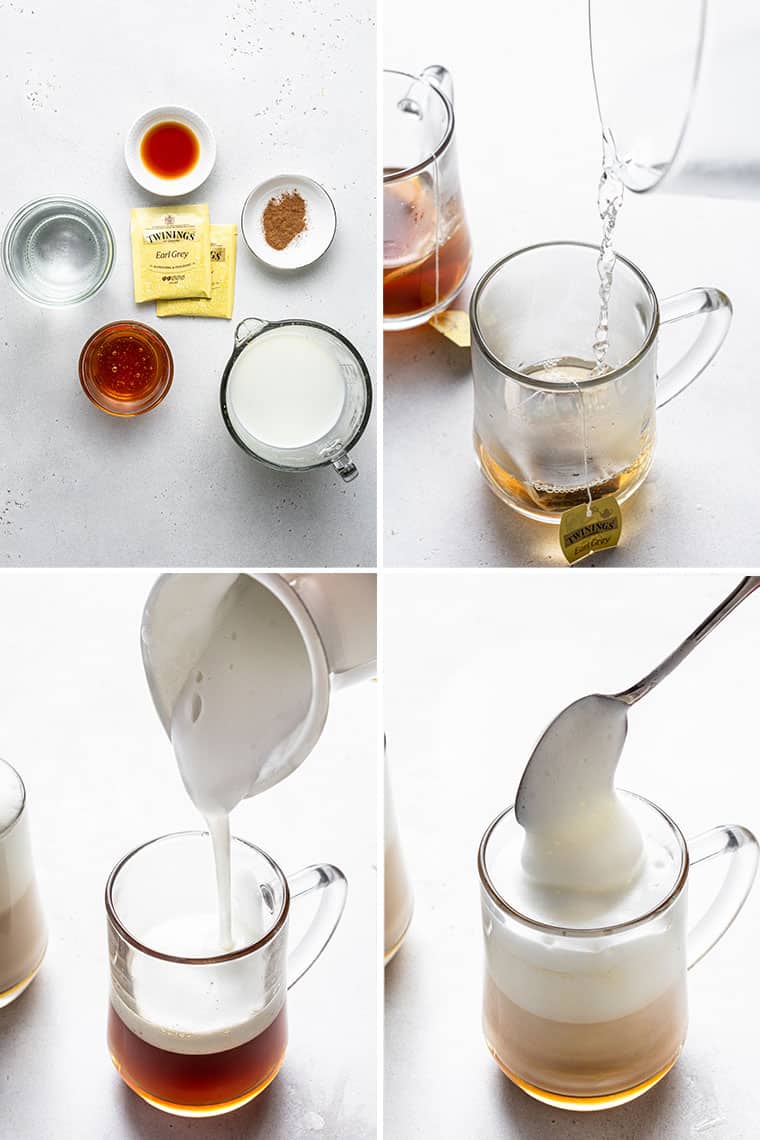 What is a London Fog Latte?
Contrary to its name, the London Fog was actually created in Canada. Apparently, there was a woman who was pregnant and could no longer drink coffee, so she asked her local barista to whip her up something familiar, but sans coffee. So they created the London Fog!
A London fog is a latte made with earl grey tea, steamed milk, vanilla, and a sweetener. It's also become popular at Starbucks where they make it with sweetened earl grey tea and vanilla syrup.
Homemade London Fog with Oat Milk
I wanted to create my own healthy version that was dairy-free and naturally sweetened, but still every bit as delicious. So for this London fog recipe, we're using:
Earl Grey tea: you can use any type of earl grey that you like – it's a popular tea, so it should be easy to find!
Hot water: you're going to use a little hot water to steep your earl grey to get the full tea flavor into your latte.
Oat milk: I used oat milk in this recipe because it froths beautifully, but you can really use whatever type of milk you'd like!
Maple syrup: the sweetener is optional, but I personally love a little added sweetness – it pairs perfectly with the floral nature of earl grey.
Vanilla extract: and finally, vanilla extract to give it that slight vanilla flavor!
I also love sprinkling the latte with a dash of cinnamon at the end as well!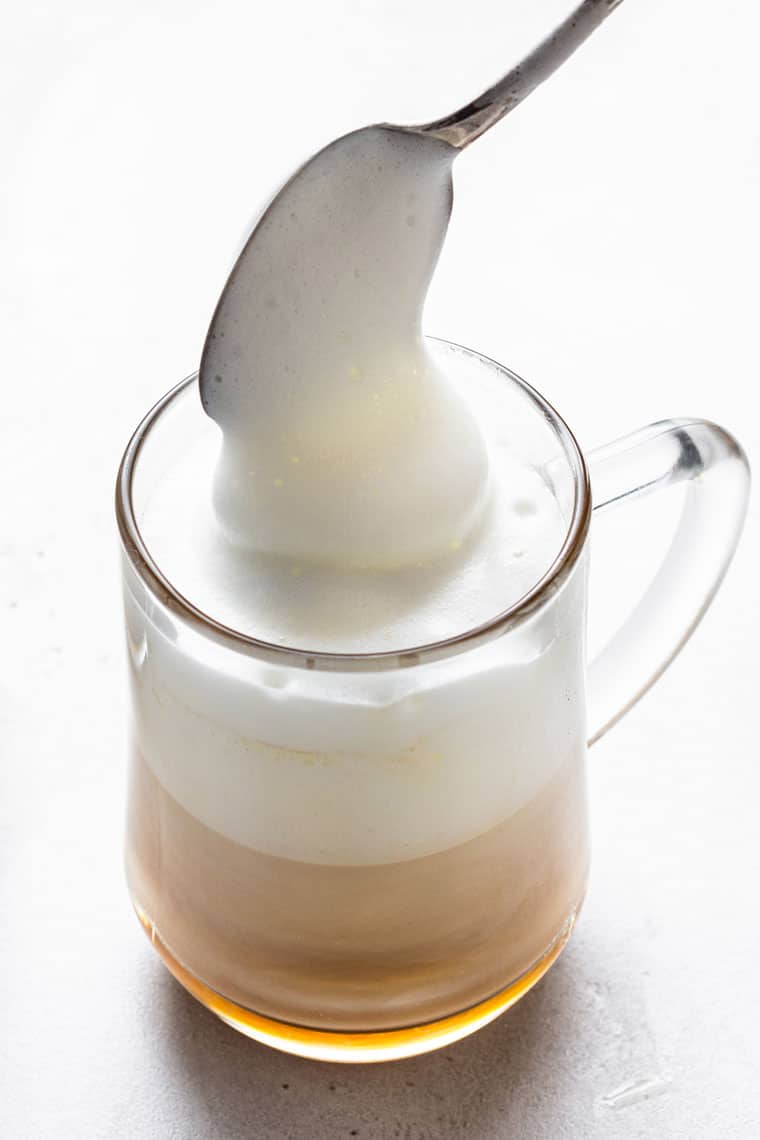 Best Milk for a London Fog Tea Latte
If you're making a London fog at home, you can really use whatever type of milk you like. If you have a frother, go for one that froths, but if you don't really care about that, then choose what you like.
Some of my favorite milk options include:
Coconut milk
Homemade almond milk
Organic soy milk
Pistachio milk
Or if you use dairy, that works too!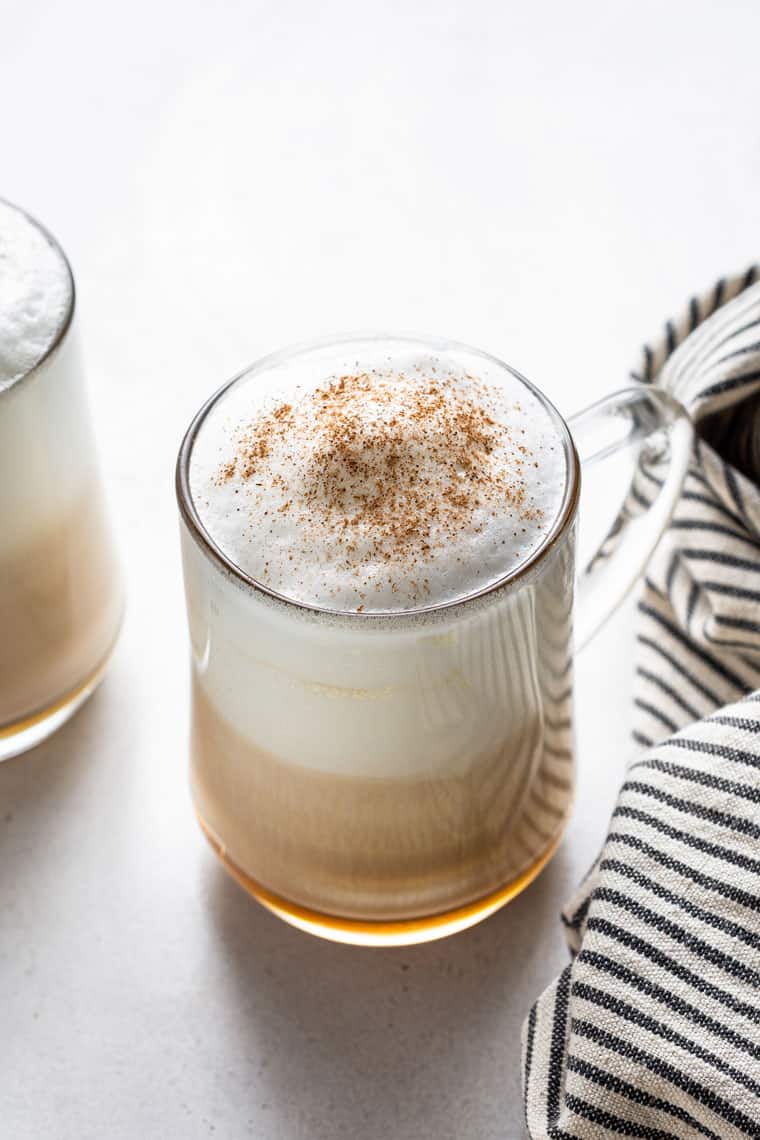 Can I Use a Different Tea for a London Fog?
It won't be a London Fog recipe if you use another type of milk, but you totally can if you want. This would be just a generally great tea latte with whatever type of bagged tea you like. Just know, it won't be a "true" London Fog 😉
So tell me…are you a tea or coffee drinker? Will you try this? I can't wait to hear what you think! We'll be sharing a how-to over on Instagram as well, so be sure to check that out.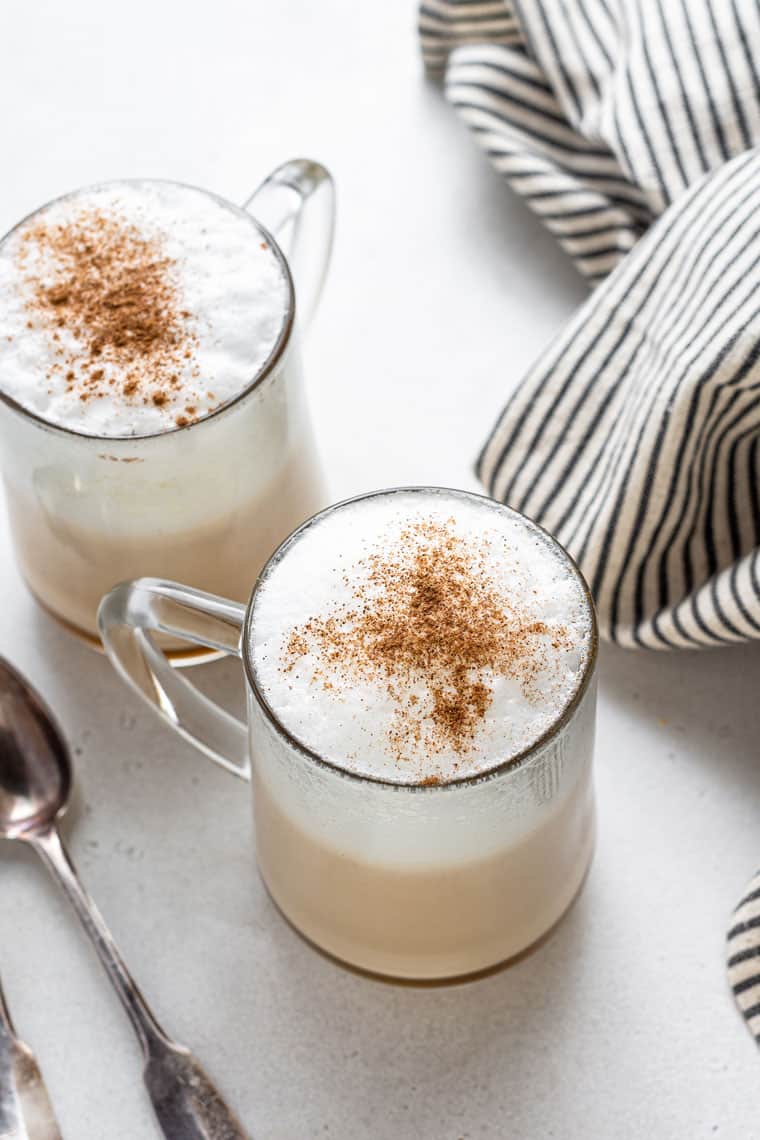 More Plant-Based Latte Recipes
London Fog
Make a creamy plant-based london fog recipe with foamy oat milk, earl grey tea, vanilla extract and maple syrup for a bit of sweetness.
Servings 2
Calories 84kcal
Ingredients
2 bags earl grey tea
1 cup oat milk (or milk of choice)
1 cup hot water
2 teaspoons maple syrup (or honey)
1/4 teaspoon vanilla extract
Sprinkle of cinnamon
Instructions
Add the tea bags into two mugs and top with 1/2 cup water each. Steep for at least 3 minutes.

Froth the oat milk in a frother*.

Remove the tea bag and squeeze them to release any extra tea. Stir in 1 teaspoon maple syrup and 1/8 teaspoon vanilla into each mug. Top with the frothed oat milk.

Sprinkle with cinnamon and enjoy!
Nutrition
Serving: 1latte | Calories: 84kcal | Carbohydrates: 17g | Protein: 2g | Fat: 1g | Sodium: 63mg | Potassium: 76mg | Fiber: 1g | Sugar: 14g | Vitamin A: 246IU | Calcium: 184mg | Iron: 1mg
share what you make
Tag #simplyquinoa on Instagram with your creations! We love sharing what you make with the community. We can't wait to see!

follow on instagram