This whipped matcha recipe is a coffee-free twist on the popular Dalgona coffee craze. This whipped matcha recipe is perfect for non-coffee drinkers!
Looking for a classic matcha latte recipe? Try this easy matcha latte.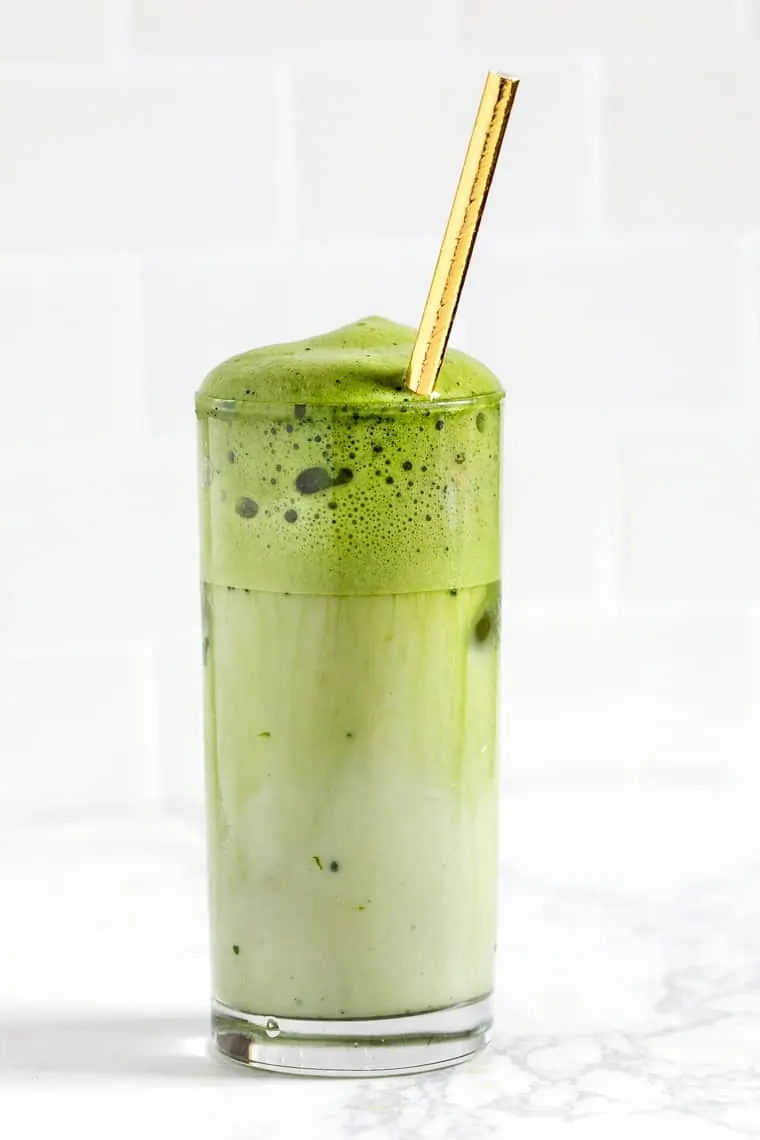 So this dalgona coffee trend is really going crazy, huh? I'm seeing it all over my Instagram feed, it's on YouTube and people are loving it!
But what about all of us non-coffee drinkers? We have no way of enjoying this delicious drink!
Until that gave me an idea…MATCHA! Can we make dalgona matcha? Is it possible? Turns out it is possible to make a whipped matcha latte, but the recipe is a bit different than the coffee version. It took me a few tries, but I'm excited to share the process with you and teach you how to make it!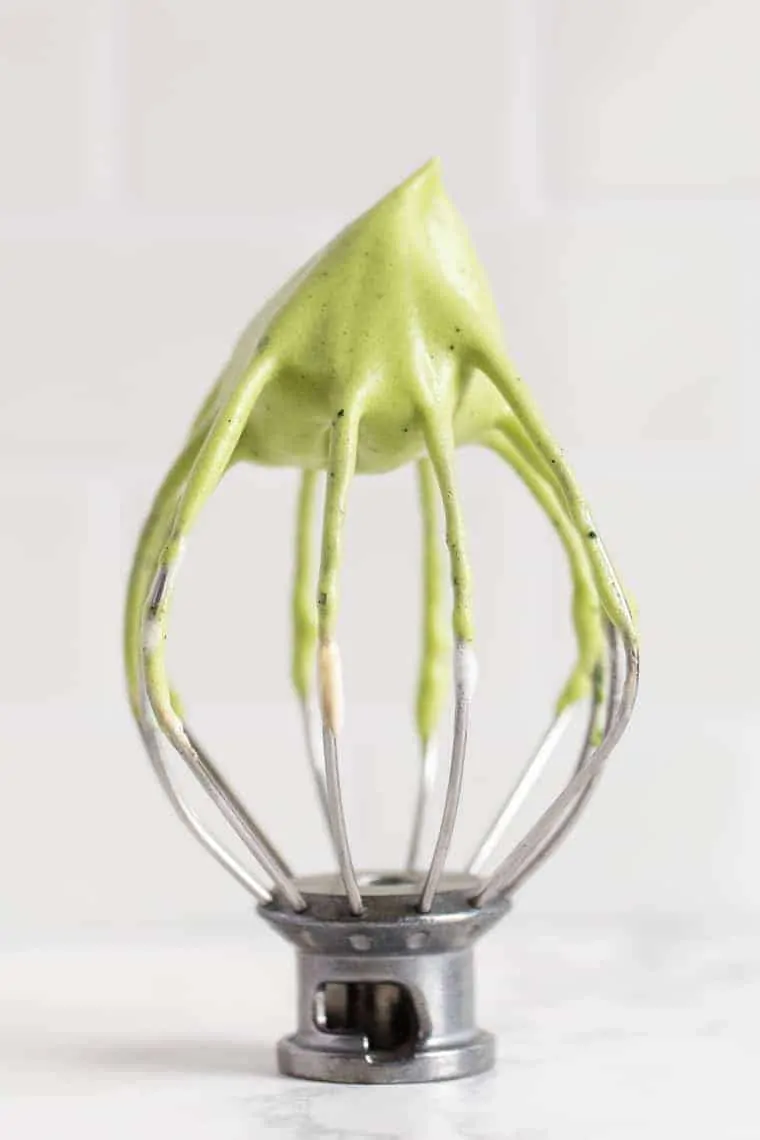 What is Dalgona Coffee?
Okay, first we gotta talk about dalgona coffee. This is actually something that's been around for quite a while, but just recently got popular – thanks to TikTok. Dalgona coffee is a coffee drink made of whipped coffee that is poured on top of milk. It's a popular drink in South Korea.
Dalgona coffee uses equal parts of instant coffee, sugar and boiling water. Usually, it's 2 tablespoons of each.
Can you Make Dalgona Matcha the Same Way?
My first attempt at making this drink was to just follow that same recipe. It doesn't work. Like at all.
I think the main two things that went wrong were:
2 tablespoons of matcha is way too much and would be inedible (not to mention expensive)
it doesn't fluff up… at all
I was a bit stumped as to why because I thought instant coffee was made out of just coffee. BUT it turns out, instant coffee actually contains a gum additive which is what makes it whippable. And what helps it get fluffy.
So the same proportions/recipe won't work for making dalgona matcha. BUT, it does work with one addition!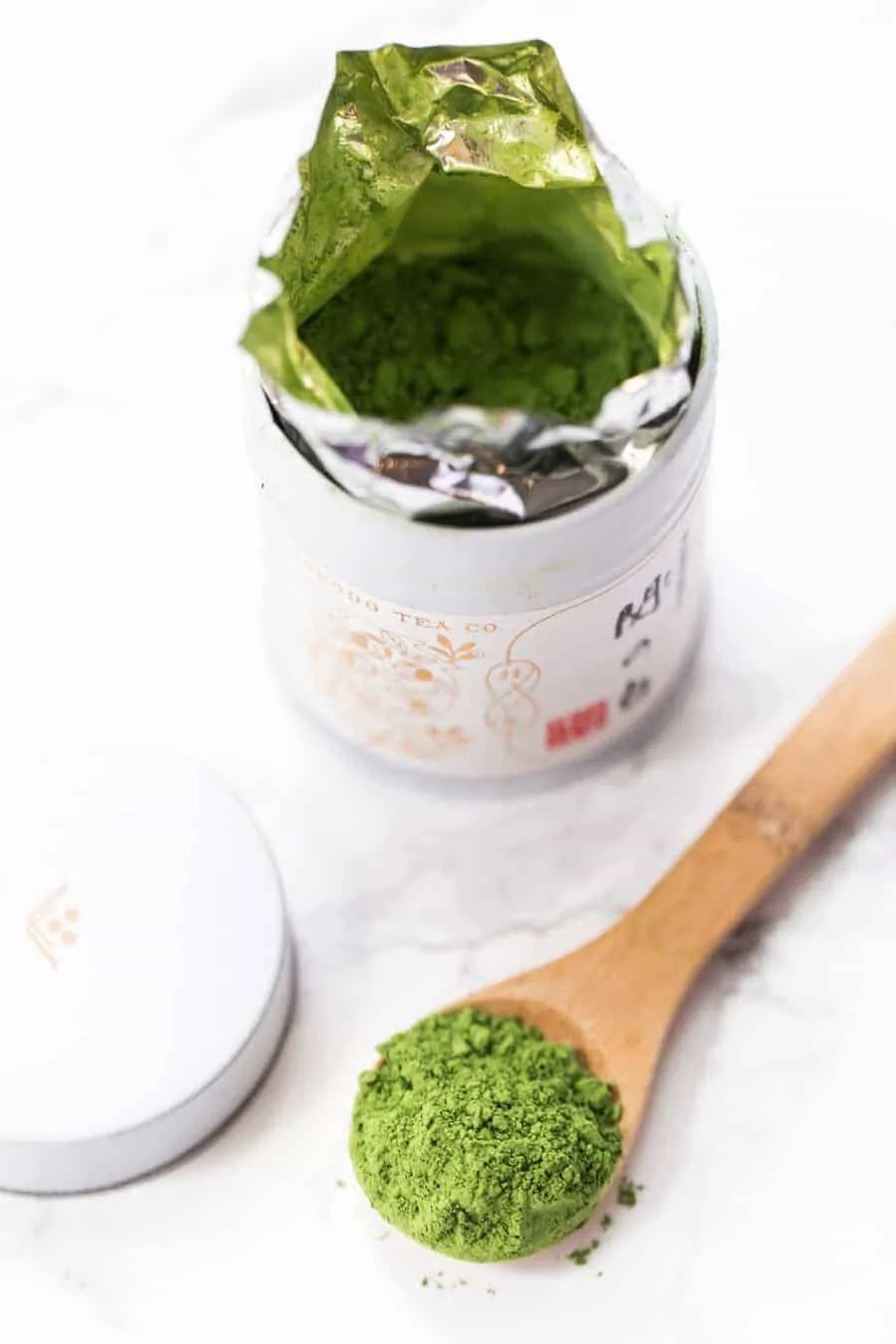 Ingredients for Healthy Whipped Matcha
To make this recipe I realized we needed something that whipped up on its own that you could stir all the rest of the ingredients into. I did some searching and saw a lot of people using egg whites, but I wanted a vegan version. So we're using… AQUAFABA! (more on that in a sec)
This recipe is only 5 ingredients and makes 4 servings!
Chickpea liquid: you'll drain a can of chickpeas into a bowl and use that liquid to make our "whipped" mixture.
Matcha powder: I love Ippodo tea – you can find Ippodod on Amazon now and they're just the best quality I've found!
Coconut sugar: my sweetener of choice since it's a healthier alternative to white table sugar.
Hot water: to melt the sugar crystals
Almond milk: for the latte part and what we'll pour our matcha over.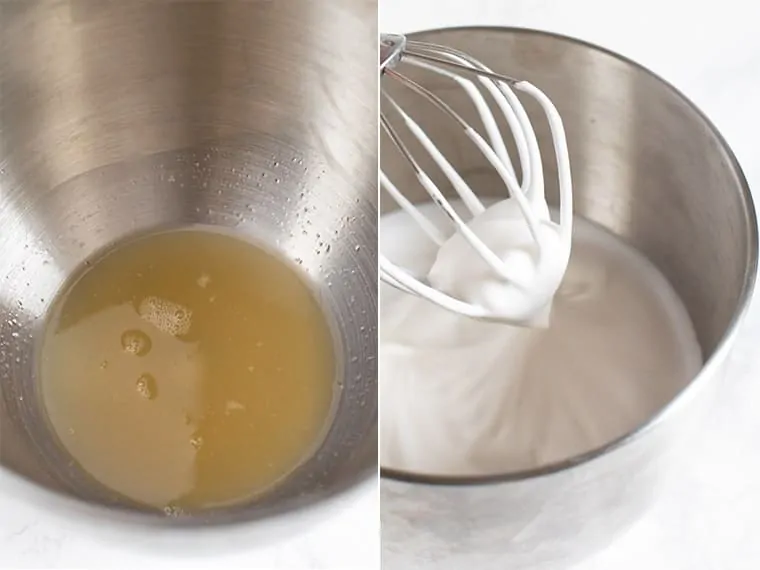 What is Aquafaba?
Aquafaba is whipped chickpea juice. I know it sounds disgusting, but it's actually incredible. You can whip the liquid into the same consistency as whipped egg whites.
The liquid that is found in the can of chickpeas is pure vegan gold. Since it's high in protein, it acts similar to egg whites. You add it into a stand mixer (or use a hand mixer) and beat it up. It's not quite as strong as egg whites so baking with it can be a teeny bit tricky, but it works wonders in whipped matcha. Plus it's already cooked, so no worries about getting sick from drinking uncooked egg whites!
How to make Aquafaba
To make aquafaba, drain a can of chickpeas into a bowl. Pour that liquid into a stand mixer – I love my mini mixer from KitchenAid; it's awesome for apartments!
With the whisk attachment, beat the liquid until it fluffs up. It takes about a minute or so and it should hold the peaks similar to egg whites!
Don't have a stand mixer? You can also use a hand mixer or a whisk (but dang that would be tiring!).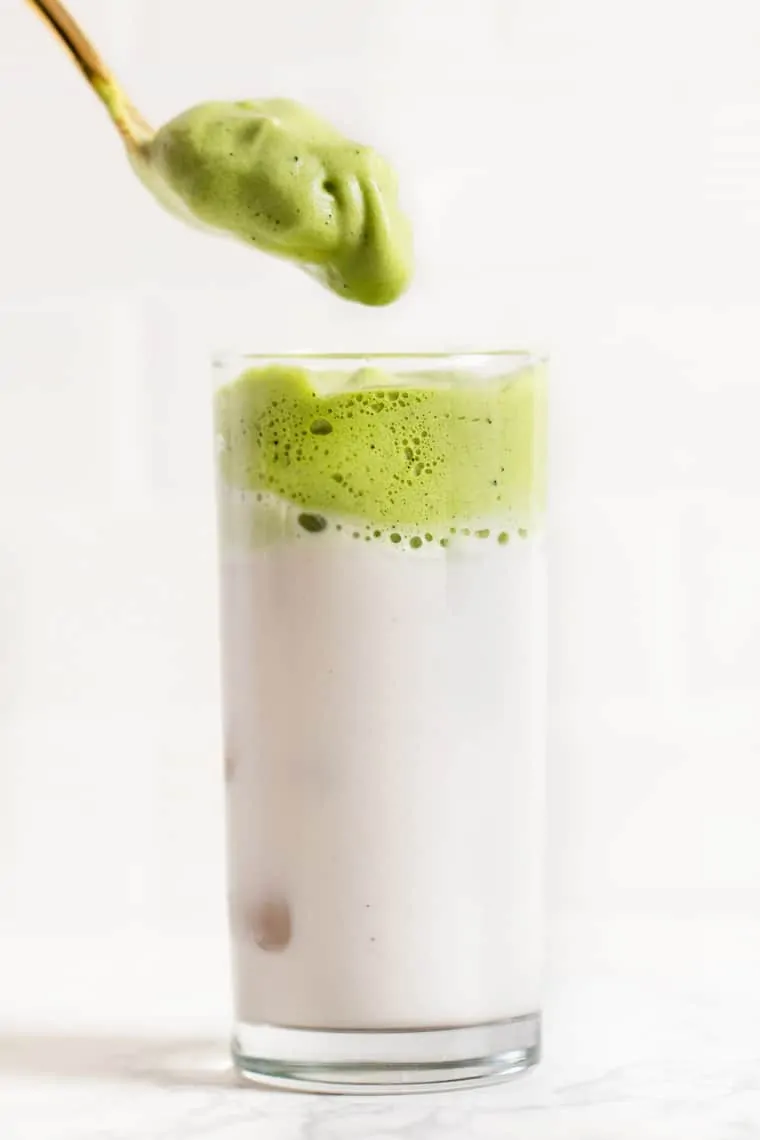 How to Make Whipped Matcha
This recipe couldn't be easier to make at home. It's just 5 ingredients and three simple steps!
STEP ONE
You'll start by making your aquafaba. Whip it like we just talked about!
STEP TWO
In a separate bowl, whisk together your matcha, coconut sugar and hot water. Our goal is to try and dissolve the sugar crystals as much as possible. So just whisk it until it's as smooth as possible.
STEP THREE
Turn the mixer back on and slowly stream in the matcha mixture. Just keep on whipping until it's combined and the contents of the bowl have turned green!
STEP FOUR
Now it's time to serve it! I like to serve this over almond milk and ice. I just fill my glass up about 3/4 of the way and do few generous spoonfuls of the matcha mixture on top. Then I use a straw to mix it all together!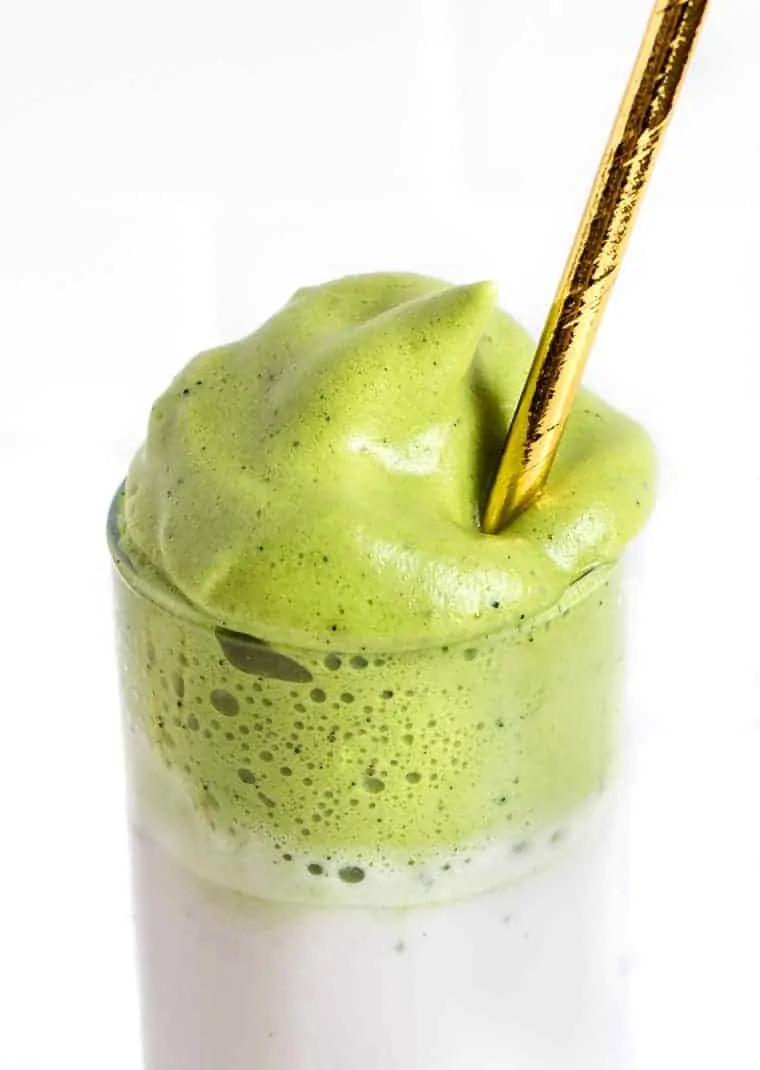 Can You Use Stevia in Whipped Matcha?
If you've seen me make my matcha recipe before then you know I use monk fruit extract to sweeten it. The beauty of this recipe is that we aren't really relying on the sugar for the texture so you can totally swap it out with monk fruit extract or stevia. I would still mix them all together separately and just do a few sprinkles. Remember a little goes a long way with these sweeteners!
Should This be Iced or Hot?
Typically dalgona coffee is served cold, but you could also serve it hot if you wanted. It's really just up to you!
To serve cold: add ice and almond milk into a glass and top with the whipped matcha
To serve hot: steam and froth some milk and pour into your mug, then top with the matcha mixture
Tips for Making Whipped Matcha at Home
Okay so just a few final tips before I let you go:
Opening up chickpeas?! Chickpea liquid can be kept in the fridge for 3 – 4 days. So if you open up a can, save the liquid and don't feel like you have to make it right away!
You can make this ahead! The whipped matcha can be re-whipped if need be! Since this recipe makes 4 servings, I keep the extras in my fridge and then just whisk it up for like a minute before I pour it over almond milk
Not vegan? If you're not vegan you can also use egg whites instead of the chickpea liquid!
And that's pretty much it!! I hope you absolutely love this recipe. It's honestly SO delicious and is such a fun way to have matcha.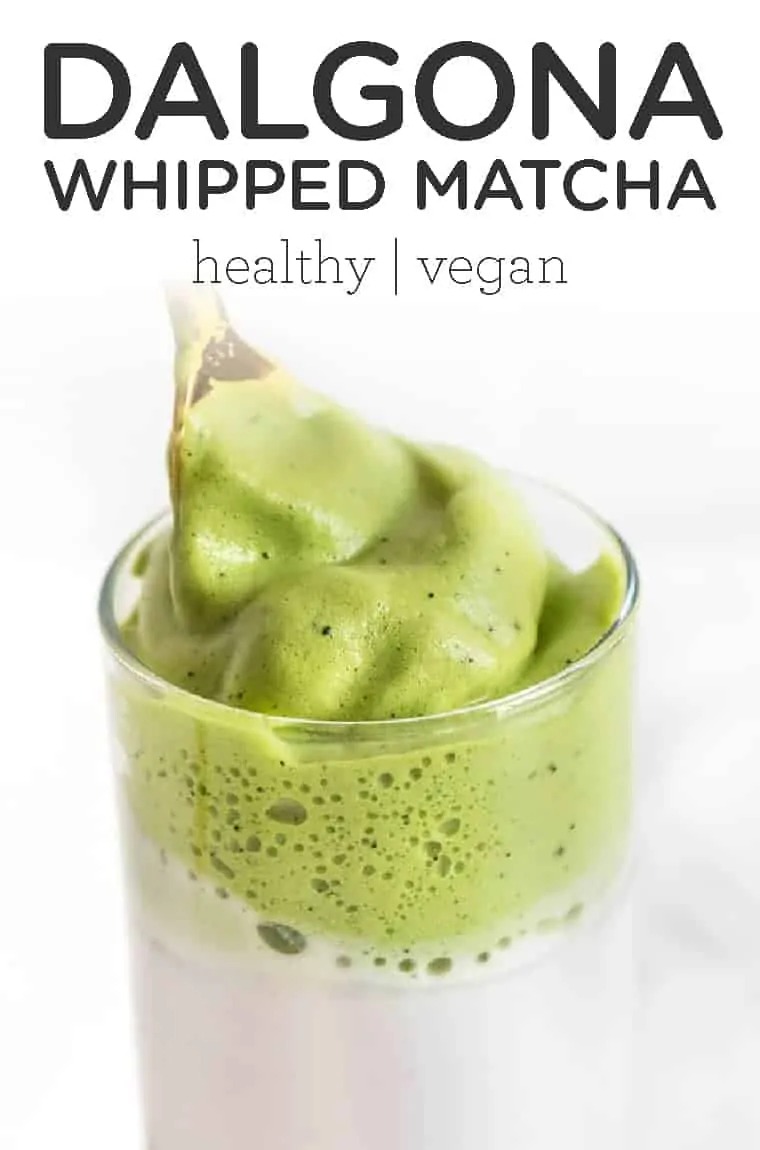 More Matcha Latte recipes to try:
Dalgona Whipped Matcha
This whipped matcha recipe is a coffee-free twist on the popular Dalgona coffee craze. This whipped matcha recipe is perfect for non-coffee drinkers!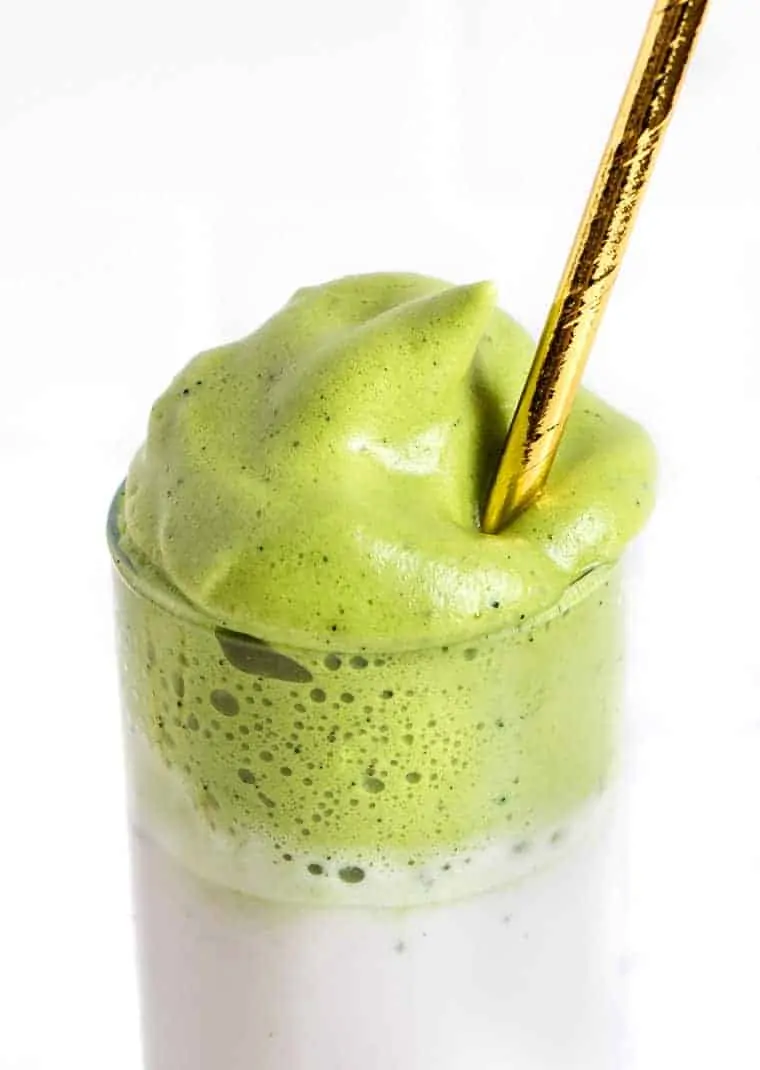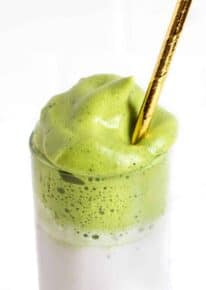 Ingredients
Liquid from 1

(15oz) can of chickpeas

1

tablespoon

matcha powder

2

tablespoons

coconut sugar

2

tablespoons

boiling water

4

cups

almond milk
Instructions
Add the chickpea liquid into a stand mixer (or bowl). Using the whisk attachment, beat the liquid until it forms stiff peaks. It should take about a minute or two.

In a separate bowl, whisk together the matcha, coconut sugar and boiling water to try and dissolve the sugar crystals as much as possible.

Once dissolved, turn the mixer back on medium speed and slowly pour the matcha-sugar mixture into the bowl. Beat together until everything is combined.

Fill your glasses with ice and top each with 1 cup of almond milk. Top with the whipped matcha, give it a quick stir and enjoy!
Nutrition
Serving:
1
serving
|
Calories:
67
kcal
|
Carbohydrates:
6
g
|
Protein:
3
g
|
Fat:
3
g
|
Sodium:
337
mg
|
Fiber:
1
g
|
Sugar:
4
g
|
Vitamin A:
188
IU
|
Calcium:
300
mg
|
Iron:
1
mg
Filed Under: