This Mango Peach Frose recipe is the ultimate summer cocktail! The recipe uses just 3 ingredients, is sweetened naturally and is perfect for a hot day!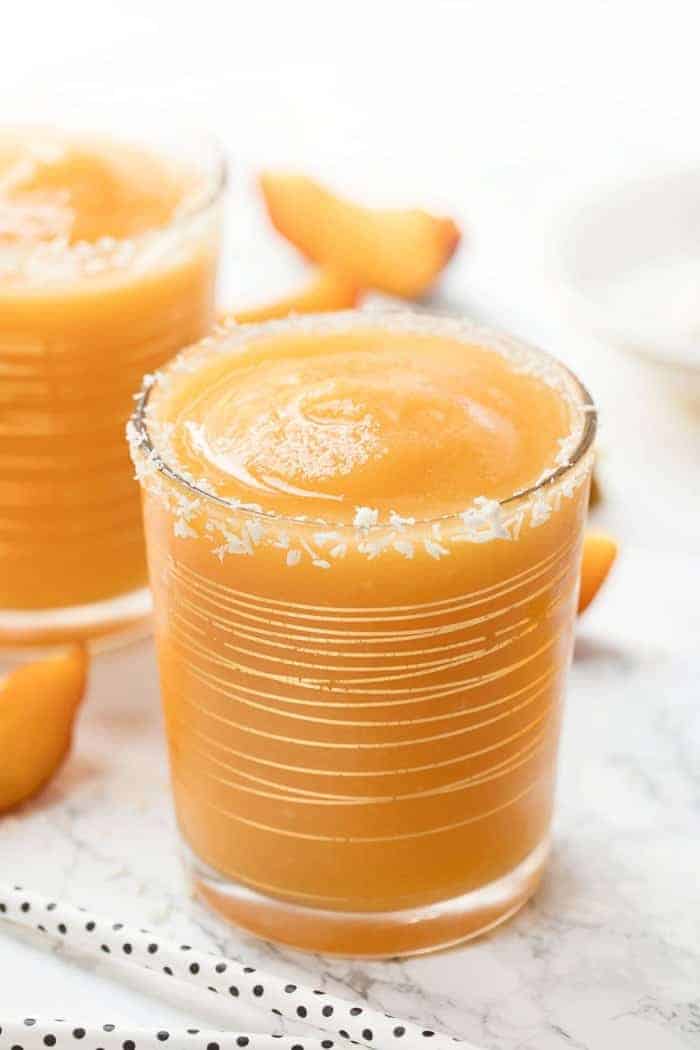 Who's ready for the best summer cocktail ever!? I originally just planned on sharing this Mango Peach Frose in my healthy cocktail video for YouTube, but when I tasted it, I knew it needed its own blog post!
Frose – frozen rose – was a major hit last summer, and I'll be honest and tell you I wasn't seeing the appeal. I love rose wine, but slushy drinks tend to give me brain freeze, so I'd rather just sip my wine and imagine myself on French Riviera.
Well, I've finally caved and now I totally get it. This stuff is liquid gold!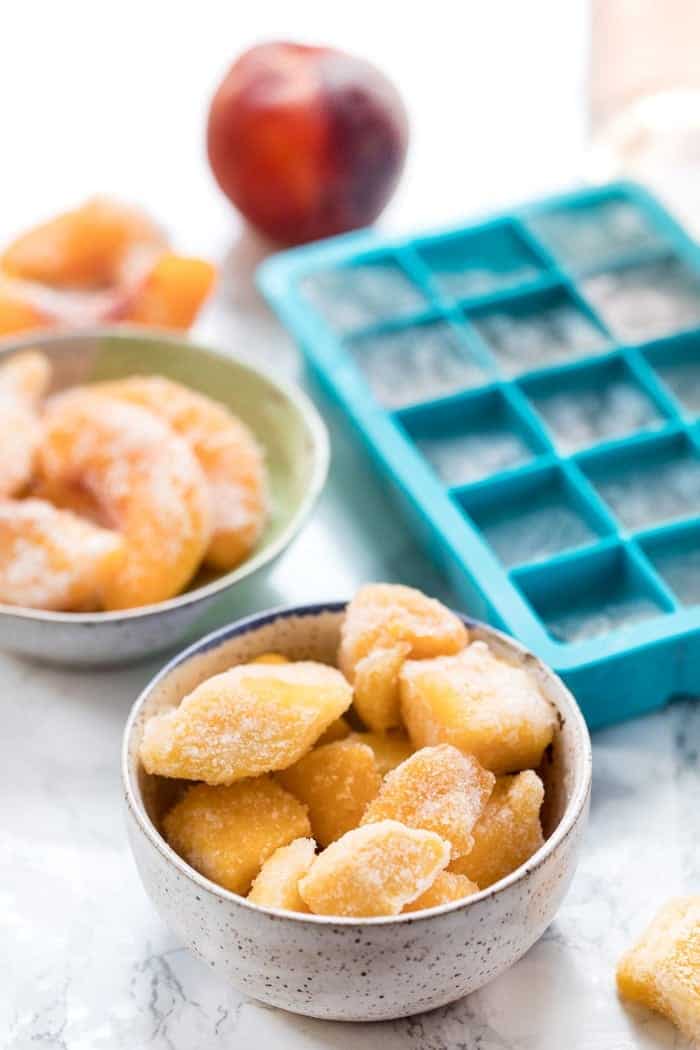 Tips for Freezing Rose
Much to my delight, frose is actually so easy to make. You just need a few simple ingredients, a blender and you're good to go!
The first step in making our frose is to par-freeze half your bottle of rose wine. While this isn't totally necessary, I personally think it helps with the consistency a lot.
I like to use this little silicone ice cube molds. Just fill them up, pop them in the freezer overnight and then it's on to blending.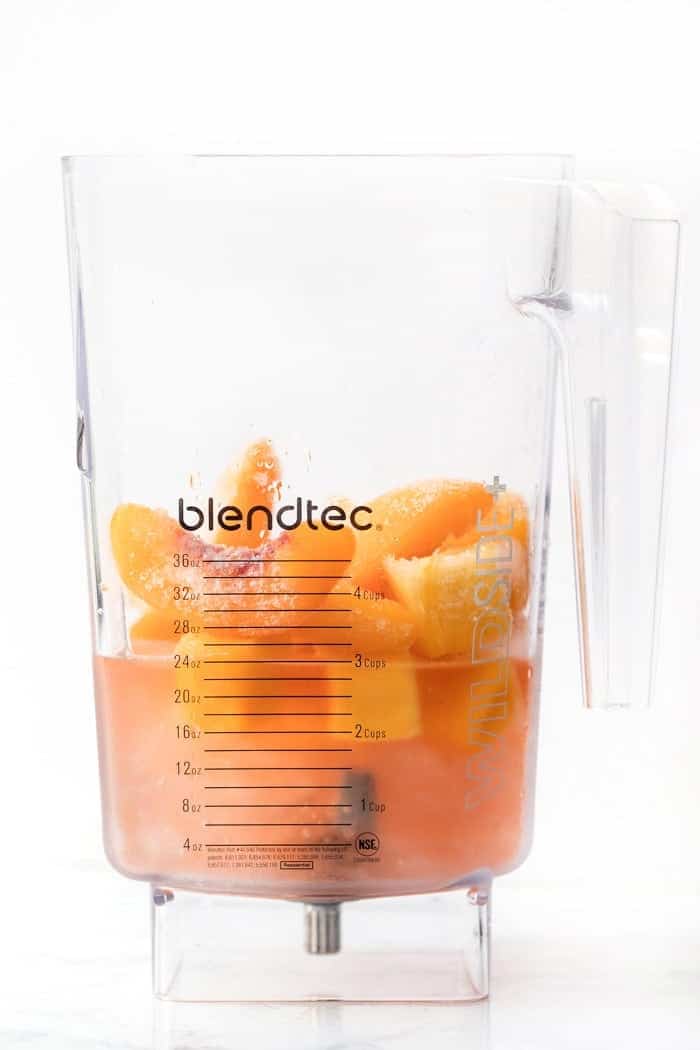 How to Make Frose
Remember when I said it was easy? Well you're about to see just how simple this process actually is!
Because basically, all we're doing is making a smoothie but with wine instead of coconut water 🙂
Empty out your rose cubes (they won't be totally solid)
Add your frozen fruit
Add the rest of your wine
Blend and pour
Yep – that's all it takes to have a perfectly slushy glass of frose to enjoy!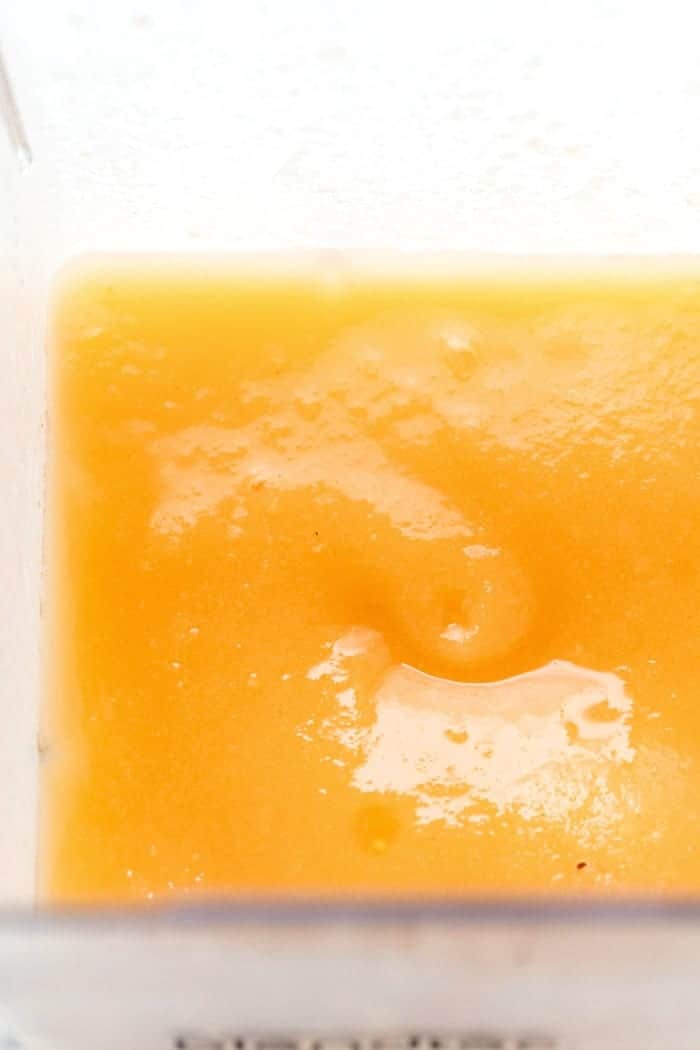 Now, there are a few things you can do to either jazz this up or change it completely.
The first, is that you can add in a touch of vodka or rum. If you're wanting to make this an even boozier cocktail, those are both fine additions. I personally think rum is best because it's got a natural sweetness to it and won't add as much of a bite.
The other option is to change up your fruit. While I'm definitely partial to this mango peach frose combo, you can totally swap the fruit for something else.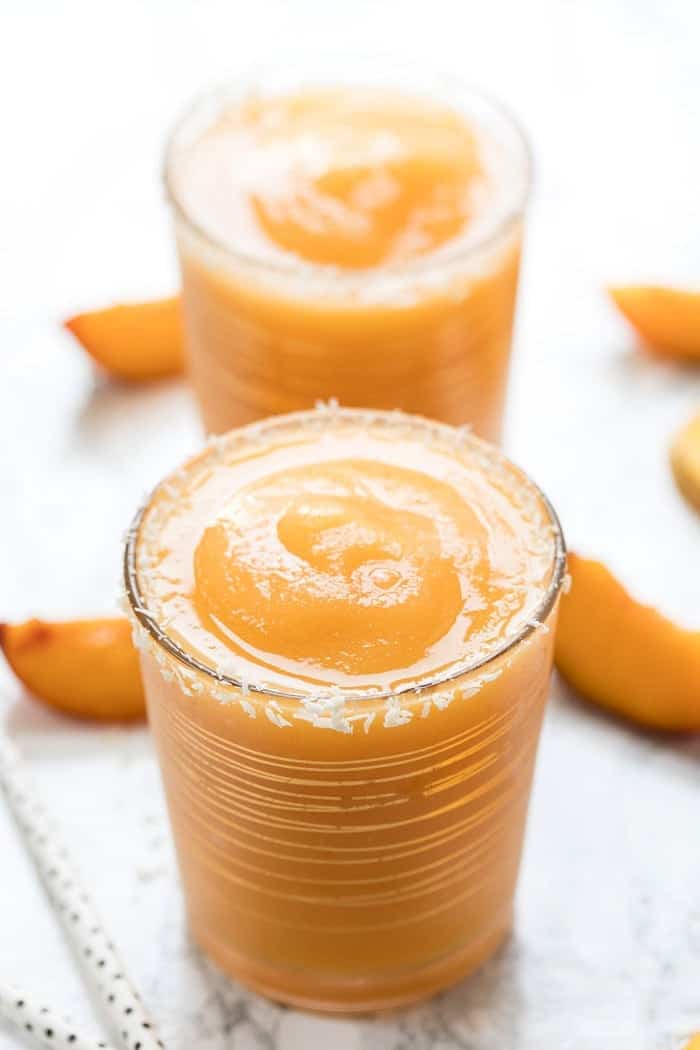 Other Tasty Ways to make Frose
Now if you do want to change things up – promise, I won't be mad 😉 – you can absolutely use another frozen fruit combo. Here are some of my favorites:
Strawberry
Strawberry Peach
Raspberry Lime
Watermelon
And the list goes on! Just swap out the frozen fruit for the same proportions and you're golden!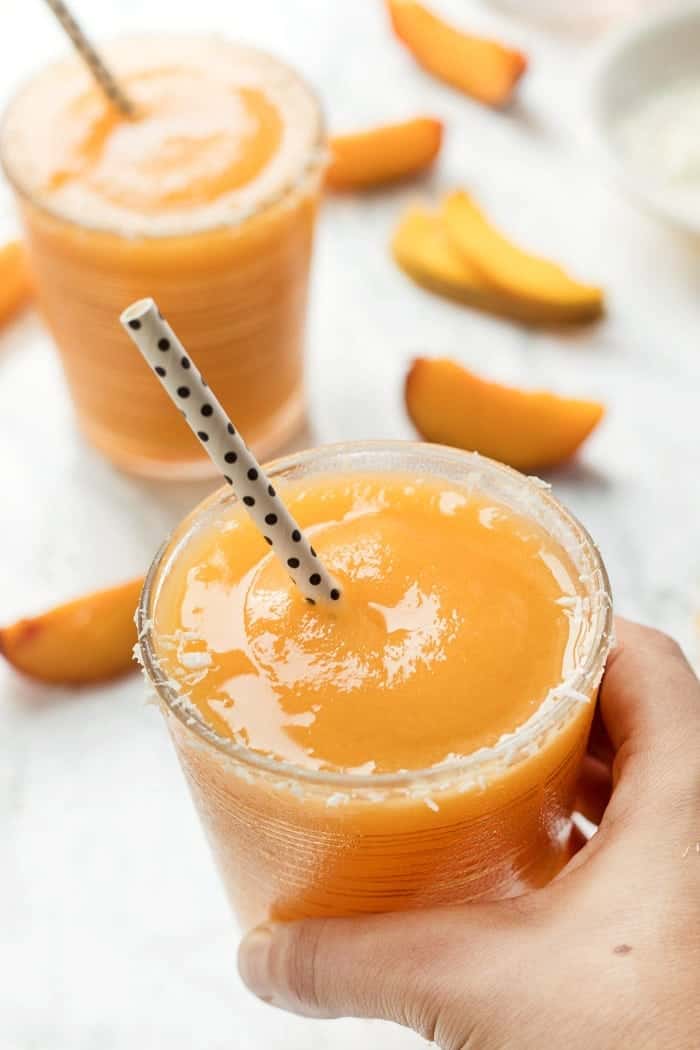 But trust me when I tell say, this Mango Peach Frose is going to be your go-to cocktail all summer long! It's sweet, it's refreshing, it's not too strong, and your friends are going to think you're all fancy when you whip this out!
(don't worry… the fact that it's so easy will be our little secret!)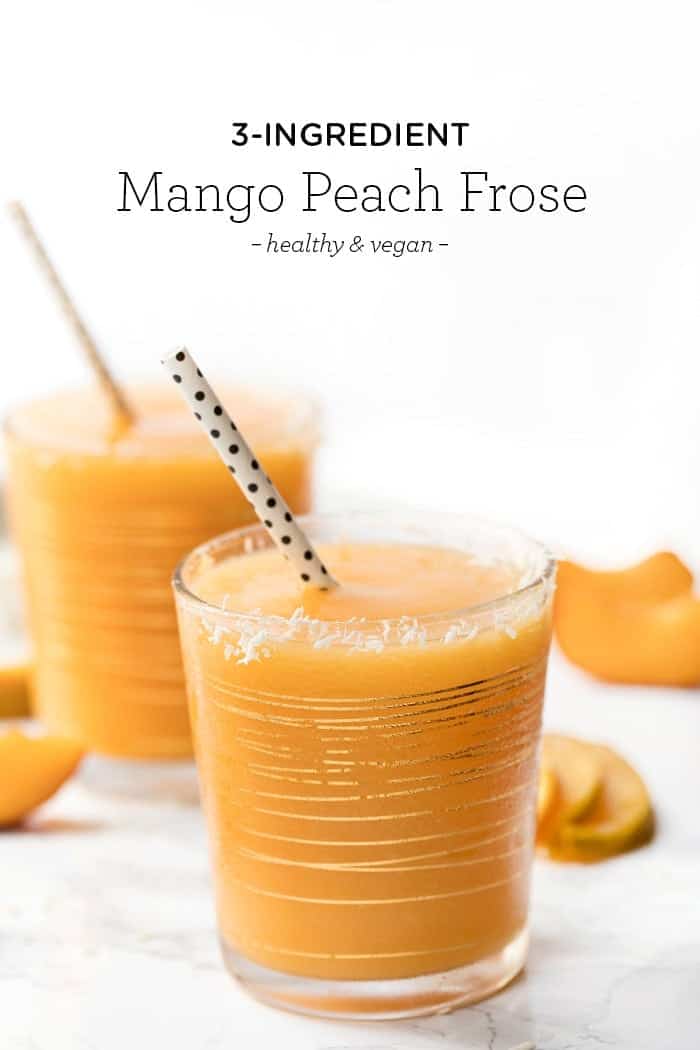 Mango Peach Frose
The ultimate summer cocktail, this Mango Peach Frose is light, refreshing and uses just 3 ingredients. It's the perfect way to cool down on a hot summer day!

Servings 6
Calories 155kcal
Ingredients
1 bottle rose wine I like French
2 cups frozen mango
2 cups frozen peaches
Instructions
Pour half the bottle of rose into a ice cube tray. Place in the freezer and freeze overnight.

When ready to assemble the frose, remove the rose cubes from the tray and place them in a blender. Top with the frozen fruit and remaining bottle of rose and blend on high until smooth.

Pour into glasses and enjoy!
Notes
If you want to add rum, I suggest adding a maximum of 1/4 cup and blending with the rest of the ingredients.
Nutrition
Calories: 155kcal | Carbohydrates: 16g | Protein: 1g | Sodium: 6mg | Potassium: 278mg | Fiber: 1g | Sugar: 13g | Vitamin A: 760IU | Vitamin C: 23.4mg | Calcium: 20mg | Iron: 0.6mg
share what you make
Tag #simplyquinoa on Instagram with your creations! We love sharing what you make with the community. We can't wait to see!

follow on instagram