Healthy Grapefruit Margaritas
These Healthy Grapefruit Margaritas use just 4 ingredients, are ready in 10 minutes and have NO added sugar! They're a fun twist on the skinny margarita!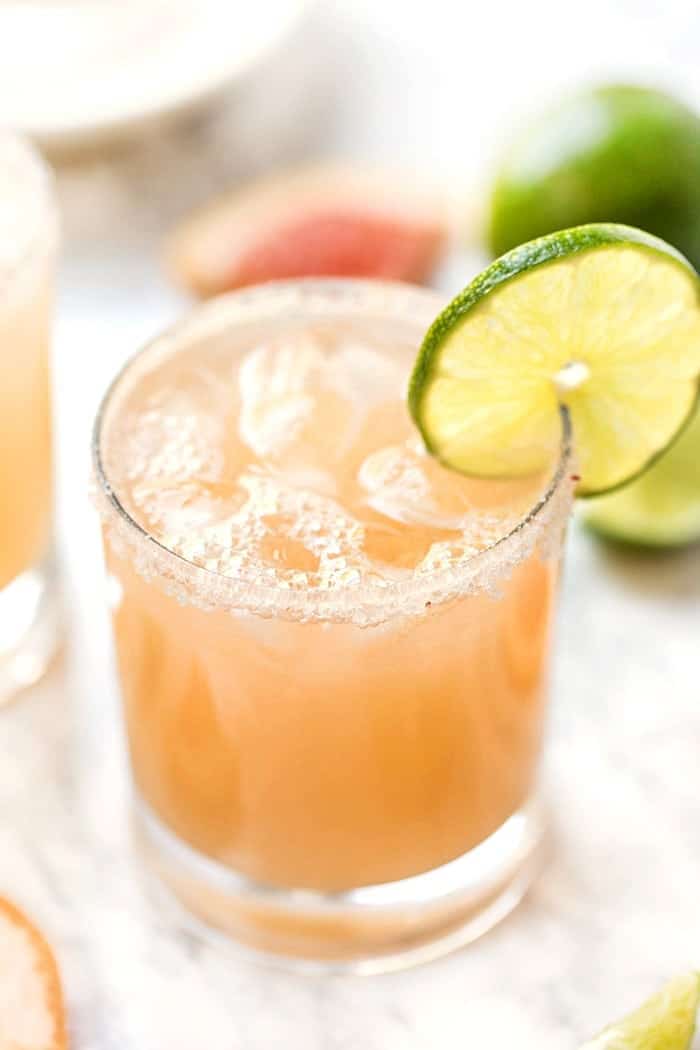 Fun fact: I love tequila!
Not something I often admit openly, but to the people who know me best (which also includes YOU!), it's definitely a well-known fact. Granted, I am not a fan of drinking it straight, but 10 times out of 10 if there's a tequila drink on the menu, that's what I order. And margaritas are definitely my favorite!
But classic margaritas, like the kind you order at restaurants or make at home with a margarita mix, are LOADED with sugar. And I mean loaded! Definitely not the healthiest option, which is why I'm so excited to share this recipe with you today. It's a light, refreshing and healthy spin on a margarita and it's absolutely perfect for the summer!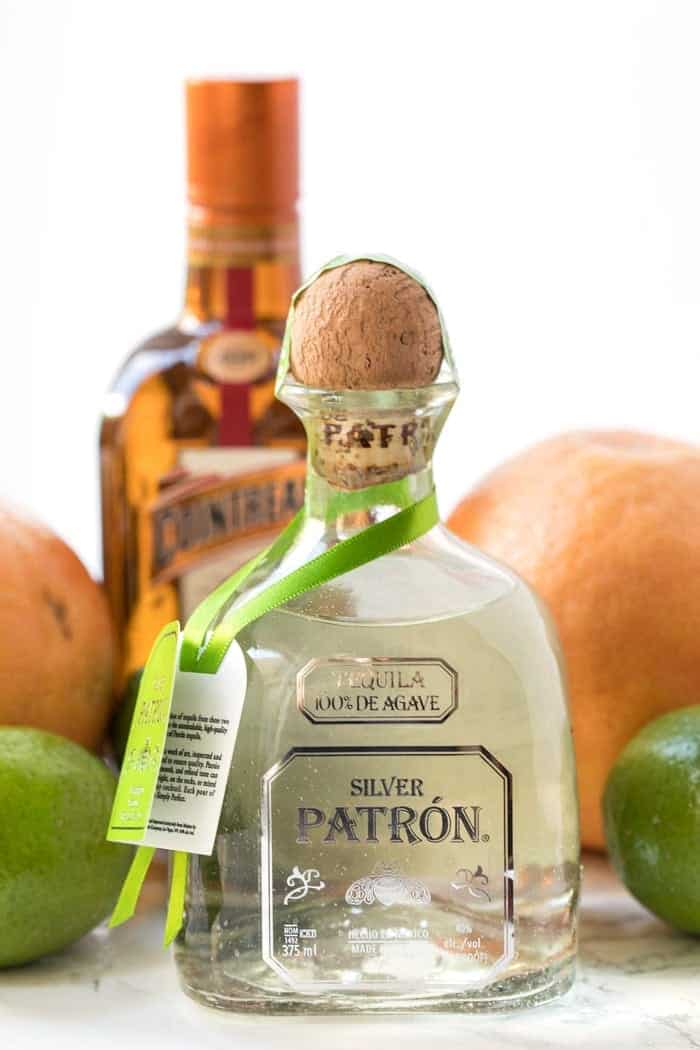 A Healthy Twist on Classic Margaritas
My grapefruit margarita recipe uses just 4 ingredients: grapefruit, lime, tequila and triple sec. No added sugar and no syrups!
But trust me, they're sweet enough! The combo of the grapefruit juice with the tangy lime and the subtle sweetness from the tequila and triple sec makes these pretty much the ideal cocktail recipe.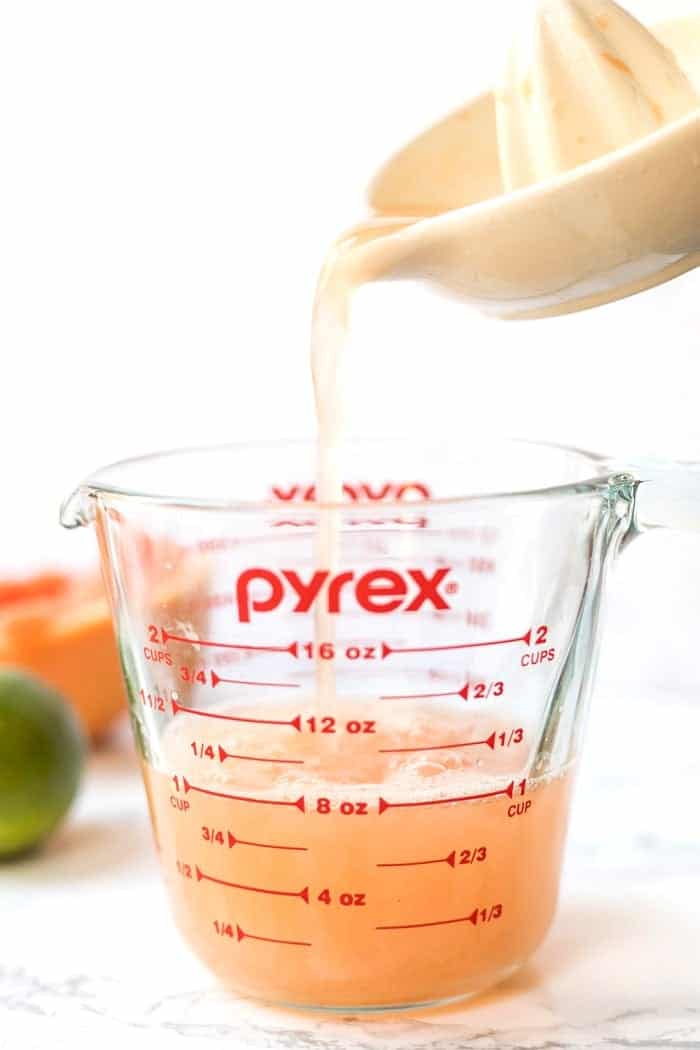 The key to making these healthy margaritas is that you need to get ripe grapefruit and squeeze the juice yourself. It makes all the difference!
While most grapefruits are already ripe at the store, I like to get ones that feel extra juicy and smell kind of sweet on the outside. Then when you squeeze out the juices you can smell out amazing it is – tangy and sweet all at the same time!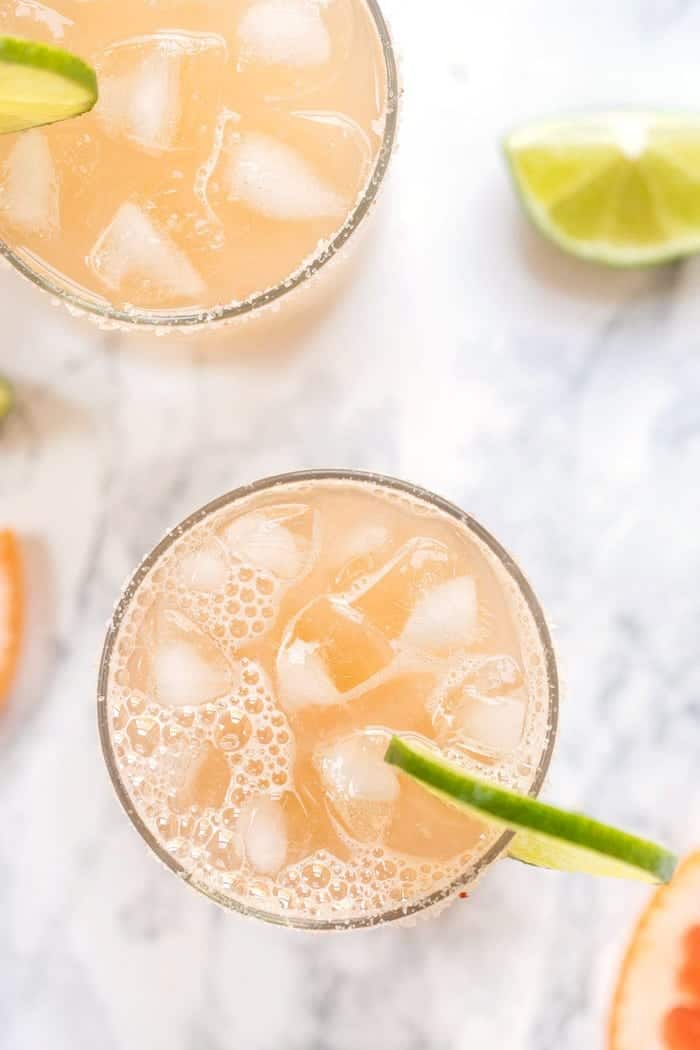 And then it's just time to make them!
Again, couldn't be easier. You just shake it all together, salt the rim of your jars and pour it over ice. Probably one of the most refreshing and simple cocktails I've ever had, but absolutely delicious!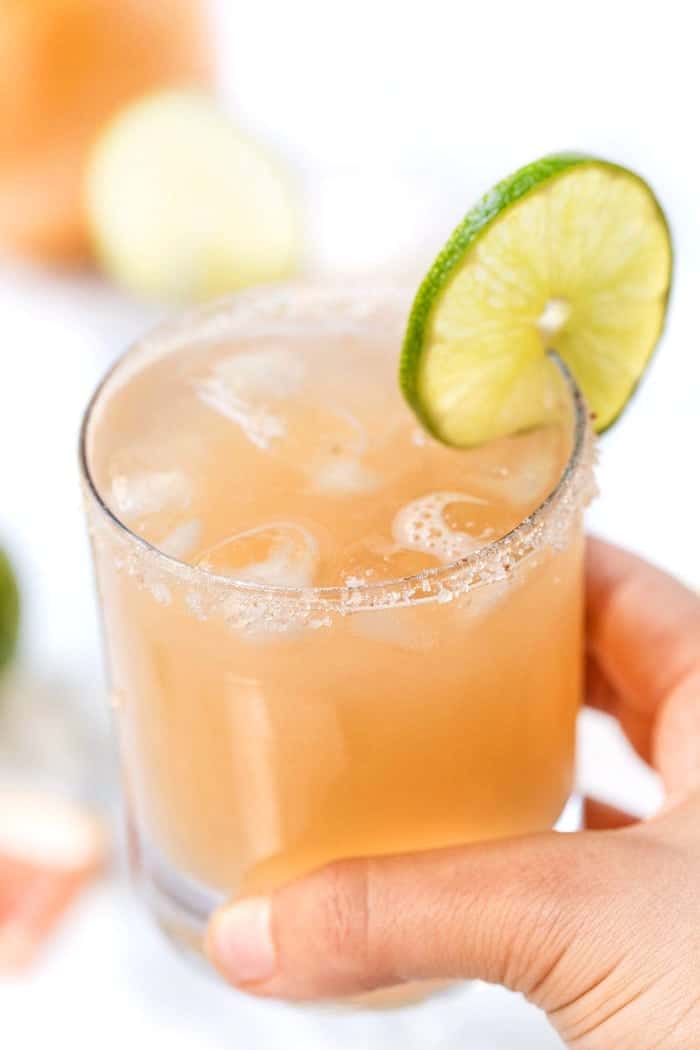 The Origins of Our Grapefruit Margaritas
I do need to tell you, I can't take full credit for this recipe. I first tried it when I was visiting my parent's in Vermont a few years ago and we had some of their friends over. One of the friends said she was going to make her homemade grapefruit margaritas. My initial thought…"YES PLEASE!"
And they did not disappoint! Ever since, we've had a standing tradition that each time I go back up to my parent's house, their friends come over and we have happy hour with our healthy grapefruit margaritas, followed by a delicious dinner.
It's the best!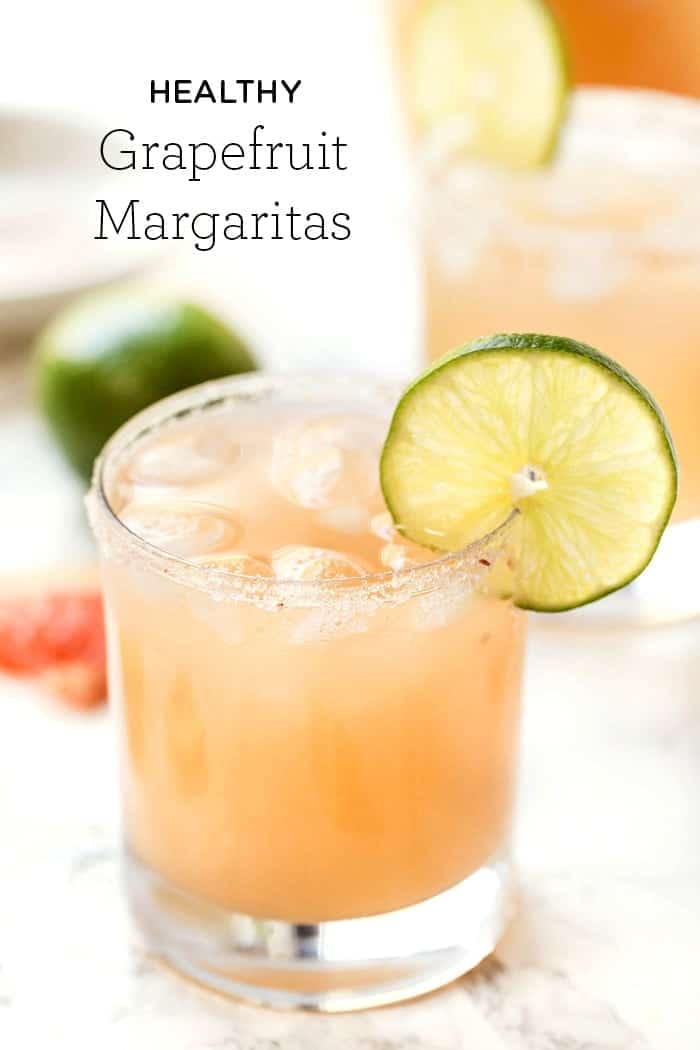 Oh and one final thing before you rush off and make these? Don't be afraid to add a few slices of jalapeno to the mix. It adds just the right amount of heat, and really sends these drinks over the edge!
Hope you enjoy these Healthy Grapefruit Margaritas! I know I will be all summer long ????
More Healthy Summer Drinks to Try:
Healthy Grapefruit Margaritas
These grapefruit margaritas are a healthy spin on the classic cocktail that use just 4 ingredients. They're light, refreshing and have no added sugar!
Servings 4
Calories 143kcal
Instructions
Add all the ingredients into a large pitcher and stir together.*

Serve over ice with an optional salted rim!
Nutrition
Calories: 143kcal | Carbohydrates: 13g | Sodium: 3mg | Potassium: 130mg | Sugar: 11g | Vitamin A: 15IU | Vitamin C: 24.9mg | Calcium: 9mg | Iron: 0.2mg
share what you make
Tag #simplyquinoa on Instagram with your creations! We love sharing what you make with the community. We can't wait to see!

follow on instagram