An example of a simple and easy nightly non-toxic skincare routine. It's only 6 steps and will leave your skin feeling soft, dewy and glowing when you wake up in the morning!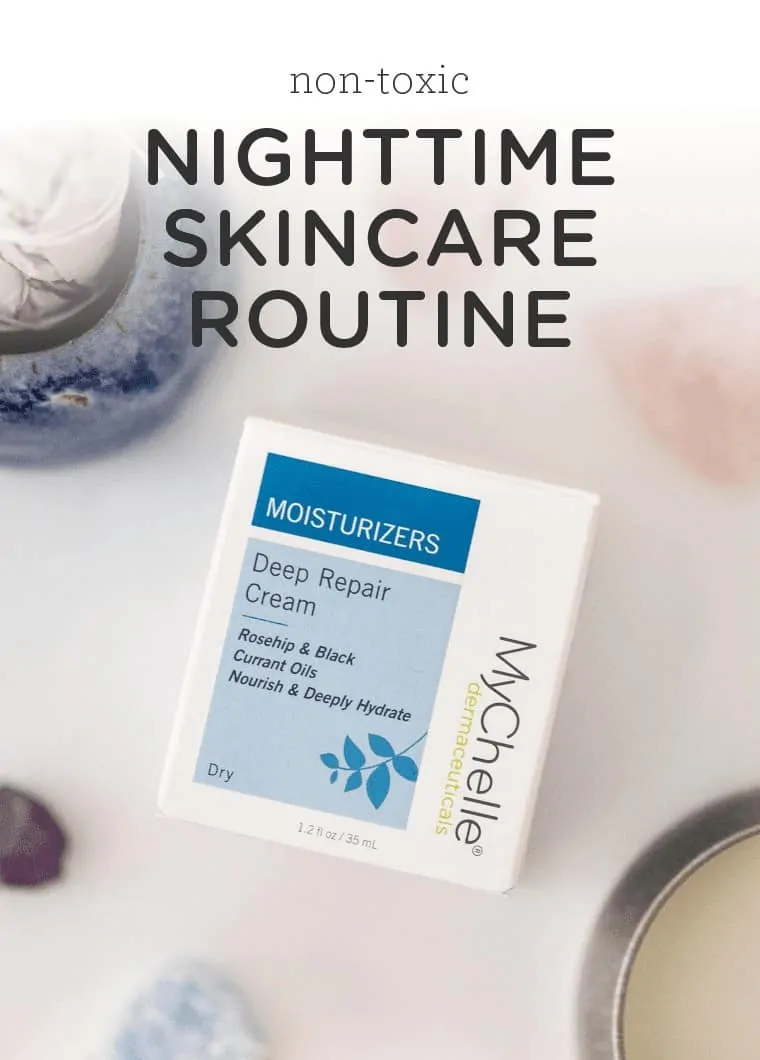 I'm back with another non-toxic skincare post, but this time we're talking about the nighttime!
I love sharing these routines with you because I feel like by sharing what I'm doing, you'll be able to see that skincare doesn't have to this huge process. Sure I love a good face mask, but overall my routine is very simple. I have a few products that I've come to just adore over the years and overall, I'm really happy with my routine as a whole.
One thing to keep in mind though, this is just my routine. What works for my skin, might not work for yours. So the first thing I suggest is going to a holistic esthetician and determining what type of skin you have. I have combination skin (I'm more oily in my t-zone and drier on my cheeks), but also have somewhat sensitive skin so I need to be careful with aromas, fragrances and other ingredients.
Everything I use in my nightly non-toxic skincare routine is cruelty-free, made with clean ingredients and I use a mix of items inexpensive items with more pricey ones.
My Nightly Non-Toxic Skincare Routine
Step 1: Cleanse
The first order of business at night is to cleanse my face. I love washing my face at night! I love getting any makeup off that I've worn that day, wash the city grime off my face and I just generally feel so refreshed after I do this. Typically, I rotate between two products for my cleansing: a cream cleanser and an exfoliant. I like to exfoliate 2 times per week and use my cleanser for the other days. Once my face is clean, I wipe it with a towel, remove any excess makeup or makeup residue that might be still there and move on.
My favorite non-toxic cleansers: REN Sensitive Cleanser, OSEA Ocean Cleanser, Acure Exfoliant, Avalon Organics Enzyme Scrub
Step 2: Tone
The next step is my toner. I never used to use a toner, but now I can't imagine not. I actually use a toner in both the morning and night I love it so much! Toners are best used on a clean face before any other products are applied. The reason for that is that toners help balance the pH of your skin, they are often very hydrating and they also help your skin absorb whatever products you put on over them.
My favorite non-toxic toners: Laurel Whole Plant Organics Facial Elixir, Naturopathica Lavender Honey Balancing Mist, Indie Lee COQ-10 Toner, Primally Pure Everything Spray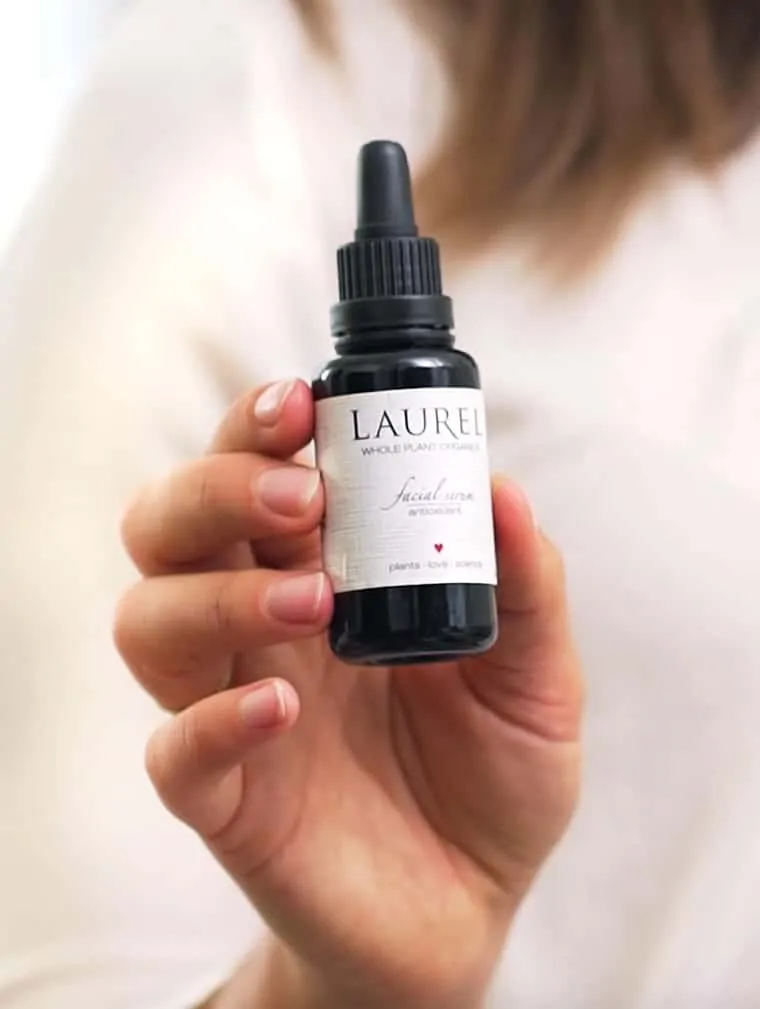 Step 3: Serums
The next step of my process is my serums. I actually don't use an oil or serum every single night, but when I do, it's almost always an oil. In the summer months, when my face has more natural oils on it, I skip this step. But in the winter when my face is prone to dryness, I use an oil.
Choosing an oil is a very individual thing. You need to think about what your skin goals are (i.e. hydration, anti-aging, repair, etc.), but also what types of oils work best on your face. For me, coconut oil is an absolute no-go on my face. But I do well with other oils like jojoba and rosehip seed oil. So it might take a little testing until you find the right one. That's one of the reasons I love shopping at The Detox Market because you can request samples to try things out!
One final note about oils and serums: they're pretty pricey. But keep in mind that you usually only need 1 – 3 drops per application. So a little goes a long way and that small bottle should last you quite a while.
My favorite non-toxic facial oils: Laurel Whole Plant Organics Antioxidant Serum, Naturopathica Carrot Seed Oil, Naturopathica Rosehip Seed Oil, Primally Pure Fancy Serum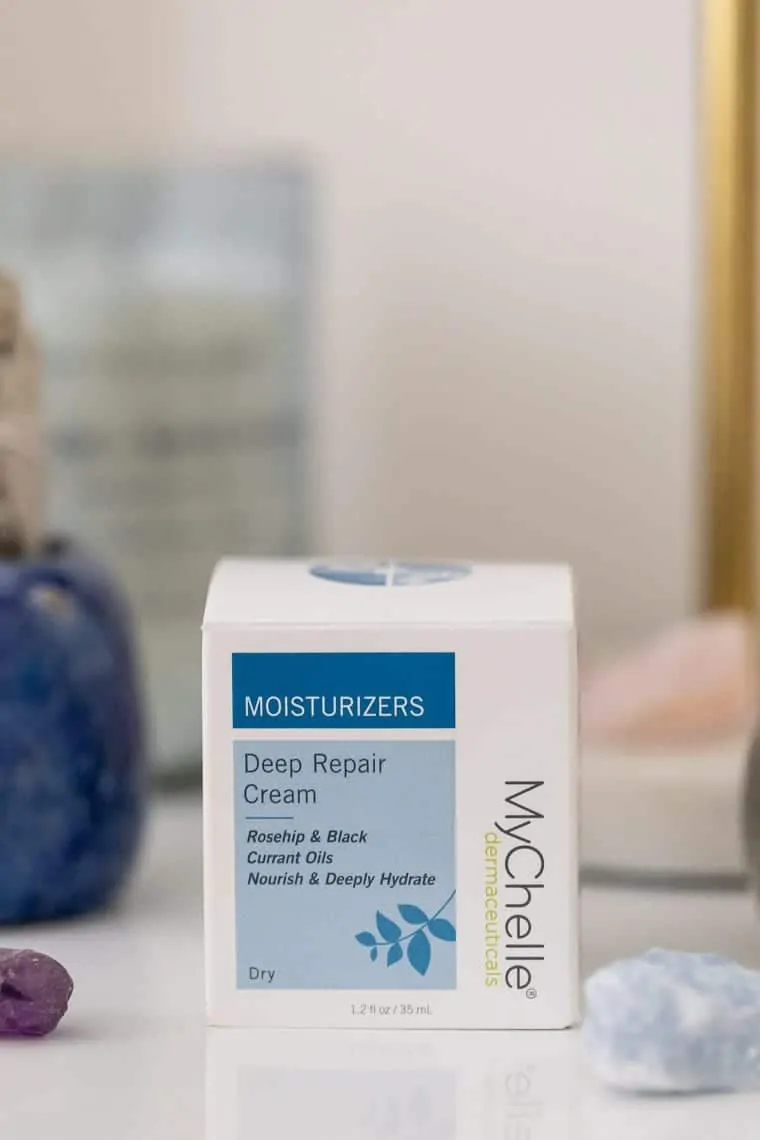 Step 4: Moisturize
After my serum, I moisturize. I specifically use a night cream here because those tend to be heavier, a bit more hydrating and more nourishing for my skin overnight. I never skip my night cream, EVER. Even in the warm summer months, when my skin has more oil production, I still moisturize. Otherwise, I wake up feeling dry and not as smooth.
I think moisturizers are again one of those things that you have to test out. I love the one I'm currently using (and have been using for quite a while), but there are plenty of other options out there. So again, think about your skin goals, then find a brand you like, who use ingredients you like, and try it out! And yes, leverage The Detox Market to get some of those samples!
My favorite non-toxic night creams: Mychelle Deep Repair Cream, Laurel Whole Plant Organics Night Balm, Herbivore Moon Fruit Night Treatment, OSEA Advanced Protection Cream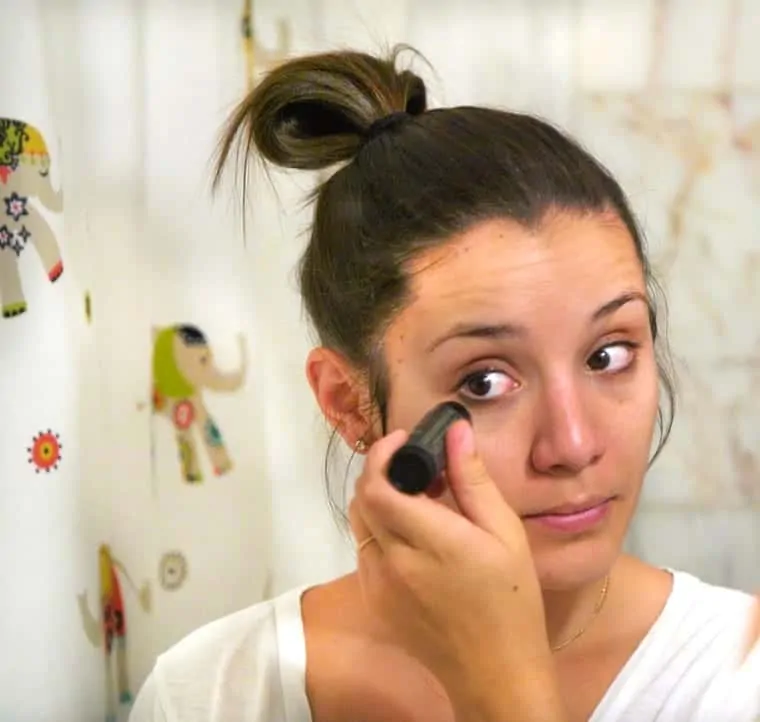 Step 5: Eye Cream
And last but not least, I finish up with my eyes. One of the things I hear most from estheticians and older women is to use an eye cream every single day, no matter way! Eye creams are also one of the pricier items you see, but I actually don't use a fancy one. What I use each night is the Matcha Stick from Cocokind Skincare. It's reasonably priced, it lasts forever and it's really hydrating. It also has caffeine in it which tightens the capillaries under the skin, improves circulation to remove dark circles and also depuffs.
My favorite non-toxic eye creams: Cocokind Matcha Stick, Naturopathica Wrinkle Repair Eye Cream, Tata Harper Illuminating Eye Cream, 100% Pure Caffeine Eye Cream
Step 6 (optional): Jade Roll
The final thing I (usually) do is jade roll my face. I won't talk too much about that here because I just published a full post about how to jade roll and its benefits, but this is something I do when I remember to and do it while I'm lying in bed reading my book before I fall asleep. This is the one that I have!
Do You Have a Nightly Skincare Routine?
If so, I'd love to know what you do and what you use! If you have any favorite products or are looking for more recommendations, let me know ♡