This amazing paleo banana bread recipe is easy to make, perfectly sweet, healthy, and delicious! Naturally gluten-free, dairy-free, and refined sugar-free, with wholesome ingredients.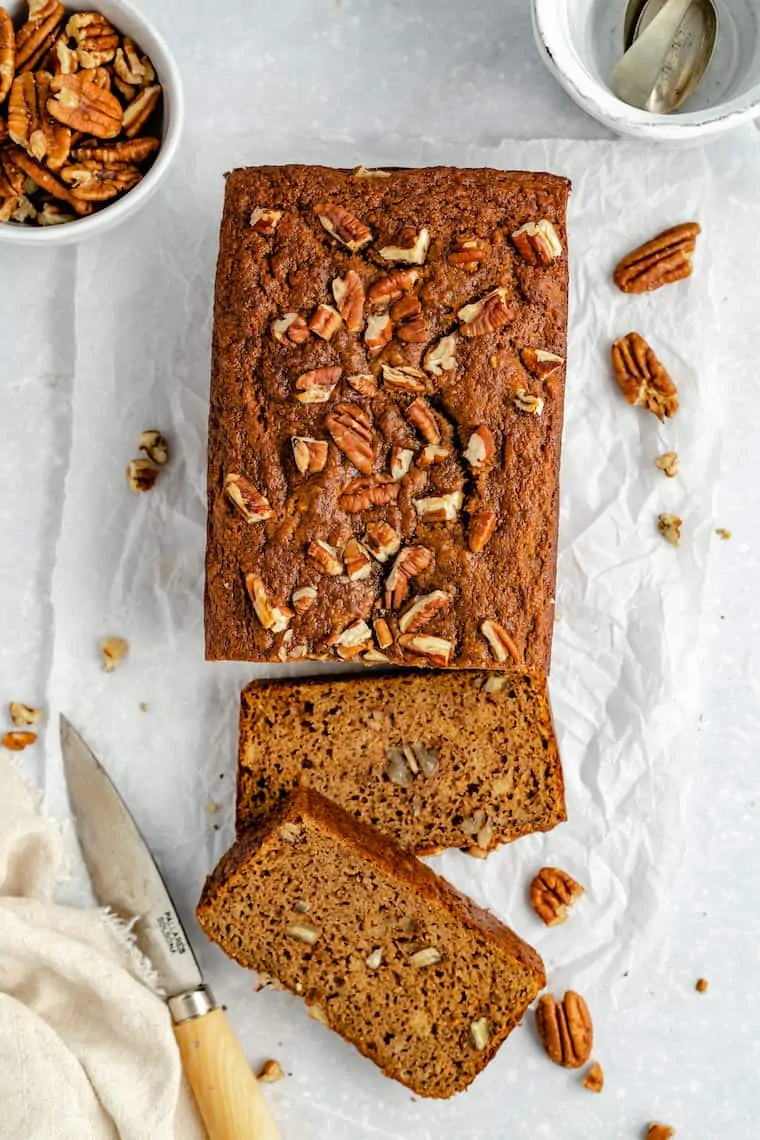 Ever since lockdown started earlier this year, banana bread seems to have taken the internet by storm. Literally, my whole Instagram feed was full of banana bread recipes!
And for good reason: banana bread is easy to make, comforting in times of stress and it tastes amazing.
Earlier this year as I was also getting deep into banana bread baking, I came up with this recipe. It was completely on a whim and I was blown away. It was perfect in one try. This is truly the best ever paleo banana bread recipe and I can't WAIT for you to try it!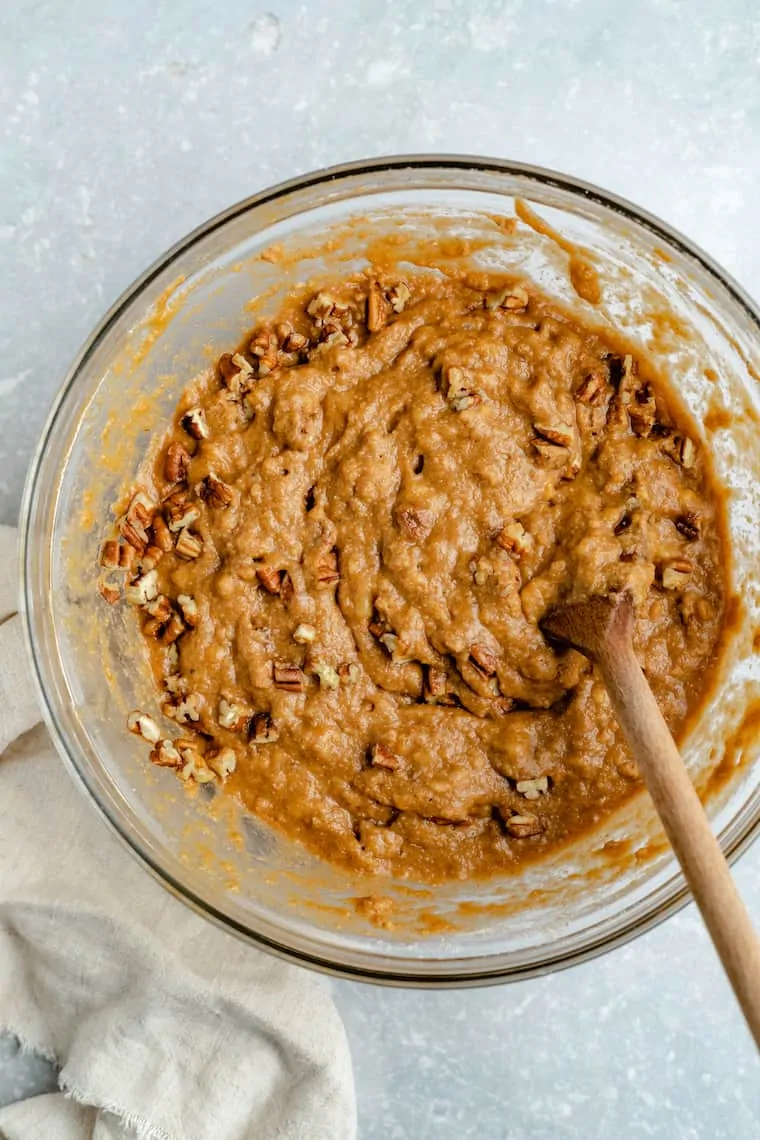 Paleo Banana Bread Ingredients
Unlike some of my other banana bread recipes, this version is super simple with the ingredients. Even though it's gluten-free, we're using just one type of flour!
Banana: first up our banana. Make sure to get spotty bananas that are soft and ripe. You'll want to mash them up as much as you can before measuring!
Eggs: since we're using coconut flour (more on that below), we need eggs for this one – 4 in fact – which might seem like a lot, but helps give this bread its texture
Coconut oil: to impart a slight coconut flavor and also give it extra moisture and decadence
Apple cider vinegar: I know it sounds strange, but the vinegar will help activate the leavening agents and help the bread rise more
Coconut flour: one of my favorite flours for baking, but also the trickiest to work with – its the reason this paleo banana bread is so soft and tender
Arrowroot powder: this helps lighten the bread up and also helps it from being crumbly
Spices: cinnamon and salt is all you need here, but it would be delicious with a pinch of ginger and/or nutmeg
And finally, we've got our baking powder and baking soda!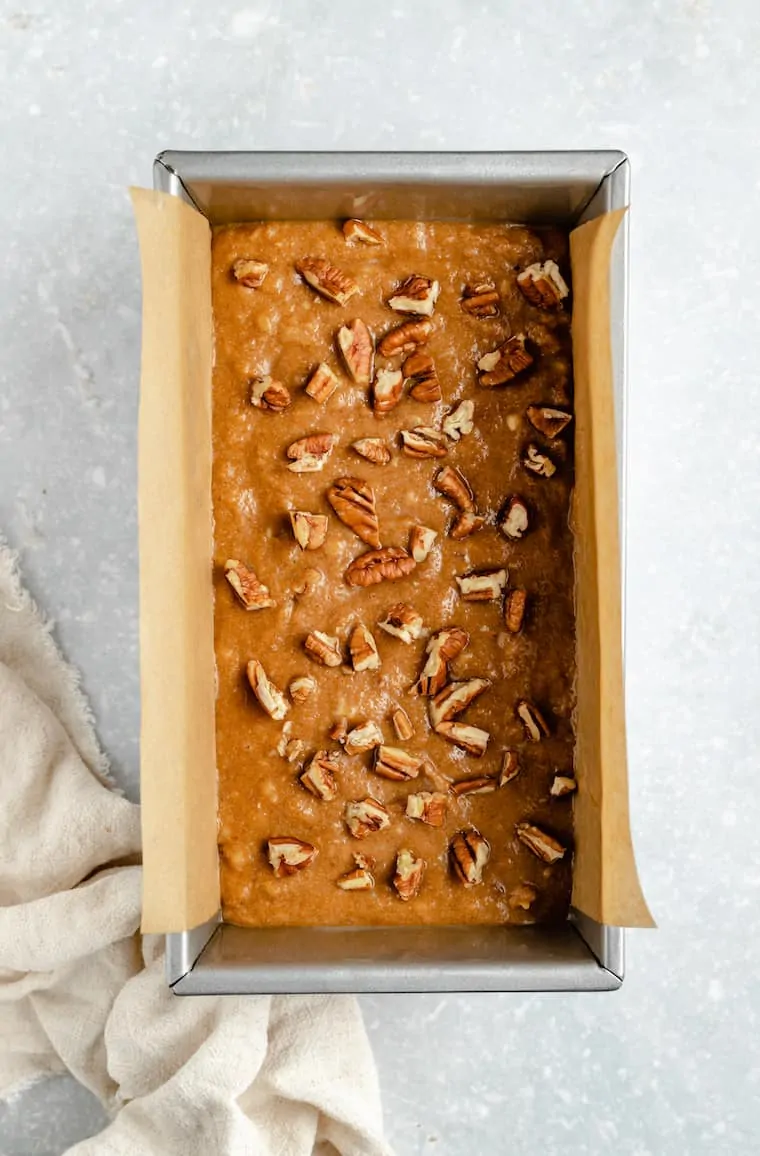 Tips, Tricks & Substitutions
Before we dive into this recipe, let me give you a few tips for making it:
Coconut flour is tricky: it has its own texture and moisture needs, so really can't be substituted in this recipe
Let it sit: allow the batter to sit for just a few minutes before popping it into the oven – it will help the texture
Swap the vinegar: if you don't want to use ACV, swap it out with lemon juice!
Making it vegan: unfortunately, because of the coconut flour, this recipe can't be made vegan without major changes!
Using other flours: as with the eggs, this recipe is specifically designed to be made with coconut flour – no other flour will work in the same proportion
Mix-ins: this bread loves a good mix in! Feel free to fold in some chopped nuts or chocolate chips to make it even tastier!
And if you have any other questions, drop them down in the comments!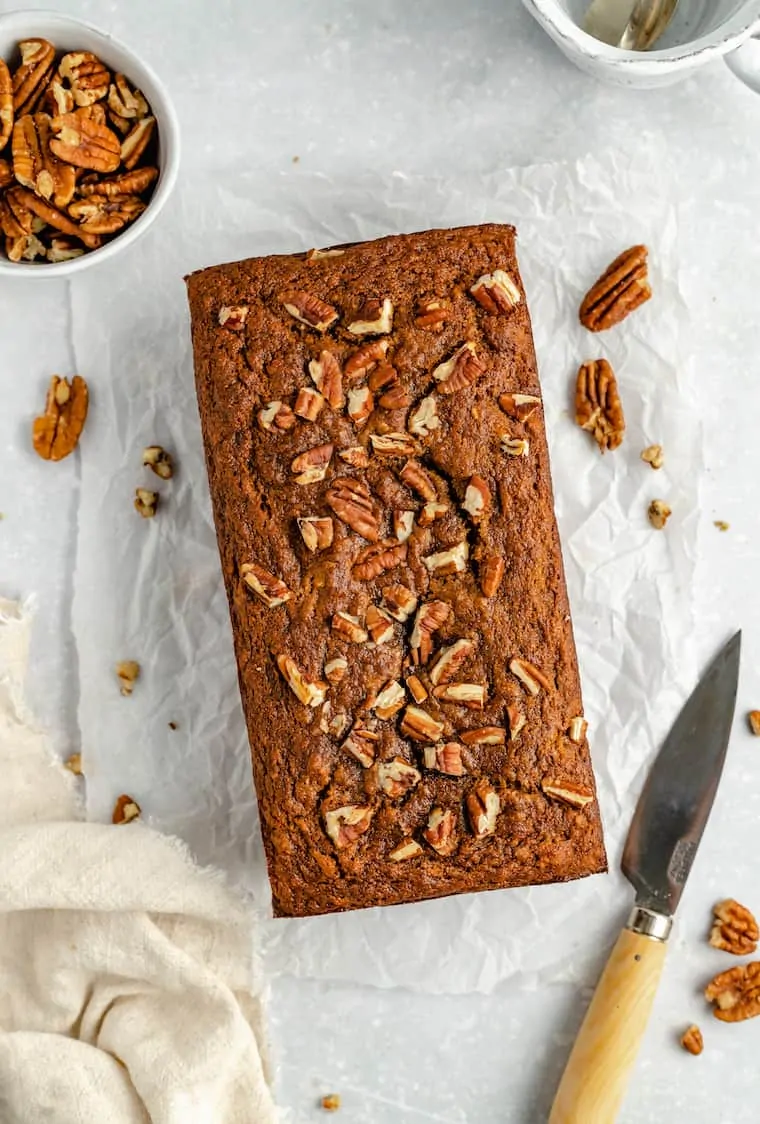 How To Make Paleo Banana Bread
Banana bread is a one-bowl wonder which I totally love! I usually start with the wet ingredients, then mix in the dry to keep my mess down.
STEP ONE: Wet Ingredients
First, you'll want to mix your wet ingredients together. Start by beating the eggs in the bowl, then mix everything else in. Since bananas can range in size, make sure you're measuring out your banana in a measuring cup!
STEP TWO: Dry Ingredients
Next, you'll just add the dry ingredients directly into the bowl. Serious bakers might not agree with this, but I'm kind of lazy when it comes to baking, and it always seems to work out okay for me!
STEP THREE: Bake
And finally, we bake! Just transfer your batter into the baking tin – lined with parchment – and sprinkle on some chopped nuts or chocolate chips if you want. Bake it up for about an hour and you'll have this perfect loaf of healthy banana bread!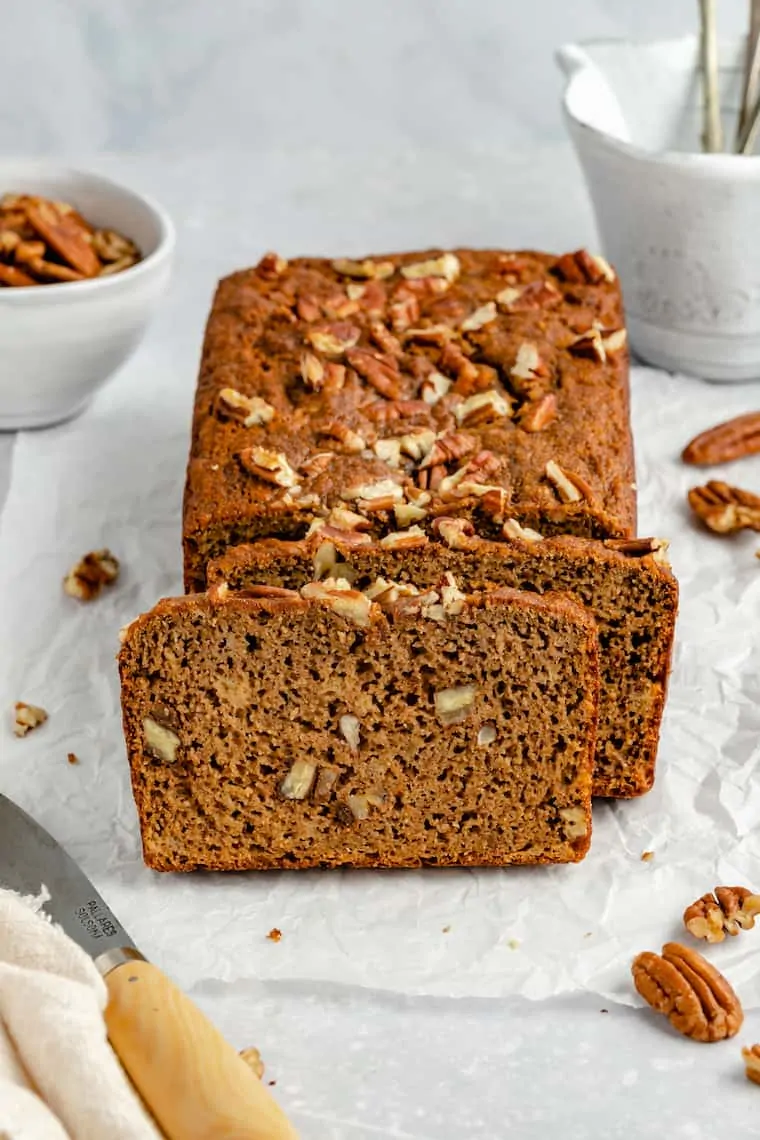 Can You Freeze Banana Bread?
Banana bread can absolutely be frozen! On the day of baking, I like to let my loaf cool completely, then cut it into slices. I keep a slice or two out at room temp, then wrap the rest up in foil and pop it into a ziplock bag and leave it in my freezer.
To reheat your banana bread, either microwave it quickly or pop it into the toaster oven!
Healthy Banana Bread That's Paleo!
To me, this is the ultimate loaf of banana bread! It's moist and tender, it's a little cakey, it's perfectly sweet and it's easy to make. You honestly can't beat it!
This bread is also…
gluten-free
grain-free
dairy-free
refined sugar-free
…and best of all, it tastes INCREDIBLE!! I can't wait for you to make it – I'm pretty sure you won't ever have to make another banana bread recipe again!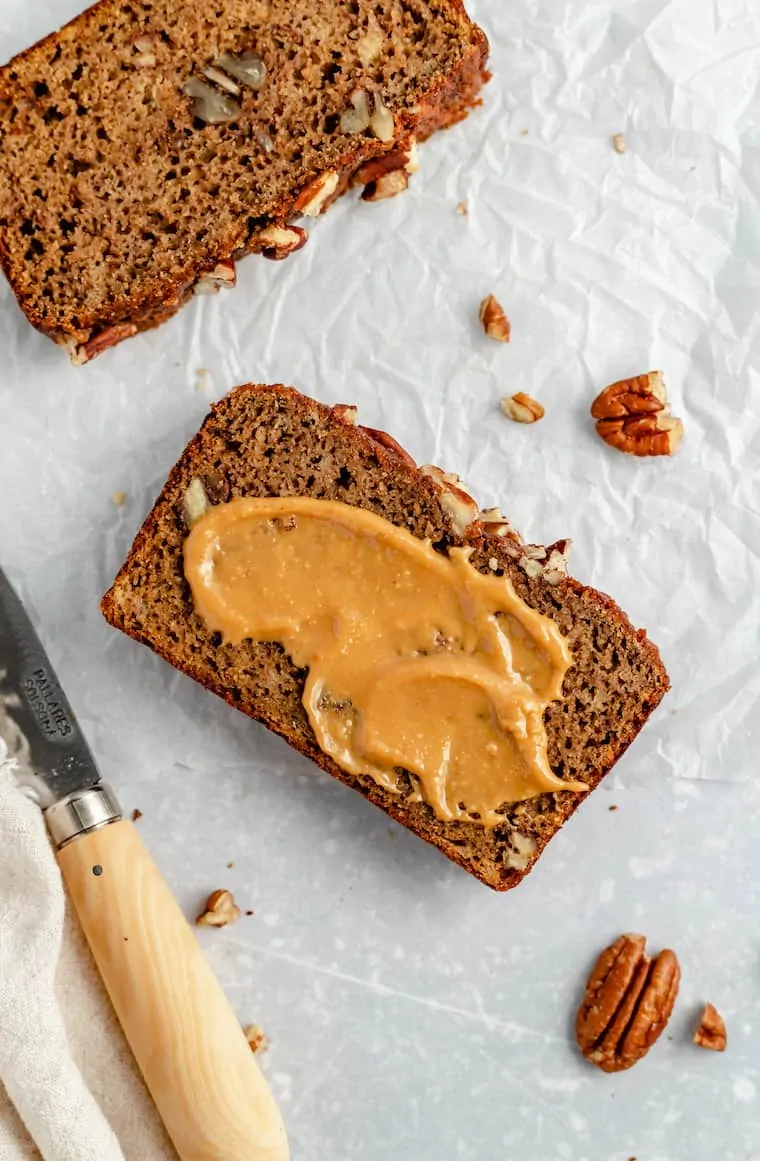 More Banana Bread Recipes to try:
Looking for some more healthy banana bread recipes? We've got a few others on the blog that we think we might like! We'll also link some of our favorite banana bread inspired recipes as well!
Best Ever Paleo Banana Bread
This amazing paleo banana bread recipe is easy to make, perfectly sweet, healthy, and delicious! Naturally gluten-free, dairy-free, and refined sugar-free, with wholesome ingredients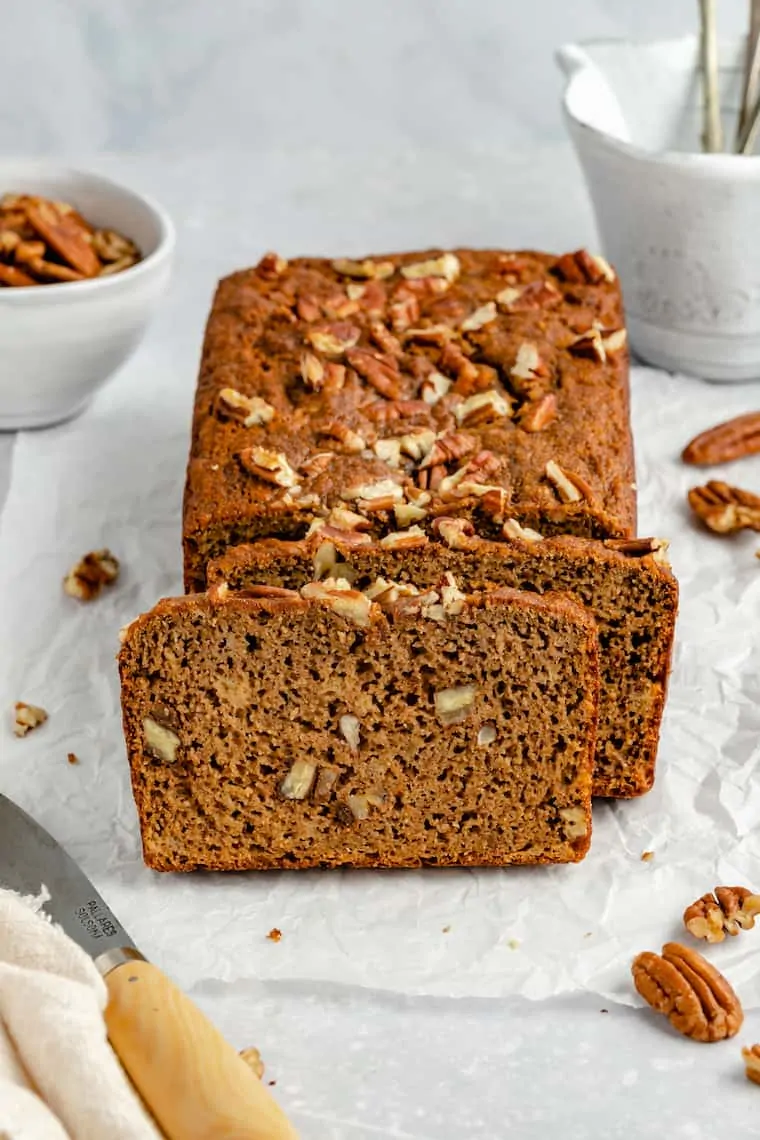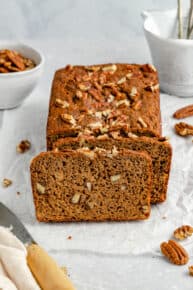 Instructions
Preheat the oven to 350 degrees and line a loaf pan with parchment paper. Spray the uncovered sides of the pan with non-stick cooking spray, or grease with oil.

In a mixing bowl, beat together the banana, eggs, sugar, oil and vinegar. Beat until smooth.

Add the dry ingredients (minus the nuts if using) and stir until a smooth batter forms. Fold in the nuts. Allow batter to rest for 5 minutes.

Transfer the batter to the prepared pan and bake in the center of the oven for 45 - 50 minutes, until a cake tester inserted into the center comes out clean. Check at 40 minutes and cover with tinfoil if the top is browning too quickly.

Cool in the pan for 5 minutes, then transfer to a wire rack and cool completely before slicing.

Serve slightly reheated in the toaster oven with your favorite nut butter or buttery spread
Nutrition
Serving:
1
slice
|
Calories:
138
kcal
|
Carbohydrates:
15
g
|
Protein:
3
g
|
Fat:
8
g
|
Saturated Fat:
3
g
|
Cholesterol:
55
mg
|
Sodium:
188
mg
|
Potassium:
137
mg
|
Fiber:
3
g
|
Sugar:
6
g
|
Vitamin A:
87
IU
|
Vitamin C:
1
mg
|
Calcium:
39
mg
|
Iron:
1
mg
Filed Under: