Gluten-Free Banana Bread Muffins
These soft gluten-free banana bread muffins are the perfect morning treat. Light, tender and with a sweet maple flavor, they're a healthy version of banana bread, just in the bite-sized form!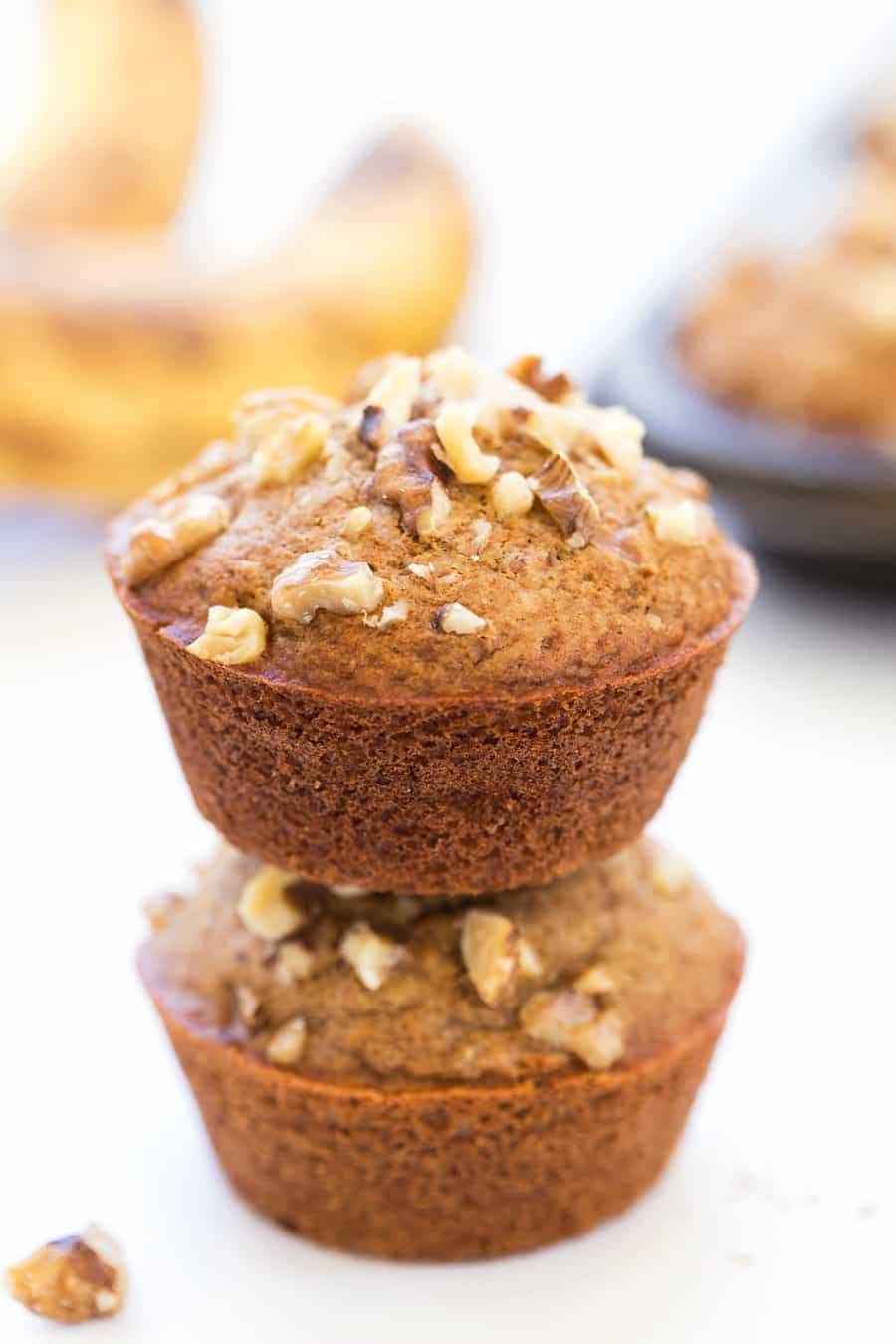 I originally shared this recipe back in 2012. It was one of the first recipes I ever had on the site and been on my list to update for quite some time. What I love about updating old posts, is not only to see how far my photography has come, but it's sometimes a question to see if the recipe will actually turn out.
As many of you know, I started this blog on a whim. I'm a self-taught cook, don't have any formal baking experience, and when I shared these muffins, I was brand new to gluten-free eating. Honestly, I was half expecting them to flop, but as I watched them rise in the oven and saw the texture when I opened one up, I realized these gluten-free banana bread muffins didn't need any updating in the recipe department. They were perfect. Soft, light, and fluffy. Just the way a muffin should be.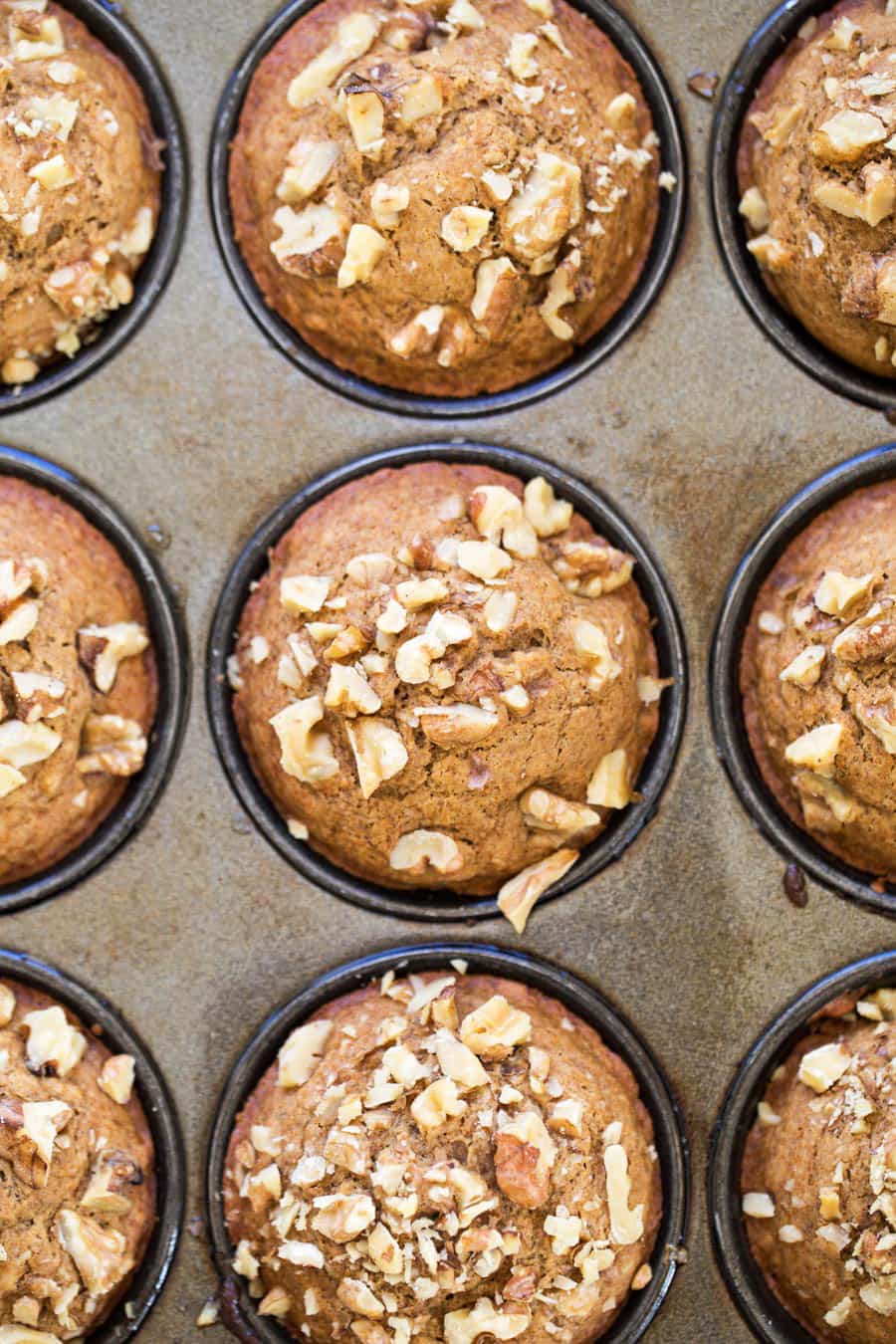 Muffins are just one of those things that brighten up my mornings. They bring a smile to my face and make my taste buds sing with joy. They're comforting. They're delicious. They're amazing. They're the perfect breakfast treat. I love muffins.
And if you're like me, then you're also one of those people who loves fruity muffins. Chunks of fresh fruit or berries, dried fruit or simply pureed fruit for that kick of added flavor, fruit-filled muffins are simply the best.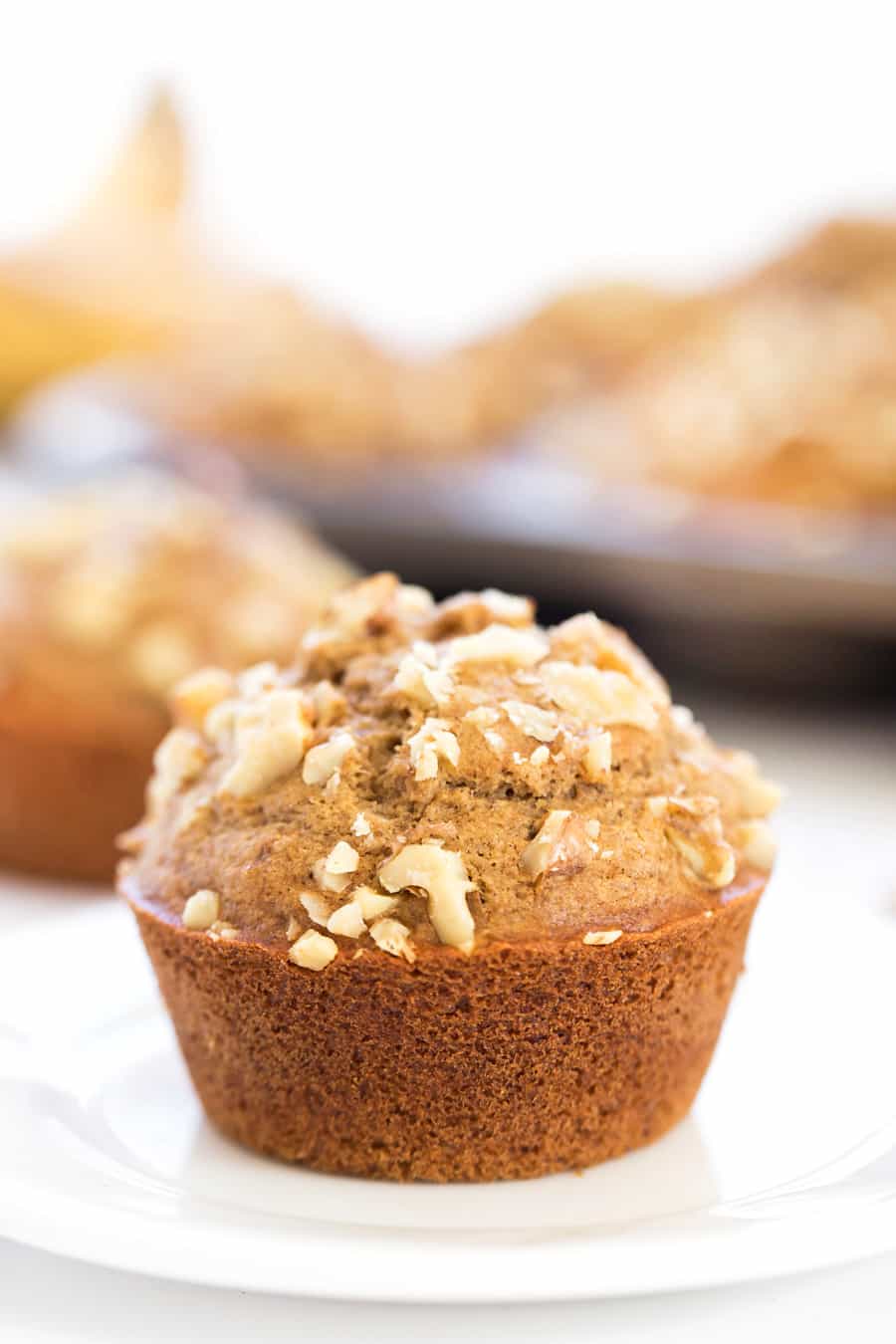 Lately, I've been craving banana bread, but have been wanting to skip the whole bread part of it. I didn't want to wait for it to bake. I didn't feel like having just a slice. I wanted something that I could cup in my hand, slather with vegan butter or creamy almond butter, and eat slowly, thoroughly enjoying each and every bite.
I wanted that simple, compact and easy-to-eat breakfast that I've enjoyed since I was a little girl. I wanted banana bread in a muffin.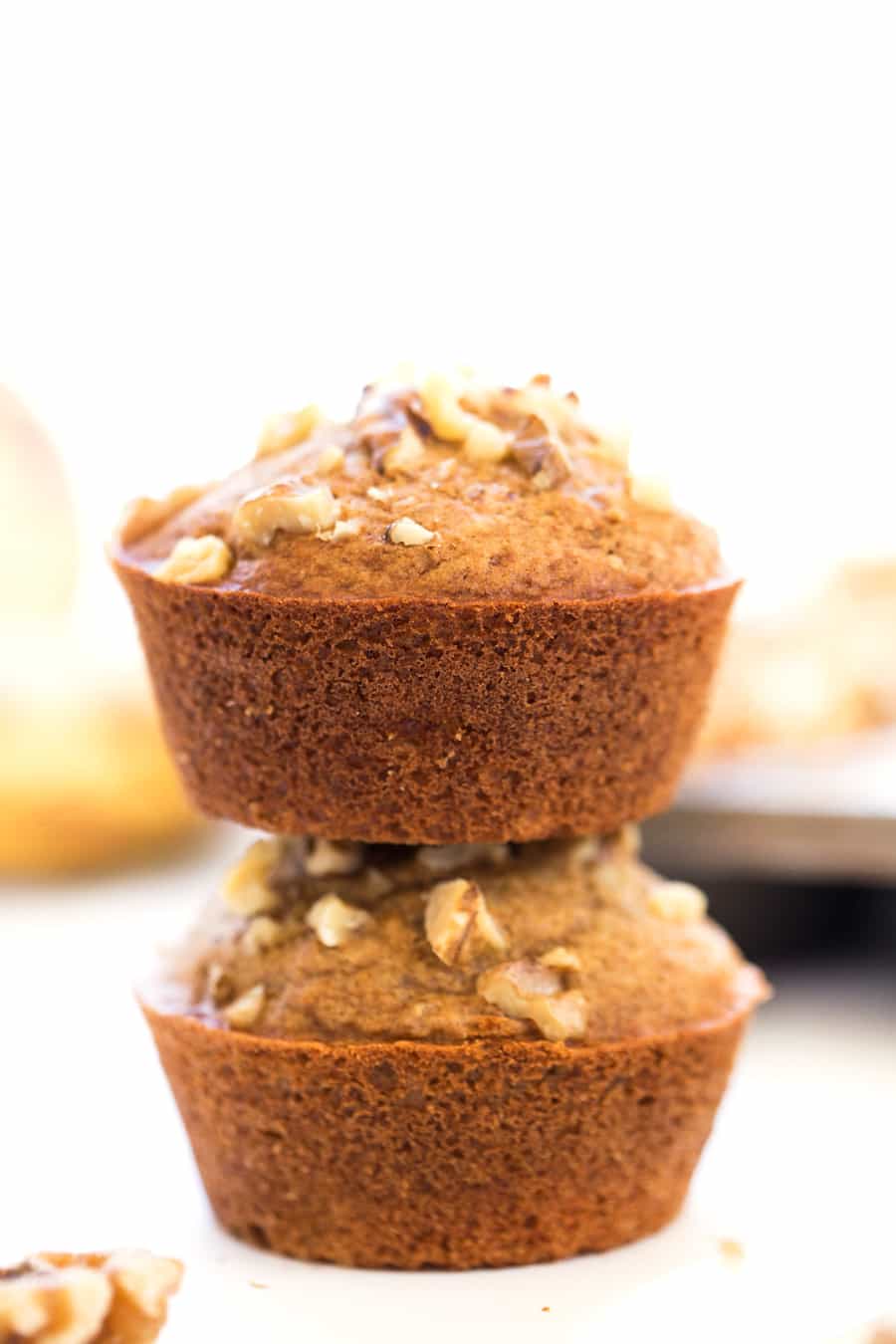 And banana bread muffins we have, the gluten-free version of course. Slightly sweet and super moist, these muffins are satisfying my craving and more. They're taking me to my happy place. And it gets better with every bite.
Sayonara banana bread craving, hello banana bread muffins. It's wonderful to meet you. And I do believe that we may or may not have just become best friends. You're welcome back to my breakfast party anytime.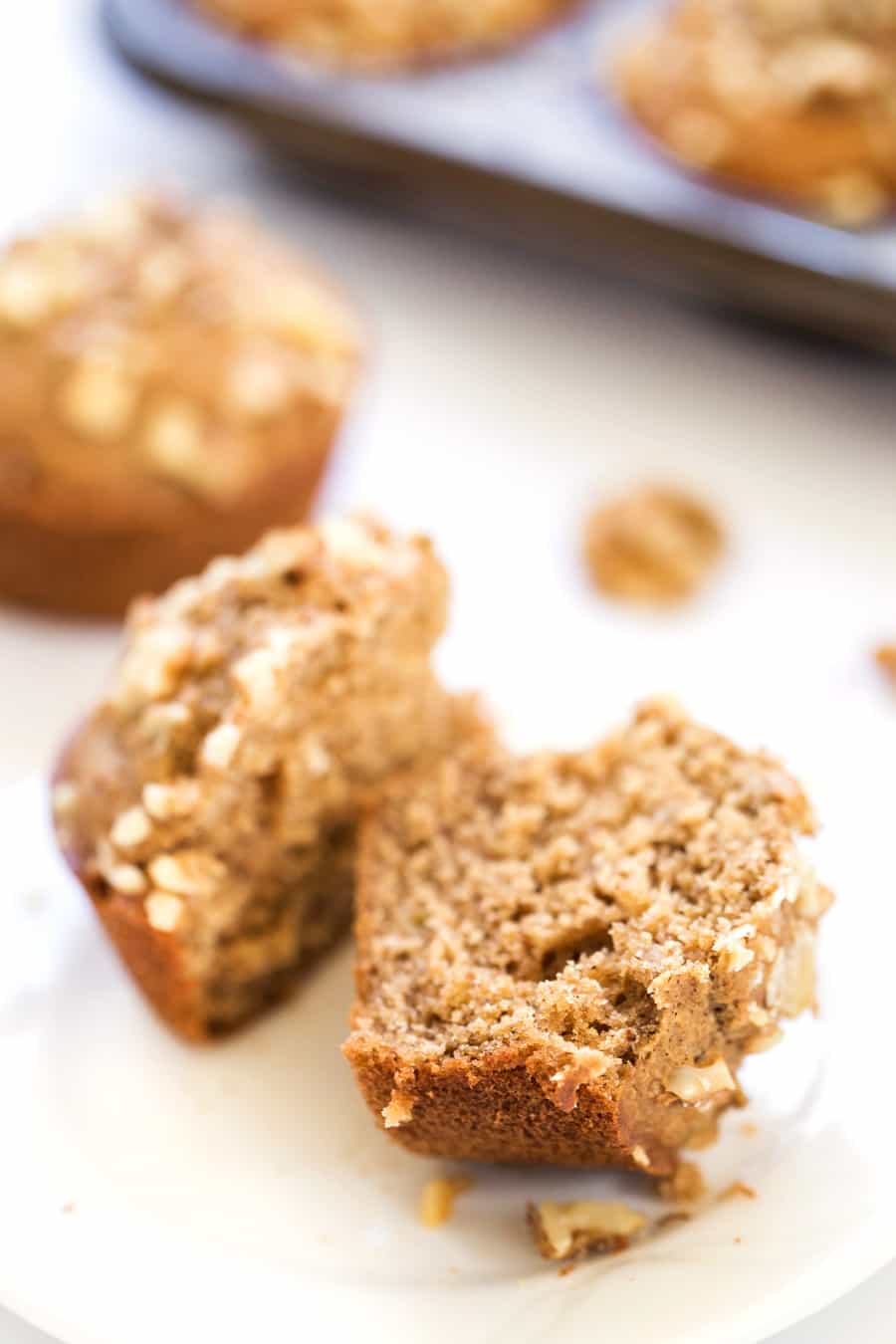 And as you're enjoying your warm banana bread muffin for breakfast tomorrow morning, might I make one small suggestion?
Slather this baby with some creamy peanut butter and a very light drizzle of honey and you'll be transported to the world where breakfast dreams are made. Banana + peanut butter + muffins = #breakfastgoals. Enough said.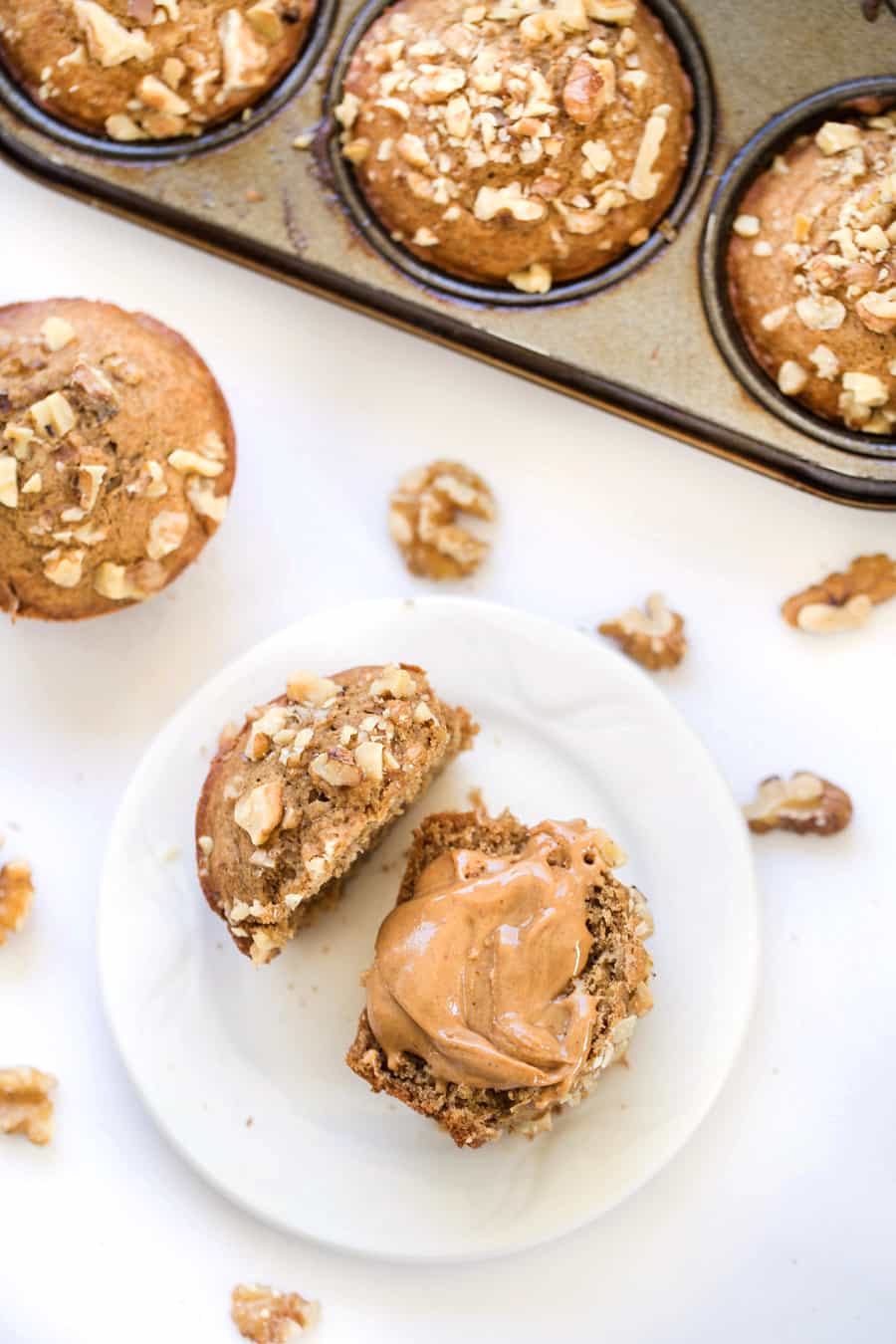 More Muffin Recipes to Try:
Gluten-Free Banana Bread Muffins
These soft gluten-free banana bread muffins are the perfect morning treat. Light, tender and with a sweet maple flavor, they're a healthy version of banana bread, just in bite-sized form!
Servings 12 muffins
Calories 170kcal
Instructions
Preheat the oven to 375 degrees F. Grease a 12-cup muffin tin and set aside.

In a large mixing bowl, beat all wet ingredients together (including the sugar) until fully combined.

Add the dry ingredients to the banana mixture and stir to combine, until you have a nice smooth batter.

Spoon the batter into the muffin tins, filling each cup about ¾ of the way full. Top each muffin with some walnuts and gently press down so that walnuts stick as the muffins bake.

Bake in the center of a warm oven for 13 - 15 minutes, or until a cake tester inserted into the center comes out clean.

Let the muffins cool for 10 minutes on a wire rack.

Enjoy these muffins served warm, topped with vegan butter or creamy peanut butter, next to your favorite mug of morning tea or coffee.
Nutrition
Calories: 170kcal | Carbohydrates: 22g | Protein: 2g | Fat: 7g | Saturated Fat: 4g | Cholesterol: 27mg | Sodium: 90mg | Potassium: 140mg | Fiber: 1g | Sugar: 8g | Vitamin A: 50IU | Vitamin C: 1.7mg | Calcium: 33mg | Iron: 0.8mg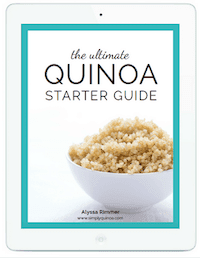 New to cooking quinoa? Grab your FREE Quinoa Starter Guide!
Become part of the Simply Quinoa community and receive weekly emails with exclusive content that I only share in email, as well as my in-depth guide to starting your quinoa journey.
Want more quinoa breakfast recipes?
Follow my board on Pinterest!
share what you make
Tag #simplyquinoa on Instagram with your creations! We love sharing what you make with the community. We can't wait to see!

follow on instagram