This amazing strawberry banana bread is full of fresh fruit flavors, but doesn't use any refined sweeteners. It's also vegan and gluten-free, so it's the perfect way to start the day!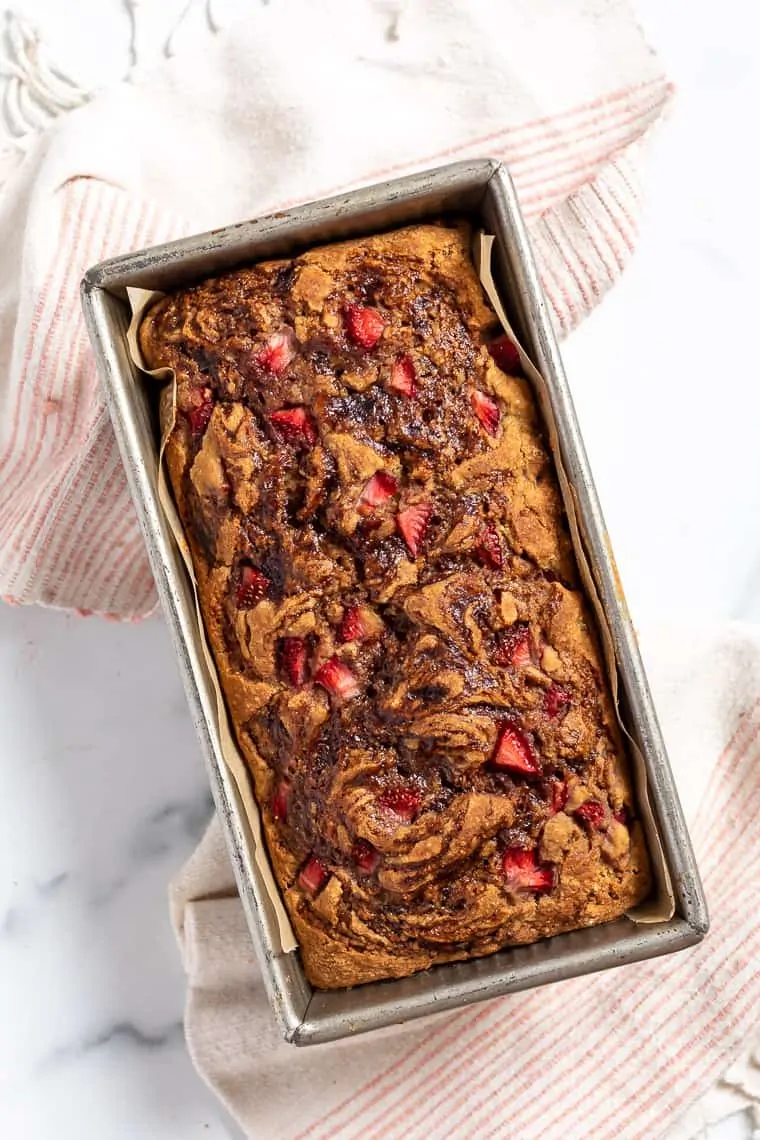 For some reason, banana bread completely took the lockdown by storm. Like everyone was making banana bread. Myself included!
But like the 10th loaf, I was feeling like we needed to change things up. We needed to make a new version of banana bread that was still delicious but gave us a little more excitement. I mean we all need a little something extra during the lockdown, right?
Enter today's recipe. Two of my favorite fruits coming together in the perfect loaf. A healthy strawberry banana bread that is not only perfectly flavored, but also vegan and gluten-free!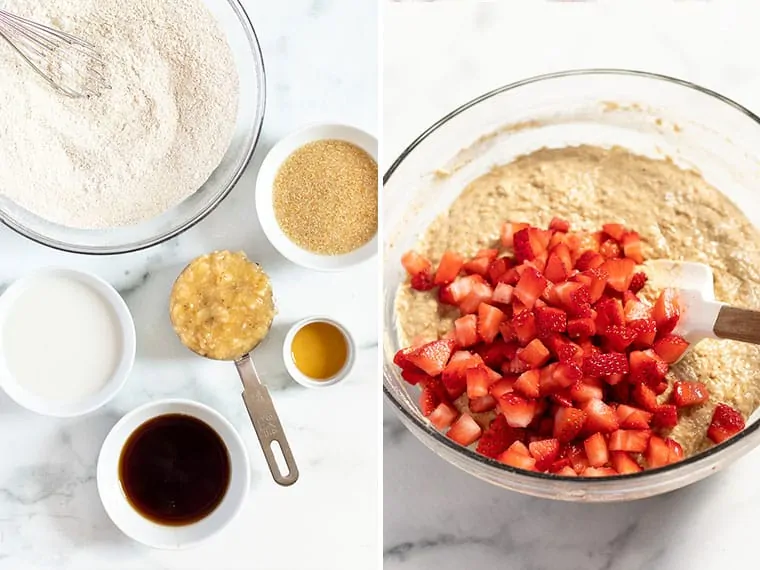 Ingredients for Strawberry Banana Bread
Since many of my other banana bread recipes use eggs, I've been on a mission to create a vegan banana bread for you. And I've finally nailed it!
We took the base of our chocolate zucchini bread, tweaked the recipe slightly, and ended up with this beauty.
For our dry ingredients, we're using:
Quinoa flour
Oat flour
Tapioca starch
Coconut sugar
As well as baking powder, baking soda, and salt.
And the for our wet ingredients we've got:
Banana
Flax eggs
Maple syrup
Apple cider vinegar
Almond milk
It's actually a relatively simple combo and yields a pretty phenomenal loaf. We're talking perfectly sweet, good rise, nice balance of banana and strawberry flavor, and also completely oil-free!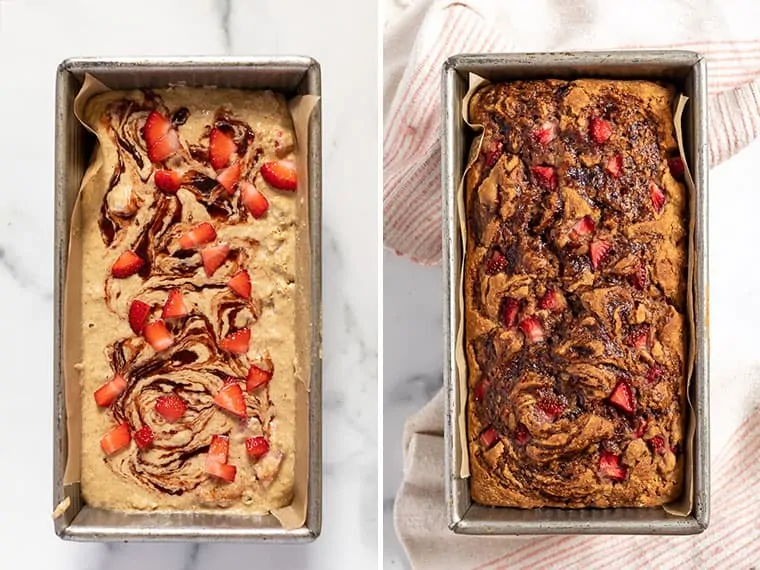 How to make Healthy Banana Bread
What's great about this recipe is that it can absolutely be made in one bowl if you want. I would recommend starting with the wet ingredients in a large bowl, then adding the dry ingredients.
Once you've stirred them all together, you'll have a thick(ish) batter. From there you can fold in your strawberries.
The last step – which is optional, but recommended – is the strawberry swirl!
How to Make a Swirl Pattern in a Bread
Making a swirl is actually super easy. We're using strawberry jam here, but you can use this same process with anything from chocolate sauce to peanut butter. Here's how to do it:
Dollop a few tablespoons of your swirl ingredient on top of the dough
Use a chopstick and stick it in the center of the dollop
Move the chopstick around in swirling motions to create the swirl!
And then you'll just bake it up as normal!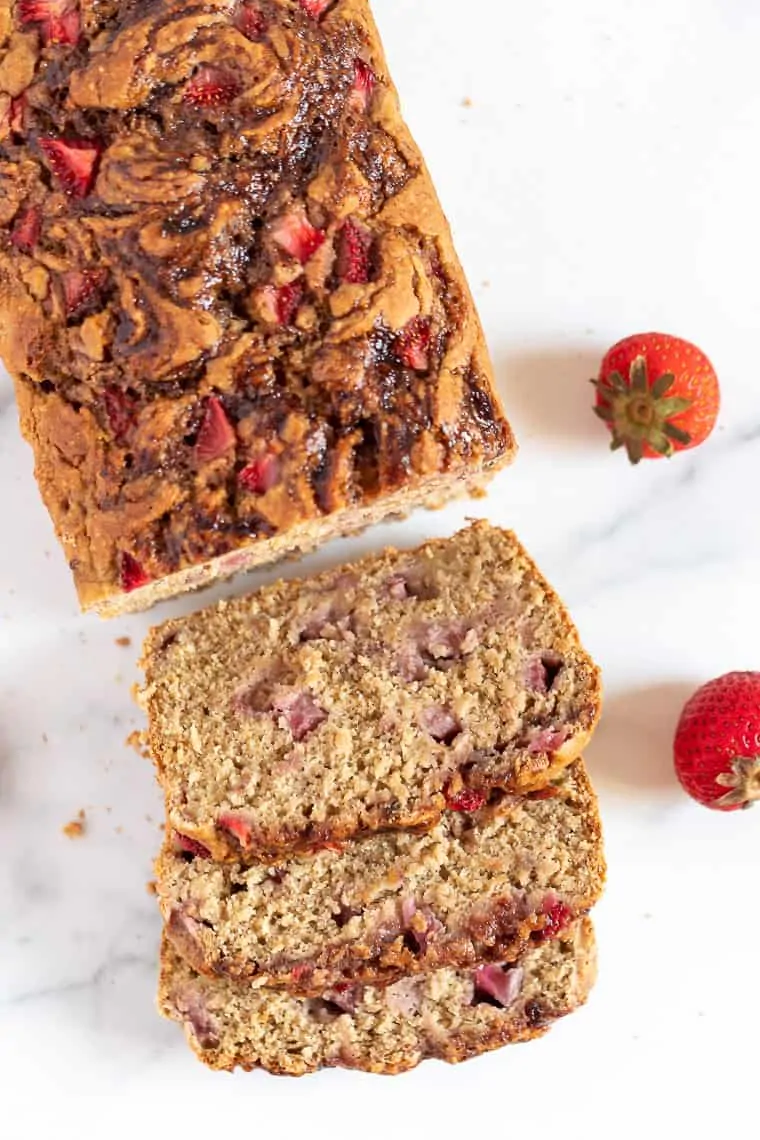 Tips for Making Healthy Banana Bread
As you can see from this recipe, this strawberry banana bread is much healthier than other recipes. If you're looking to make your banana bread a bit healthier, here's what I recommend doing:
Use fiber & protein-rich flours: things like oat flour, quinoa flour, almond flour, etc., all have more nutritional benefits than traditional all-purpose flour
Swap the oil: try cutting back on the oil by using something like a nut butter instead. Or even more banana!
Cut back on sugar: bananas are sweet enough on their own, try cutting down on the sugar a bit to make this a teensy bit healthier
And/or just remember that classic banana bread is not necessarily a healthy treat – it's more of a dessert disguised as a breakfast bread!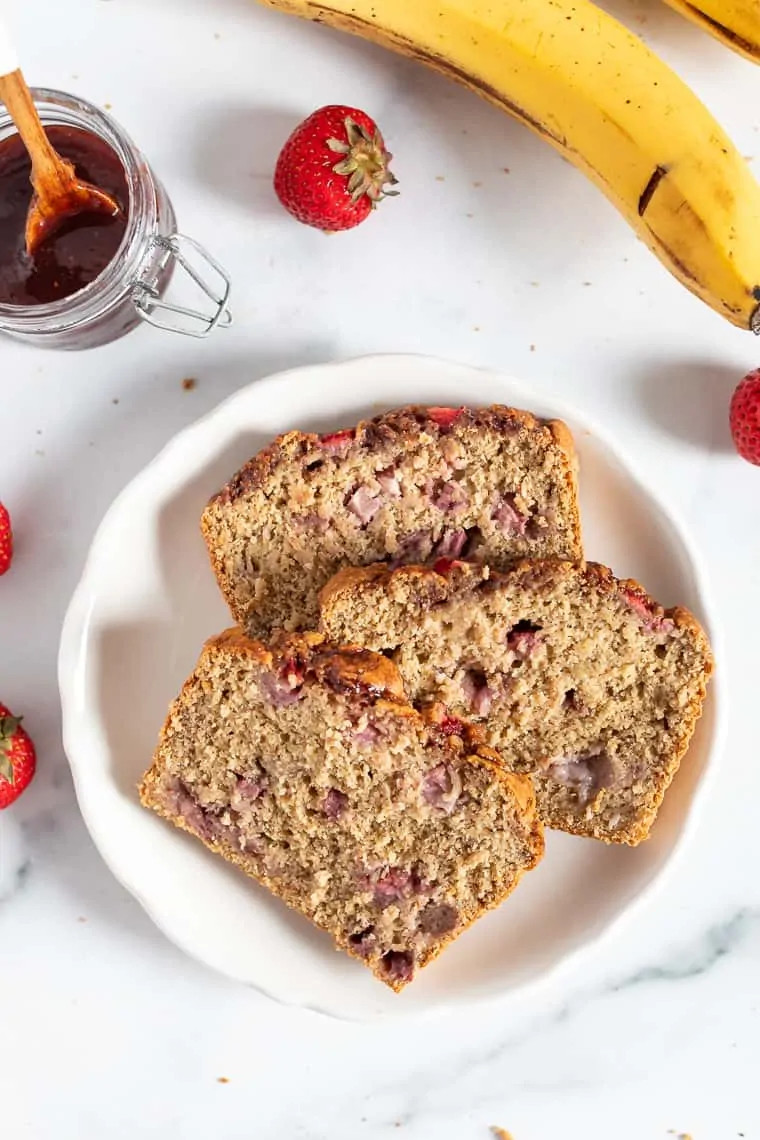 Can You Freeze Banana Bread?
Yes! You can absolutely freeze banana bread. To heat it up, just pop it in the toaster oven or microwave and let it get nice and hot again.
Tips for Storing Strawberry Banana Bread
If you aren't planning on eating this recipe all at once, I'd recommend that you freeze it. To freeze it, simply freeze the slices on a baking tray, then wrap them up in tinfoil and put them in a sealed container or bag.
Alternatively, you could also refrigerate this bread, but I don't think it will stay fresh that long. I'd give it 2 – 3 days in the fridge max.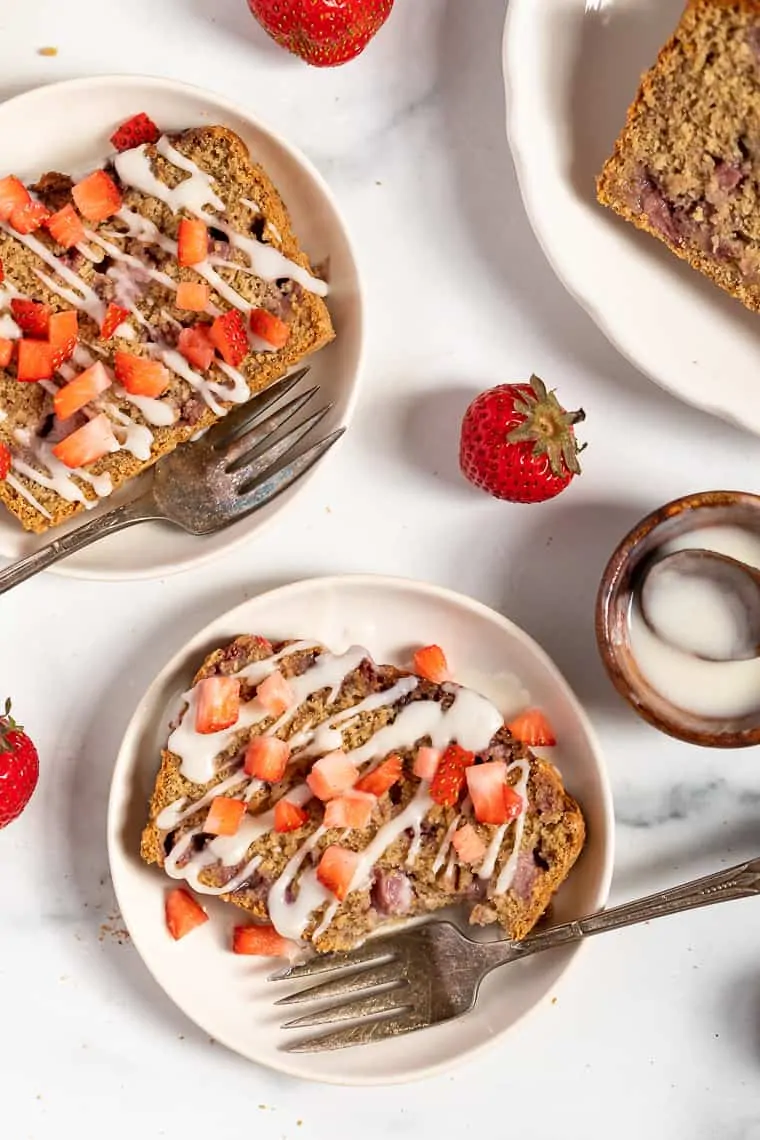 Is Banana Bread Healthy? Like…Really?
In my opinion, classic banana bread is not very healthy. For starters, you've got a TON of sugar. Added to that you've got a ton of oil. So sure, it might taste delicious, but it's certainly not a breakfast item.
This strawberry banana bread though? It's totally healthy enough for breakfast! One slice has just 2g of fat 12g sugar and even has 3g of protein!
Ways to Serve Your Strawberry Banana Bread
Now, are you ready to taste this recipe or what? It's delicious on its own, but let me give you a quick tip. If you want to take this from delicious to out-of-this-world…
drizzle on some melted coconut butter
sprinkle on some chopped strawberries
and top it with some cacao nibs
It will make this the best slice of vegan banana bread you've ever tasted!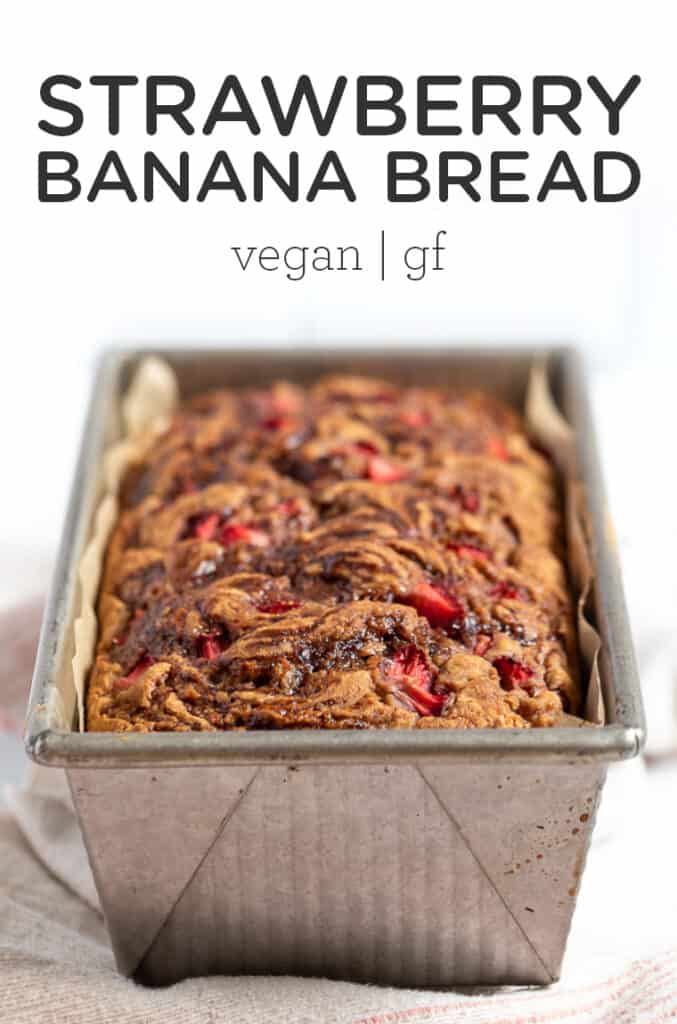 More Recipes that use Strawberries
Healthy Strawberry Banana Bread
This amazing strawberry banana bread is full of fresh fruit flavors, but doesn't use any refined sweeteners. It's also vegan and gluten-free, so it's the perfect way to start the day!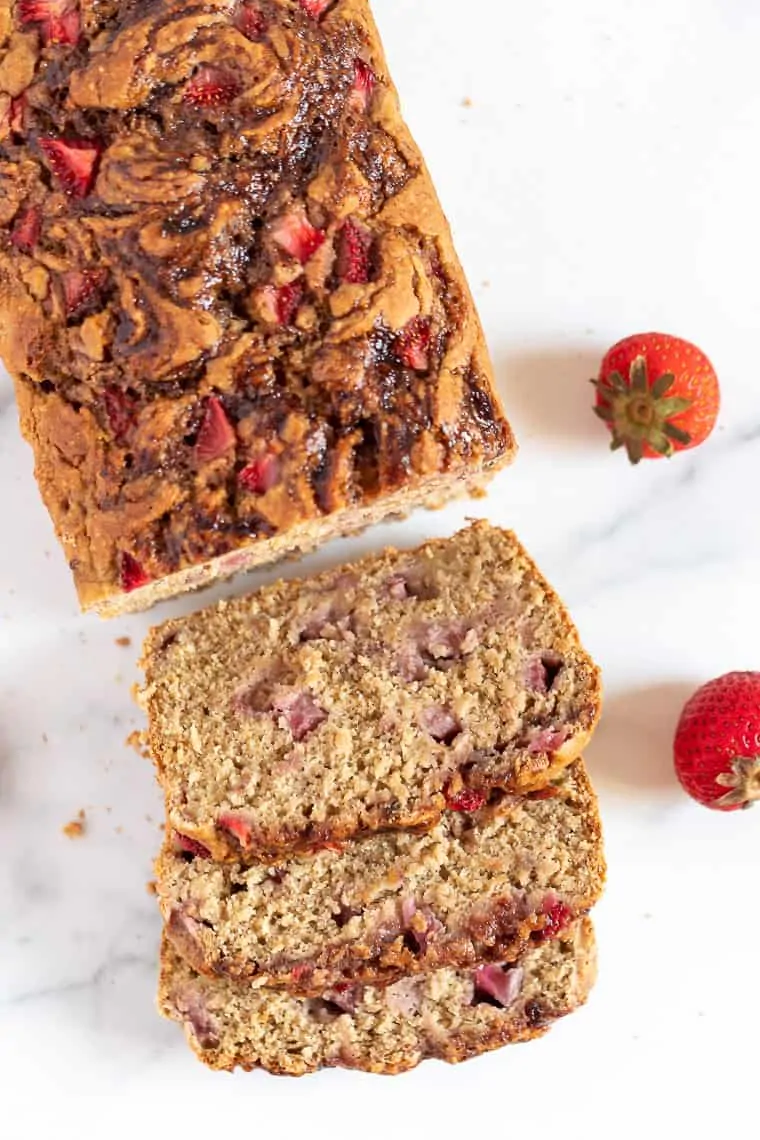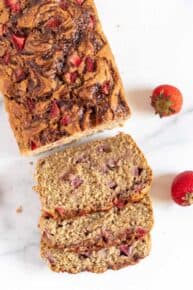 Instructions
Preheat the oven to 350ºF. Line a 9″ loaf pan with parchment paper and set aside.

Beat together the wet ingredients until smooth(ish). Add the dry ingredients (minus the strawberries and jam) and stir to form a dough. Fold in the strawberries.

Scoop the batter into the loaf pan and smooth the top with the back of a plastic spatula. Dollop the strawberry jam and use a knife or chopstick to swirl it around the top. Sprinkle a few extra chopped strawberries on top if you'd like as well!

Bake in the center of a warmed oven for 60 - 70 minutes, until a cake tester inserted into the middle comes out clean.

Let cool on a wire rack until fully cooled. Slice and serve.
Notes
If not consuming in 2 days, slice the loaf and freeze. Reheat in the toaster oven or microwave!
Nutrition
Serving:
1
slice
|
Calories:
164
kcal
|
Carbohydrates:
32
g
|
Protein:
3
g
|
Fat:
2
g
|
Saturated Fat:
1
g
|
Sodium:
172
mg
|
Potassium:
187
mg
|
Fiber:
2
g
|
Sugar:
12
g
|
Vitamin A:
6
IU
|
Vitamin C:
7
mg
|
Calcium:
67
mg
|
Iron:
1
mg
Filed Under: