This healthy peanut butter milkshake is made with only 4 ingredients, is gluten-free and vegan, and is arguably the tastiest milkshake you could ever eat!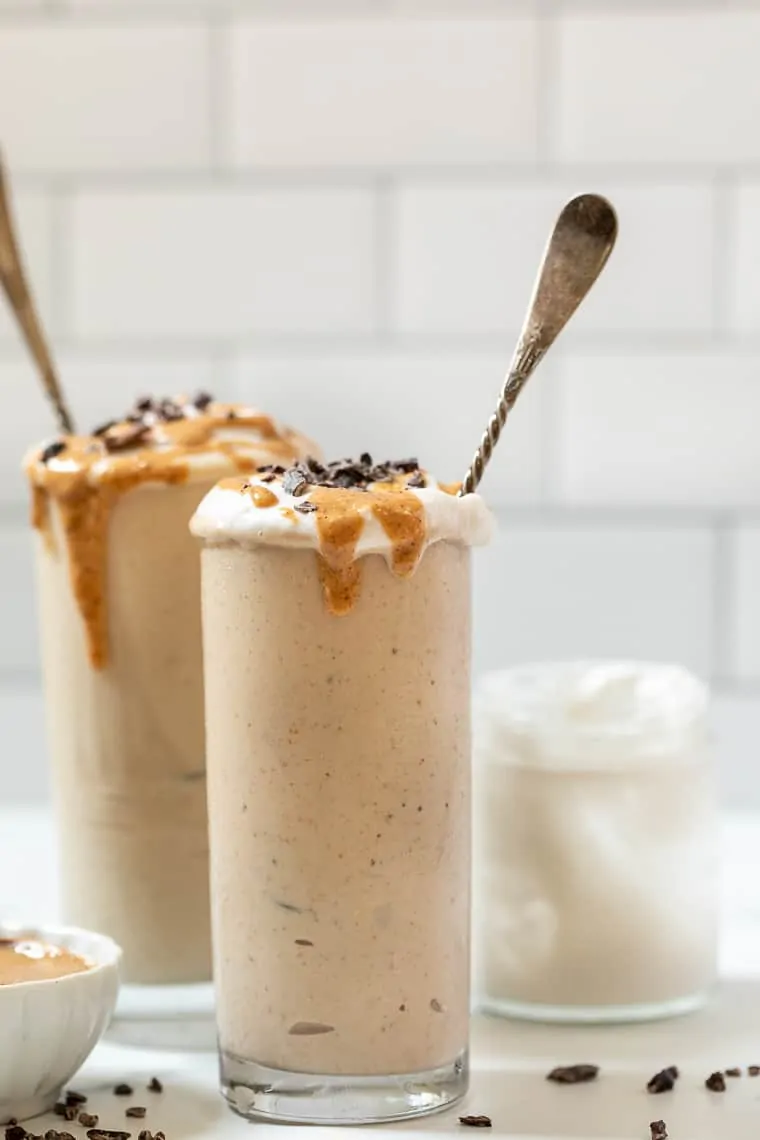 If any time of the year deserves a little shake-up, it's summer. We spend most of our year stuck in the daily grind of office life, sending kids to school, or even sending ourselves to school, all while the daylight gets shorter and the weather gets colder.
It's easy to get into a rut. And it's hard to pull yourself out.
Which is precisely why summertime means it's time to let loose. Shake things up. Do things differently. Live life to the fullest. Enjoy every moment. Soak up the sun. Take our family to the beach. And laugh.
And also…enjoy those amazing summer treats! Today I want to share an updated version of one of my favorite treats: this healthy peanut butter milkshake. It's creamy, it's delicious, it's healthy and it's the perfect way to shake up your summer!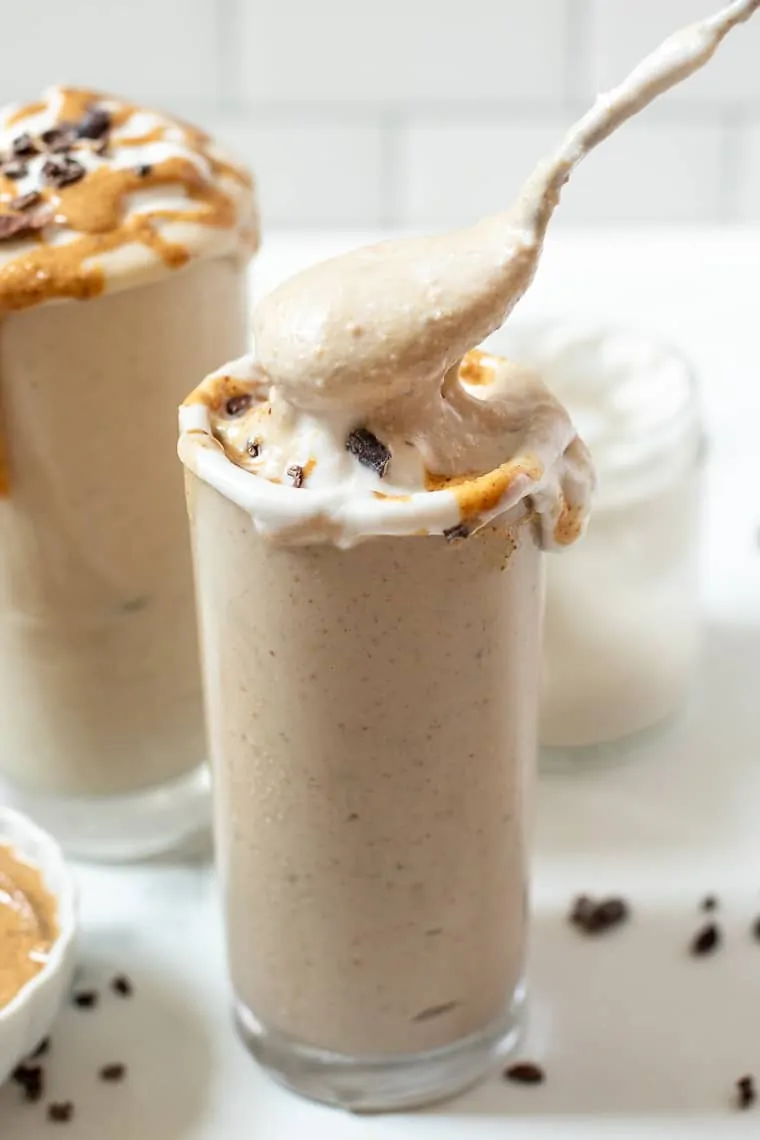 What is a Milkshake?
Before we talk about how to make this healthy milkshake, let's talk about what a milkshake actually is. A milkshake – or just shake as some people say – is a drink made from blending ice cream and milk. You can also add flavorings like syrups or extracts, but traditionally they're just plain milk with vanilla (or chocolate or strawberry) ice cream.
How Unhealthy is a Milkshake?
In general, I would say that a classic milkshake is fairly unhealthy, just based on how much sugar they contain. A medium vanilla milkshake (16 oz) from fast-food restaurants like Burger King or McDonald's is:
650+ calories
35+g of fat
50+g of sugar
So in general, they're not the healthiest, BUT you can definitely make a healthy version which is what we're doing today.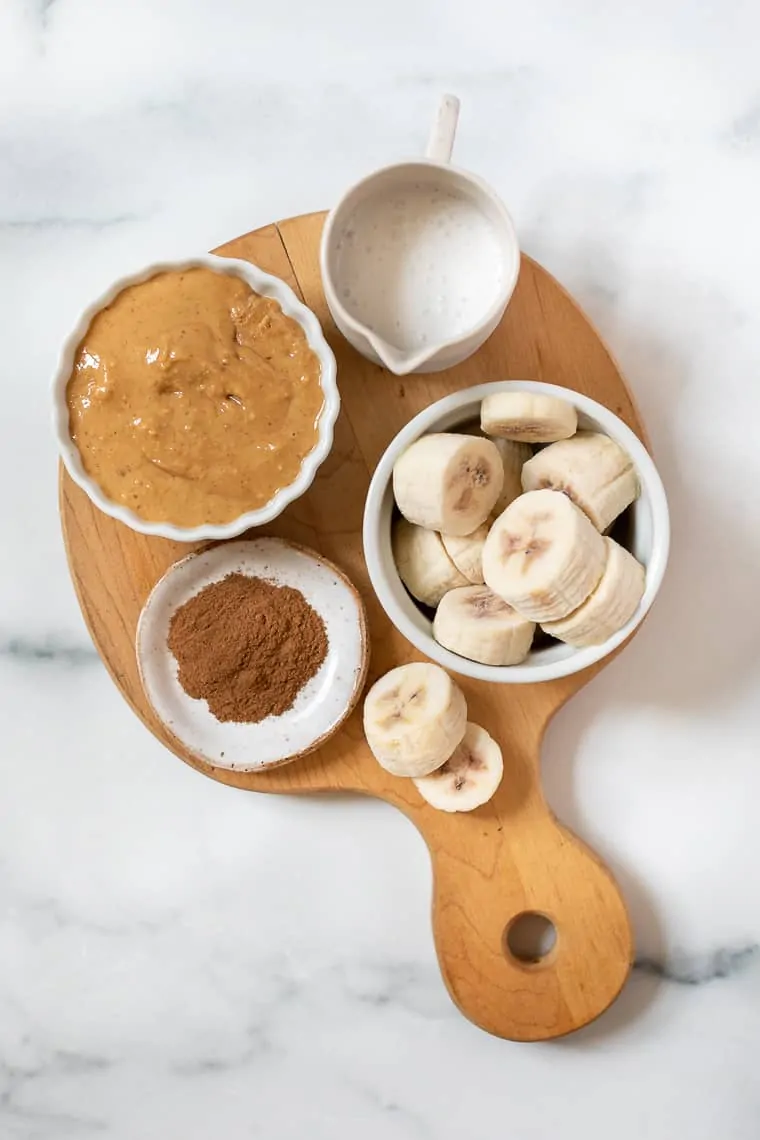 Vegan Peanut Butter Milkshake Ingredients
It probably sounds impossible, or at least counter-intuitive, to have a milkshake that tastes so good and is actually healthy. But I'm not in the business of making stuff up. It's always my goal to create luscious treats that you don't have to feel guilty about eating.
For this healthy peanut butter milkshake, you'll need just 4 simple ingredients:
bananas
coconut milk
cinnamon
and peanut butter
And a food processor. No bowls, no mixing, no stirring, no freezing. Just process and slurp.
Talk about easy-peasy.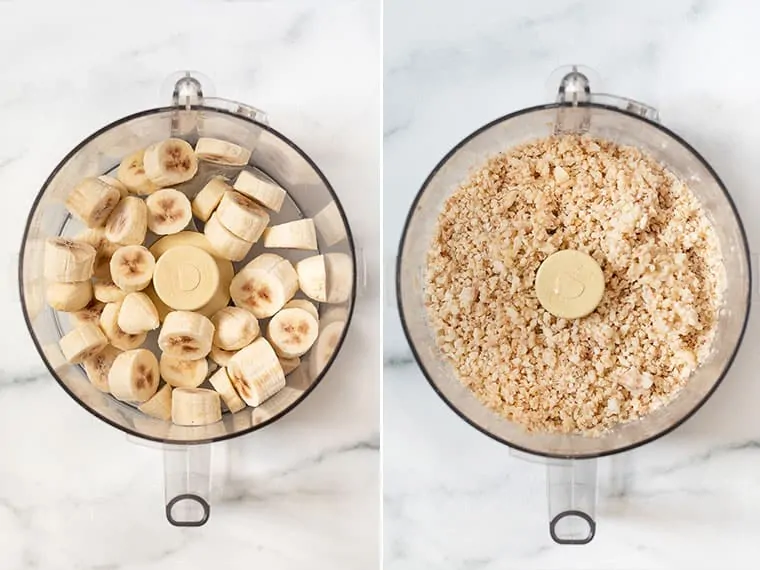 How to Make a Healthy Milkshake
There are a few tricks for making your milkshake healthy. Here are some of my ideas:
frozen bananas instead of ice cream
"lite" ice cream
almond milk instead of dairy milk
skip flavorings and/or any added sugars or syrups
When it comes to actually making your milkshake, it couldn't be easier! If you have a high powered blender, I think you can do this in a blender, but I like to use my food processor. Either way, you're going to dump all your ingredients into the appliance you're using, blend it up until it's smooth & creamy, and then serve!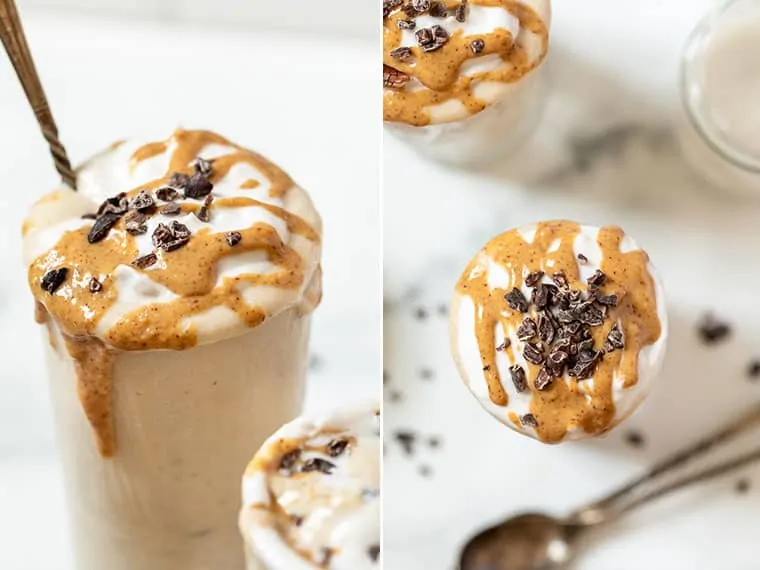 Why You'll Love this Peanut Butter Milkshake
Honestly, I hadn't had a milkshake since I was a little girl. It had been years, if not decades. But this recreation was everything I remembered.
This peanut butter milkshake is…
ultra-creamy
super decadent
dairy-free
gluten-free
vegan
packed with peanut butter
and totally healthy
And it really is a "milkshake". That ice cream-like texture, that decadence, all without loads of sugar and actual ice cream.
Oh, and it's totally breakfast-worthy, basically like having a smoothie. But shh…I won't tell if you won't!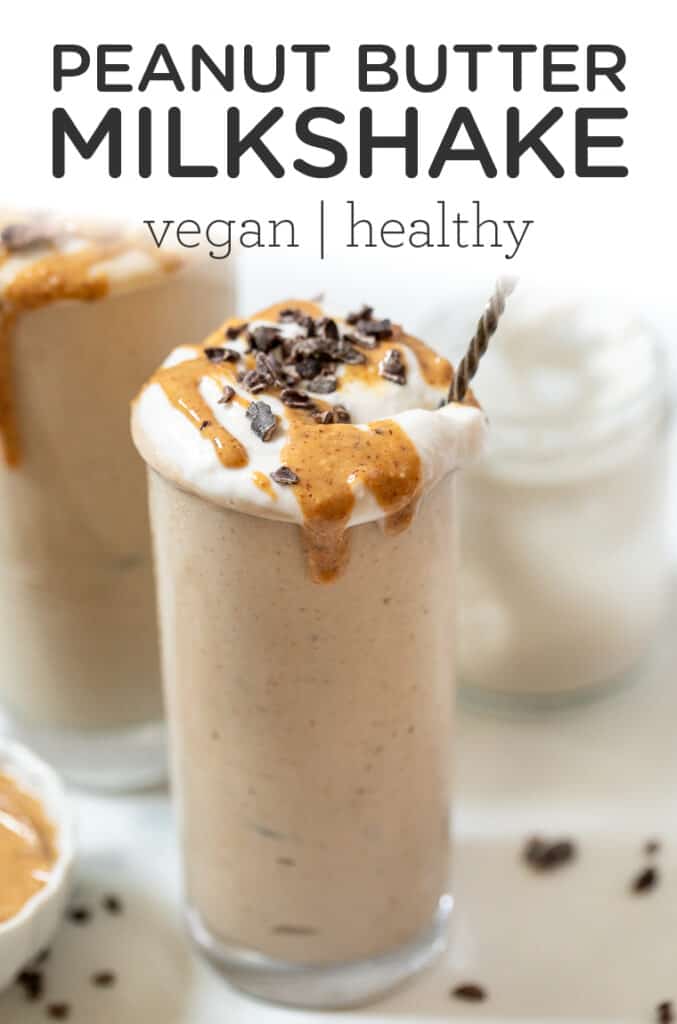 More Healthy Summer Desserts
The Healthiest Peanut Butter Milkshake
This healthy peanut butter milkshake is made with only 4 ingredients, is gluten-free and vegan, and is arguably the tastiest milkshake you could ever eat!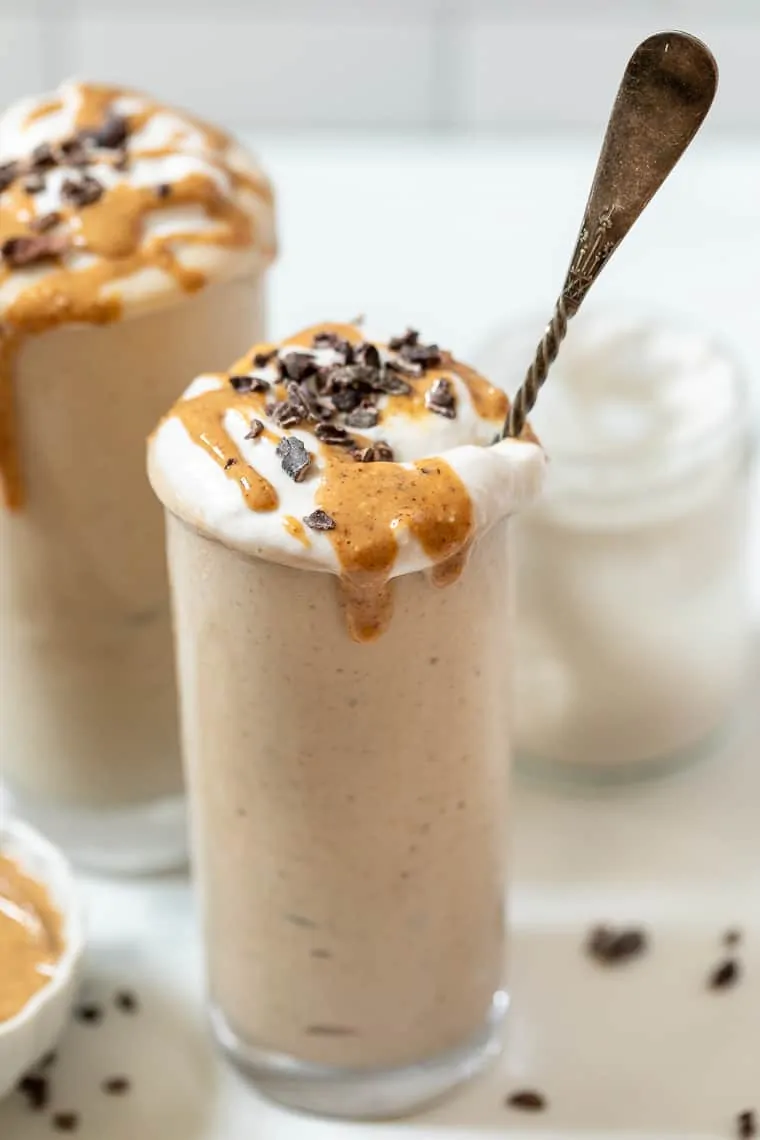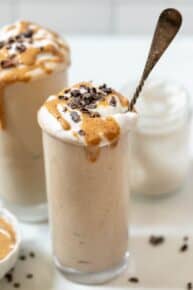 Instructions
Add bananas to a food processor and process until broken up into little pieces. Add peanut butter and process again.

As mixture starts to come together, add the milk a splash at a time, allowing mixture to get more smooth between each addition.

Once the mixture is totally smooth, add a dash of cinnamon and process for another 10 – 15 seconds. Taste and add a dash of maple syrup if needed (only if your bananas aren't totally ripe).

Transfer milkshakes into two jars. Top with peanut butter and a little quinoa. Stir gently with a knife so you get that swirling effect.

Enjoy immediately!
Notes
* if your bananas aren't totally ripe, this may need a hint of sweetness. Add a dash of maple syrup if needed.
** to cut down on calories, swap the coconut milk with unsweetened (or unsweetened vanilla) almond milk
Nutrition
Calories:
458
kcal
|
Carbohydrates:
48
g
|
Protein:
11
g
|
Fat:
29
g
|
Saturated Fat:
14
g
|
Sodium:
157
mg
|
Potassium:
967
mg
|
Fiber:
7
g
|
Sugar:
25
g
|
Vitamin A:
113
IU
|
Vitamin C:
16
mg
|
Calcium:
33
mg
|
Iron:
3
mg
Filed Under: