A gluten-free vegan strawberry shortcake recipe that is absolutely incredible! With fluffy homemade biscuits, coconut whipped cream and fresh strawberries, this is the ultimate summer dessert!
Strawberry shortcake has always been my perfect summer dessert. It's not too sweet, it's got all the different textures, and it is one of those things that I only eat during the summer – which makes it even more special.
This recipe? It took me quite a while to get this recipe down – in fact, I tested these biscuits 7 times – but it was well worth the wait. The whole thing is absolutely perfect!
We've got a layer of fluffy homemade gluten-free biscuits, topped with fresh strawberries, and whipped coconut cream. It's absolutely delicious and hands down the best vegan strawberry shortcake I've ever tasted!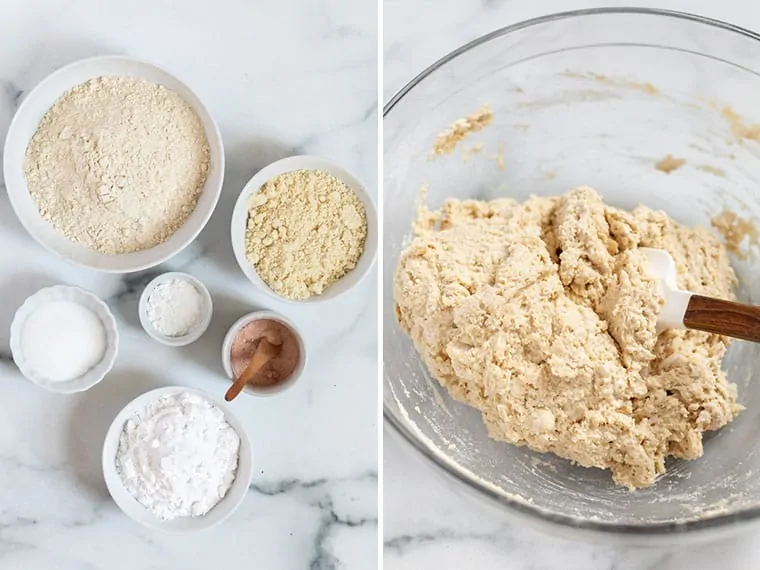 Fluffy Gluten-Free Biscuits Ingredients
The most important part of any strawberry shortcake is the shortcake itself. There are two types of "cake" that are served with strawberry shortcake: a biscuit or a sponge cake. Traditionally, they're served with biscuits, so that's what we tried to nail for our vegan version.
And it was a beast to do! But we got there, and I'm so happy with the results.
We're using a combination of these flours:
quinoa flour
almond flour
arrowroot starch
Along with some baking powder, sugar, almond "buttermilk", vegan butter, and a flax egg.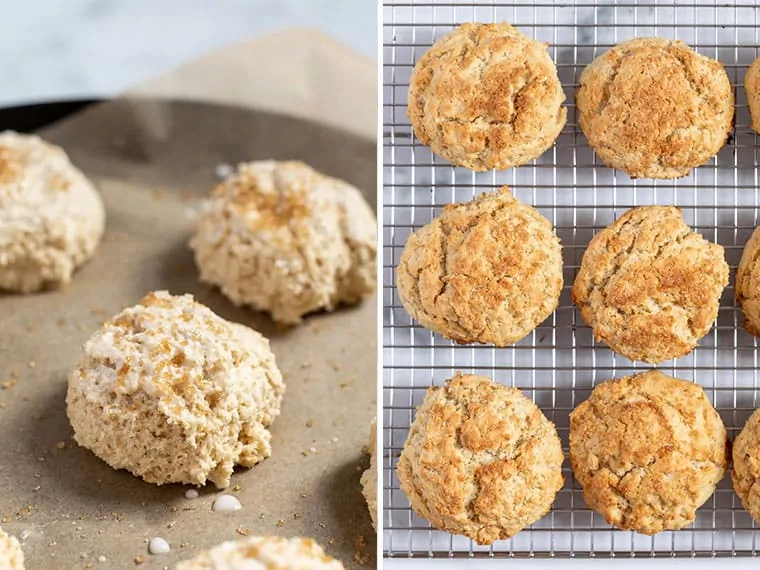 How to Make Gluten-Free Vegan Biscuits
Since the biscuits are the most important part, I really had to test them. I mean really test. I went through 7 iterations before I landed on these. A blend of everything you were all looking: buttery, soft, not too dry, but not too moist, and a crumb that soaks up the berries and cream.
Biscuits are also quite simple to make. Here's what we'll do:
STEP ONE
Cut the butter into your dry ingredients. I like to use a pastry cutter to get the butter into little pieces. You're looking for them to be about the size of a pea.
STEP TWO
Add your liquid ingredients and fold it together. The dough is going to be sticky, but that's what you want.
STEP THREE
These are drop biscuits – not the kind you roll out and cut. So use a large cookie or ice cream scoop to form them and drop them onto your baking sheet.
Then you can sprinkle them with a bit of sugar and bake them up!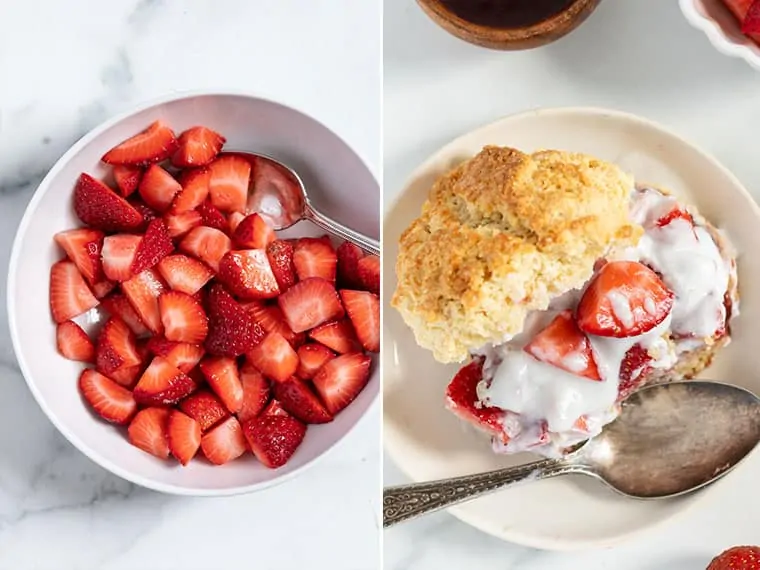 All You Need are Strawberries & Whipped Cream
So now that we've got the perfect homemade biscuit, it's time to assemble our whole shortcake.
What makes the perfect vegan strawberry shortcake you might ask? Well, it's obviously the biscuit, but it's also what's inside.
I went a teeny bit rogue with this one, but here's what I put inside:
a layer of strawberry jam
fresh chopped strawberries (tossed in a bit of sugar if you're feeling frisky)
coconut whipped cream (I made it for my banana ice cream sundae last summer)
The jam is optional, but it adds a really nice extra strawberry boost! If you're trying to cut back on sugar, there are lots of low-sugar options in the natural grocery stores.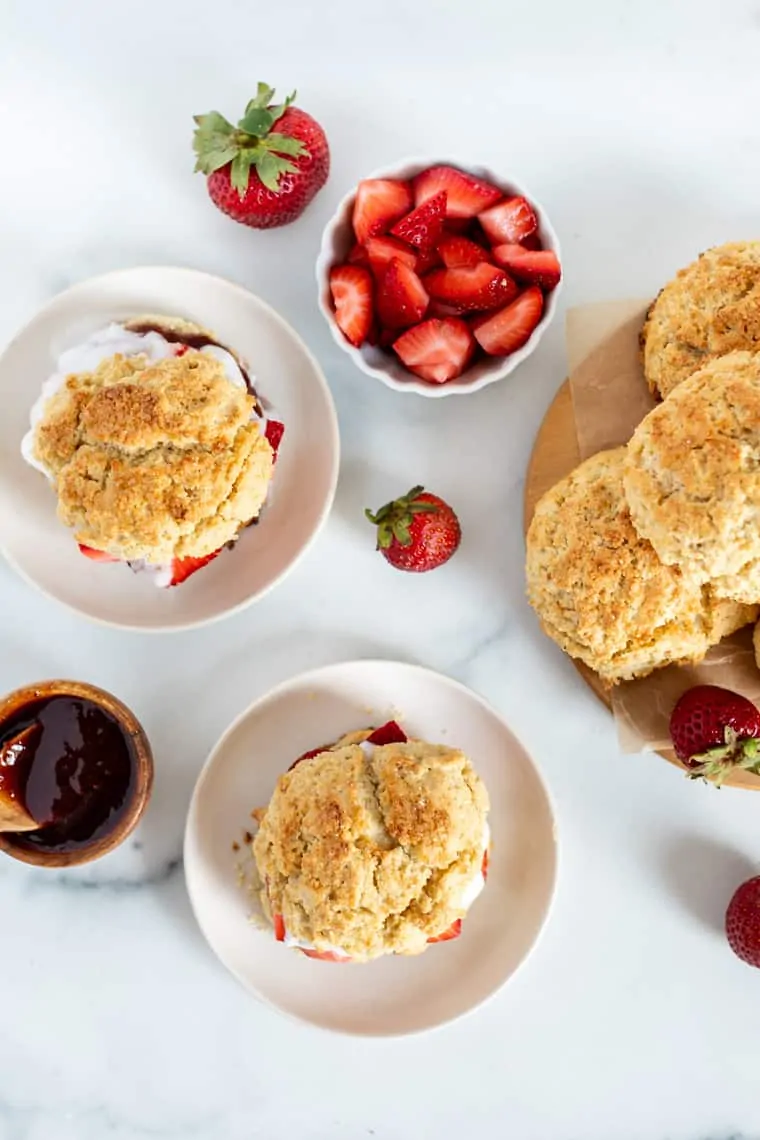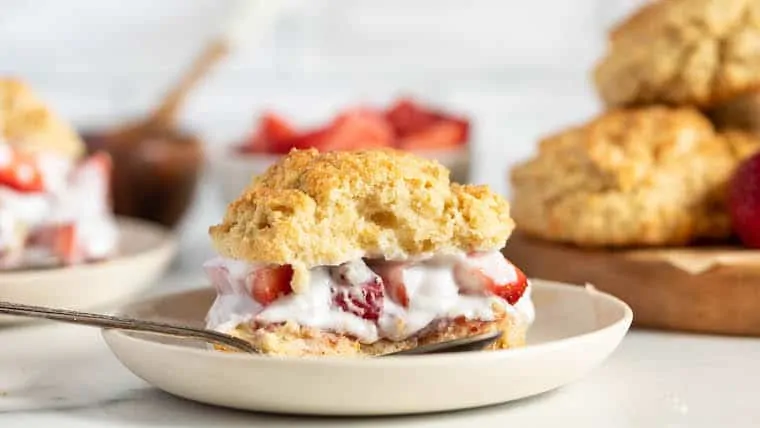 The BEST Vegan Strawberry Shortcake Ever
So there you have it: the best damn gluten-free and vegan strawberry shortcake out there!
For as long as it took me to nail it, it's actually a pretty simple recipe! I've used my staple gluten-free flours, along with vegan version of the classic ingredients, and it ultimately makes a scrumptious dessert!
And if you're feeling this with some other type of fruit, it would be delicious with peaches, stewed blueberries, even sauteed apples. I hope you give it a try because I just know you're going to love it!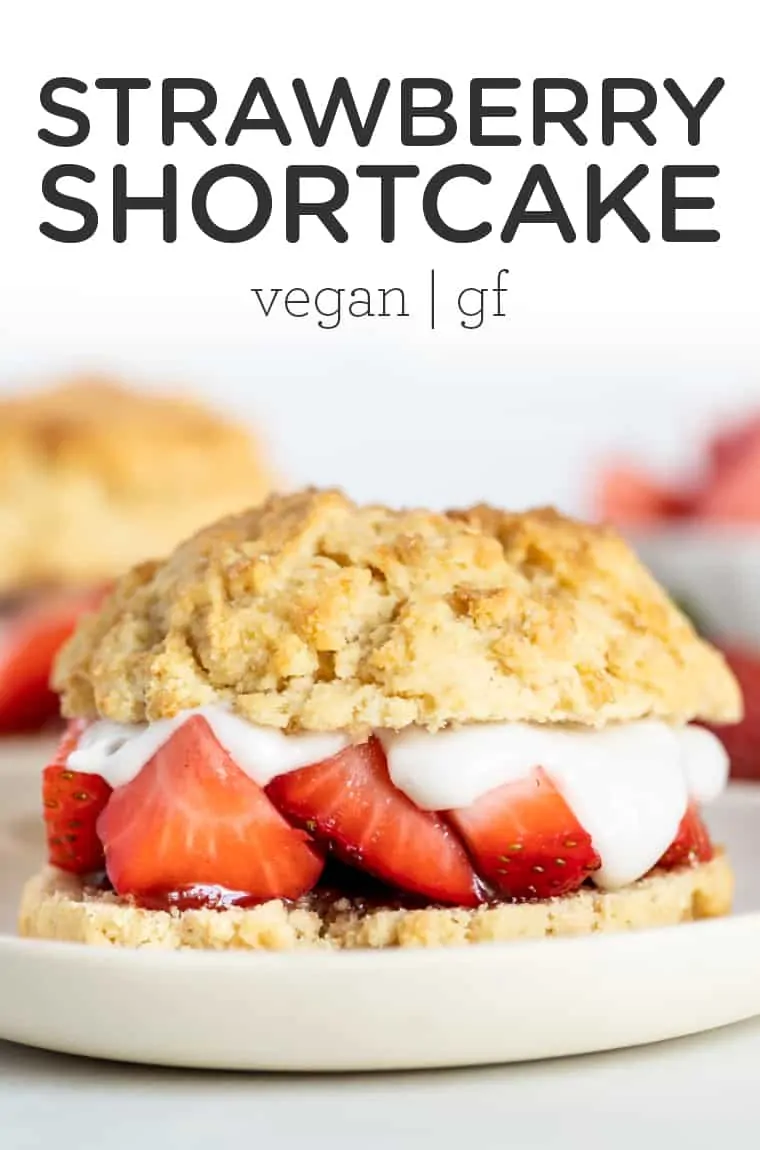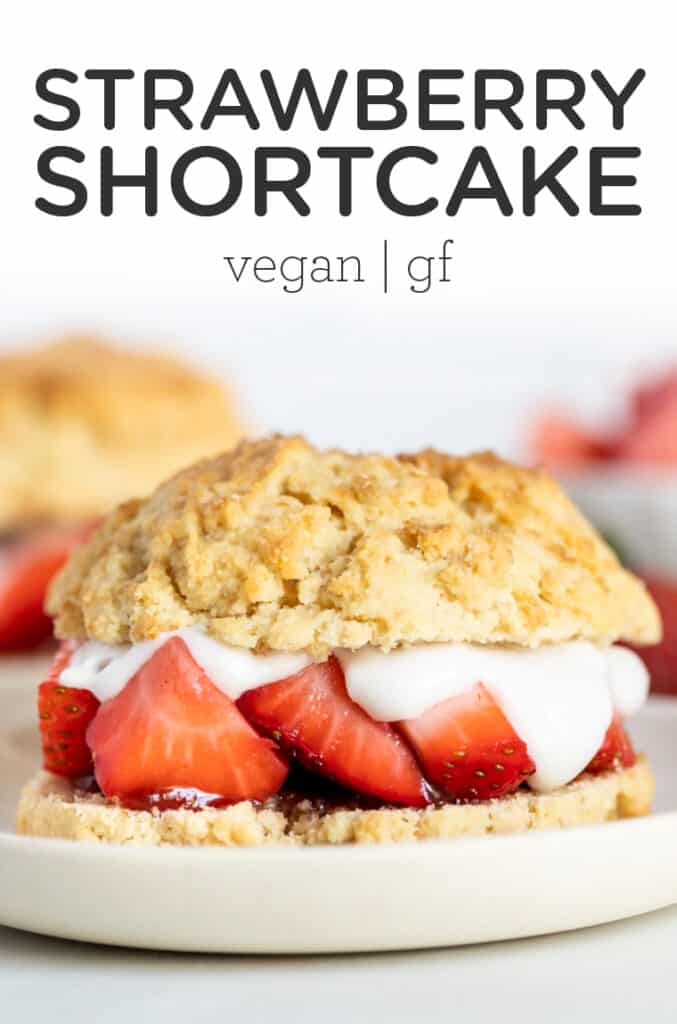 More Healthy Ways to Use Strawberries:
Gluten-Free Vegan Strawberry Shortcake
A gluten-free vegan strawberry shortcake recipe that is absolutely incredible! With fluffy homemade biscuits, coconut whipped cream and fresh strawberries, this is the ultimate summer dessert!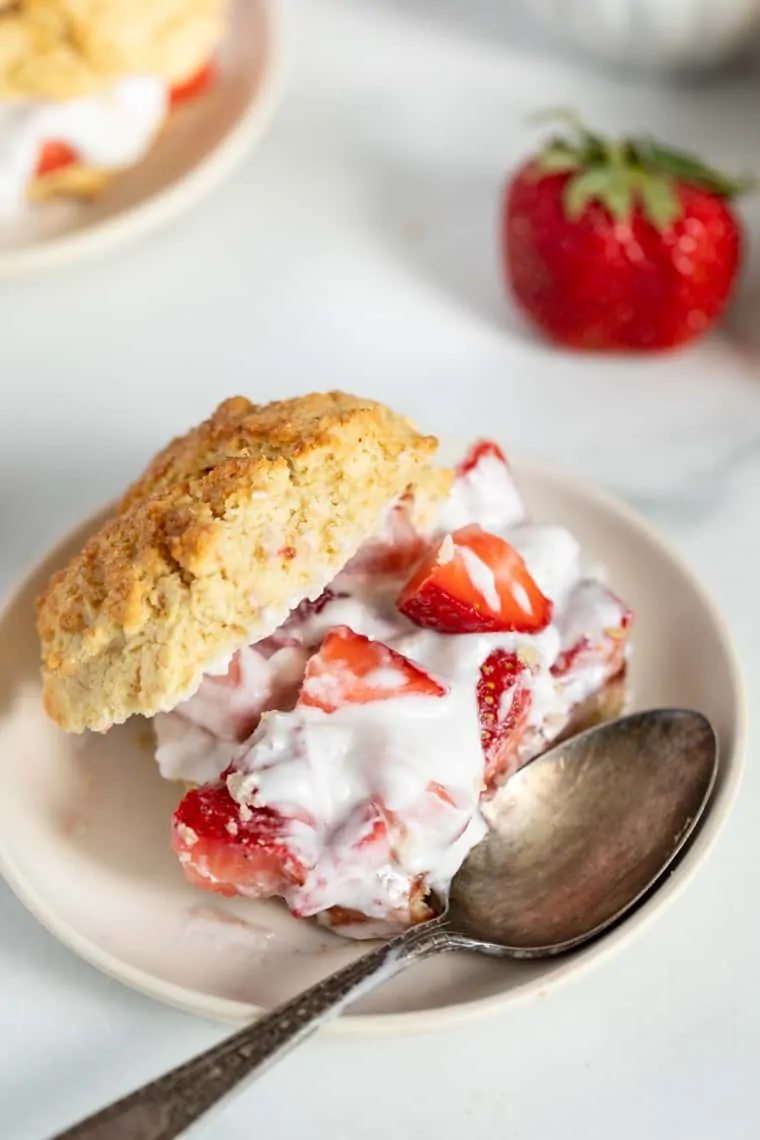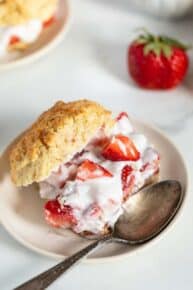 Ingredients
for the gluten-free biscuits:
for the strawberries:
2

cups

chopped strawberries

(about 1 pound)

1

teaspoon

granulated sugar

(any type, optional)
for the coconut whipped cream:
Instructions
If you haven't yet, start by popping your coconut cream in the fridge.

Preheat the oven to 450ºF. Line a baking sheet with parchment paper and set aside.

Whisk together the almond milk and vinegar. Set aside.

In a large mixing bowl, whisk together the dry ingredients for your biscuits. Cut in the butter using a pastry cutter or forks, until the butter is in small pieces no larger than the size of a pea.

Pour in the almond milk and flax egg. Stir together with a rubber spatula until combined. The dough will be scoopable.

Using a large cookie scoop, scoop the dough onto the baking sheet. You should get 8 equal-sized biscuits from the dough.

If desired, brush with a touch of almond milk and sprinkle on a bit of sugar. Totally optional, but helps with browning!

Bake on the center rack for 15 minutes. Remove from the oven and transfer to a cooling rack. Cool completely until serving.

For the strawberries: place them into a bowl and sprinkle with sugar (if using). Stir together.

For the coconut whipped cream: beat together the chilled coconut cream, vanilla, and syrup until fluffy.

To assemble: cut a biscuit in half with a serrated knife. If using, place a layer of strawberry jam on the bottom. Top with 1/4 cup of strawberries, a dollop of whipped cream and top with the other half of the biscuit.

Enjoy!!
Notes
I do just want to mention: I haven't tested this recipe with any other flours, so I can't provide substitution advice yet. If you do end up try something different, let me know in the comments!
Nutrition
Serving:
1
shortcake (with berries & cream)
|
Calories:
366
kcal
|
Carbohydrates:
34
g
|
Protein:
6
g
|
Fat:
24
g
|
Saturated Fat:
11
g
|
Sodium:
108
mg
|
Potassium:
314
mg
|
Fiber:
4
g
|
Sugar:
7
g
|
Vitamin C:
22
mg
|
Calcium:
132
mg
|
Iron:
2
mg
Filed Under: