These quinoa crab cakes might look traditional, but are actually 100% vegan! Made with hearts of palm, chickpeas, and artichokes, they're GF and delicious!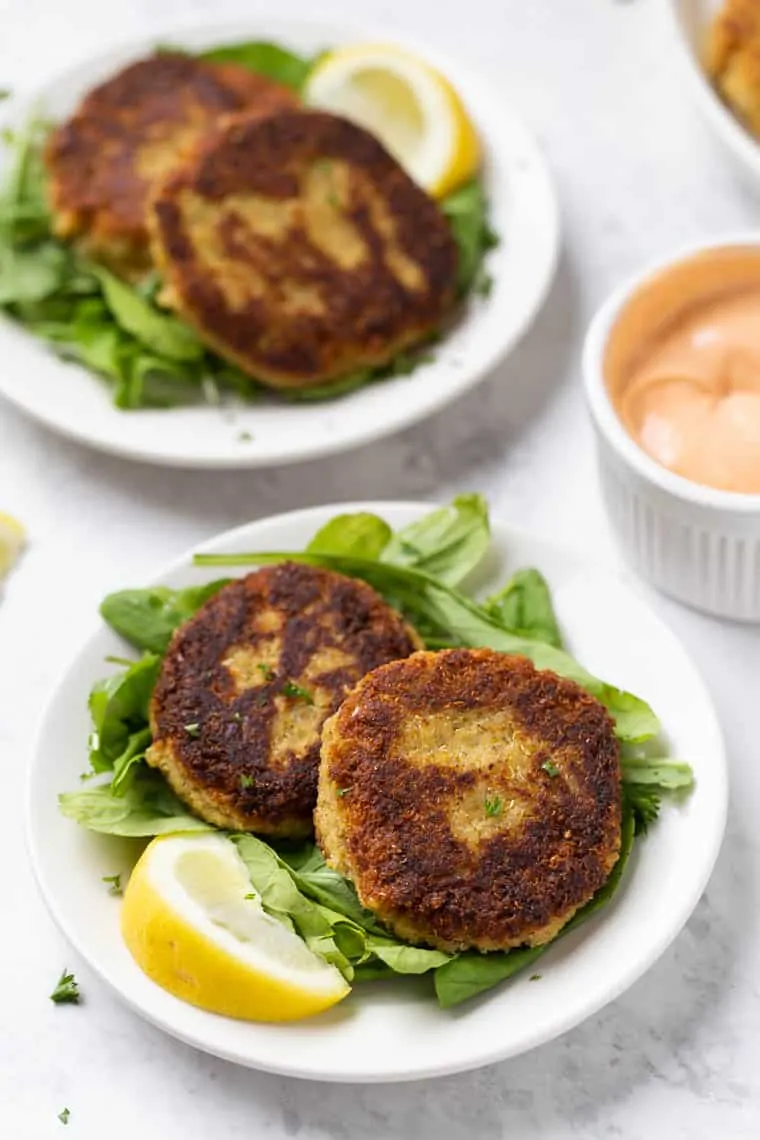 Of course, by the title of this post, you know what the recipe is going to be, but now that you've seen the pictures, I'd like to ask:
Just by looking at them, would you believe that these quinoa crab cakes contained no crab at all?!
My guess would be no and that's one of the things I love most about this job! I absolutely LOVE creating new and delicious plant-based versions of classic recipes for this reason alone: it encourages you to try new things that are centered around plants.
These vegan crab cakes are soft and tender on the inside with the perfect crisp on the outside. They've got a slight brininess to them, but also that classic spice blend and seasonings. And if you scroll down to the last photo, you'll see what the inside looks like too!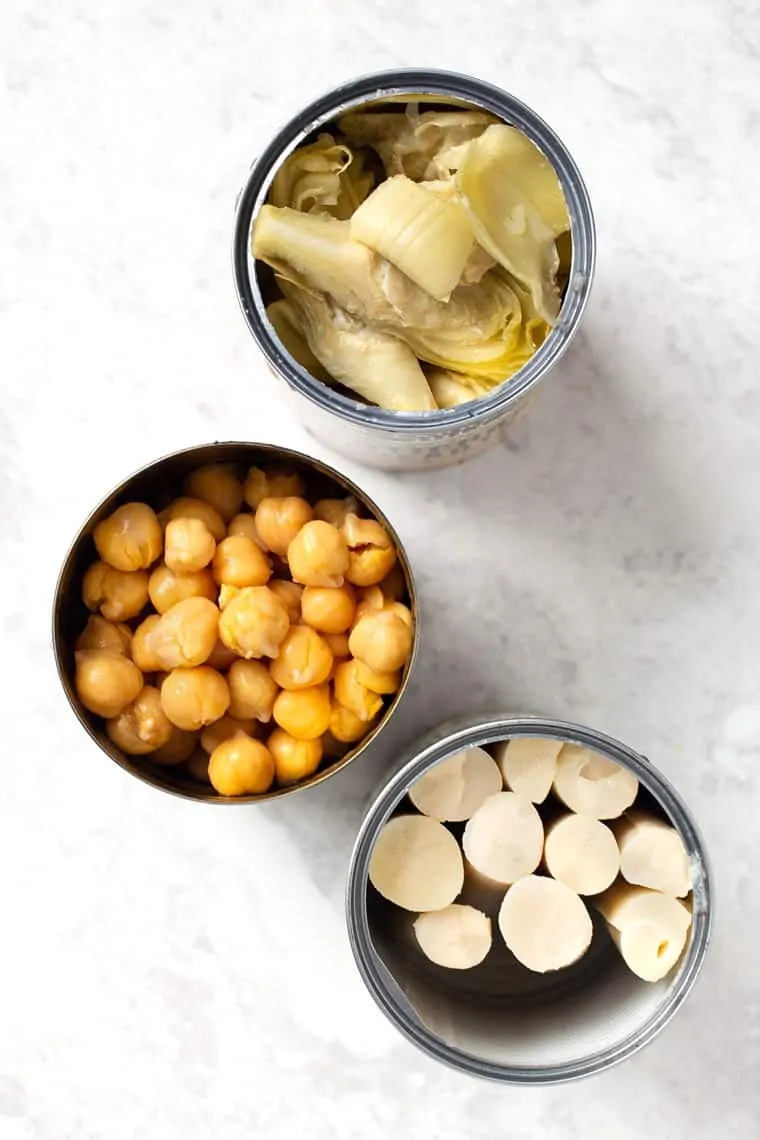 Three Main Vegan Crab Cake Ingredients
Traditional crab cakes obviously contain crab meat which has a kind of seafood/briny flavor. But that's not the only thing we need to replicate with a vegan version. We also have to consider the texture!
Personally, I think we've totally nailed it with this recipe. We've got the brine, but we also have that kind of flakey, soft, tender texture. And it comes down to three simple ingredients:
Chickpeas
Artichoke Hearts
Hearts of Palm
Blending those together we check all the boxes. The artichokes and hearts of palm bring that brine flavor, while also add that kind of "shredded" texture that you can get from lump crab meat. The chickpeas I find just add a bit more oomph and bite, while also helping the rest of the ingredients hold together.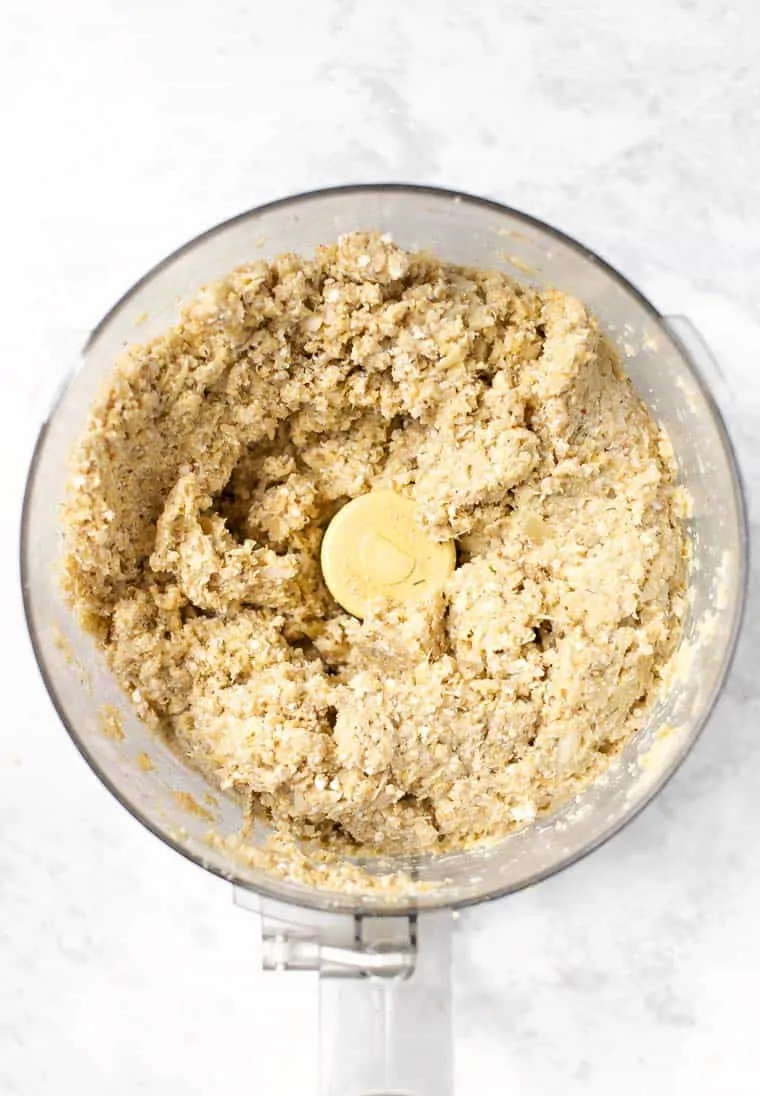 Equipment Needed for Crab Cakes
Making crab cakes at home is really simple. Even the vegan version! All you need are two simple tools:
Food processor: this is where we'll make our "dough". I have this 11-cup food processor from Cuisinart and absolutely love it! We blend the ingredients up in the food processor to form that crab-like texture and we only have to use that one bowl. Which means… easy cleanup!
Sautee pan: some crab cakes are deep-fried, but we're going to pan fry ours. So all you need is a skillet (any kind) so you can heat your oil and cook them up.
What's great about this recipe is how easy it is on your kitchen. You don't even have to really chop anything (aside from halving an onion). So you'll be able to have everything cleaned up in no time!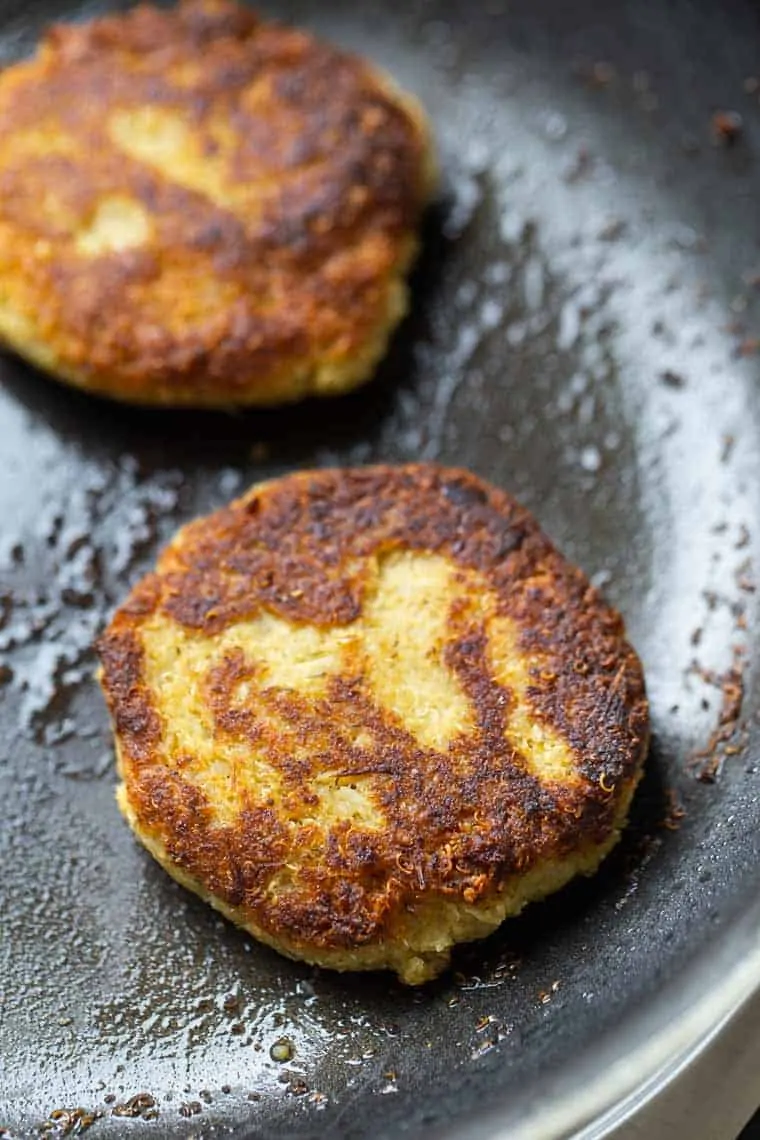 How to make Quinoa Crab Cakes
Remember when I said these were minimal cleanup? Well, they're also a cinch to make! Even though there are like 6 steps involved, you're basically just adding things to the food processor, forming cakes and then cooking them.
STEP ONE
The first thing we'll do is add our onion and garlic into the food processor. You'll blitz those up until they're finely chopped/minced.
STEP TWO
Next into the food processor are our chickpeas, artichokes, and hearts of palm. We're using one can of each and just make sure to drain them before adding them in. We don't want that extra liquid! Blitz those up until they've formed a kind of lumpy/shredded texture.
STEP THREE
Next into the food processor are our seasonings. We're keeping things pretty basic and adding vegan yogurt (or mayo), lemon juice, mustard, hot sauce, dried dill, and Old Bay. Again, blitz it up until the seasonings are combined into the dough.
STEP FOUR
The final things into the food processor are our dry ingredients: cooked quinoa and quinoa flakes. The cooked quinoa is there to add some texture and absorb some of the liquid, while the quinoa flakes are there to hold everything together and help keep them from falling apart. Stir those into the dough and you're ready to assemble.
STEP FIVE
Once you've got your dough, you're going to form them into cakes. I take about 3 – 4 tablespoons of dough into my hands and then just shape them into little cakes.
STEP SIX
The final step before serving is to cook them! As I said, we're pan-frying, so you'll want to heat up some oil and then once it's hot you'll just cook them until they're golden brown and crispy on each side, about 2 – 3 minutes. See how easy?!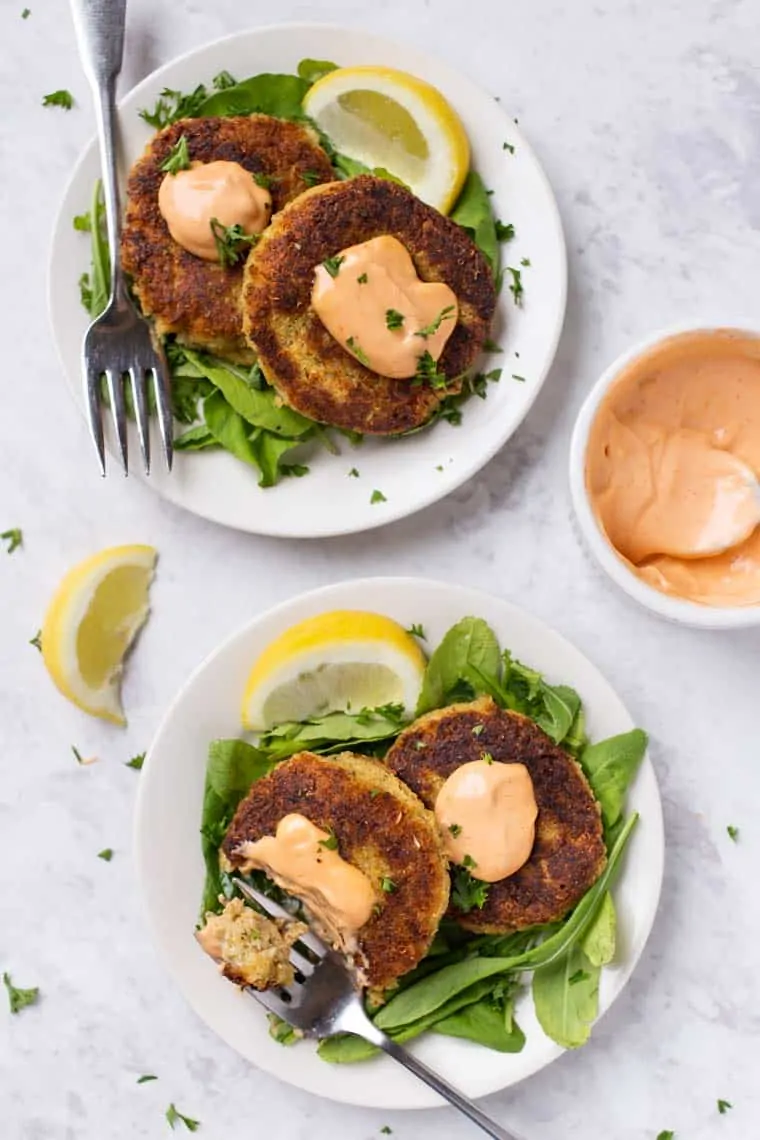 Are Crab Cakes Healthy?
I personally think that crab cakes can be very healthy, especially if they're made the right way! It's less healthy if you deep fry them, but the base ingredients in both traditional crab cakes and our vegan crab cakes are simple and straightforward.
They're high in protein, they've got fiber, they've got healthy fats and they can definitely be filling and satisfying!
I wouldn't serve them alone as a meal though, so I usually serve them with a simple side salad like the shaved brussels sprout salad that I shared last week.
What To Sauce Goes with Crab Cakes
First and foremost, I believe that crab cakes need a sauce. I love making my own sriracha mayo and using that as a garnish. I just mix a little (vegan) mayo with some sriracha and call it a day. You could also do:
Or basically, anything that's creamy and tangy at the same time!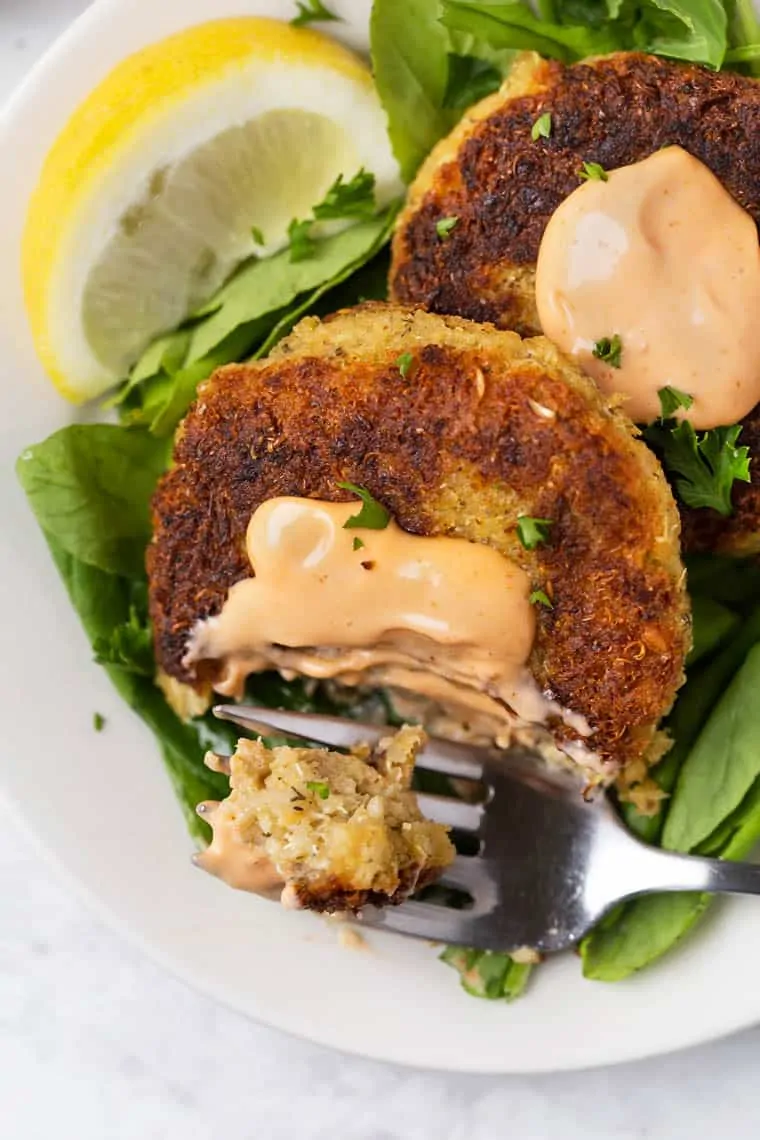 How to Store Quinoa Crab Cakes
Similar to our veggie burgers, you can store your crab cakes in the fridge or freezer. I'd personally recommend cooking them beforehand, but you can also store them uncooked and cook them whenever you're ready. They'll last about 4 – 5 days in the fridge and 3 – 6 months in the freezer.
Are Crab Cakes Good for Meal Prep?
Yes and yes! You can absolutely meal prep these quinoa crab cakes. Just make the batch ahead of time and store them in either of the two options above.
To reheat crab cakes, make sure they're completely thawed and then either:
Pop them into the microwave and warm until heated through
Reheat them in the pan until they're warm in the middle
Bake them in the oven at 300ºF until they're warm in the center
I hope that you do end up making these as a healthy meal prep idea! They'd be awesome for dinner, awesome for lunch the next day and could even be enjoyed for breakfast (crabless eggs benedict anyone?!). Make sure to share a photo with me on Instagram if you do end up making them ❤️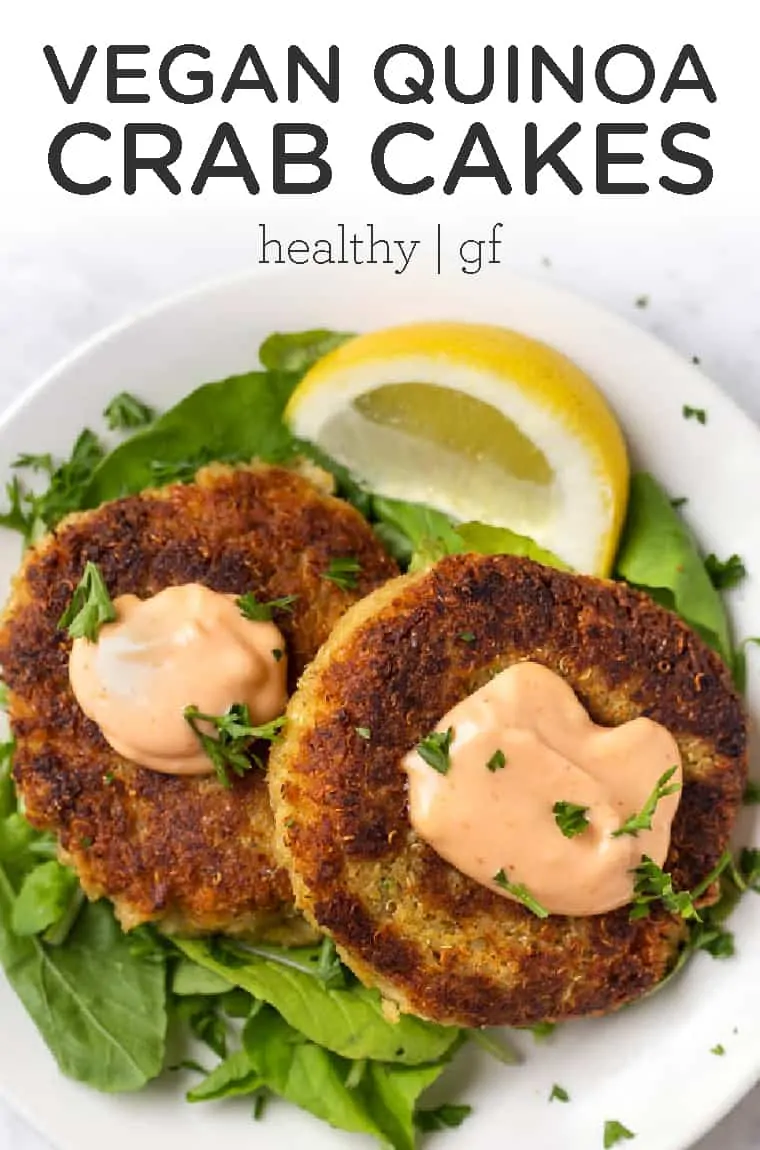 Other Healthy Vegan Recipes to try:
Vegan Quinoa Crab Cakes
These healthy quinoa crab cakes might look traditional, but are actually 100% vegan! They're also gluten-free, healthy and super delicious!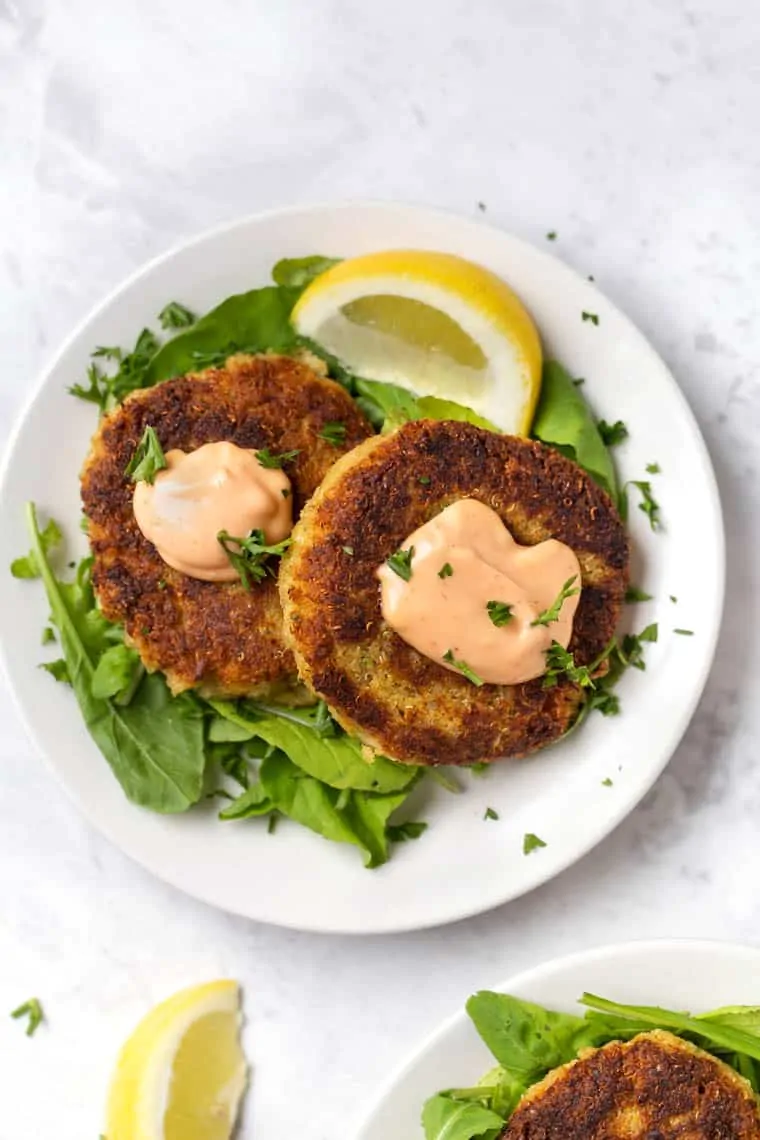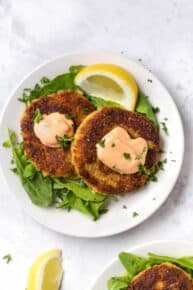 Ingredients
½

an onion

2

garlic cloves

1

(15 oz) can artichoke hearts, drained

1

(15 oz) hearts of palm, drained

3

tablespoons

coconut yogurt

(or vegan yogurt or mayo of choice)

2

teaspoons

lemon juice

1

teaspoon

mustard

(any variety)

1

teaspoon

hot sauce

(your choice)

1

tablespoon

old bay seasoning

2

teaspoons

dried dill

(or 1 tablespoon fresh)

1

cup

cooked quinoa

1

cup

quinoa flakes

Generous pinch of salt and pepper

Oil for cooking

Sriracha mayo for serving

Fresh herbs for serving
Instructions
Add the onion and garlic into the bowl of a food processor. Pulse to finely chopped.

Remove the lid and add the chickpeas, artichoke hearts and hearts of palm. Process again until somewhat combined. You want there to still be a texture to "dough".

Remove the lid once more and add the seasonings: yogurt, lemon, mustard, hot sauce, old bay, and dill. Pulse again until combined.

Remove the lid once more time and add the quinoa and quinoa flakes. Depending on the size of your food processor, pulse to combine, or if your food processor is too large, stir in the quinoa and quinoa flakes into the dough.

Scoop about 1/4 cup of dough into your hands and shape into a cake. Repeat with the remaining dough.

Heat the oil in a large skillet over medium-high heat. Once the oil is hot and shimmering, add a few cakes into the skillet (as many as you can fit while giving them each space). Cook 2 - 3 minutes per side until the cakes are golden brown and crispy.

Removed the cakes from the pan and place them on a paper towel-lined cooling rack. Repeat the cooking process until you've cooked all the cakes.

When ready to serve, put two cakes on each plate. Top with a dollop of sriracha mayo and sprinkle with fresh herbs. Serve warm and enjoy!
Nutrition
Serving:
1
cake
|
Calories:
154
kcal
|
Carbohydrates:
23
g
|
Protein:
5
g
|
Fat:
5
g
|
Saturated Fat:
1
g
|
Cholesterol:
1
mg
|
Sodium:
257
mg
|
Potassium:
757
mg
|
Fiber:
4
g
|
Sugar:
7
g
|
Vitamin A:
407
IU
|
Vitamin C:
11
mg
|
Calcium:
44
mg
|
Iron:
2
mg
Filed Under: