Eggplant… Let's talk about it. Are you a fan? It was one of those foods that I HATED when I was little.
I vividly remember the first time my mom made eggplant parmesan for us. It was me, my little brother and two of our best friends. We'd been playing all afternoon and were starving by the time she called dinner. We came screaming around the kitchen corner, flung ourselves into our dinner chairs, so excited to wolf our meals down so we could get to playing.
She told us we were having spaghetti, so the anticipation was killing us.
When she set the plates down on the table, our faces dropped. We stared down at this brown blob in front of us. My brother's friend looked at my mom in horror, "This is not spaghetti." My mom, having dealt with a day of screaming kids, looked at us and said, "Just try it. You'll like it, I promise."
Tentatively, we picked up our forks and each took a bite. We looked around the table at each other, pure disgust on our faces. We swallowed, and Ben's friend burst into tears. "I want to go homeeeee."
Crying ensued. My poor mom was exhausted and flung up her hands in exasperation. We ended up having pasta with butter and cheese.
Yes, my first experience with eggplant was traumatic. Yes, I'm a drama queen.
And oh how the times have changed. I freaking love eggplant now. Eggplant parm. Ratatouille. Eggplant Burgers. And now eggplant rollatini. All fabulous.
The problem? My boyfriend despises it. He won't get near it. Whenever I suggest eggplant for dinner, he rolls his eyes and he firmly says absolutely not (and he rarely says no to food).
This past week, I was trying to have less meat in our house, so I focused on making vegetarian and vegan meals for us. He was less than thrilled about the whole situation in general, but I do the cooking, so honestly, it's not really up to him. 😉
I was craving eggplant-something, but knew I had to come up with a way to prepare it so that he'd still enjoy it. Parm was out. Lasagna also no good. But rollatini? That could work. I could stuff it full of quinoa, goat cheese and herbs, smother in marinara sauce, top it with more quinoa, fresh basil and mozzarella cheese (for him).
I had a feeling he'd be able to get behind this meal. And he LOVED it! Seriously, I'm not kidding; he was practically licking his plate.
There's no better feeling than that. Convincing a skeptic, gluten-free or not, that they can enjoy any type of food with the right preparation. And I can't wait to hear what you think of this recipe. It's definitely a new favorite in our house!
For those of you can't eat dairy, I'd recommend that you try it with a nut ricotta instead of the goat cheese. Check out this post on Beard & Bonnet for almond ricotta. I think it would work splendidly in this recipe!
Quinoa Eggplant Rollatini
Stuffed full of quinoa, goat cheese and herbs, smother in marinara sauce, topped with more quinoa, fresh basil and mozzarella cheese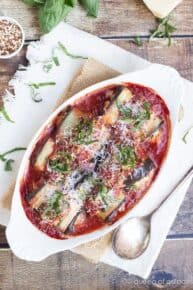 Ingredients
1

medium eggplant

2 - 3

oz

goat cheese

or almond ricotta

1/2

cup

cooked quinoa

1

egg

1

cup

arugula

2

cups

marinara sauce

Chopped basil

Salt & pepper

Freshly grated romano cheese
Instructions
Preheat oven to 375 degrees F.

Slice eggplant lengthwise into 1/4" slices. Bring a pot of water to boil, add eggplant and blanch for 3 - minutes. This will help the eggplant stay nice and tender.

While the eggplant is cooking, prepare the filling. Whip together goat cheese, quinoa and egg until smooth. Fold in arugula.

Add 1 cup marinara sauce to the bottom of a baking dish. Set aside.

Remove eggplant from water, let sit for a minute or two until cool enough to handle.

When cool, add 2 tablespoons cheese mixture to one end of eggplant slice. Roll together. Place seam side down in the baking sheet and repeat until no eggplant slices remain.

When assembled, spoon additional marinara sauce on each eggplant piece. Sprinkle with additional quinoa and bake for 20 - 30 minutes until sauce bubbles and topping has browned.

Removed from oven and top with fresh basil and romano cheese. Transfer to plates and enjoy immediately!
Nutrition
Calories:
150
kcal
|
Carbohydrates:
18
g
|
Protein:
8
g
|
Fat:
5
g
|
Saturated Fat:
2
g
|
Cholesterol:
50
mg
|
Sodium:
817
mg
|
Potassium:
741
mg
|
Fiber:
6
g
|
Sugar:
9
g
|
Vitamin A:
950
IU
|
Vitamin C:
12
mg
|
Calcium:
91
mg
|
Iron:
2.4
mg
Filed Under: