This easy Middle Eastern Quinoa Salad is made with fresh saffron quinoa, then tossed with tons of other goodies like carrots, mint, spring onions and dates.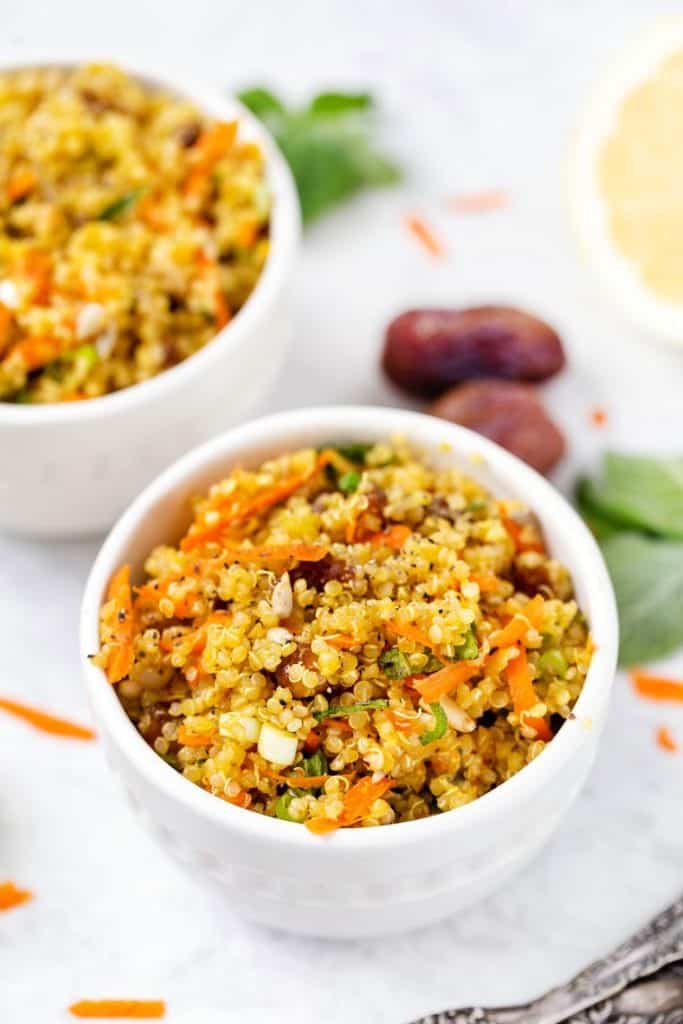 When I'm searching for the perfect side dish, my mind almost always jumps to quinoa. I love that quinoa is not only a superfood, but it's also versatile. You can use it a million different ways and it can assume all sorts of flavors.
We've pretty much run the gamut here in terms of flavors. We've got Mexican Quinoa Salad, Asian Quinoa Salad, Moroccan Quinoa Salad, Mediterranean Quinoa Salad.
I felt like I was running out of options until I thought about saffron. Saffron is an amazing spice that is used a lot in Middle Eastern cooking. And boom! It hit me: we needed to make a Middle Eastern quinoa recipe using this incredible ingredient!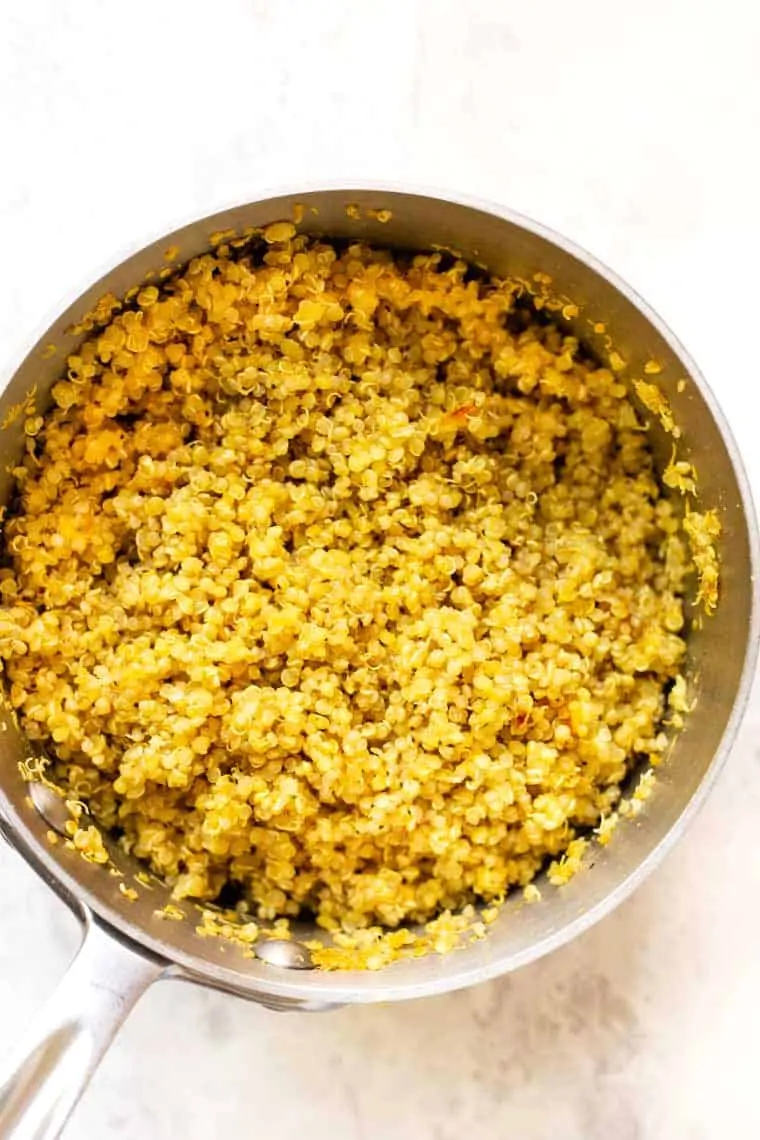 How to make Quinoa Fluffy for Salads
If you're new to making your own quinoa salads, there is one major thing you need to keep in mind: the texture of your quinoa!
When you're making a salad, you want the fluffiest quinoa ever so that when you mix in your other ingredients it's not getting mushy and sticky.
So how do you make fluffy quinoa fit enough for salads? The simple trick is you need to let it cool. Completely! If you don't let your quinoa cool completely before mixing in other ingredients, it turns into a hot mess – literally. Sticky and mushy. Not light and fluffy.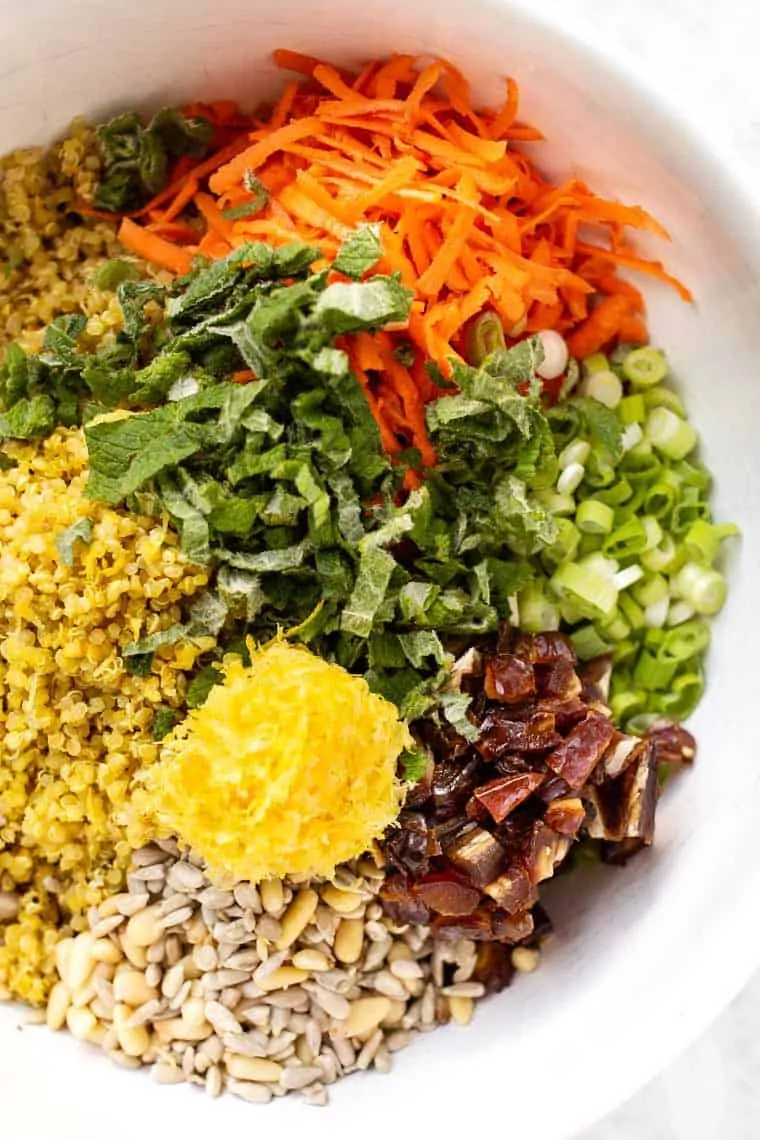 Ingredients for Middle Eastern Quinoa Salad
So I'll admit, I'm not like 1000% sure these are all authentic ingredients in Middle Eastern cooking, but the combo works and it tastes incredible. Especially the saffron quinoa base.
Here's what we're using for our middle eastern quinoa:
Saffron quinoa: we cook our quinoa using some saffron threads, salt, pepper, and water. It's amazing on its own, but fabulous in this salad
Vegetables: and then we're mixing in some shredded carrots and green onions
Medjool dates: which add sweetness and are just the best thing ever
Pine nuts/sunflower seeds: you gotta get in some crunch
And we're finishing it off with some lemon zest, fresh mint, olive oil and a dash of maple syrup. So simple, yet SO good!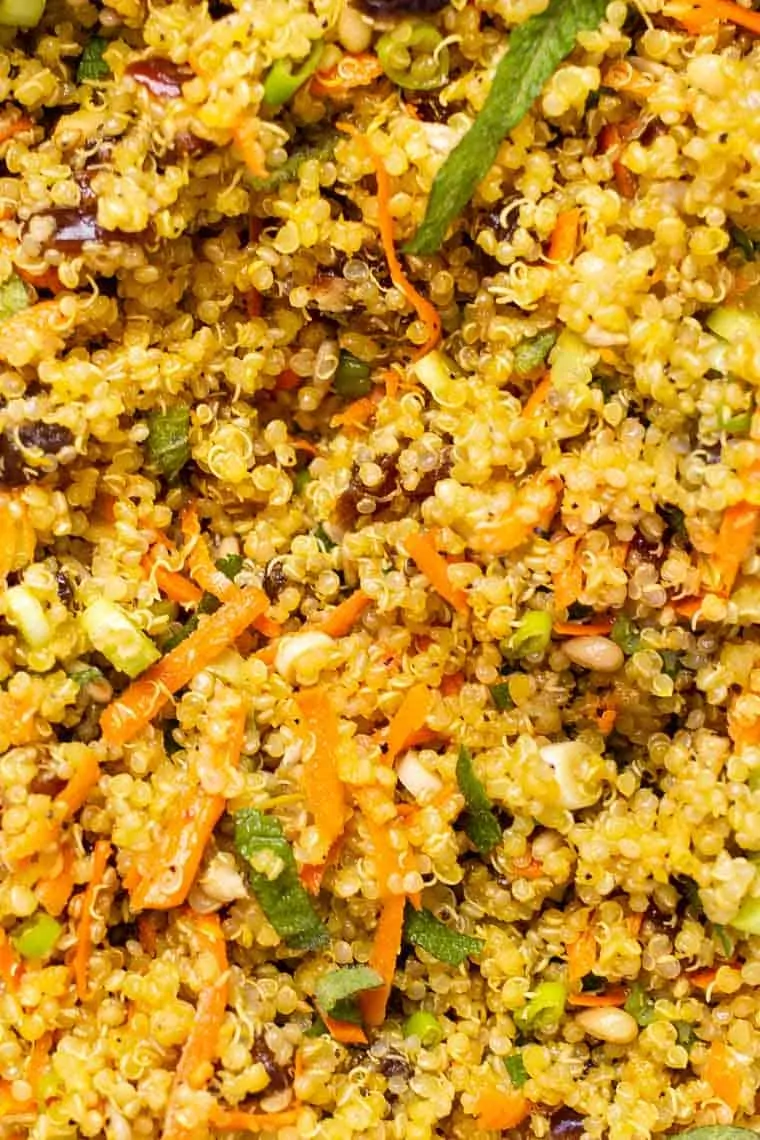 Is Quinoa Salad Healthy?
Quinoa salad is absolutely healthy! It's got quinoa in it which we know by looking at the quinoa nutrition facts is packed with plant-based protein, complex carbs, fiber and vitamins, and minerals.
And from there it's all about what else you're adding. If you're adding more veggies, awesome! Try to also get in some healthy fats and extra protein (especially if it's becoming a meal).
I don't personally like only eating quinoa salad as a main portion. I find it to be a little much for me. Instead, I enjoy quinoa as a side dish or do a serving on top of a bed of greens to bulk it up even more.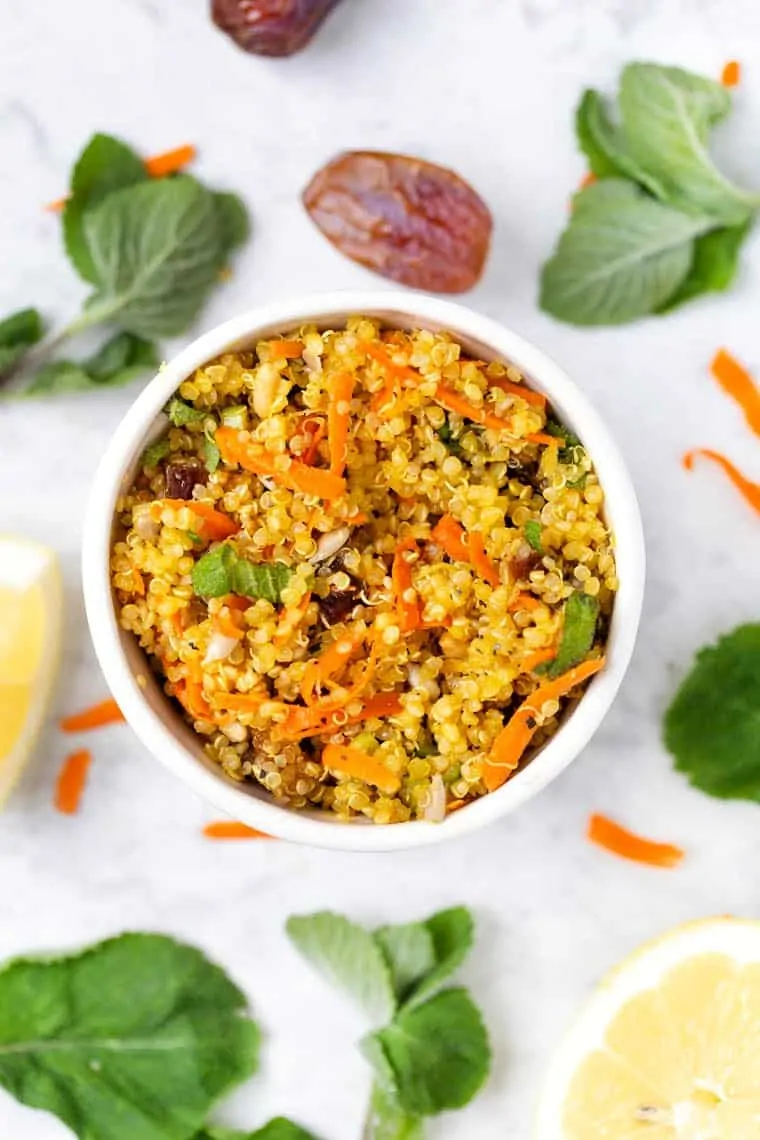 How Long Does Quinoa Salad Last in the Fridge?
Quinoa salads are perfect for meal prep. Since you aren't typically adding lots of mixed greens (or greens that wilt easily), it will keep for 4 – 5 days. This Middle Eastern quinoa will last at least that long.
If you are using an ingredient that tends to wilt or brown – like arugula, mixed greens, avocado, apple, etc. – you'll probably want to enjoy your salad that day. Otherwise, meal prep the heck out of this thing and enjoy it all week long!
The Best Middle Eastern Quinoa Recipe
And just like that, we're here. Ready to dive into this amazing recipe!
I know that you're going to absolutely love this salad. We enjoyed it as a side dish while I was visiting my parents and had it alongside some grilled fish. It was perfection!
If you wanted to make this salad into a main dish, I would add in some massaged kale and a can of chickpeas. It gives you your greens and a boost of protein in there too.
Hope you enjoy it! xx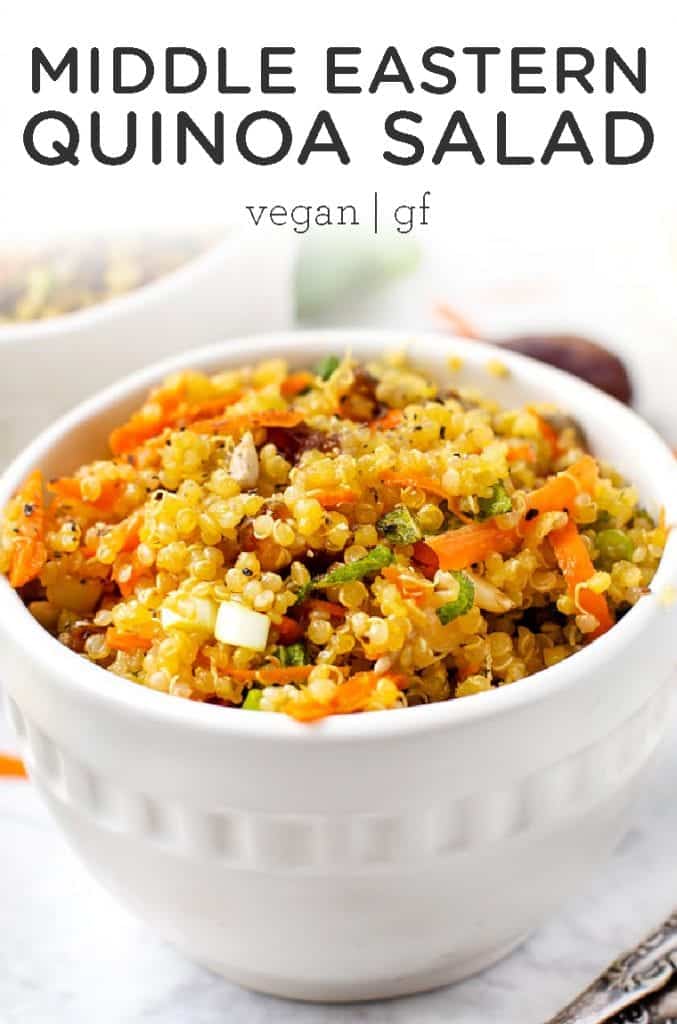 More Cold Quinoa Salad Recipes:
Saffron Middle Eastern Quinoa Salad
This easy Middle Eastern Quinoa Salad is made with fresh saffron quinoa, then tossed with tons of amazing vegetables like carrots, mint, spring onions and dates.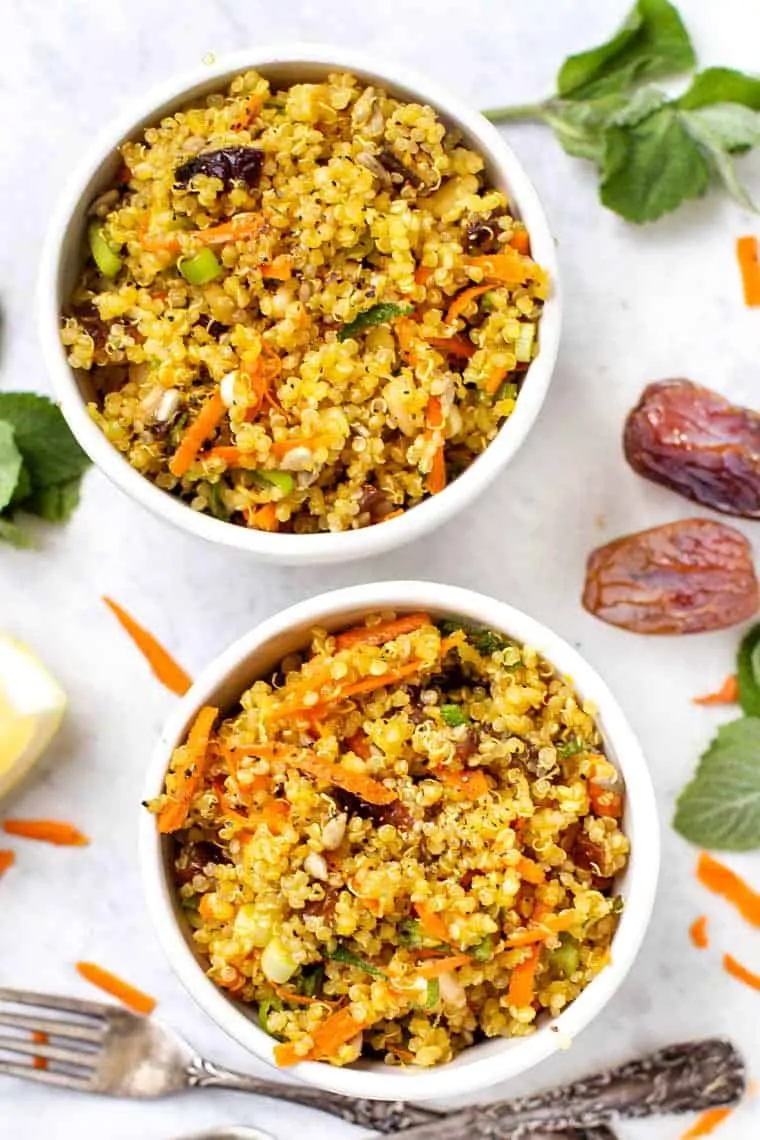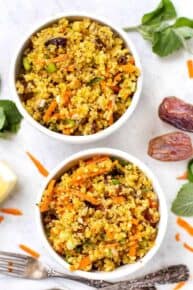 Instructions
Pour the quinoa into a small saucepan. Add water, saffron and a pinch of salt and pepper, and stir to combine. Bring the water to a boil, cover and reduce to simmer for 10 - 15 minutes until the water has been absorbed and the quinoa is fluffy. Allow quinoa to cool completely.

Transfer the cooled quinoa to a large mixing bowl. Add the carrots, onions, dates, seeds, mint and lemon zest. Stir to combine. Drizzle on the olive oil and maple syrup and toss again. Season with salt and pepper, taste and adjust with more if needed.
Nutrition
Serving:
0.5
g
|
Calories:
172
kcal
|
Carbohydrates:
29
g
|
Protein:
4
g
|
Fat:
5
g
|
Saturated Fat:
1
g
|
Sodium:
42
mg
|
Potassium:
292
mg
|
Fiber:
3
g
|
Sugar:
12
g
|
Vitamin A:
1450
IU
|
Vitamin C:
2
mg
|
Calcium:
36
mg
|
Iron:
1
mg
Filed Under: