Slow Cooker Lentil Sloppy Joes
This plant-based version of the all-American classic, these lentil sloppy joes have all the same flavor without any of the meat. And they're a cinch to whip up. Just toss everything in your slow cooker and let it do the work for you!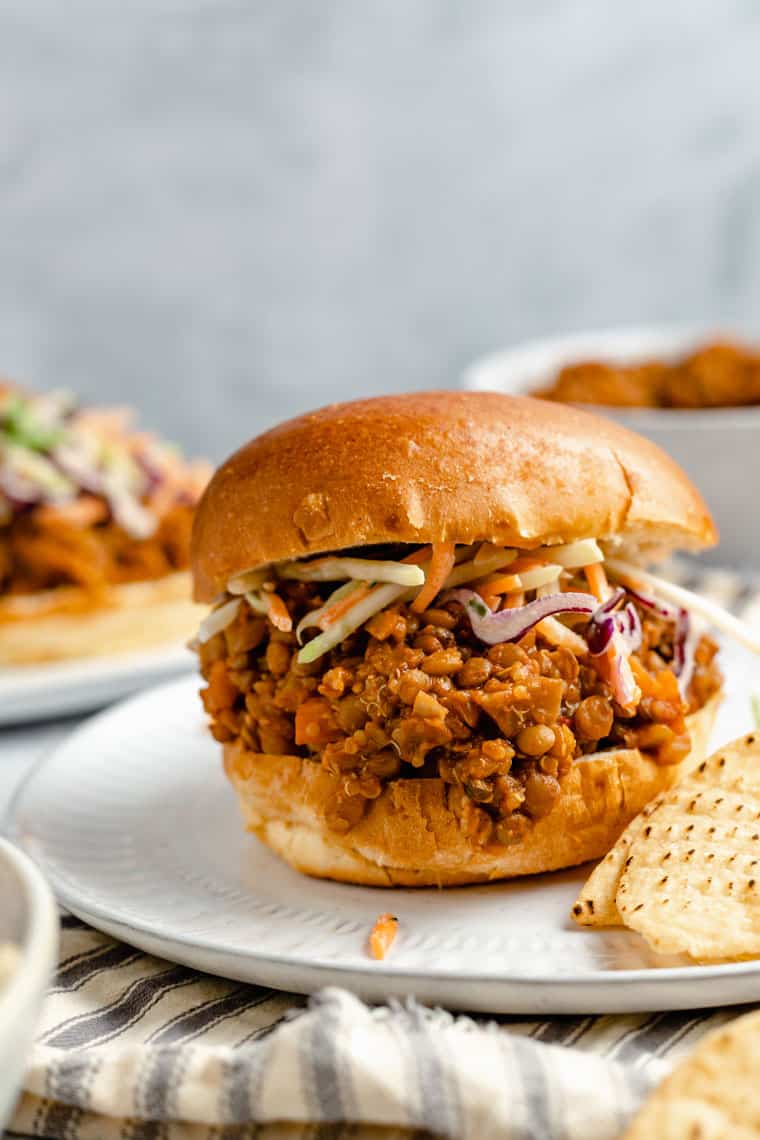 I got the idea for this recipe from my brother. He made my quinoa sloppy joes recently and was raving about them, and sent my sloppy joe craving into overdrive. But since I'm no longer eating meat, I had to come up with an alternative.
I've often used quinoa in things like vegetarian chilis and soups to lend somewhat of a meat texture, but I knew this recipe couldn't be 100% quinoa. Beans are the logical next step, but anything like chickpea or white bean would just throw the texture off. The best solution: lentils.
So today I'm going to show you how to make lentil sloppy joes in the slow cooker! This recipe is easy to make, packed with flavor, and has that perfect meaty texture – while being 100% vegan!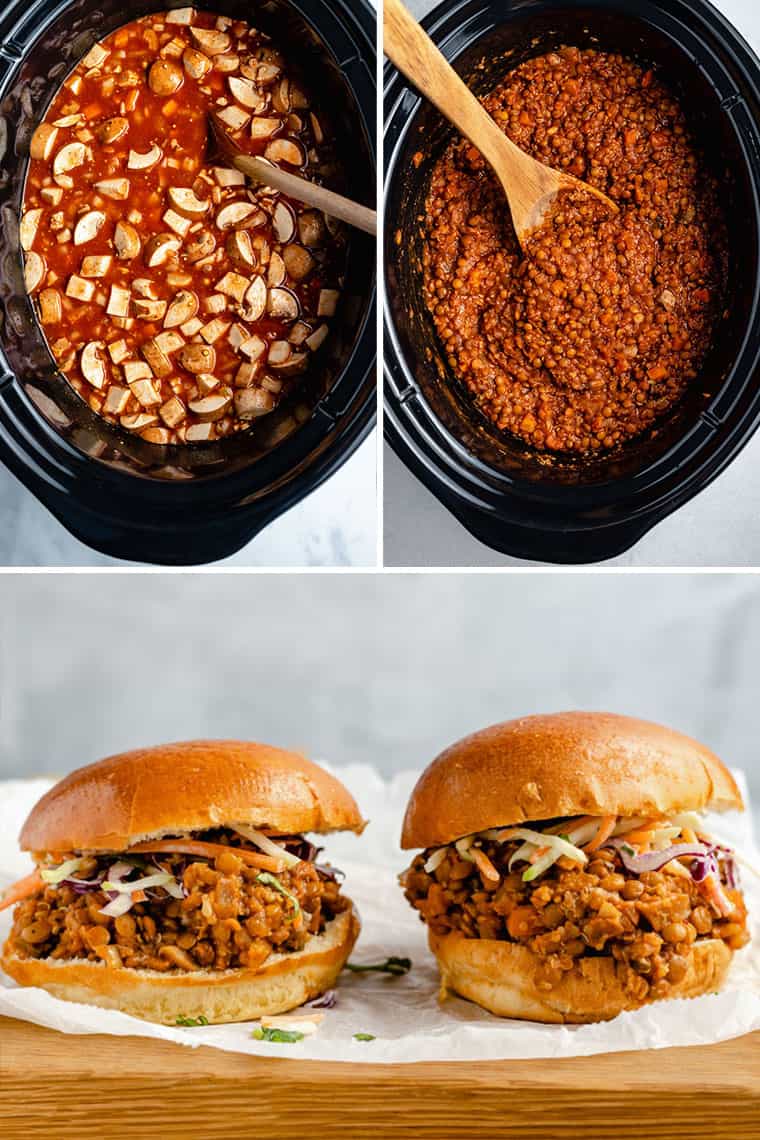 How to Make Lentil Sloppy Joes in the Slow Cooker
I wanted to make sure the recipe was as simple to make as possible, so I threw everything in the slow cooker and let it do its thing. And you also only need a few simple ingredients:
Carrots: the carrots add natural sweetness, as well as a chunky texture. You don't have to peel them either which is great!
Mushrooms: for that "meaty" texture these vegan sloppy joes need, part of the solution is mushrooms – they're soft, chewy and very meaty when they're cooked.
Onion + garlic: these are here mostly for flavor. If you wanted to spend the extra time sauteeing them beforehand, you'd add even more flavor.
Lentils: you'll want to use brown or green lentils for this recipe because they actually hold their texture. We'll talk more about this in a moment!
Quinoa: you know quinoa is my sneaky way to give a ground meat texture without using any meat. I've done it in my lentil + quinoa taco meat as well as my vegetarian chili!
Tomato sauce + ketchup: a classic combo in traditional sloppy joes, so we're using them here too – just be sure you're using canned tomato sauce not marinara sauce!
Maple syrup: traditional sloppy joes actually are fairly sweet, so we're adding in some maple syrup. If you're not a fan of sweet, feel free to leave it out.
Hot sauce: I also always find that sloppy joes are better with a bit of spice – I like to add Cholula or sriracha for mine.
Seasonings: and lastly, our spices! For these slow cooker lentil sloppy joes, we're using mustard, chili powder, smoked paprika, salt + pepper.
And that's all you need, friends! With that you're ready to dive into your sloppy joes!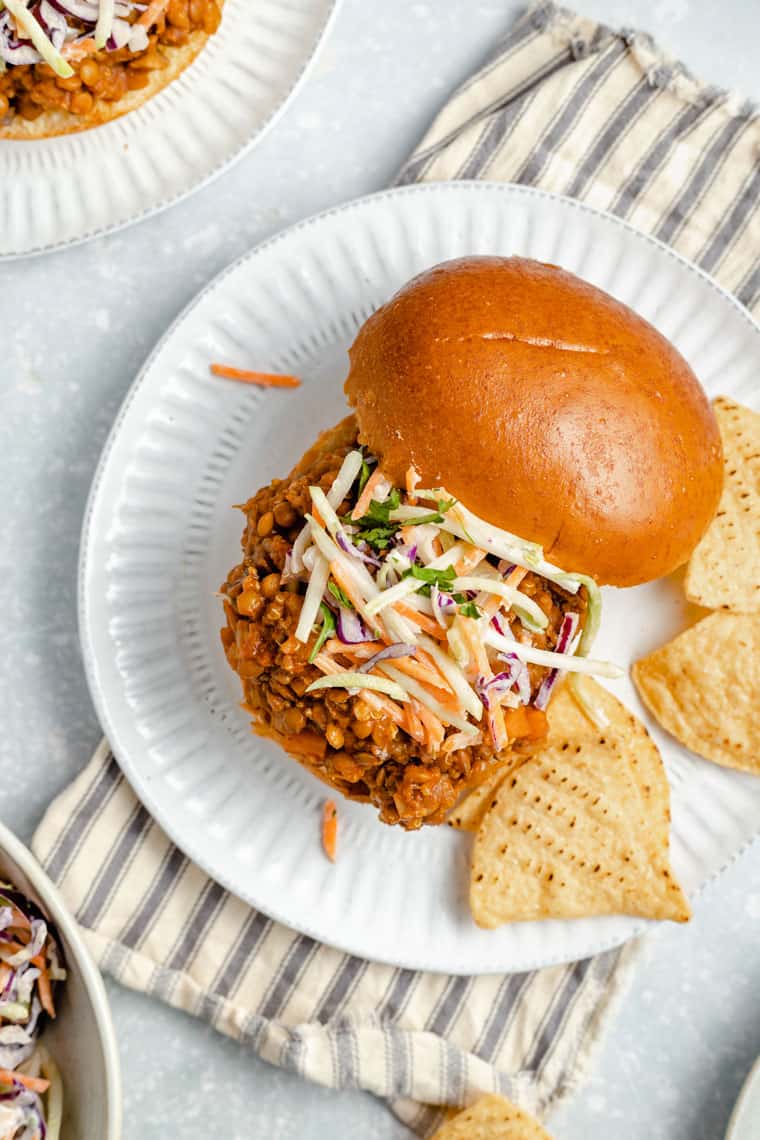 What Kind of Lentils for Sloppy Joes?
Lentils have a surprisingly meaty feel to them when they're cooked. They have this interesting quality about them, where they kind of break down as they cook, but also keep their shape at the same time. And they ended up being the perfect plant-based solution for these vegan sloppy joes.
For this recipe you can use:
You can't use red lentils because they'll break down too much and turn into mush. You wouldn't get that ground beef texture!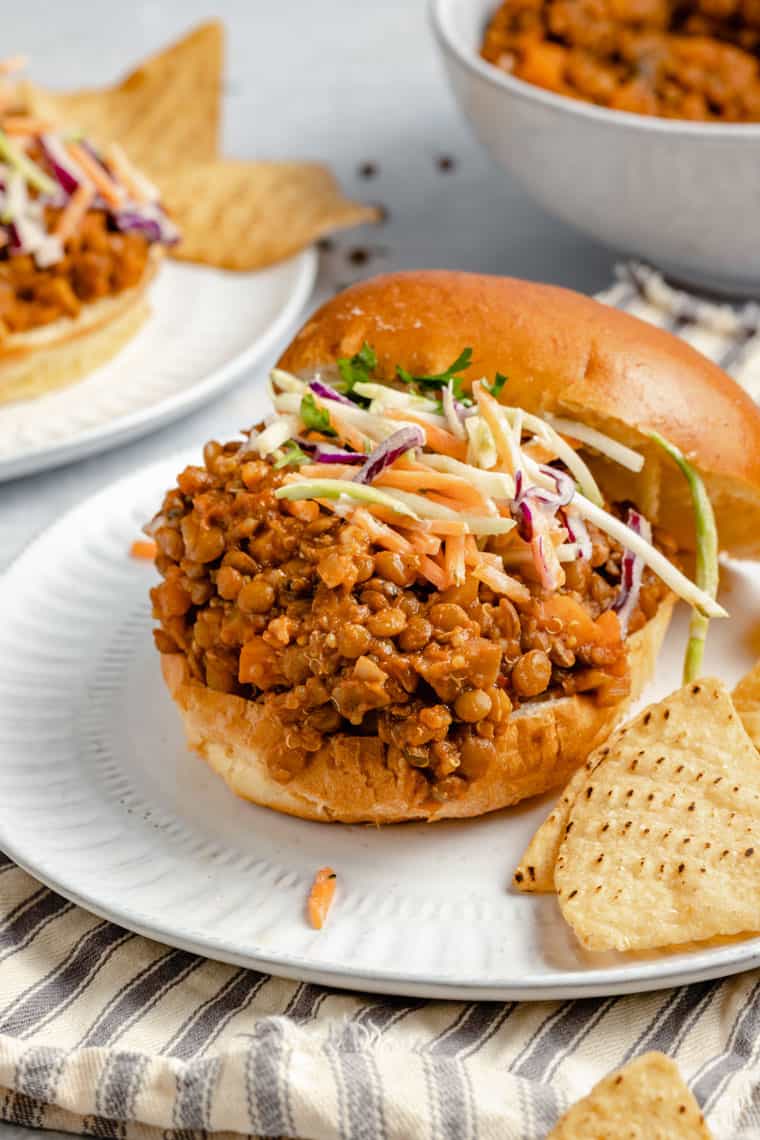 Make-Ahead Vegan Sloppy Joes
As you can tell, these lentil sloppy joes are seriously THE BEST.
I've now served them on three occasions and each time people can't believe they don't contain meat. They have that wonderful tomato-barbecue flavor, are perfectly sloppy, and make the greatest sandwiches!
You can also make them ahead! Here's how:
make your lentil sloppy joes in the slow cooker
allow them to cool completely
store in the fridge or freezer
reheat before serving
I serve them with hamburger buns, but you could also use your favorite gluten-free biscuit (my Quinoa Biscuits are great!), or you could even just serve them in lettuce cups or on a piece of toast.
Can't wait to hear what you think of the recipe. I have a feeling it's going to become a staple 🙂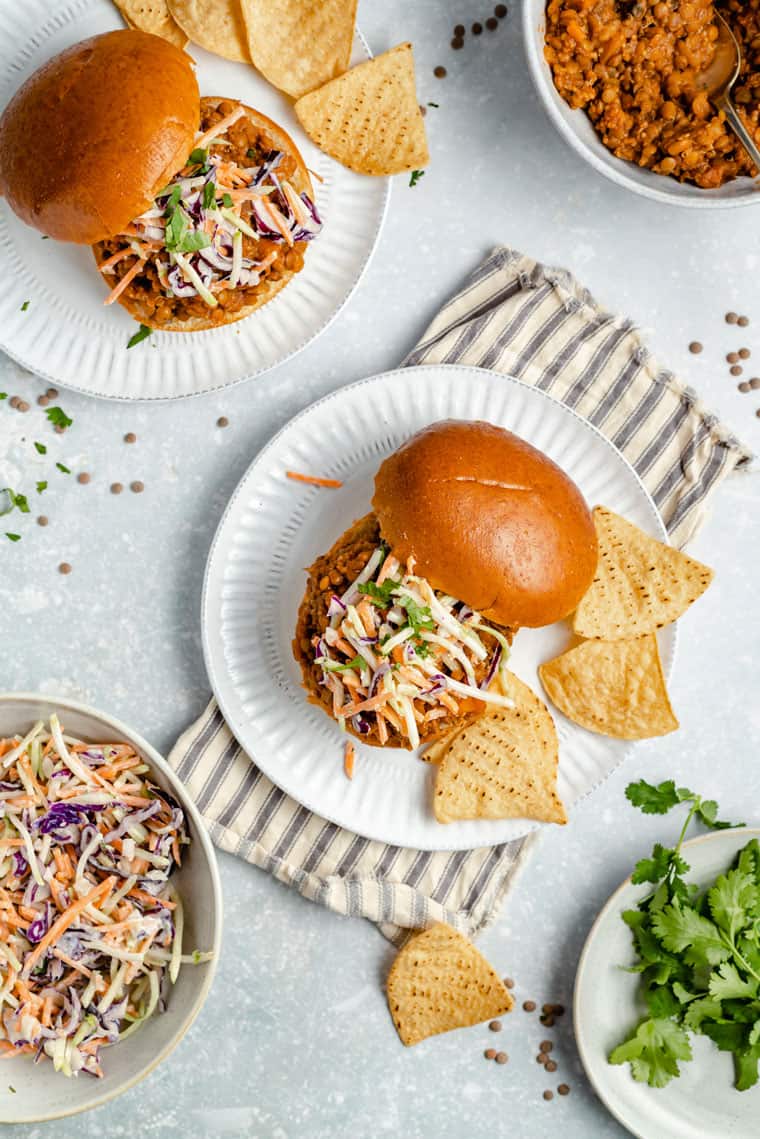 More Vegan Slow Cooker Recipes:
Slow Cooker Vegan Sloppy Joes
These vegan sloppy joes are rich, hearty, spicy, and comforting. They have just as much flavor as traditional sloppy joes, but they're entirely plant-based!
Servings 6
Calories 319kcal
Instructions
Add everything into the slow cooker, starting with 3 cups of broth. Stir to combine, cover and set to high. Cook on high for 2 - 3 hours (or low for 4 - 6). Check and add more liquid as needed.

Serve warm with a bun, biscuit or in a spaghetti squash!
Notes
Store in an airtight container in the fridge for up to 4 days, or in the freezer for up to 3 months. Reheat over medium heat for 5 minutes, stirring constantly, or in a microwave on 80% power in 30-second increments. 
Nutrition
Serving: 1serving (no bun) | Calories: 319kcal | Carbohydrates: 60g | Protein: 18g | Fat: 2g | Saturated Fat: 0.3g | Polyunsaturated Fat: 1g | Monounsaturated Fat: 1g | Sodium: 573mg | Potassium: 931mg | Fiber: 19g | Sugar: 14g | Vitamin A: 4422IU | Vitamin C: 13mg | Calcium: 73mg | Iron: 5mg
share what you make
Tag #simplyquinoa on Instagram with your creations! We love sharing what you make with the community. We can't wait to see!

follow on instagram