A quick and easy vegan dinner, these quinoa sushi bowls combine classic sushi ingredients and are topped in a spicy ginger-miso dressing instead of mayo.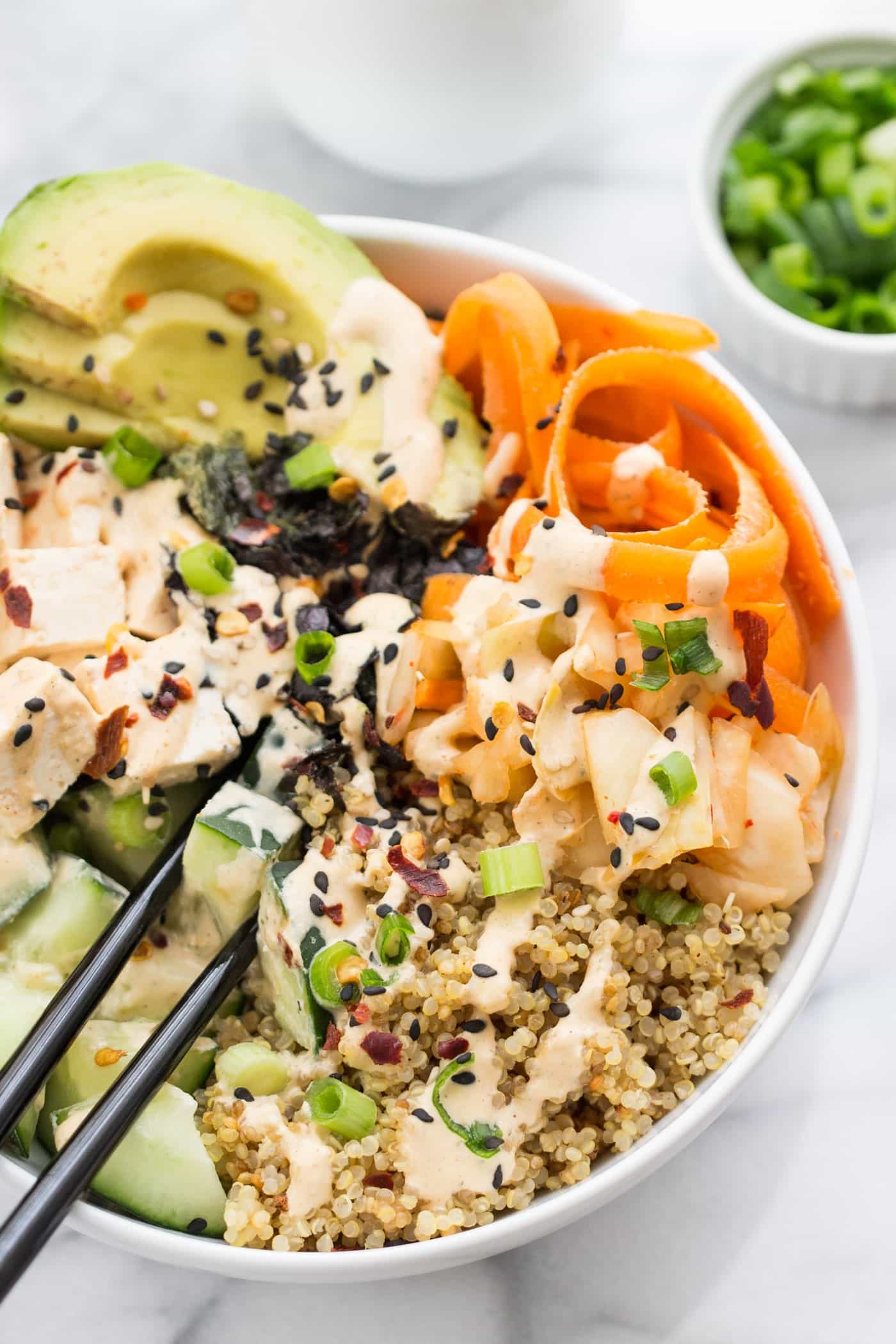 Bowls are seriously the best. They just make every meal so much easier.
Like sushi. Sure, I could pull out my sushi rolling mat, carefully julienne my veggies, buy raw fish, etc., etc., but it would take at least two times longer than if I just put all those ingredients in a bowl. I mean, after all, it is all the same ingredients and each bite will taste like sushi.
…so half the time, half the effort, all the flavor. Definitely a win in my book!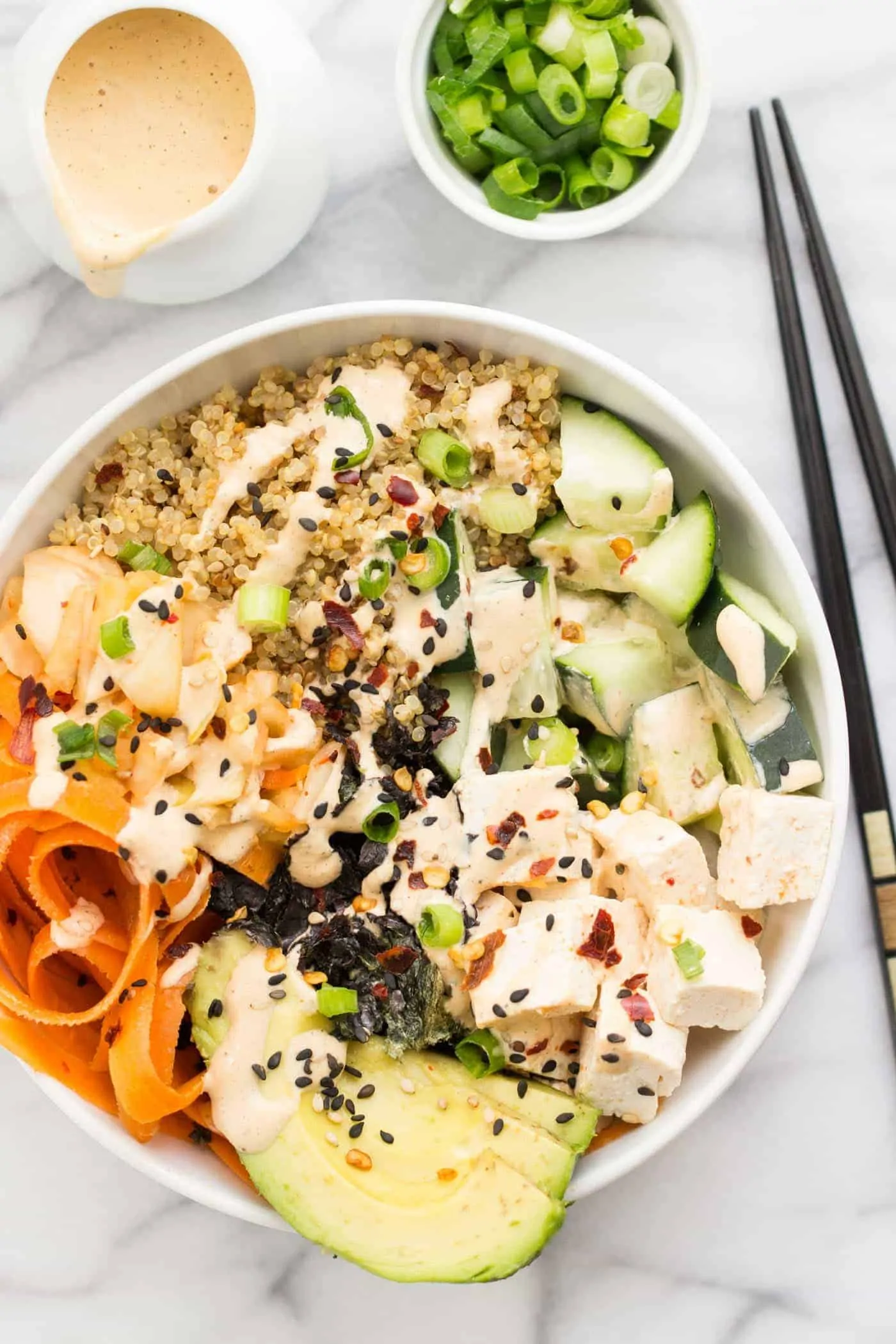 For our sushi bowls today, we're keeping it totally plant-based.
Instead of fish, I chose to go with some tofu which I marinated in kimchi juice for some added flavor and a little spice. Then we're using quinoa to replace the rice, and for the veggies I kept it traditional with carrot and cucumber. I cubed the cucumber and then peeled the carrot into thin strips. I think the contrast helped give the bowls a little bit more excitement.
Oh and of course, there's some nori. Can't be sushi without nori!
(also avocado and kimchi because those are like three of my most favorite Asian-inspired ingredients.)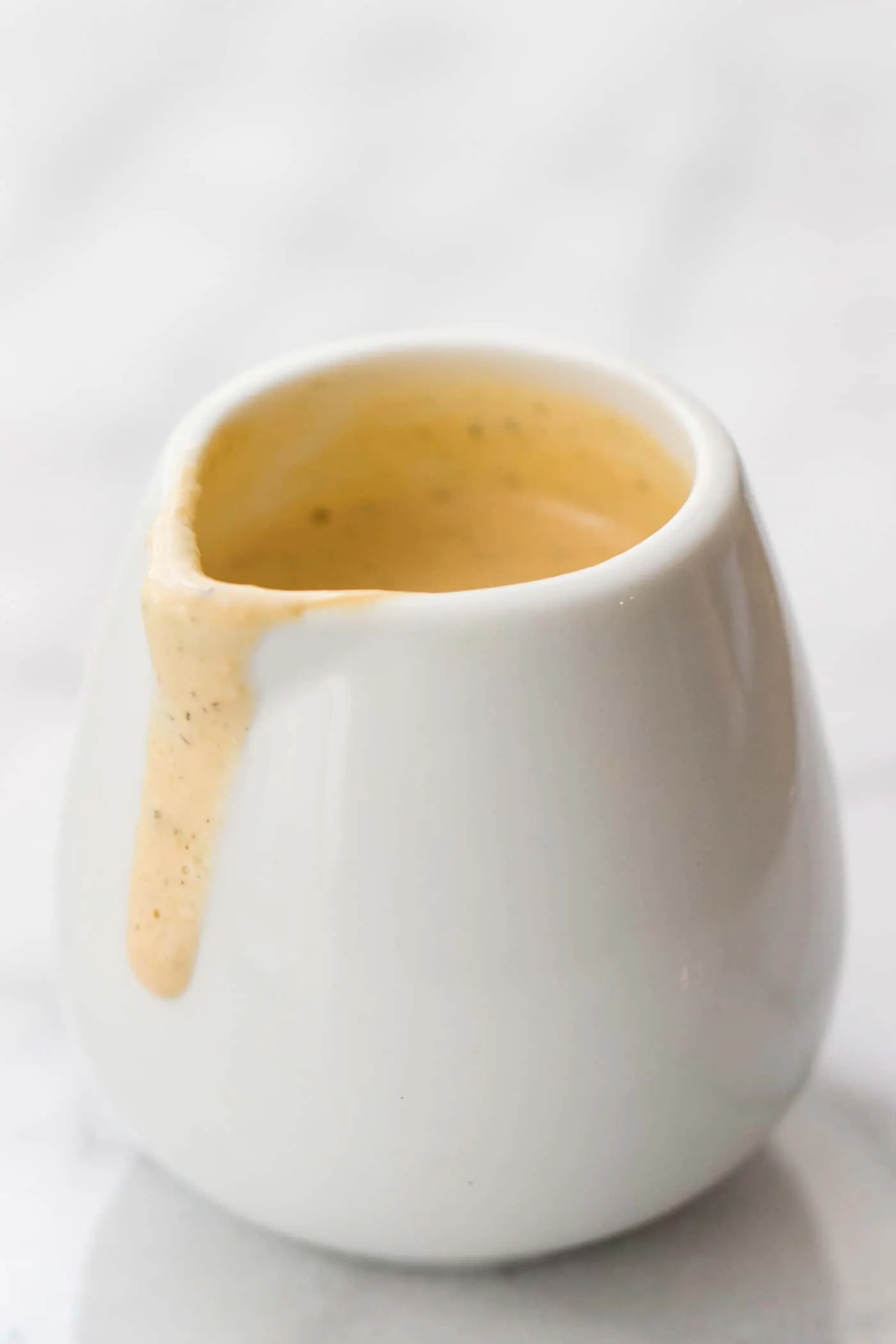 The sauce on top? Spicy ginger-miso "mayo." Oh. My. SO good!
I say mayo in quotes because this is far from an actual mayo. It's more like dressing but takes place of that spicy mayos that come with so many sushi rolls.
The base? Tahini + hemp seeds. Then it's just miso, ginger and hot sauce. Blend these up with a little water and you're done. So much healthier (and arguably more delicious) than mayo!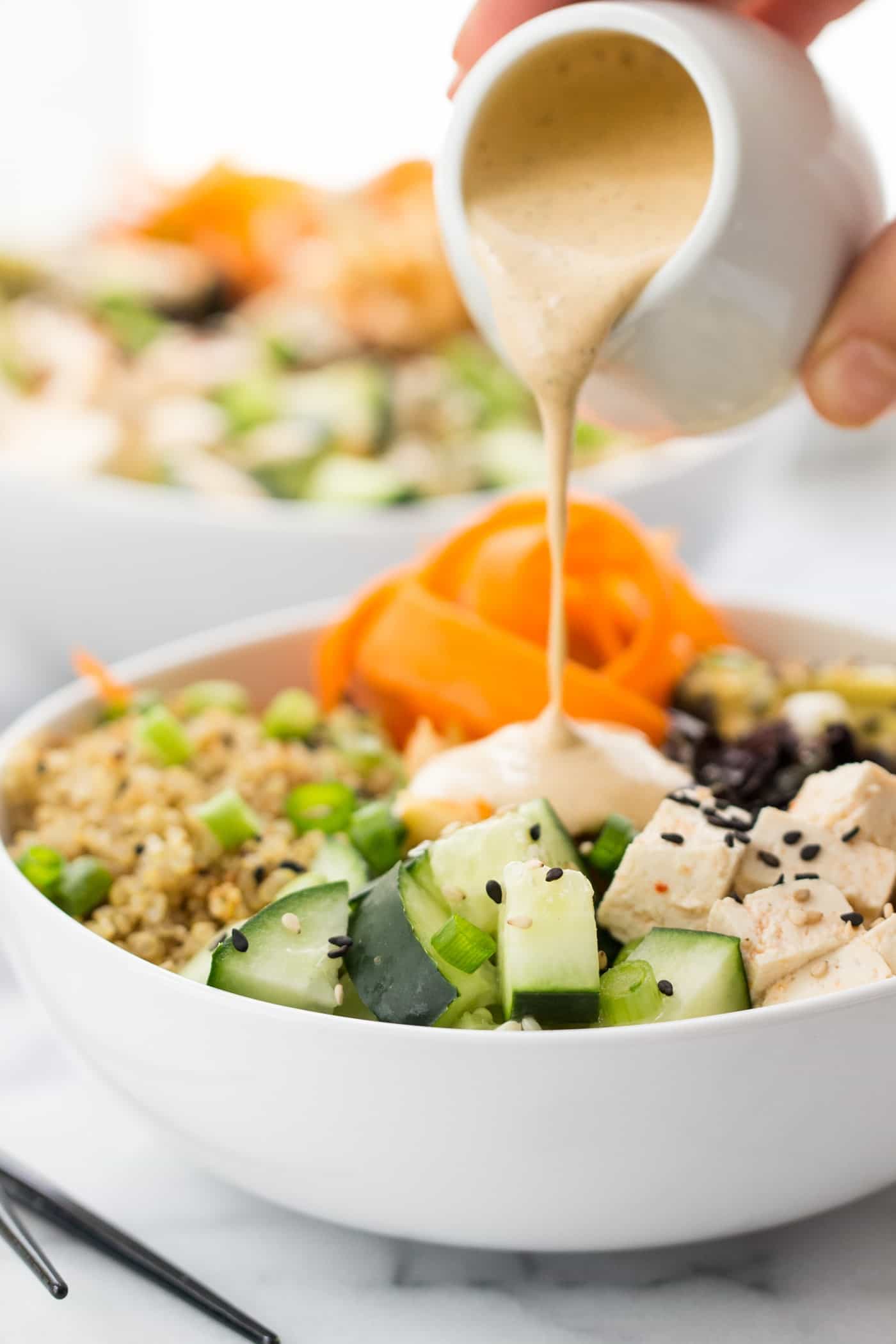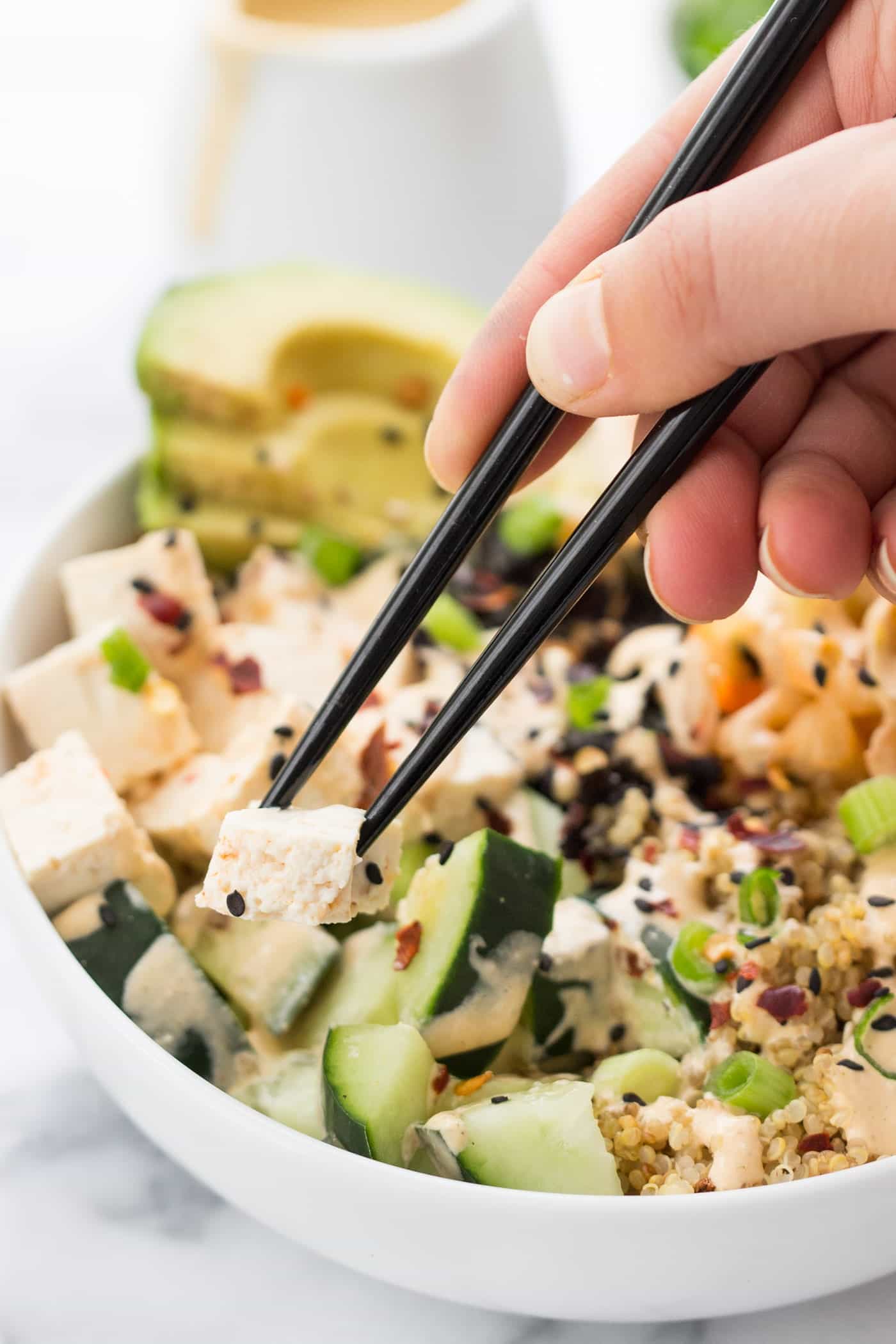 The balance of textures is what I love most about these bowls. You've got the crunchy cucumbers, the fluffy quinoa, the soft tofu, the buttery avocado and ribbons of carrot. All tossed together and it's pretty much the perfect combination.
Do you think my favorite sushi restaurant will serve me my sushi in a bowl next time?
Your turn…
What are your favorite meals to eat out of bowls? I'm personally a huge fan of smoothie bowls and quinoa bowls (obvi), but would love to hear what you think!
xo Alyssa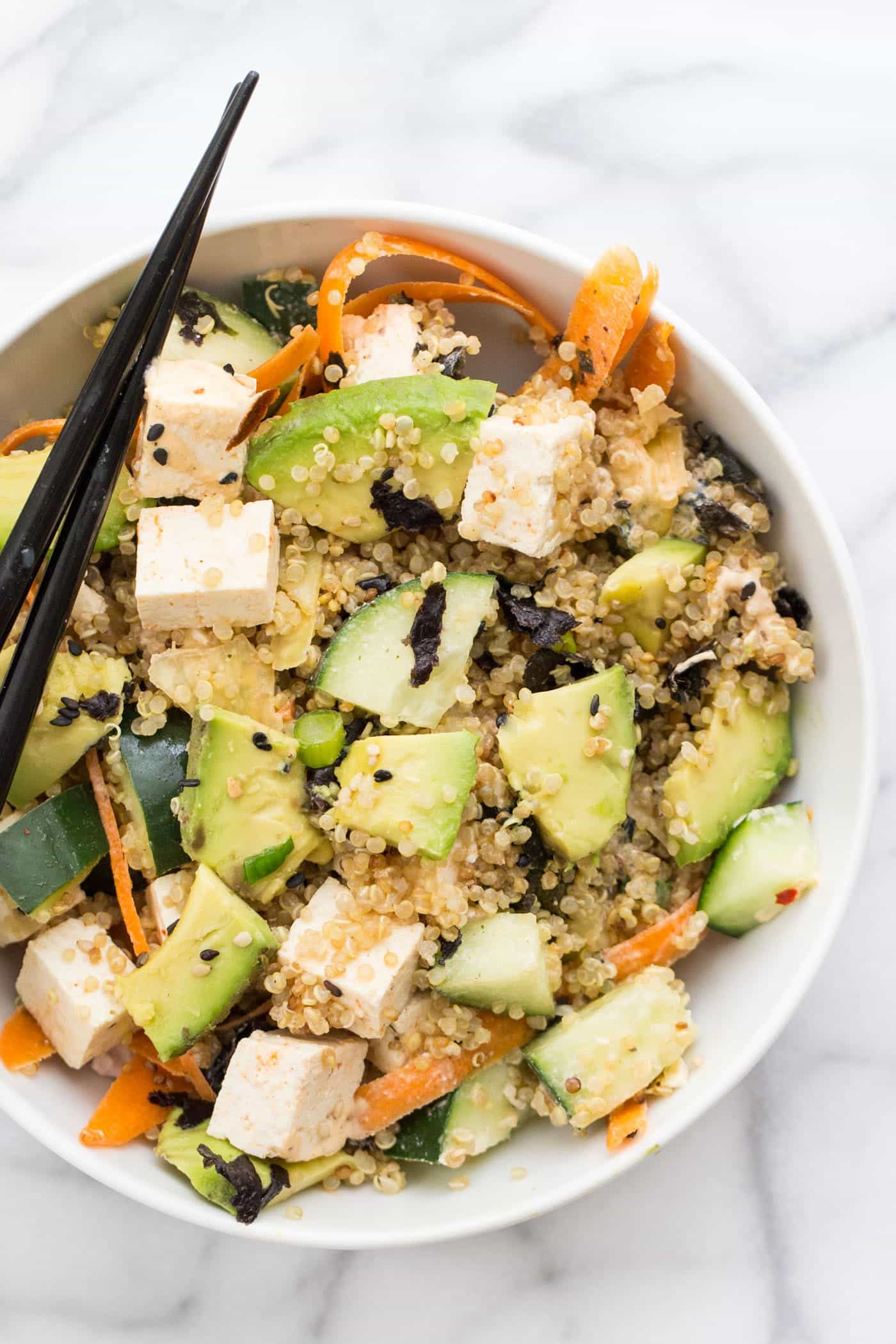 More Easy and Healthy Recipes to try:

Vegan Quinoa Sushi Bowls
For our sushi bowls today, we're keeping it totally plant-based.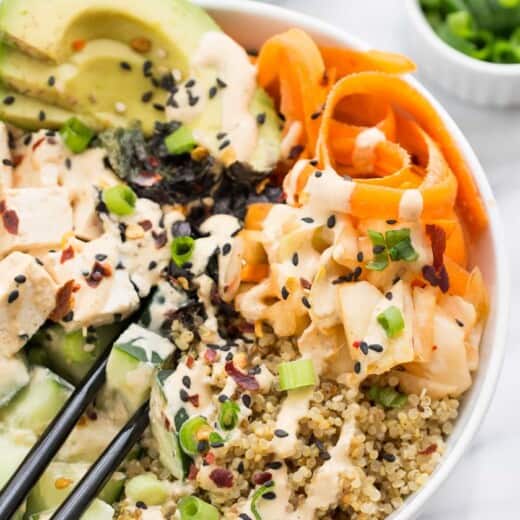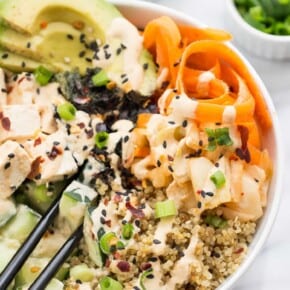 Instructions
Add quinoa and 2 cups of water to a large saucepan. Bring to a boil, cover and reduce to simmer for 12 - 15 minutes until the water has been absorbed.

Meanwhile, peel the carrots into long, thin strips. Chop the cucumbers into bite-sized pieces, then cube the tofu and toss it with 1 tablespoon of kimchi juice. Finely chop the kimchi and scallions and set everything aside.

For the nori, toast the sheets in a dry skillet or carefully over a gas burner (if you have a gas stove).

When the quinoa is done cooking, separate it between your bowls. Then evenly distribute the remaining ingredients and crumble nori on top of each bowl.

Thinly slice the avocado and place slices on each bowl. Sprinkle with sesame seeds (if using) and then prepare the sauce.

In a blender, combine all the dressing ingredients and blend until smooth. Start with 1/4 cup of water and add more as needed to reach a drizzable (totally not a word) consistency. Drizzle over the bowls and enjoy!
Nutrition
Calories:
356
kcal
|
Carbohydrates:
38
g
|
Protein:
17
g
|
Fat:
15
g
|
Saturated Fat:
2
g
|
Sodium:
166
mg
|
Potassium:
820
mg
|
Fiber:
7
g
|
Sugar:
3
g
|
Vitamin A:
2820
IU
|
Vitamin C:
10.7
mg
|
Calcium:
87
mg
|
Iron:
4.4
mg
Filed Under: