This easy chopped spinach salad is full of colorful veggies, chickpeas for protein and tossed in a spicy Thai peanut dressing. It's healthy and delicious!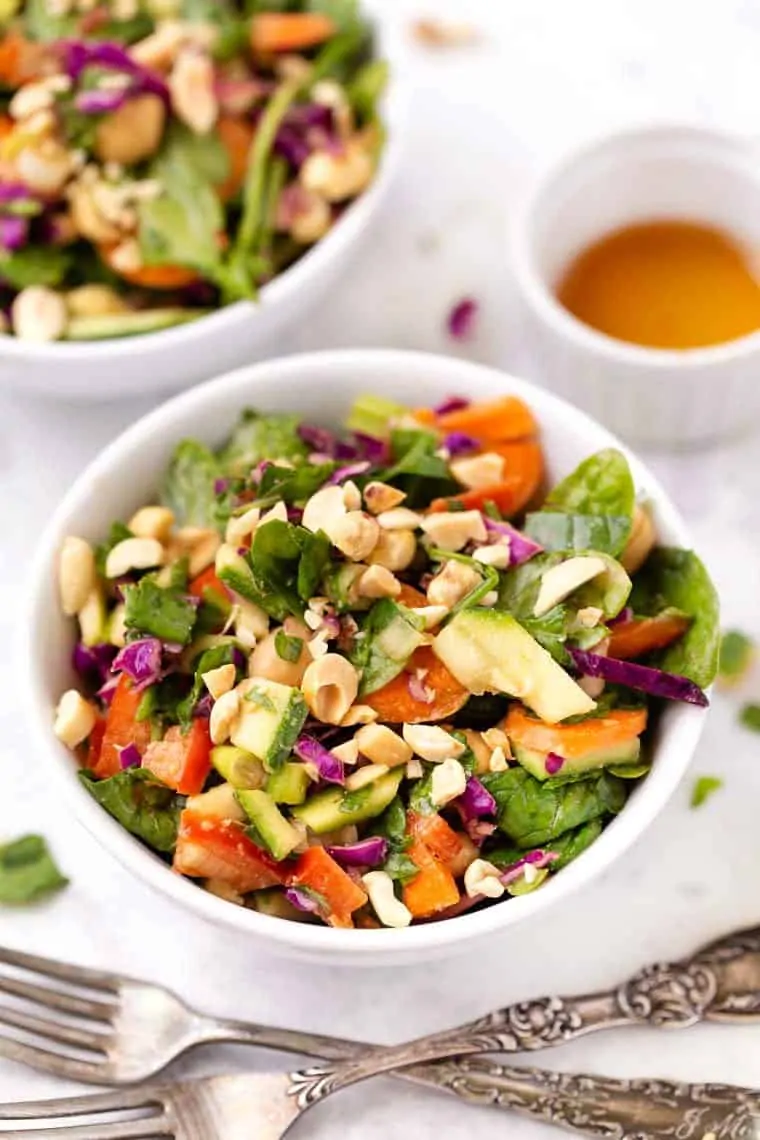 When it comes to salad, I think there are generally two types of people: chopped and unchopped. I typically fall in the unchopped bunch, but I was inspired by Pinterest recently when I kept seeing chopped salads pop up on my feed.
I'd never made a chopped salad at home – only ordered them from a local salad shop – so I wasn't sure how easy it was going to be or if I would even like it.
Turns out, it's not only easy, but it's totally delicious! So today I'm going to share how to make my new fave salad: a Thai Chopped Spinach Salad with chickpeas and a creamy peanut dressing. It's legit SO good!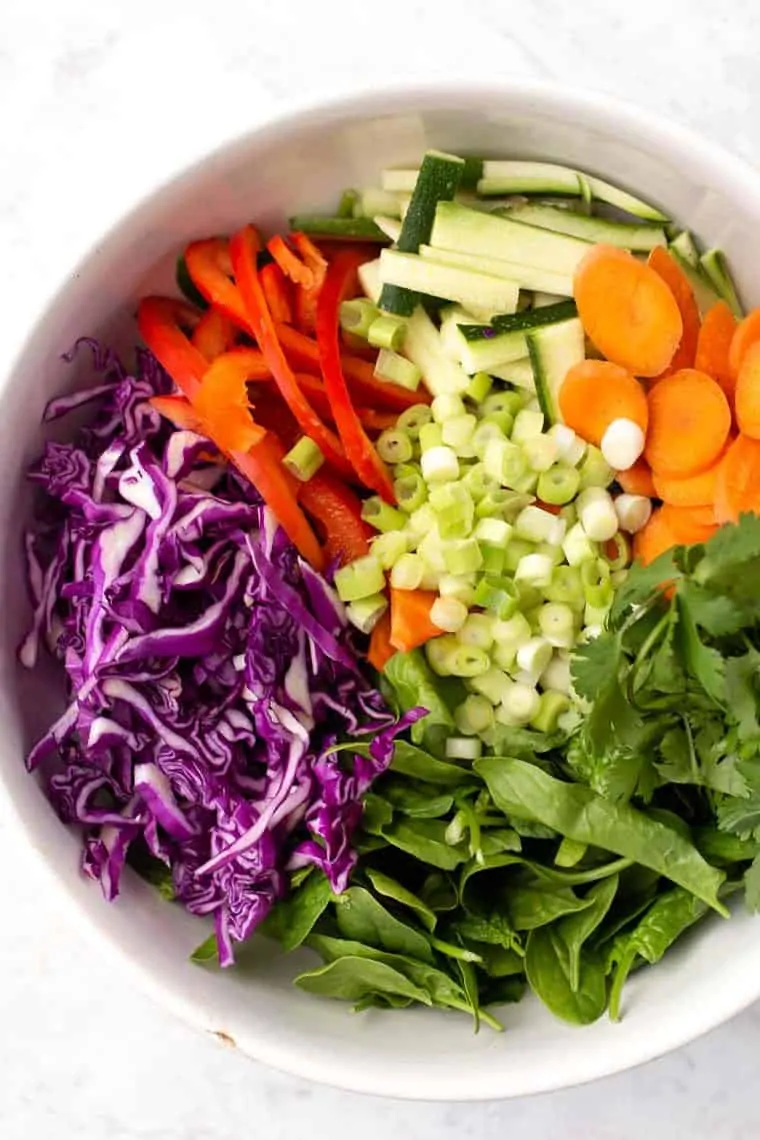 What's in a Chopped Spinach Salad?
By definition, a chopped salad is just a salad that has been chopped up into small pieces, so essentially you can put any ingredient you'd like inside! For me personally, the only "formula" I like to stick with as I'm creating my salads is that I'm hitting all my macronutrients.
I want to make sure my chopped salad has:
carbs
protein
healthy fats
…and of course, greens!
For today's chopped spinach salad we're using spinach as the base (duh!), then we add in cabbage, peppers, carrot, cilantro, zucchini, chickpeas, and peanuts. Basically, it's my go-to ingredients for my Pad Thai Zucchini Noodle Salad, but in green salad form!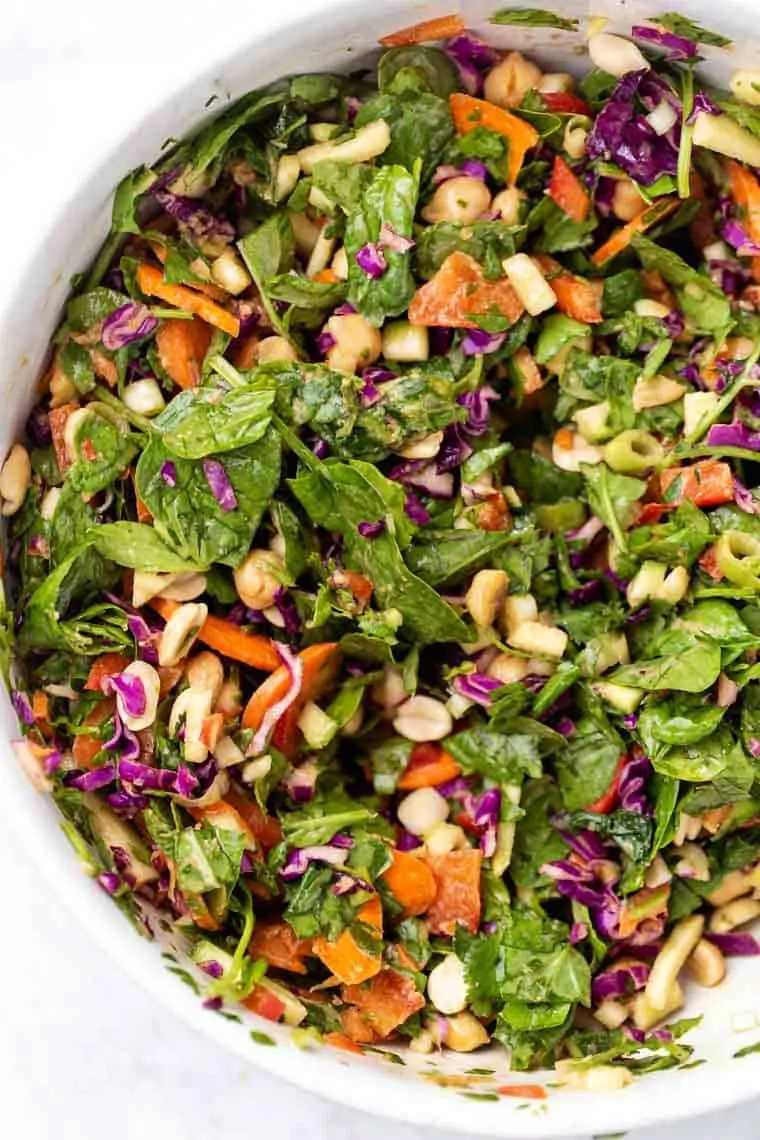 How to make a Chopped Salad at Home
Once you've got your ingredients in place, it's time to get chopping. You want to make sure that when you're making a chopped salad at home, you're chopping up the ingredients before you add the dressing. That way you can really make sure that the salad is getting chopped.
I've found that the best way to make a chopped salad at home is to leave salad ingredients in your mixing bowl, then use a pizza cutter to chop everything up. Check out our video at the end of the page to see what we mean.
There's also a salad chopping tool that you can get on Amazon that definitely makes the process a little easier. So maybe think about investing in one of those if you're thinking you're going to make chopped salads a lot!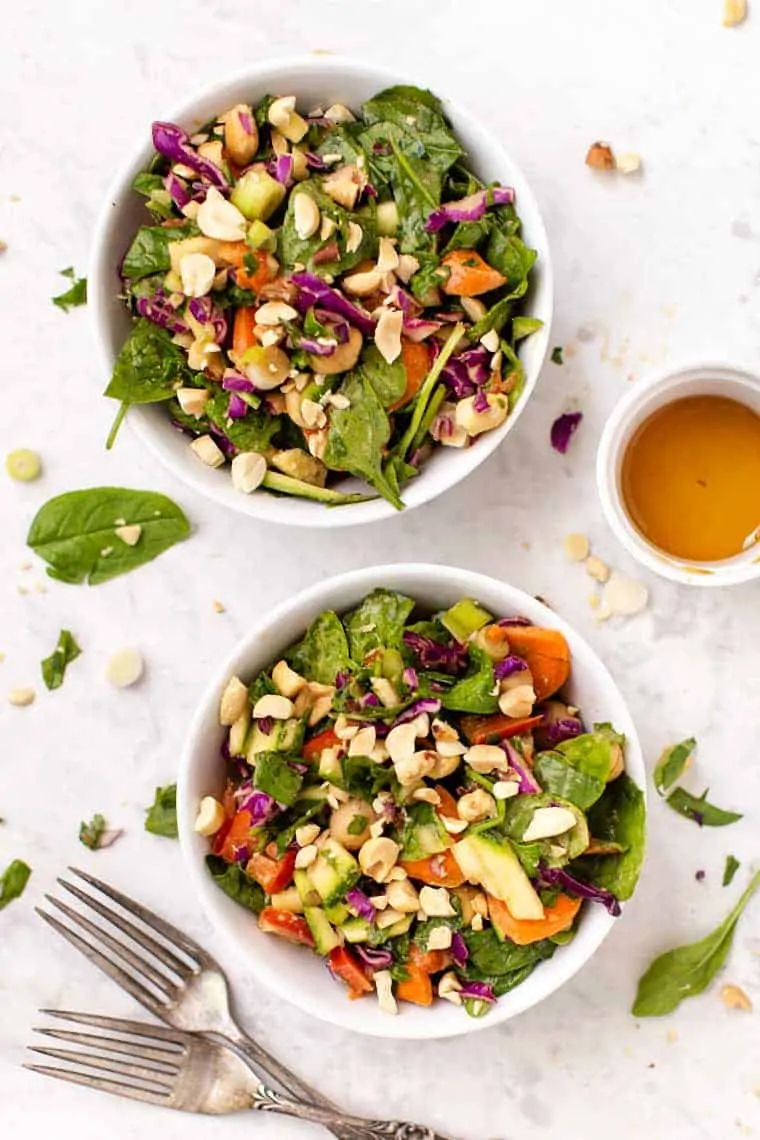 The Perfect Peanut Dressing
The icing on the cake so to speak with this chopped spinach salad is the dressing. Since we're going down the kind of "Pad Thai" route, I'm sticking with a classic: Creamy Peanut Dressing.
Peanut dressing is one of those condiments that can literally be used for everything. I use it in my Zucchini Noodle Pad Thai, I love using it as a dipping sauce for spring rolls, we'll use it as a finish for a vegetable stir fry and we even love it on roasted vegetables. It's super versatile and also so simple to make!
Here's what you'll need for the perfect peanut dressing:
peanut butter: I always go for a creamy, unsalted one
rice wine vinegar: gives it tang and also adds an "Asian" flair to the flavor
lime juice: brightens it all up and tastes so yummy
wheat-free tamari: our salt factor, but it also has a nice umami flavor (I always buy low sodium!)
ginger: you can use fresh or ground and it really just rounds everything out
And that's pretty much it! I usually add a splash or two of water to thin it out – and sometimes some hot sauce if I want a kick – and just mix it all together until it's smooth. You can also totally make extras and just keep it on hand!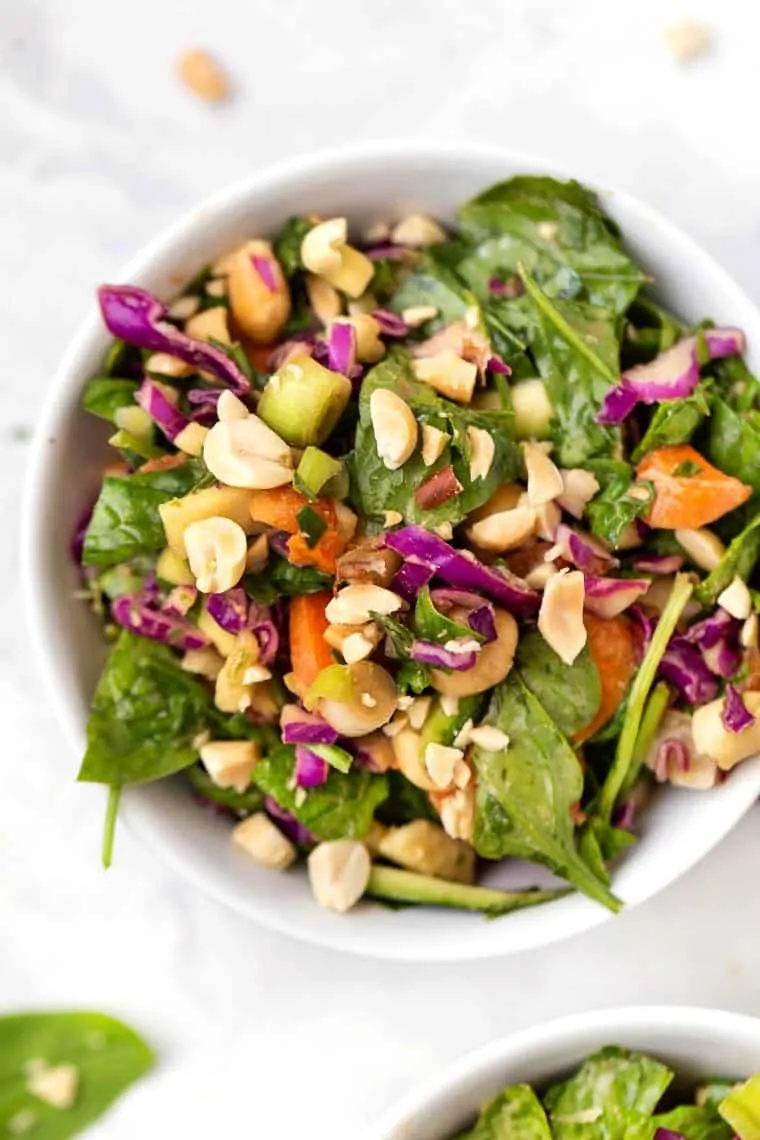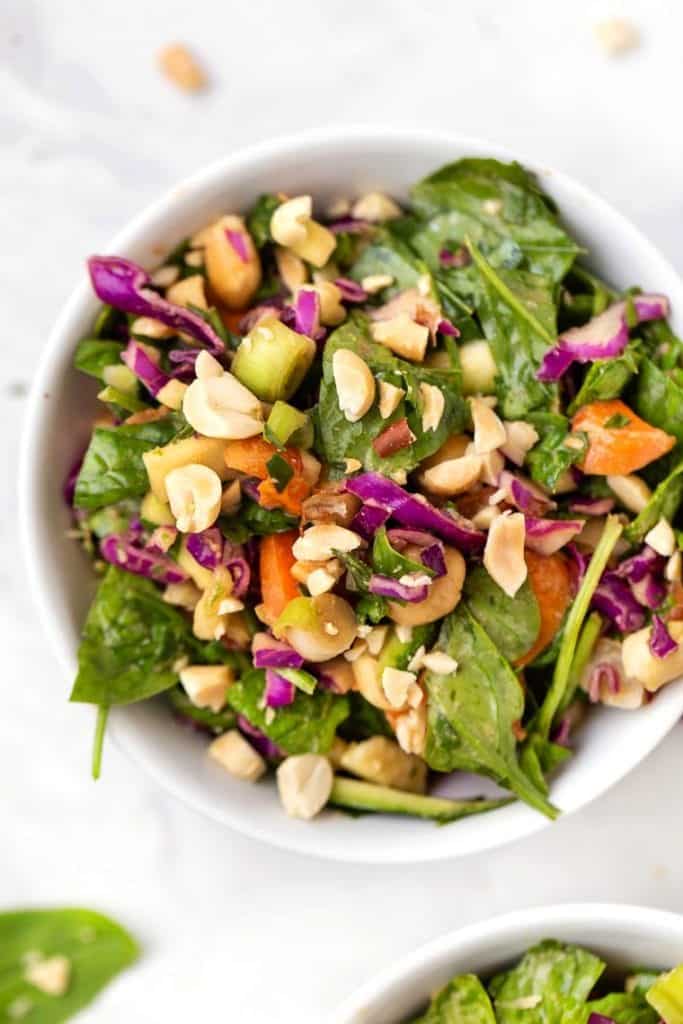 Quick & Easy Thai Chopped Spinach Salad
Okay so now you know what goes into this fabulous chopped salad, aren't you just dying to make it?
This salad is honestly so simple to make. You just toss everything into the bowl, chop it up and drizzle it with dressing. It's one of those meals that I've been making over and over again because it takes me no more than 10 minutes and has everything I need for a balanced meal.
The only thing I will say is that this salad isn't the best for meal prep. If you do want to meal prep this recipe, I'd recommend mixing together all the salad ingredients into a big bowl and just chopping the portion you want to eat that day. Otherwise, it might get a little wilty because of the spinach.
Other than that, have at it! You're going to love this one and I can't wait to see your recreations ????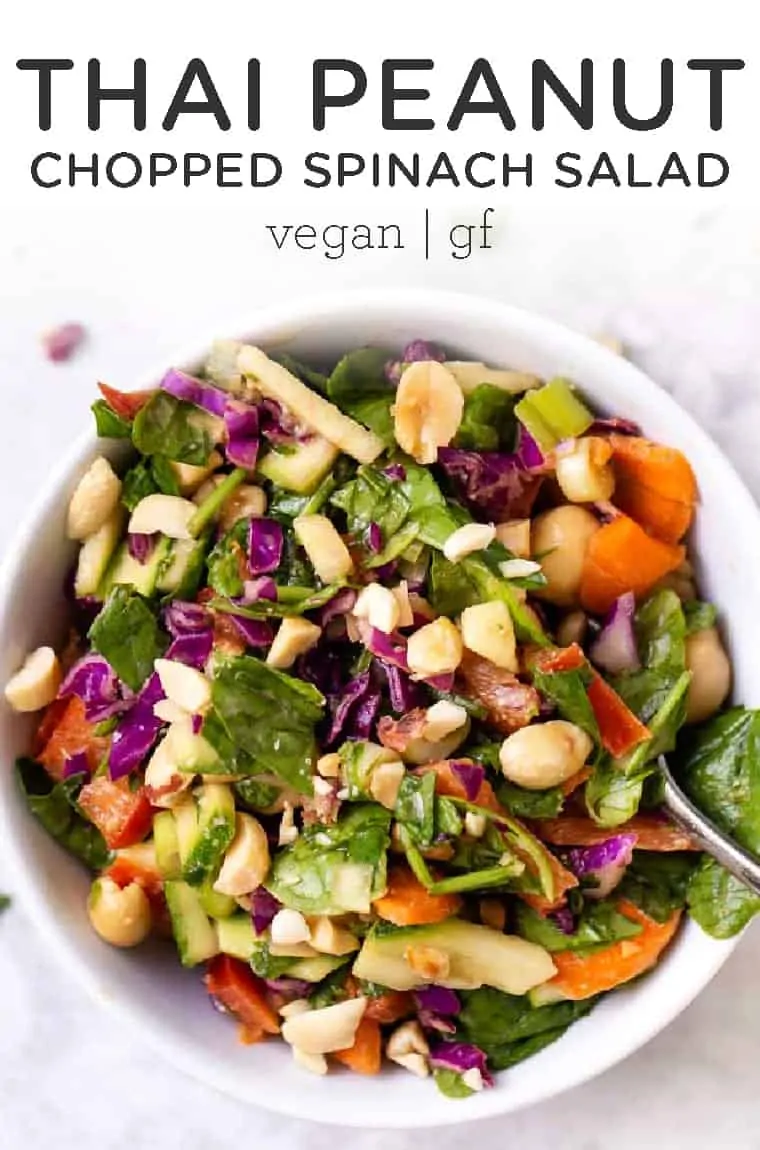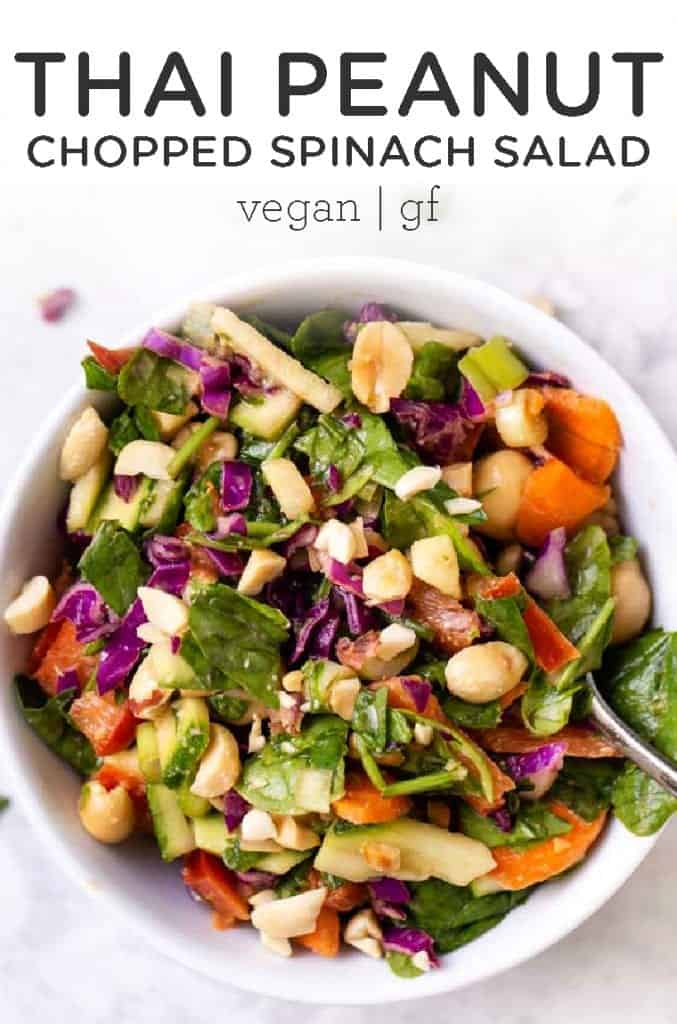 Still Hungry? More Ways to Use Spinach
Thai Chopped Spinach Salad with Chickpeas
This easy chopped spinach salad is full of colorful veggies, chickpeas for protein and tossed in a spicy Thai peanut dressing. It's healthy and delicious!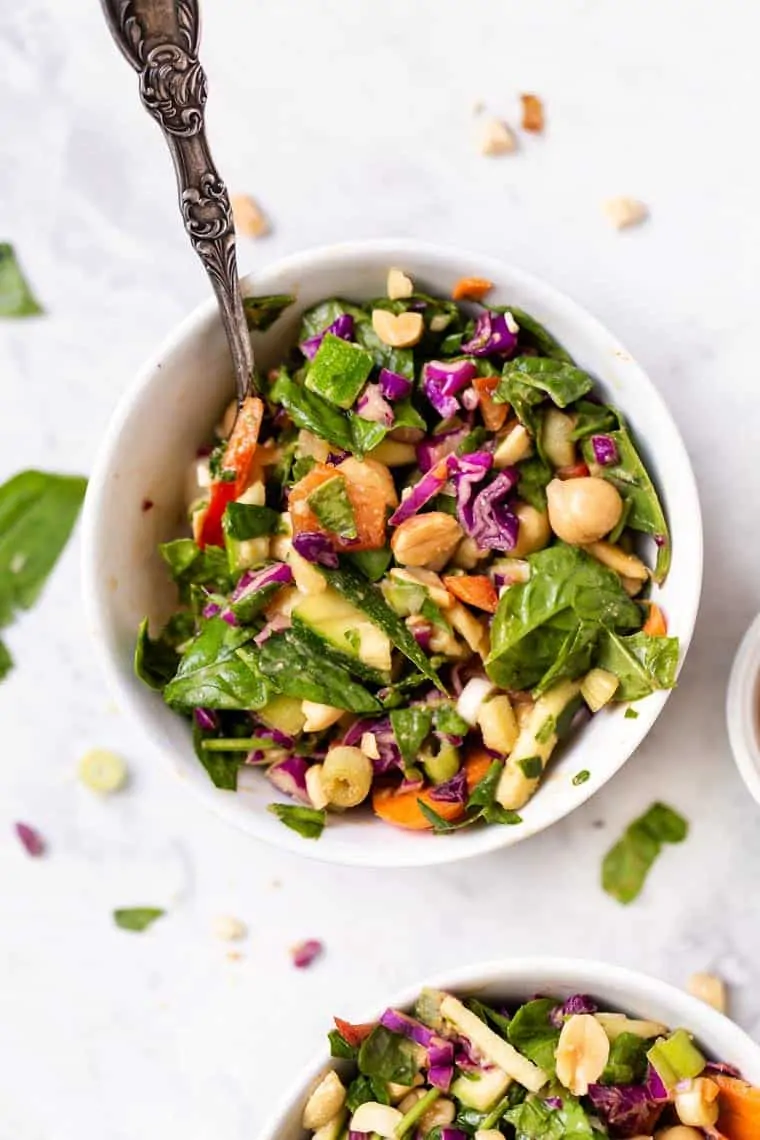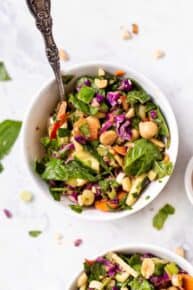 Ingredients
for the salad:
4

cups

spinach

1

cup

cabbage

1

cup

bell pepper

1/2

cup

carrot

1

cup

zucchini

1/4

cup

scallion

1/2

cup

cilantro

1/4

cup

peanuts

1

cup

chickpeas
Instructions
Add all the veggies to a large bowl (minus the peanuts and chickpeas). Using a pizza cutter, chop the veggies into small pieces by running the pizza cutter back and forth inside the bowl. Set aside.

In a separate bowl, whisk together the dressing ingredients. If it's too thick, add a splash or two of water.

When ready to assemble, pour the dressing over the salad, add the chickpeas and peanuts, and toss to combine. Serve immediately and enjoy!
Nutrition
Calories:
366
kcal
|
Carbohydrates:
42
g
|
Protein:
19
g
|
Fat:
16
g
|
Saturated Fat:
3
g
|
Sodium:
635
mg
|
Potassium:
1296
mg
|
Fiber:
14
g
|
Sugar:
13
g
|
Vitamin A:
13590
IU
|
Vitamin C:
141.2
mg
|
Calcium:
168
mg
|
Iron:
6.1
mg
Filed Under: