Surprise, surprise – I made you cookies!
Since we're a mere 9 days away from Christmas – yikes!! – how could I not share a new cookie recipe with you? I know I've been talking a lot about healthy eating around here lately, but I've also been talking about balance. So this is my balance. You know I love me some kale salads, I'll also be enjoying some of these cookies this holiday season.
And these cookies? They're not just any cookies. Oh no, these babies are chocolate on chocolate, with quinoa and walnuts sprinkled in. Think rich fudgy brownie, but in cookie form. A brookie? Or a brownkie? Okay, I'm officially losing my mind. We'll blame it on the holidays. Or maybe it's the chocolate.
Either way, I'm not letting it get in the way of these chocolate quinoa cookies, because they are out of this world. And yes, they're VEGAN! *fist bump*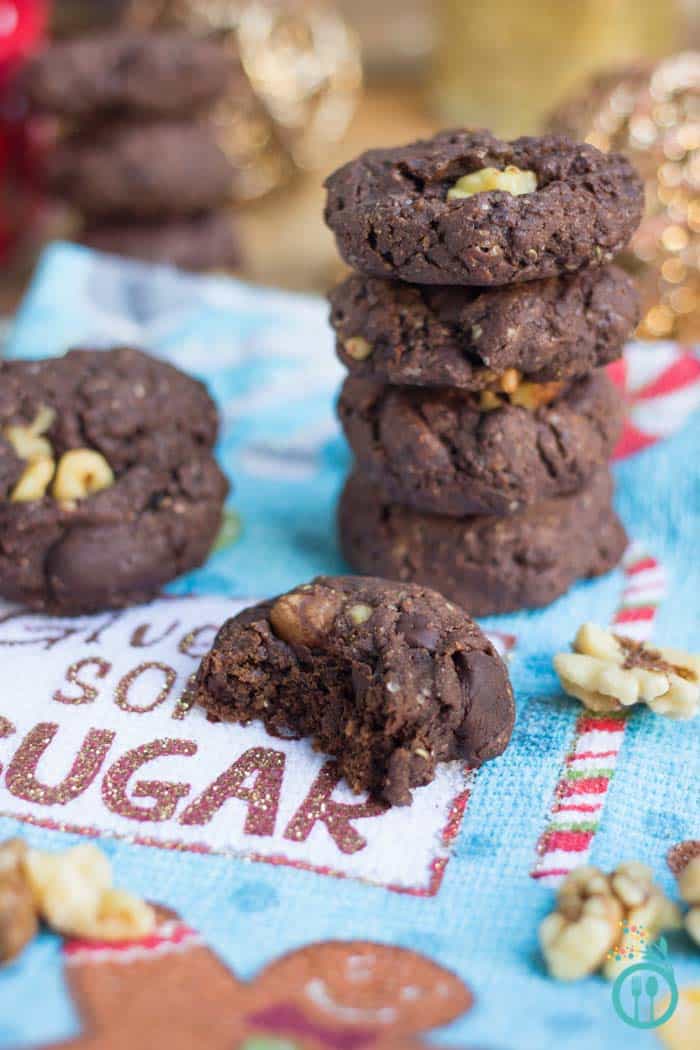 Essentially, these cookies are just a veganized version of my dark chocolate quinoa cookies. I followed the recipe exactly, just swapped out the eggs for flax eggs and added in walnuts. I figured they'd be very similar in the result, but I was surprised how different they actually were from one another.
The vegan version is much richer, fudgier and denser. They're chewy – almost like molasses cookies – and have a darker chocolate flavor than their non-vegan counterparts. They're both equally delicious, it just depends on your mood. Since I love all things chocolate brownie (I used to be obsessed with the Chocolate Fudge Brownie frozen yogurt from Ben & Jerry's – holy cow, yum!), these *might* become my new go-to cookie recipe.
They're just so good!
And since they're vegan, it also means they're more allergy-friendly. Hooray for the perfect holiday gift!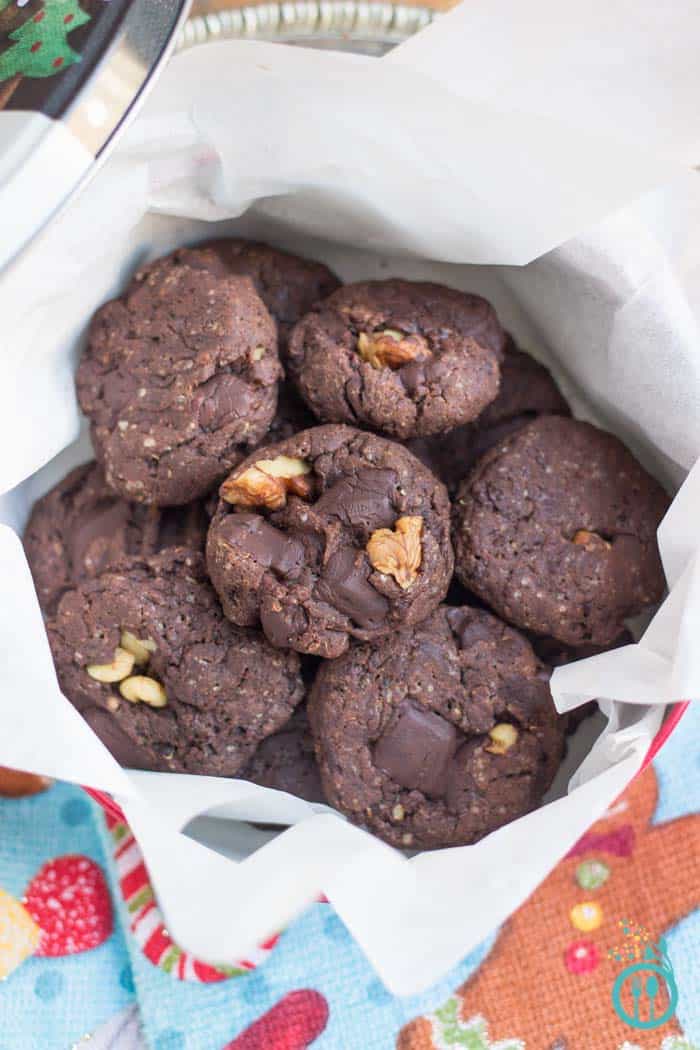 And that's exactly what I did with my batch of cookies!
You might remember around this time last year, I participated in the Great Food Blogger Cookie Swap. It was my first time participating and I'm thrilled to be apart of it again this year. This cookie swap is like others, except this time we actually mail our cookies to three other food bloggers and in exchange get three boxes of cookies back!
This year, I had the pleasure of enjoying cookies from three lovely ladies: Wendy (Around My Family Table), Stacy (Paleo Gone Sassy) and Chelsy (Mangia). I encourage you to hop on over to their sites and check out the recipes – I LOVED them!
Aside form enjoying yummy cookies, this cookie swap is done for a good cause. We all come together and raise money for Cookies for Kids' Cancer – and we've raised over $10,000!
I feel lucky to be a part of this great event and hope that this recipe not only inspires you to make these holiday cookies, but also consider supporting a cause that means something to you this year. It always feels good to give back 🙂
Happy baking!
xx Alyssa
Vegan Chocolate Quinoa Cookies
They're not just any cookies. Oh no, these babies are chocolate on chocolate, with quinoa and walnuts sprinkled in. Think rich fudgy brownie, but in cookie form.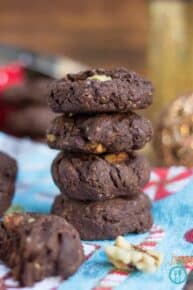 Instructions
Preheat the oven to 375 degrees F and line two baking sheets with parchment paper.

Whisk together all the dry ingredients, minus the sugar and chocolate chunks, in a medium mixing bowl and set aside.

In a small sauce pan, heat the butter over medium heat and cook until it begins to brown, about 5 minutes. Stir constantly so as not to burn it, you're just trying to brown it. Transfer to a large mixing bowl, add the coconut oil and let cool for 5 minutes. Add the sugar and beat with an electric mixer until incorporated. Add the tahini, vanilla and flax eggs and beat until combined.

Pour in the flour mixture and beat on low until just incorporated. The mixture will be that of a thick brownie batter, not as doughy as normal chocolate chip cookies. If the mixture seems dry, add some almond milk, 1 tablespoon at a time. Fold in the chocolate chunks and walnuts.

Scoop 1 heaping tablespoon of dough onto the cookie sheets, spacing the cookies about 1" apart. Press down with the back of a fork to flatten them slightly.

Bake in the center of the oven for 14 minutes, switching/rotating the sheets half way through.

Transfer to a wire rack, allow to cool for 5 minutes (if you can resist that long!), and enjoy!
Nutrition
Calories:
106
kcal
|
Carbohydrates:
14
g
|
Protein:
1
g
|
Fat:
5
g
|
Saturated Fat:
2
g
|
Sodium:
53
mg
|
Potassium:
52
mg
|
Fiber:
1
g
|
Sugar:
8
g
|
Vitamin A:
90
IU
|
Calcium:
23
mg
|
Iron:
0.9
mg
Filed Under: