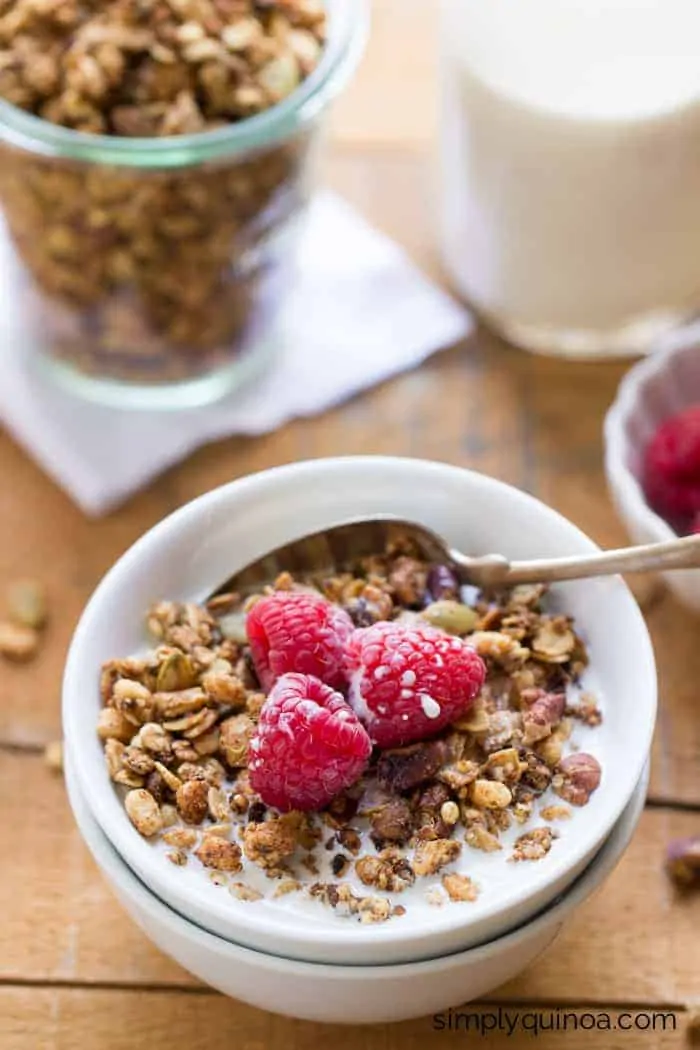 You guys…this granola. I've made it a hundred million times and can't believe it's taken me this long to share it with you.
It started as one of those recipes where I just threw everything into the bowl, never really measuring, and it turned out to be my favorite granola I'd ever made. And of course I didn't measure, so the next hundred batches revolved around me adding different nuts and seeds, changing up my sweeteners, trying different oils and flavoring it with different spices, until I was able to recreate that first, mind-altering recipe.
And finally….I've got it. This is THE ONE.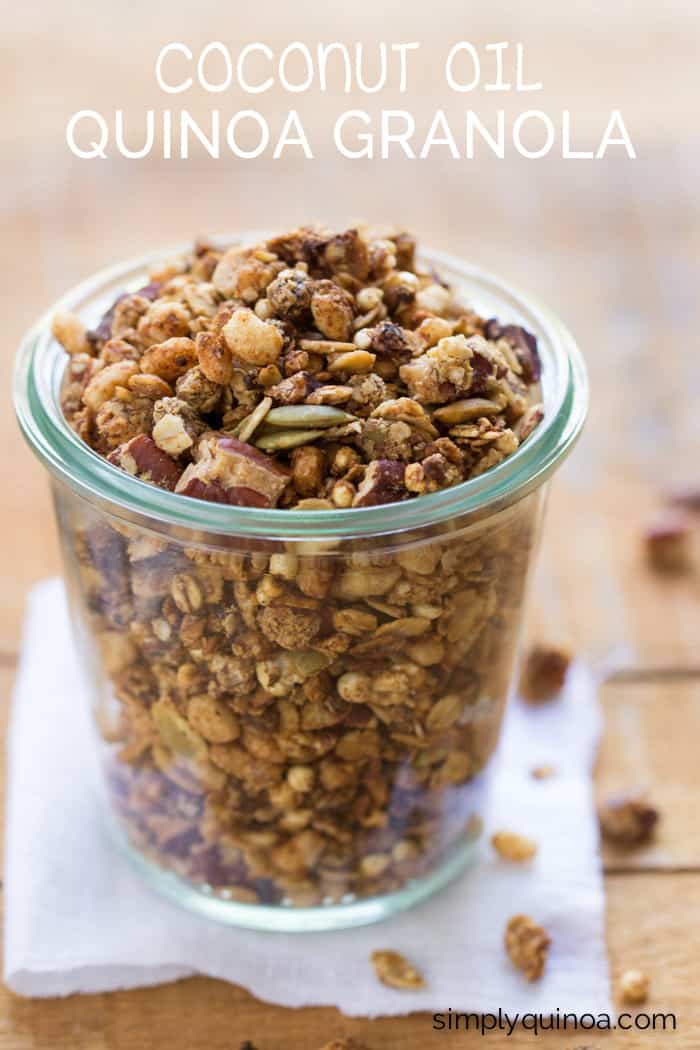 And by the one, I sincerely mean this vegan coconut oil quinoa granola is pretty much the only recipe that ever graces my shelves. That's saying a lot, because I really, really love granola.
Yeah. It's that good.
It's an addictingly delicious blend of oats + quinoa flakes, cereals, pecans, pumpkin seeds and dates, coated with coconut oil + maple syrup + cinnamon + vanilla and just the teeniest amount of nut butter. Crunchy little clusters of heaven; each bite full of rustic and comforting charm.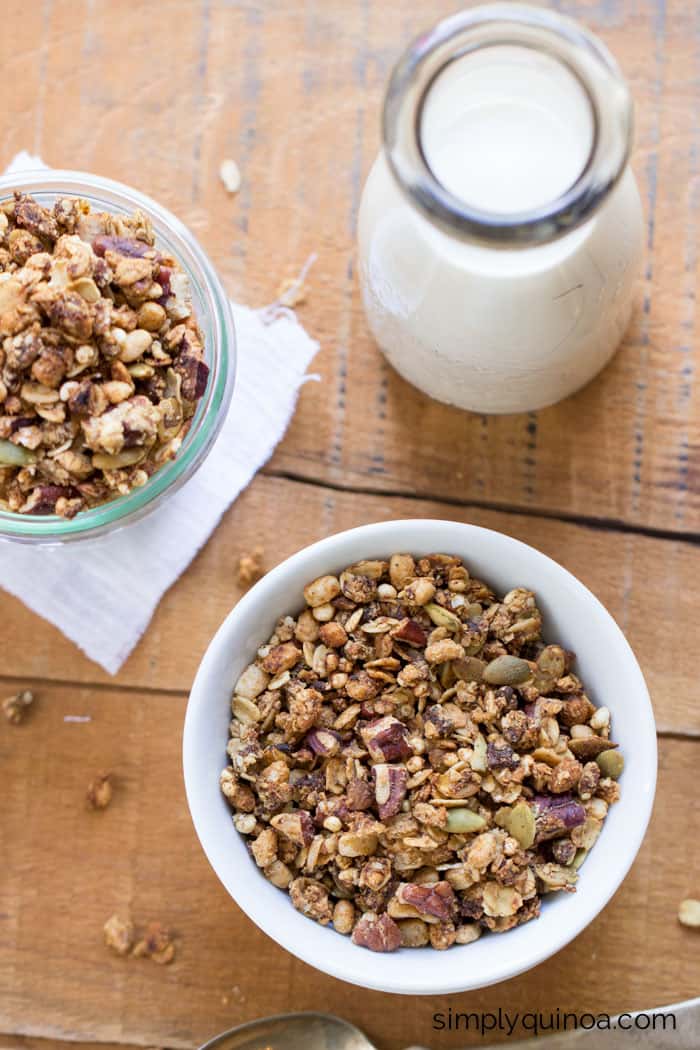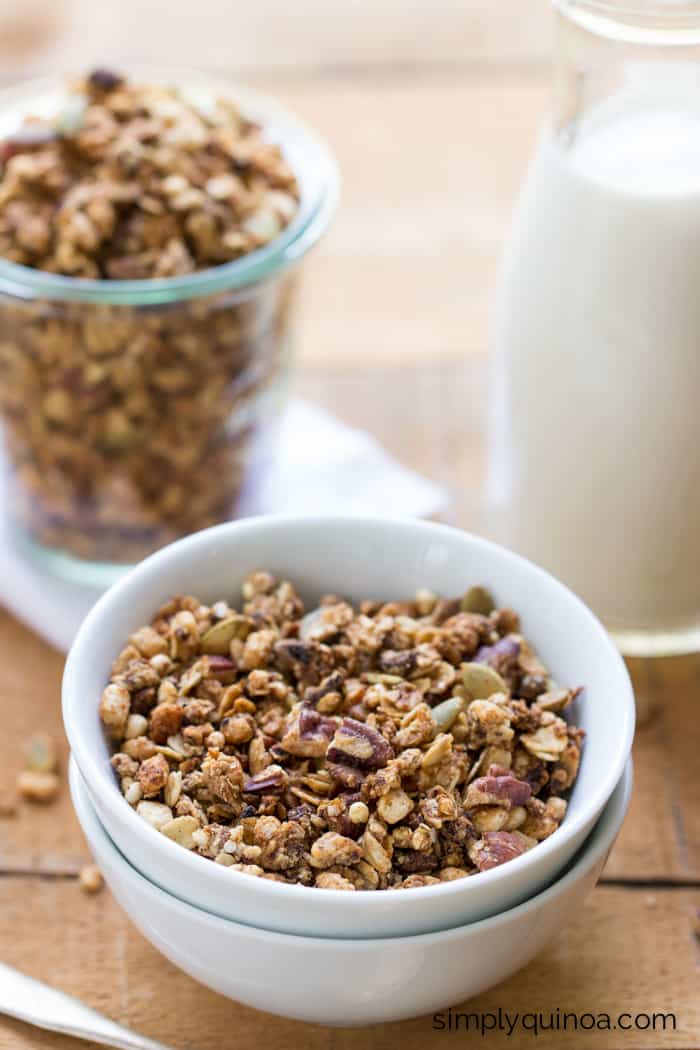 There are a few secrets that make this granola super spectacular.
Rather than chopping the dates, which you know can be quite the task, I whirl them up in my food processor with some of the oats. It helps break them down without all the sticky mess. And the result? Perfect bites of soft, chewy dates, mixed with ground oats which help to create those little wonderful little clusters.
I added crispy brown rice cereal and puffed millet to the mix. This little, and in my opinion totally overlooked, addition to the granola makes it super crispy, but also helps lighten things up. I find that some granola recipes can weigh you down, especially in the morning, so with these airy additions, the granola starts to take the shape of a cereal. Which yes, means you can eat an entire bowl and feel amazing. And no, I'm not speaking from experience…(ahem)
The oat and quinoa flake medley might just be my favorite part of this whole recipe. You already know about my obsession with quinoa flakes, in particular as part of my morning meal, but they transform this granola it's a nutritious powerhouse. Unlike most granolas, that are high-fat, high-sugar, the quinoa flakes give it that extra punch by bringing more protein, vitamins and minerals to the table.
I feel like I could keep going with this, but we'll stop at my top 3. The rest? You'll quickly discover when you make a batch for yourself 🙂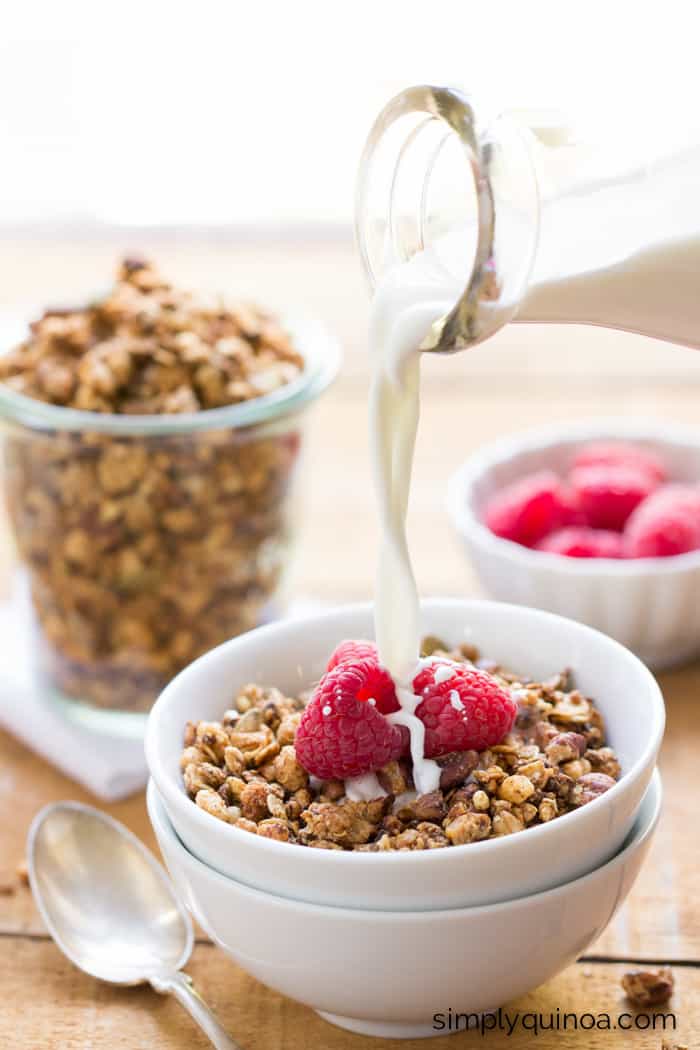 Now a ton of you ask me about quinoa flakes – what they are, where I find them, how I use them, etc. – and my answers never waiver. I like to think of quinoa flakes as the oatmeal version of quinoa. They're made with the whole quinoa seeds that are then run through a grain flaker which turns them into these fabulous little flakes. I *think* this is something that can be done at home, but I haven't tried and nor do I think I ever will. Why? Because of the next question…where I find them.
I get all my quinoa flakes from Ancient Harvest – I love the brand, love their company values and LOVE their products. You can find them in almost any natural food store – like Whole Foods or you local natural grocer – and I promise, they'll quickly become a staple in your pantry. Which brings us the to final question…how do I use them.
Aside from making this cozy quinoa granola, I use quinoa flakes in pretty much everything. From my hot cereals in the morning, to pancakes and waffles, to muffins, granola bars, and even as a healthy gluten-free breading. They're versatile and delicious!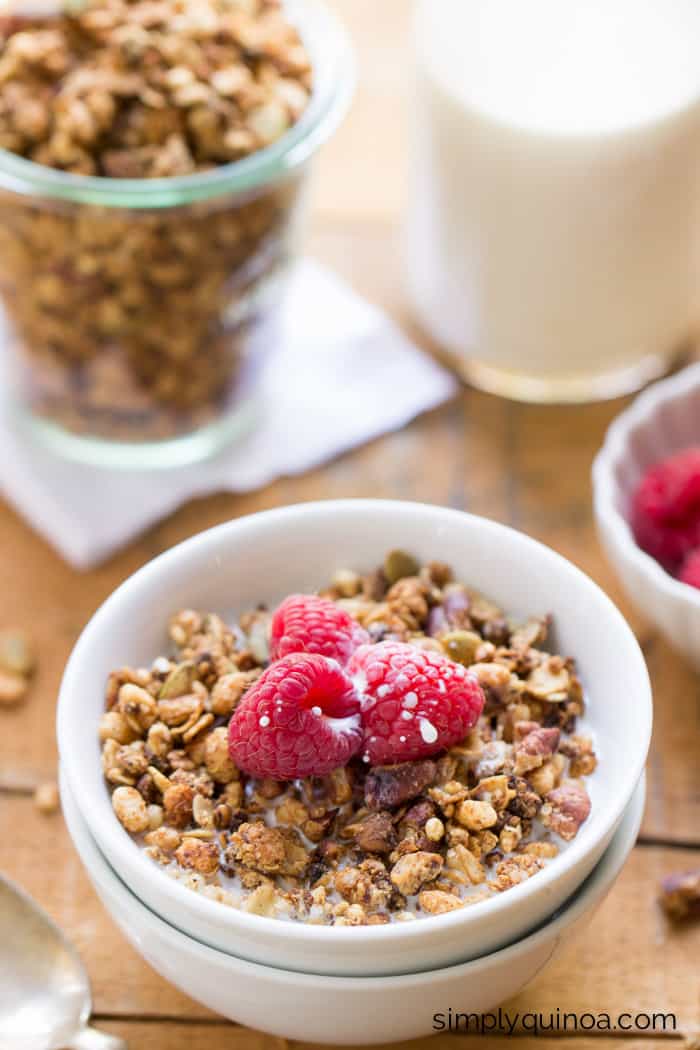 And so my granola-loving friends, grab a spoon and cozy up to a bowl of this coconut oil goodness with me. It's our favorite recipe, as evidence by how many batches I've made in the past year, and I think it will become a favorite of yours too!
Share this recipe!
Vegan Coconut Oil Quinoa Granola
It's an addictingly delicious blend of oats + quinoa flakes, cereals, pecans, pumpkin seeds and dates, coated with coconut oil + maple syrup + cinnamon + vanilla and just the teeniest amount of nut butter.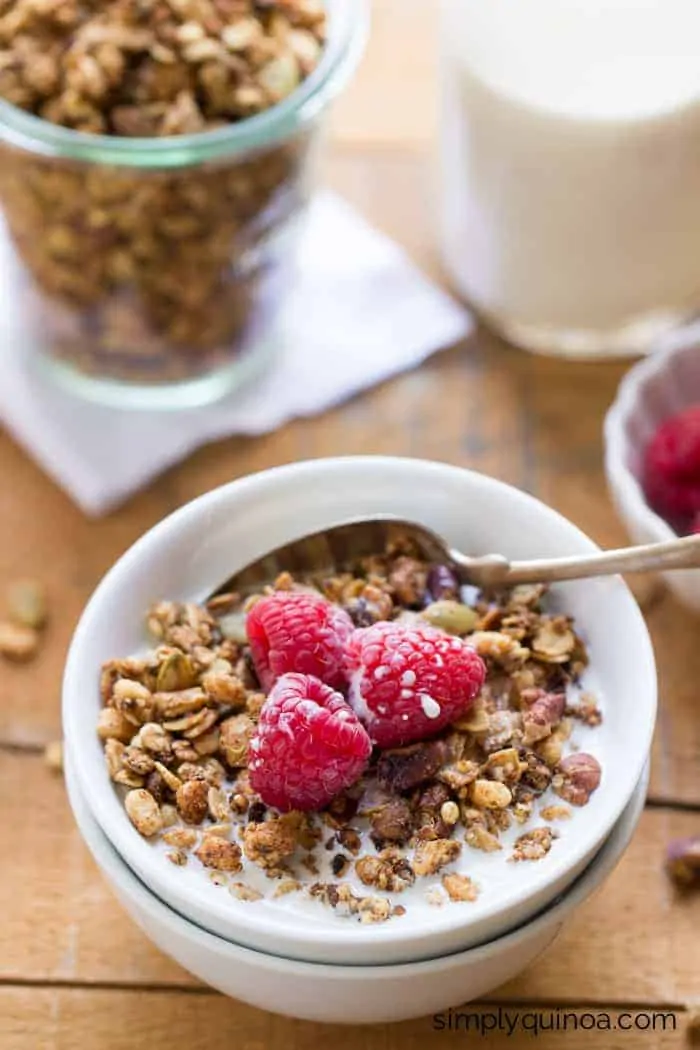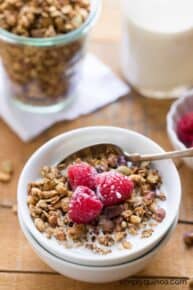 Instructions
Preheat the oven to 325 degrees F.

Add 2 cups oats, quinoa flakes, cereals, nuts and seeds to a large mixing bowl.

Remove pits from dates and add them to the bowl of a food processor. Pulse 8 - 10 times to break them apart, then add remaining 1 cup of oats and process until oats are ground and dates are cut into even pieces, about 30 seconds.

Add date-oat mixture to the bowl, followed by cinnamon, vanilla (unless you're using extract) and salt. Toss to combine.

In a small saucepan, melt coconut oil, syrup, nut butter and water together. If you're using vanilla extract, add that to the pan as well. Whisk until smooth.

Pour wet ingredients over dry and mix until everything is evenly coated. Transfer to a baking sheet and bake on the center rack for 30 - 40 minutes, stirring the granola around a few times so as not to burn it.

Once golden brown, remove from oven and let cool completely before storing.

Enjoy!
Nutrition
Serving:
1
g
|
Calories:
349
kcal
|
Carbohydrates:
40
g
|
Protein:
7
g
|
Fat:
18
g
|
Saturated Fat:
6
g
|
Sodium:
158
mg
|
Potassium:
256
mg
|
Fiber:
6
g
|
Sugar:
10
g
|
Vitamin A:
105
IU
|
Vitamin C:
0.1
mg
|
Calcium:
44
mg
|
Iron:
3.3
mg
Filed Under:

If you make this recipe, make sure to snap a pic and share it on Instagram using #SIMPLYQUINOA – I want to see your own quinoa creations!
This post was sponsored by Ancient Harvest, but all opinions are my own. I only share brands that I am passionate about, so thank you so much for supporting them! Learn more about Ancient Harvest on Twitter, Instagram, Pinterest, and Facebook.