This healthy coconut granola uses only natural sweeteners and tastes incredible! This is my mom's famous homemade granola recipes and it's just the best!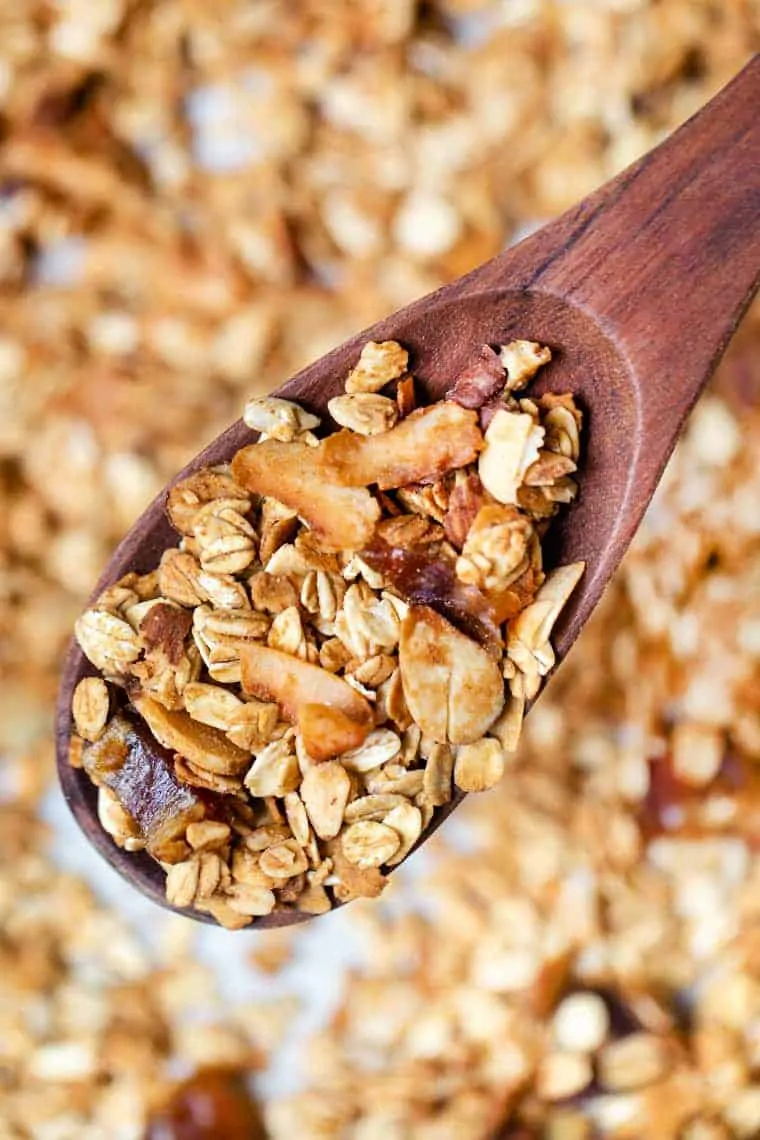 You know how there are certain foods that remind you of your parents? Types of foods that are nostalgic and that bring you back to a moment (or moments) in time that makes you smile.
I have a few of those for both of my parents. I've talked about our weekend tradition of pancakes and waffles, as well as my mom's spaghetti sauce. And today I've got another one for you. My mom's granola.
My mom makes pretty amazing granola. She changes it up every time, but it's probably one of my favorite recipes out there. So I felt like it was high time to share it with you so you can make try it too. Today we're making a nutty date and coconut granola that is naturally sweetened and spiced to perfection!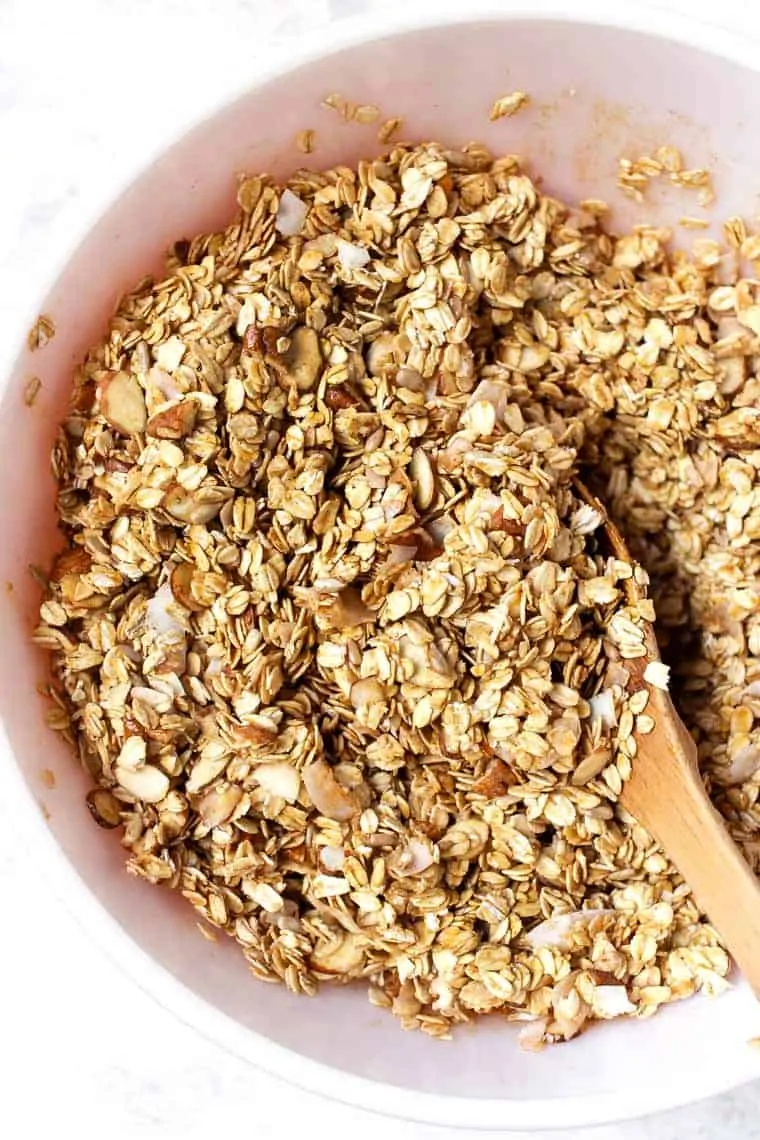 Ingredients for Our Coconut Granola
When it comes to making granola I think there are a few things you need to always have. Your base, some crunch, something flavorful and something sweet. If you have that combo, you're almost guaranteed to make an amazing batch of granola!
For our Nutty Date & Coconut Granola, we're using oats as the base, then tossing in a wonderful blend of nuts, some spices (one which is unique and SO good) and finishing it off with honey and maple syrup. Tossed all together and oh my goodness it's incredible!
Best of all, this granola uses just one bowl and is ready in under an hour!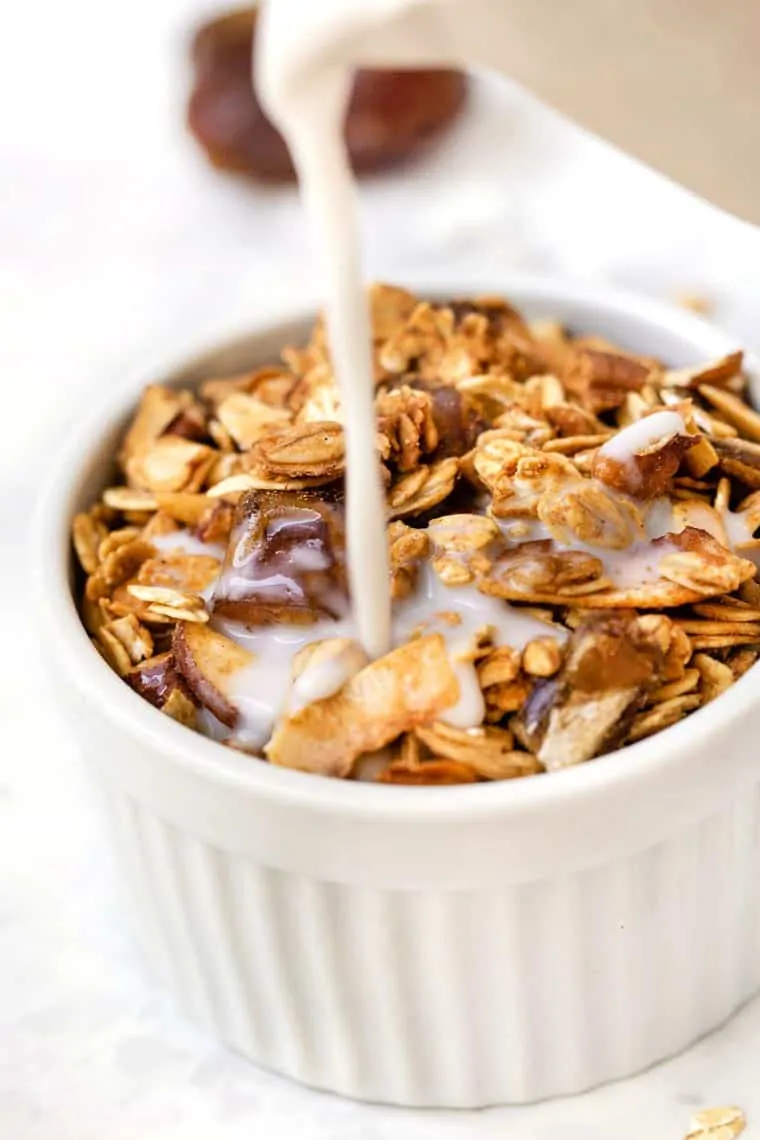 How to Make Healthy Granola
If you look at most packaged granola, you'll see that the ingredient list aren't usually that great. They almost always contain canola oil as well as evaporated cane juice (which is a fancy name for sugar syrup). The ingredient lists are usually pretty long and the sugar content is higher than I'd like.
BUT it's also really easy to make healthy granola at home. All you need to do is swap those two main ingredients for healthier alternatives. Here are my favorite substitutions:
OIL: instead of canola oil use coconut oil, olive oil or nut butter in its place
CANE JUICE: totally unnecessary when you have things like maple syrup, honey or even mashed banana
By swapping out those two ingredients and keeping the rest of your ingredients whole and pure (i.e. oats, nuts, spices, etc.), then your homemade granola will be perfectly healthy and still totally delicious!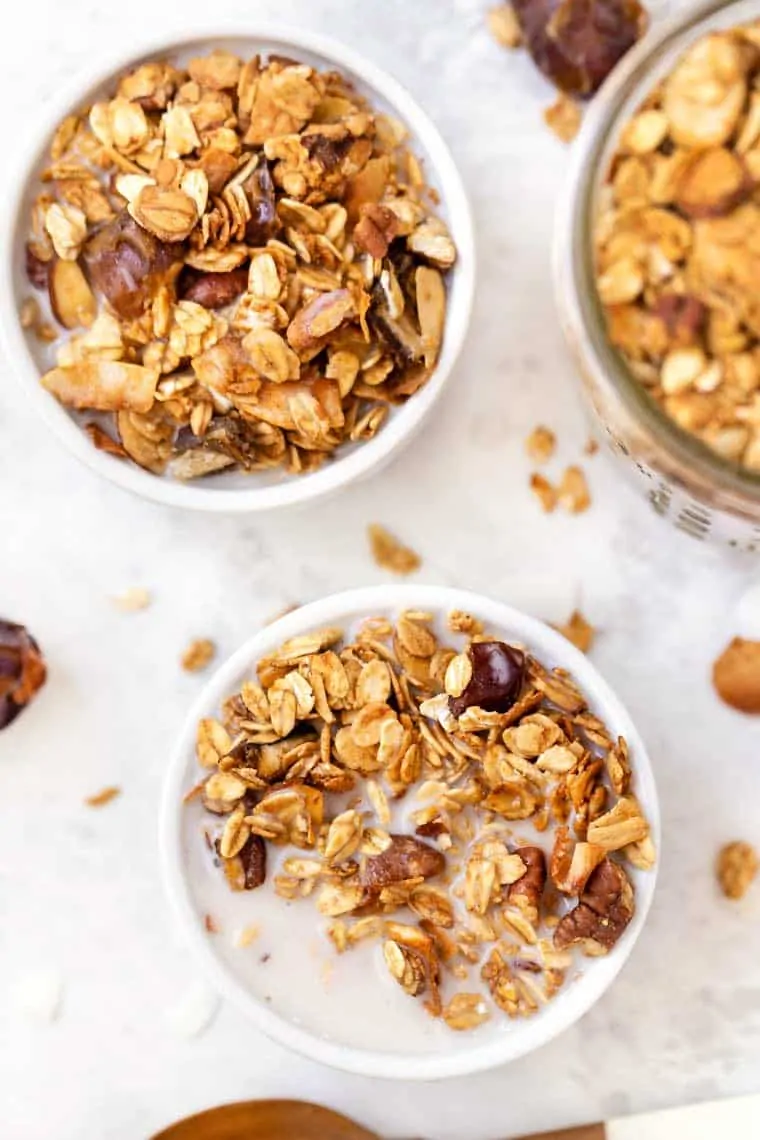 The Perfect Nutty Coconut Granola
What I love about my Mom's granola is the combo of nuts as well as the spices.
For then nuts, she does a blend of sliced almonds, coconut flakes, chopped pecans, and sunflower seeds. It's a great combo, but it can also be changed up. If you want to make your own blend, just use the same proportions that she does but with whatever nuts/seeds you like. In total, you'll want 2 3/4 cups of nuts or seeds.
For the spices, she does my two favorites: cinnamon and nutmeg. But she throws in a little surprise which kicks the whole thing up a level. Cardamom!! When she was telling me about the recipe and told me she used that, I realized that was the secret ingredient. That's why it was so insanely good. It had this surprising flavor that wasn't too strong but added just enough complexity. It's just fabulous!
And to round out the whole batch, as the granola is cooling we throw in some chopped dates. It's like icing on a cake. Just a touch of sweetness, a little chewiness and the ultimate last addition to making this granola perfect!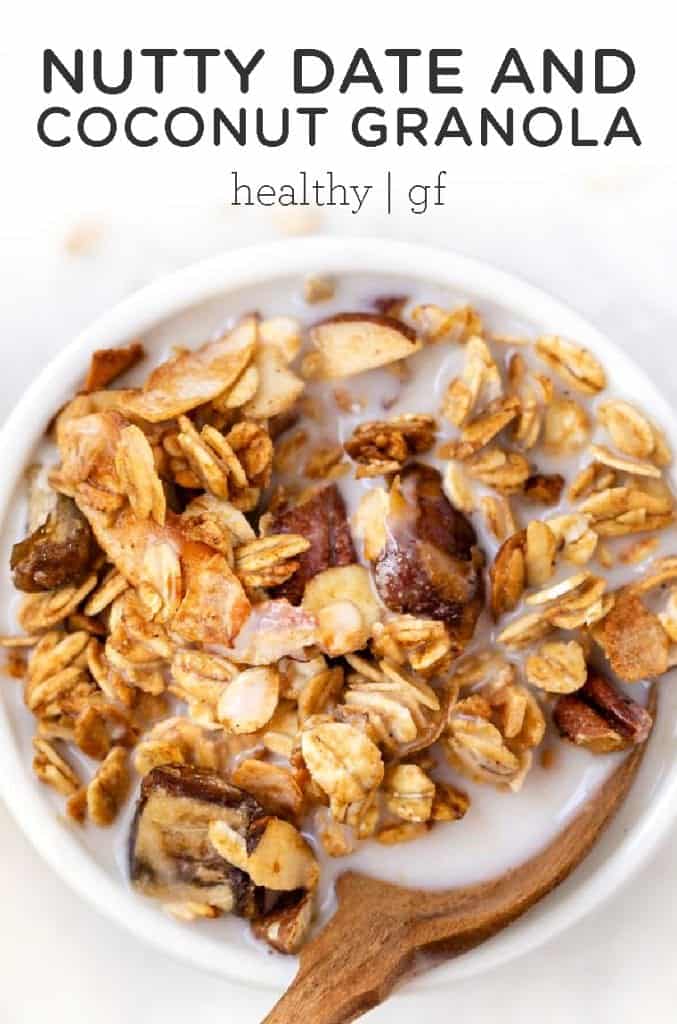 More Healthy Granola Recipes to try:
Mom's Healthy Date & Coconut Granola
This healthy coconut granola uses only natural sweeteners and tastes incredible! This is my mom's famous homemade granola and it's sure to become a staple for you as well!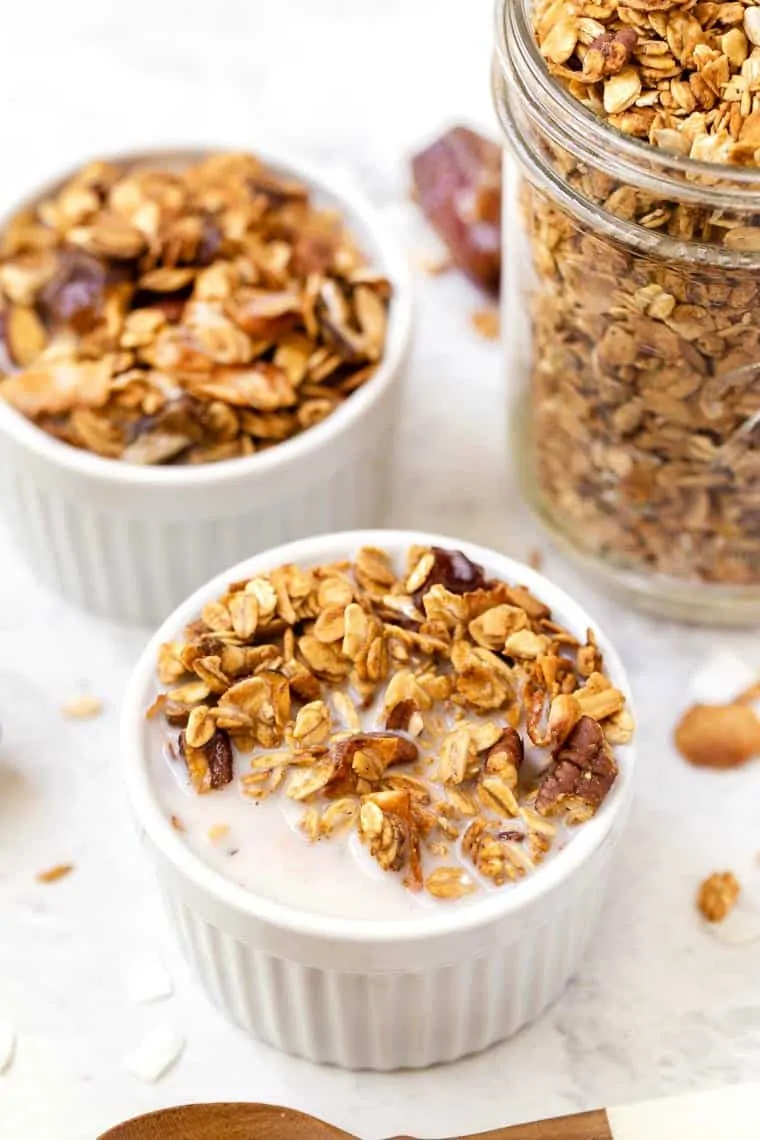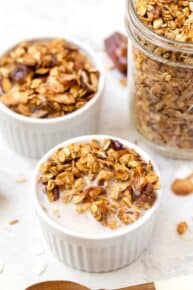 Instructions
Preheat oven to 325ºF.

In a large mixing bowl, combine all the oats, nuts, seeds and spices. Stir to combine.

In a small saucepan, add the oil, syrup, honey and peanut butter. Cook on low until everything is melted together. Pour the liquid ingredients over the dry ingredients and stir with a wooden spoon until fully combined and all the dry ingredients are coated.

Spoon the contents of the mixing bowl onto a baking sheet. Bake the granola 35 - 45 minutes, stirring every 10 - 15 minutes, until the granola has browned. Make sure to stir it to avoid burning it.

When the granola has finished baking, stir in the chopped dates.

Cool fully before adding placing in an airtight container. Serve with your choice of milk, yogurt or use as a topping!
Nutrition
Serving:
0.25
cups
|
Calories:
233
kcal
|
Carbohydrates:
28
g
|
Protein:
6
g
|
Fat:
12
g
|
Saturated Fat:
5
g
|
Sodium:
40
mg
|
Potassium:
214
mg
|
Fiber:
5
g
|
Sugar:
9
g
|
Vitamin C:
1
mg
|
Calcium:
42
mg
|
Iron:
2
mg
Filed Under: