Get easy tips for egg-free baking and the best vegan egg substitutes you can use! Now your favorite baked goods are simple to make healthy and vegan!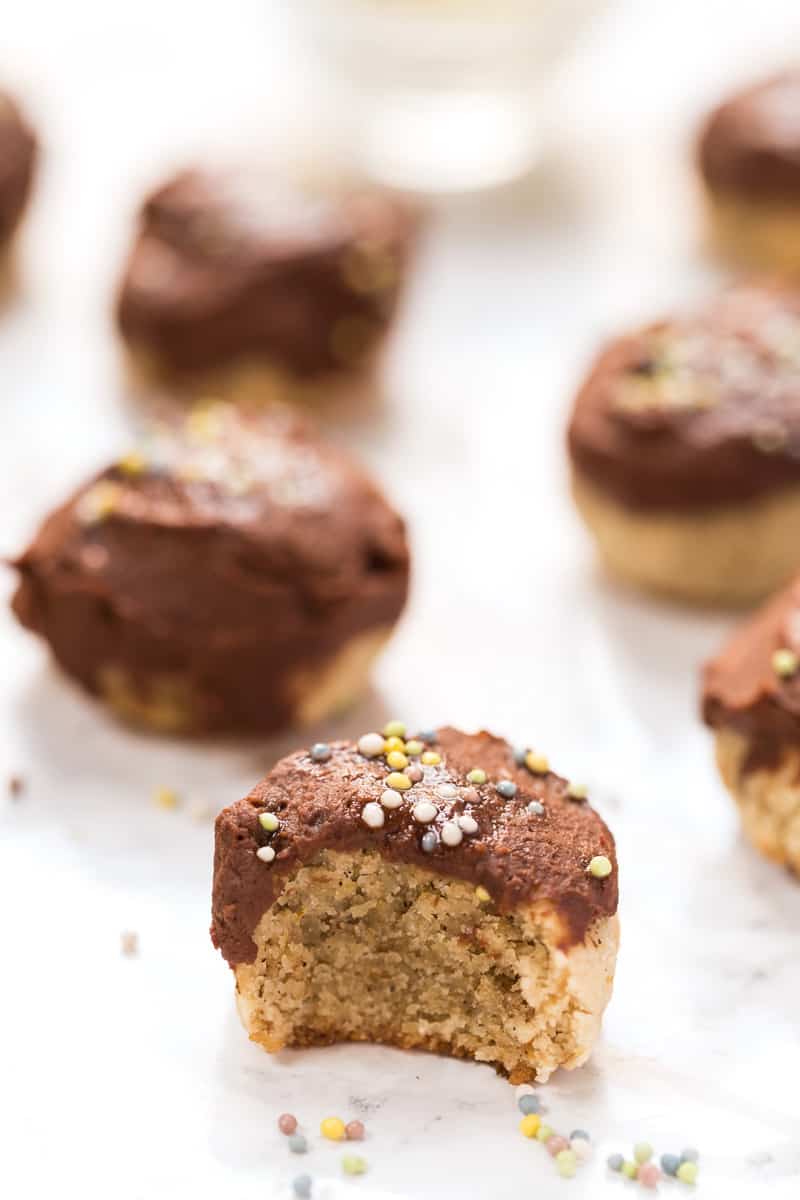 Hello my friends! Hope you're having a fabulous day and are ready to dive into the world of egg-free baking!
I get a lot of questions/requests for vegan recipes, so I thought it would be fun to walk you through my favorite vegan egg substitutes, give you some of my general vegan baking tips and also give you some examples of how you can use these egg replacements in your own baking.
Ready to dive in? Let's DO this!
How to Make an Egg Substitute (VIDEO)
Quick Vegan Baking Tips
In general, I suggest that you don't try to replace more than 2 (sometimes 3) eggs at a time. If a recipe calls for 4 eggs, replacing them just won't give you the same results.
Eggs have very specific purposes in baking, the first is to act as a binder. The eggs help hold the baked goods together, so it's not crumbly and dry.
The second reason is the structure. Eggs can provide lift and texture to baked goods, and when that is the main purpose, I haven't found success replacing them. Something like a sponge cake or gluten-free sandwich bread, relies on those eggs for lift, but also that squishy, crumb texture. If you replaced all the eggs, you'd likely end up with a gooey, underbaked mess on your hands.
So…stick with recipes that use one or two eggs, or that have specifically been designed to be vegan already.
Best types of recipes for replacing eggs:
Cookies
Muffins
Pancakes
Waffles (if eggs aren't separated)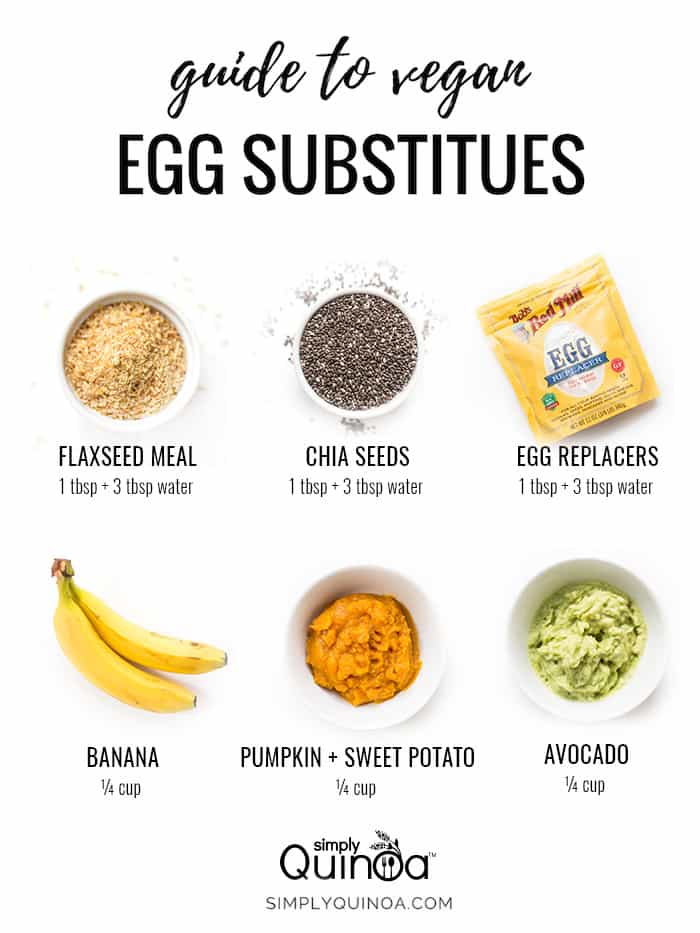 Common Vegan Egg Substitutes
There are actually quite a few ways to replace eggs in baking and today we're going to talk through the most common ones.
I'm excited to be partnering with my friends at Bob's Red Mill to bring you today's post because they actually carry three of my favorite egg substitution ingredients. I'll be linking to their specific products through the post, so make sure to go over to their site and check them out!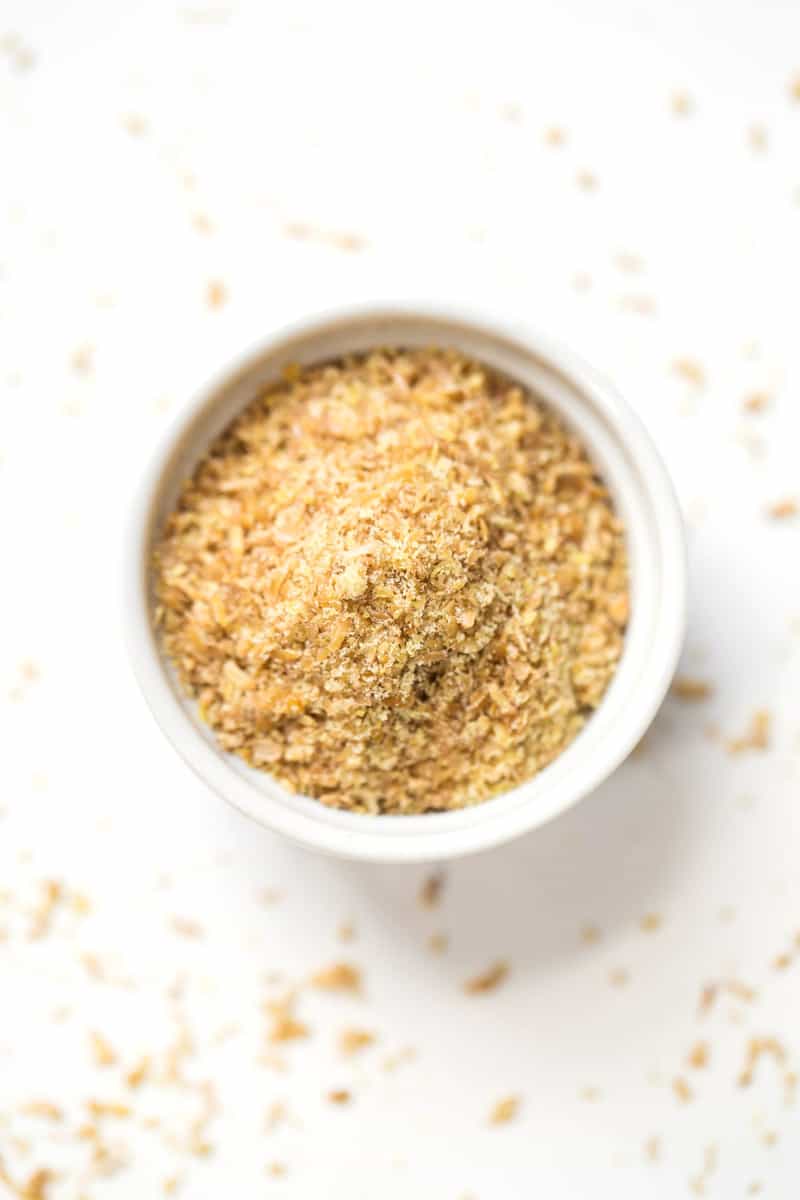 1. Flaxseed Meal
This is probably the one you'll see me use most often. It's simple to make, has a great texture, and adds more nutrition to your baked goods.
How to make a flax egg: mix 1 tablespoon flaxseed meal + 3 tablespoons water and let sit for 5 minutes. Here's a post that also shows you how to make a flax egg!
2. Chia Seeds
Similar to flaxseed meal, you can also use chia seeds or ground chia powder to replace eggs in vegan baking. Made the same way flax eggs are made, chia eggs have an equally nice texture but can change the color of your baked goods slightly because of their dark color.
How to make a chia egg: mix 1 tablespoon chia seeds (or chia seed meal) + 3 tablespoons water and let sit for 5 minutes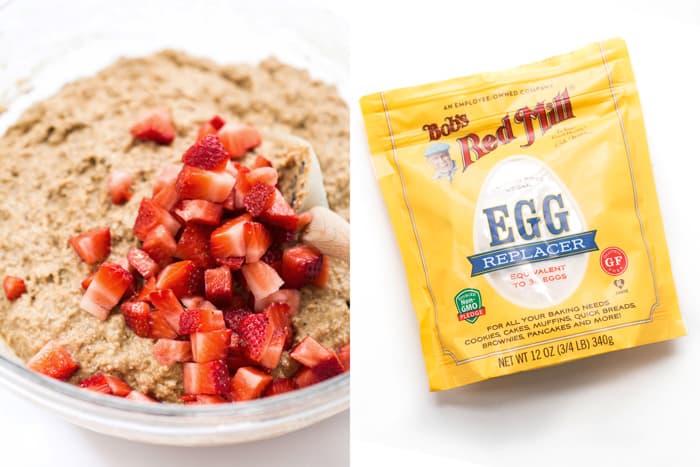 3. Vegan Egg Replacers
There are also products that are made specifically for replacing eggs. Bob's Red Mill has a vegan + gluten-free egg replacer that I really like. It's made with high-quality ingredients, has a lighter texture than flax seed meal (or chia) and works well in pretty much every recipe I've tried. You can find it on their website or also on Amazon!
How to make a vegan egg: follow the instructions on the package!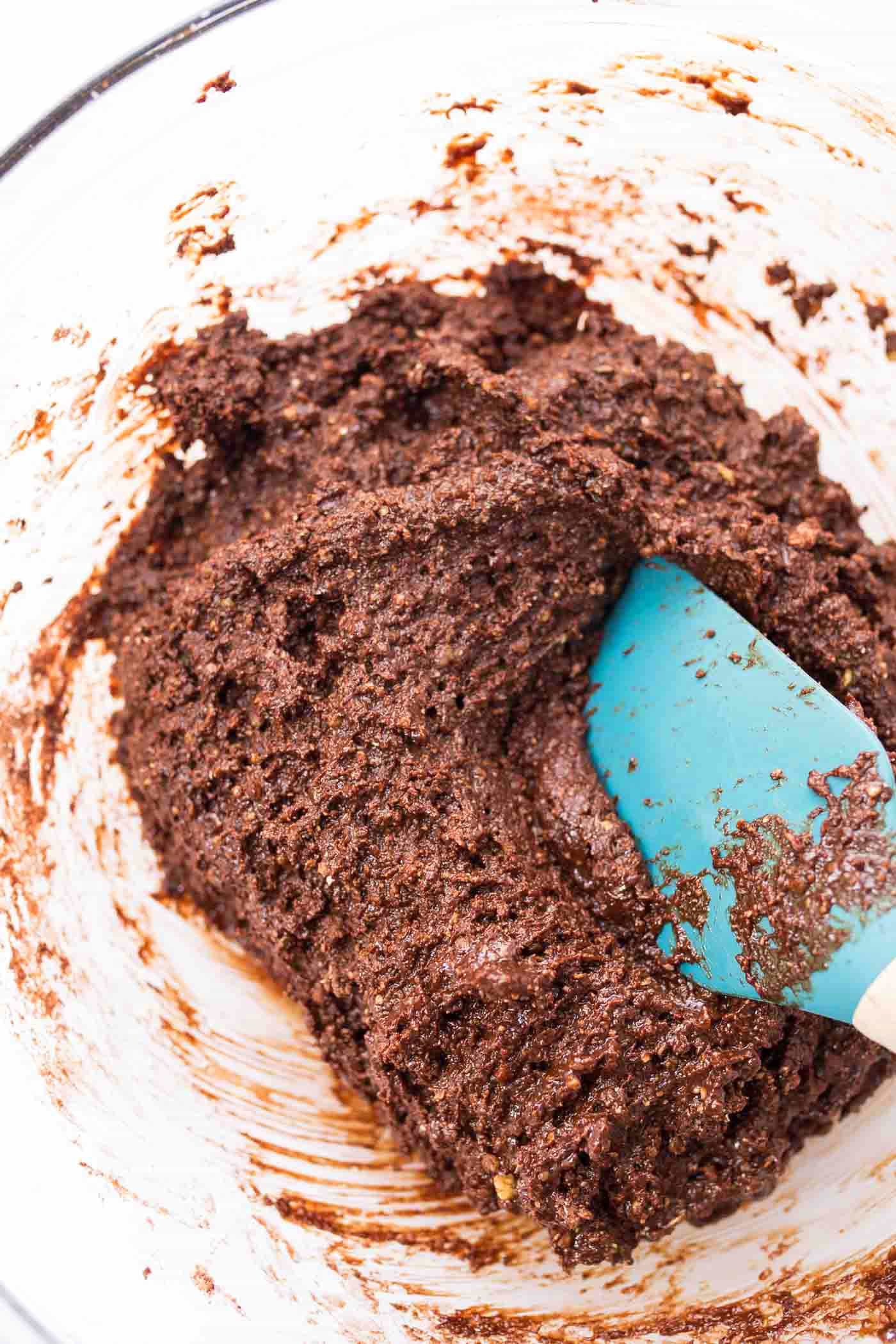 4. Fruit Puree
My final egg substitute recommendation is fruit puree! Yep, you can actually use mashed up fruit to replace the eggs in your baking. To keep things straightforward, here are my favorite fruit replacements:
Banana
Unsweetened Applesauce
Pumpkin
Sweet Potato
Butternut Squash
Pear Butter
Avocado
Yes, even avocado!
One thing to keep in mind if you're making eggs out of fruit, is that some have a strong flavor/color. For example, if you add banana, your baked good will taste like banana. Pumpkin/Sweet Potato, it will have an orange hue. Avocado? It will likely taste like avocado.
The most plain-Jane one is definitely applesauce and for the others (minus the banana), you can somewhat mask the flavor by incorporating them into a recipe that already has a strong flavor like chocolate or coffee. But the dark color of those two options will also hide the orange color.
Healthy Vegan Recipes
Now that you know how to substitute eggs in your vegan baking, let's talk about specific recipes! I wanted to give you some of my favorite vegan recipes from the site, but also break them down by category. As I mentioned above, I have found the best success when replacing eggs in things like cookies, muffins, and pancakes!

Vegan Cookie Recipes
Who doesn't love a good cookie!? Most cookies can be made vegan with a simple substitute. Here are some of my favorite vegan cookie recipes, but you should mostly have luck with any recipe using an egg substitute.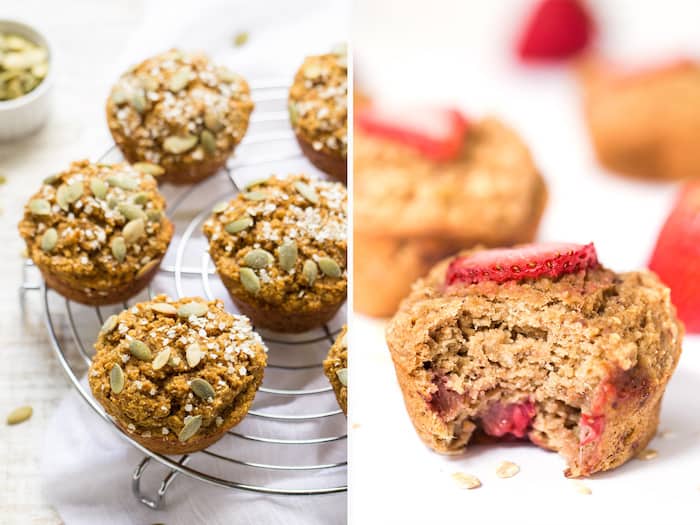 Vegan Muffin Recipes
My next favorite way to use vegan eggs is in muffins! You can still get a really nice tender texture, while making it vegan. Here are some of my favorite recipes from the blog: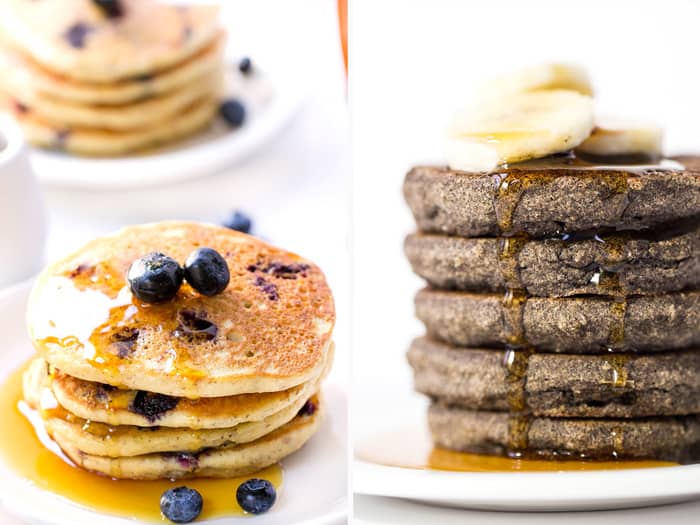 Vegan Pancake Recipes
Next is pancakes! Similar to cookies, you can likely replace the eggs in most pancake recipes with a vegan option. We've got some classics below (that are also gluten-free!), but you should be fine with most other recipes as well.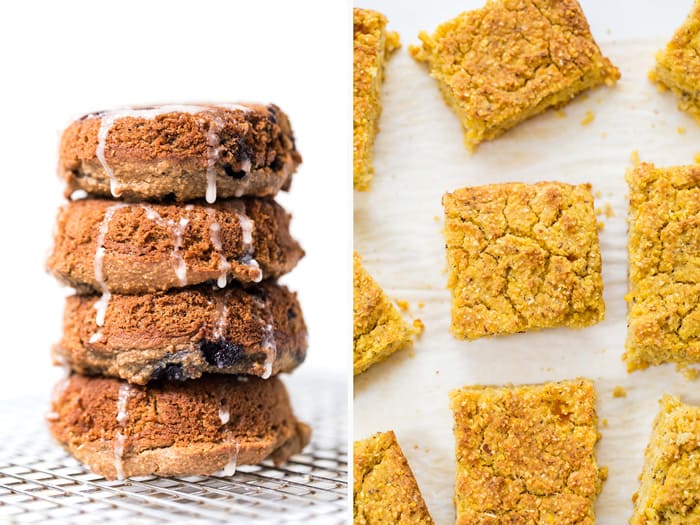 Other Vegan Recipes
And finally, just a few other options for using your vegan egg substitutes. These recipes are also showing you how to use fruit puree as an egg replacer!
More Vegan Baking Questions?
Do you have any other vegan baking questions? Let me know in the comments below!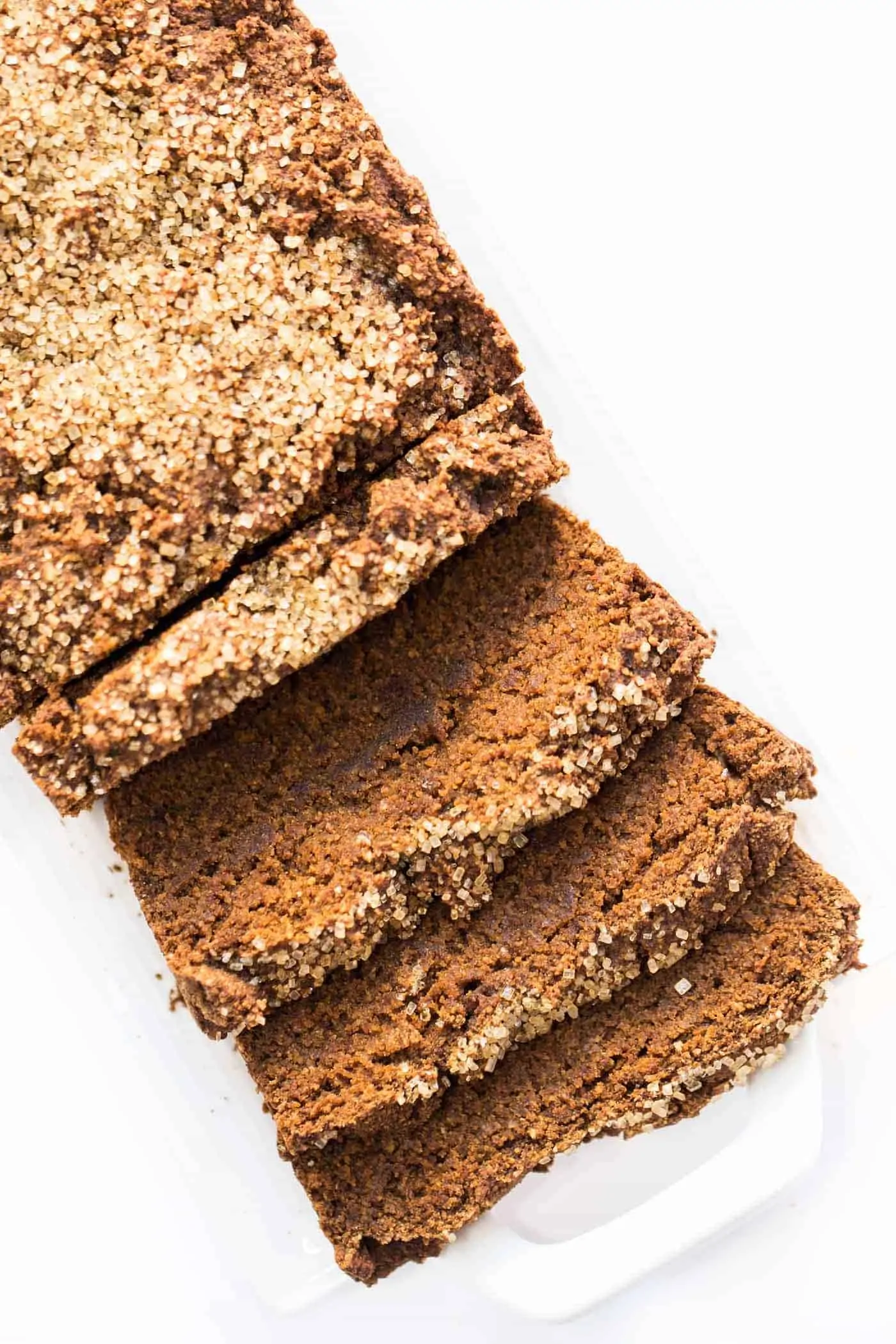 This post is brought to you in partnership with Bob's Red Mill. As always, all opinions are my own. I only share companies I love and trust, so thank you for continuing to support Simply Quinoa!