A list of the 8 best vegan friendly cities in Europe, from our own personal travels! These cities have many options to choose from as well as tasty food!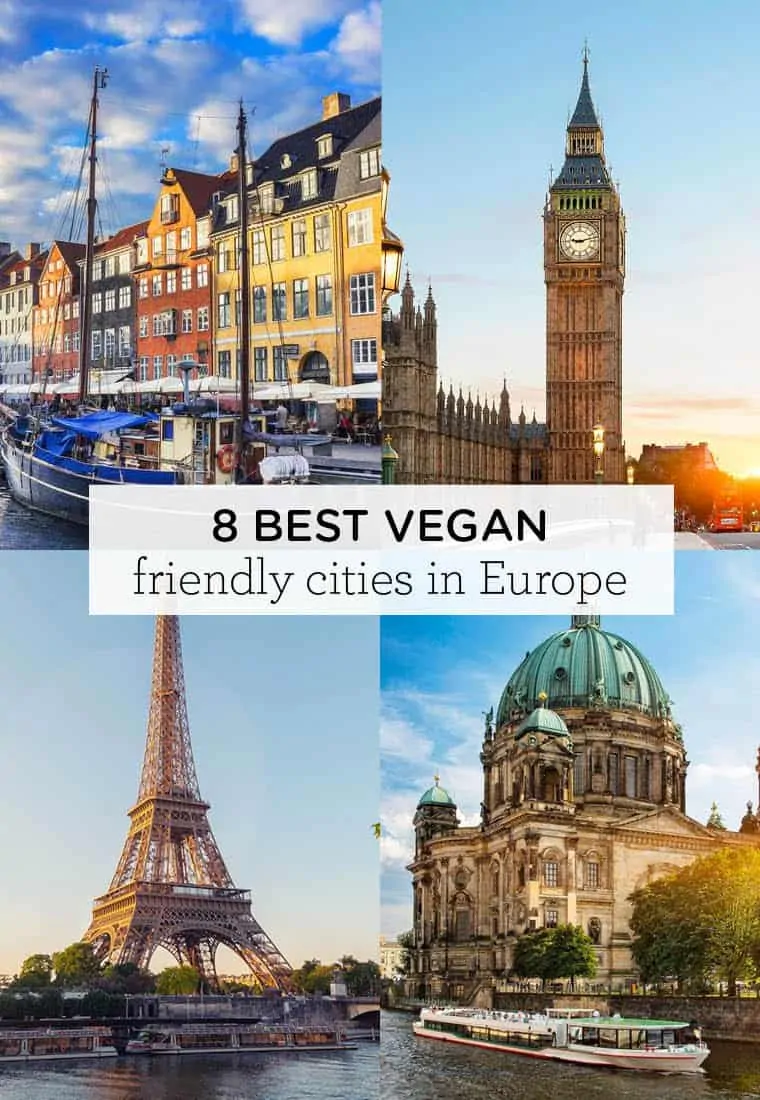 Now that we've been back from our 4-month trip to Europe, I've had some time to really think about where we went, what we saw and how easy it was to find vegan food, I thought it would be fun to put together a guide of sorts for those of you who might be looking to travel soon!
I want to begin by saying WOW. It is SO much easier to find vegan food nowadays then it was when I traveling 10 years ago. Every single city that we visited had at least one vegan restaurant, but most of them had more.
I had the absolute best time trying all the places that I could and have to say I'm really impressed. There are quite a few cities that completely blew me away with how vegan-friendly they were. It made our entire trip so much easier (and ultimate healthier) for me!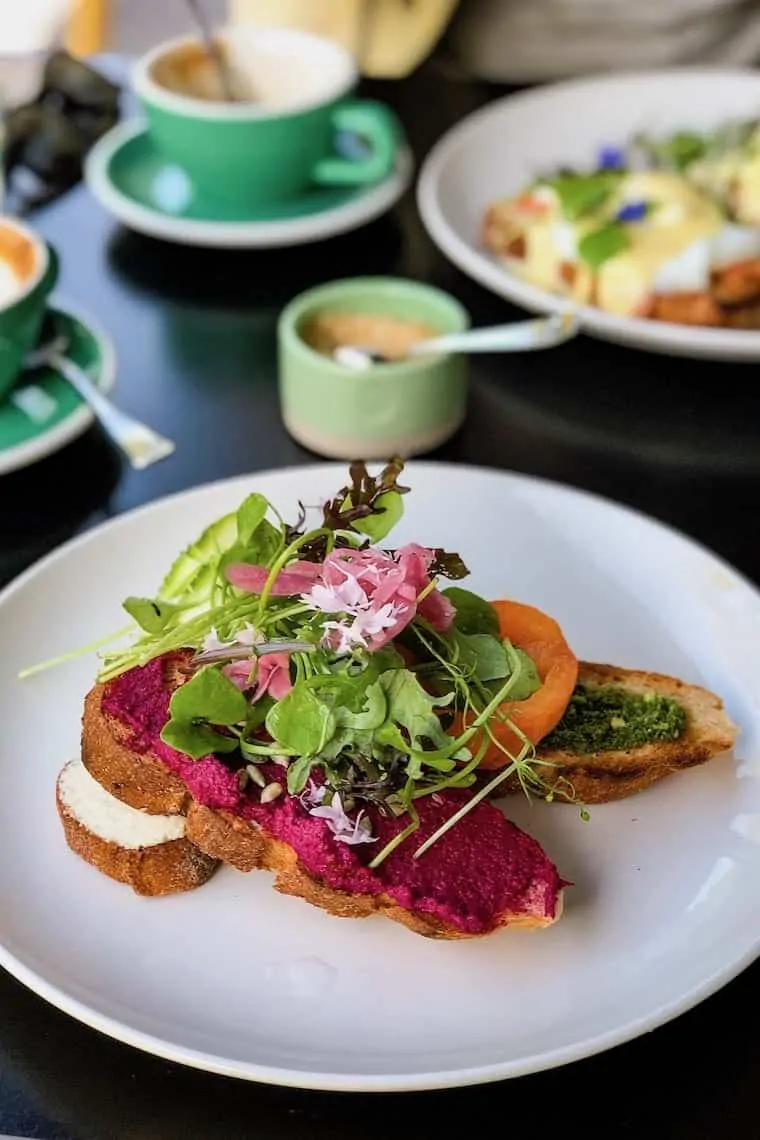 How to Find Vegan Restaurants While Traveling
We've talked about this before, but I want to give you a quick recap about how I found all these vegan restaurants while traveling. If you want to read the complete post, you can find that right here, but here's a quick recap:
YOU – recommendations through Instagram & YouTube mostly
Google Maps
Trip Advisor
Friends/Family
Other Bloggers' City Guides
My Favorite Vegan Restaurants in Europe
Before we dive into my list of the best vegan friendly cities in Europe, I thought it would be fun to just highlight my top 5 vegan friendly restaurants. These are in no particular order, but all five were amazing!
Farmacy (London): fully vegan, lots of gf options, order the truffle mac and cheese
Høst (Copenhagen): fixed price options, one with seafood and one vegetarian (and vegan friendly)
Sticks n' Sushi (Copenhagen & London): sushi joint with a focus on sustainability AND tons of vegan options
Dishoom (London, UK): absolutely amazing Indian food! they only have one vegan option but it is incredible
Men Impossible (Amsterdam): a fully vegan ramen restaurant – that's reservation only! – and has super tasty, interesting and gf-friendly food
And if you want to full list of ALL the meals we had – I create a complete best-of list for the blog!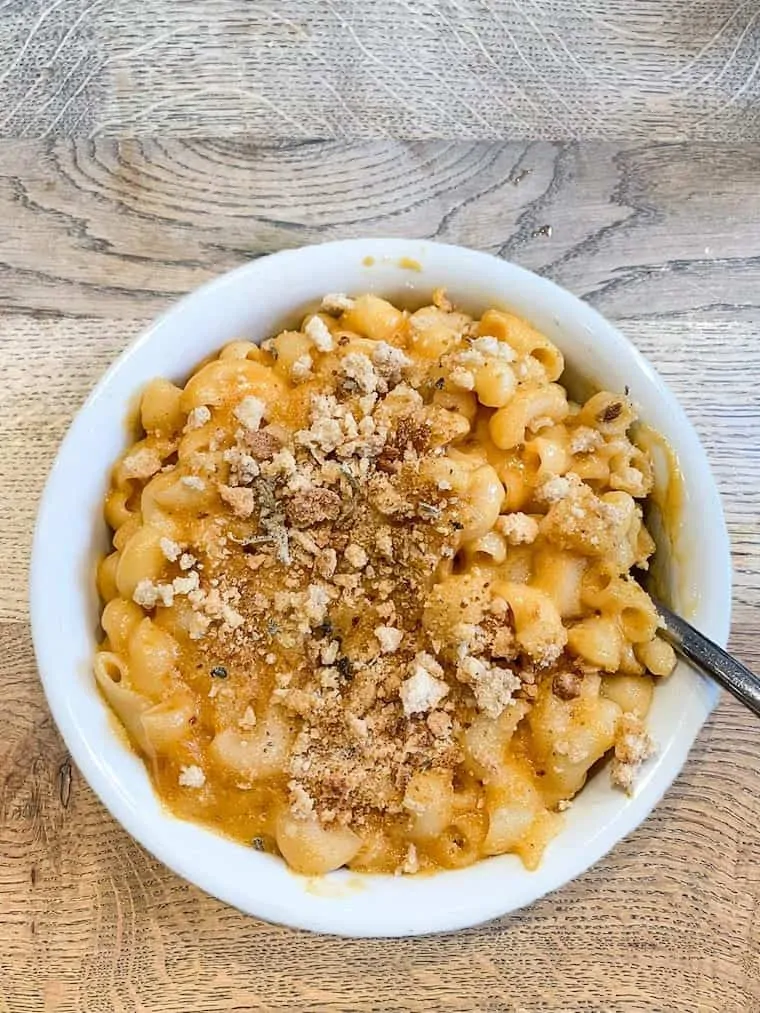 Best Vegan Friendly Cities in Europe
And now for my list of the best vegan friendly cities in europe! A few things I want to mention: this list is based on the availability of vegan restaurants, but also the quality. Some places have quite a few vegan restaurants, but they might not be all that tasty! Also, the only city I haven't visited is Berlin, but it had to make this list regardless! Oh and one final note: I pulled these numbers from happycow.net ????
London
Over the past 10 years, London has become a mecca for vegan food. There are restaurants all across the city serving up delicious vegan food and you can pretty much find a vegan restaurant in any neighborhood. Many of the food halls and markets now also have vegan stalls/restaurants, plus there are many vegan bakeries as well!
Number of vegan-friendly restaurants in London: 500+
Berlin
Berlin has long been considered the heart of vegan food in Europe, and while I haven't been there (yet), I got a TON of recommendations. One of the things I have heard, however, and keep in mind I'm not sure if this is true, is that the vegan scene is here is less health-focused and more vegan junk food and/or vegan comfort food. Either way, I definitely plan to visit soon and can't wait to try all the places that were recommended!
Number of vegan-friendly restaurants in Berlin: 600+
Copenhagen
I put Copenhagen on this list not because of the number, but because of the quality. Lots of my most memorable meals were in Copenhagen and overall I found it to be pretty vegan-friendly. It also helps that it's got a big push for sustainable and farm-to-table food. Just great, high quality eats in this city!
Number of vegan-friendly restaurants in Copenhagen: 200+
Paris
Similar to London, Paris has gotten much more vegan-friendly over the years. Most of the highest rated and most recommended places are in (or near) Le Marais district, so if you're visiting and wanting to the popular vegan spots, definitely stay there. There are also some places on the other side of the river too that we enjoyed!
Number of vegan-friendly restaurants in Paris: 450+
Barcelona
Slowly but surely Spain is becoming more and more vegan-friendly! I got lots of great recs for vegan restaurants in Barcelona and we had quite a few good meals. With a quick Google search, they'll come up, but I also recommend trying to find vegetarian paella. So tasty!
Number of vegan-friendly restaurants in Barcelona: 300+
Lisbon
Lisbon came as a surprise to me actually, but I was thrilled to try so many good places. I have a whole Lisbon Vegan Guide on the blog already, so if you want specific recommendations you can check that out! But I will say, we didn't have any "wow" meals while we were there. We ate well and enjoyed them, but nothing blew my socks off.
Number of vegan-friendly restaurants in Lisbon: 300+
Amsterdam
Thanks to Miss Remy from @veggiekins, I was able to find some pretty amazing vegan spots in Amsterdam. One of the best meals we had was in Amsterdam and I highly recommend you check it out. There are also tons of cute cafes, lots of smoothies shops and tons of other places to explore while you're there.
Number of vegan-friendly restaurants in Amsterdam: 375+
Milan
Milan was actually a surprise to me and while we weren't there for long, we did have some great vegan meals. Many of the vegan spots in Milan offer gluten-free friendly food and there are lots in the center as well. You will have to get around on the metro and one place to definitely check out is Joia!
Number of vegan-friendly restaurants in Milan: 160+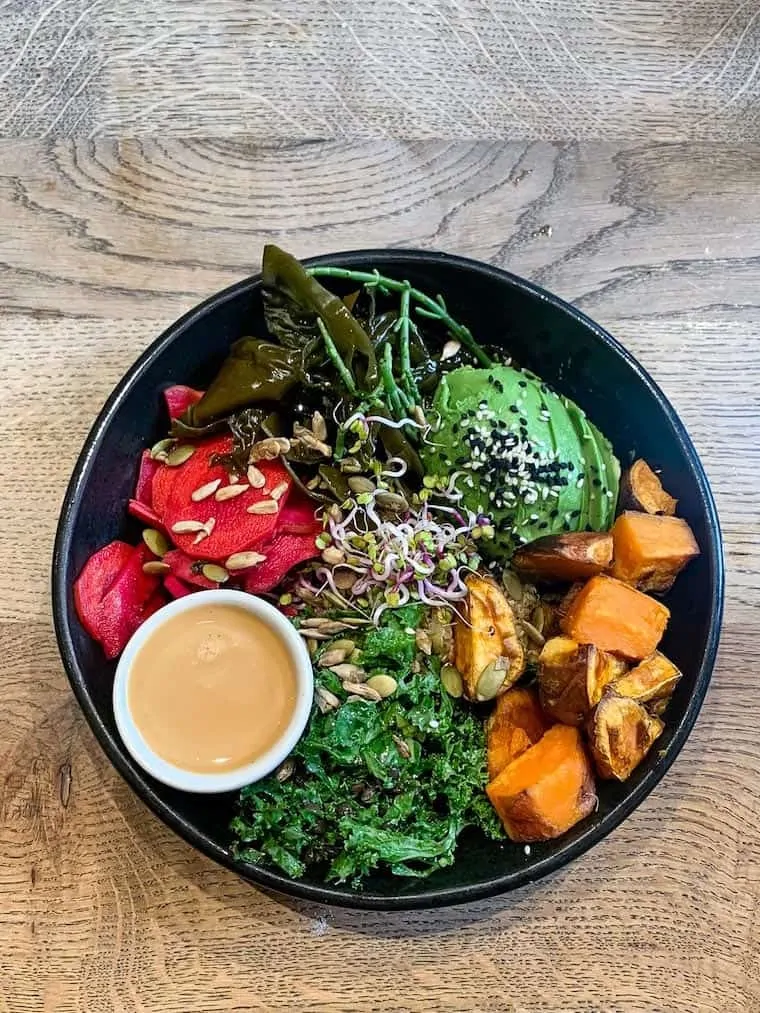 What Are Your Favorites?
I'd love to know if you have any favorite vegan friendly cities in Europe! And more specifically, if you have a restaurant that I absolutely NEED to try…drop its name and city down below. I want to start compiling a list!