Check out this list of the absolute BEST restaurants in Europe we tried on our 4 month trip. Most of the meals were also healthy, gluten-free and vegan too!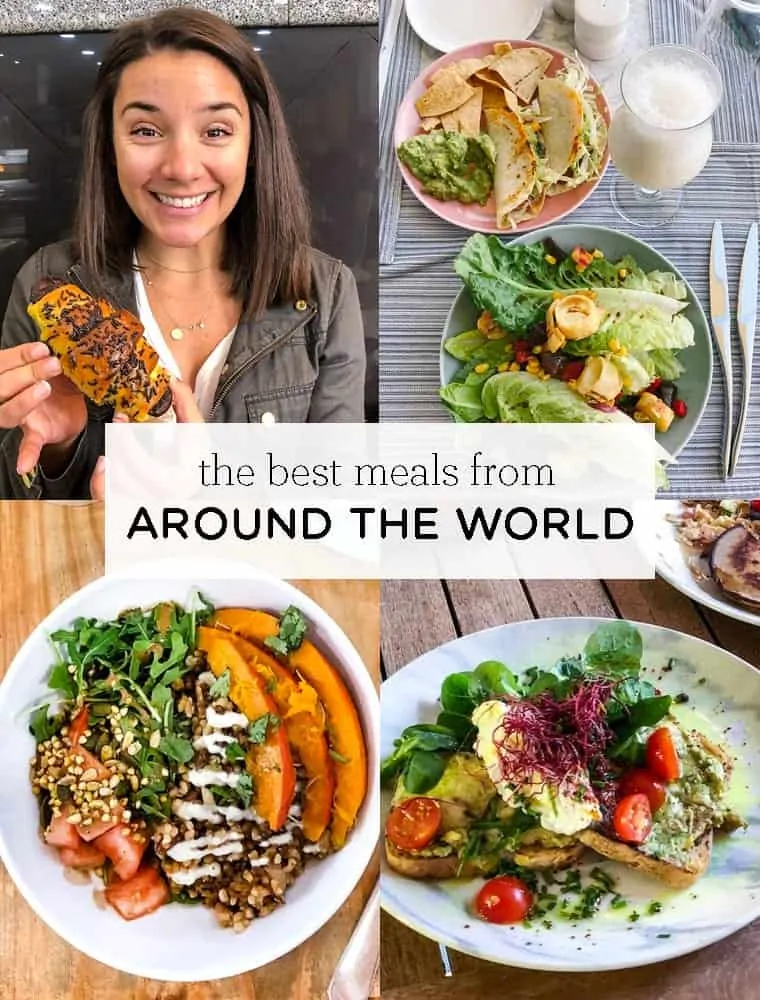 If you're just now tuning into the travel section of the blog, I'll preface this post by just giving you a brief overview of where we've been.
Over the last 4 months, we've been traveling across Europe. We've visited 15 countries, taken more flights, trains, and road trips than I can remember and have had the absolute best time.
Now that this trip is coming to an end, I'm starting to review everything we've done (and ate).
Today's post is all about the food! We've had some pretty incredible meals while we've been over here and it's been fun thinking back on my favorites. And so much of it has been vegan! In this post, I'm going to review the best restaurants in Europe that we tried and categorize them by lunch/dinner, breakfasts and then dessert spots too!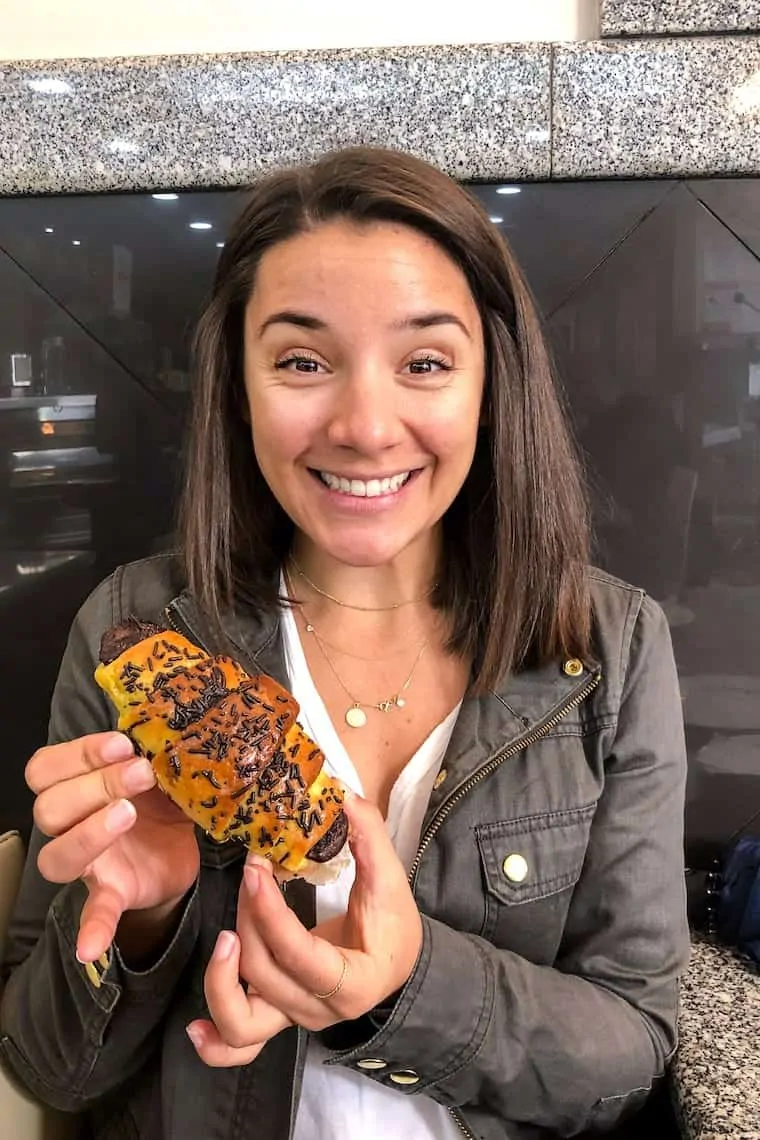 How to Find Healthy Restaurants While Traveling
One of the biggest questions I've gotten while we've been on this trip has been how I found all the restaurants I did. I have six different ways that I use to find restaurants and I put that whole process into a post for you!
I also detailed the actual process of searching for a place in one of my vlogs. Check that out here!
Best Restaurants in Europe for Lunch & Dinner
I couldn't really decide which was my absolute favorite meal since they're all pretty different, so these are not listed in any particular order. I'll also share what we ordered at each of them and what city they're in!
Farmacy (London): a classy vegan place in Notting Hill, Farmacy is by far one of my favorite restaurants in London. The vibe is awesome, the cocktails are delicious and the food is great as well. There is one stand out dish that you absolutely MUST order when you go: Truffle Mac and Cheese. It's hands down the best vegan mac and cheese I've ever tasted. Creamy, cheesy, delicious and also gluten-free! The other things I've ordered have been good (not amazing). I think this is just a solid, delicious place for healthy vegan food in London.
Høst (Copenhagen): an upscale restaurant in the heart of Copenhagen, with two set menus. They have a fish menu and a vegetarian menu and it's about 8 or 9 courses long. It's not cheap, but it also wasn't crazy expensive either. I think each set menu was about $70 which I felt was a great deal. This was probably one of the most memorable meals for me. 
Sticks n' Sushi (London & Copenhagen): one of our favorite meals back home is sushi and we were really missing it the first month of our trip. On our third trip back to London we stayed in Convent Garden and found Sticks n' Sushi. Holy moly it blew me away! So tasty, tons of vegan options and just really great sushi. We even went back to it again in London and then again in Copenhagen.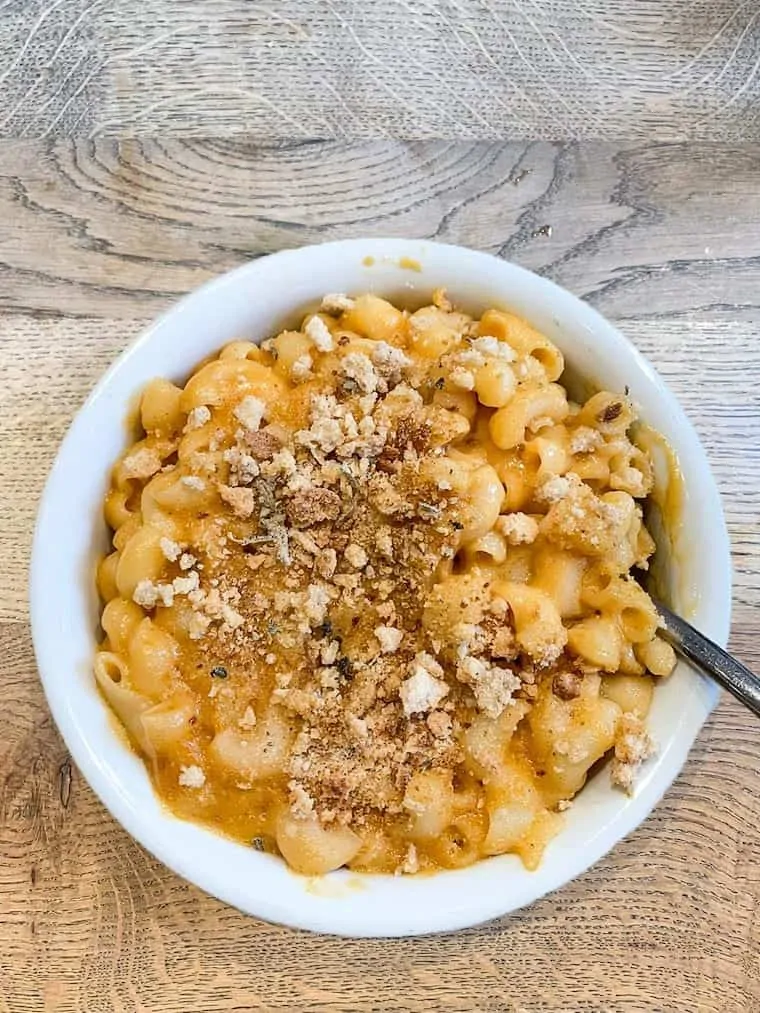 La Giostra (Florence): I'm adding this meal to the list, not necessarily because of the food, but more for the experience. They had just one vegan/gf option – a veggie risotto – and it was definitely good, but not mind-blowing. The guys I was with though (Matt & his friends)? They said the traditional pasta dishes were absolutely incredible. The wine was also fantastic, the service was impeccable and it was by far one of the more memorable meals. I'd absolutely recommend it to anyone heading to Florence!
Men Impossible (Amsterdam): while we were traveling in Amsterdam, I actually used Veggiekins' guide to the city. She had a ton of great recs, and one of them was Men Impossible. This is an all-vegan ramen spot that is SO damn good. You can only eat there with a reservation because the chef cooks for just the amount of people who have reserved. He has a few delicious appetizer options as well as a few ramen options. Everything is homemade and everything is fantastic. He even makes his own noodles from spelt flour but also accommodates gluten-free if you give him a heads up. Absolutely delicious!
Tapabento S. Bento (Porto): overall the cuisine in Spain and Portugal is tricky if you're vegetarian, even more so if you're vegan. This was an exception to that, however. It's a packed little restaurant tucked away on a side street in downtown Porto and has a great menu. The food is super tasty, the atmosphere is lively and it's still one of the best tortillas I've ever had (traditional egg & potato frittata). They also had a few veg options, as well as some seafood choices too.
Brus (Copenhagen): we went to this place twice while we were in Copenhagen because I liked it that much. For starters, it's an amazing atmosphere. Secondly, they have some great food and beer options. They're accommodating to allergies and have some of the best french fries I've ever eaten. The fries are fermented before they're fried and they have this really delicious texture and flavor. They also have a few other sharing apps that super tasty, plus burgers, salmon, etc. It's definitely worth a stop!
Gezana (Eindhoven): we stumbled upon this place because it had great google reviews, but we honestly didn't know what to expect. This is going to sound bad, but I hadn't even heard of Eritrea before! Eritrea is a small country in Africa that borders Ethiopia, so the cuisine is quite similar. Matt and I both love Ethiopian food, so we gave it a shot and YES! It was amazing. It was flavorful, it's was unique and it was so good. The restaurant was also packed which is no surprise! It's affordable and well worth it if you're in the area.
Dishoom (London): This was our second time eating at Dishoom and we almost didn't go because the first time was just so-so. It was also recommended by everyone that sometimes I feel like those super popular places end up being disappointing. But holy wow! Hands down the best Indian food I've ever tasted. We ended up going twice in a three day period because it was so good. They only had one vegan curry on the menu but it was probably one of the most flavorful dishes I've ever eaten. I'm still dreaming about it and want to try and recreate it for you. Even Matt said it was one of the best Indian dishes he'd ever tasted. And that's saying something!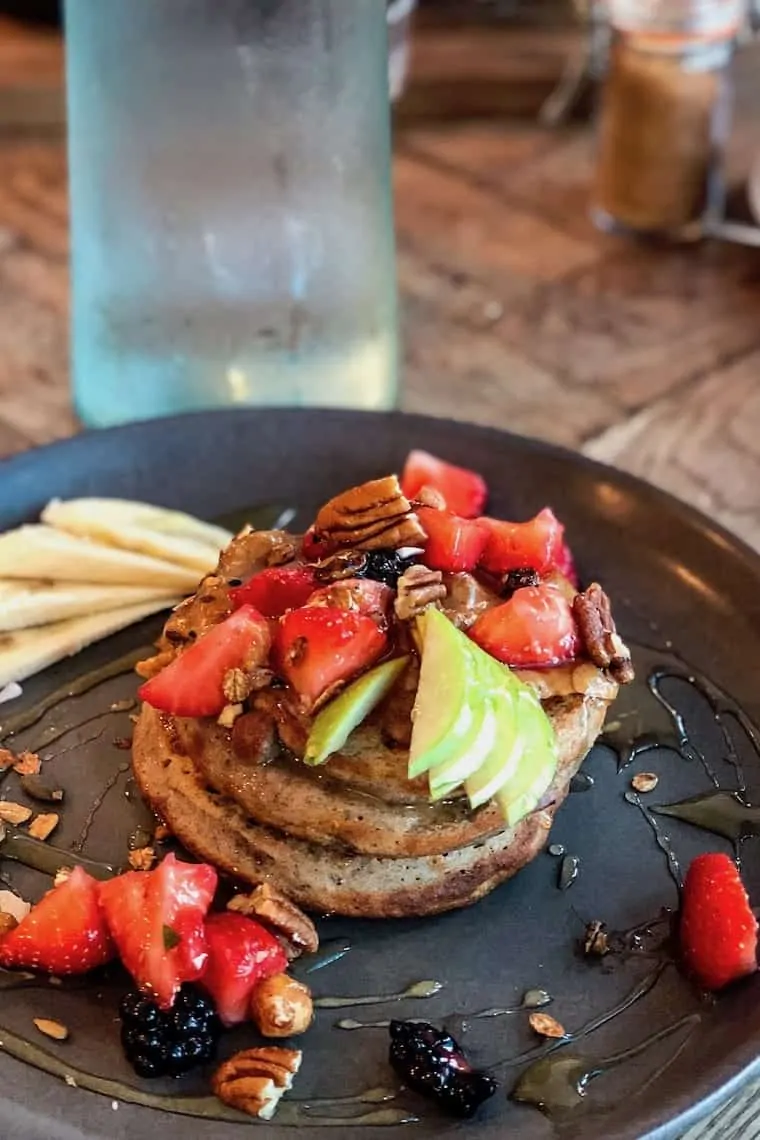 Best Restaurants in Europe for Breakfast
We also had some banging breakfasts while we were on this trip and I felt like they needed their own category. I'm a big breakfast person and some of these were also my most favorite meals of the trip. And there was just no way I could narrow it down. So…here are my favorite breakfast spots on our trip:
Good Day Deli (Cork): this place is hard to find but super good. It's not fully vegan but has some great vegan options. I got the trio of toast with different vegan spreads and it was so good! The atmosphere is also really cool – it's set behind a museum in a small garden, which makes it so peaceful and serene.
Deliciously Ella (London): I've been to her deli at least 3 times already and it never disappoints. They have great options including smoothie bowls, toasts, porridge, yogurt bowls, chia pudding, and pancakes. It's all vegan and mostly GF too!
Wagners Juicery (Munich): definitely my favorite smoothie bowl of the trip! This came highly recommended by my Instagram follower and it was delicious. It was also packed which again is a good sign. The menu is small, but the smoothie bowls rock. I got the detox one which was green and topped with granola and fruit. It was absolutely scrumptious!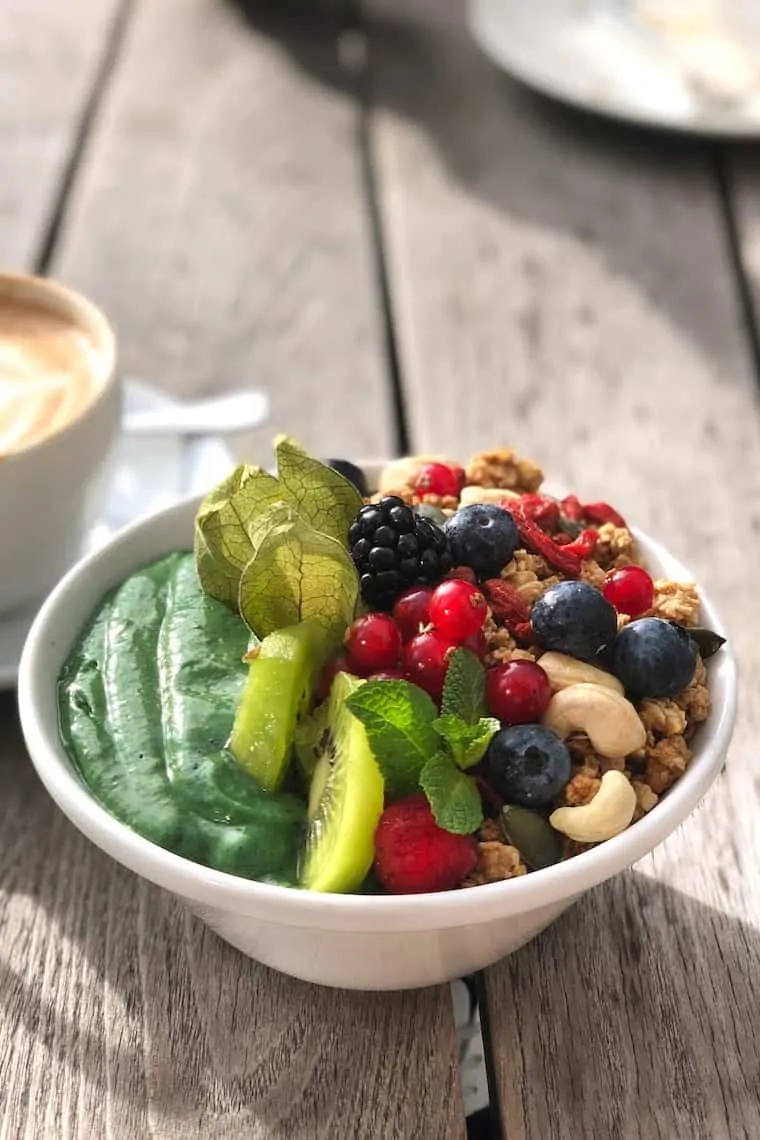 NOLA Kitchen (Porto): hands down the best breakfast we had in Portugal! This place had an awesome menu with tons of vegan & GF options. I went with the avocado toast both times, as well as the chia pudding. The chia pudding was incredible and the toast was really solid. We ended up going there twice and Matt loved all his meals as well. Definitely a must if you're in Porto!
Lavinia Good Food (Amsterdam): my favorite breakfast spot in Amsterdam! And again, thanks to Miss Veggiekins for recommending it. It's another place that is not fully vegan but had lots of great options. I went with the pancakes and avocado toast, and Matt went with the shakshuka. It was not fancy, but super cozy and really solid food.
Happiness Cafe (Eindhoven): a really cute cafe in downtown Eindhoven that has a super healthy menu. Again, not fully vegan but tons of vegan & GF options including smoothies, smoothie bowls, pancakes, egg dishes and more. It was my favorite of the trip, but it was super cute and the food was really good!
Tang (Dublin): this came highly recommended by you guys and it was such a cute little spot. They can probably only seat about 8 people total, but they have really delicious food. I got pancakes (surprise surprise), and Matt got something with eggs. The pancakes were so yummy and I just loved the vibe!
Nicolau (Lisbon): I ate a lot of pancakes on this trip and my gosh these were by far the best! They were made from buckwheat flour but were so fluffy and delicious. They were also topped with fresh strawberries, caramelized bananas, and peanut butter. It was honestly heaven on a plate. I wish we had been able to go more than once because there was a ton of stuff I wanted to try. It also looks like it has a great lunch menu too!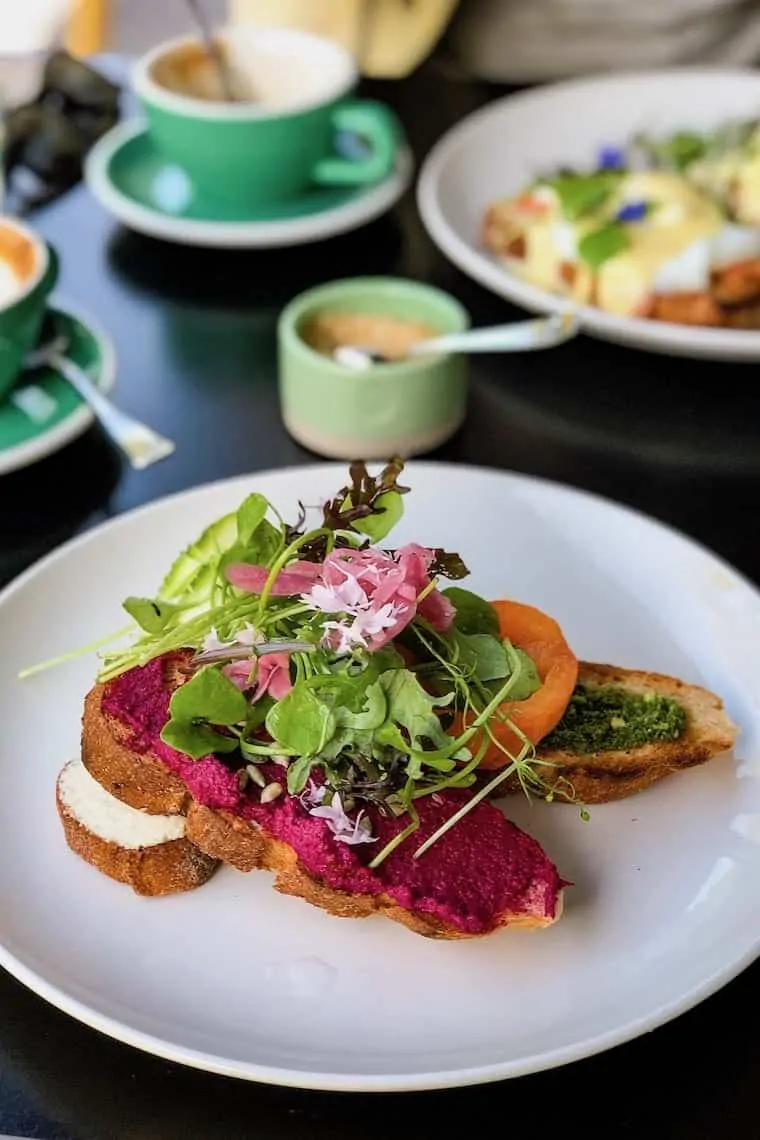 Best Restaurants in Europe Vegan Desserts
And last but not least…desserts! We didn't do a ton of sweets while we were on this trip mostly because I think we got so full from our dinners, but we were able to find a few vegan gems. Here are my favorite desserts from the trip:
La Colubrina (Milan): this was a mostly vegan and gluten-free restaurant with good food, but better desserts. The chefs are both vegan (and women!), and we had one of the best vegan cheesecakes I've ever tasted. It was light, fluffy, not too heavy and perfectly chocolatey. I'd say stop here for a slice after your dinner!
Giolitti (Rome): hands down the BEST gelato we had all trip. And we had a lot of gelato. We were in Italy for about 3.5 weeks total and we went there at least 3 times in our 4 days in Rome. They had a ton of dairy-free options, including the best chocolate gelato I've ever tasted, plus an awesome blueberry option and a great blackberry one as well. So worth the line!
Max Pett (Munich): this was a vegan restaurant that we found in Munich and while the food was good, the dessert was better! I had a hankering for ice cream this night and it did not disappoint! We got three scoops of ice cream (vanilla, chocolate and snickers), plus vegan whipped cream, chocolate sauce and vegan caramel. I mean…how good does that sound!? Absolutely DELISH!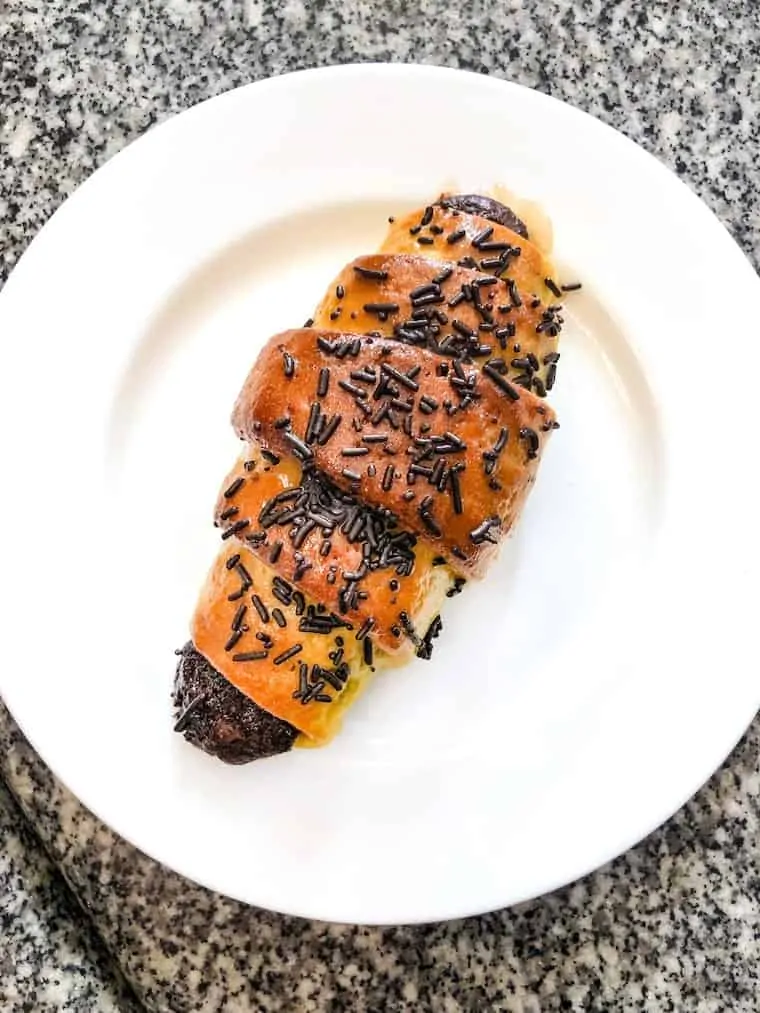 Zarzuela (Lisbon): one of the things that Portugal is famous for is pastel de nata. It's a custard type dessert (kind of like creme brulee) inside a mini pastry crust. Basically they're like mini custard pies. I was worried that we weren't going to be able to find a vegan & gluten-free one, but we did! Zarzuela had a ton of vegan/GF options including the traditional pastel de nata and croissants! They also had bread, rolls and tons of other options as well.
Noglu (Paris): last time we were in Paris we went to Helmut Newcake bakery which is 100% gluten-free. I remember them not having many dairy-free options, so we ended up finding this place that was also gluten-free and near our Airbnb. It was so darn good! We went there twice – once for sweets and one for breakfast. They had GF baguettes which were to die for, vegan cookies, tarts, sweet breads, pastries and more. It was pure heaven!
Farmacy (London): and lastly, Farmacy is making the list again for their epic vegan desserts. They not only have traditional desserts, but they also make loads of GF options. When we went we got the sundae and the Victoria sponge cake and both were amazing. If you're in the area, it's definitely worth popping and getting something sweet!
And that's pretty much it!
We ate so many great meals, but these for me are the most memorable and I'd say the best restaurants in Europe that we personally tried. While I wouldn't say that we had tons of blow-me-away meals on this trip, we definitely ate well and Matt was such a trooper when it came to trying all the vegan places you recommended. So thank YOU for guiding us in the food department and sharing so many of your favorites. It was such a big help and I hope you enjoyed following along!
More Posts about Our Trip to Europe