This Butternut Squash Cornbread is gluten-free, vegan, and oh-so-good! Seasoned with sage, it's the perfect cornbread recipe for fall.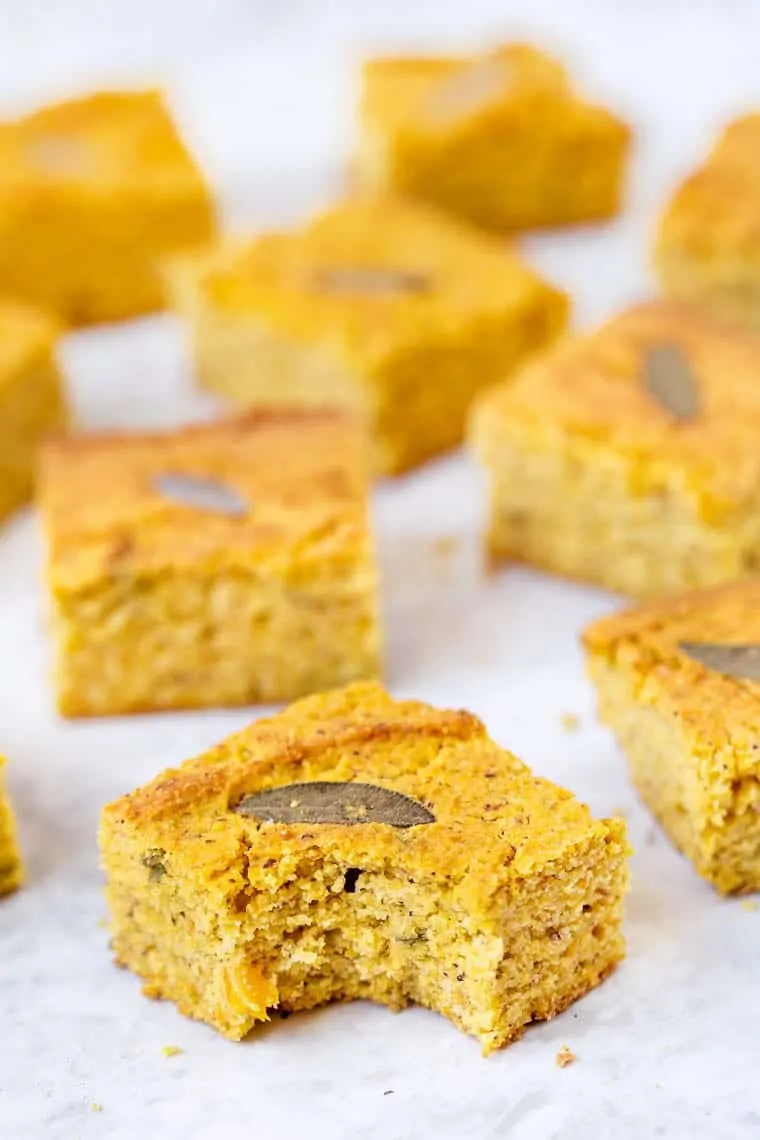 This might just be my strangest Fall yet. Typically I'm baking up a storm. Buying cases of pumpkin puree. Roasting butternut squash and other root veggies like mad. Sipping on pumpkin spice matcha lattes every morning. And watching the leaves turn.
Today is a good one. It's a recipe for cornbread. But not just any cornbread. This is a healthy cornbread recipe. – butternut squash cornbread. A vegan gluten-free cornbread. A cornbread that is crazy simple to make, that sneaks in one of my favorite fall squashes (looking at you miss butternut) and is the absolute perfect side dish for soups, stews, and even Thanksgiving!
We're using just 2 tablespoons of oil, almond milk, a flax egg, and one tablespoon of maple syrup. We're letting the butternut squash be the star of this show, without sacrificing on the texture one bit. This vegan gluten-free cornbread is still moist, tender and makes the perfect side dish for all your favorite soups and chili (it would be fab with this Instant Pot Lentil Chili).
And in case you're curious, yes you can also use this for stuffing! I'll be sharing my favorite vegan cornbread stuffing recipe really soon ????
For more butternut squash recipes, check out butternut squash apple soup and spicy butternut squash soup recipes. For more cornbread recipes, don't miss the best vegan cornbread stuffing and pumpkin cornbread.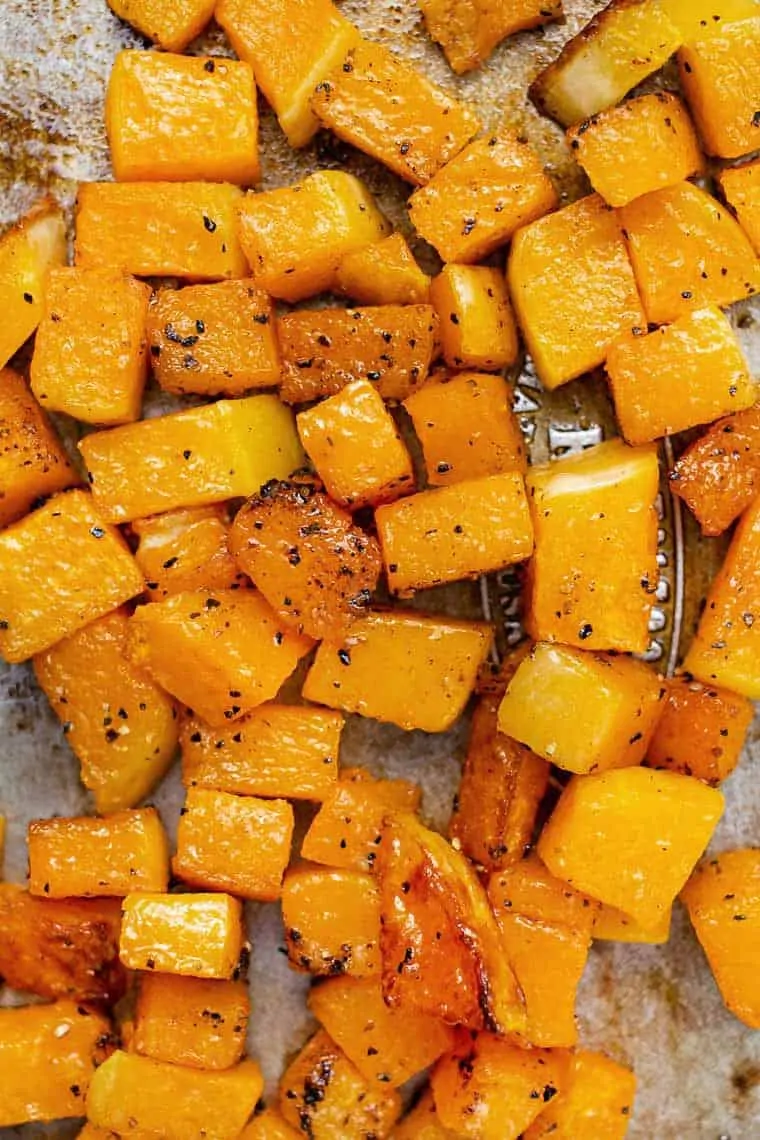 What You'll Need
This butternut squash cornbread is made with several gluten-free flavors, flaxseed, squash, and just a few other ingredients.
Butternut squash – Cubed and roasted.
Flax Egg – To make a flax egg, combine a tablespoon of flaxseed meal with water.
Almond milk – I haven't tested it but other milk replacements should work too.
Maple syrup – Sweetens the cornbread.
Cornmeal – A must-have ingredient for homemade cornbread.
Flour – I use a combination of quinoa flour and almond flour.
Baking powder – Helps the cornbread rise.
Sage – Fresh sage adds a burst of flavor to the butternut squash cornbread.
How to Roast Butternut Squash
The first thing we're doing with this recipe is roasting up some butternut squash. I've shared a bunch of butternut squash recipes on the blog before, but I honestly think one of the best ways to make this orange beauty is to keep it simple.
To make roast butter squash, you need:
butternut squash
olive or coconut oil
salt
pepper
That's it. So simple and yet absolutely perfect. The sweetness shines through, but the salt and pepper help swing it on the savory side.
I like to cut my butternut squash into smaller pieces. Since I like to meal prep it, I find it's more versatile that way. I do about 1/2″ cubes and throw them into salads, use them for breakfast hashes, and use them in baking (like we are with this healthy cornbread recipe!).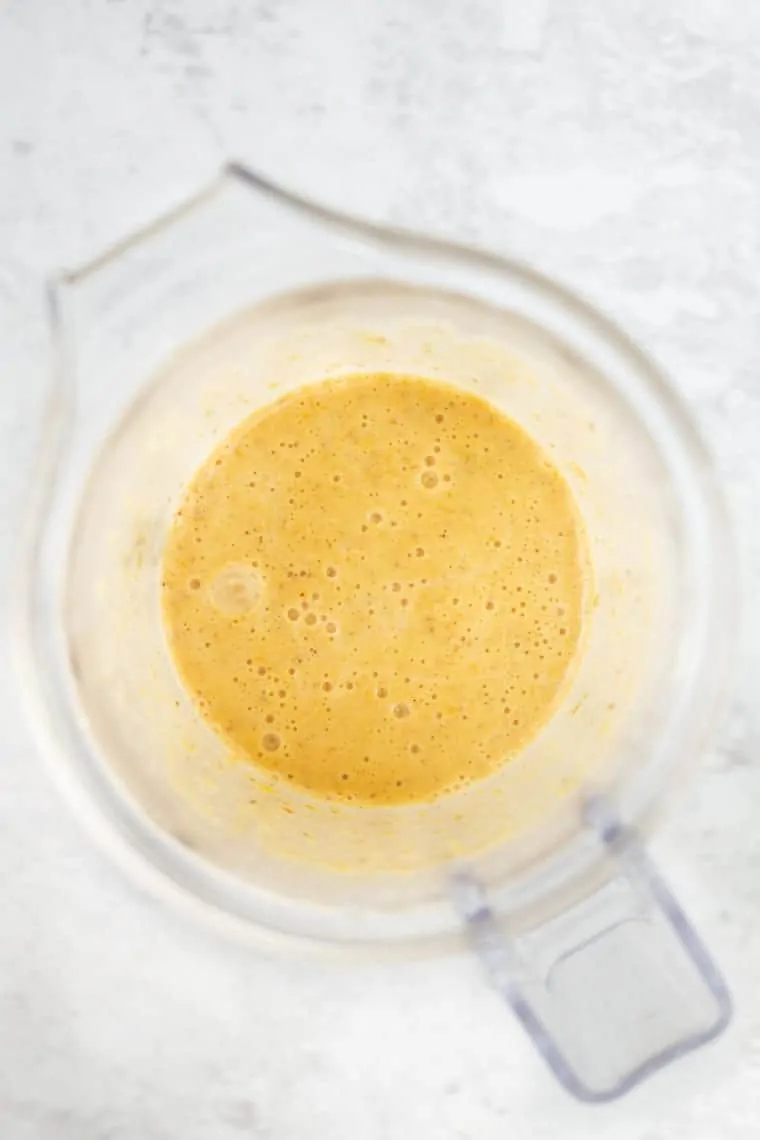 How to Make Butternut Squash Cornbread
This vegan cornbread comes together in just a few steps.
Roast the squash. Roast the butternut squash according to the directions above.
Make the flax egg. Beat together the flaxseed and water. Set aside.
Blend the ingredients. Transfer the cooked squash to a blender then blend with the milk, flax egg, syrup, and olive oil.
Add the dry ingredients. Whisk together the dry ingredients then combine with the wet ingredients. Fold in the sage.
Bake. Transfer to a baking pan. Bake for 23 to 25 minutes. Cool in the pan for 5 minutes then transfer to a cooling rack. Enjoy!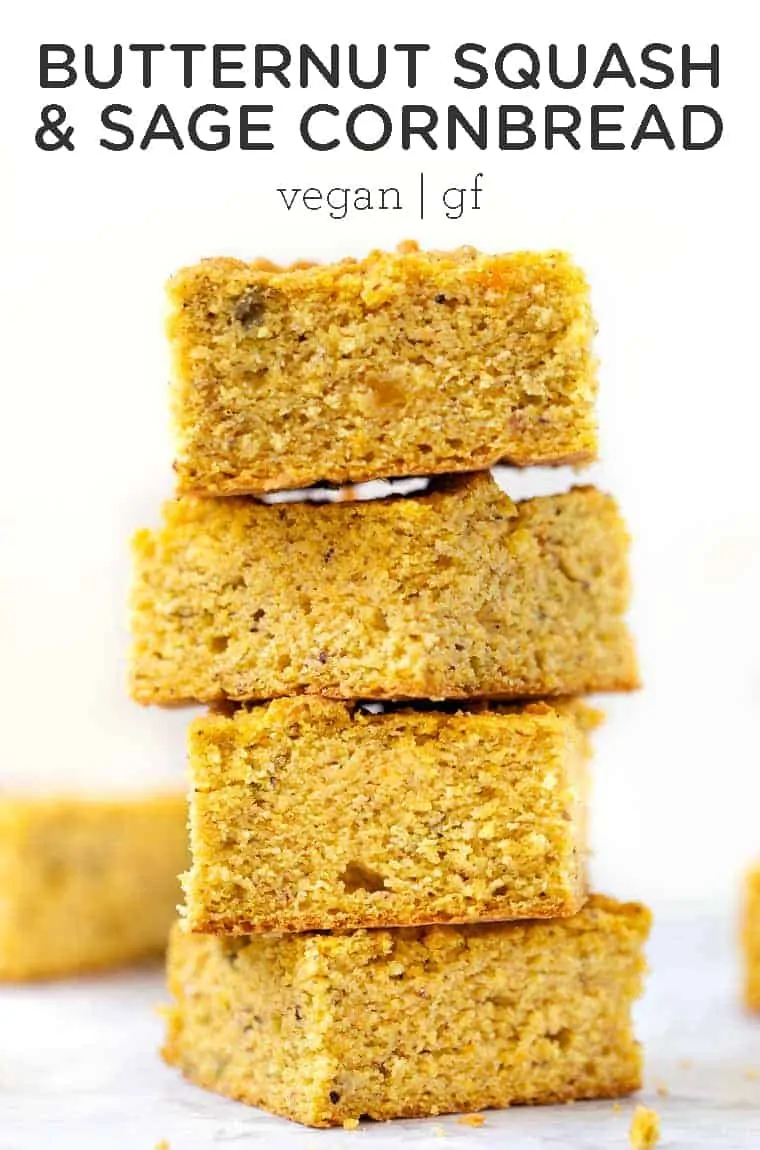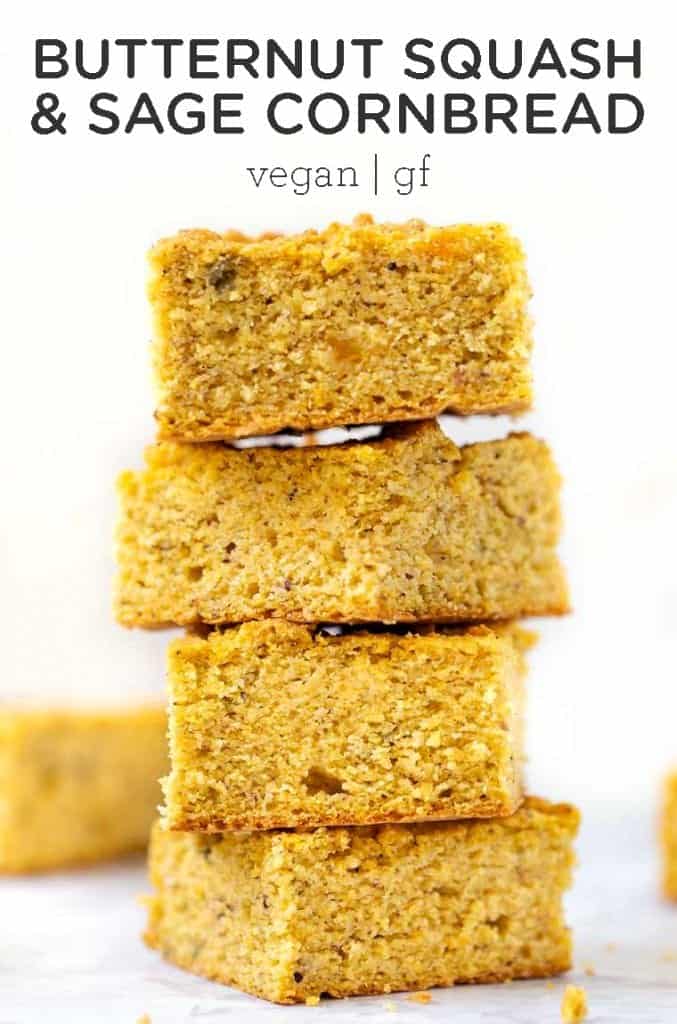 More Recipes Using Butternut Squash:
Butternut Squash Cornbread
This Butternut Squash Cornbread is gluten-free, vegan, and oh-so-good! Seasoned with sage, it's the perfect cornbread recipe for fall.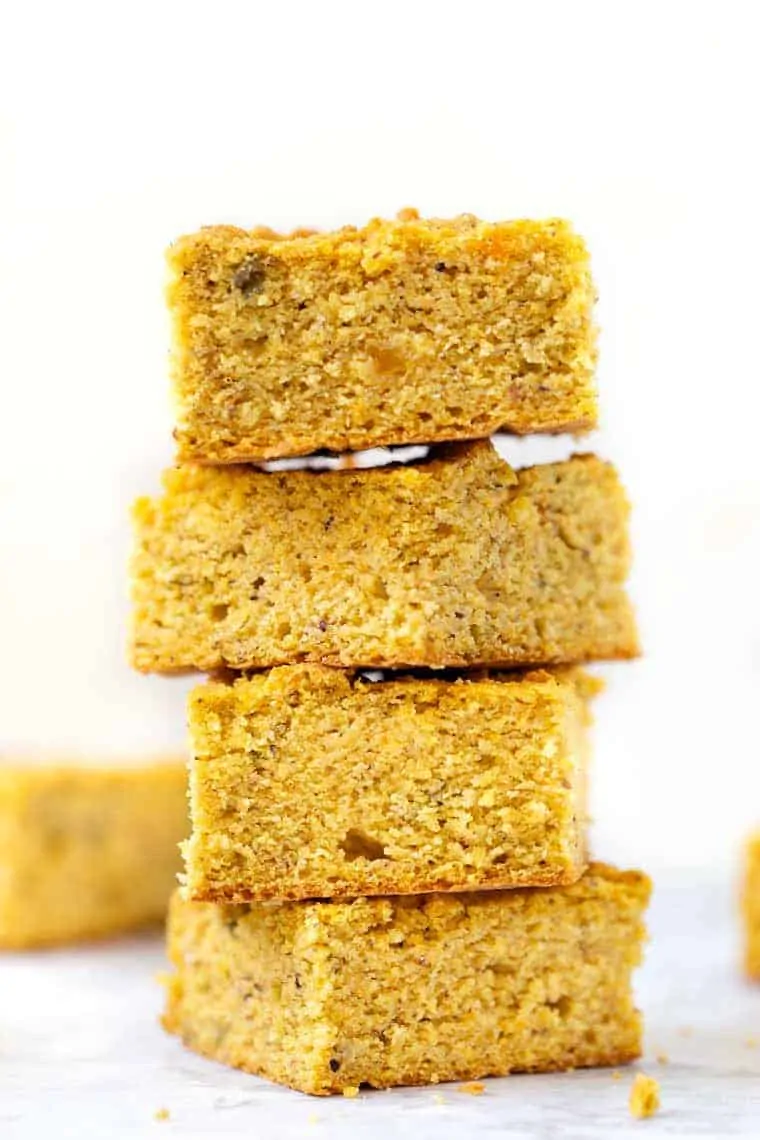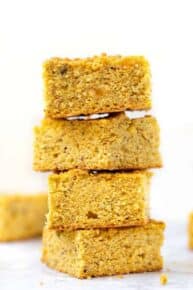 Ingredients
for the butternut squash
1

cup

cubed butternut squash

1

tablespoon

olive oil

salt & pepper to taste
Instructions
Preheat the oven to 425ºF and line an 8×8 baking pan with parchment paper and set aside.

Add the butternut squash to a baking sheet. Drizzle with olive oil and sprinkle with salt and pepper. Toss to combine. Roast for 25 minutes, flipping halfway through.

While the squash is cooking, beat together the flaxseed meal and water and set aside.

When the squash is done cooking, transfer it to a blender. Add the milk, flax egg, syrup and olive oil. Blend until smooth.

In a large mixing bowl, whisk together the dry ingredients. Pour the liquid ingredients into the bowl and stir together. Fold in the sage.

Transfer batter to the prepared baking pan. Top with sage leaves if desired and bake for 23 – 25 minutes until golden brown and a cake tester inserted into the center comes out clean.

Remove from the oven and let cool in the pan for 5 minutes. Transfer to a wire rack and cool completely before slicing into squares.
Nutrition
Serving:
1
square
|
Calories:
158
kcal
|
Carbohydrates:
19
g
|
Protein:
4
g
|
Fat:
8
g
|
Saturated Fat:
1
g
|
Sodium:
128
mg
|
Potassium:
206
mg
|
Fiber:
3
g
|
Sugar:
2
g
|
Vitamin A:
1240
IU
|
Vitamin C:
2.5
mg
|
Calcium:
94
mg
|
Iron:
1.2
mg
Filed Under: