Vegan Lentil Meatloaf with Quinoa
The best vegan lentil meatloaf recipe made with lentils, quinoa, mushrooms, and walnuts, topped with a healthy tomato and maple syrup glaze.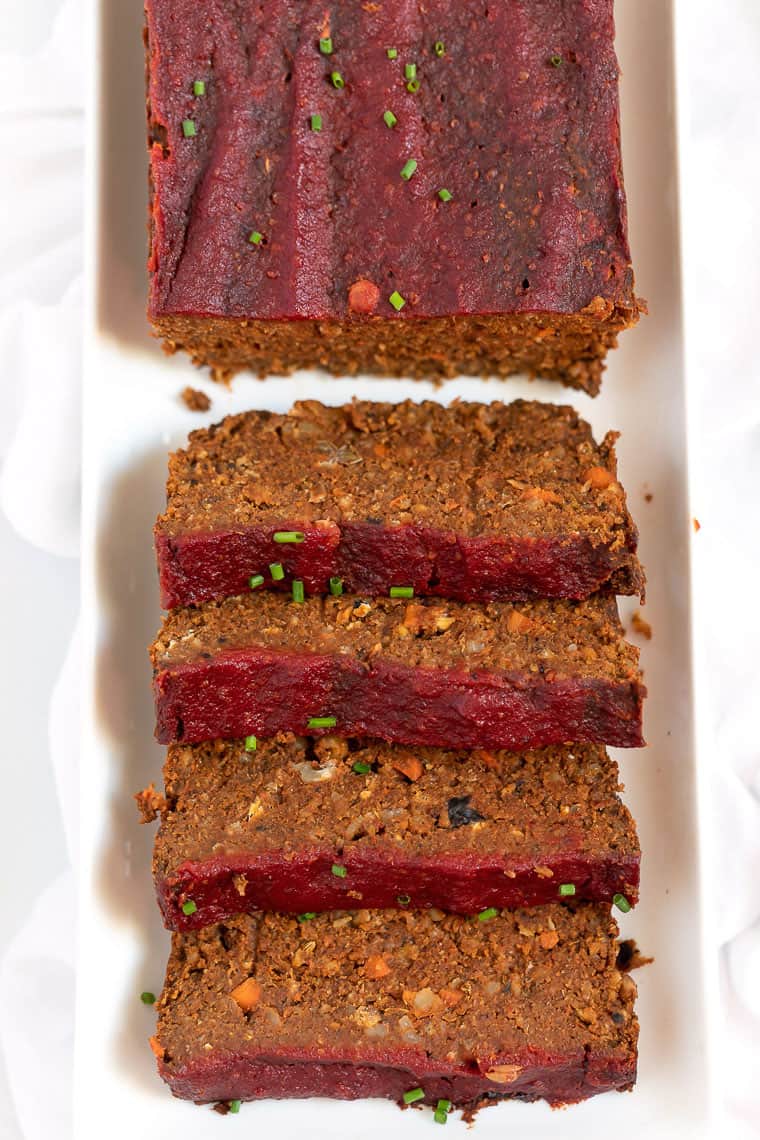 One of my favorite things to do in the world: take a somewhat "unhealthy" Italian favorite and give it a complete makeover. In the past we've done manicotti, lasagna, alfredo, and more. Today? It's all about the meatloaf!
Honestly, I've never been a huge fan of meatloaf. It's probably because I wasn't really exposed to it as a kid; if my mom was making something with ground meat you better believe it was meatballs. And plus, the name just throws me off a little bit.
And yet, when I made my healthy spin on this classic dish, a vegetarian quinoa + lentil meatloaf, I loved it. In fact, I was genuinely surprised by how much I enjoyed it. Normally I'm not big into leftovers, especially after I've spent a long day testing the recipe, but this was pure gold. I had it for lunch and dinner for the next two days.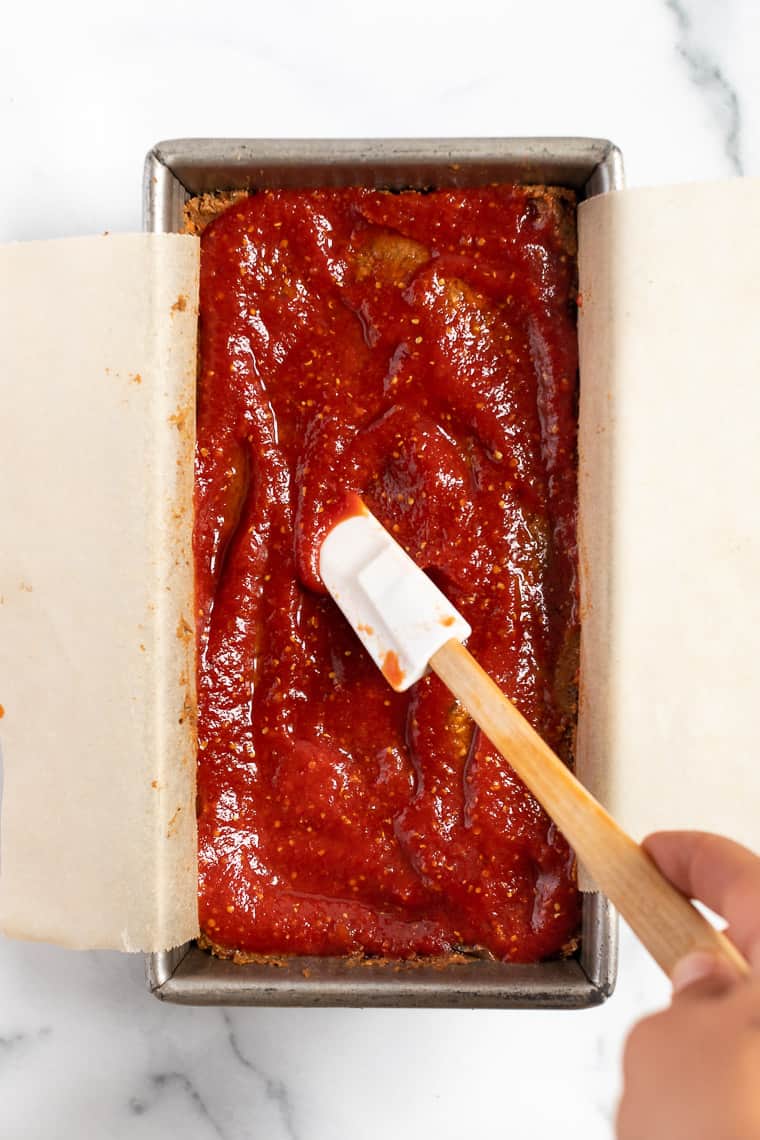 Ingredients for Vegan Lentil Meatloaf
When you look at this recipe, I'm not going to lie, it has a fairly long ingredient list. But most of the items are designed to either add meaty texture or flavor. I think they're all essential, but if you have substitution questions, let me know in the comments
That being said, here's what we're using for our base (and why):
Lentils: the bulk of our meatloaf is going to be cooked lentils. You can use either brown or green here!
Veggie mixture: to give this some texture, we're adding in some sauteed carrots, mushrooms, onion, and garlic. It's a stellar combo!
Gluten-Free breadcrumbs: we're actually making our own homemade breadcrumbs using my fave Little Northern Bakehouse loaf! The breadcrumbs are there to help bind and absorb some moisture.
Cooked quinoa: I use cooked quinoa a lot in my meat-like recipes because it has a similar texture to ground beef. I love it in meatloaf!
Oats: another ingredient designed to help bind and reduce moisture!
Nutritional yeast: a quick and easy way to boost flavor!
Tomato paste: adds some moisture and gives the lentil meatloaf a more meatloaf-y flavor!
And then we're also using some Italian seasoning, fennel seeds, salt, pepper, hot sauce, and maple syrup for flavor.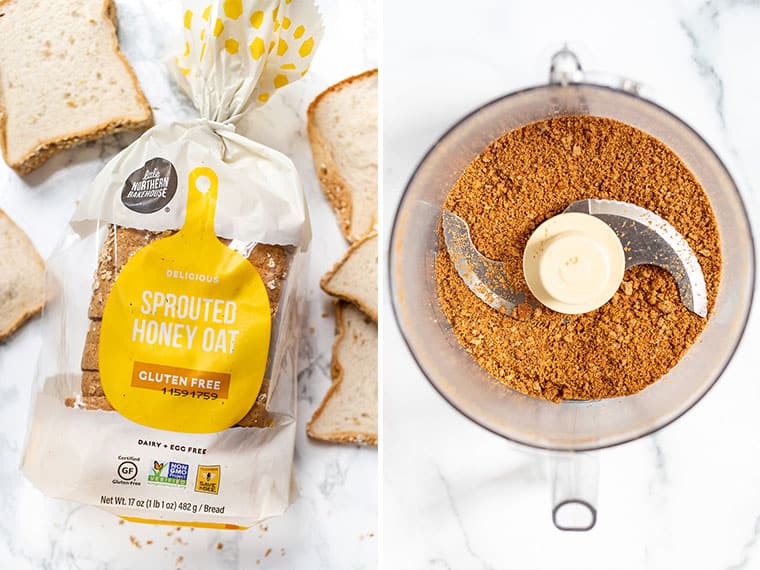 How to Make Gluten-Free Breadcrumbs
One of the ingredients that you might have trouble finding – especially if you're gluten-free – are breadcrumbs. Luckily, they're a cinch to make at home!
All you need is your favorite loaf of bread, an oven, and a blender/food processor.
My go-to gluten-free bread is Little Northern Bakehouse. Not only are their breads wholesome and delicious, but they're also gluten-free, dairy-free, egg-free and non-GMO. Not to mention they have multiple flavors and varieties to choose from!
Remember when we used their bread to make homemade croutons? The process for making breadcrumbs is very similar.
We'll follow that exact same recipe (minus the rosemary), and once we have the croutons dried out, you'll pop them in your food processor and blend them up until they're crumbly.
It's as easy as that!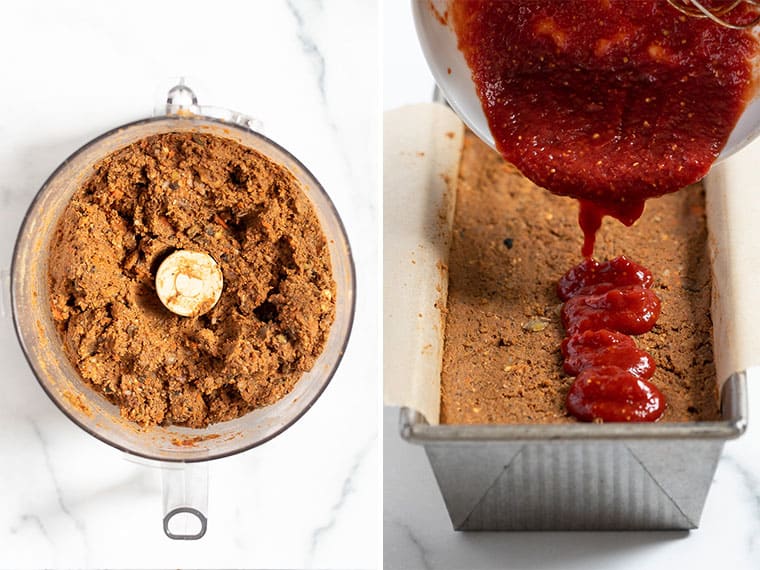 How to Make Lentil Meatloaf
For this recipe, we start with a sauteed medley of carrots, mushrooms, shallots, and garlic which helps to elevate the flavor of the entire loaf. If we were to just add the veggies in raw, we would miss out on the smokiness they get from being cooked together on high heat.
After the veggies, come the lentils which bring a nice earthy, especially when paired with the buttery walnuts. The walnuts, quinoa, and oats also help give the loaf a little crunch. Remember…we're avoiding sogginess at all costs here, so the crunch was more than welcome.
Then I have the classic addition of tomato and Italian spices, as well as a little nutritional yeast which gives just a hint of cheesiness (with the actual cheese of course).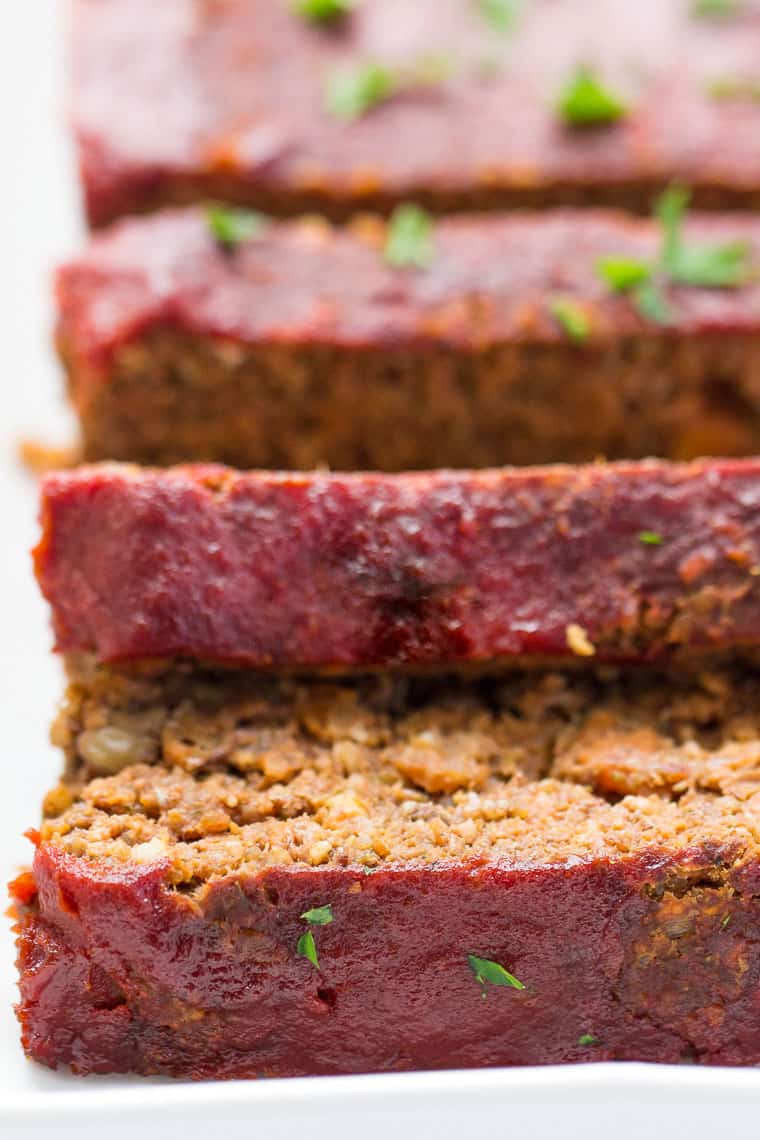 Why You'll Love This Lentil Loaf
Now I know some people might be a little put off by the sounds of this recipe. Meatloaf without the meat? Is it going to be any good?
Here's why you'll love it:
surprisingly meat-like texture
high in fiber
protein-rich
tender + juicy
super flavorful
easy to make
great for meal prep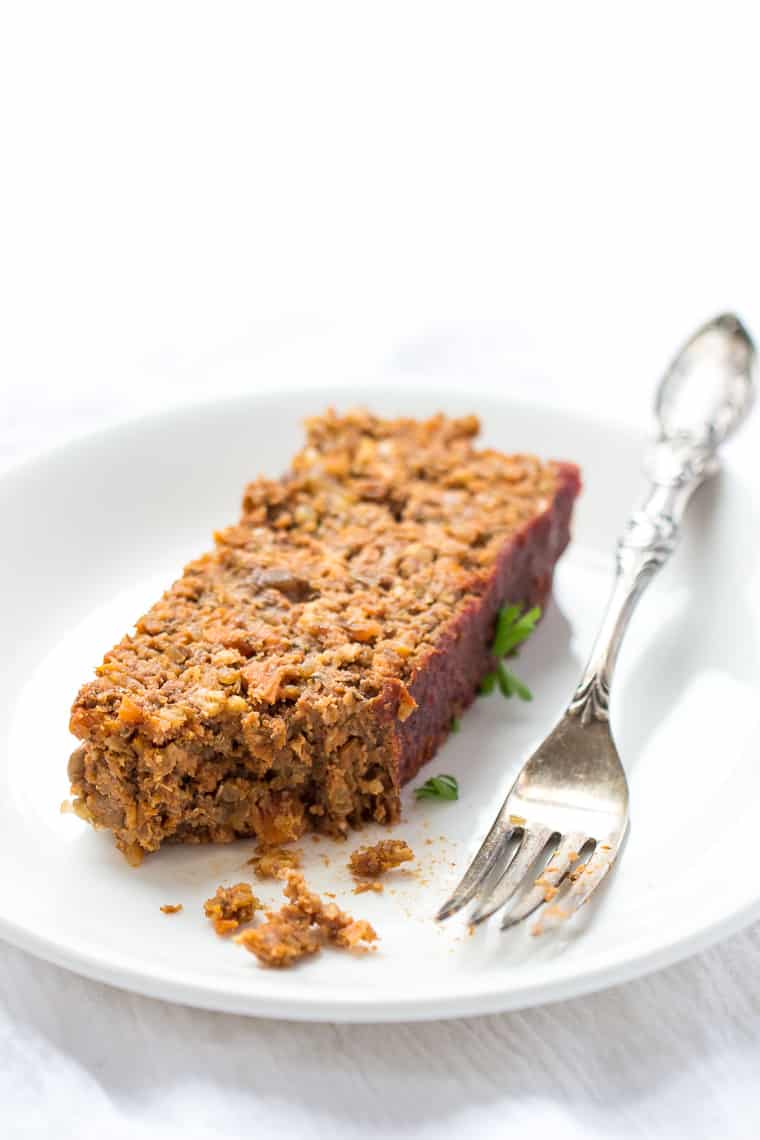 A Vegan Lentil Meatloaf that Isn't Soggy!
I know that sometimes lentil loaves can be soggy. They either don't cook through or they don't slice. This doesn't have any of those problems!
The combination of lentils, mushrooms, walnuts, and quinoa make it tender and juicy, but it still has structure so it's not just a slice of soggy mush.
I mean just look…aren't plants amazing? Vegan meatloaf that looks like real meatloaf. It's incredible what you can do with them!
So whether you're looking for a meatless meal or just want to change up your normal routine, this protein-packed quinoa meatloaf is definitely a recipe you need to add to your list. It's super easy to make, freezes well and makes for awesome lunch leftovers.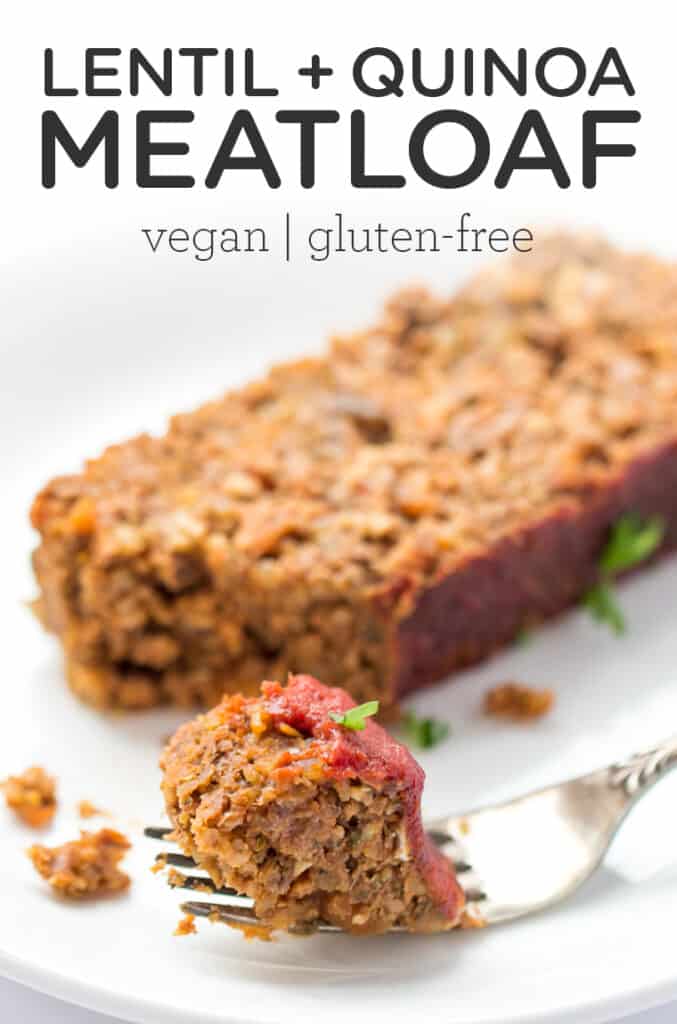 More Healthy Vegan Recipes to try:
Vegan Lentil Meatloaf
The best vegan lentil meatloaf recipe made with lentils, quinoa, mushrooms, and walnuts, topped with a healthy tomato and maple syrup glaze.
Servings 10 slices
Calories 178kcal
Instructions
Preheat the oven to 350ºF. Line a 9x5 loaf pan with parchment and set aside.

In a large skillet, sauté the carrots, mushrooms, shallot and garlic until carrots are tender, about 5 minutes. Season with salt and pepper and transfer to the bowl of a food processor.

To the processor add remaining ingredients, reserving 1/2 cup lentils, and process until a dough starts to form. Pulse in remaining lentils.

Transfer dough to the prepared loaf pan, pressing it down with a wooden spoon or spatula. Smooth the top and prepare the glaze.

Whisk all glaze ingredients together then pour over the loaf. Bake for 40 minutes, then remove and allow to cool for 5 minutes before slicing and serving. Remaining slices can be frozen or kept in the fridge for 2 - 3 days.
Nutrition
Serving: 1slice | Calories: 178kcal | Carbohydrates: 27g | Protein: 8g | Fat: 5g | Saturated Fat: 1g | Sodium: 371mg | Potassium: 529mg | Fiber: 6g | Sugar: 7g | Vitamin A: 2394IU | Vitamin C: 6mg | Calcium: 41mg | Iron: 3mg
share what you make
Tag #simplyquinoa on Instagram with your creations! We love sharing what you make with the community. We can't wait to see!

follow on instagram