Amazing Roasted Winter Vegetables with Maple Glaze
My favorite way to make roasted winter vegetables! Three different types of vegetables with three different spice blends, all cooked on one pan and finished in a maple glaze.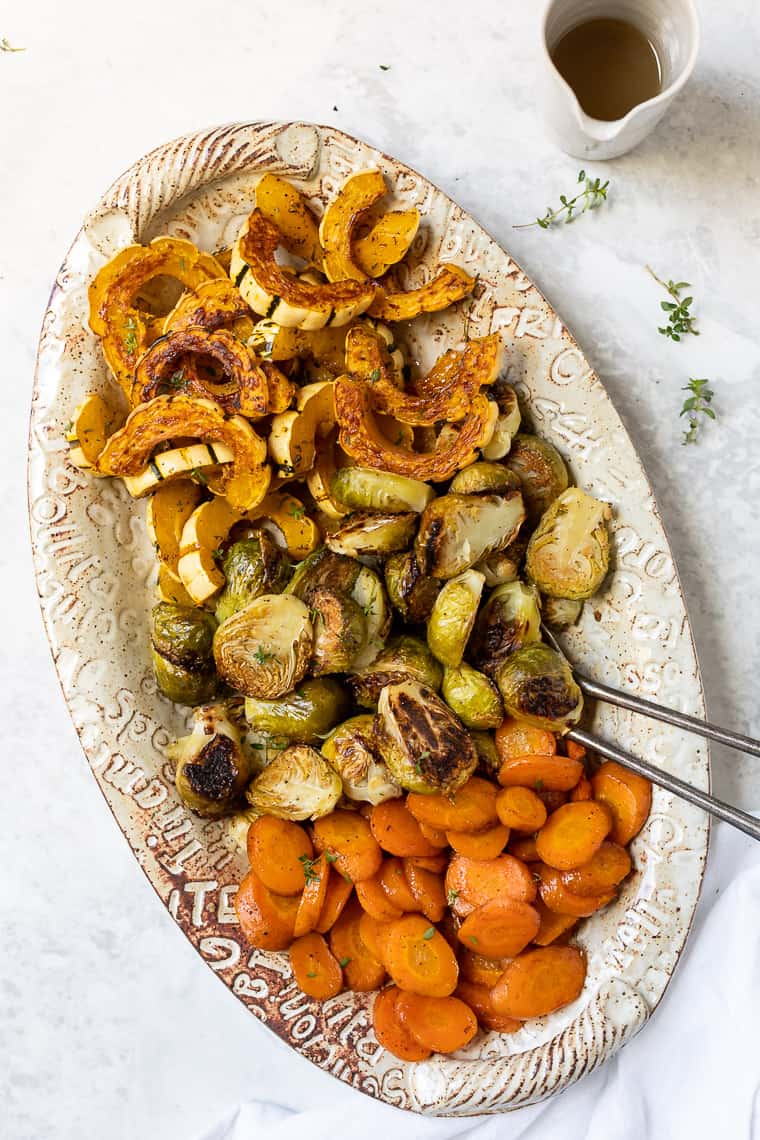 Roasted vegetables have always been one of my favorite parts of fall and winter. All summer long I can't wait until squash, Brussels, and other winter veggies hit the market so I can roast them up.
Most of the time our dinners consist of some blend of roasted veggies and a protein. And I felt like it was finally time that I put some of my favorite blends in a post and share it with you!
So today I've got three ways to make roasted winter vegetables – that we're finishing with an amazing vegan maple butter glaze. These veggies are perfect for the holidays – hello, Thanksgiving! – but they're also great for any winter meal.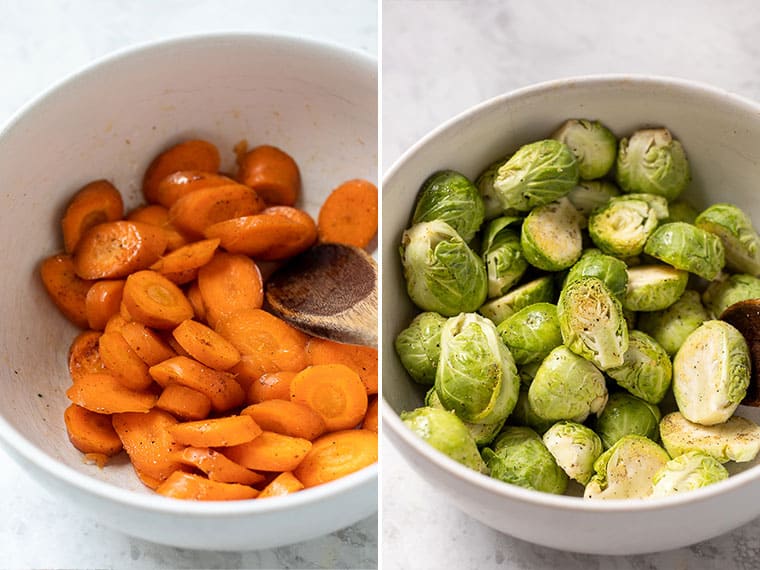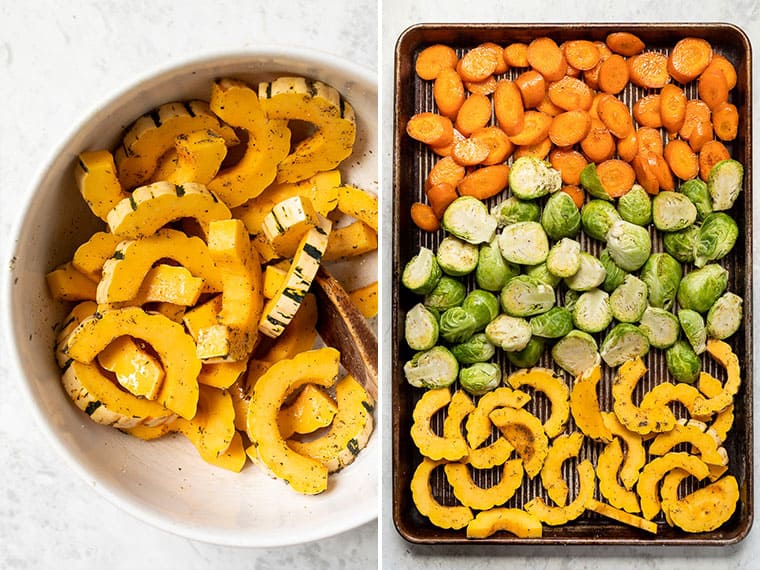 The Three Winter Vegetables We're Using
What I love about this particular post is the combo of veggies I used. We've got color, we've got texture and we've got nutrients. But you can also swap any type of vegetable in if you don't like the ones I used.
The three ones I chose are:
Carrots: sliced on the diagonal, they're amazing roasted with a soft texture and slight sweetness
Brussels Sprouts: my fave of faves – they're nutritious, they're crispy, and they soak up flavor like no other!
Delicata Squash: my favorite winter squash for a few reasons – flavor, texture, speed of cooking and the fact that you can eat the skin!
Want other ideas? You could use cauliflower, potatoes, any type of squash, turnips, rutabega, or any other root veggie you'd like!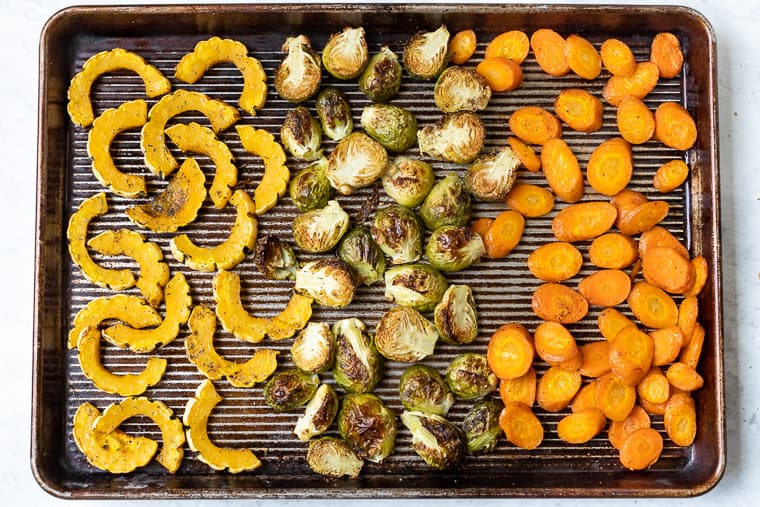 How to Make Roasted Winter Vegetables
You only need a few simple ingredients to make roasted veggies and it couldn't be easier! You'll want a high quality cooking oil – I like avocado or olive – plus your spice/flavor of choice, salt and pepper. That's it!
In terms of making them, you'll want to cut the veggies to the relative same size and thickness, espeically if you're using multiple types of veggies. I like to toss my veggies separately so I can use different flavors, but you could also mix them all together if you wanted to make it even easier.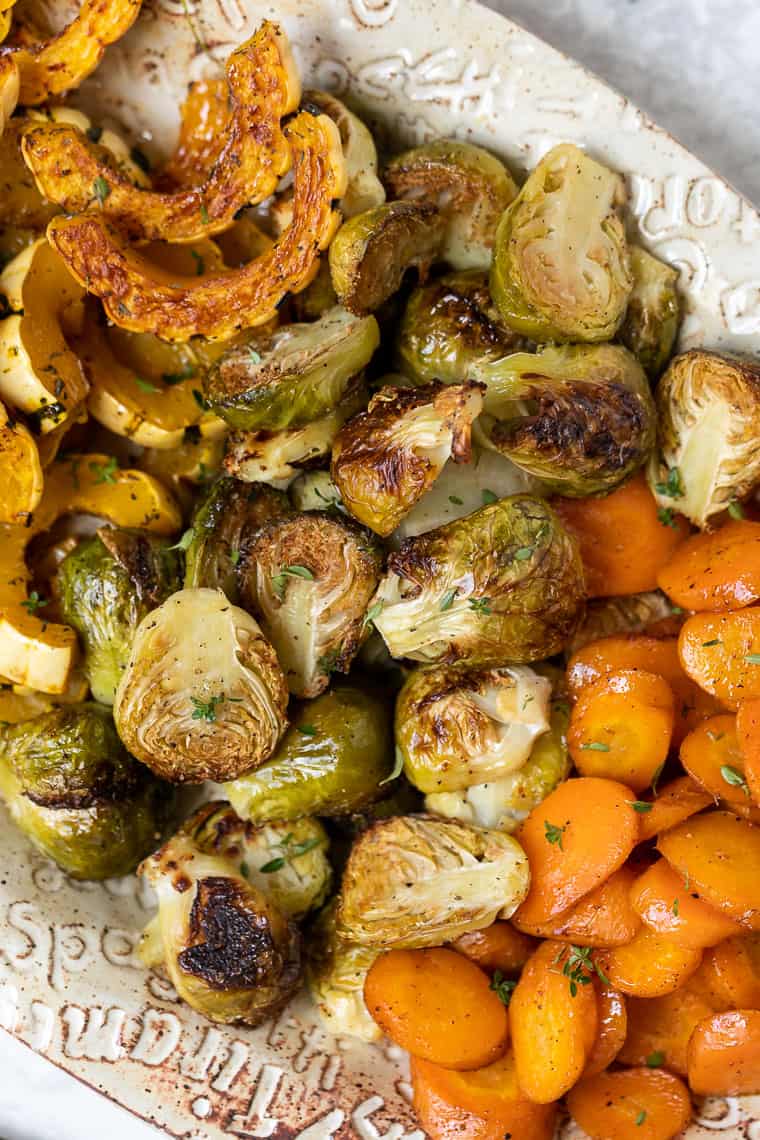 How to Flavor Roasted Veggies
The best way to flavor roasted veggies is with spices. Especially if you like a little crisp factor. Adding sauces will add more moisture and end of making them super soft. While that can be delicious, it's not the texture I usually like to go with.
If you need some help in the spice department, check out my list of essential spices for more flavorful cooking. This should give you a good starting point. From there, it's all about experimentation! Try new combos, or new spices, and see which ones you like.
Harissa for example? It's a new to me spice and it works fabulously with carrots! But I wouldn't have known that unless I tried 😉
What to Serve with Roasted Veggies
I personally love serving my roasted winter vegetables as a side dish for the holidays. I like they are "fancy" enough to feel special, but they're also easy to make.
If you do want to serve them for the holdiays, here's what I'd recommend:
I just love being able to serve something that's healthy and delicious! I always find the veggies get eaten when they're put out, and when you make them look as pretty as this, I'm sure your crowd will love them!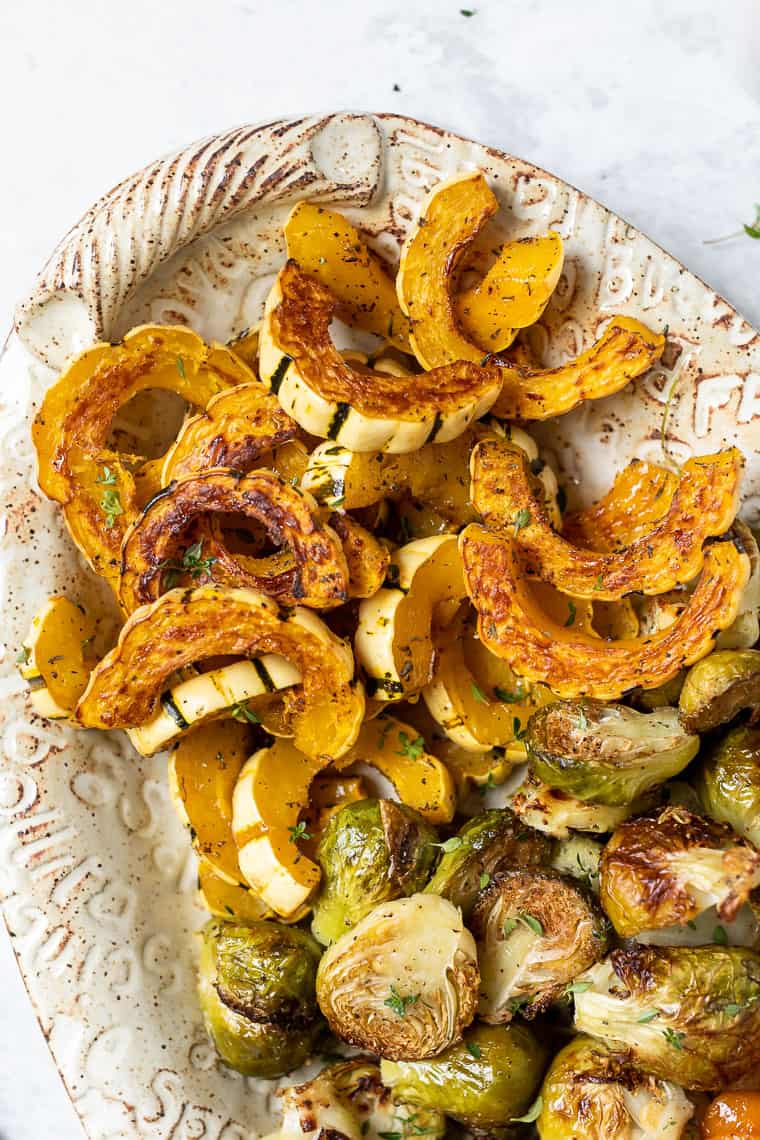 More Tasty Ways to use Roasted Vegetables
Easy Roasted Winter Vegetables
My favorite way to make roasted winter vegetables! Three different types of vegetables with three different spice blends, all cooked on one pan and finished in a maple glaze.
Servings 6 servings
Calories 254kcal
Ingredients
Instructions
Preheat the oven to 425ºF.

Add the carrots into a bowl and toss with the spices and olive oil. Transfer to a baking sheet.

Add the Brussels sprouts to the bowl and toss with the spices and olive oil. Also place on the baking sheet.

Trim the ends off the squash then slice in half lengthwise and scoop out the seeds. Place the squash flesh side down on the cutting board and cut into slices (half circle shapes). Transfer to the bowl and toss with olive oil and seasonings. Place on the baking sheet (you might need two for all of these!).

Roast for 30 - 35 minutes until the vegetables are soft, but starting to crisp.

While the veggies are cooking, melt together the butter and syrup. Whisk to combine.

Remove the veggies from the oven and drizzle with half of the glaze. Toss to combine.

Serve the veggies immediately with the remaining glaze as an optional side for folks to pour on top.
Nutrition
Serving: 0.5cup | Calories: 254kcal | Carbohydrates: 26g | Protein: 4g | Fat: 16g | Saturated Fat: 4g | Cholesterol: 5mg | Sodium: 138mg | Potassium: 833mg | Fiber: 6g | Sugar: 11g | Vitamin A: 14576IU | Vitamin C: 78mg | Calcium: 95mg | Iron: 2mg
share what you make
Tag #simplyquinoa on Instagram with your creations! We love sharing what you make with the community. We can't wait to see!

follow on instagram